Being a biker myself my wardrobe has its fair share of biker attire from the much-needed waterproofs which are more practical than style all the way to raunchy leather skirts and Doc Marten boots. This article is going to cover the latest feminine biker style outfits and will also give you ideas on how to dress like a biker chick. There is no need to personally own a motorbike so practical clothing will be taking a back seat.
Top Styles for the Biker Chick
No biker chick would be seen without either a distressed denim jacket covered in patches or the infamous leather jacket. To attain the biker image without spending a fortune, leather look jackets are all the rage. Zips and buckles are great touches to jackets and add that mechanical feel to the outfit. Plain tank tops are a biker chick favourite or even top with skull and wing or bike prints. Fitted enough to show off the figure but at the same time plain enough to express a tough girl attitude. Greys, dark greens, blue and silvers are all acceptable colours for a biker look. Some biker styles can be incorporated into the swag look. Why not check out the best swag style for girls this season too.via
Bottom Styles for the Biker Girl
Heading back towards distressed denim, jeans in this style are a great piece to have in a biker wardrobe. They go fantastically with a black tank or strap tops. Leather look trousers are also worth a go when trying to gain the biker chick image. These ideally should be fitted and matched with a leather jacket for a complete biker image. However be cautious not to use too much black, break up the black jacket and trousers with a coloured printed or plain top. Why not alter your own leather look by adding your own zips and buckles? Simple things like these scream biker!via
 Biker Chick Boots Style

Heels are still a very conventional shoe in the biker chick world. Cage heels are brilliant for breaking up one solid colour but still add that touch of attitude. These are also a perfect match to denim jeans or leather trousers so are an ideal shoe to keep in your collection of biker wears. If caged heels are not really your thing why not go for some striking ankle or calf high Doc Marten boots? Doc Martens have always been an idealistic shoe and are renowned worldwide and come in all sorts of styles and colours so finding your perfect boot is a piece of cake. I swear by my Doc Martens and they are one of the comfiest shoes you will own as well as lasting forever!via
Biker Girls Accessories
If you keep using the idea of bike + machinery and metal + jewellery then finding your perfect biker accessories is a doddle. Anything such as silver chains, buckles, studs, zips, even bike parts makes for brilliant accessories. I have a stunning nut and bolt bracelet which was purchased at a bike show in London so is very fitting in a biker jewellery box. For a truly personal touch why not create your own necklaces or bracelets with washers, springs or bolts? If you're not so creative, jewellery like this is available to purchase.(via)
This covers the basic idea on how you can achieve this look. Why not experiment with your own different trends and create something completely new and personal? To keep updated with biker fashion trends, have a look at celebrities who rock the clothing. Many of the top celebrities such as Rhianna, Taylor Swift, Pink and Angelina Jolie are frequently seen flaunting the biker chick image. Have a look at the following collection of 10 trending outfit combinations this season.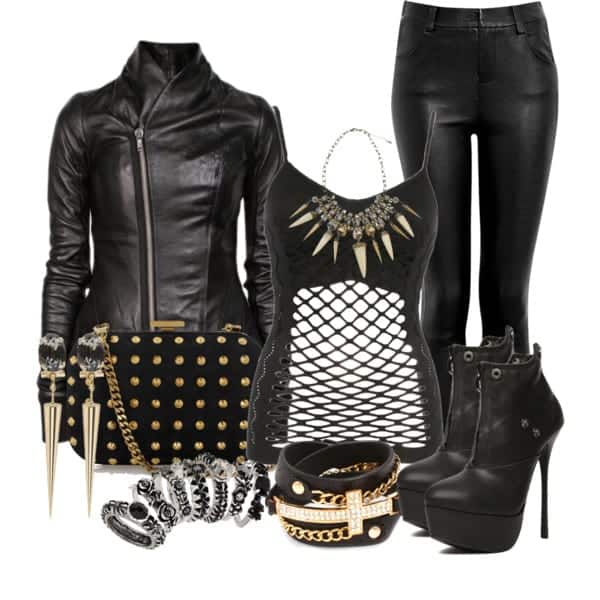 MTV VJ Kate Peck in Biker Attire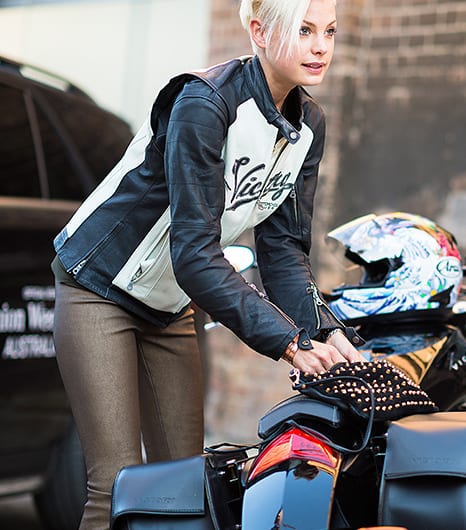 You can try wearing tight cropped top shirt in navy blue with leater mini skirt and leather jacket. Along with this, you can wear cheetah printed bag for more color variety in your outfit look.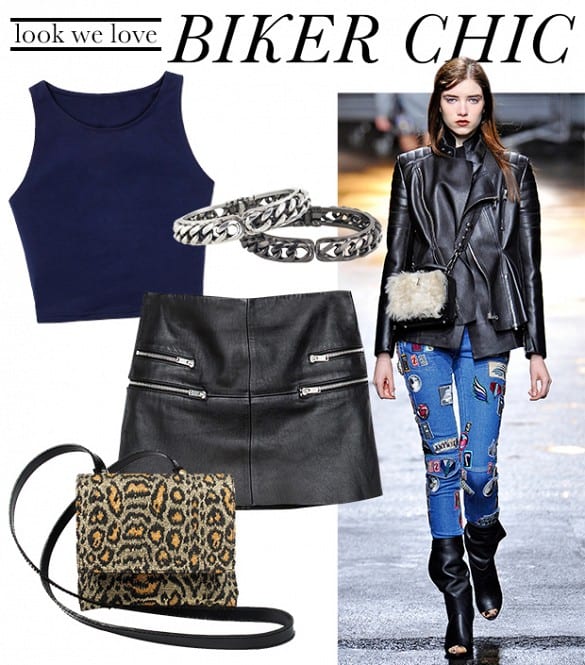 Gwen Stefani Biker Style
Just look at the way Gwen is rocking her biker's outfit. She completed her whole outfit look with a pair of studded boots. Just like her you can also wear a cool belt in black color with silver studs n it. turn the lower 1 inch of your ripped jeans for more chic look.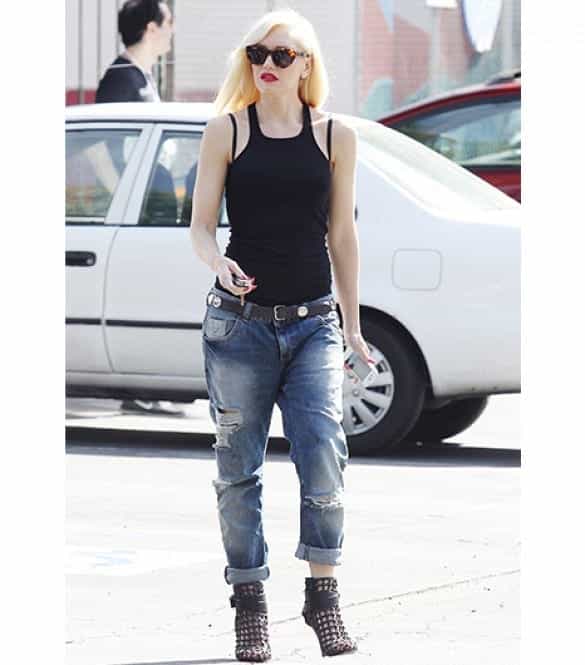 Hot Babe in Biker Clothes
Biker clothes is all about leather, black color, and studs. If you are wearing something that has any of these things in it then you are are surely dressing up like a hot biker girl. Oh! and dot forgets to keep the color on everything black. This whole outfit look will make you look sexy so if you are some one who doesn't want to look sexy then this outfit idea is not the right one for you.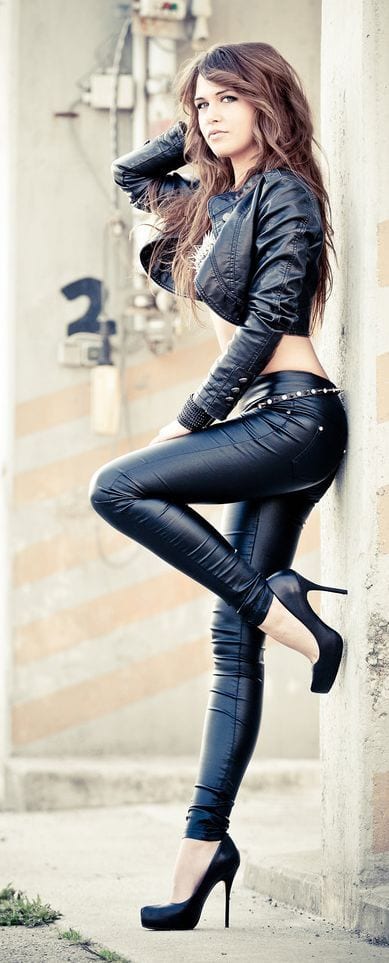 Women's biker studded leather jacket. Also, see some stylish leather jackets for women.
If you want to look like a stylish and sexy biker girl then switch your regular black tights with something that is shimmery and has tattoo patterns on it. This will add more dimensions to your dress.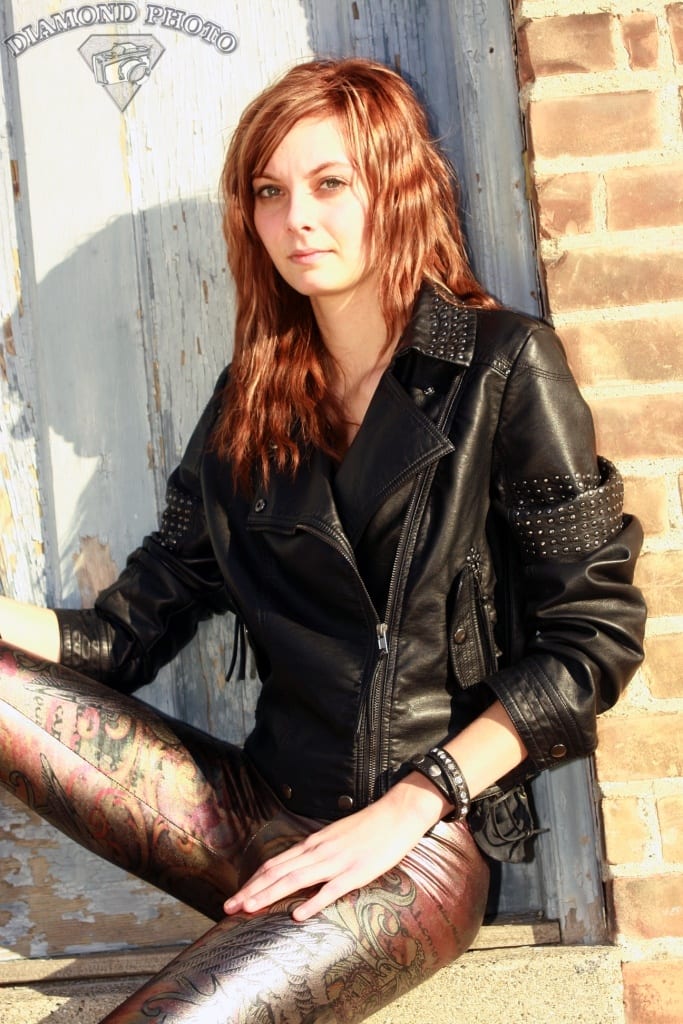 The best way to accessorize your bikers outfit is by wearing a scarf that has skulls drawn all over it. For bonus look, you can wear a t-shirt or tank top that has huge skull right at its center. Don't forget black nail polish. You can also wear chunky bracelets in black and white colors to look like an authentic biker girl because when it comes to chunky bracelets no one can refuse them.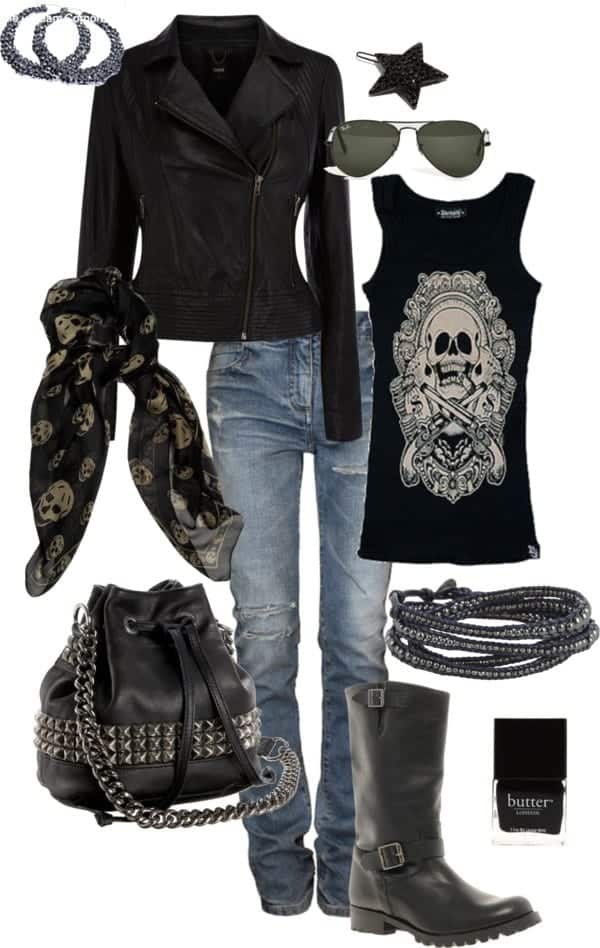 You can also try wearing black leather gloves with black fur on them as an accessory. Fur will make any outfit look more elegant and sophisticated.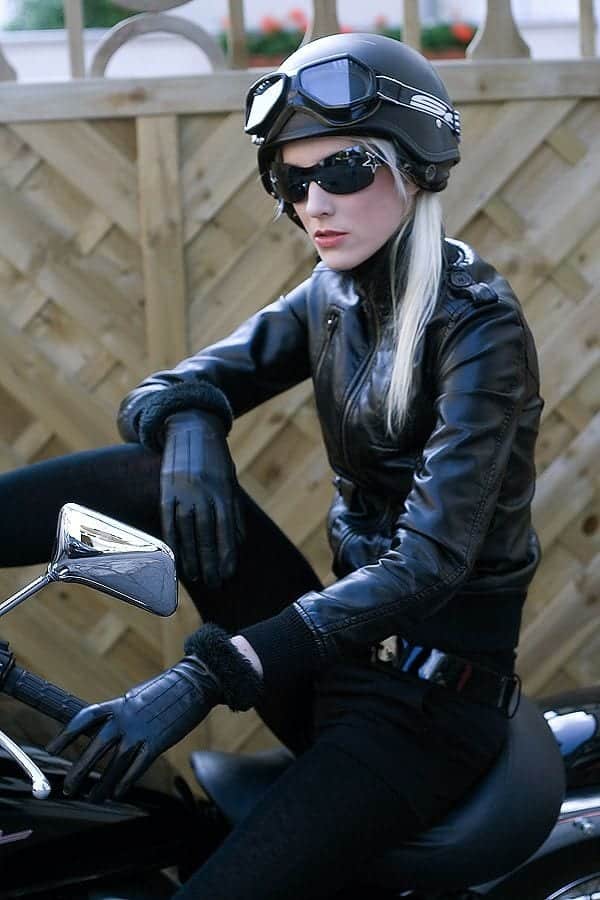 Studded biker boots
You can never go wrong with black studded heels, they look sexy on anyone and they will look sexy on you too. If you are bored of wearing all black every time you want to wear bikers clothes, then simply switch your ordinary, black tight mini skirt with a tight white mini skirt or a short but tight white dress. You can always wear black jeans or tights under that skirt. Another idea is to wear tight long shirt and a sleeveles black short jacket on top of it. This will make it look like as if you are wearing a skirt. Pair these up with black ripped jeans or tights for edgier look. Bangles that have studs and diamontes on it look perfect with this whole outfit look.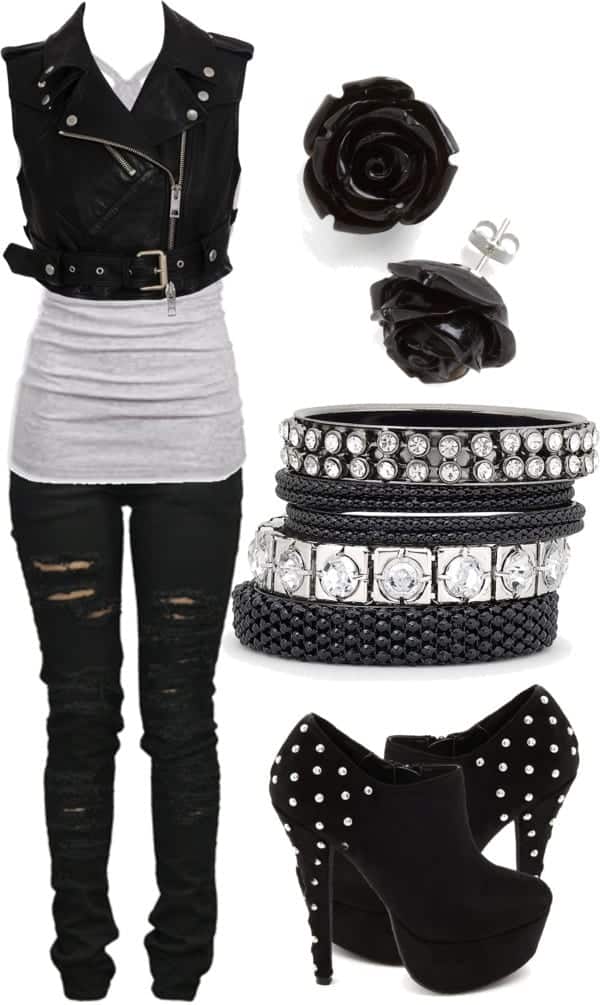 Sometimes, just sometimes you don't have to wear everything in black in order to achieve that bikers look. You can wear a shirt that is more on the lighter side in terms of color and pair it up with a matching accessory for example a cheetah print cap would go just fine. But keep the accessories is sophisticated as possible in this outift look becasue you are already wearing a non black shirt under your jacket.