Quick and Easy Hairstyles for Work: In a fantasy world, I am the epitome of the Instagram-able 'boss lady' image. Acing my work and home life but still showing up to work with glowing skin, manicured nails, and cute hairstyles. Real-life is harder, there is too much to do and too little time.
How to Style Your Hair for Work?
After a little bit of research and I have managed to find some quick, easy, and hairstyles for work that will help you ace your dream look with minimum effort, this article spills all details so that you can learn how to make your stand out from the crowd. Let's get started.
Easy work hairstyles usually come with a long shopping list but to rock this list, you just need the basics- hair ties, bobby pins, hair spray, and clips.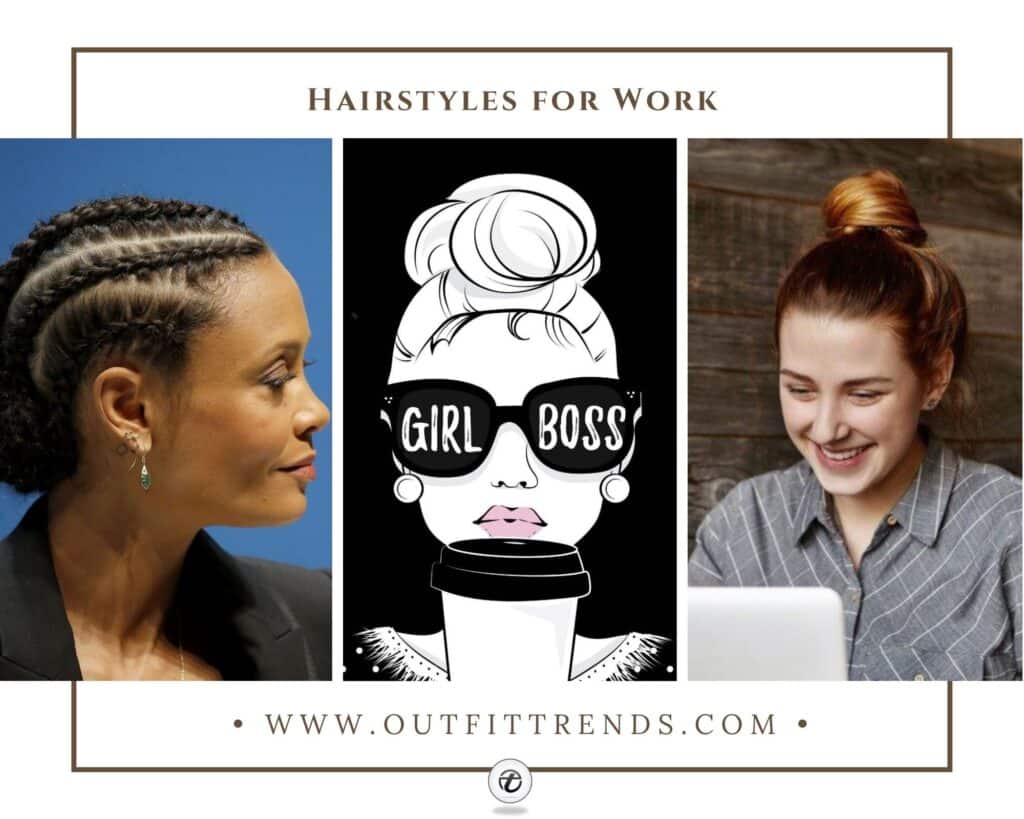 15 – The Classic Buns
The bun is an evergreen hairstyle that almost anyone can pull off. You don't have to worry about hair length, texture, or face shape, you will find a bun that suits you. Pair these buns with one of these Casual Work Outfits with Jeans for the perfect look.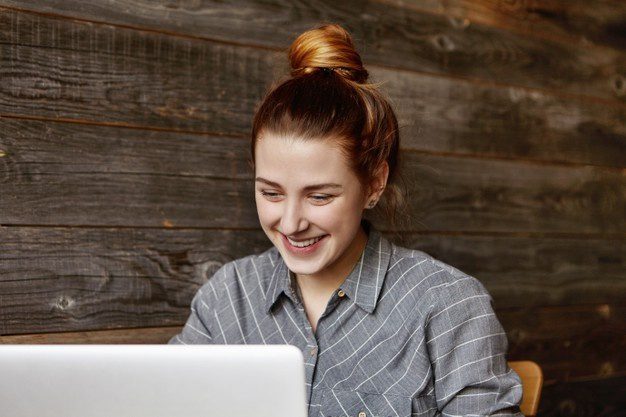 14 – The Stylish Sock Bun
We have often swooned over J. Lo and Kim K for rocking a sock bun on the red carpet but this versatile hairstyle looks just as cool when worn at work.
How to do a Sock Bun: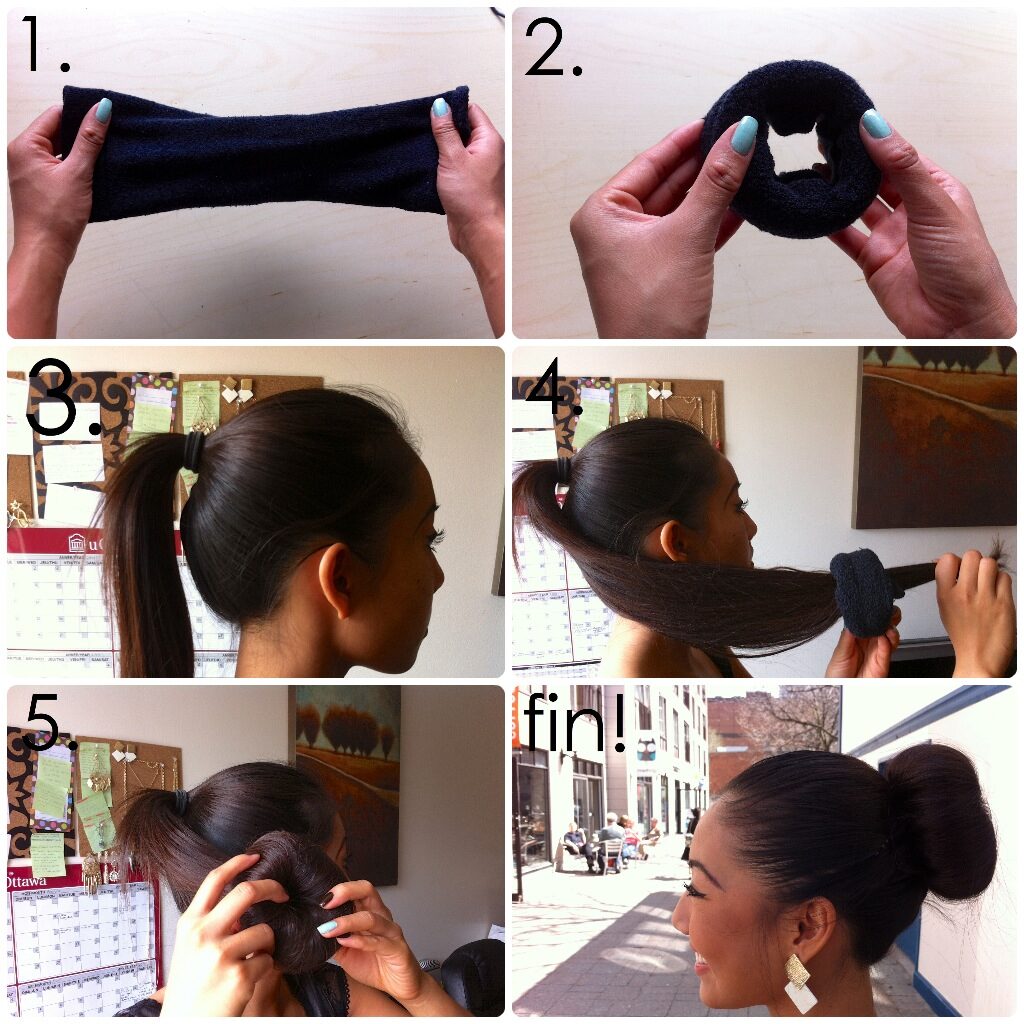 Take an old,long and thick sock. Cut it from the toe part and roll the sock downwards to form a round and hollow donut.
Decide the placement you want your bun to be at and put your hair into a high or low but tight ponytail.
Insert the donut into your hair from the bottom of your ponytail, place it on your hair tie.
Now slowly move your donut to the very bottom of your ponytail.
Twist and wrap your hair around the sock, making sure no extra strands of hair are left loose.
Keep rolling the donut down whilst wrapping your hair around it, until you reach the base of your ponytail.
Your Sock Bun is done,spray it up so keep it in place.
13 – The Best Bun for Long Hair- The Fishtail Bun:
Some days you want to rock a casual ponytail and some days you'd rather go with the elegant braid. Worry not, the fishtail bun is the best of both worlds- the easiest work hairstyle for long hair.
How to make a fishtail bun:
Tie your hair into a ponytail.
Turn your ponytail into a basic braid.
Wrap your braid around the base of your ponytail.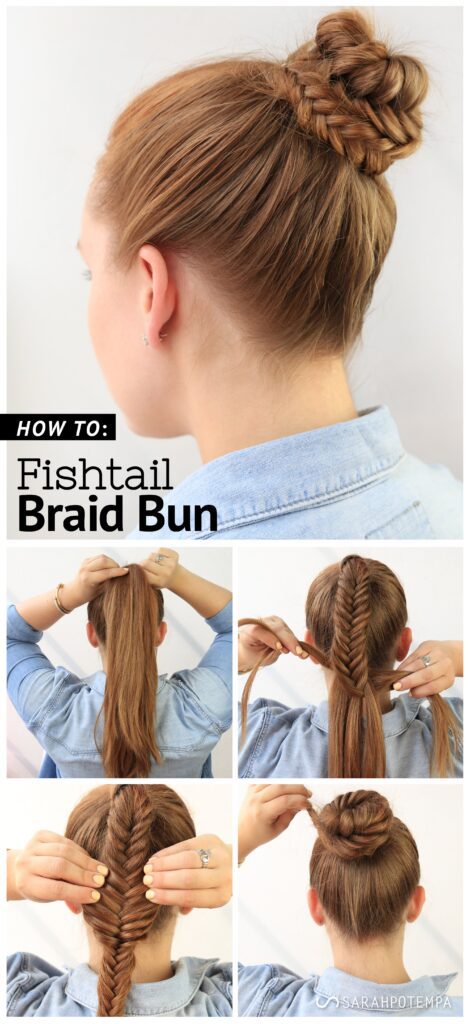 12 – The Quickest hairstyle for work, The Messy Bun:
Messy buns are a big hit, all thanks to Megan Markle, 'Duchess of the Messy Bun''. They are easy and convenient for all hair types and help you look presentable even if you wake up late for work. Tousled and unkempt hair? The messy bun is the perfect coverup.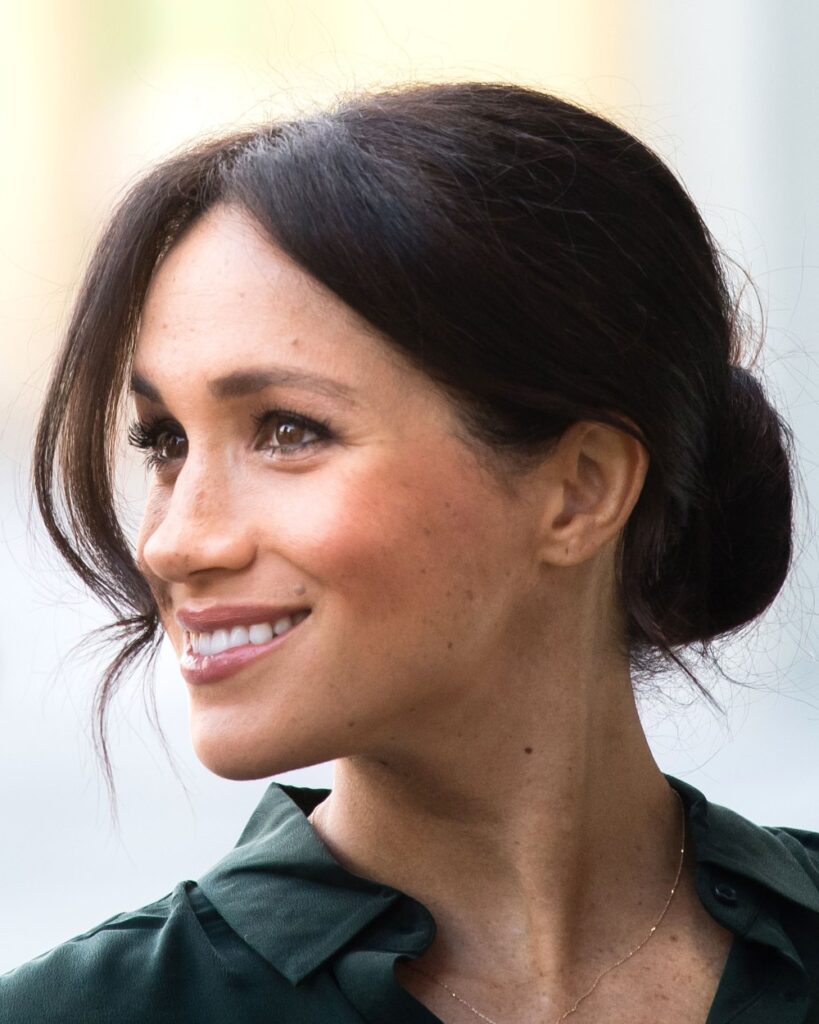 How to do a cute Messy Bun for Work
– Divide your hair into two separate sections.
-Make two separate high buns on each side, leaving half your hair out of the loop.
-put your thumb through one of the buns and pul the other bun through. You will get the round, puffy and thick bun shape.
Secure the extra hair around your basic bun using bobby pins.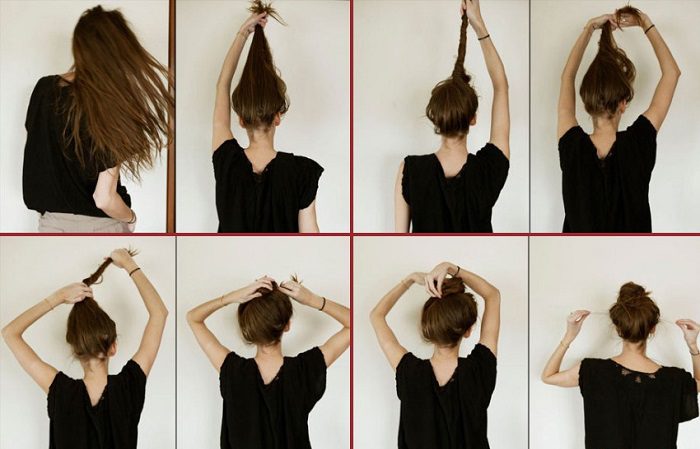 11 – Brilliantly Braided, Super Easy Braids You Can Wear To The Office: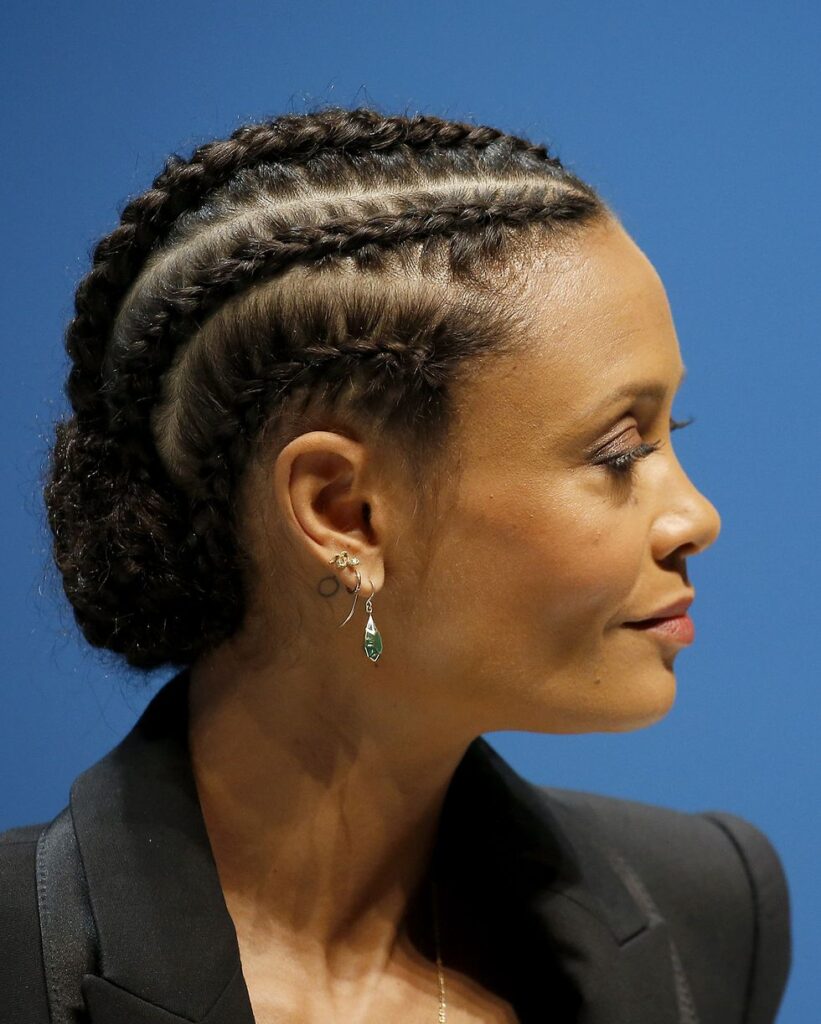 10 – The Fishtail Braid
Fishtales are an all-type favorite work hairstyle for long hair. They are vintage yet, chic and look great even if your hair gets a little messy throughout the day. Therefore, this is the most hassle-free hairstyle for a long day.
Part your hair into two sections.
Take a thin strand of hair from the left side
Grab and pull it all the way over to the left side of your hair.
Insert the strand under the right section so that it becomes a part of the right side.
Now repeat the process for two more thin strands of hair. Pull the right and left sections away to make your braid tight.
Now take a strand of hair from the right section and move it across towards the left side. Use your hand to place this strand of hair under the left section.
Keep alternating sides until you reach the end of your hair and leave at least 1 cm to tie.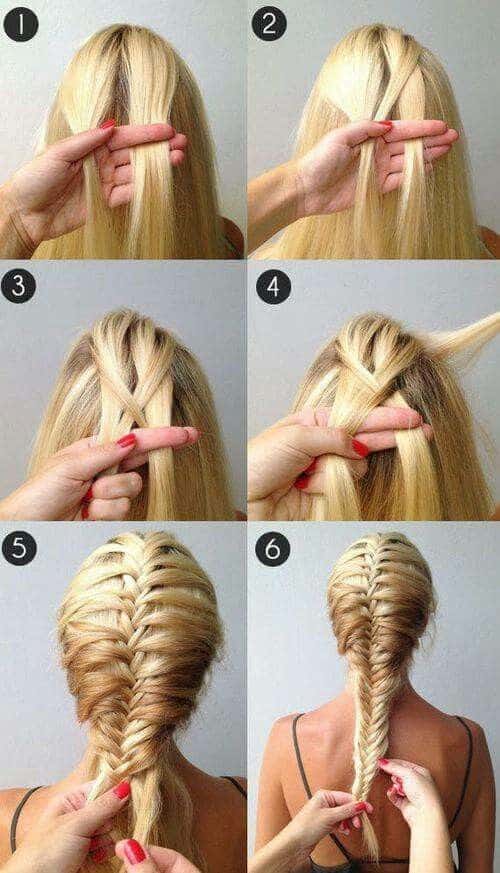 Pro tip: Gather thicker locks of hair as you move downwards, this will give your braid an even look.
9 – The easiest head-turning look for work, The French Braid:
The french braid is a timeless hairstyle that has returned in the street style fashion scene. However, this look is an all-rounder and looks super edgy when worn with your work suit.
Start with backward brushing until your hair are smooth and tangle-free.
Take a large chunk of hair from the top of your head, hold it so that you divide your hair into three sections.
Divide the basic chunk into three equal sections.
Start the traditional braid by hold one chunk in one hand and the other two in another hand.
Cross the right strand towards the center and the left strand over to the center as well. Repeat the process until your classic braid is complete.
Now, you should take new strands of hair and start making them into a traditional braid as well. When you start crossing over, bring in extra hair from all sides.
All of your hair should be incorporated into the braid.
When all your hair is incorporated in the braid, finish it as a traditional braid.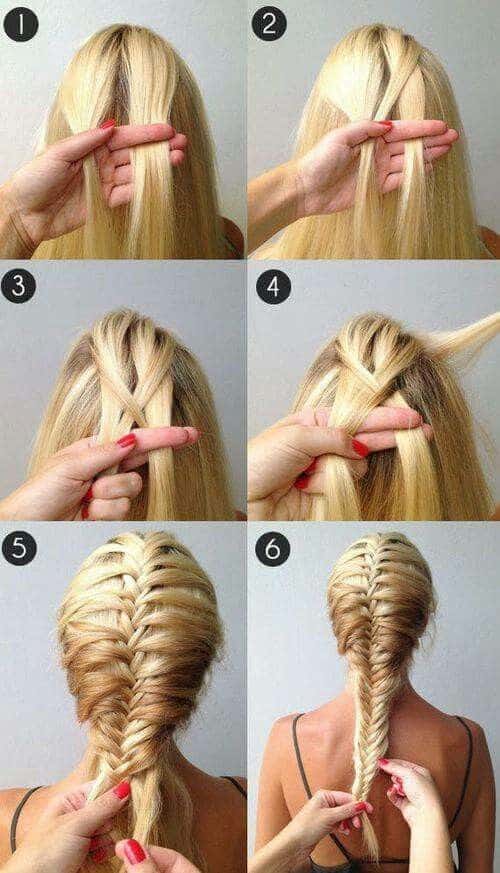 The french braid can be improvised for all hair lengths ranging from french pigtails for short hair to fishtail french braids if you have got the volume. looking for compliments from your work besties? you better master the perfect french braid.
Fun fact: The French braid traces back to North America, not France.
8 – The Dutch Braid:
The Dutch braid is often confused with the french braid and if you have mastered french, the Dutch won't be a problem.
Remember, to make a Dutch braid we weave each piece under rather than over.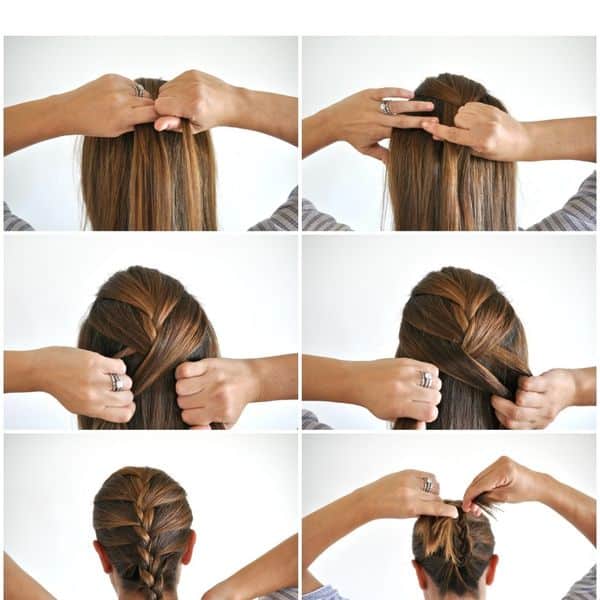 Start with dry and tangle-free hair.
Gather and hold a large chunk of your hair at the hairline. Divide these hair into three sections,
Hold the strand on the right side into your ride hand and the other two in your left hand.
Wrap the middle section around your middle finger. Hold the left strand with your pinky and ring finger.
Start braiding from the left side. Tuck the right strand under the middle strand and cross the left strand under the new middle strand.
Add a thin chunk of free hair to the right segment and cross it under the middle segment.
Repeat the process on the left side.
Keep the process going until you reach the nape of your neck.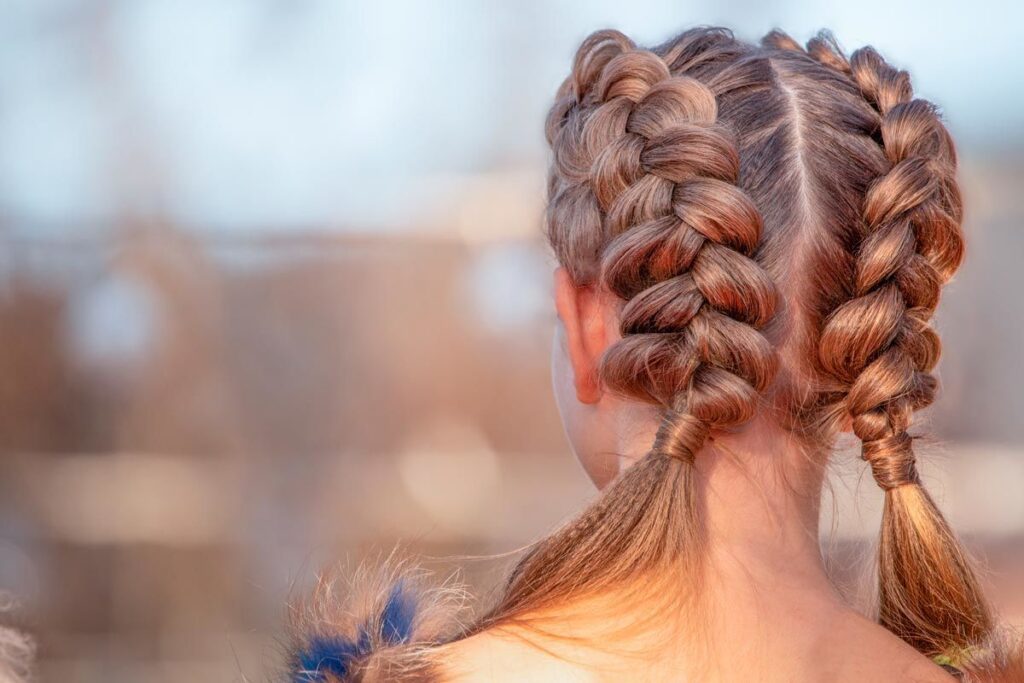 7- The Twisted Ponytail
Ponytail popularity is at an all-time high. You can never go wrong with a ponytail because it is the quickest and easiest. On days, you wish to pull off an elegant look- the twisted ponytail is the style you should go for.
Put your hair into a tight high ponytail.
Divide your ponytail into two equal parts.
Twist each section, in the opposite direction for each.
Wrap both the sections around each other and secure them with a hair tie.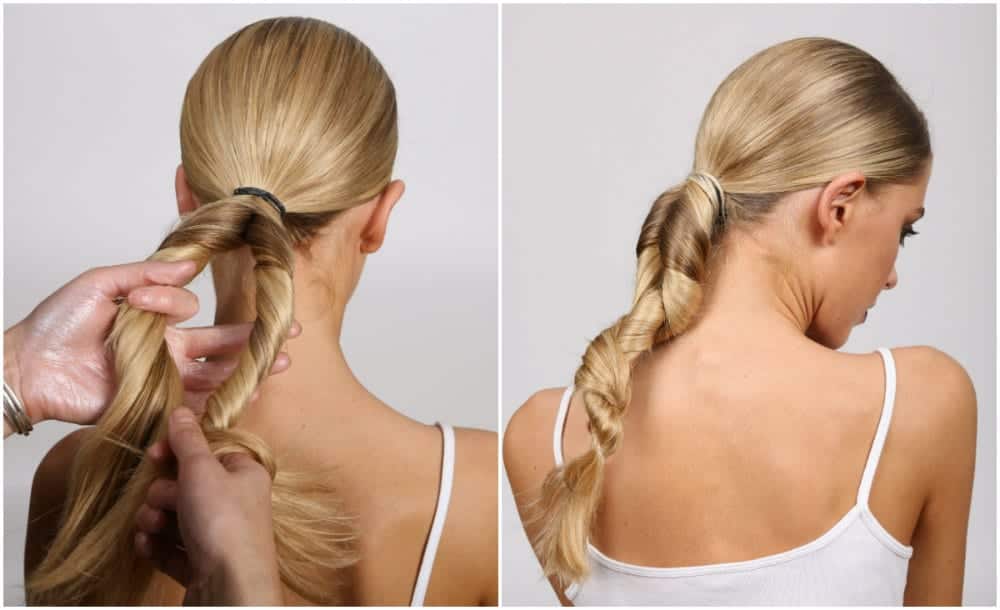 6 – Ponytail Hairstyle for Work
Long hair and a high sleek ponytail, this dynamic duo can never go wrong. Secure your hair into a tight ponytail tied at the very top of your head. Spray all extra hair and add some minimalist clips or bobby pins. The quickest and easiest hairstyle for late mornings. This will not take more than two minutes.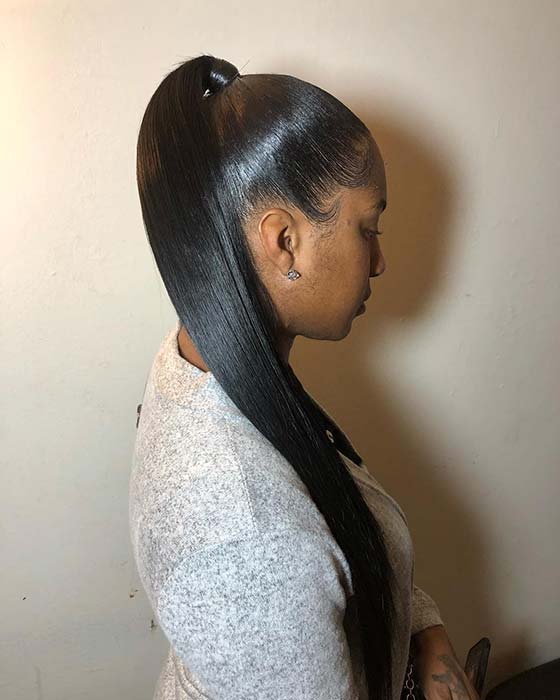 5 – How to Add More Volume to Hair
Long and boring quarantine days have inspired some of us to go with bold and exciting pixie cuts. To make your pixie cut look Instagram- worthy, curl your topmost hair and spray. Shiny curls make the biggest statement.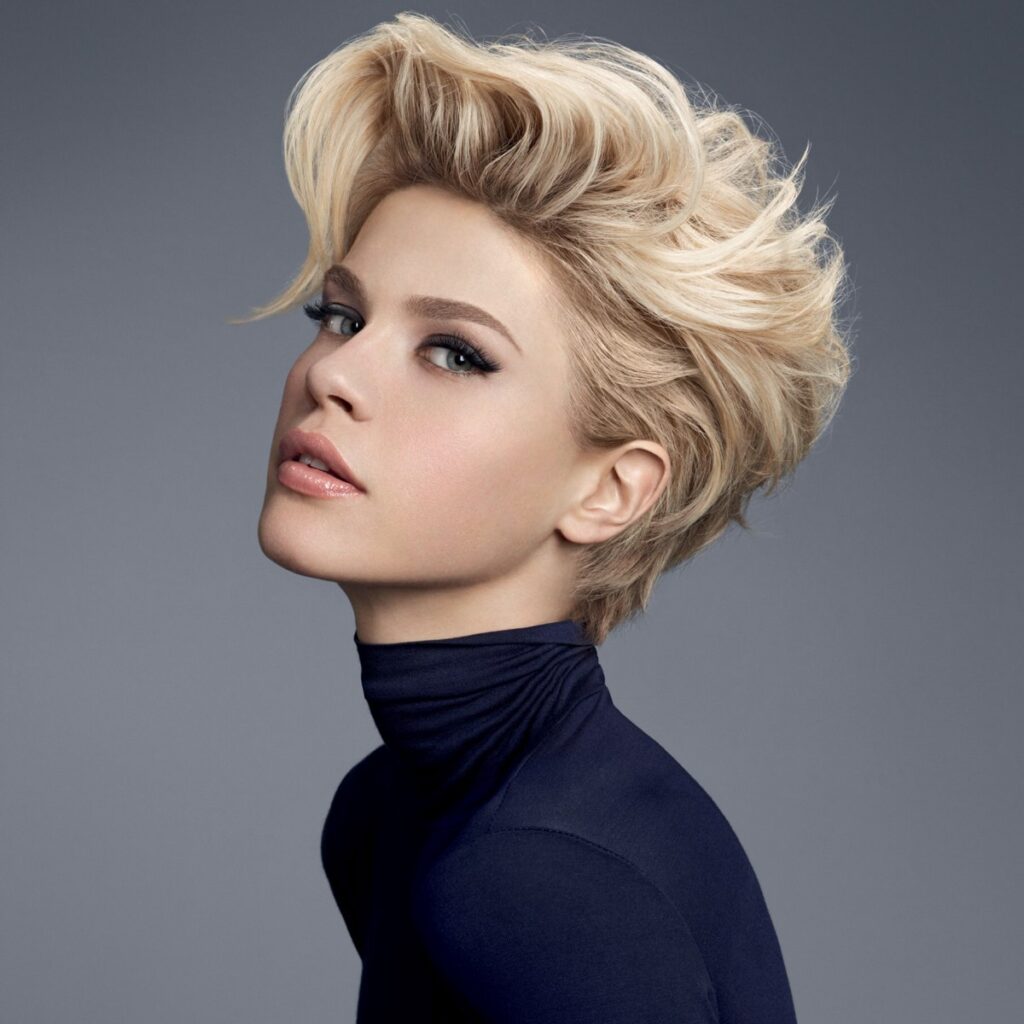 4 – Voluminous Wavy Bobs
Bobs look brilliant on their own but if you are bored of the basic bob, add the waviness for a trendy style. The dreamy voluminous waviness can be easily achieved with a curling iron.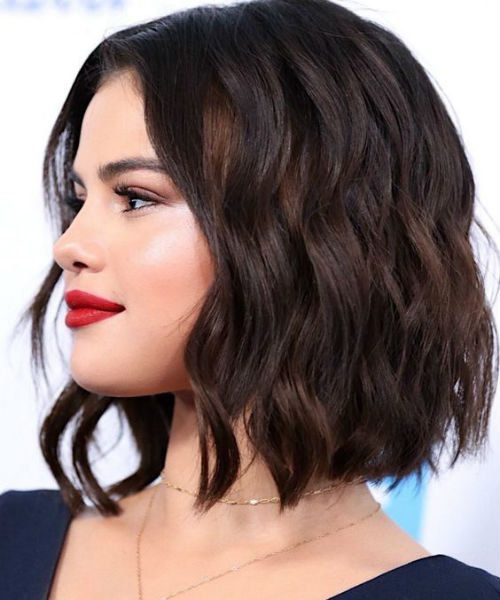 3 – Wet Hair, Don't Care:
Love the way your hair looks when you come out of the shower? believe it or not, that has become a fashion statement on its own. Here is how you can easily create a 'wet hair look' for work.
Lock your hair down when they are half way dry. Towel drying is the key for straight hair and T-shirt drying for curly or wavy hair. Don't forget to leave some moisture.
Use haircream and hairgel together to help your hair stay put and shiny. Start applying from your roots and move all the way through.
Smooth down baby hair using a fine tooth comb.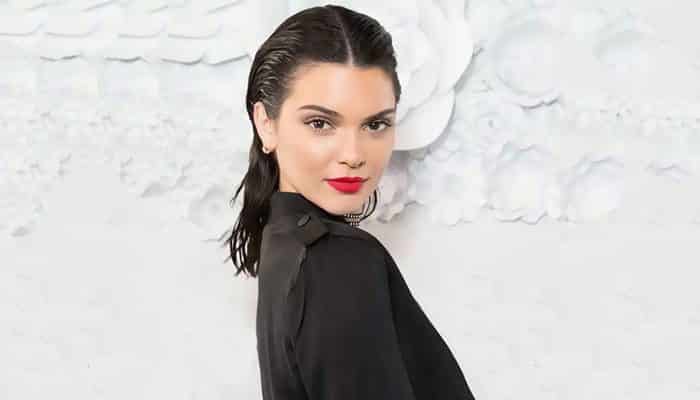 2 – Styling Curtain Bangs for Work
Curtain bangs are 2021's hottest Tik Tok trend. If there is one thing that the lockdown boredom inspired us to do, it was cutting our own bangs. The curtain bangs are fringe bangs that are parted to frame your face. This hairstyle is universal and looks great on all hair lengths and textures.
Divide your hair down the middle and blow-dry your bangs away from your face, enfold around a round brush. Twist the brush through your bangs all the way at the end so it feathers out and then style the rest of your hair as you please.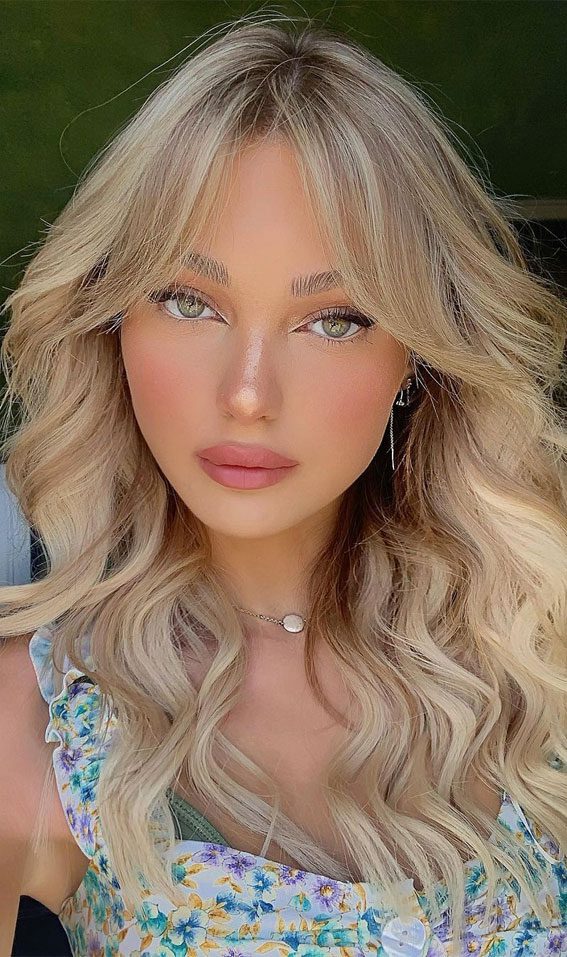 1 – Going Retro at Work, Hair Crimping:
What is Hair Crimping?
Hair Crimping is a way to style long hair to make them look wavy giving off a 'zig zag' pattern. Crimped hair gained popularity in the 80s and the 2000s and have now returned with full force. There is no other way you can go 'bigger and better' when styling your hair for a workday. You don't even need pricey crimping irons to ace this look. Sleeping with a few braids in your hair and untying them when you wake up will give you an edgy crimp as well.
How to get Crimp Hair for Work?
Minimize frizz by applying a smoothing lotion.
Part your hair into multiple sections so that you are able to make thick braids. The number of sections depends on the thickness of your hair. Fine hair need more hair to make a single thick braid.
Wear a night cap and leave your hair as it is for 8+ hours.
If you have straight hair, you will have to perform an additional step:
Apply a heat protectant and use a flat iron to gently iron your braids to get the crimp. Be careful, Too much heat in one place can damage your hair!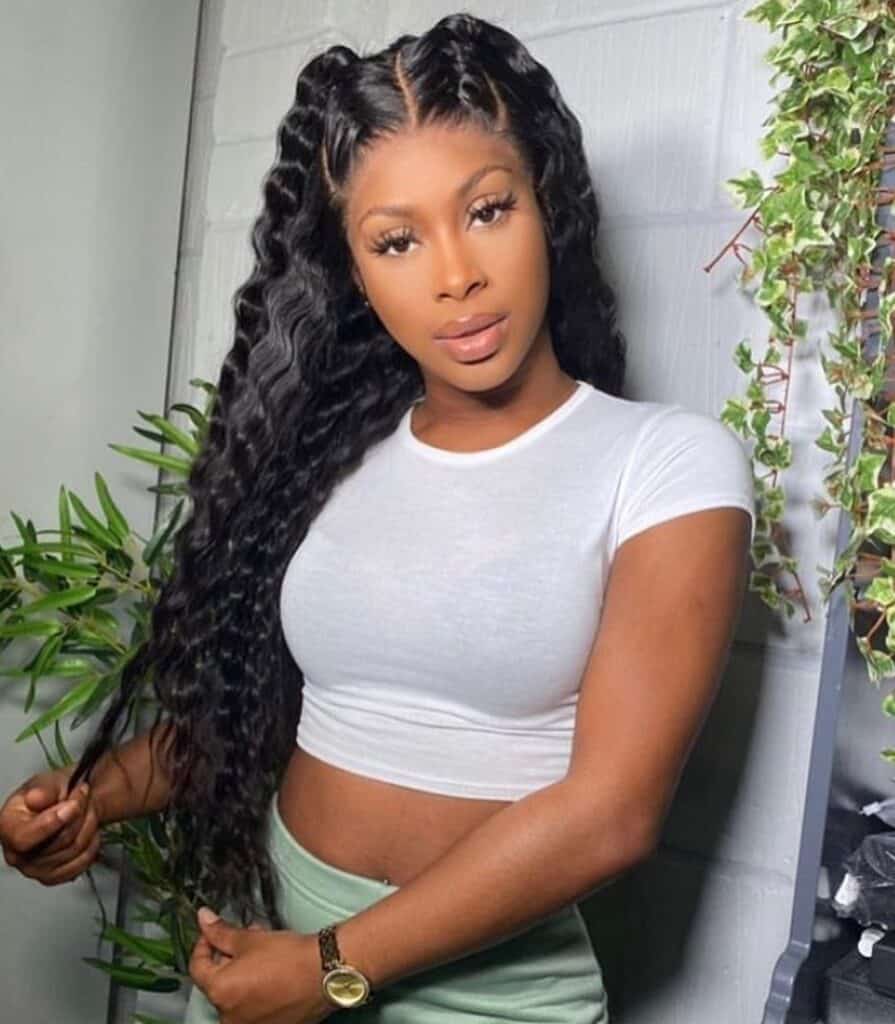 Going back to work after a long lockdown is daunting but these easy and quick hairstyles will make the transition seamless. You don't have to try t elaborate difficult hair routines and styles just so that your hair looks presentable. Some of these hairstyles work best on unwashed hair.
Keep this list handy, try these quick and easy hairstyles for work and tell us which one is your favorite.
Don't forget to check out the Best Curly Hairstyles For Women Over 50 To Try This Year for more haircut inspiration.
FAQs:
Q. Do I need expensive products for work hairstyles?
Nope, these hairstyles do not come with a long shopping list. You just need some basic hair accessories such as hair ties, a comb, a curling iron, and hair spray. 
Q. Are these hairstyles for all hair lengths?
This list contains classic work hairstyles for all hair lengths from pixie styles to braids and bobs.
Q. How long does a braid last?
A braid can last up to 12 weeks! However this is not recommended, keeping your hair braided for a long time leads to breakage.