How To Wear a Pashmina Hijab: One of the biggest problems concerning Modest Fashion is finding the right colour, fabric, and style for your Hijab. Here is a complete guide on best styling your Pashmina Scarf based on your face shape, complexion, and outfit choice.
Pashmina scarfs usually have tasselled or fringed ends, making them trendier than plain chiffon or cotton scarfs. Pashmina is a wool often linked with Kashmir, where it was first woven. The lightweight fabric is extremely soft and often a favourite when wearing a Scarf. It also does great at providing warmth from the warm cold. Read the following ideas to style your everyday outfit with the right scarf, saving yourself time and trouble.
Latest Pashmina Hijab Styles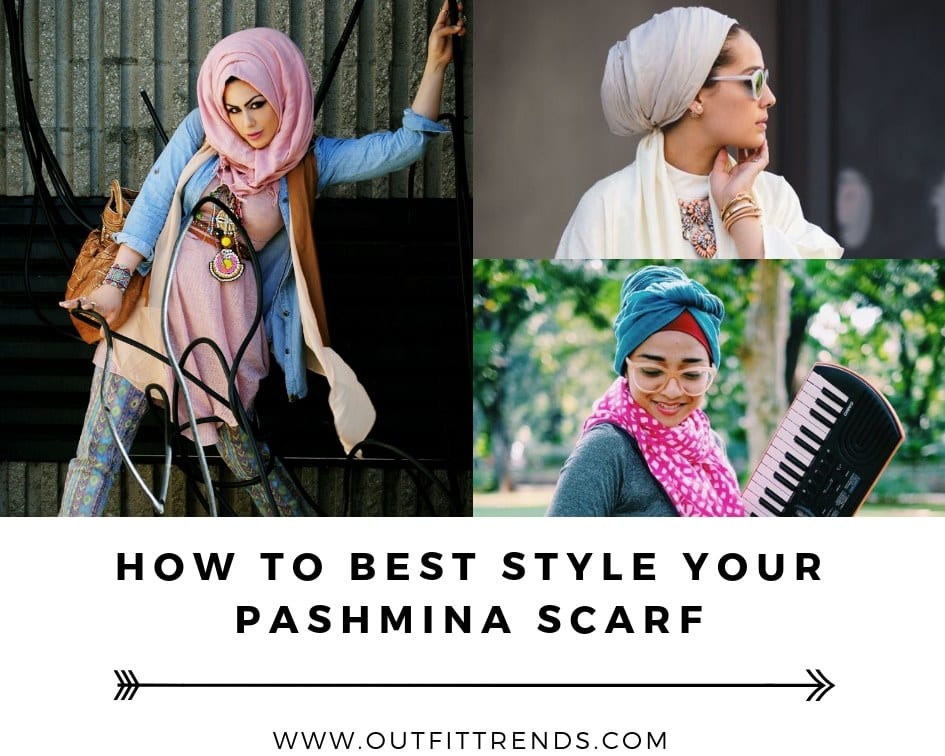 Read the following tips on finding the right scarf:
Finding an authentic Pashmina scarf is a stressful job. Test the authenticity by burning a fringe of the Pashmina Scarf. The burnt area should only smell of burnt hair and should appear matte.
Make sure to choose a Color that best suits your complexion.
Invest in neutrals to pair with printed and bold colours.
Scarfs don't go without Scarf Pins, so buying pairs of funky pins is a nice idea to access your look.
There is no wrong or right when styling a Hijab; it is about what one is most comfortable in.
Do not hesitate to choose a different and unique look if it intrigues you.
Stock up on different coloured caps to wear under your scarf.
Keep exploring your style by experimenting with different looks.
Accessorize your look with the addition of headgear, necklaces and also with a hint of earrings.
Remember to dress based on the occasion. Pashmina scarfs mostly create simple, basic looks perfect for every day.
↓ 10. Color on Color
One of the most common mistakes is wearing the wrong coloured scarf on a coloured outfit. With an outfit that is coloured on its own, it is best to wear a neutral shade to avoid overshadowing it.
However, it does not mean one must throw away their coloured scarves. Coloured scarves are great to add some brightness to your look. Additionally, they are great when trying to create a colour contrast.
The best way to pick the right colour is to study the colour wheel carefully. Colours on the opposite ends of the colour wheel complement each other well. This blue, fringed Pashmina has carefully been picked to pair with a sienna-colored dress.
Since the colour of her dress is dull, the blue scarf does great at lifting it. Moreover, we love how it has been styled with a slight twist on the side, making it both modest and unique. Here are some great ideas on Simple Makeup with Hijab Tutorial and Hijab Makeup Tips.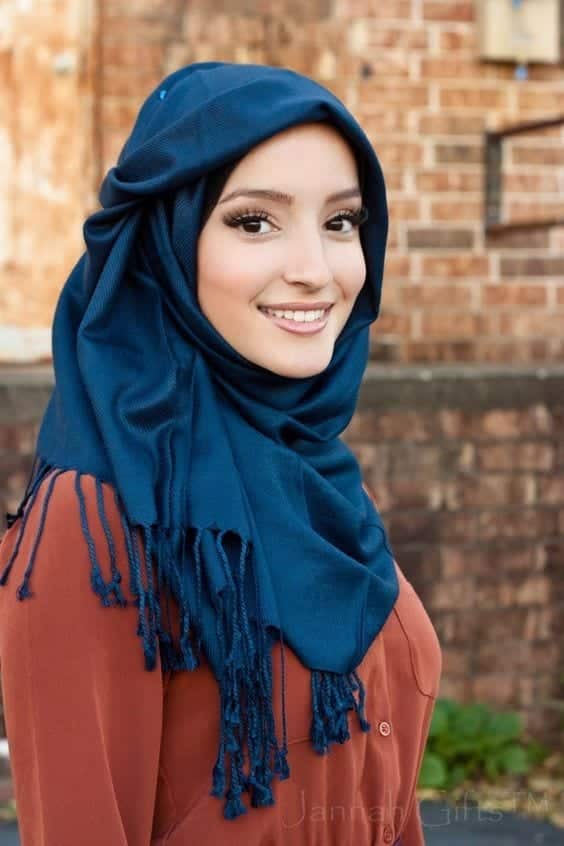 ↓ 9. Back Knot
Same-coloured outfits and scarves are tricky since they could make one look like a candy bar. However, this is not always the case. We love this burnt orange casual outfit and how beautifully the same coloured scarf has been draped.
The key is to pick a lighter tone of the same shade. This tip is commonly practised in the fashion world with different types of denim, where the look is achieved by wearing a lighter wash of denim to compliment the denim-on-denim look.
The similar version is to opt for a lighter tone of the same shade to perfect the look. Despite being the same colour, it goes well with her overall look. It is appreciatable how she has kept her shoes a shade of pink to compliment her otherwise orange look.
Her pashmina is a two-toned scarf that can be used in other ways but has been kept one-toned on the front. The back knot is one of the classiest ways to do a Hijab and is currently trending. Refer to the video tutorial and learn how to do yours. This style is easy to do and can save you time draping it around your head.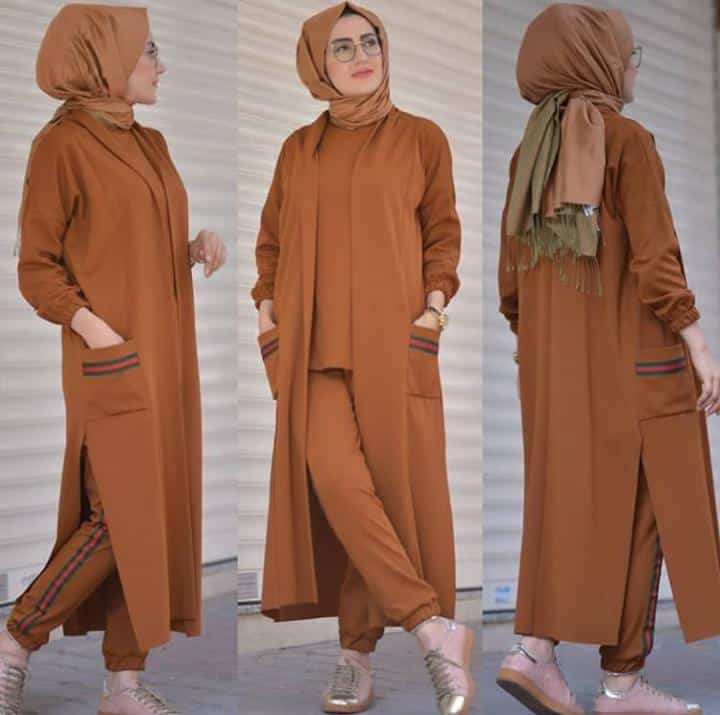 ↓ 8. Pashmina Hijab with Jeans
One of the most comfortable ways to do a Hijab is with an undercap to keep the scarf in place while hiding the hair. The underlap also shows off some contrasting colours with different coloured scarfs. Modest fashion does not mean one has to refrain from wearing Western outfits.
An outfit inclusive of jeans can also be dressed appropriately in light of our religion and culture. Wide-legged jeans and an overcoat can be great to invest in.
They are fashionable and great at helping one stay covered up. The neutral scarf is a great pick for the matching blue coat and jeans.
The outfit reminds us of crisp autumn evenings and is great for the upcoming season. This style of Hijab is easy to do with a Pashmina scarf and is perfect for Western outfits. Here are 30 Stylish Ways to Wear Hijab with Jeans.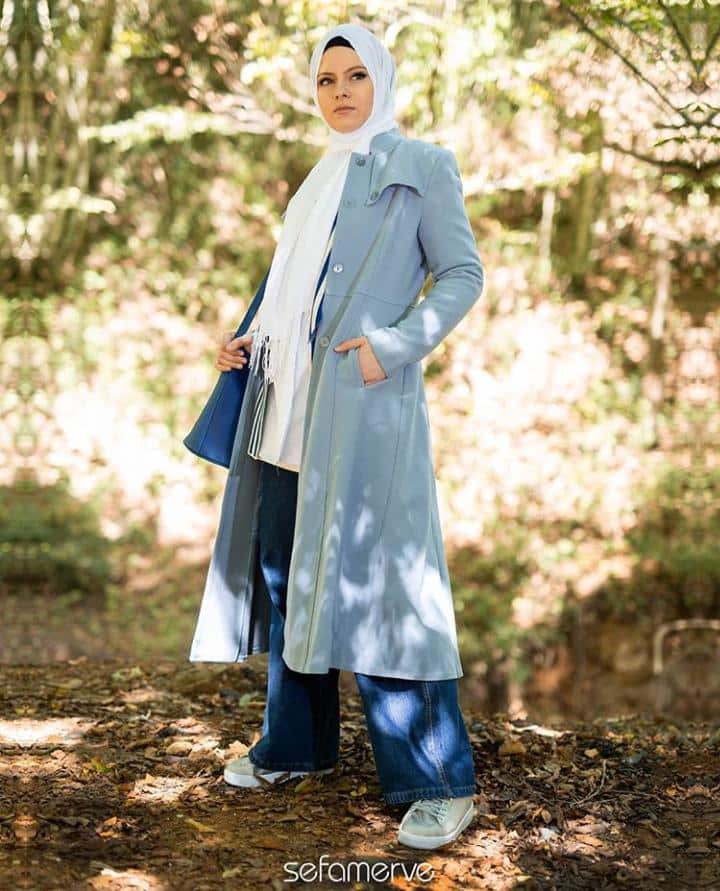 ↓ 7. Twisted Turban Look
The turban looks have been trending for quite some time now. The urban style of the Hijab involves covering the head while leaving the neck uncovered by creating a front knot or with a twisted top look.
Turban Hijab is easily achievable with a pashmina scarf as they hold up well and are less likely to slip off, unlike silk scarfs. With a scarf cap in place, it is less likely for a turban hijab to fall apart.
Individuals also wanting to cover their chin and neck can wear a new scarf around them, ensuring a completely modest look. This style of Hijab is great for both teens and adults, and it comes down to how comfortably one carries it.
This form of Hijab is often spotted with Western Outfits like Dresses, Suits, Jeans, and Shirts. However, it is also spotted in Eastern Cultures, where it has been sported with Eastern Attires. We are amazed by how comfortable yet chic it looks in the picture below.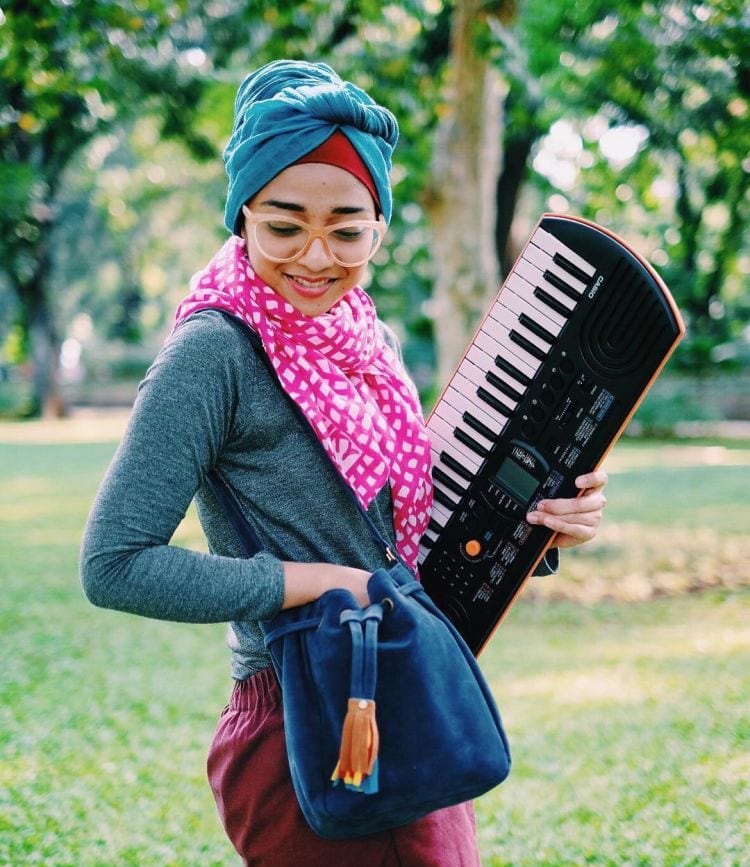 ↓ 6. Turban Pashmina Wrap
Here is another turban look which involves a front criss-cross. This new style of wearing a Hijab is interesting and is being adopted worldwide. This head wrap with a nude Pashmina Scarf is what the upcoming winters should be about.
Instead of draping the scarf under the chin, how about only wrapping it around the head? It also provides warmth since Pashmina is made from a fine type of wool from the Himalayan regions.
The Africans initially did head wraps, now used as head accessories. Head wraps are now substituted for Hijabs as they provide more hair coverage. Many believe this style is not compliant with Islam's teachings, while some argue that it comes down to how one covers oneself along with the turban hijab.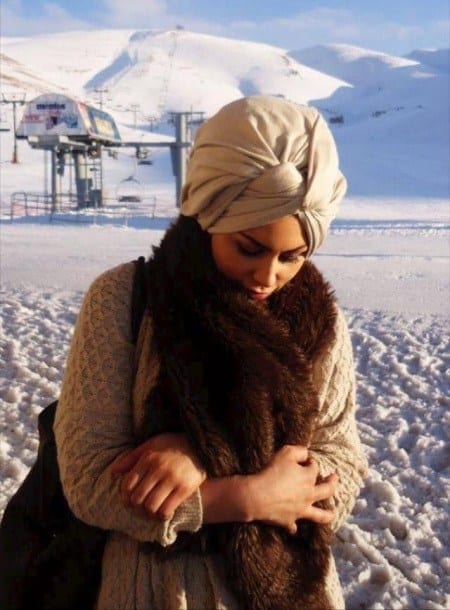 ↓ 5. Calligraphy Pashmina Scarf
Printed Hijabs have been around for quite some time now, with a few variations here and there. We came across this Calligraphy Pashmina scarf that is beautiful to carry. The Islamic Calligraphy is appreciated worldwide and is traced back to the 8th century.
Calligraphy was incorporated into art, where it was often inscribed into the ceilings of Mosques. Eventually, it entered the fashion world, where it was done on Apparel like Shirts, Kurtis, and Bags.
Calligraphy is now being done on Scarves that are often used as Hijabs. This type of Hijab can be draped in the traditional way or around the head like a turban.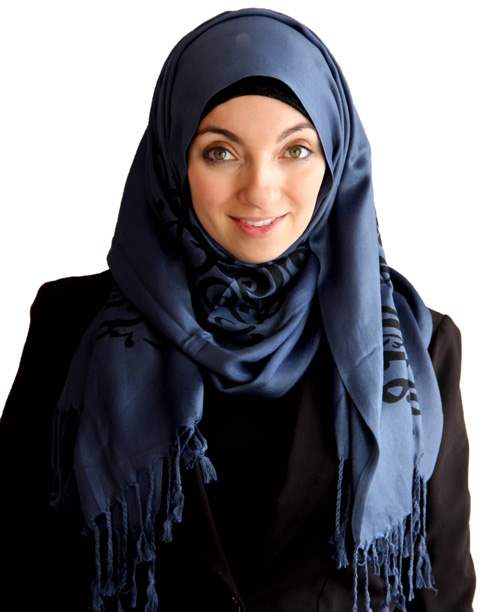 ↓ 4. Neutral Shades of Pashmina for Daywear
We cannot stress the importance of owning pairs of neutral shades of pashmina scarfs. Neutral shades are great to pair with Printed or Solid Colors. A white scarf is also great at creating a monochrome look. Apart from that, an all-neutral look can also be created, as done below.
This form of turban scarf involves tying the Hijab like a bun, leaving neat and clean folds on the top of the head. The look has been achieved by putting together a White-toned front open cardigan.
The light grey Hijab is a subtle addition to the overall look. We love the play of colours on the hem of the cardigan and how they have been allowed to stand out. The bright-coloured handbag and the statement necklace are perfect for accessorizing the look.
This modest look is one of our favourites and is easy to achieve. Since Pashmina scarfs come in all shades and tones, owning a few pairs of neutral shades would be a great idea. Don't miss out on these 20 Ideas on How to Wear a Silk Hijab in Style.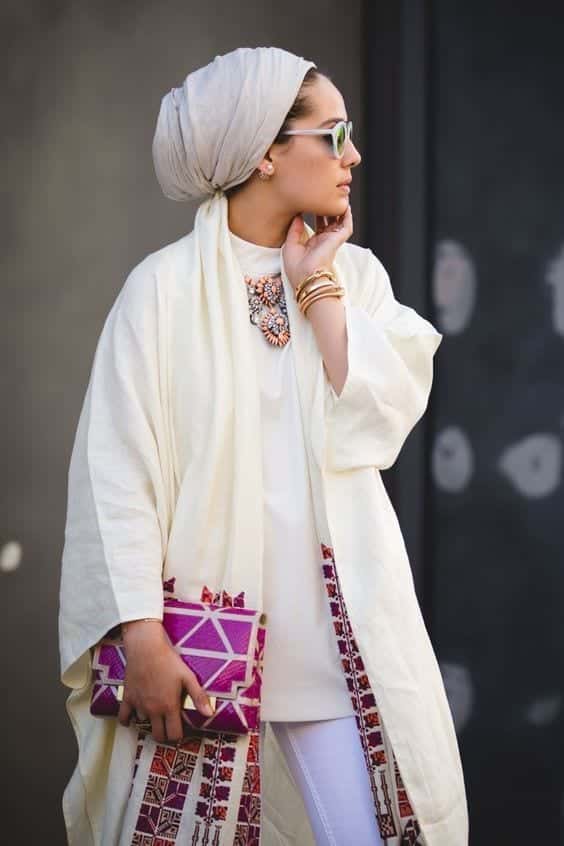 ↓ 3. Pashmina Shawl Style
The current Arab Hijab trend involves layering the Hijab by wrapping it around the head multiple times, creating a heavy look. This style of the Hijab is widely practised in South Asian countries except a few. For individuals with an oval face, this style of Hijab should be the go-to.
Pashmina scarfs come in all shapes and sizes; the longer ones can create this draped look. This form of Hijab can be worn without the caps for individuals wanting to show a bit of hair, while those who prefer a tighter look can wear it over the Hijab caps.
The fringes and tassels add style by draping the tasselled end on the side of the head or by letting it hang behind. This edgy look has been combined with printed pants, a pastel-toned shirt, and a denim jacket. It has been completed with a few hints of tan brown and a similar pastel-coloured Hijab.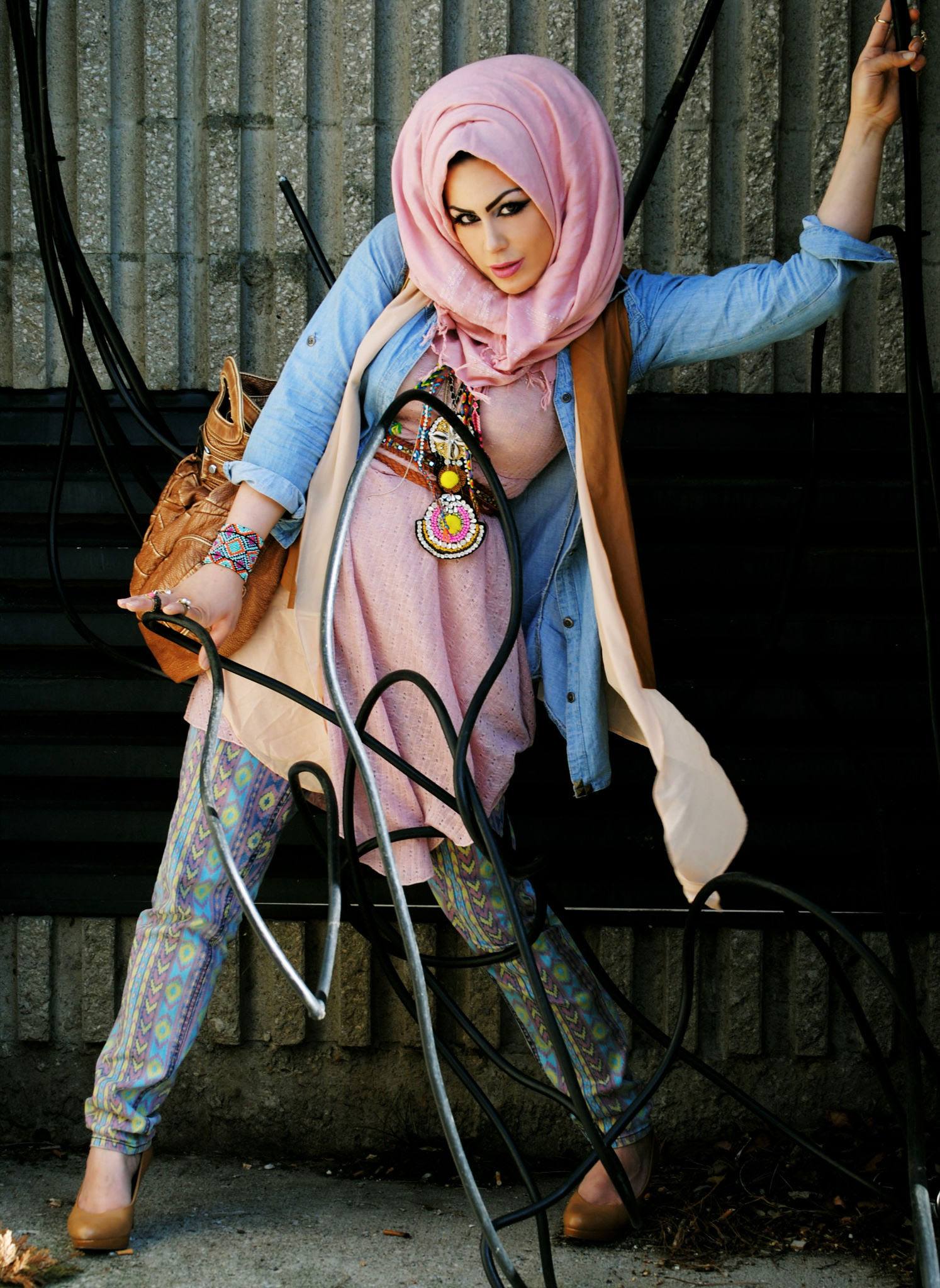 ↓ 2. Casual Pashmina Hijab Tutorial
This step-by-step tutorial is a great help for girls learning to style their pashmina Hijab correctly. This shade of purple is an excellent choice to pair with a shade like black. This style of Hijab resembles the layered Arab look but is a simpler version.
This casual style is perfect for a day at work or teens going to school. The first step is to place the Hijab, leaving the shorter length on one side. Once placed, tie a pin under the scarf, tightening it to prevent it from falling apart.
Drape the longer side over the head, securing it with a pin. The portion hanging behind is then brought forth to pin it again, creating beautiful folds and layers. The tasselled hanging ends are left to create an elegant look.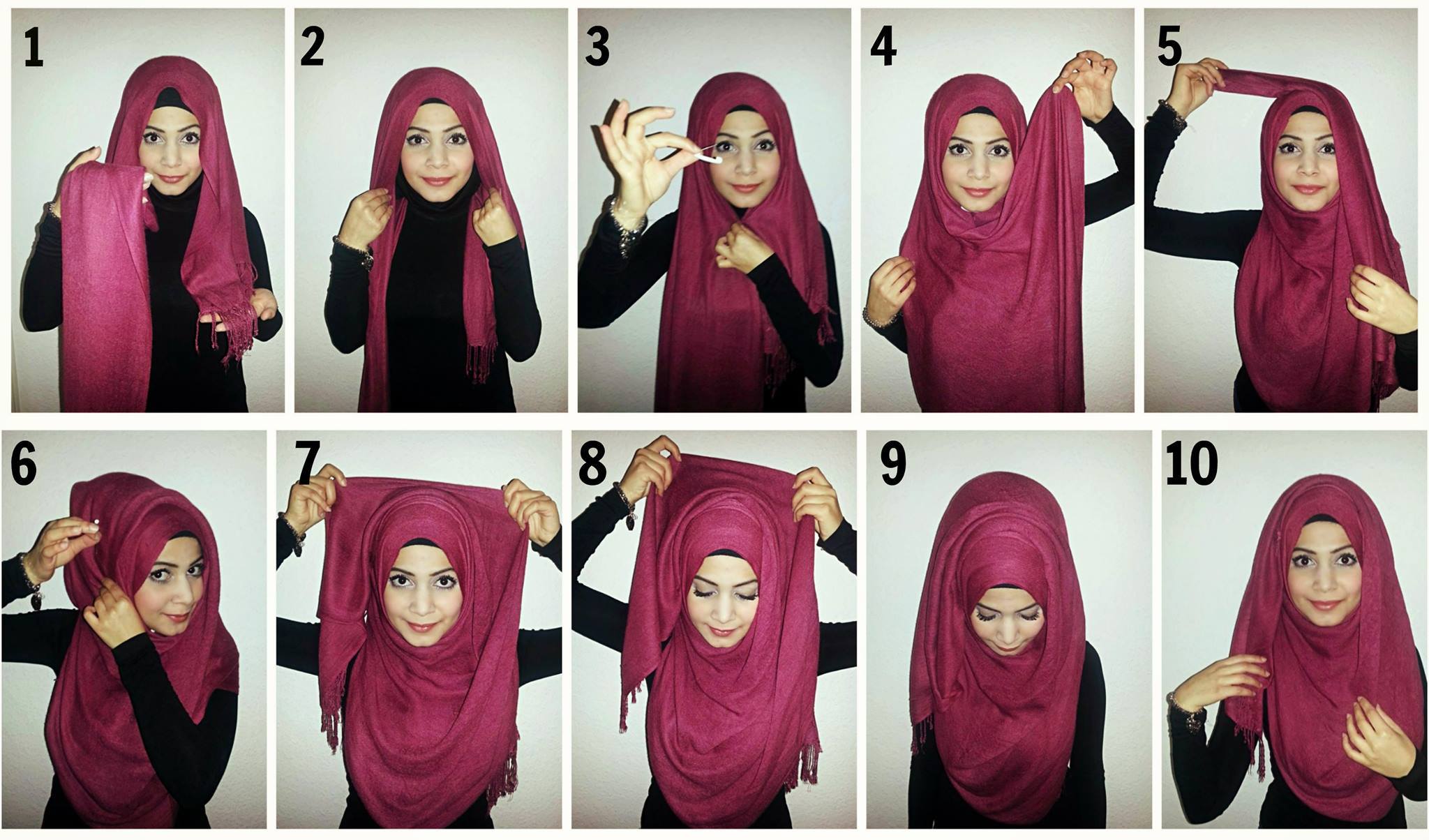 ↓ 1. How to Wear a Pashmina Hijab in Summers
Many people believe Pashmina is reserved for the Winters, which is invalid. Pashmina comes in different kinds, and there may be one perfect for the summer weather. Another concern among girls practising the Hijab is how to wear it during the harsh Summers.
Cotton is sweat-absorbent, and so a Cotton Hijab may end up looking like a wet mess. On the other hand, Pashmina is not a sweat-absorbent meaning; it allows sweat to evaporate properly, letting you cool down. Additionally, the layers of threads, also known as the Ply, determine whether it is wearable in the Summer.
The great idea is to opt for a lighter tone to keep the summers cool and breezy. This bright, sunshine-yellow dress is great for the Spring and Summer period. The addition of the belt makes for a great accessory and keeps the waist in shape, preventing a very baggy look. The black scarf and heels are two contrasting shades added to create a bold look. However, they can be substituted with pastels and nude shades for a summer-appropriate look.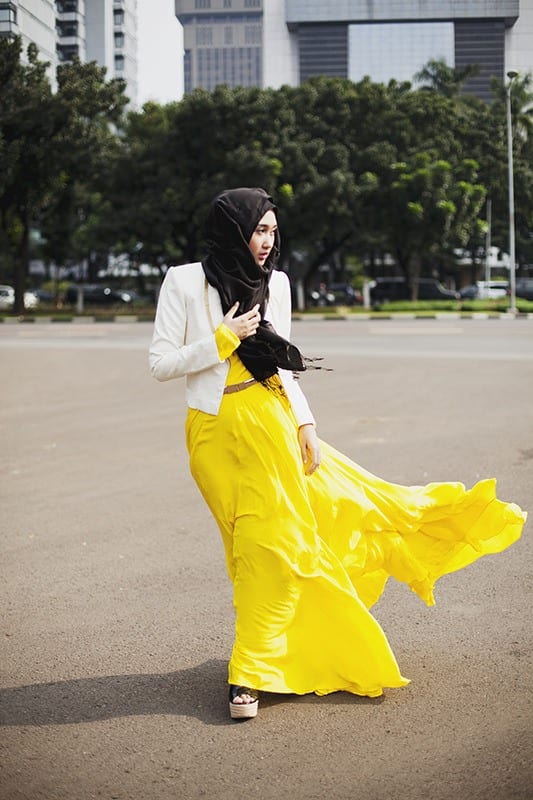 Video Tutorial on Different Ways to Wear Pashmina Hijab
Follow the step by step instructions and create the trendy looks shown to you in the video. Dressing modestly does not mean letting go of your style statement. Express yourself through your style by accessorizing or styling the Hijab in the most appropriate way.