Hair care tips for women over 60: Ageing is a natural, often liberating process but it comes with its own challenges. Aging brings many women towards skincare but we often forget that our hair is half our beauty. It's hard to watch luscious black hair thinning and falling but don't lose hope. In this article, I will be revealing some secret tips on how to get shiny hair in your 60s.
How to Have Healthy Hair In Your Sixties?
No matter what your age, proper care is essential to maintain healthy skin and hair. While most of us take pretty good care of our skin by using moisturizers, sunscreens, night creams and whatnot, the hair is usually ignored. So let's look at some tried and tested hair care tips along with hairstyling ideas. Of course, good outfits are equally important to look your best so do go through these Fashion Tips For 60 Plus Women.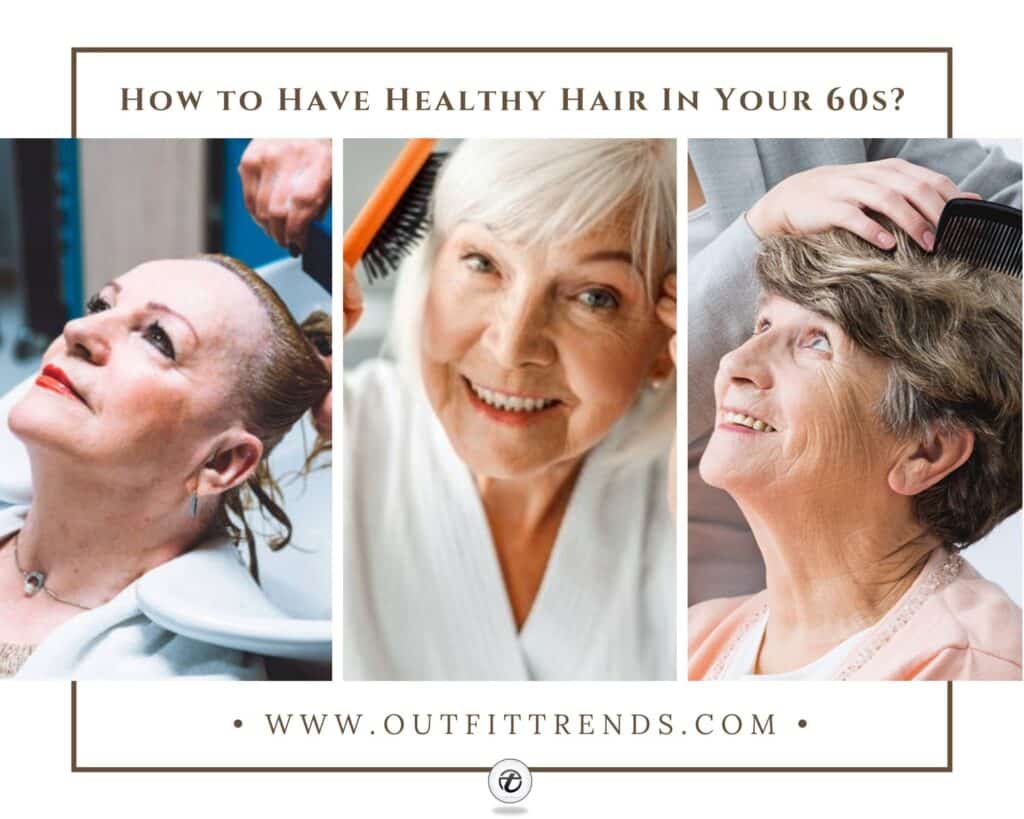 20 – Incorporate these magic foods into your diet:
"Incorporate protein and iron into your diet in the early stages of hair thinning as these are the most fundamental foods for thinning hair," says Francesca Fusco, MD, assistant clinical professor of dermatology at Icahn School of Medicine at Mount Sinai in New York City. Reach out to your doctor and get tested to rule out any Iron, Vitamin D, or mineral deficiencies. It's always a good idea to incorporate supplements (especially those containing zinc and antioxidants) into your diet.
Eggs: They Give your hair follicles the protein they need to survive and grow, along with Biotin that leads to the production of Keratin (the secret behind shiny hair).
Berries: Berries are rich with Vitamin C and other anti- oxidants that protect hair follicles against damage. Vitamin C also supports collagen production which helps strengthen hair against breakage.
Spinach: Along with a bunch of important nutrients like folate and Vitamin C, this leafy vegetable helps your skin produce sebum which moisturizes the scalp.
Fatty Fish: Fish is the secret ingredient that you should be include in your diet from a young age. Eventually, It will give you shiny hair over 60 because it contains Omega-3 and fatty acids which help maintain shine and support hair growth. If you are unable to incorporate fish into your diet, fish oil suppliments are known to prevent immature hair thinning and slow down the process of hairloss.
19 – Go for Gentle Combing
Whenever brushing or washing your hair, be gentle. Roughly wrestling with your hair to untie knots can lead to greater hair loss. Whilst the myth that you should brush your hair a hundred times a day is not true, moderate gentle brushing is key to maintaining smooth hair. Just make sure that your hair is not tangled or severely knotted too often.
18 – Tips on how to gently brush your hair:
Never brush wet hair because they are more fragile and can break while combing.
Don't brush from root to tip because that means you can pull out a few strands from the follicles. Start from the bottom and slowly move upwards.
Spray on a hair detrangler if your hair is super knotted.
Use a paddle brush to give your hair gentle stimulation when brushing.
Note: We are also a huge fan of fine combs and detangling brushes for tear-less detangling of hair and regular gentle combing.
17 – Keep It Cool:
Your ageing hair is fragile and has less protection against damage and heat because the natural production of sebum has slowed down. To maintain shiny hair over 60, skip the heat styling. Minimize exposure to flat irons and blow-dry to maintain your natural sparkle.
Bonus tips: Ditch the hair spray. The alcohol formula makes your hair dry and brittle and prevents hair growth over 50.
16 – Shampoo to shine:
Ageing changes the texture of your hair because the natural oil secretion slows down. To protect hair texture, shampoo your hair not more than two to three times a week. Make sure you are using a Sulphate Free shampoo and conditioner. Sulfate-free shampoo is healthy for your scalp as it reduces irritation, frizz, and dryness by removing dead cells leaving your hair softer.
Don't forget to gently massage your scalp when applying shampoo to increase circulation. Similarly, softly apply a hydrating conditioner to your hair in a slow downward motion. Don't forget to use a good quality hair serum and a single dab of pomade to increase shine.
15 – DIY Deep Conditioning Treatment for Luscious hair in your 60s:
What you'll need:
2 Tbsp of pure Coconut Oil.
1 Tbsp of pure Coconut Oil
1 Tbsp Almond Oil
3 drops of any Essential Oil
A small mixing bowl
Instructions:
Use coconut oil in a solid state, if it's liquified place it in the refrigerator until solid. Stir your oil until a creamy texture is achieved.
Add almond oil and 3 drops of any essential oil (such as Rosemary, Tea Tree or Lavendar oil). Mix all your ingredient well.
Apply the mixture to your hair from roots to end, pay extra attention to any dry areas or patches.
Cover your hair with a shower cap.
Wash after 15-20 minutes. Use once a week for the best results.
Busting myths: Contrary to popular opinion, dry shampoo is not ideal for your ageing hair. According to the buzz, many women have started to use dry shampoo as they age. That's a no-no since it will clog your clogs and will make you lose your youthful shine quicker.
14 – Post Bathing Care, Use a T-Shirt Wrap
That old neglected T-shirt buried in your cupboard is the secret to smooth and soft hair. Using a rough bath towel to dry your hair post-shower deprives them of moisture. It is also harmful because you are unnecessarily aggressive towards your hair cuticles which will lead to breakage. Without its rough grooves, the T-shirt absorbs excess water (but lets the much-needed moisture remain) and prevents frizz.
How to make a T-Shirt Wrap:
Cut a straight line from the bottom of one arm-hole to bottom of the other arm hole. Keep the top part away for future DIYs as you will only be using the lower cut-out.
Place the lower end of the shirt over your head, placing the finished seam along your forehead.
Gather the extra fabric together at the back of your head and twist to keep in place.
Draw the excess fabric over the top of your head so that it stays put on your forehead.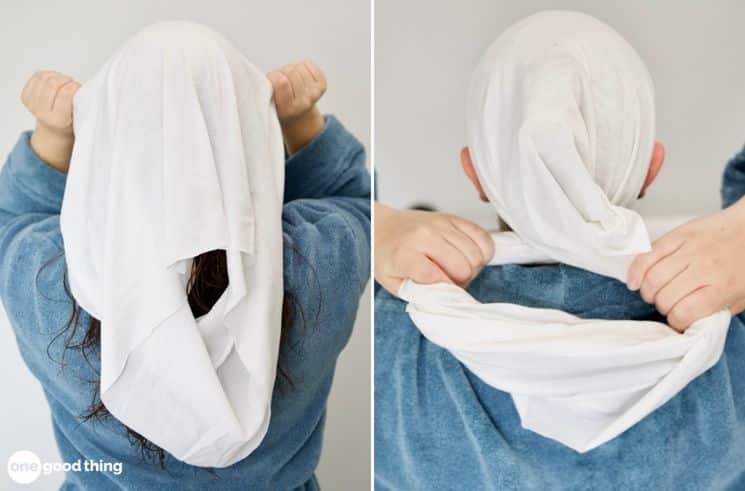 13 – Detox It Out
Let's face it; sometimes you cannot skip the use of heavy products. If you want to wear your hair fancy to the big fat family wedding or graduation, don't forget that proper aftercare is vital. It is fundamental to remove the access residue harmful products may have left behind. Here is how you can DIY a super easy but effective Hair Detox solution.
Basic ingredients needed:
3 parts Sea salt
2 parts mild shampoo
You can add essential oils to the magic potion for extra benefit:
1-2 Tbsp of Coconut oil (for soft and conditioned hair)
1-2 drops of Tea Tree oil ( To fight a dry and flaky texture)
1-2 drops of Geranium oil ( To maintain moisture and shine in your aging hair)
Mix, apply thoroughly, and wash gently. Use two times a month for best results. If you don't have the time to make elaborate DIYs at home, try a Detox treatment at your nearest salon for similar results.
A quick fix for the busy bees: When on the go, mix the essential oil of your choice into your shampoo or conditioner for quick nourishment for your dry and thinning hair.
12 – Handle With Caution
It's no exaggeration; too much touching and fiddling with fragile hair lead to breakage and loss. Don't pull your hair too tight, and don't leave them open either. Messy buns, loose braids, high ponies are great hairstyles to try. Let your hair breathe and get on with your day.
Secret Hack: Sleep with Satin pillowcases to prevent friction from damaging and tangling hair as you are tossing and turning.
11 – Salon Protein Treatments:
While we are always in favor of feeding your natural hair protein in the form of an egg, yogurt, and avocado masks, sometimes you do feel like treating yourself to a salon trip. The best options available to maintain shine in your 60s are a moisture or scalp treatment.
The Scalp Treatment is for a dry and itchy scalp. It stimulates scalp oil production and improves hair texture. Remember, maintaining a healthy scalp is key to fabulous hair.
The Moisture Treatment: This treatment helps resurrect dry tresses and helps maintain shine. Use this treatment, especially if your hair is damaged due to overheating and processing.
10 – Trim regularly:
Don't underestimate the importance of frequent trims. Getting your hair trimmed every 6-8 weeks promotes healthy hair growth. It is also your chance to try out new haircuts that will make your hair look fuller.
9 – Embracing the Grey:
Regardless of the precautions you put in place, the grey will come. It's a perfectly natural part of growing old, and it's time for you to own it with confidence. Believe it or not but grey hair is very much in trend these days as 'going grey has become a popular Pinterest search. Let's see how you can show off your wisdom through those graceful greys.
How to confidently own your grey hair?
Use purple shampoo and conditioner which will help neutralize the yellow tinge that comes with aging hair. Instead, you'll see your hair looking shiny!
Explore color options to modernize your look. Adding highlights or lowlights will help you fight the dull.
Get a haircut that makes you feel confident and excited about the new shade of your hair.
Best Haircuts for women in their 60s:
The best way to feel excited about the natural aging of hair is to get a haircut that you love. You can choose from an array of haircuts that will make your hair fuller and more youthful. Here are some of my favorites.
8 – Layered Bob for Grey and Thin Hair
A popular choice that adds thickness and fullness to your hair and helps hide the effect of thin hair effortlessly.
7 – Layered Salt and Pepper Long Bob
This style adds movement and shape to your hair. It will also flawlessly accentuate different tones of color.
6 – Long layered Brown+ Grey Hair
If you're in the process of transitioning from a natural color (such as brown) to grey, this is the perfect look. Moreover, Its neatly textured and adds volume to your thin hair. For more similar ideas, you can go through my previous post on Best Long Hairstyles For Women Over 50 To Try This Year.
5 – Short Grey Pixie
This look screams confidence. Make the leap if you're tired of coloring and just want to chop them off. This hairstyle is super popular among women over 60 as it gives them a youthful look overall. If you want to add spike and volume, use a texturing spray.
4 – Short Shaggy cut with Bangs
This cute 60s hairstyle is still popular and It makes your hair look fuller and fluffy. The layers and uneven fringes give you a vibrant style.
3 – Get a Balayage with a Wavy Bob
Add dimension to your Wavy Bob by getting a golden Balayage for brown hair and you'll easily take a few years off your age.
2 – Opt for an Inverted Bob
An Inverted Bob is a super trendy short hairstyle for women over 60. If you have straight hair, The neck-length inverted bob is an allrounder- it's feminine, sexy, and modern. You wouldn't ask for more. Feathered pixie: Feathered pixies make your hair look well defined and add dimension to your hair. The feathered cut is for you if you've got a busy schedule and want low-maintenance hair. For more hairstyling tips and ideas, check out these Short Hairstyles for Women Over 50.
1 – Self Care
Last but not the least, if you wish to maintain your hair's long-term shine in your 60s, you must give yourself enough sleep and keep yourself away from stress. Good sleep is the much-ignored secret behind good health (Yes, even the health of your hair!). Rest, enjoy, treat yourself, and think happy thoughts, and everything will feel awesome, including those locks!
Concluding Remarks:
As the greying starts, worry also sets in. You look into the mirror, feeling different and worrying about thinning hair. The key is to embrace the change because you do look great and if you are worried about how to get shiny hair in your 60s, keep this article handy. With the right care, you can easily maintain the long-term health of your hair.
Do you have any other tips on caring for grey hair? We would love to know in the comments.
Don't forget to check out 21 Best Curly Hairstyles For Women Over 50 To Try This Year if you're looking for curly hair inspiration.