Formal Outfits for Working Women: She's got the looks and the brains, and she's got her power suit on; isn't she a force to be reckoned with? It's the 21st century, and we love to see our boss babes out there taking over the corporate world. From the she-wolves of wall street to the hardworking CEOs, our working women never leave the fashion world behind while they're busy hustling.
Her suit is her ammo for working women, and, in this century, we're leaving boring suits behind and shaking up our office wardrobes with the most classy, stylish, and chic business attire. Because when you're in the office, we want all eyes on you. With the business and fashion world both bowing down to you, take over the world in glamour and grandeur. So, let's dive right in and take charge of two worlds simultaneously!
How to Style Formal Outfits for Working Women?
It might be a formal sit-down event or a business meeting or dinner to discuss deals, a cocktail party to celebrate, or a Christmas/New Year party in the office. These are just some of the events that require formal dressing for working women and are one you would definitely want to be dressed according to the occasion.
For most working women who love fashion yet, they want their outfit to look formal tend to wear suits, which is a perfect pick for any formal environment. You can either go classic with monochrome suits or add a bit of chic to stand out with stripes, leather, or silk fabrics and pull off your overall look with some uplifting accessories. If you need the inspiration to gear up your fashion game at work, we got some ideas for you, ladies!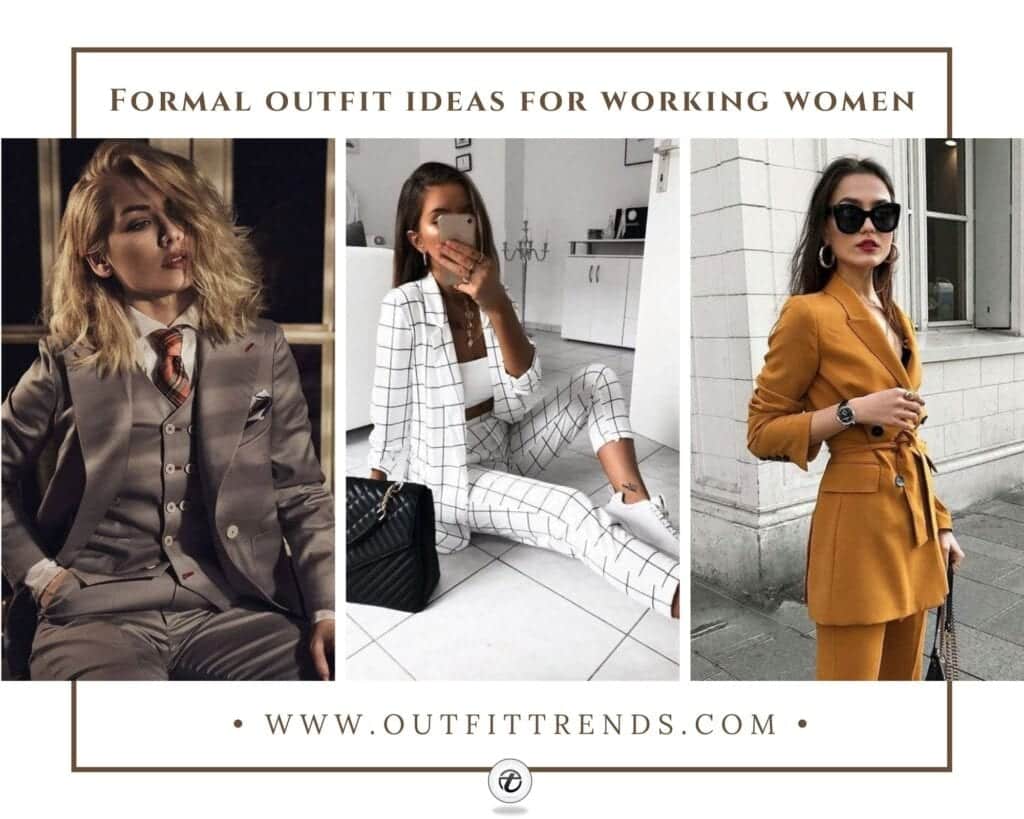 Where to Buy Formal Outfits for Working Women?
Thinking of getting a business wardrobe haul? You came to the right place. We know it's not easy refilling up with wardrobe while you're busy with all that work. So, to save you time and hassle, we round up a list of some of the best formal outfits for working women. Dive right in and check these links out!
#32. Hello Yellow!
We know that Monday mornings are hard, but with the perfect outfit and a boost of confidence, you'll be working your magic in no time. Energize your office attire with a bright yellow blazer, add a scarf to complete your look, and a few matching accessories won't hurt!
#31. Waistcoat and Tie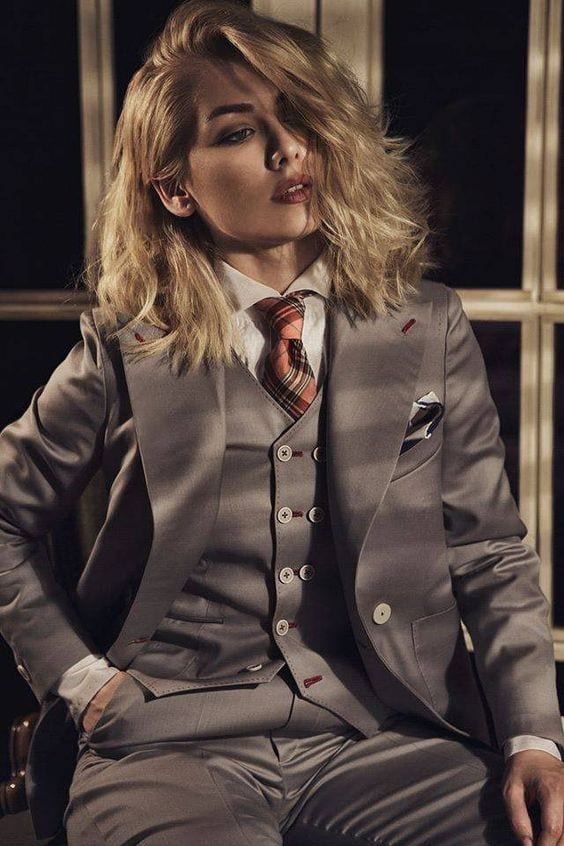 Worried about what to wear to your board room meeting? We got you covered. All you need is a power suit, and what better outfit for that than a suit with a waistcoat and a contrasting tie to break down the color scheme a bit. All eyes are on you while you present the intriguing ideas you got.
#30. No more feeling Blue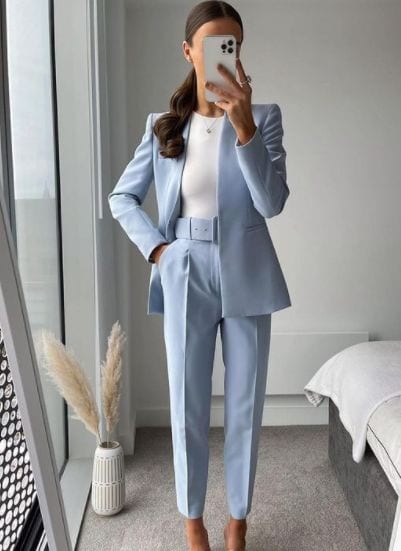 If you're feeling blue with all the workload you're burdened with; you need a little fashion magic to make you all better. This pastel blue blazer with matching belt pants will have you feeling glamourous in no time. Now it's time to get your work sorted out!
#29. Camel Tones
Camel tones are subtle, timeless, and ever so classy; so, when in doubt, go for anything camel. Sleek back hair, black shades, and a mini briefcase-style bag surely add to the look.
#28. White, alright!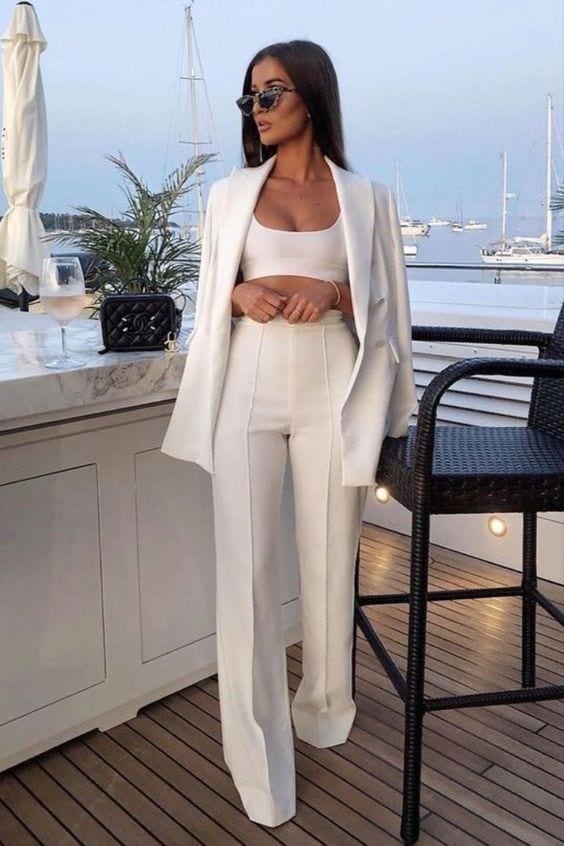 White has to be a delight for the eyes. Coordinated for an elegantly professional look, this all-white attire takes the guesswork out of searching for your next office look. The pleated pants and blazer hanging over the shoulder give off the boss babe vibes you've been looking for!
#27. Neon, dream on!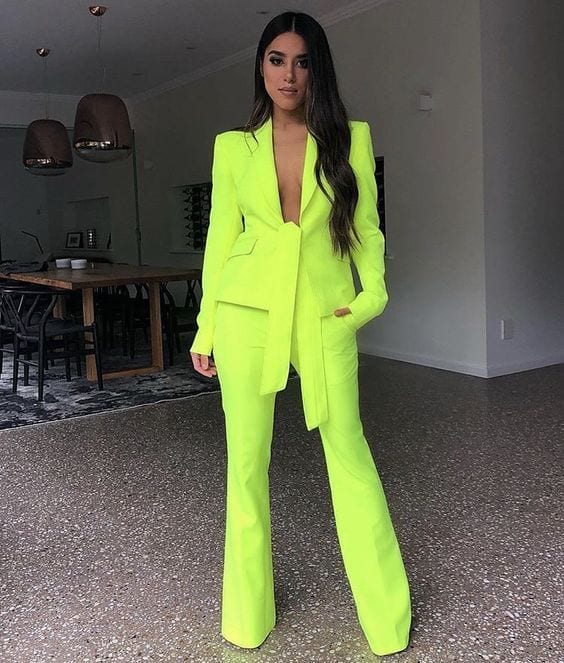 If you're out there realizing your dreams, then all you're missing is a neon pantsuit. The cuts of this suit and the belt style right below the collar are to die for.
#26. She said Red
Looking for an attire for a business meeting dinner? Throw a red pantsuit over a lace top, and you're all ready to get that deal signed on.
#25. Bridgerton Vibes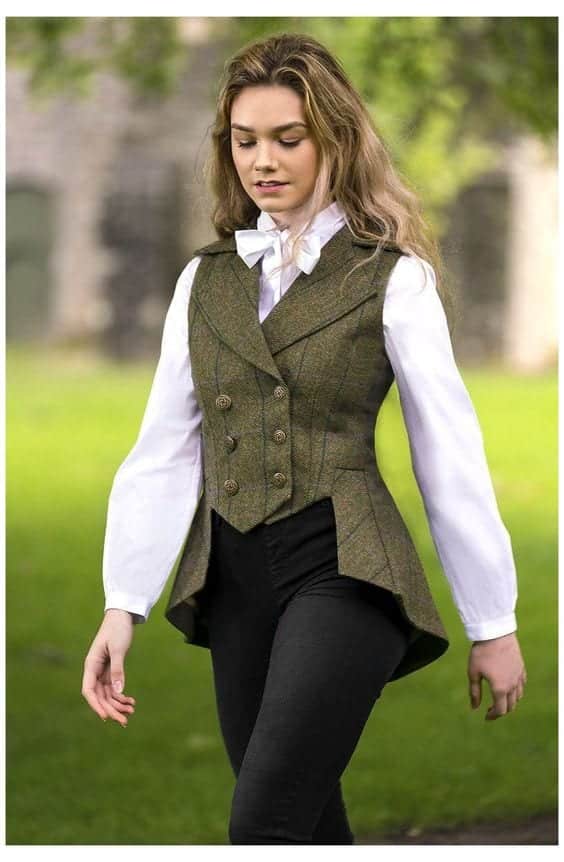 It's no secret that we were all crushing over Duke Hastings when Bridgerton came out. We mention that because the cuts of this waistcoat and the bow collar of the shirt are giving us some major Duke Hastings vibe. This unique attire is not only a blast from the past but will give the other pantsuits a run for their money!
#24. Stripes on Stripes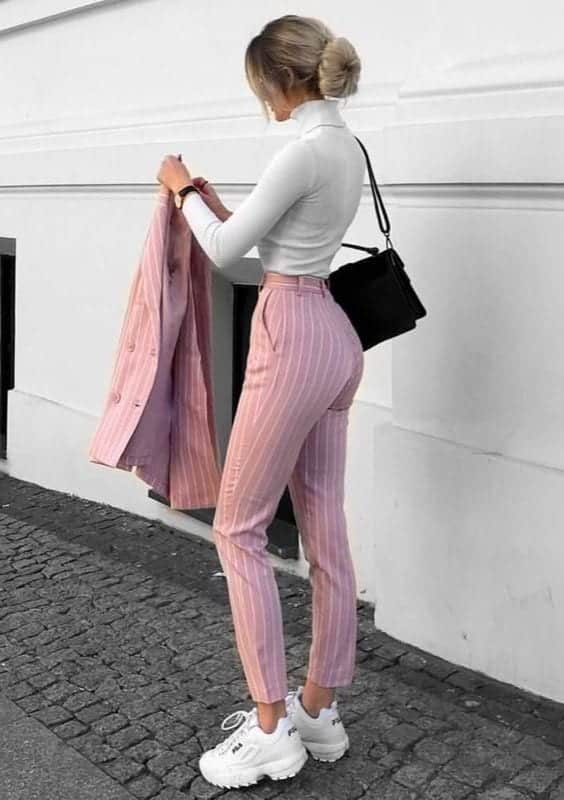 We've seen striped pantsuits in black or grey or other neutral colors. But it's time to spice things up by adding colorful pieces to your office wardrobe, and a pink striped suit is the best way to get started. The white turtleneck serves as the perfect blend with this outfit. Hop into a pair of comfortable sneakers and strut around the office being the working boss you are!
#23. Reign in Chain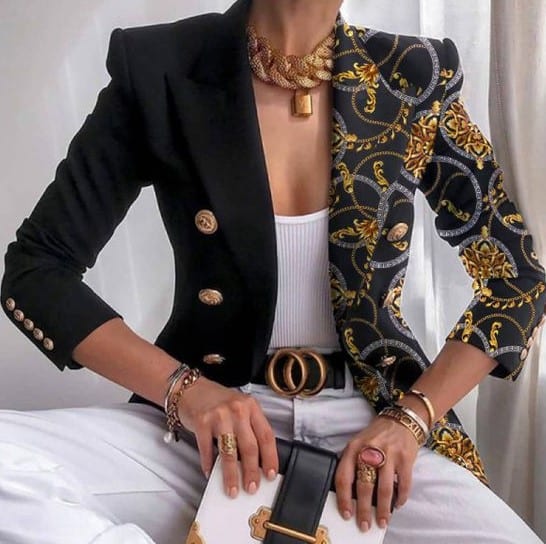 In this chain print suit, looking regal would be an understatement! The belt, the chain necklace, the matching bag, the bangles, and rings, we love everything about this look. It's fashionable and royal. We love how the suit is divided half in half, and the fact that it's paired with all-white pieces brings out the look more. Rely on this work attire to look absolutely regal and a force to be reckoned with!
#22. Contrasting Vibrance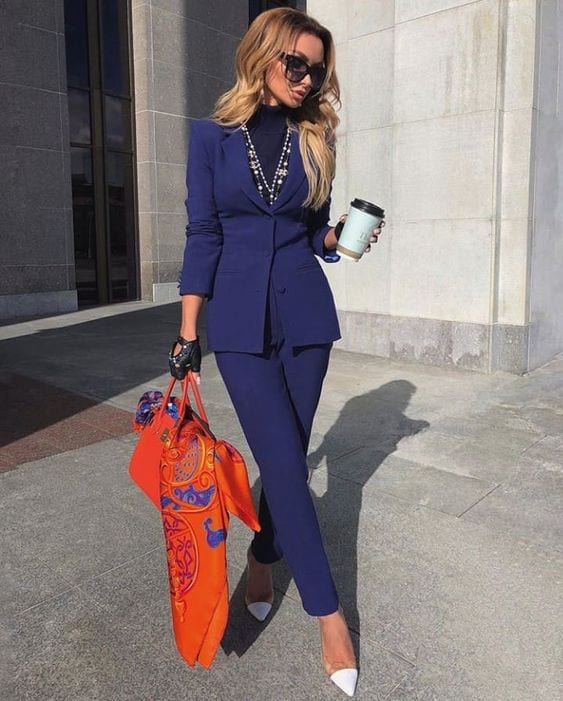 A bold and vibrant pop of color is the perfect way to brighten a hectic and busy day at the office because, ladies, all the compliments you'll get will surely boost your mood. A blue pantsuit paired with a vibrant orange bag is the best way to do this. After all, you get contrast and vibrance in one look, so what more could you ask for?
#21. All about the details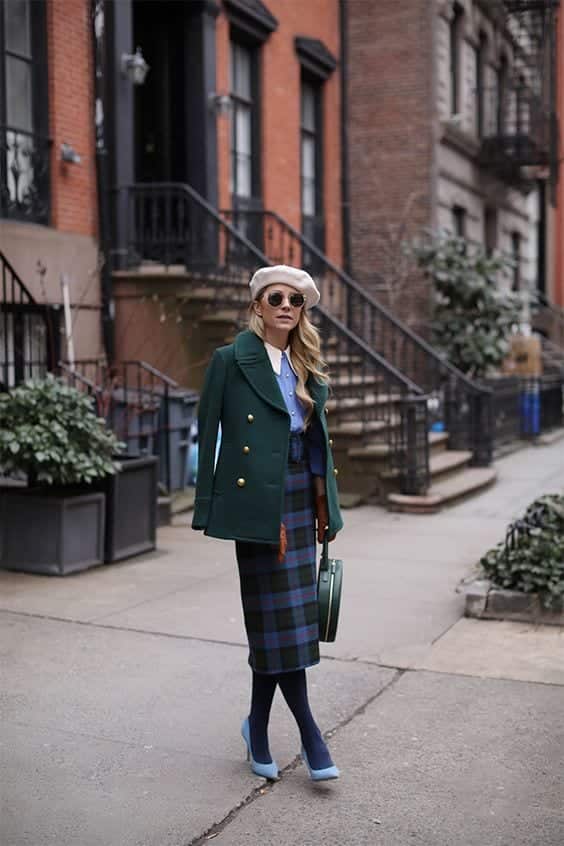 This look is all about the details from head to toe. From the beret, sunglasses, and the pearl button blouse to the coat left hanging over the shoulders, the plaid skirt, leggings matching the skirt, heels matching the blouse, and bag matching the coat, everything about this look is to die for! It's not an exaggeration if we say that this look hints at how particular you would be about work too.
#20. Ankara Prints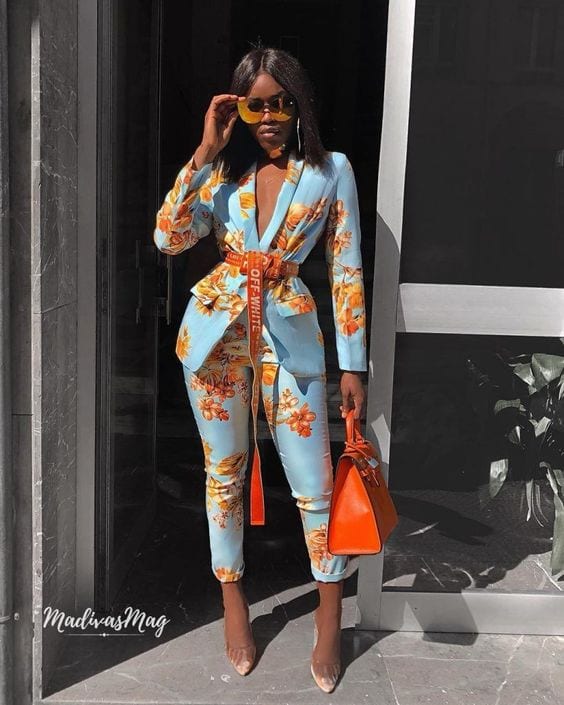 Reorganize your office wardrobe by adding colors and prints to it, and an Ankara print pantsuit is the way to go about it since it's just the right mix of color and prints. Especially if you're working in the fashion industry, this look has to be a part of your office look book.
#19. Celeb Style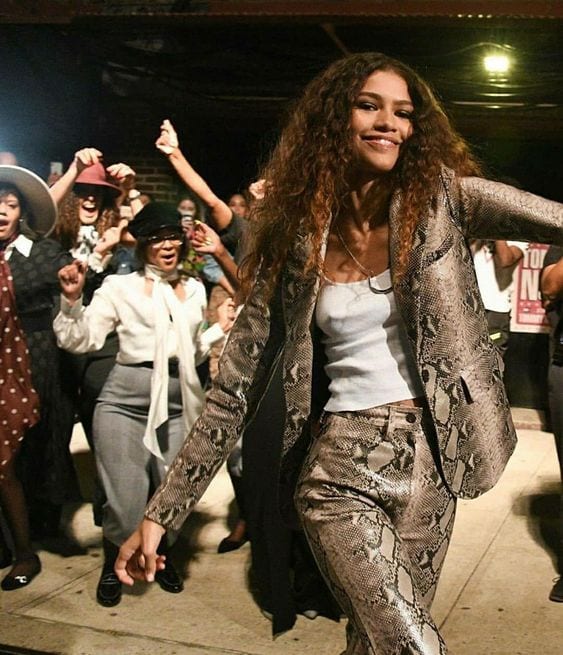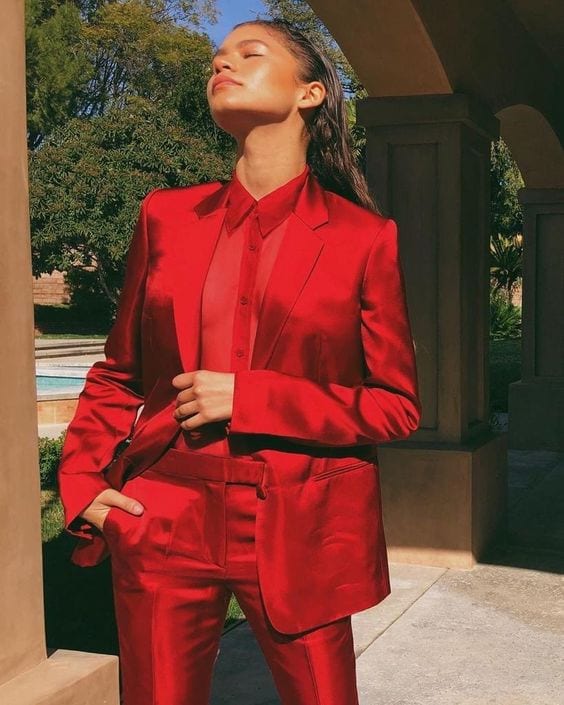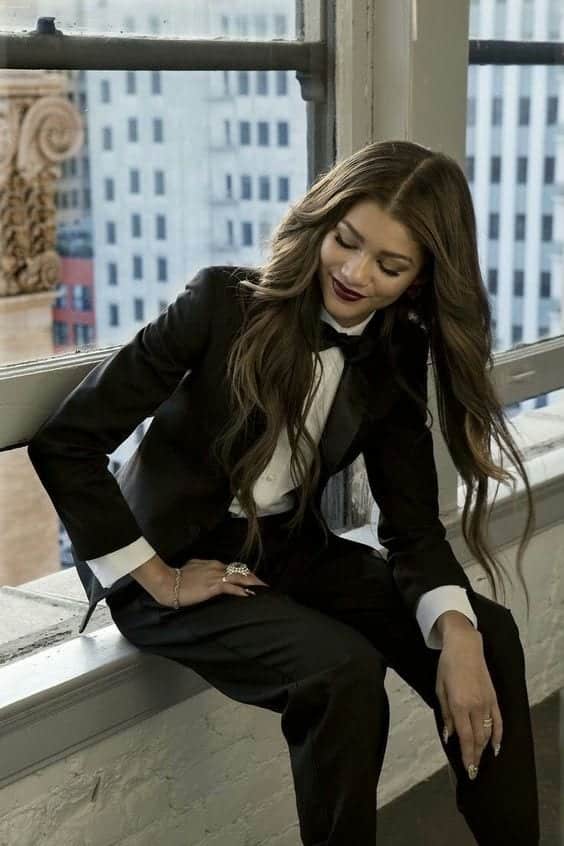 Nobody does suits better than our queen Zendaya, be it snake on snake, monochrome madness, or a slight bow-tie serve. She knows what she's doing and leaves us stunned every single time. She knows how to bring out the glamour in every suit, and we love the way she carries each look. Truly an inspiration for our working women; looking for ideas!
#18. Snake print and Leather pants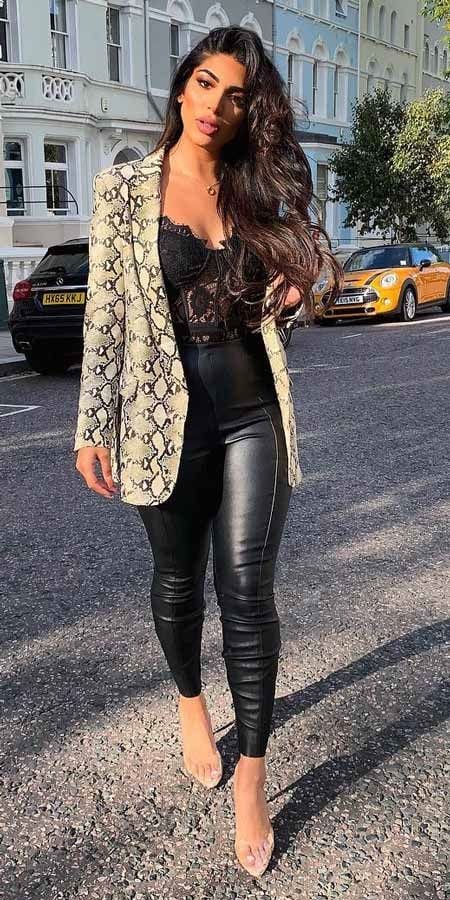 Be it handbags, shoes, or clothing items; girls love to incorporate snake print into their wardrobe; because when it comes to snakeskin print, you're going to be standing out. If you're wondering how to incorporate it into your office wear, then we have just the look for you. Throw a snakeskin print coat over a lace blouse and pair it with leather pants. This is your que to be the boss lady you're meant to be!
#17. Not-so-strictly Formal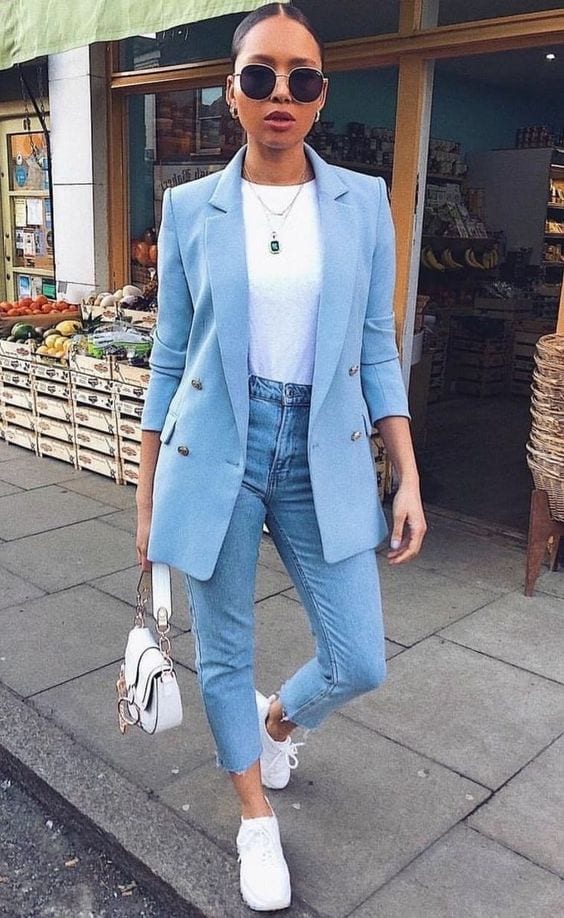 If you're looking for a business casual look for work and then adding denim to your work attire is the way to achieve it. Throw on a coat over a t-shirt and tuck it into your jeans; tie your look together with matching sneakers, and you're off to go.
Check out ideas on how you can business casual jeans and still look fabulously formal at work.
#16. Vogue Editor-in-Chief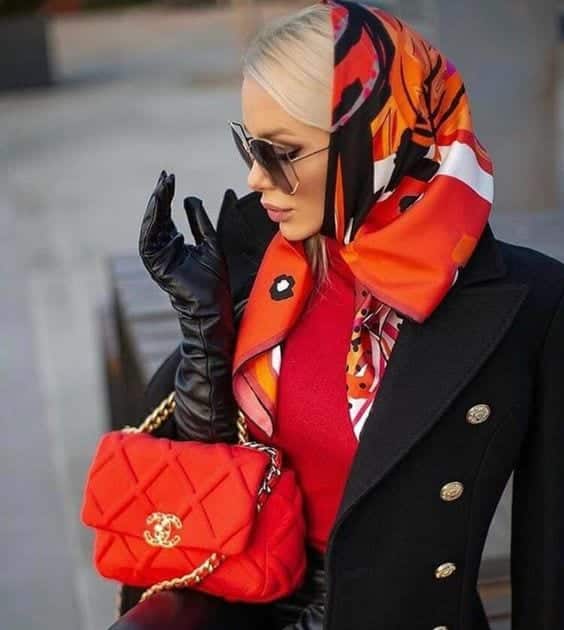 If being the Vogue Editor-in-Chief is your dream job, you can start manifesting it by dressing up like one because roleplay doesn't hurt, and it might give you the push you require to accomplish your dreams. We love everything about this look, but the headscarf and gloves undoubtedly add a significant element of elegance to the overall very chic and stylish attire!
#15. Brown around town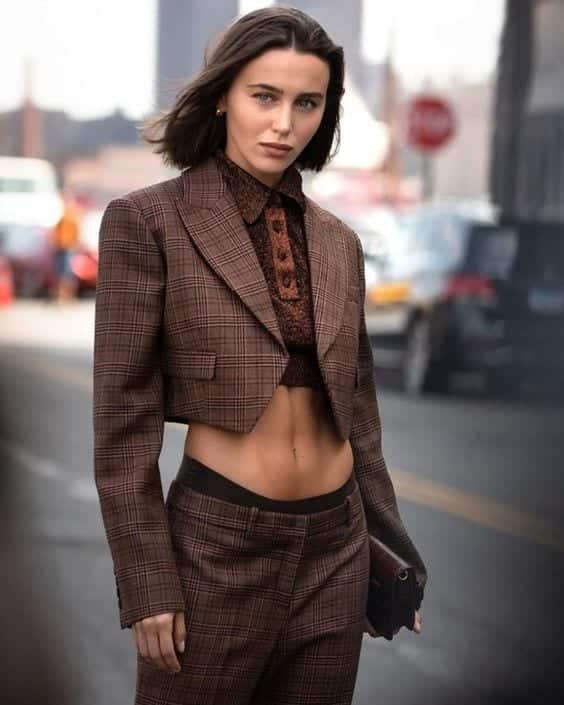 Are you a girl who's in love with crop tops and doesn't know how to give them up at the office? Well, who says you have to? Take your office wear game to the next level with a cropped double-breasted blazer over a cropped collar shirt and pair it with matching pants. And that's how you incorporate cropped items into your office wear because remember, ladies, you can do anything you want, so always go after it.
#14. Feeling fall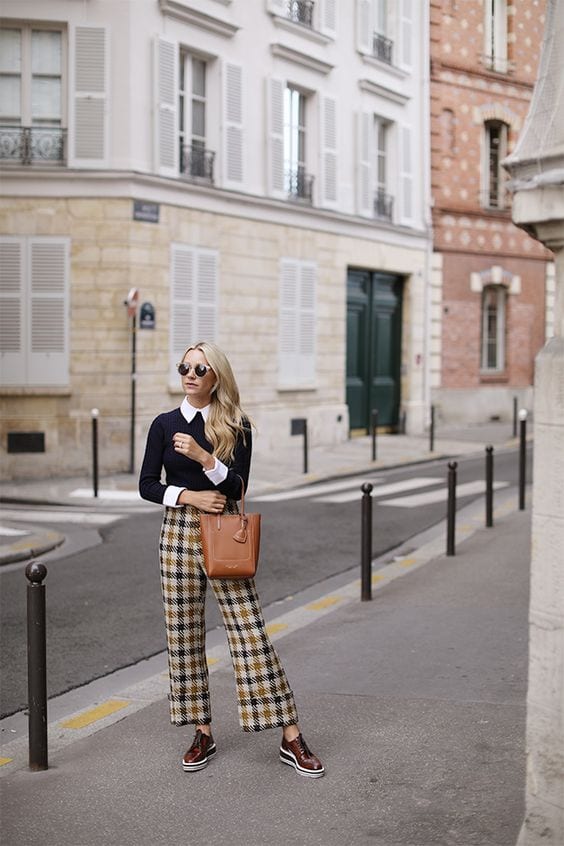 If your winter office wardrobe is looking a bit dull, then add some plaid pants to it. Top it off with a sweater over a collared shirt and accessorize your look.
#13. Veronica, is that you?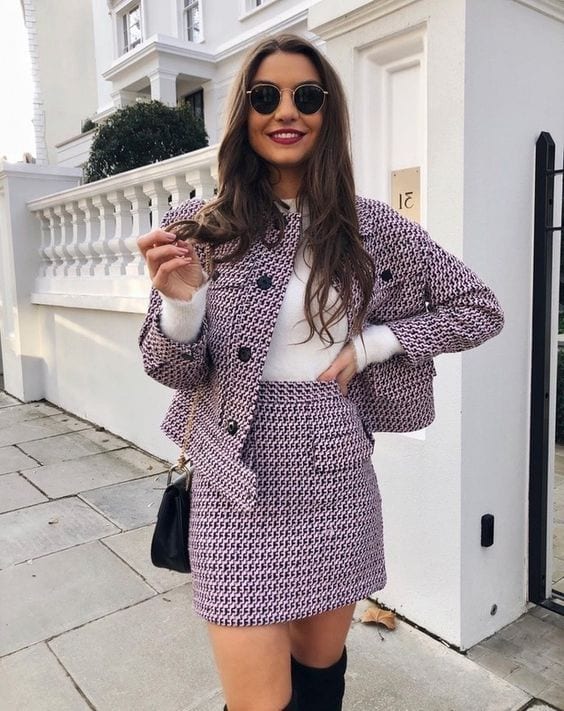 The ultimate boss girl look for working women has to be Veronica from Riverdale and her boss babe attire is definitely what you ladies should be going for too! This is a sign for you to up your office wear game. The long boots, sunglasses, and bags are also doing wonders for this look.
Check out more ways you can wear and style professional skirt outfits for working women to wear at formal environment.
#12. Velour Grandeur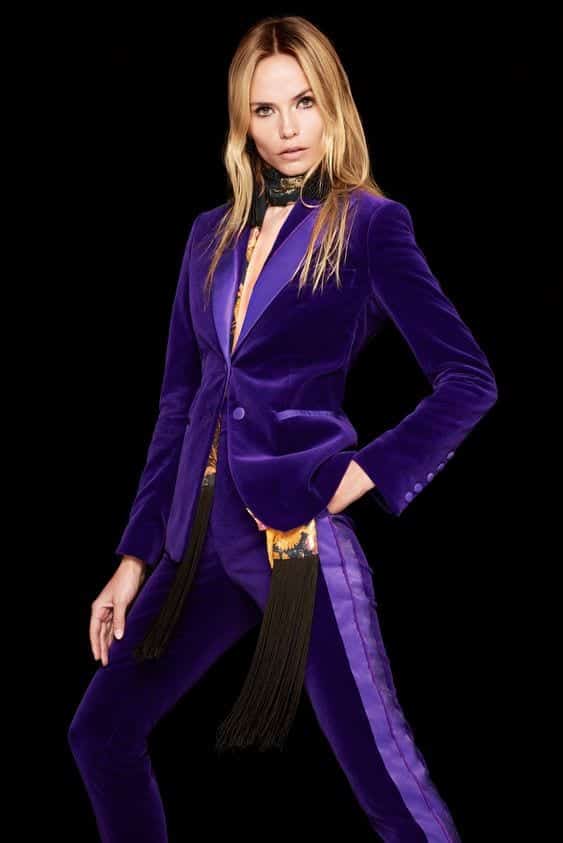 The grandeur velour holds is undeniable so let this serve as an inspiration for adding a velour pantsuit to your office wear.
#11. Suspenders in action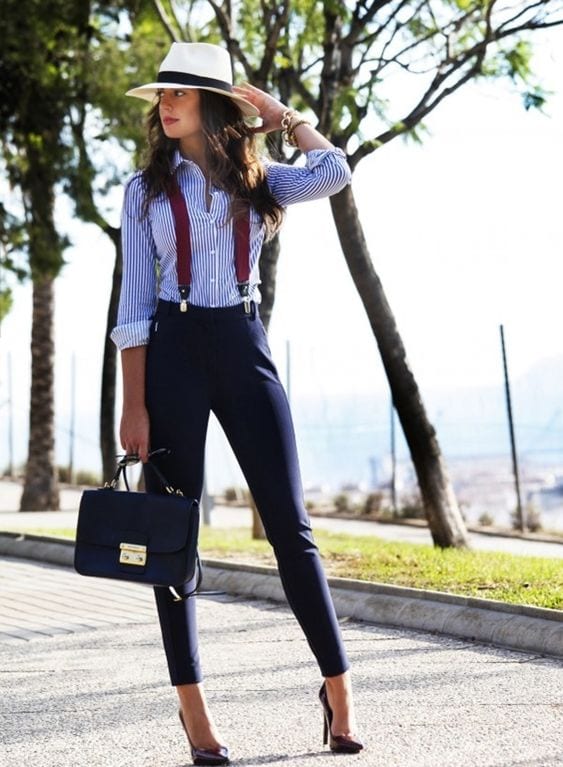 Suspenders are so underrated and a fashion item that's almost been forgotten. Dust off your suspenders and bring them into some action at work. A button-up shirt with pants tied together with suspenders gives the ultimate boss babe look. The briefcase-style bag indeed adds to the whole corporate look you got going on there.
#10. Must turn Mustard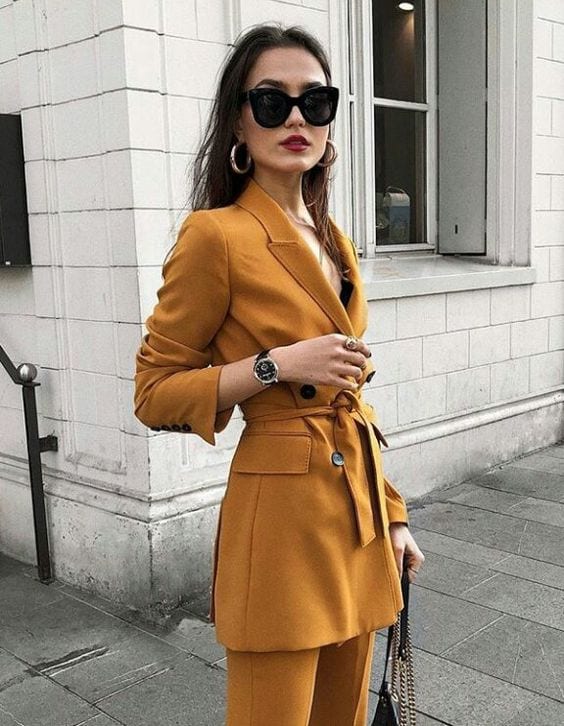 This mustard double-breasted long suit with the belt and matching pants topped off with a bold lip and sunnies makes one want to jump out of bed and get ready for work. This attire brings about the buzz and motivation you've been looking to bring to work.
#9. Maroon in tune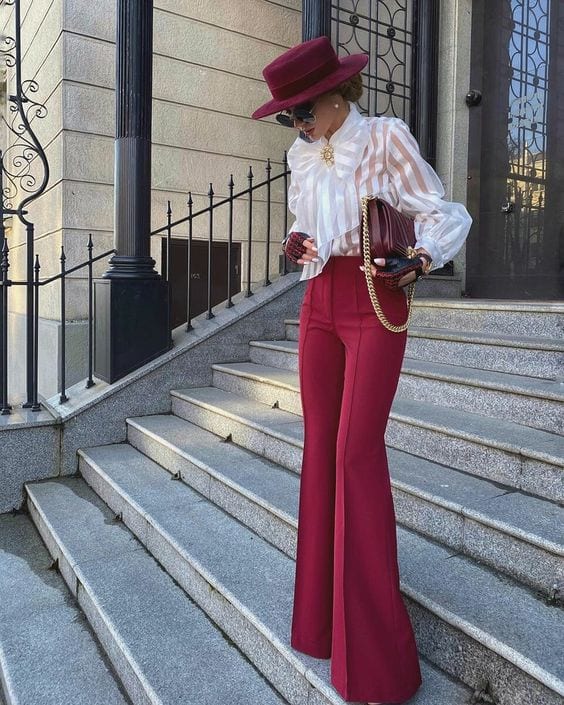 As bizarre as the maroon pants look, the shirt's design also does wonders for the outfit. This outfit is also clearing out any doubts we had about incorporating hats into our office wear.
Check out more smart outfit ideas for working women on what to wear at a business dinner.
#8. Between the lines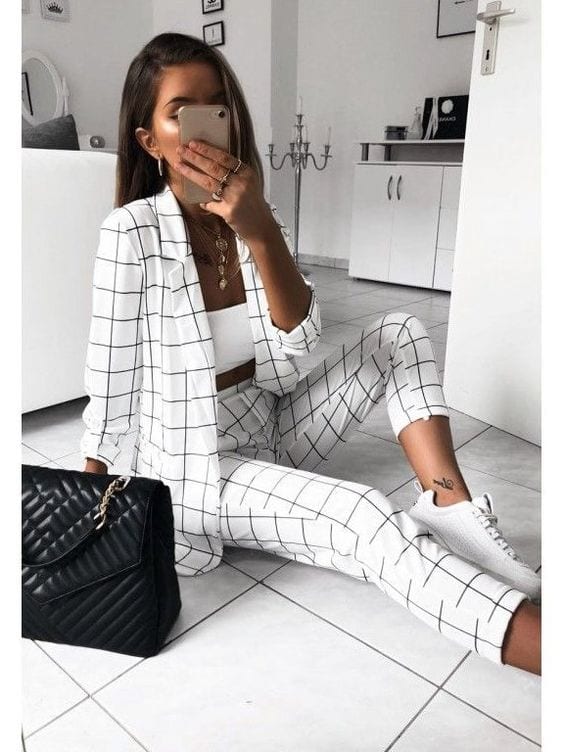 Be it stripes on stripes or just straight-up box lines, we love everything lines, so when in doubt, let the lines pantsuit be your savior!
#7. Look serene in Green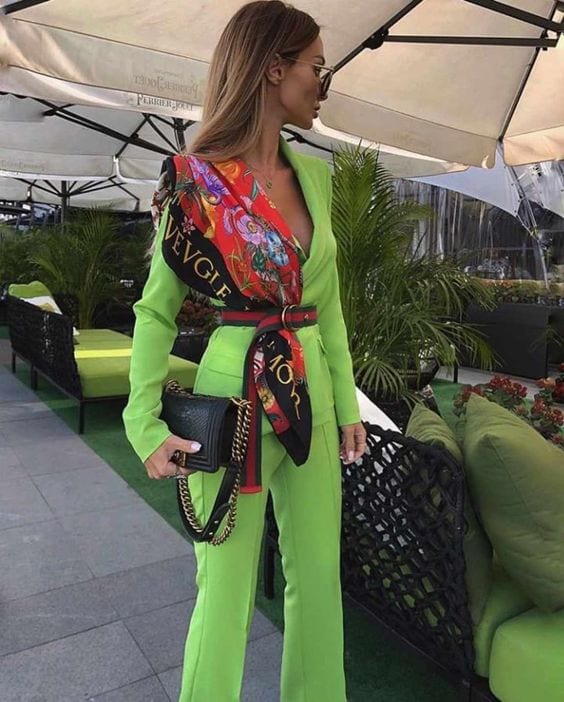 This pantsuit is so in sync that it can easily be mistaken for a jumpsuit. We know that adding scarves to any look makes it stand out more, but the way this scarf adds to the look leaves us in awe. It breaks the monotone color scheme making the outfit look super chic and classy.
#6. Abstract and on track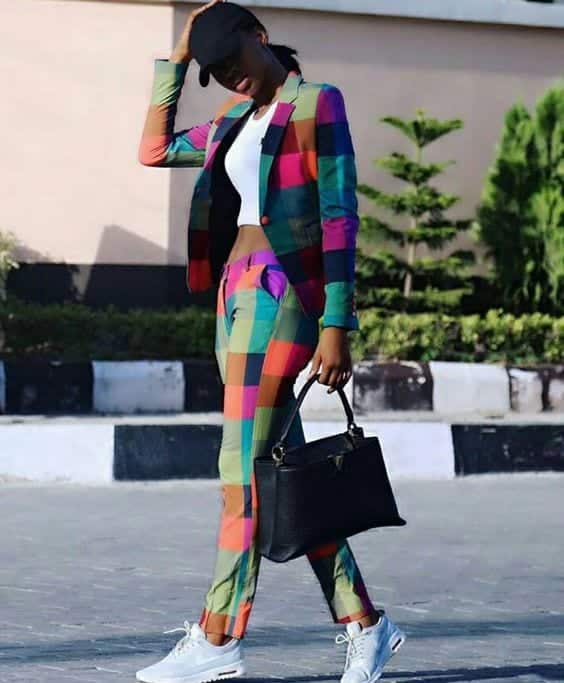 Channel your inner Picasso at work, and don't shy away from wearing an abstract print pantsuit to the office. The black hat and bag break up the bizarre color palette that's going on in the suit.
#5. Take charge in class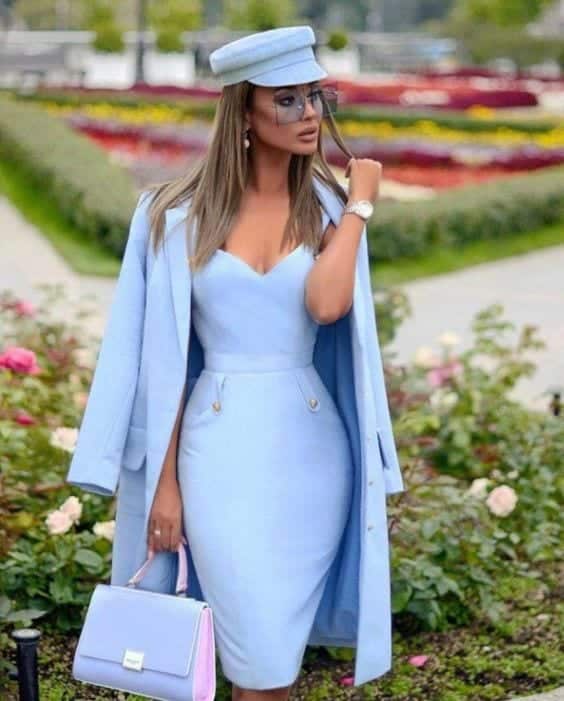 This attire gives us some major classy yet sassy vibes and has got us wondering why we never thought of throwing on a coat over a body con to the office!
#4. Plaid on Plaid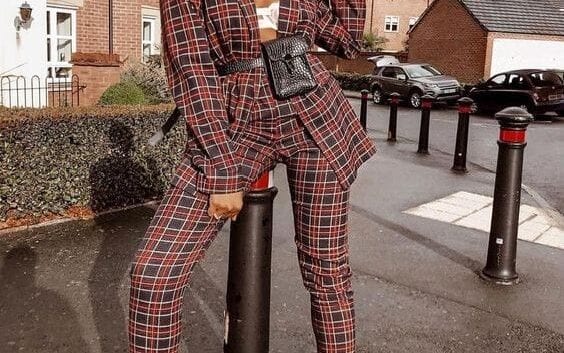 Playing with plaid is never a bad idea, especially when it comes to office wear, so what are you waiting for?
#3. Baggy Suits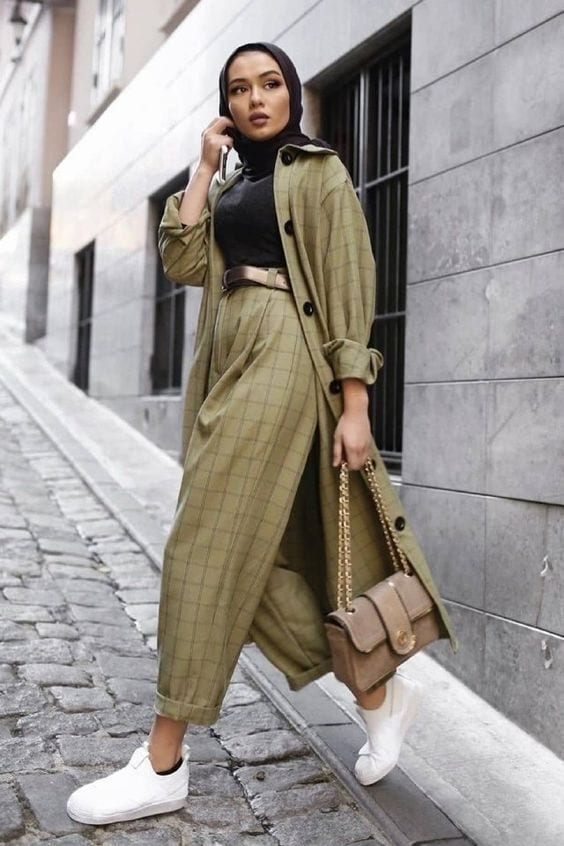 This one is for our hijabi boss babes or those looking for loose-fitted comfortable office wear; baggy pants and a long coat will be your best friend.
#2. Resort to Shorts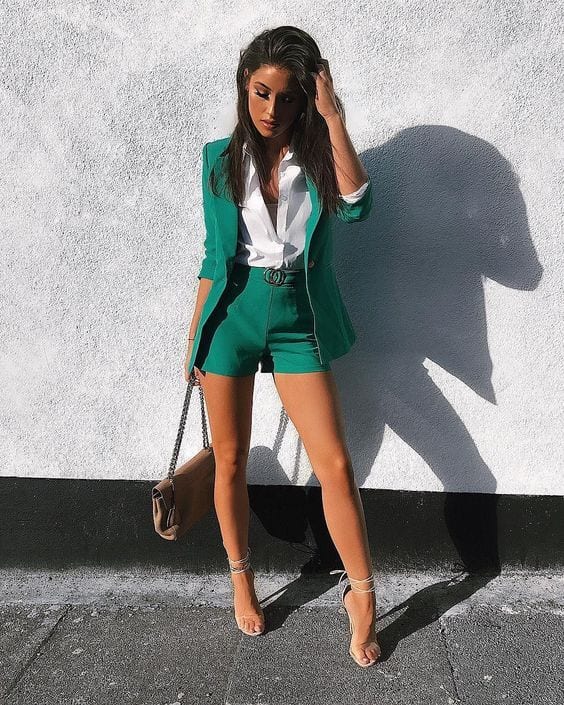 If summer is right around the corner and you're looking for an outfit to beat the heat, then let us come to your rescue with the perfect outfit. It's rare to see a short suit at the office, but it's the easiest way to get that lightweight and breezy feeling!
#1. Leather on Leather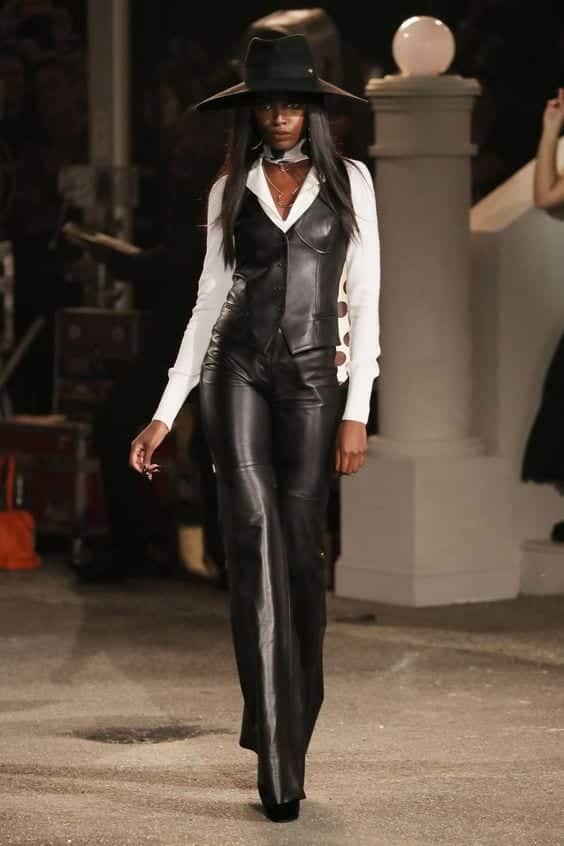 We've seen denim on denim, so why should we shy out from trying leather on leather. A leather waistcoat over a white shirt and leather pants is genuinely a look worth making the heads turn at the office.
Frequently Asked Questions
Q.

Is looking stylish at the office considered unprofessional?

A. No, ladies, that is not true. Looking presentable is the foremost thing to be considered before going to the office. If looking stylish boosts your confidence at the office or before an important meeting or presentation, then it should be your go-to.
Q.

How do I look stylish in the office every day?

A. All you have to do is look for inspiration and find out something that works best for you. After all, everything looks stylish if you know how to carry it.