Have you heard about the fashionable toe rings before but do not know how to pull it off with different outfits? This article is meant for you. This trend started in the 90s but has once again found its way back these days, and all the girls are going completely crazy over it. 
It gives you an attractive look in your complete personality. This toe fashion is pretty much attractive, and almost every girl now loves to wear them along with other jewelry. It is a very delicate and charming piece of jewelry that you can add on your toes to make them look pretty instantly. It also adds a pinch of femininity and girly touch to your overall personality and style. Expensive and trendy toe fashion rings are basically a matter of choice. Toe rings are available in a variety of materials, including gold, plastic, silver, copper, and even gemstones, which gives you a wide range from which to choose.
Trendy Toe Ring Styles
These rings are very easy to wear and remove. You can wear toe rings with all the outfits depending on the occasion. Mostly girls wear them in the summer season with jeans. You should wear these rings on the 2nd finger of your foot next to the thumb. But there is no hard and fast rule for this. Girls who love to go funky, they wear multi toe ring combos. There are a variety of stylish toe rings designs that have been introduced again by well-known fashion designers. You have a variety of trendy toes rings changeable from the delicate stuff to a fully round style in shape.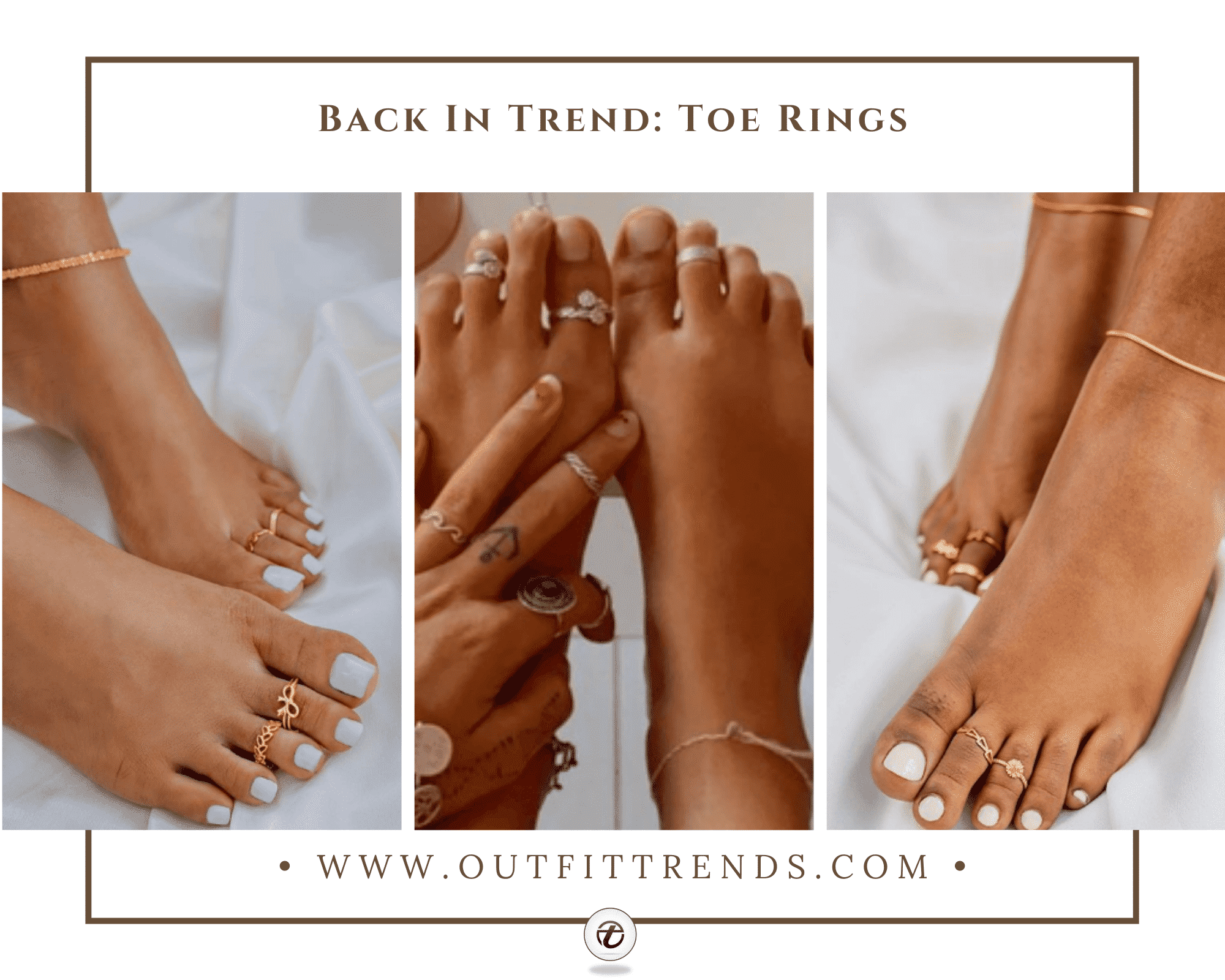 Some do's and don'ts for toe rings
We don't want your fashion statement to look like a complete disaster, so here are some tips for you to follow.
Never wear any toe ring or foot accessories like anklets over your socks or stockings as it can look pretty bad and will give a weird impression to others as well.

These days simple metal toe rings are in fashion, so avoid wearing a ring heavily jeweled or beaded on your toes as it can make your feet look kind of over-crowded. 

Pay great attention to the price point of toe rings. If you go for a cheap one, there is no guarantee that it is made of good material; hence, you can damage your feet especially if you have sensitive skin. Invest once in something expensive and right by going for silver or gold toe rings.

Cute pedicured feet are everything a girl wishes for. Make your feet look extra elegant and noticeable by getting a pedicure now and then wearing a toe ring on the neat toes, as a cherry on top.

This piece of jewelry is not supposed to be gifted. You need to go to a shop yourself and try the toe rings on for a perfect fit.

Add to the beauty of your feet by getting a matching nail color with the toe ring. It is going to look super chic and modern.
How To Get the Right Size of the Toe Ring?
Toe rings are pretty easy to wear and remove if you have got your hands on the right size for yourself, but they can become a problem for you if it gets stuck on your toe for an extended period. So the first thing you need to do is get the appropriate size for yourself. How can you do that? Well, I have a tip for you. Get a piece of thread and loop it around the toe for which you are going to get the ring. After getting a rough measurement of it, you can use this chart to choose the appropriate size.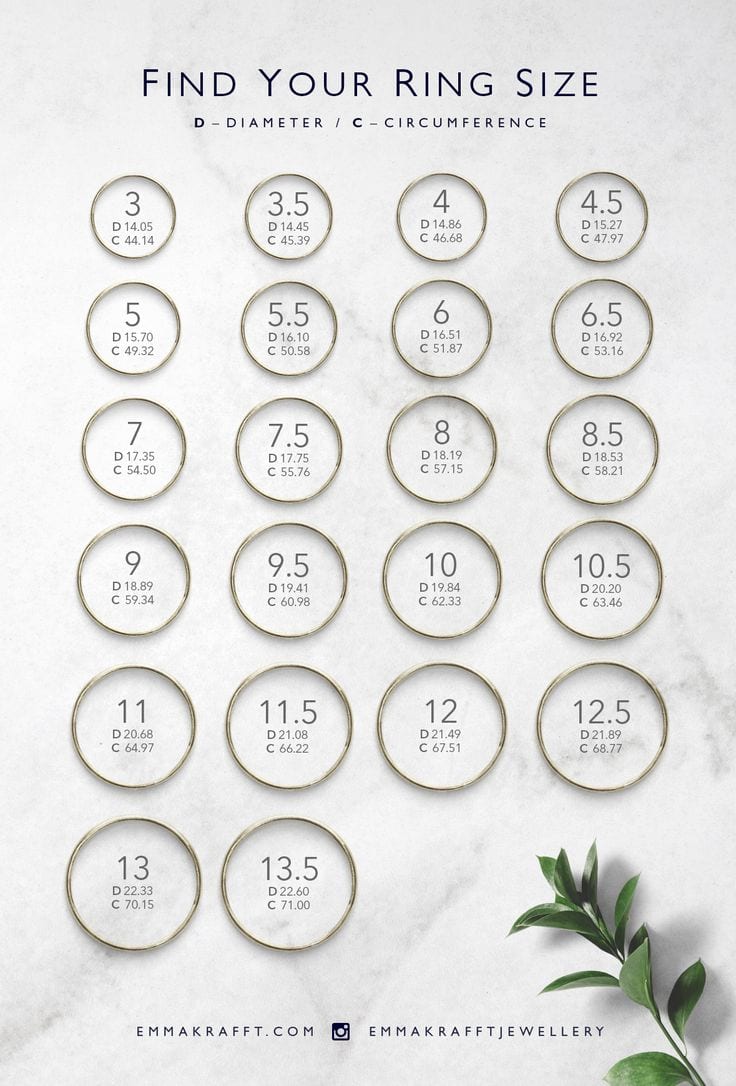 What Are The Different Types of Toe Rings?
You don't really have to wait for a special occasion to wear these toe rings. They can be worn; however, you like. A wide variety of trendy and delicate toe ring designs are going to be discussed today. Your choice can significantly determine your style, so go for something that your heart is gravitating towards.
These rings are straightforward to wear and remove from your toes. You can wear the toe rings with all the outfits depending on the occasion or your personal preferences. Mostly, girls like to wear them in the hot summer season with jeans and flip flops. You can wear these rings on the second finger of your foot, but there is no hard and fast rule for this. Girls who would love to go funky, they can wear multi toe rings in combinations. There is a wide variety of stylish toe rings designs that have been introduced again by well-known fashion designers. You also have a great range of trendy toes rings, from the delicate stuff to a fully rounded style. New designs of toes rings are amazing and specially designed by designers while keeping in mind the latest trends of the toes rings. I would like to share a bunch of different styles with all my readers.
The small design toe rings

The medium design toe rings

The large design toe rings 
The small design toe rings
These designs look attractive and versatile. They will make your feet look more beautiful than ever. Perfect for the teenage girls who don't want a heavy design for their tiny toes. These designs are much in demand concerning their exclusive style as well as versatility. Incredible designs are now present in the market in these innovative collections of toes rings that are wonderful. Beautiful combinations of color beside up-to-date designing have made toes rings among all the latest fashions. 
The medium design toe rings
These designs look incredible on middle-aged women. There is an astonishing variety out there for medium designed toe rings and are used in semi-casual events or occasions. Medium design toes rings are generally recommended to all the women having round face cut to shape. Marble toe rings, as well as other modish stuff that has been launched in medium-sized toes rings, are trendy these days. The use of medium toe rings is preferred mostly in semi-casual occasions. 
The large design of toes rings 
Such rings are preferred at outdoor events if you want to look a little extra and funky. We have beaded and floral designs in the market perfect to wear at an event happening on the beach. The large size of toes rings appears elegant to those ladies having a small size of face cut. The large size of the ring enhances the innocence of ladies at every age. Now let's see the gorgeous colors of trends. You will love to see the incredible style of toe rings that will make you feel more flimsy.
↓ 10 – Bead Design
Beaded toe rings look absolutely gorgeous on your feet with their dainty and petite design. They have become the favorite of young girls. Most of the beaded ones are elastic; hence they fit many toe sizes and are much more comfortable to wear.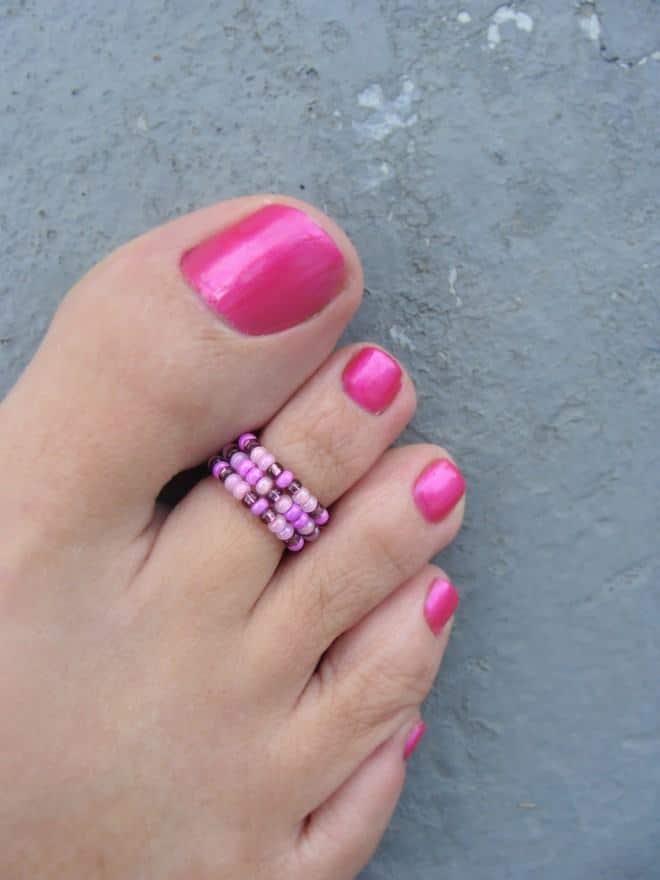 Here is another beaded toe ring idea for people who don't like completely beaded rings.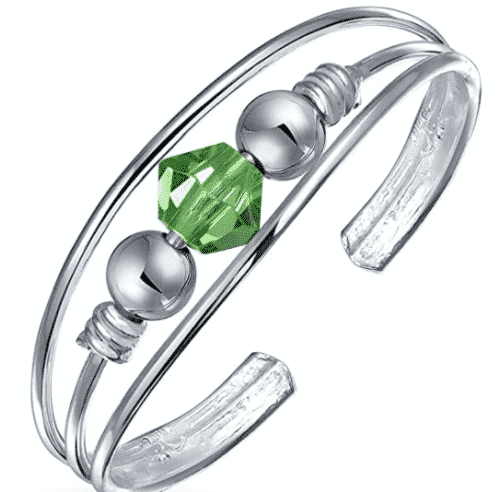 ↓ 9 – Silver Toe Ring
Silver is the perfect material if you are looking for a toe ring as it will not blacken your skin and will give your feet a graceful look at the same time. It looks great on all foot shapes.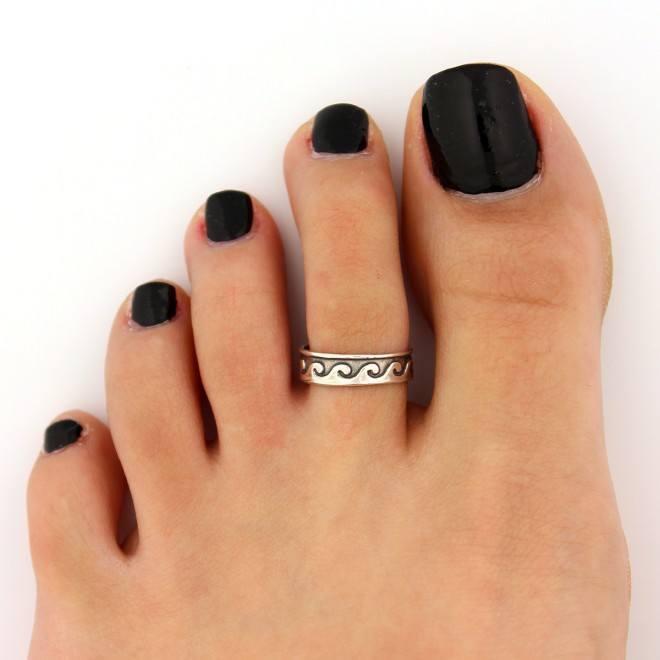 ↓ 8 – DIY Toe Ring
Want to design a toe ring according to your own choice? You can! You can easily make toe rings with a little creativity and effort, and they will also look absolutely amazing. You can get some beads and an elastic thread to make one, or you can twist and turn a paper clip to make a toe ring out of it. Isn't it fun? Nothing looks better, especially in summers.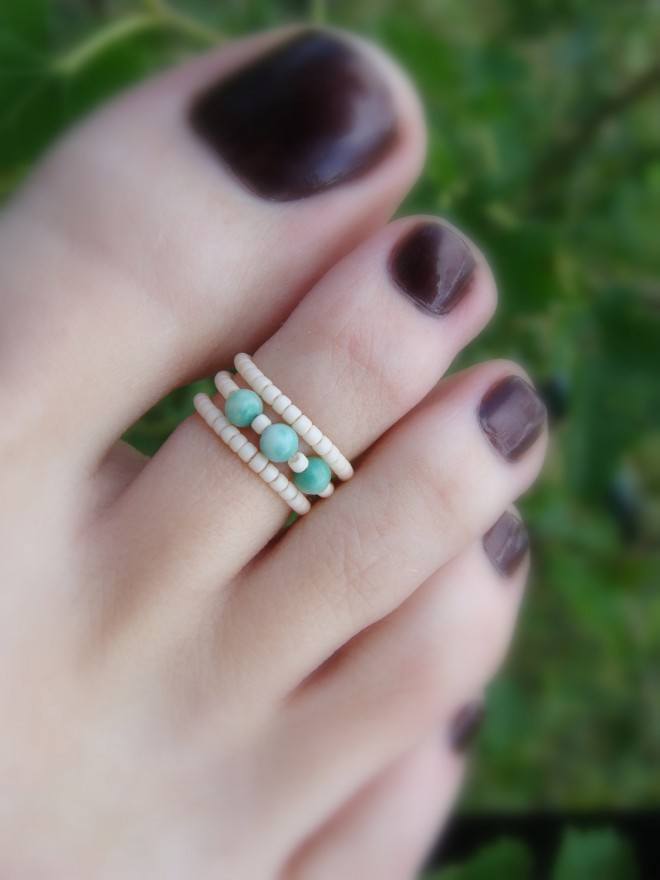 ↓ 7 – Silver Sterling  Toe Rings
This is one of my favorites and go-to design when I'm utterly confused about what to wear on my toes. It really saves my day with its exquisite design and delicate looks. It looks great on people who have a narrow bone structure.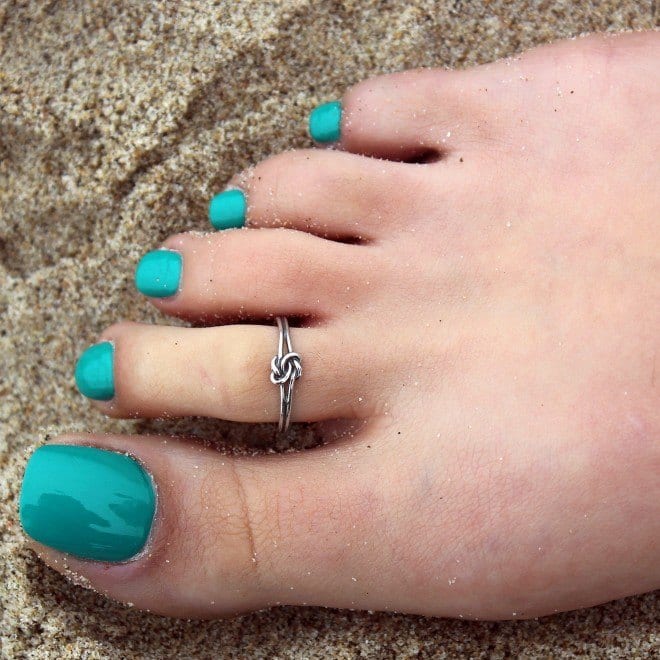 ↓ 6 – Silver Toe Rings With Stones
What is better than a pretty silver ring and a stone of your choice? If you're a guy reading this, you can give it to your significant other at your wedding, and she will cherish it forever. This trend is usually followed by women who are in the thirties or forties, as it is neither too loud nor too dull.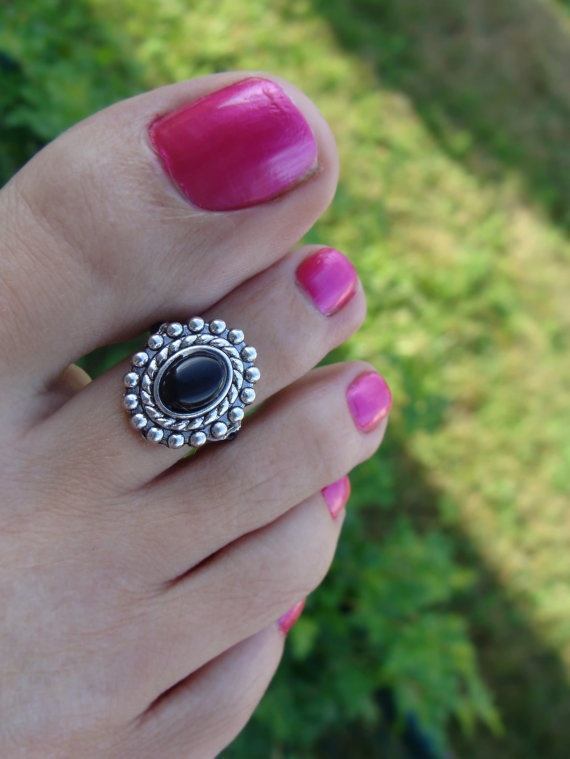 ↓ 5 – Heart Shape Toe Ring
If you're a lover by nature and you love your surroundings, the people in it, the beauty of the earth, the animals, birds, plants in short everything, then this ring can describe your personality and your traits well. With such delicate toe rings, light and neutral nail paints like pink, beige, and light brown look good.

↓ 4 – Multi Combo
Want to wear many toe rings at the same time? Go ahead, it is going to look trendy and cool as long as the rings complement each other. Wear multiple toe rings in either one two or divide the pattern among all your fingers. After that paint, your toes, nail art is a great idea to make your feet look fresh.

↓ 3 – Stylish Anklet With Toe Ring
This is a multipurpose one. It comes with the anklet and looks voguish. Definitely give it a try.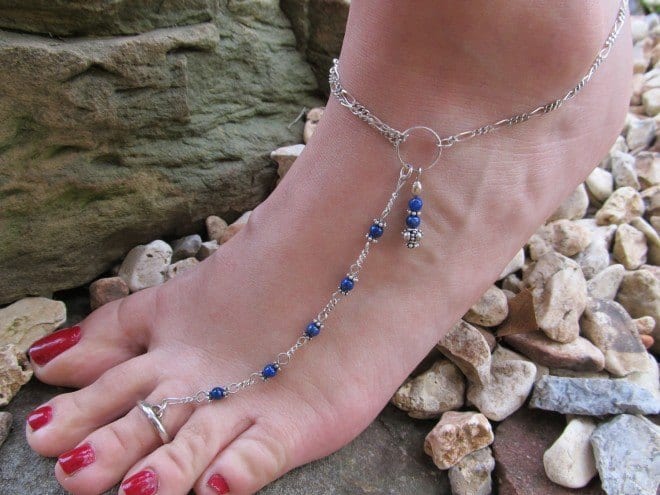 These type of toes rings appears really elegant to those ladies having a smaller bone structure. You will be pleased to see the incredible beaded chain style of toe rings that will definitely make you feel more dramatic. Women can also wear these on marriages where they simply look rocking. Moreover, they look great in summers when you want to give off some vibrant and colorful vibes.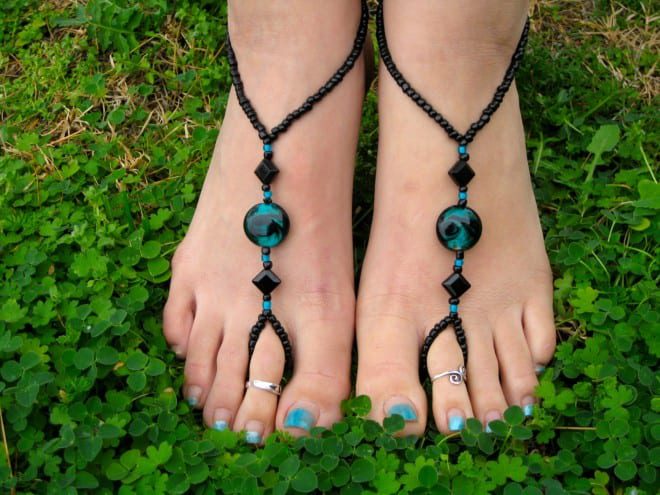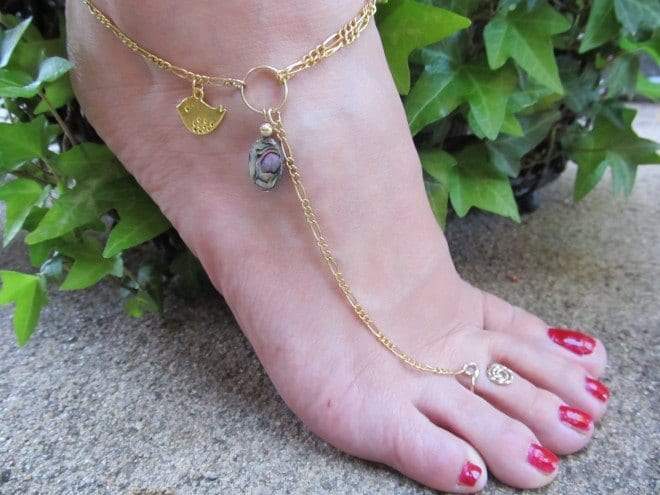 ↓ 2 – Floral Toe Ring
If flowers are your best friend, then this ring is something you are going to love! You can either opt for pure silver or golden toe ring, incorporating floral designs. Or another great option is to go with plain rings having colorful flowers. Adding the same nail color as the flower is a captivating idea to enhance your toes.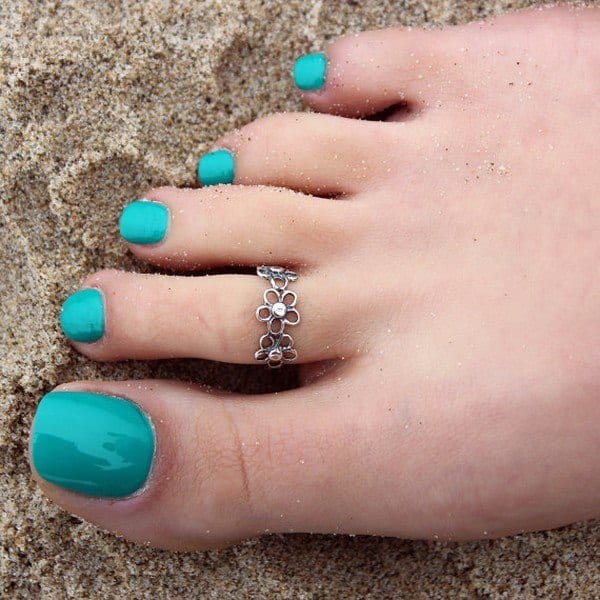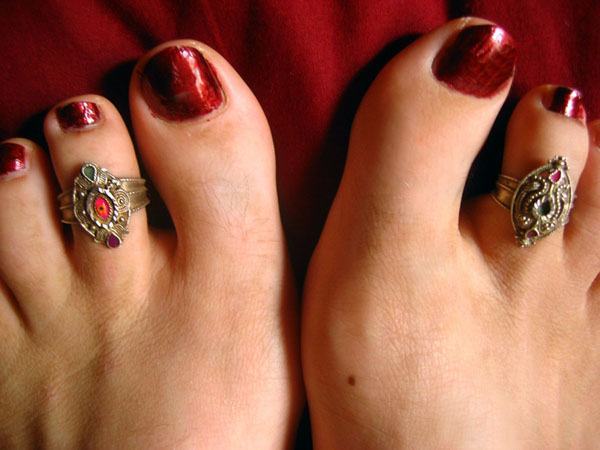 ↓ 1 – Bead and Stone Design
If you believe in gemstones, you can get a customized toe ring with your birthstone embedded in it. It will bring you luck as well as add to the beauty of your feet.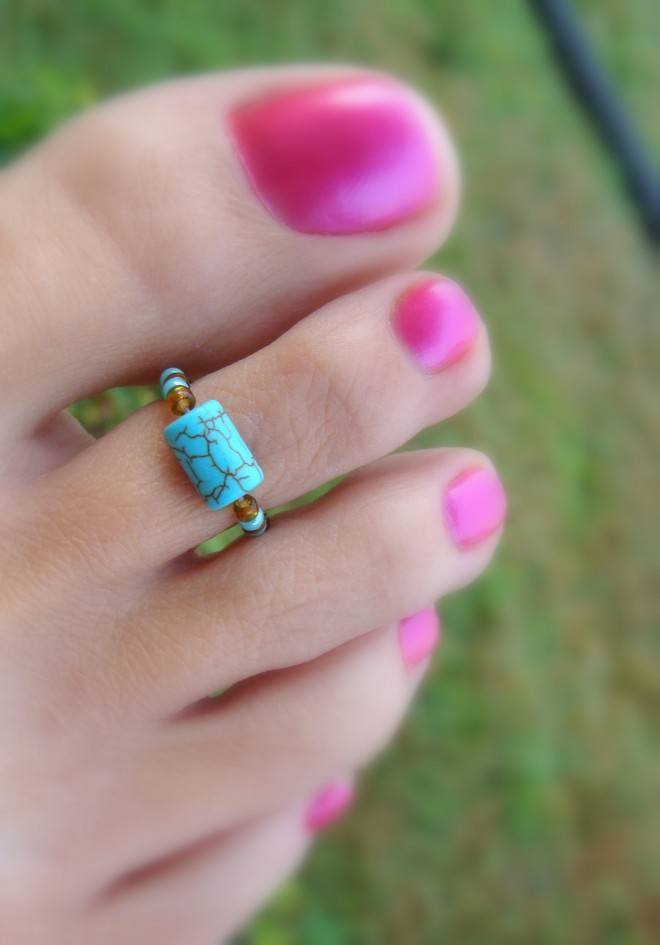 FAQs
Some common questions may pop up in your mind regarding these toe rings like how to wear the, what are the different types, will they look good on your toes, on which toe will it look the best, etc. so we are going to address a few of them for the convenience of our readers.
Q.

Where to shop for toe rings?

A. Here's a list of some of our favorite places to buy toe rings:
Q:

On which toe should I wear my ring?

A. Most people prefer wearing a toe ring on their second toe, in the exact center of it. It looks pretty cool and chic.

If you are facing any issues to slide the ring on your toe, then you can add some lotion or oils to glide it smoothly without putting in too much force and pressure. There's also the option of buying an adjustable toe ring which can be worn in any finger that you want. 
Q:

On which toe would the toe ring will feel the most comfortable?

A. It solely and realty depends on the size of the toe ring that you have chosen for yourself. Usually, people face more difficulty in sliding the ring on, than pulling it off. For that reason, you can use the chart that we have shared in this post. Ensure that your toe ring is not too loose that it keeps on getting out of place and not too tight that it causes you pain.
Q.

What do I do if my toe ring does not feel right?

A. You need to put it through a trial period for a day or two. If it doesn't get adjusted, then you should look out for another one and probably in a different size.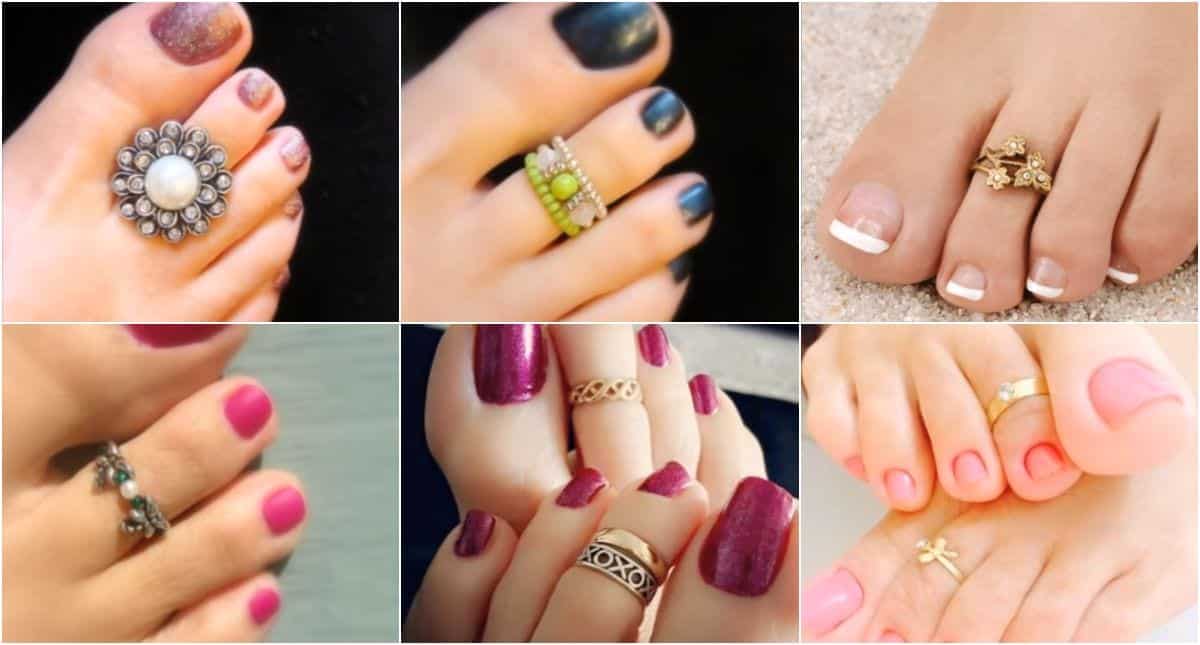 Toe rings are gaining popularity by leaps and bounds as it looks extremely fashionable and chic on your feet. We hope this article helped you in choosing your favorite toe ring.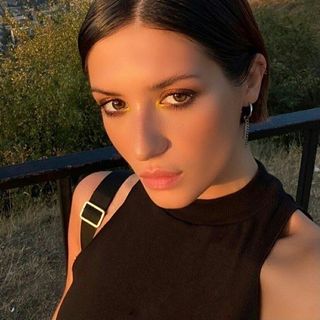 Avid reader and Fashionista. London Based freelance lifestyle editor