Casual Outfits for women over 60 – The world of fashion is not bounded by age. Age is just a number. If you have heard this proverb, you know that it's never too late to become a fashion icon, particularly in today's age of social media and influencers.
You might have noticed that most of the latest fashion tips and trends expressed and promoted online are related to youngsters. It appears so rare that ladies going above 60 have any desire to look for elegant style and fashion trends.
But you must understand that this is not true! Just because you have lived through a certain number of years, does not mean that you can't try the latest trends anymore.
Although there are some styles and trends which look better on the younger generation, but there are a large number of styles that us senior ladies can comfortably adapt while looking sophisticated as well as attractive. In fact, the fashion style for women over 60 means finding a perfect balance between feeling comfortable and looking elegant too.
Casual Wear Over Sixty
Hello evergreen ladies, time flies by so quickly from childhood to sweet sixteen and after that, it's just a race of getting things done and sort out life. And then we all reach our sixties where we have established everything and want to chill and relax. Have some great family time and enjoy with our grandchildren.
You might have ignored yourself for years in the hustle-bustle of the world but not anymore. Age gracefully and fashionably, because it's your time to shine!
Here we have a few tips for you to style up in your sixties and create the perfect wardrobe.
Go for outfits that strive for elegance and grace. Wear classy outfits.
We recommend you go with outfits that nip in the waist.
If you are using a belt, then go for a wider one. In case you have them, a thin belt can make your bulges prominent.
Do pay special attention to undergarments. Know your size, get well-fitted ones.
Go for vintage and statement jewelry. You probably don't want your arms full of so many bracelets and your neck filled with chains. Keep it simple but smart.
Forget about what people say you shouldn't wear. Wear whatever you want to as long as you're comfortable in it, but in case you want to compete with the age fellows, follow a few simple tricks that we have gathered for you.
Here we will share the 30 most impressive and super comfy outfit ideas to the ladies who reached or going just above their sweet 60s, along with the best fashion and style tips that you must keep in view.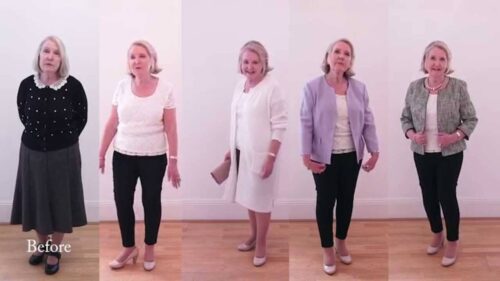 Waitt…
There are so many more tips hitting ky mind, and I don't want you to miss them. Read a few more here
Now by this time you have seen all fashion trends and have lived in them to the fullest, if there's any that you loved the most, try bringing it back.
Create your personal style and be the fashion icon yourself.
Don't be afraid of following new trends, look up to celebrities of your age group, and take some inspiration from them as well.
Shorter hair is easy to carry and looks great at our age. Dye them regularly in your favorite color or just embrace your grey hair as grey is always in fashion.
Do your nails, manicure and put on pretty nail colors.
Don't be afraid of wearing bold colors, floral prints, skirts, and sexy outfits. All you need to know is how to carry yourself.
For casual outfits or everyday wear, go for comfy sweat pants and T-shirts. You can still wear your favorite logo or graphic T-shirts for casual wear.
Wear peplum and wrap dresses for a slimming effect when it comes to formal wear.
Wearing the right makeup is important, you might need to buy some new products if you've been using the same foundation and other products since the last few decades.
There is no limit to dressing up. Dress young, feel young but do embrace your age and shape. We all grow up; we all age. That's how the cycle is.
Wear block heels, wedges, pumps, loafers, and sandals as per occasion and outfit demands.
↓ 35 – Add A Pop Of Color
Transform even the dullest of outfits with a pop of color like with these gorgeous blue pants and scarf.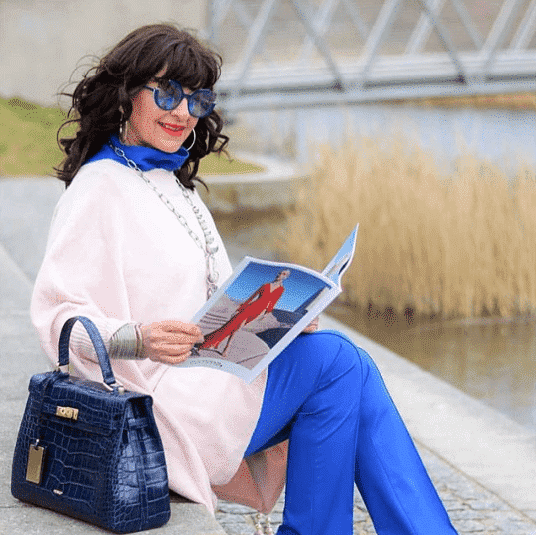 ↓ 34 – Go For Statement Sleeves
Puff sleeves are everywhere this season and they surely look great at our age.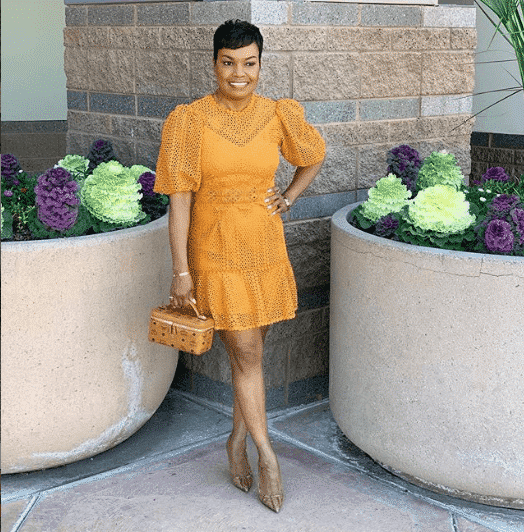 ↓ 33 – Never Too Old To Wear Denim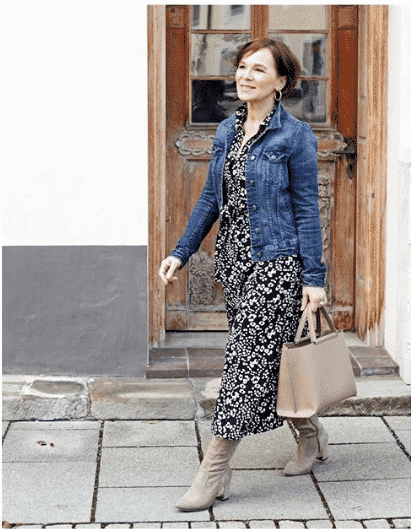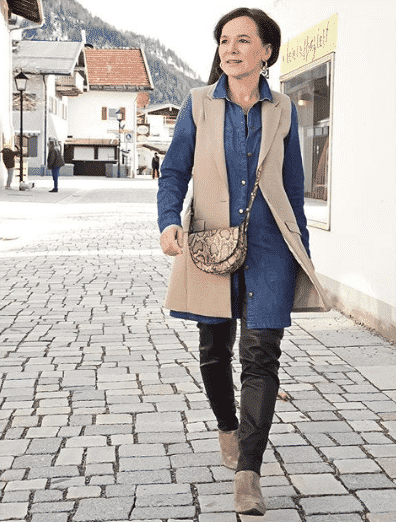 ↓ 32 – Leopard Prints
As we said before, it's never a bad idea to take inspiration from the younger lot and Beth Djalali beautifully proves this point with her Kate Middleton inspired outfit that comprises of a leopard skirt and a black top.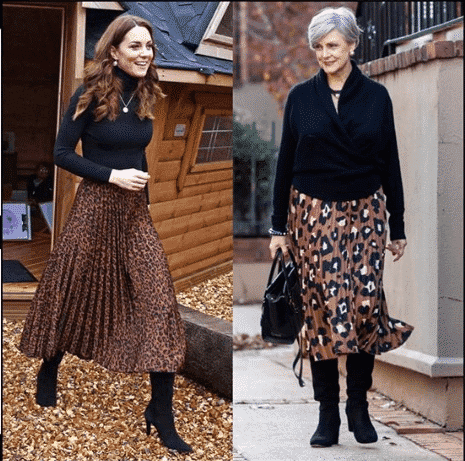 ↓ 31 – Church Outfit
Here's a beautiful Sunday mass outfit by Mary Graham, who's definitely an inspiration for women in their 60s so you should follow her for more ideas.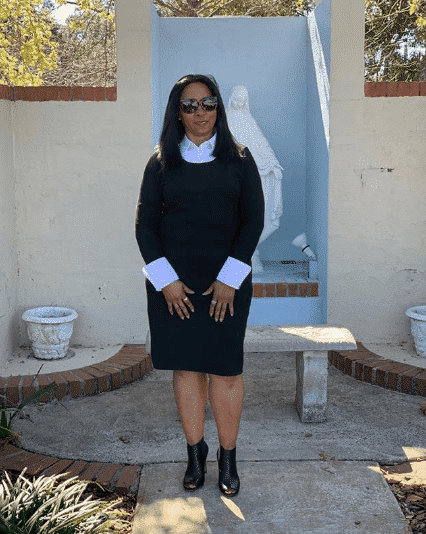 ↓ 30 – Work Outfit For The Ladies Over 60
'Aging with style' is the key concept that you must bear in mind while going to shop for office wear. You can opt for bright and vibrant colors or go for cool pastel shades in your outfit selection, depending on your personality. White pants or jeans are must-have for your wardrobe. White is an iconic color and mesmerizing too in its overall hues. An apparently too bright top would look cool with white bottom, and pastel shades would look lovely if paired up with white.
You can wear your most loved pearl jewelry along with the work outfit and look elegant in it. The tip is to tie your hair in a neat bun. It will give you a classy look while adding brightness to your personality. For an in-depth discussion on this topic, check out Office Style For Women Over 50.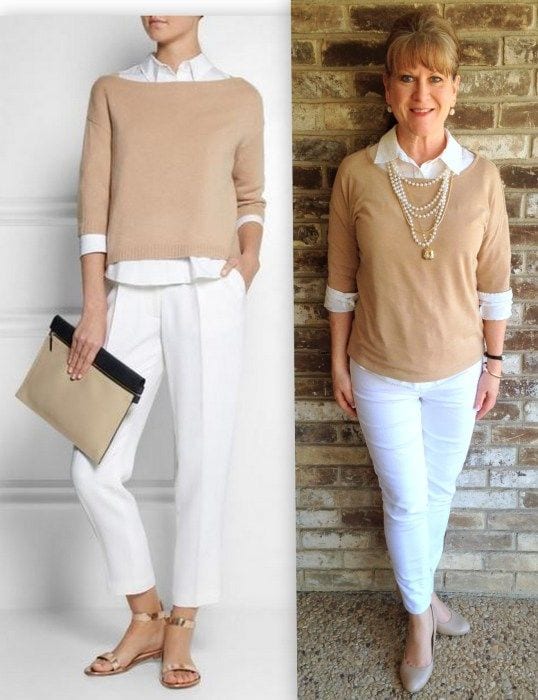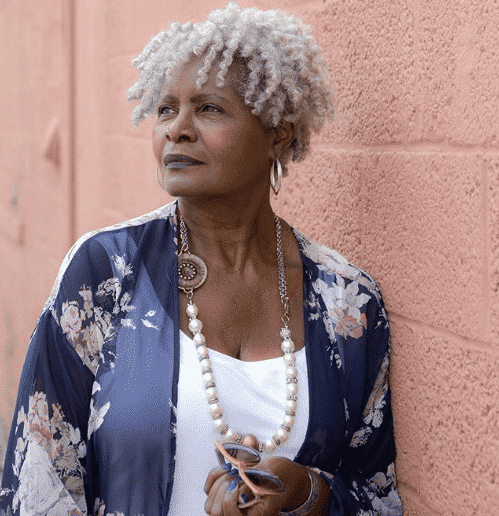 ↓ 29 – Bright Colored Outfit Ideas For Mature Women
A most common aging stereotype is to wear dull colors only, or you would look out of the way. It's just a misconception because every color is available and looks impressive if you manage to style it appropriately. You can team up black pants or leggings with vibrant shirts of your choice, and it will look gorgeous without any doubts.
If you already have a dull-colored outfit, brighten it up with a beautiful scarf with all the radiant colors, and it will cheer up your complete personality.
↓ 28 –  Maxi And Summer Outfits
Summer is the best time to flaunt your style by choosing bold colors in maxi or long skirts. Just because you are going above 60 does not mean that you should have dull and drab outfits.
A maxi is the easy to wear and comfortable to carry outfit that you can opt for in the hot summer days. It is also available in a large number of prints and designs to express your own style and personality.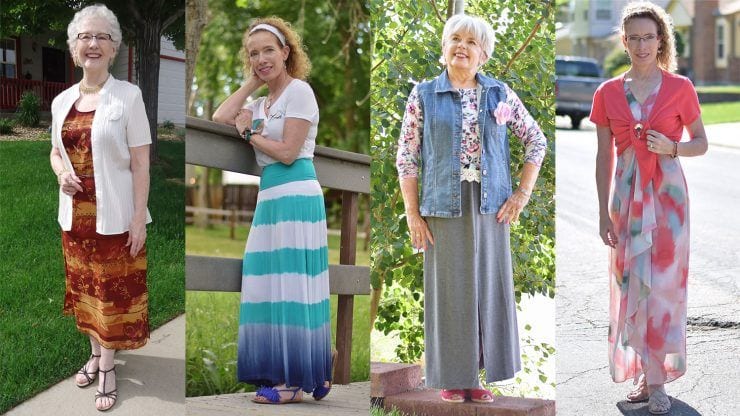 ↓ 27 – Party Outfit Ideas For Ladies
While going to a night out or a formal party, you must remember to wear the outfits according to your age elegantly. There is a mistaken perception among many ladies that if they wear a party dress suitable for a younger girl, they will make you look more youthful. The reality is that you might look older than you are if you will not select your outfit carefully. You can choose to wear a graceful long gown in the slim fit, and full sleeves with a piece of elegant pearl jewelry and people would love to appreciate the great shape you are in or the glowing skin or the beautiful hair cut.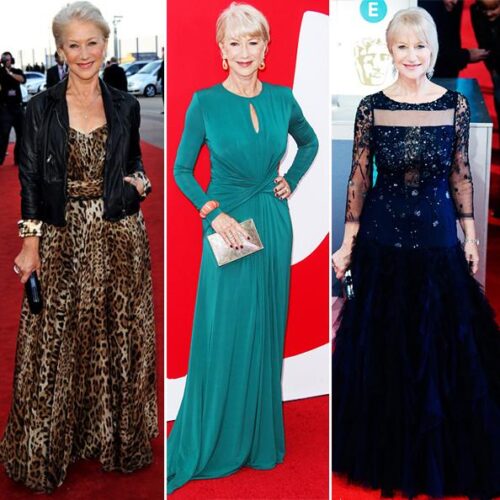 ↓ 26 – Outfits For The Curvy Senior Women
Being over 60 and being plus-sized too is very frustrating for many of us. It becomes too difficult to shop appropriate yet stylish clothes as there are hardly any options to buy from. There are certain styles of garments that you should avoid wearing being curvy and mature too; floor-length largely printed dresses, long A-line shirts, and loose, shapeless trousers.
You can opt to wear single-colored slim fitted pants. It might sound boring, but they will make you look thinner and younger too. The shirts with the slender style and small-sized printed designs are the best outfit options for you. A monochromatic outfit style range will make you look stylish and classic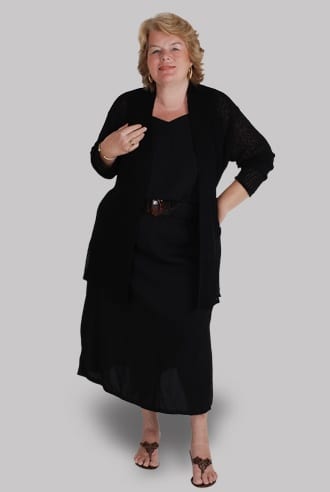 ↓ 25 – Winter Outfit Ideas
Slim fitted jeans or legging is must have to adorn your winter attire. The idea of wearing all thick and heavy pieces of garments to make you cozy and warm can be modernized by wearing slim fitted jeans, a warm tee, and a long warm duster coat or cardigan. This will give you an asymmetrical look.
You can add a colorful or just red scarf to cover your neck and look stylish too.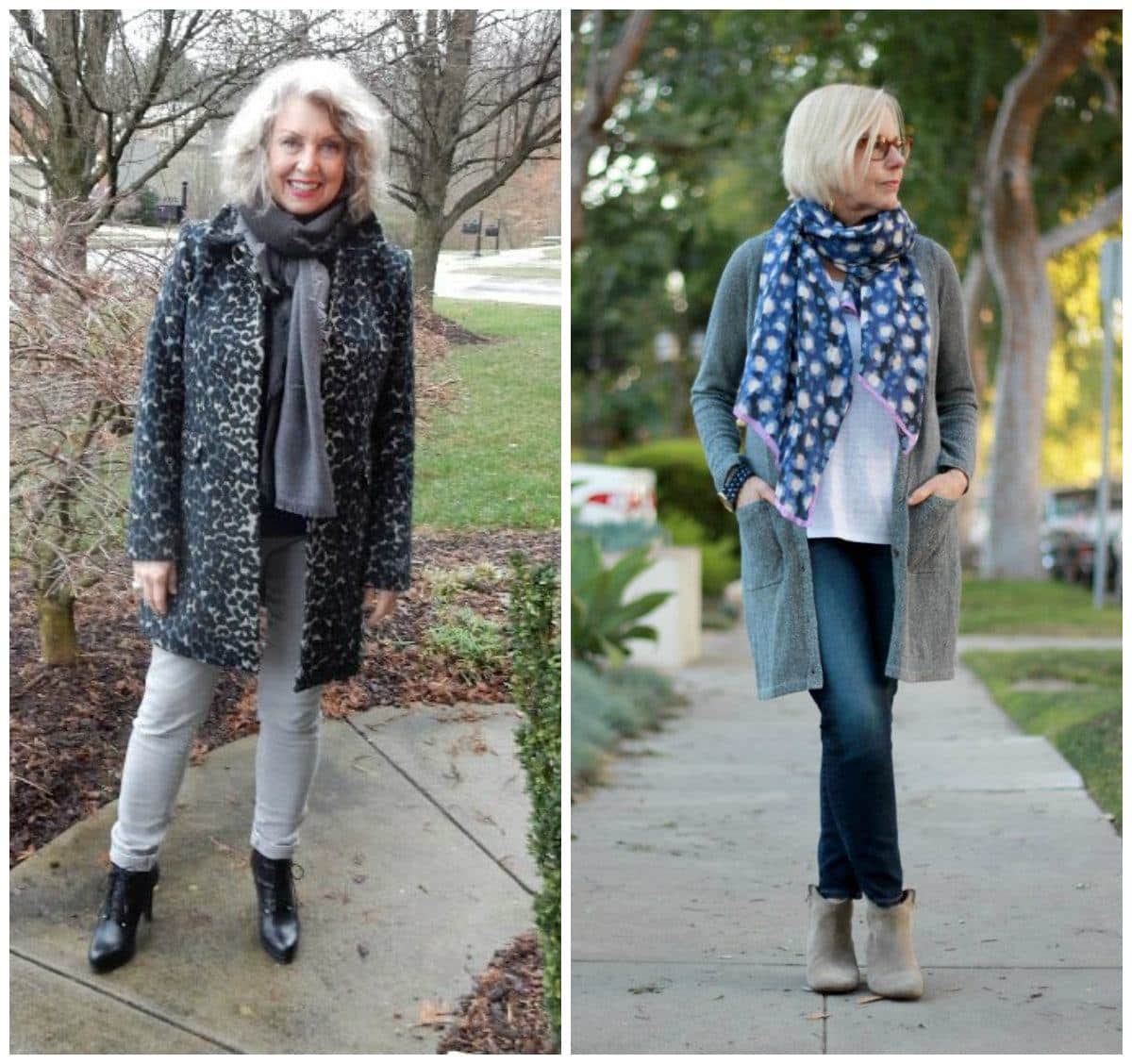 ↓ 24 – Lovely Winter Outfit For The Day Out
You can manage to look stylish and elegant by following some really basic rules. It's important to wear rightly fitted and well-stitched clothes that define your waist, no matter big or small. Avoid showing too much of the skin, too short top or skirts would look inappropriate. Always wear a supportive and well- fitted bra. It will enhance the overall appearance of your Outfit.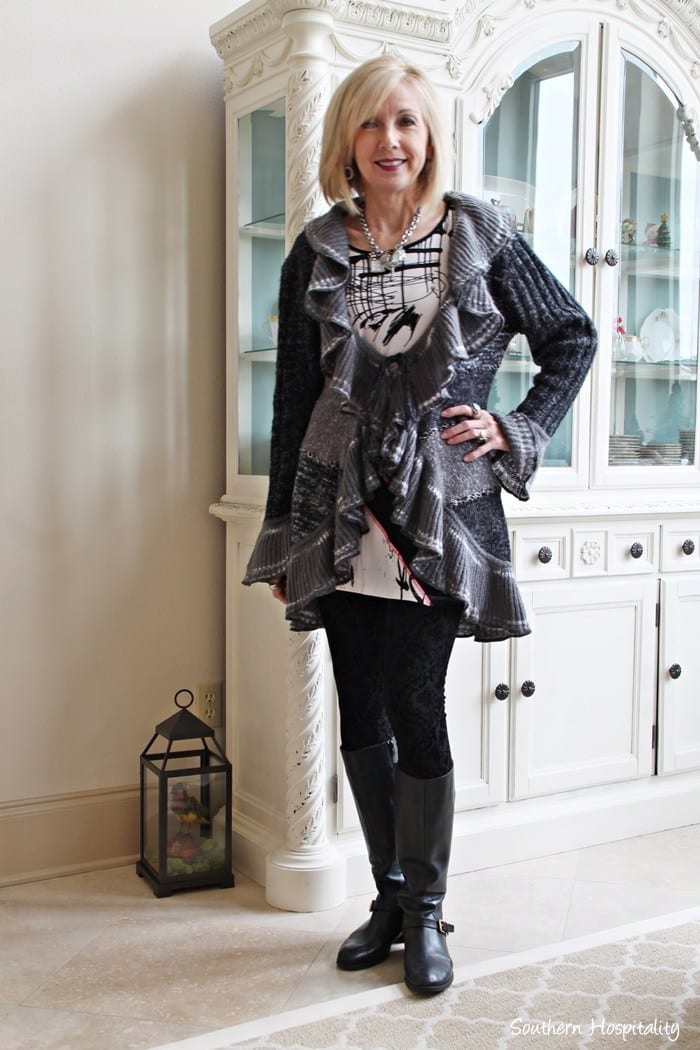 ↓ 23 – Work Outfit For Mature Women
You can wear a decent black and white striped collared shirt along with a high waist white skirt. Pull a smart blazer over it. For accessorizing, add a beaded necklace and go for open-toe pumps.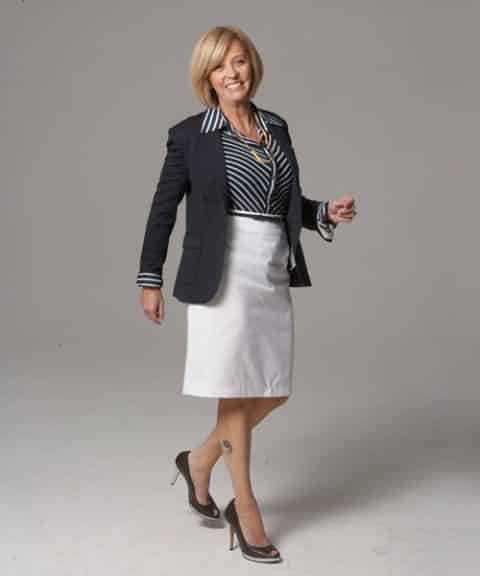 Or play with textures and your favorite colors to create quirky looks like the one shown below: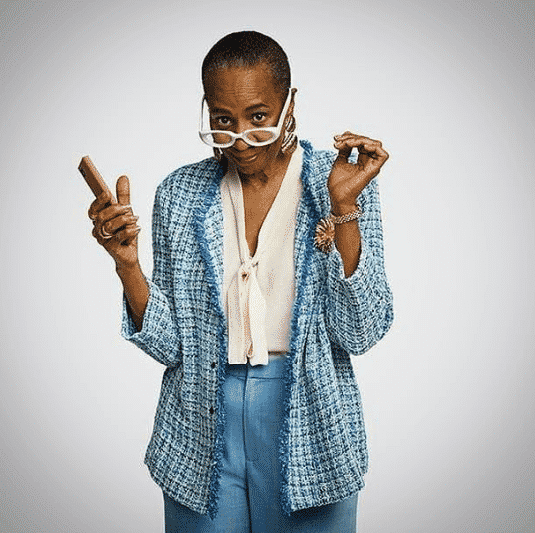 ↓ 22 – Soft Fabric Outfit
Here's an elegant outfit that is a mixture of Eastern and western that you can enjoy wearing in your early sixties as well late sixties. The white shirt and trousers along with the chiffon cardigan and scarf look so decent. Moreover, don't forget to accessorize your attire with a pearl necklace and studs. The silver stripe sandal and coral nail color add five stars to the look for sure. I also recommend that you have a look at these Fashion Tips For 60 Plus Women.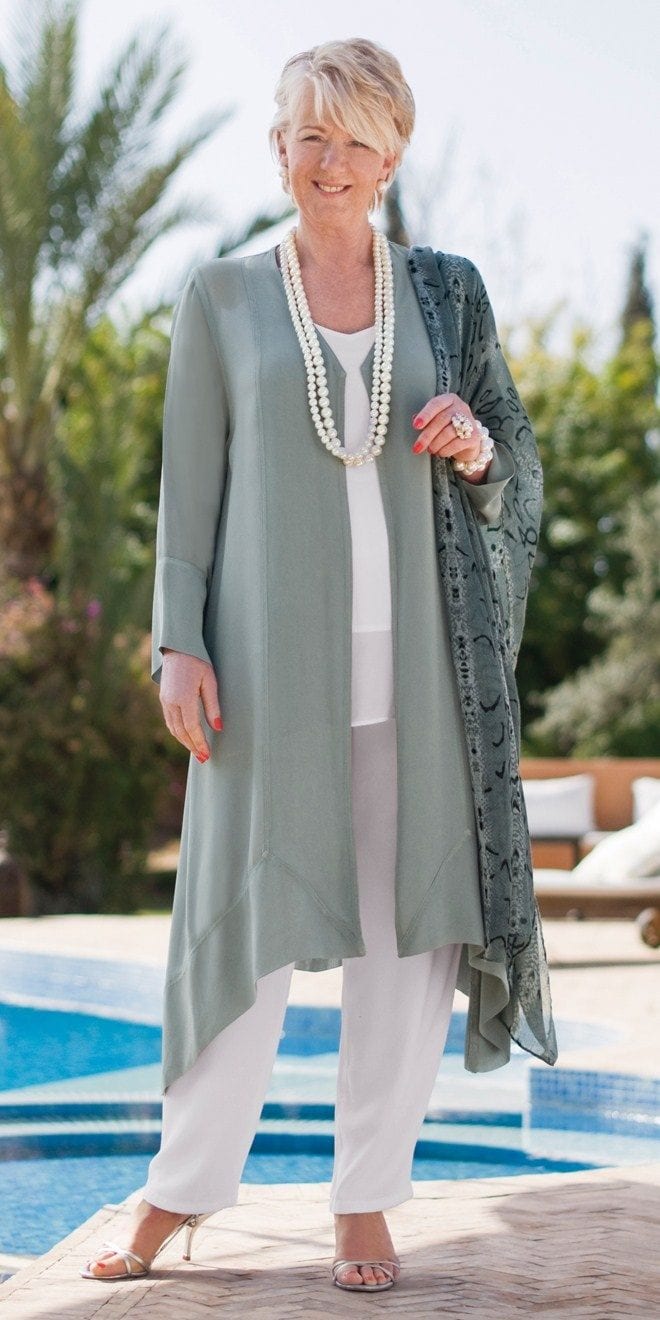 ↓ 21 – Fresh Spring Floral Outfit
Don't ever think that age can stop you from wearing your favorite prints. Wear a floral top with shorts and a pink sweater. Top it off with block heels and chunky accessories.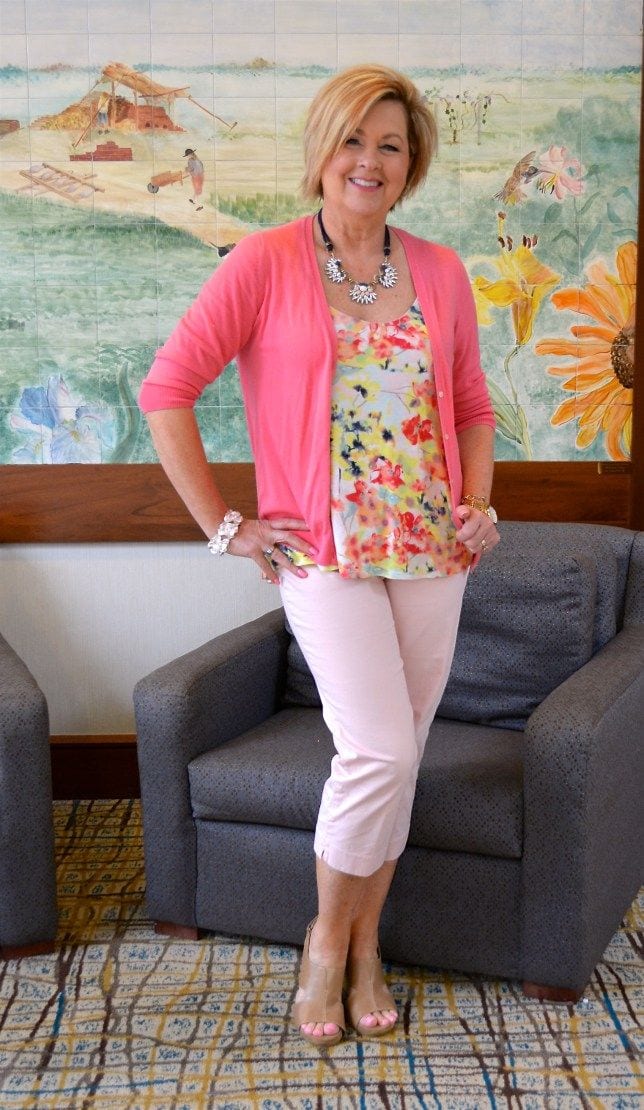 ↓ 20 – Casual Wear
Casual everyday outfits are what we need to invest in the most, irrespective of our age. We assume you might have many by now but if you think you are falling short of lovely everyday gears then try this one. A softly colored top with some lace along with black pants and sneakers (you can wear denim, jeans, sneakers, joggers even your sixties, hence don't hesitate). Pop up the look with a delicate chain in your neck and a smart wristwatch.

↓ 19 – Evening Wear
Hello, elegant ladies. You need to have many formal wears in your wardrobe as well. You might think that you don't have enough to socialize, but we assume in your sixties you have more time to socialize, meet your friends, host dinners and celebrate birthday parties of your kids and grandkids. For occasions like engagements and weddings try wearing this bold red dress with beads and slight embellishment. Add a diamond or Swarovski necklace, bracelet, and studs. Don't forget to wear your favorite pair of heels and grab your clutch. A little red lipstick will not make you look over the top but the right shade will be stylish and enchanting.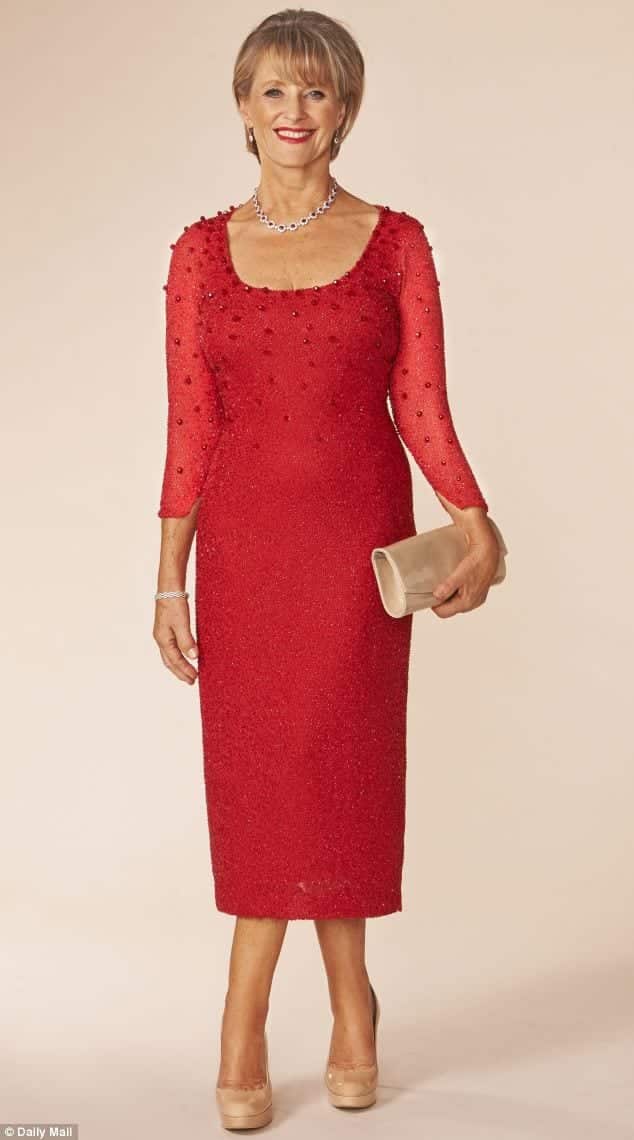 ↓ 18 – Green Capri Outfits
Do check out these 15 Fashion Tips For Plus Size Women Over 50.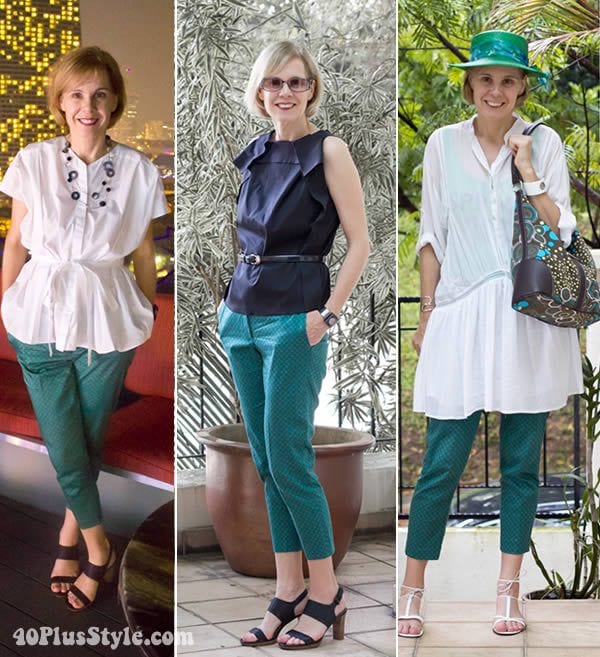 ↓ 17 – Fall Fashion Trends

↓ 16 – Casual Outfit For Women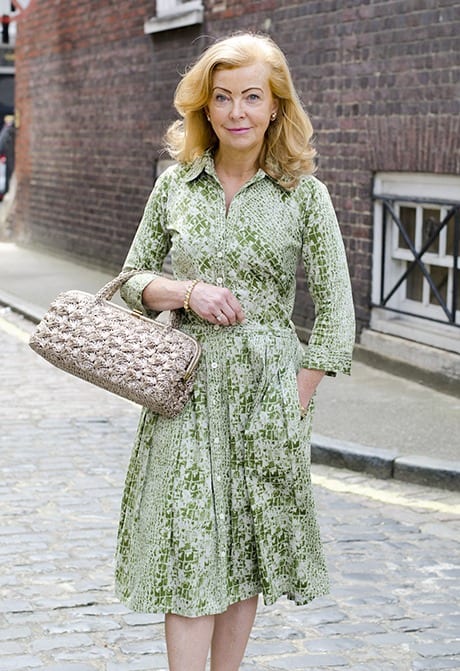 ↓ 15 – Black Tara Tunic For Women

↓ 14 – More Office Outfits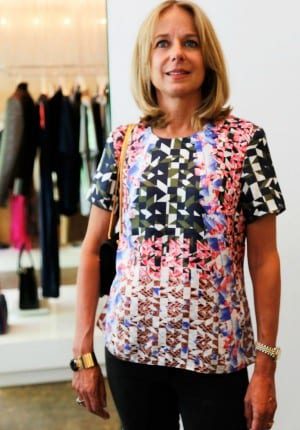 ↓ 13 – Casual Summer Outfit

↓ 12 – Fashionable Outfit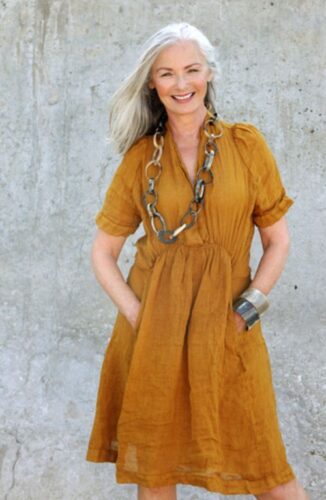 ↓ 11 – Beach Look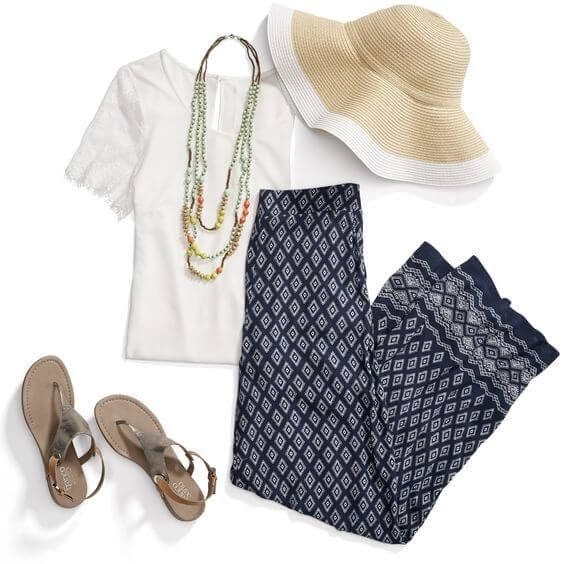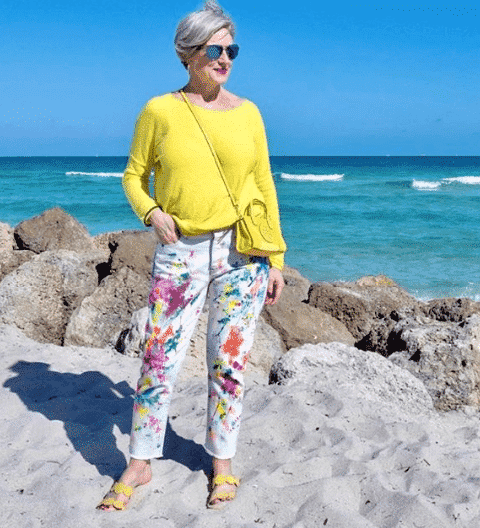 ↓ 10 – Kimono Jackets With Summer Wear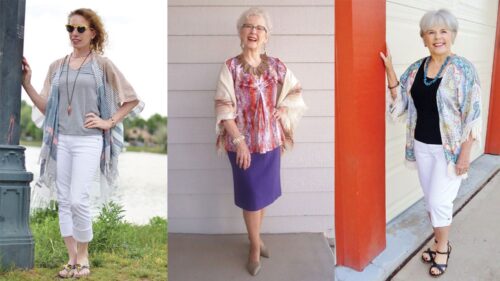 ↓ 9 – Cool Style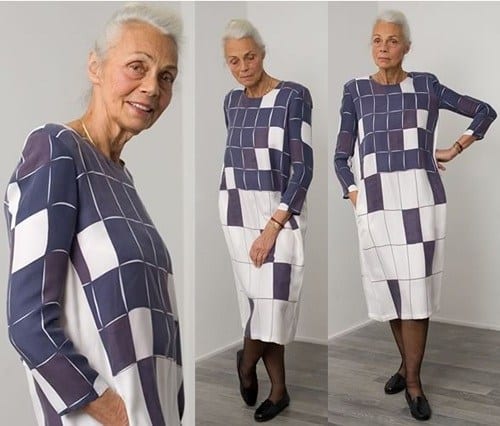 ↓ 8 – Look Smart Everywhere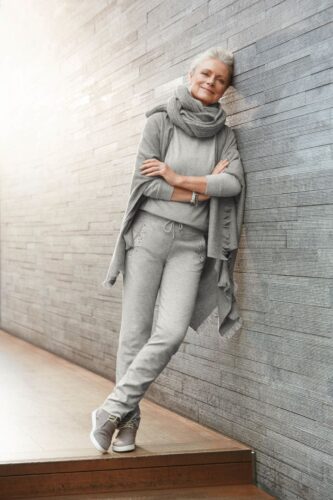 ↓ 7 – The Best Christmas Day Outfit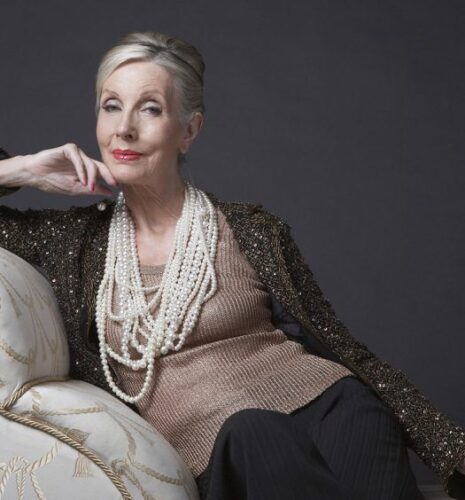 ↓ 6 – Outfit With Short Hair
You can pull off any look with short hair, but this classy outfit comprising of jeans, floral sweatshirt, and furred sweater will look the best. Boots and a cross body bag with this look will be ideal for your next high tee or movie plan with your old buddies.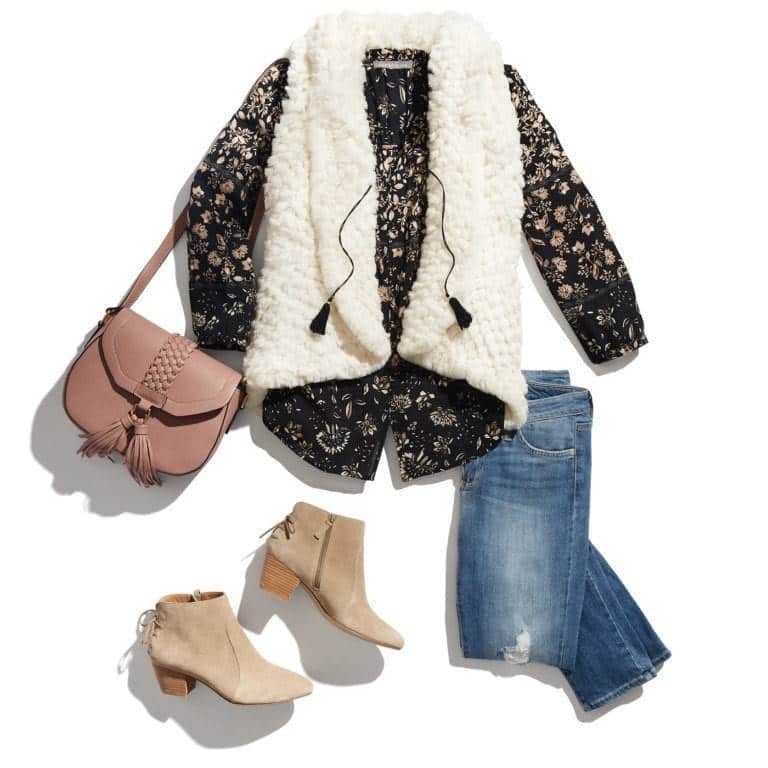 ↓ 5 – Midi Skirt For Senior Women
Consider wearing a black and white midi skirt to the next grand party you are planning. Pairing this outfit with single strap black sandals and a few pieces is a great choice.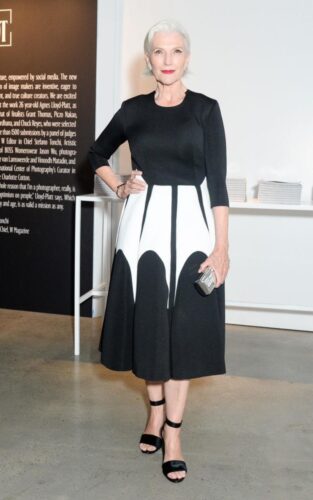 ↓ 4 –  Simple Yet Stylish Seniors
Here are a few outfits that you can wear in your sixties, creating a style statement.

↓ 3 – How To Wear Sleeveless
The skin often gets loose when you age, and that's normal, nothing to be ashamed of. You can still wear sleeveless. A blue shirt with white palazzo pants, especially in the hot summer is a great choice. Adding statement jewelry will surely help you step up your style game.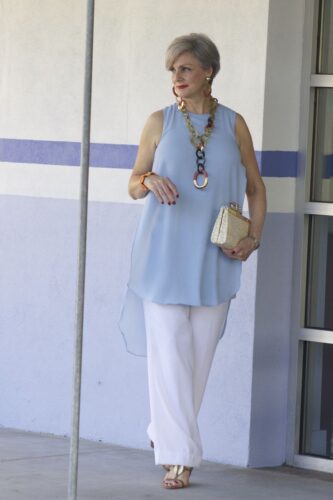 ↓ 2 – Celebrity Style Over 60
Celebrities are style icons since forever and till forever maybe. Have a look at this black embellished dress that you can wear for any fancy gathering.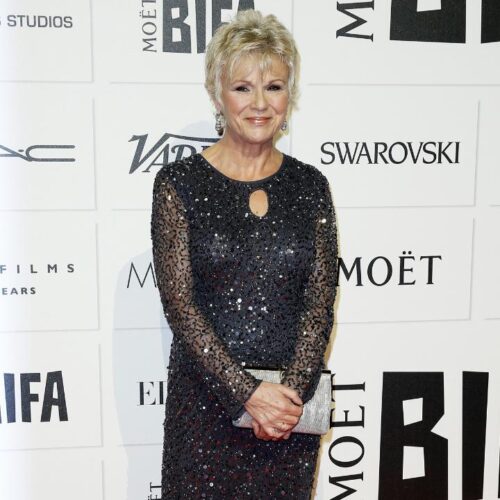 ↓ 1 – Gorgeous Outfit For Women Over 60
This grey maxi looks beautiful when paired with matching accessories. Don't forget to put on makeup to feel fresh.

↓ Shop A few Looks
Some women want to keep things a bit carefree. Go for a plaid shirt, grey pencil knee-length skirt. With this outfit cream-beige, pointed-toe smooth pumps will be a smart choice.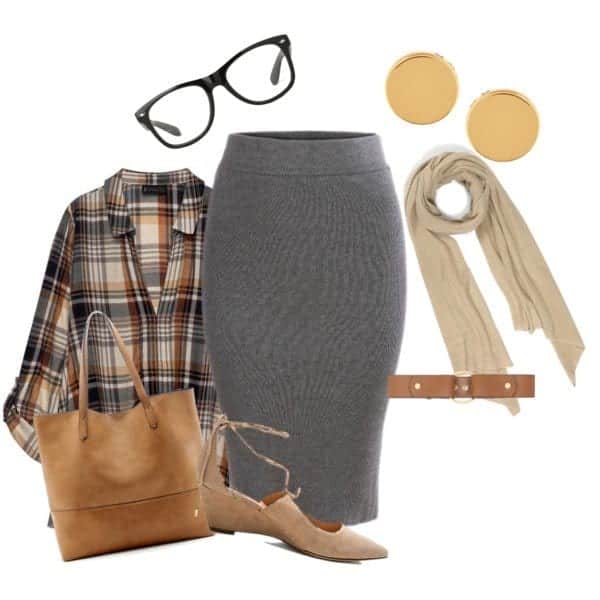 Wrap a simple white pinstripe shirt and pair it with black trousers and caramel color cardigan. Don't forget to shop these graceful shining black leather flat shoes.

Shop these black capri pants and stay classy and comfy in them. Try them on with a striped tee and black flats.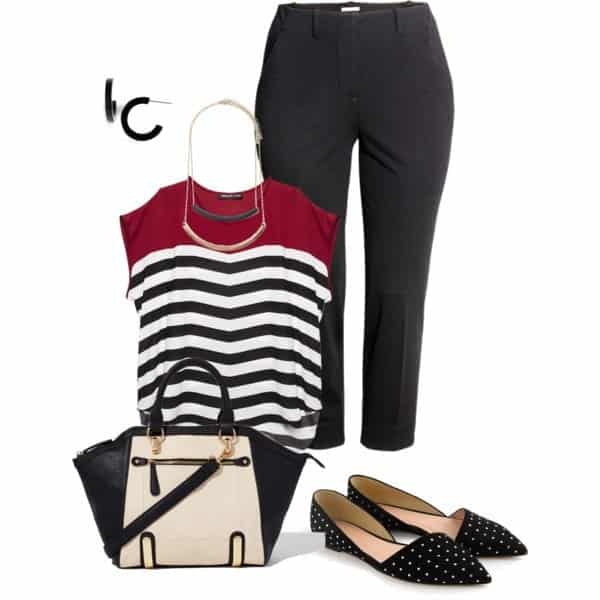 You might love to wear this comfortable-fit cream-blush. Try carrying it with a white pencil skirt and pink sharp-toe strappy flat footwear.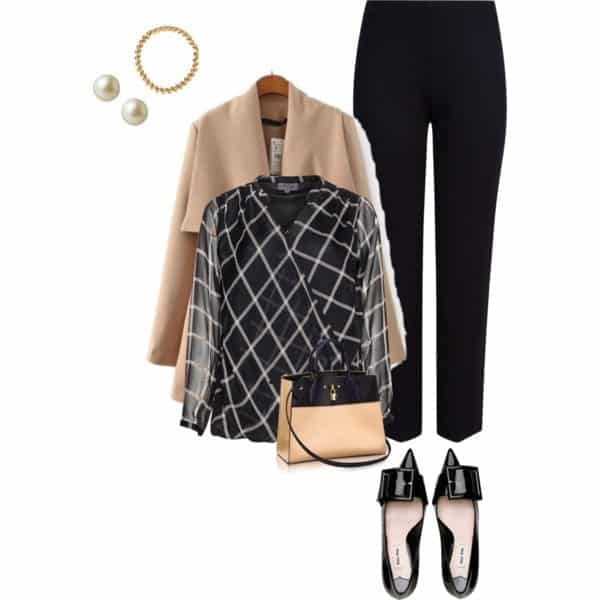 Frequently Asked Questions
Q. What is fashion for a 60 year old woman in 2021?
A. Any cool outfits that normal 60-year-olds would not dare to wear, will be fashionable. Yes because fashion is a bit daring and not everybody can wear it. A cool pair of heels with printed leggings would be fashionable. A graphic t-shirt that is oversized or an Adidas tracksuit would be super cool. Just remember, anything that is out of the box will be cool. Wear what you love, dress according to your style, and enjoy!
Q. How should i dress casual in my 60s?
A. You can keep it super casual by dressing up in a pair of regular mom jeans and a comfortable t-shirt. A comfy pair of sweatpants and a hoodie will get you through most days, running errands, going out for a walk, or just staying at home. Big chunky knit sweaters will also be casual and keep you warm as you will need it. Some maxi dresses will be cute and comfortable too! Wear these outfits with some simple jewelry such as pearl earrings and your favorite pair of shoes.
Q. What should be the basic wardrobe for a 60 year old?
A. You will need a lot of capris, trousers, and dresses. Older women love to dress in clothes that aren't as tightly fitted. Below the knee dresses should be a staple in your wardrobe. Scarves help to change a boring outfit in minutes. You can just grab a pretty scarf and wear it with a simple shirt and your outfit won't be as boring anymore. Trousers or linen pants are something that will keep you more comfortable than jeans so you should definitely grab those. Make sure you have undergarments that are good and keep you comfortable. A nice pair of shoes that will keep you comfortable as well as looking chic is what you need. You can either buy sandals or shoes, whichever keeps you more at ease.