Beach Concert Outfits – With the summers upon us each year, fleeing to the beach for concerts is the best and most affordable getaway. And what's a concert without a stunning beach concert outfit to slay in?
A cute outfit is key to having a good night out. Fashion statements are worth making at every event but there's just something about the beach that brings the best out of us. So this year, be as bold as the tides and take on curating outfits for beach concerts as an incredibly fun activity of its own.
Outfits To Wear For Beach Concerts
Beach concert outfits could range from flashy two-pieces to gorgeous glimmering Coachella fits. But the best part of it all is, anything goes as long as you are comfortable! However, you are forever encouraged to delve into the depths of the fashion world and recognize it as a means to express yourself.
Tips And Tricks
Neglecting the practicality of your outfit would be a big no for a beach concert. So try incorporating functional aspects to your fit. Adding a glittered-up bag and wearing a pair of sneakers for comfort is the way to go!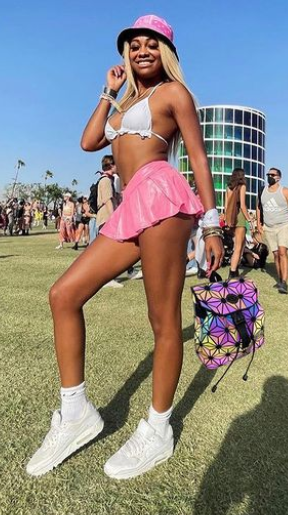 Remember that as the sun falls and the night begins, it tends to get very windy and dusty. Come prepared in style by putting on a bandana to go with your look!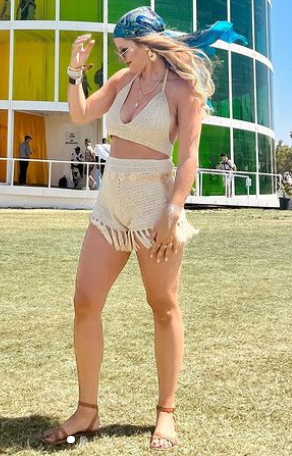 Glitter and gems will be your best choice of makeup for beach concert outfits any day! You'll fit right in those flashing lights while your favorite performer plays in the back!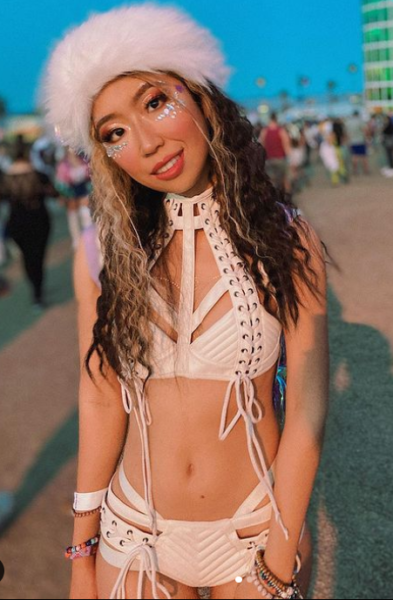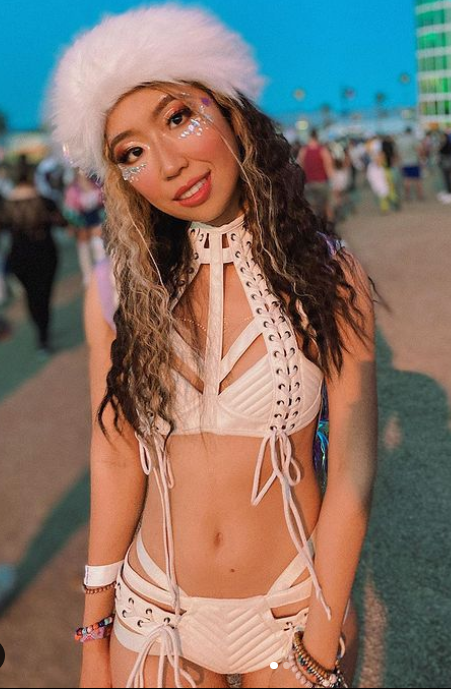 20 – Bandana Styled With Pastel Yellow Dress
A concert at a beach definitely calls for lots and lots of dusty winds and sand in your hair. Why not use that to your advantage and turn your climatic response to your surrounding into an aesthetically pleasing outfit?
In this outfit idea, we bring you a bandana styled with a pastel sun dress. A comfy and functional outfit like this will surely have you grooving to the concert long before it even starts.
19 – Black Mesh Top Over Two-Piece Set
For a cute beach concert outfit, blending the two aesthetics would not only make total sense but also a brilliant outfit. To create your own look that marries the concert to the beach, we bring you the easiest hack.
A shimmery mesh top to go with your 2-piece bikini set that you can just throw on top of is the fastest trick you can pull off for a gorgeous beach concert outfit next season!
18 – Boho Top Over Beige Bikini Set
Throwing on a boho top with frilled ends over your bikini set might be the classiest hack to turn your beach fit into a beach concert look! This outfit inspiration is giving us hippie beach vibes.
A beige bikini set and the boho top to match with organically sculpted earrings to go with the entire look. The tassels swaying back n forth with you as you jam will totally add to the vibe!
17 – Red One Piece With Waist Cape And Boots
Beach concerts could be a great opportunity to bring out random accessories and let them have their moment out in the open. We bring to you an outfit idea where you get to play around to your heart's content!
A red one-piece with ribbed fitting made to fit you in all the right places dramatized with a red cape at your waist! To add to the drama of it, throw on a pair of red boots, and a belt and we will leave it to your imagination to go wild with the accessories.
16 – Black Mesh Skirt With Black Bikini Set And Hat
Skirts are great clothing to wear nearly anywhere but when you want to add just a subtle amount of skin and really bring in the beach aesthetic to your concert outfit, try interpreting this outfit inspiration.
A black mesh skirt with boots and a bikini set to match paired with a black hat to add character to the look!
15 – Printed Skirt With Rolled Up T-shirt
A graphic T-shirt rolled up to your shoulders and from the hemline to form a raw crop top, paired with a printed skirt will not only be something you can easily find in your closet, but also pieces that will come together as a cute beach concert outfit!
Add boots of choice and a hat to match and you are good to go.
14 – Pastel Rainbow Mini Dress With Boots
A glimmering rainbow pastel mini dress paired with knee-high boots is the perfect look for you if you are a colorful feminine fashion niche lover. A bow to your hair and some glittery makeup as final touches and you are all set to rock with the crowd!
13 – Black Pants And Coin Belt With Black Top
Black pants and a black bikini top are two pieces nearly anyone can find in their closets. So, grab those and throw on a classy belt.
Let it have its spotlight for the night along with a sparkly makeup look. In this particular outfit, we have a coin belt layered over the black pants and it is giving main character energy all the way!
12 – Sequin Dress With Bag To Match
In this outfit inspiration, we present to you a silver sequin dress with a bag to match. Some silver heels to add to the look and matching makeup and you are ready to walk in as the star of the evening.
11 – White Washed Denims With Tasseled Top
Tassels could be your easiest weapon of choice to make a fashion statement at a beach concert. So, pair denim jeans with a white tasseled top and cowboy boots to match and you are all ready to get going!
10 – Purple Holographic Dress With Sneakers
We present to you a stunning feminine look where the model is sporting a purple holographic mini dress and some white sketchers.
The outfit is not only concert ready but also just as functional. The shoes allow you comfortable grooving through the night and the hassle-free dress allows you a pleasant night of jamming to the beats.
9 – Marble Print Skirt Swim Set
Beach vibe outfits can certainly be upgraded to concert outfits with a little inspiration from this model. She puts a twist on swim sets and rocks her marble print skirt in yellow green and blue to a beach concert.
Add a top that matches or even contrasts the skirt, and you are going to stun onlookers the entire night.
8 – Basic Shorts With A Blue Printed Kimono And Boots
Throw on a printed chiffon kimono with some basic black shorts and a black bra set and you are ready to turn heads. Some detailed cowboy boots and a boho bag and you are all set!
7 – Red Monochrome Pants And Top With Hat
Go for a monochrome fit in bright hues and pair it with a neutral accessory and you will get just the right amount of dazzle and sophistication in your outfit. In this wardrobe inspiration, we bring you just that! A pair of trendy high wasted red pants paired with a matching tank top.
Incorporate a straw hat and some neutral sandals and voila!
6 – Striped Slit Skirt With Black Tasseled Tube Top
This model puts together a super chic fit using a black and white striped skirt with thigh-high slits and some black boots.
Paired with a black tasseled tube top and a black hat to match, you will walk past dropped jaws in this look!
5 – White Top With Tasseled Mini Skirt
A white top paired with a fancy tasseled white mini skirt and white boots to match! A perfect monochromatic white outfit to wear to a concert with just the right amount of texture and glitter.
4 – Yellow Plaid Set
A gorgeous yellow and green plaid skirt and top set. Adding on some fresh glittery makeup to lift your look would never be a bad idea.
To finish it off, accessorize to your heart's content and you are all set!
3 – Mustard Sun Dress With Platform Shoes
A mustard sun dress to rock under the summer heat with a hat to keep you shaded is the perfect beach concert look you will need in the following year. Some sketchers to go with the dress and you are ready.
This model gives us a stunning outfit inspiration in her mustard tunic dress and a sunhat.
2 – Denim Shorts and Green Upper With A Straw Hat
Baggy denim shorts always come in handy when your destination is the beach. When it comes to beach concert outfits, you can always transform the look with a blue tube top and a green upper open to the front.
Throw on a hat and some sketchers to finish the look and voila!
1 – Tie n Dye Cotton Candy 2 Piece With Fluffy Sleeves
We absolutely cannot get enough of this gorgeous 2-piece outfit in swirly cotton candy hues all over!
This outfit comes with super fluffy sleeve ends that add just the right amount of drama for a beach concert. Add high boots to the fit, some heart sunnies, and earrings to match!
Frequently Asked Questions
Q. Can heels be worn to beach concerts?
Ans. We would advise you not to wear heels to the beach because they will keep sinking into the sand. You will want to keep your outfit as practical as you can in order for you to enjoy the experience better.
Q. Are hats an absolute necessary part of beach concert outfits?
Ans. Hats are not only a great way of lifting your outfit but also come in handy against the scorching sun and protect your hair against the sandy winds. You can always substitute hats with bandanas.
Q. Can we wear swim sets to a beach concert?
Ans. Swim sets might just be the fastest answer to a beach concert outfit. But do try experimenting with layers and skirts to go with them!