Baby skirt outfits: A new baby is all about new life, fresh starts, dreams, happiness, and the future. It puts everyone in a good mood. People especially go crazy buying clothes for newborns. Once you give birth to a baby girl you will rarely be buying anything for yourself anymore.
Everything looks so much more irresistible and swoon-worthy in tiny sizes. Just because your baby is still in diapers, it doesn't mean their clothes & wardrobe should lack style. So keep in mind baby fashion when it's time for those first pictures & dress your baby up in stylish clothes. Luckily we're here to give you a healthy dose of baby outfits inspiration, so you can dress your baby with style. You won't get to choose their outfits forever, so enjoy playing dress-up with your kids while it lasts! You'll be looking at these photo albums so many times over the years!
Stylish Skirt Outfits for Babies
Thinking of how to dress up a baby girl for various occasions, plan according to the event. Is it a picnic, or a cozy family gathering, a birthday party, or a winter evening out? Choose your baby girl's attire accordingly. Whether you want something truly unique, cute, funny or you're going for a Disney theme, there's a baby outfit for everyone, as we discussed in our earlier post on Outfits For Baby Girls.
Skirt outfits for baby girls totally stand out. Who doesn't love a cute skirt on their princess? Dressing your baby girl can be a really fun and thoroughly enjoyable endeavor. Now let's look at some outfits. Here at Outfit Trends, we have rounded up really cute outfits for your precious little girl. Read the article to master the fine art of how to dress a baby girl in beautiful skirts and start your delightful journey.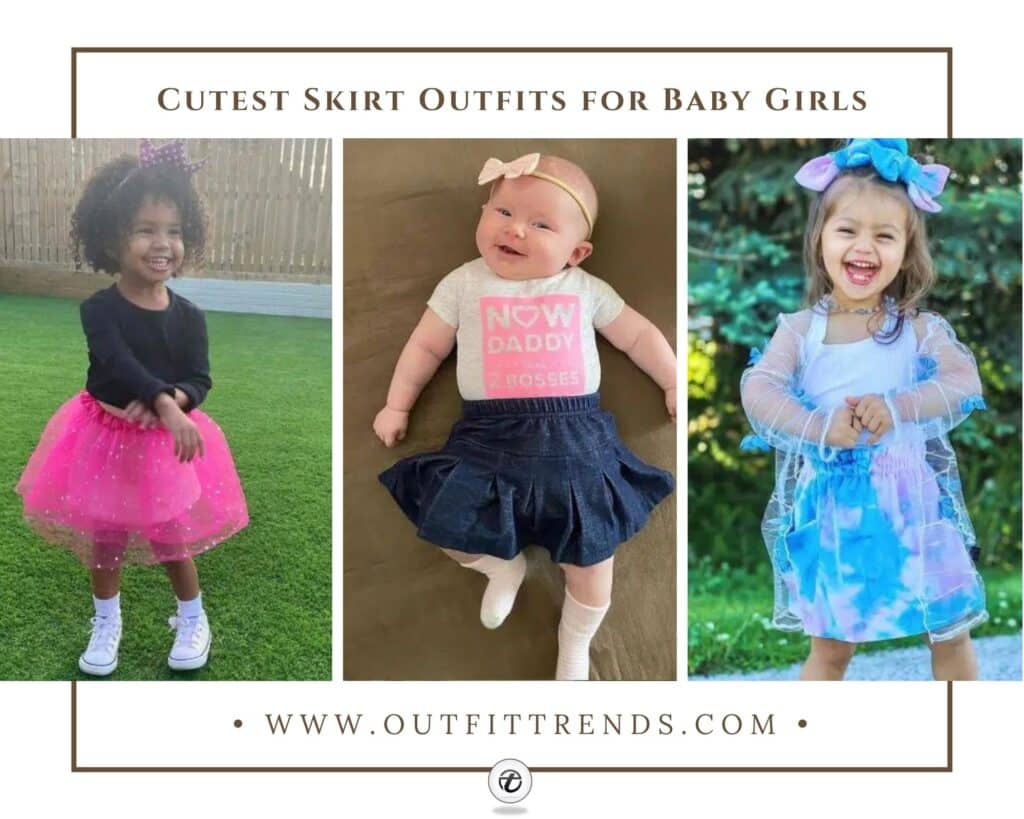 20 – Fashion Queen
If your child is a style icon and hates big jackets and coats because she feels goofy in them, go for a denim skirt with a wool sweater Trust us; she will maintain her swag while not catching a cold with this smart, casual dressing. It's a total win-win situation there. Complete the look with matching shoes and an adorable beret.
19 – Colors of Life
Girly clothes are synonymous with Pink. However, while exploring how to dress a baby girl, choose different types of colors for different occasions – calming, soothing, vibrant, refreshing, bright, and joyful. Aqua blue, powder blue, sky blue, purple, and pastels look great. This outfit right here magically has all the colors mentioned. How bright and cheerful does she look?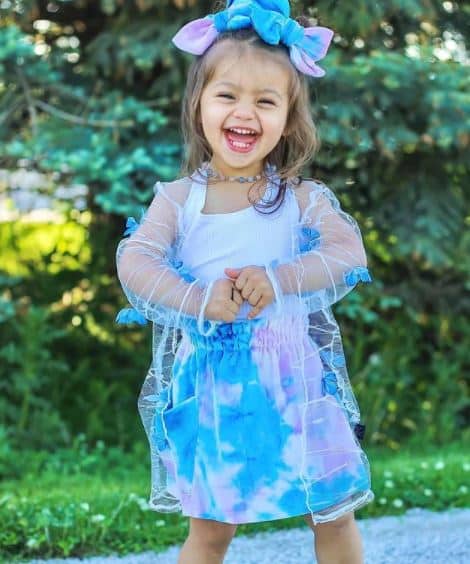 18 – Cute Sisters
Matching your kids' clothes is fun and adorable. It is cute to look at two tiny human beings roaming around in similar outfits. Artistic and trendy pairing is the secret of how to dress up a baby girl beautifully. Leggings on a top look very cute. A floral or cartoon t-shirt on jeans is a super hit combo. A cute skirt with a printed shirt can look very stylish. Take an inspo from this one right here to dress up tour twins. Complete your baby's look with a cute hat and matching little shoes.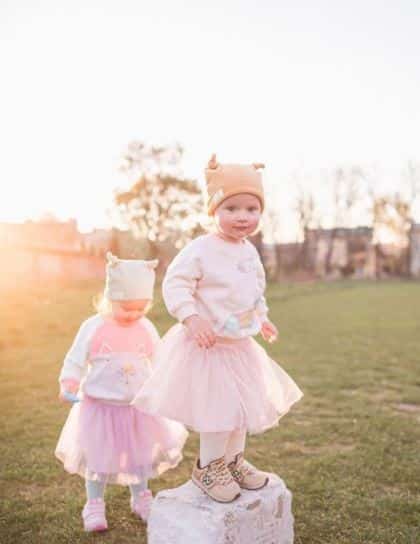 17 – Patterns are Fun
Imagine how lovely your princess will look frolicking around in her patterned dresses. If you are wondering how to dress a baby a little differently, try mixing and matching patterns. Choose patterns from the same, contrasting, or complementing color palettes. Use your originality. Look at this adorable little thing rocking the pattern skirt.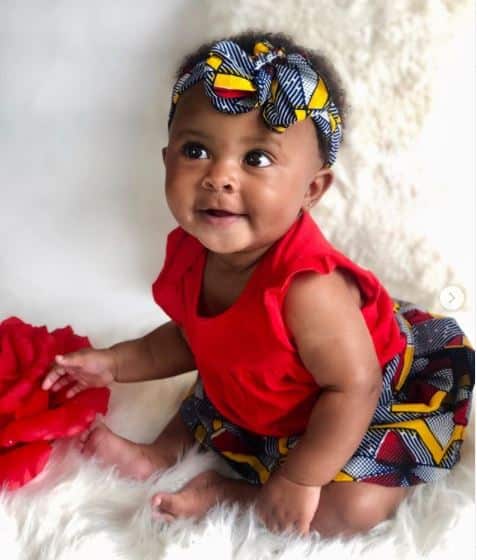 16 – Lavender Obsessed
Kids may have certain likes and dislikes which they might not be able to judge on their own or they can explain. The child does like the pleasant colors. Purple is the epitome of royalty. The richness of purple remains strong season after season. Dress up your little princess in a beautiful lavender skirt and let your little princess sparkle with beauty, grace, and happiness.
15 – Daddy's Little Girl
We may not be thinking of the kid's fashion trends, though it is the most desirable part of today's revolutionary fashion trends. This is just not important to wear the latest trends on the kids and to have fun clothing, rather it is required that the kids like the clothes they wear. Just look at this one, how adorable and comfortable this skirt outfit looks to spend the day with daddy at home.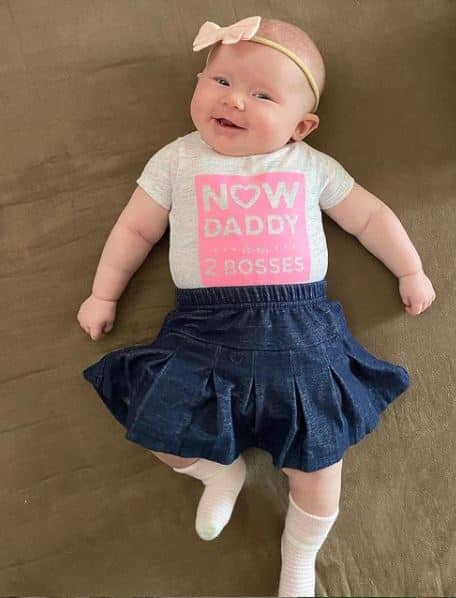 14 – Flower Girl Outfit
Flower girls are little angels, who are sure to make your wedding special. As for colors, flower girls are often dressed in white but if you are having a bright wedding, why not choose attire in its colors? A touch of bright colors will make your flower girls stand out a lot. To complete the girls' looks, add some accessories such as headbands, flower crowns, bows, and necklaces. Get inspired! a white top with beading, a blue tulle midi skirt, silver sandals, and a greenery crown for a cute rustic look.
13 – Day out in the wild
When the forecast calls for rain about every day for the next 10 days, you just roll with it . Dress your baby in a cute and bright skirt outfit. A bold yellow top with a cute skirt will make your girl stand out a lot. To complete the girls' looks, add some accessories such as headbands and cute rain boots.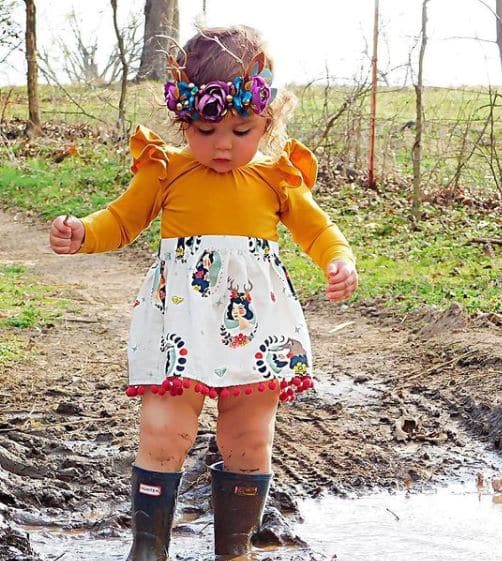 12 – Winter Style
When looking to buy winter jackets and coats they should be able to withstand cold temperatures and not be easily torn. Ideally, the coat or jacket will also be easily washable as your children will no doubt get them muddy on a regular basis. Girls wanting to dress like older teens is nothing new, but as the styles have gotten progressively more suggestive, the practice has taken on more significance. But if she wants to look stylish, she should choose a look that fits her personality and really go for it. A matching skirt and coat look charming and stylish. Here's a collection of the Cutest Kids Winter Outfits.
11 – Pinky Pink
Keep your baby girl's wardrobe small but stylish. She is continuously growing up. So after some months, her lovely outfits will be shorter or tighter. They will be wasted. So keep her wardrobe limited but attractive. Pink is an untarnished color. Keep on adding new items like this hot pink adorable skirt. The detailing on this skirt is what makes it extraordinary.
10 – Cozy and Warm
Perfect for walking your baby through the park on a chilly fall day, this outfit is so easy to put together and so adorable, too! Put your baby in a white long-sleeved top and a cute skirt. This one is a neutral tone and paired with a hat and cute braids laying on the shoulders.
9 – Squishy Cutie
Ahh, don't you just want to squeeze those adorable cheeks? How adorable does this floral Skirt and headband set look on this little one right here? Green is the color of growth and looks lovely on a baby girl. Floral headbands look great with babies dressed in frocks and skirts. This outfit looks best in pastel colors and makes your baby look innocent and beautiful.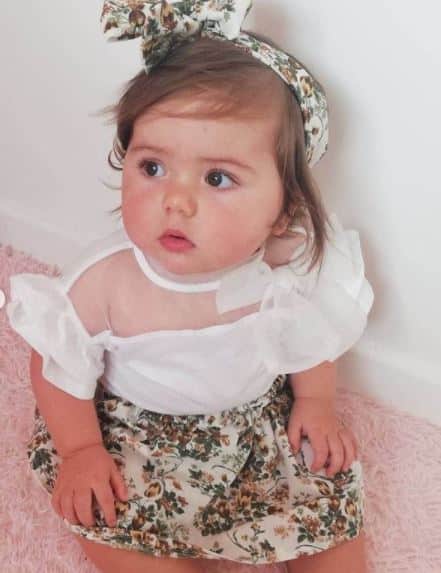 8 – Precious Munchkin
A warm summer day means getting outside and playing! This outfit is light and cool and will keep your baby from overheating. A white top with a cute tagline around the chest is the perfect girly piece that pairs so well with this cute pattern skirt.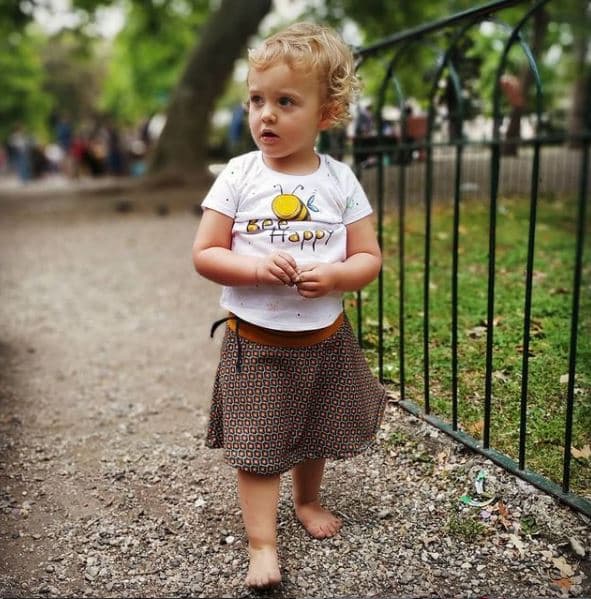 7 – Angelic Baby
Dress your baby girl in a simple and elegant manner. Overdressing will hamper her natural charm and cuteness. The right mix of style, comfort, and fashion is the key to how to dress a baby girl. Delightful little accessories such as hats, caps, belts, headbands, hairbands, bows, scarves add beauty to your baby girl. Have a look at this little princess!
6 – Birthday Special Outfit
Denim can never go out of fashion for adults as well as kids. Not only are these readily available everywhere, but the fabric is adaptive to be used roughly. Dress up your little princess in the easy-to-carry denim skirt pairing it up with a pastel-colored top to complete the look. Matching shoes and headbands with this style will add a cherry on the top.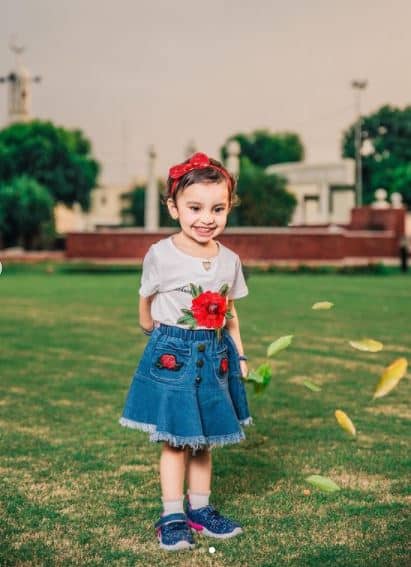 5 – Mother Daughter Duo
Sometimes moms can twin their outfits totally, and other times, they go for something that will make both of them look just super cute and the coolest among all. They say mom is a girl's best buddy, and we can not disagree with this. Black is almost everyone's favorite color, and you can't forget it, especially while creating a matching wardrobe with your daughter. For a pop of color, the brown mini skirt is giving the most adorable look. If you're fond of twinning with your little one then do check out these 110 Cutest Matching Mother Daughter Outfits On The Internet.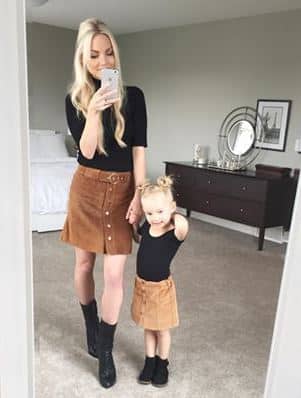 4 – Back to School Outfit
Well, for children, comfort comes before style, but when you can have both, grab it with both hands. Pullover with a cropped hoodie is in style forever. Pull it off with a cute denim skirt and Chelsea boots for a modern chic look for your smart girl.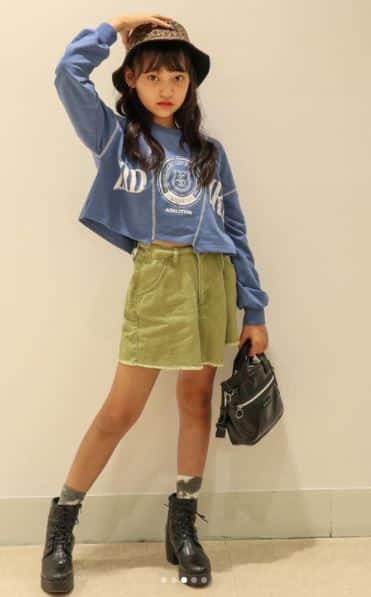 3 – Sporty Girl
If your baby girl is into sports it's challenging as a parent to create something that looks great and serves a practical purpose as well as promoting a move in the right direction at the same time. Inspired by activity, wellness, and a love of the outdoors, this skirt outfit is a classic mix of smart, stylish, and sporty. How effortlessly beautiful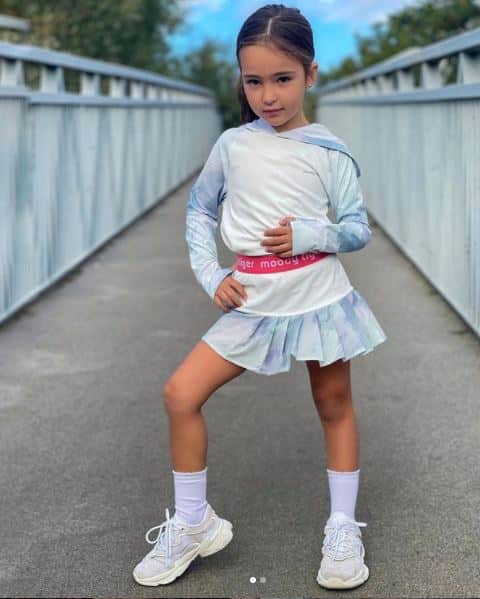 2 – Graduation Day
Let your child look as special as you do on your Graduation day with a Baby cap and gown! Make their graduation day from preschool special by dressing them up in special outfits. Fluff up your doll in the flared skirt and a printed pullover with long sleeves. Let your little princess sparkle with beauty, grace, and happiness on her special day.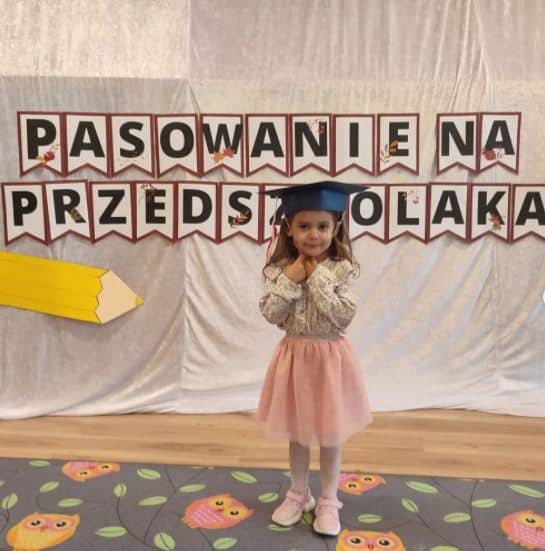 1 – Choose Good Quality Fabric
Fabric is an important part of the process of how to dress a baby because an uncomfortable fabric can spoil the little one's mood for the whole day. So choose the fabric your baby girl is most comfortable in. The fabric should be smooth on the skin. Cotton and linen are light, comforting, and airy. Chiffons and silks have a smooth feel and are great for special occasions. Go according to the season as well. In summer, choose light clothes. In winter, go for layering. Take a look at this cute and comfortable skirt outfit on this cutie. She is wearing a layered multi-color tutu skirt.
Frequently Asked Questions
Q. How can you achieve your little girl's fairy princess dream with her outfits?
Every kid wants to be their favorite fictional character. To make your little girl's dream come true, dress her up in some poofy frocks and flared skirts and maybe buy a wand and a tiara from the store to make her look and feel like a princess.
Q. What are the best dresses for baby girls?
Buying dresses for baby girls is so much fun as you find vibrant colors and styles nowadays in the market. However, parents need to make sure the size fits, and there is the ease of moving around freely. After all, besides looking for the most beautiful kid during the occasion, they also need to feel comfortable. Though there are different styles and patterns under baby girl dresses, there are some pretty party outfits that never go out of style which include tutu dress, Fashionable floral ruffle dress, Net patterned dress, and cute skirts. If you need some birthday outfit inspiration then do check out these Cutest First Birthday Outfits for Baby Girls.
Q. Where to shop for baby skirts?
Both new and seasoned parents know the struggle of buying kids' clothing. Whether it's for a baby's first birthday or a back-to-school wardrobe. To help guide you, we've looked at many retailers. For each one, we considered the range of styles, sizing inclusivity, quality of materials, and prices.
• Carter's Carter's is the place to shop for budget-friendly newborn outfits.
• buybuyBABY If you like to shop around, buybuyBABY carries a fantastic collection of baby skirt outfits.
• Janie and Jack put modern twists on classic fashion for baby outfits.
• h&m is a perfect store to find an amazing collection of baby skirt outfits.