How To Accessorize A Swimsuit – You can get plenty of clothes but all of them will be a big fail if you don't know how to style them. It's the same for your swimwear. While purchasing a new bikini can be fun and exciting, the most exciting part is wearing it out to the beach or the pool.
These days, it's all about the whole look. Therefore, just a swimsuit and cover-up isn't enough. You should know how to style, accessorize, and carry them.
Best Way to Accessorize Your Swimsuit This Season
In this article, we will be focusing on accessorizing swimsuits to give them a stylish and chic look. And, I am happy to share that accessorizing your swimsuit is more than just adding your favorite pair of shades. Hence, let's look into how to style a swimsuit to create the most aesthetic and instagrammable look.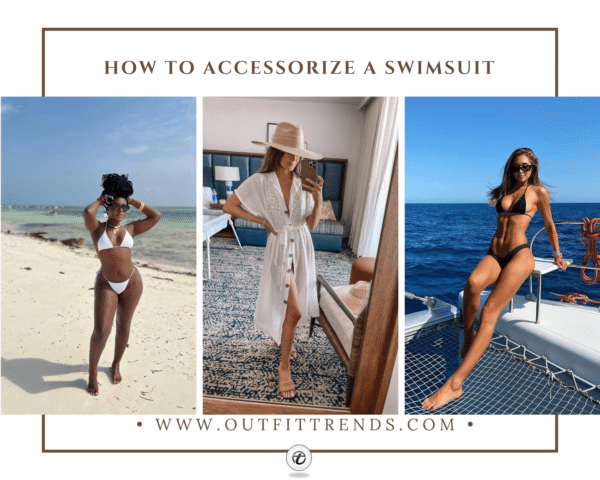 Tips And Tricks On Styling Your Swimsuit
First up, choose a breathable swimsuit and cover-up. 

Make sure to apply sunscreen to the exposed body parts. 

An important tip for accessorizing your swimsuit is to buy a very simple bikini or a one-piece swimsuit. Avoid anything with big and bold patterns because the jewelry will not look good with them. 

You should always have a pair of sunglasses on the beach; it will not only give a stylish look but also protect your eyes from UV rays. 

Get yourself some simple pendants or necklaces, rings, and cute earrings to style your bathing suit. 

When buying jewelry for your swimsuit, choose wood, plastic, or stone jewelry. Avoid purchasing anything in metal because the sea salt reacts to the metal which will leave your ear green and stain your swimwear.  

Lastly, keeping in mind the look you wish to achieve, choose a hat for yourself. For instance, if you want a 90's swimwear look go for a bucket hat. A baseball hat will be a great choice for a sportier look.
9 – Headbands 
Headbands are the prettiest hair accessory. They keep your front hair in place while also giving a stunning look. The best part is you can find headbands in a variety of prints, colors, and shapes. A matching headband looks adorable, have a look at the picture and decide for yourself.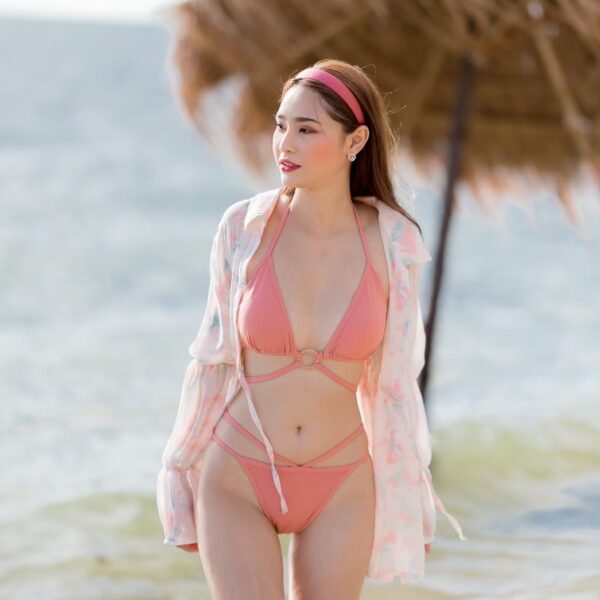 Halter High Cut Thong Bikini Set (similar) $28.99
8 – Hats
If it's bikini weather, that means the sun will be shining brightly. If you want to avoid sunburning your face and neck, choose a simple wide-brimmed hat to pair with your bikini. After all, you need to keep your delicate facial skin protected. Check out this beautiful straw hat that looks perfect for a beach day.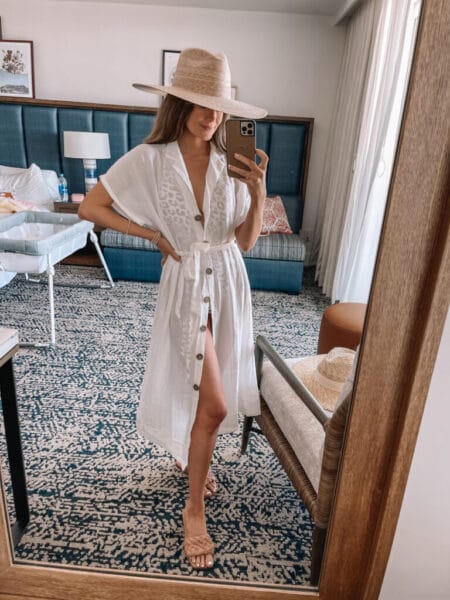 If you are not a fan of a huge straw hat then add a baseball hat. See for yourself in the picture below, the hat looks stunning, doesn't it?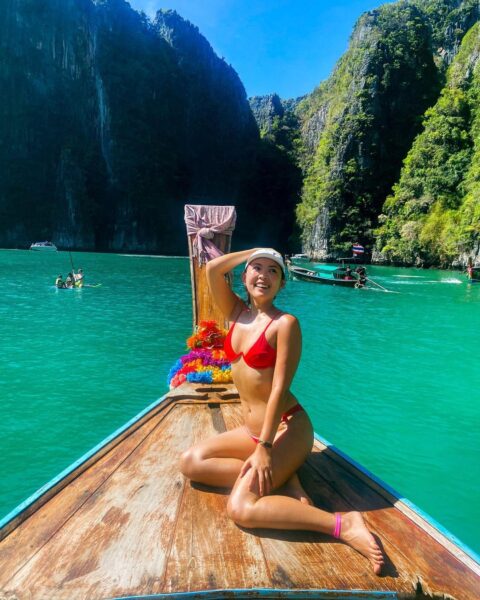 7 – Hair Clips
Hair clips are especially versatile, as they can be purchased in a number of different colors and stylistic arrangements, allowing you to customize your bikini-based ensemble. As an added bonus: you are able to keep your neck cool and dry.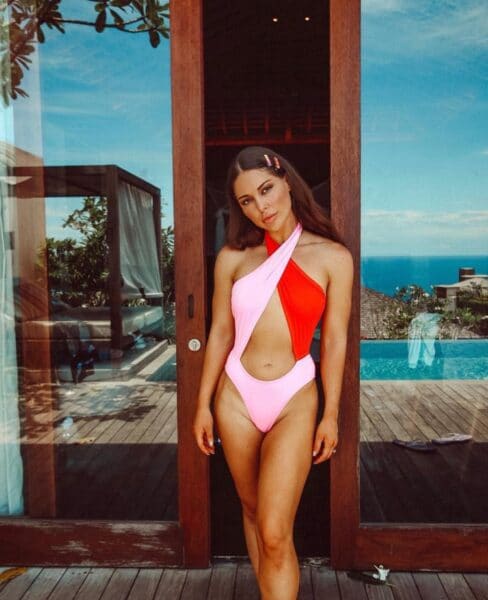 Pink And Red Color Block Swimsuit (similar) $36.99
6 – Satin Scrunchies In Boho Prints 
You don't have to wear your hair down all the time on the beach, tie your hair after some time. Therefore, use a cute scrunchie instead of a rubber band (they cause hair breakage).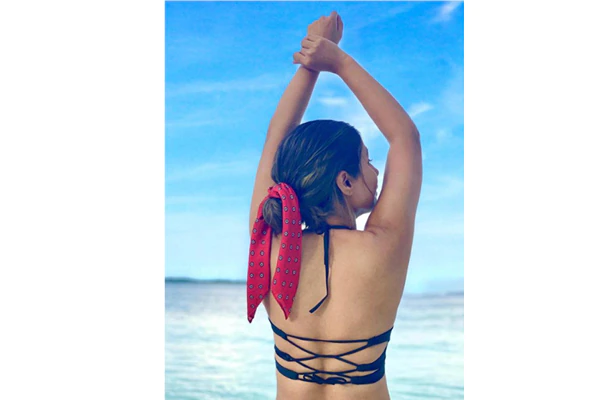 Red Hair Scrunchie (similar) $11.69
5 – Kaia Jordon Gerber in Sunglasses
Sunglasses should obviously be worn to keep the eyes protected from harmful UV rays but they can add a hint of stylish flair to a beach outfit. You can choose from a huge number of different designs as there is a multitude of colors and styles available. By getting the right sunglasses, you can provide additional depth to your beach ensemble!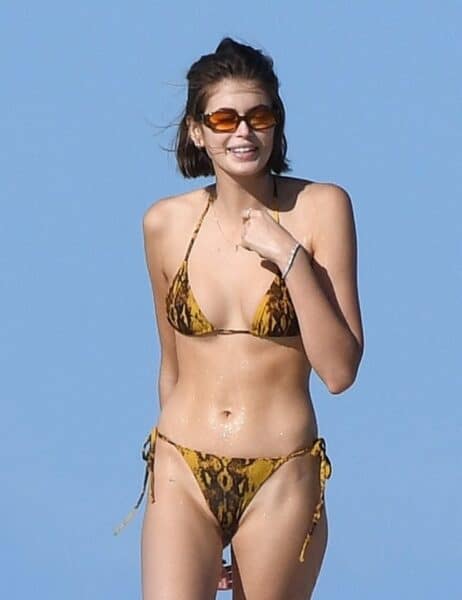 4 – Necklaces
Most women already have a beautiful necklace or two lying in their jewelry drawer and a simple choker will look great in tandem with your bikini during beach season. A delicate golden piece also works wonders. Women who want to project an aura of charm and grace while they are modeling their new swimwear typically choose an understated necklace to wear with their new bikini.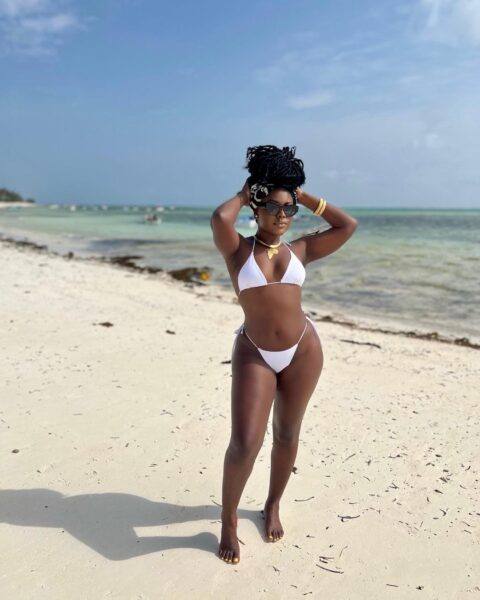 3 – Earrings
As for the earrings, the smaller they are, the better. Don't wear large earrings that can get caught and tangled while you're in the water. A simple post is your best bet if you are trying to avoid being too ostentatious.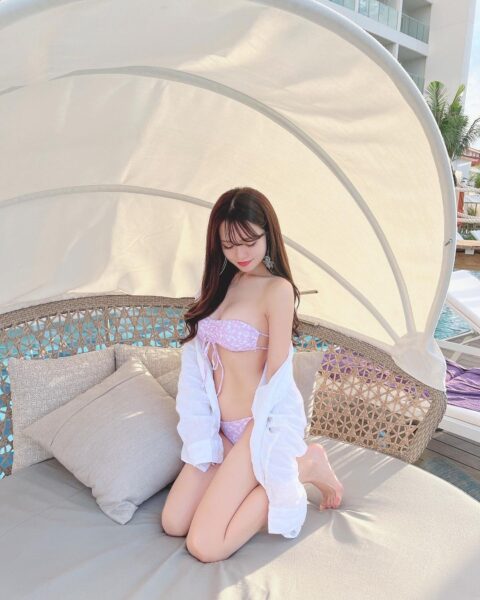 2 – Adding Rings/Bracelets
While you should never overdo it with the rings, one or two small, tasteful pieces provide a certain level of artistry. Bracelets should be treated in the same manner, as they can provide a tasteful embellishment to the outfit when they are chosen in a judicious manner.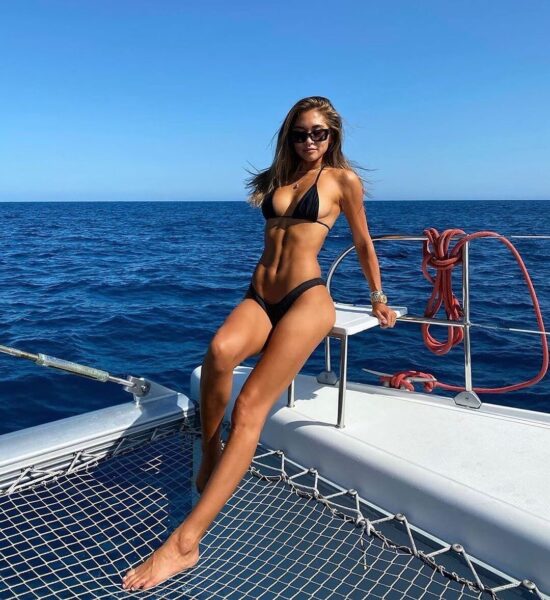 1 – Grab A Pair Of Sandals
Grabbing a pair of shoes to add to your beach day outfit lets you express your own unique individuality. You can choose between slide-on sandals, flip-flops, and slip-on. When you're looking to make a bold fashion statement during a trip to the beach, pairing the right sandals with a micro bikini will turn heads for all of the right reasons.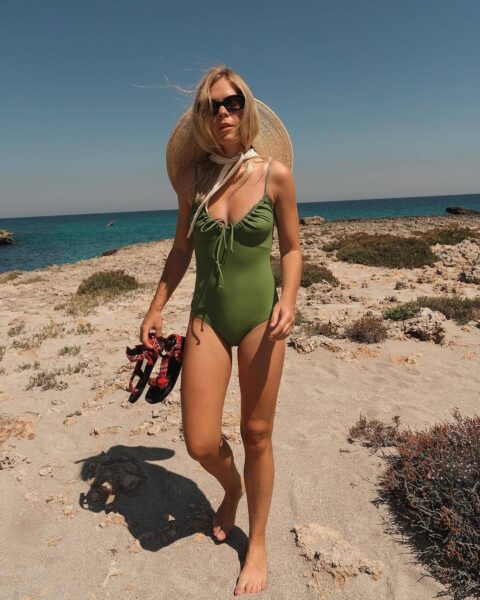 Frequently Asked Questions
Q. How can I make my swimsuit look better?
Ans. Choose a swimsuit that will flatter your body. Do not buy something that might bring attention to unwanted areas. For instance, overly detailed and busy patterns can ruin the whole look. Moreover, accessorize your swimsuit to make it look stunning. Add jewelry made of stone, pearls, or wood. Lastly, get yourself a pair of wedges so you can stand straight and have a streamlined look. 
Q. How do you hide lower belly fat in a swimsuit?
Ans. High-waisted comes to the rescue for all the women who wish to have a flattering look. Get yourself a high-waisted bikini set or swimsuit; it will hide your belly pooch. You can also buy color-blocked swimwear with a light top and dark bottom; it will give an illusion of a slimmer tummy. Furthermore, ruffle swimsuits are a great way to prevent attention from your belly and back.