Cool Printed Thigh High Socks – Thigh-high socks, also known as stay-ups are one of the coolest accessories added to our wardrobe. Believe me, if you try them out once, you will be obsessed with them. They are not only perfect for providing comfort but all those funky prints make these socks a cool part of your outfit too. In this article, we will discuss some stylish thigh-high socks designs for this winter and ideas on how to wear them.
What Are Thigh High Socks?
Firstly, it is important to understand the concept of these socks. These socks are normally worn by women in order to support their feet on the lower portion of the body. Women normally wear thigh-high socks with short skirts and long skirts. These types of socks are very stylish and attractive if matched perfectly with other outfits. Nowadays they are available in many funky designs and as colorful socks. It completely depends on the style and personality of women. In the winter season, thigh-high socks are very popular among girls. Most women and girls don't know how to wear printed thigh-high socks in a perfect way. So, we will discuss some simple ideas to wear printed socks to make your winter more glamorous.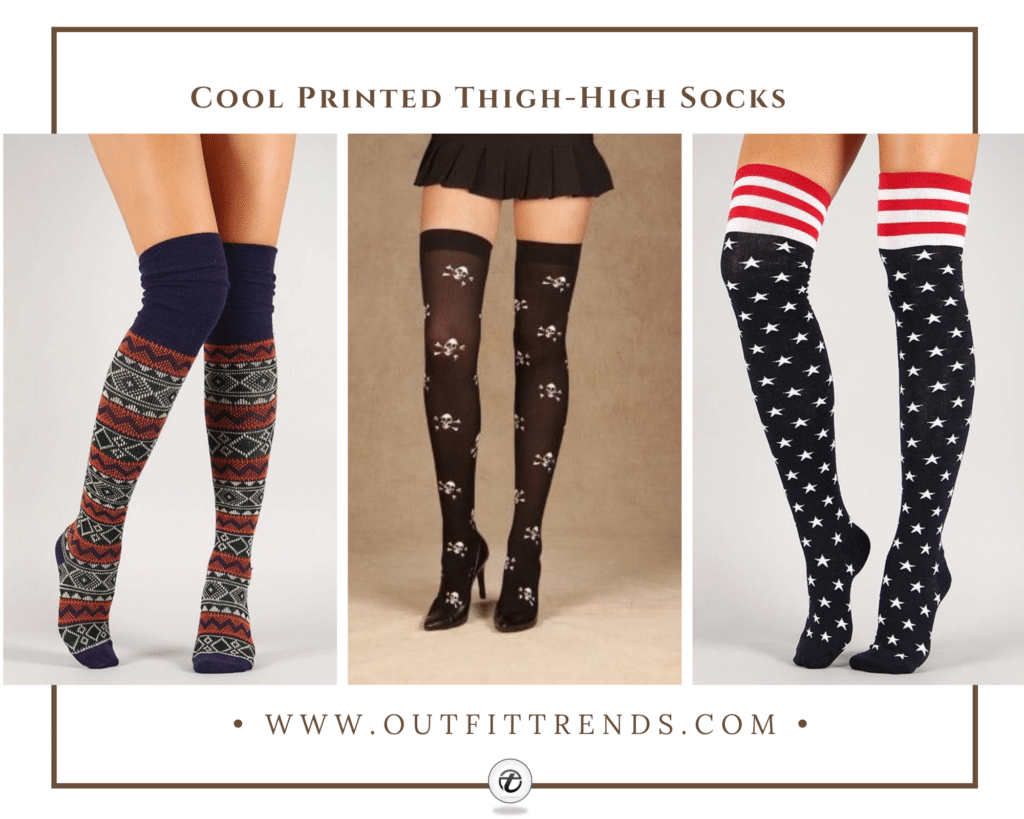 Tips To Wear Thigh-High Socks
Thigh-high socks look the best with flared skirts. and shorts.
You can also wear them with knee-high boots.
Make sure to buy the correct size of socks that fits you.
Satin socks can be worn in summer, while you can wear knitted and warm socks in winter.
12 – Funky Printed Thigh-High Socks
It is always fun to try out new and different kinds of things. These cute and funky printed socks are a perfect way of bringing out your inner child. You can wear these to your PJ parties and form a cute outfit with them.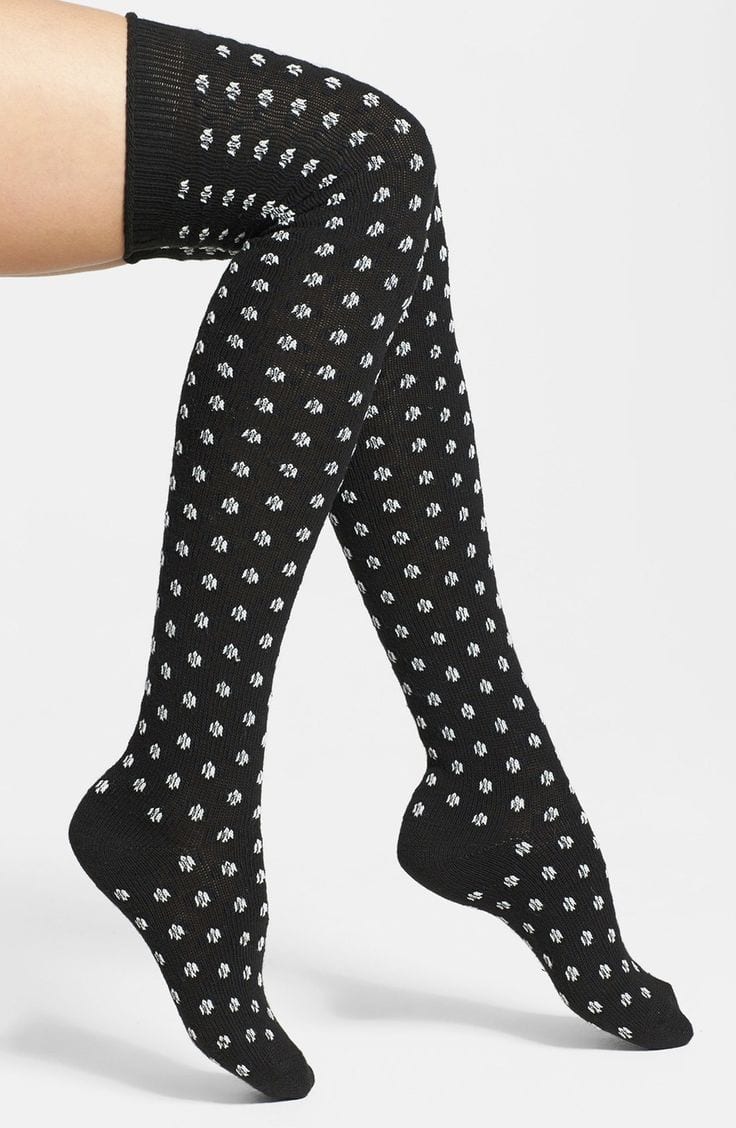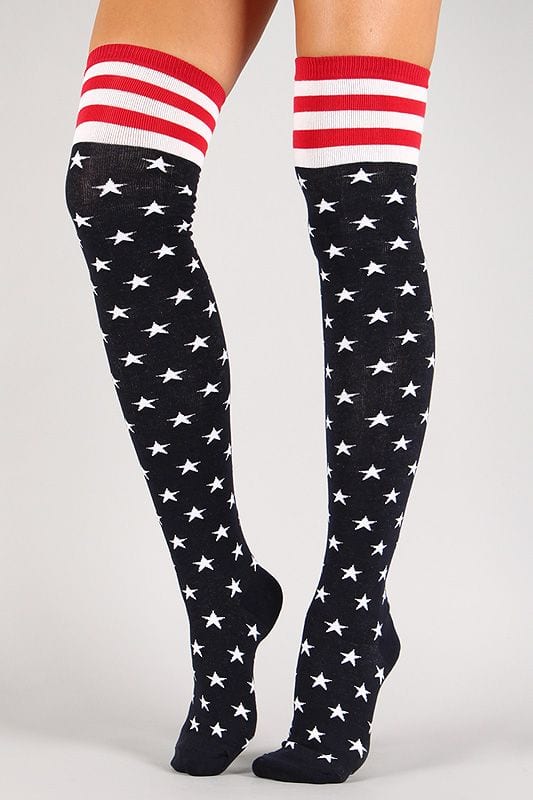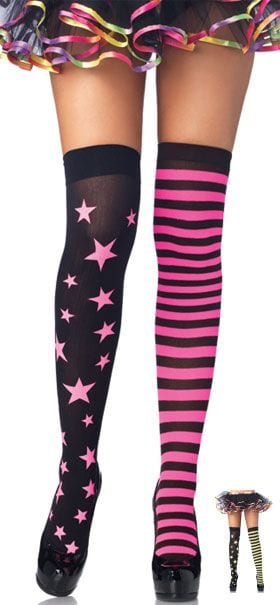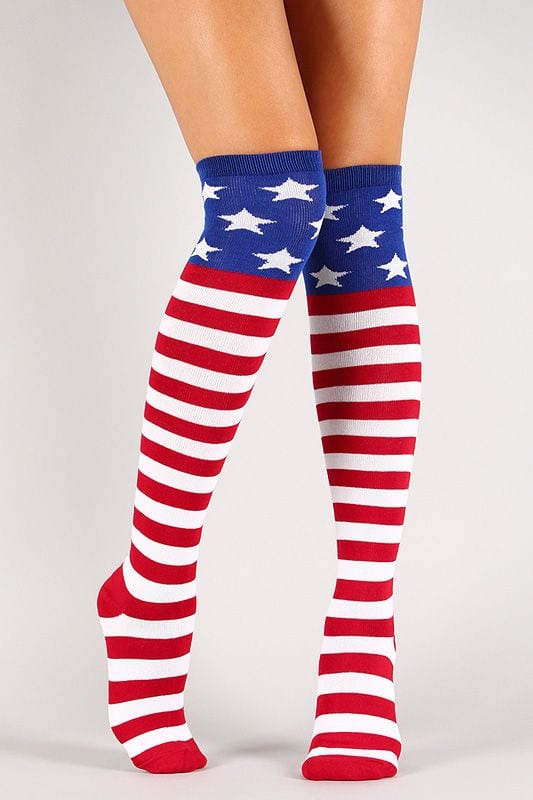 American Flag Knee High Socks for Women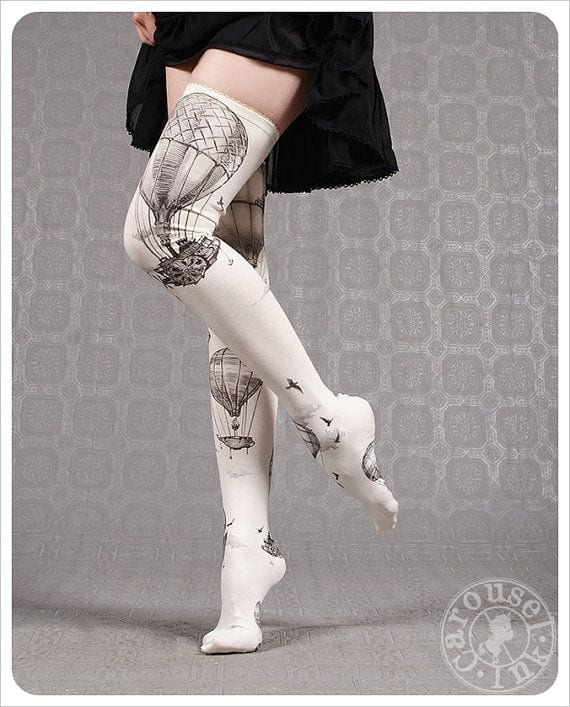 11 – Printed Socks With Sheer Leggings
The most popular and best way to wear printed thigh-high socks is that you can wear these socks with sheer tights. You can wear the combination of printed thigh-high socks and sheer tights with a tighter skirt, loose top, shorts, or ankle boots. This fashion style is best for your fall and winter dinners.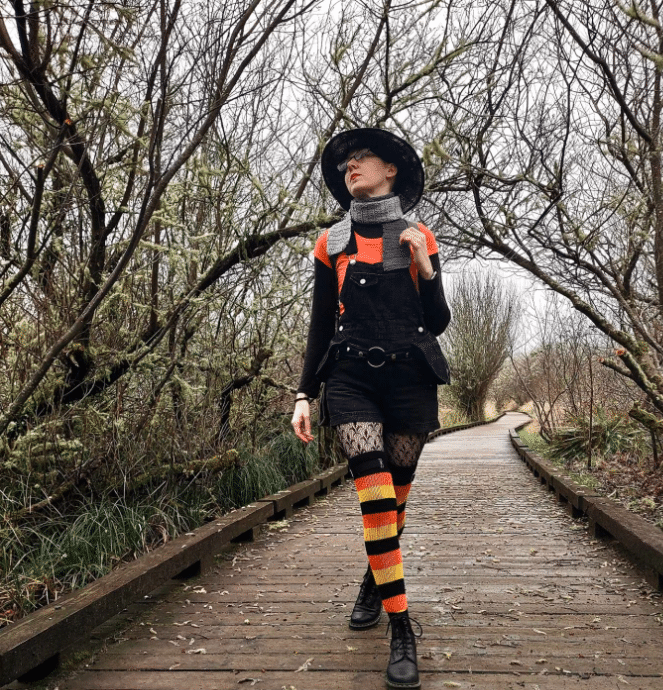 Women's Elastic Waist Geo Print Sheer Mesh Skinny Cropped Leggings $19.99
Women Fedora Hat Vintage Wide Brim Crushable Hat $14.99 
10 – Socks With Skirts
It looks really stylish when you wear thigh-high socks with skirts. So these socks can not only be worn in winter, but you can wear them with outfits like these as well. Grab a cute crop top and a short flared skirt and pair these socks with them and you are ready with a cute outfit. Secondly, you can also wear printed thigh-high socks with shorts. In the spring season, this style statement is best and ideal for girls. Girls should keep in mind that your selected shorts should be stylish and funky.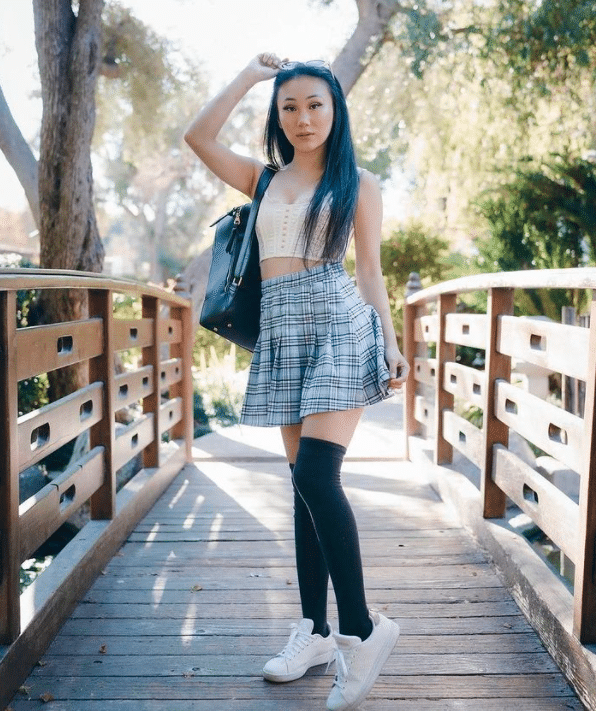 Women's Walking Shoes Tennis Sneakers Casual $36.99
9 – Cable Knit Thigh High Socks Over Tights
Cable knit socks are really cozy and keep you warm in chilly weather. If it is too cold, and you don't want to reveal your skin, then you can also wear them over your tights.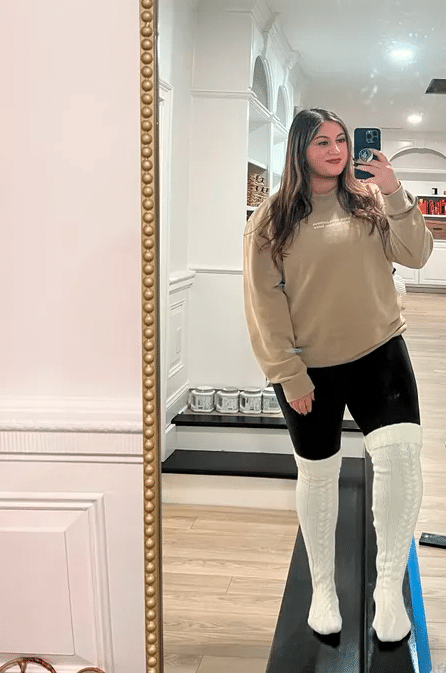 Women's Thigh High Socks Cable Knit Boot Socks $15.95
8 – With Ankle Boots And Sweater Vest
The last idea is that you should wear printed thigh-high socks with ankle booties. We would like to mention that ankle booties are ideal for your thigh-high socks. Well, it's a perfect combination for your parties. For winter parties, you can go with this cute look by pairing a shit with a sweater vest and high socks with ankle boots.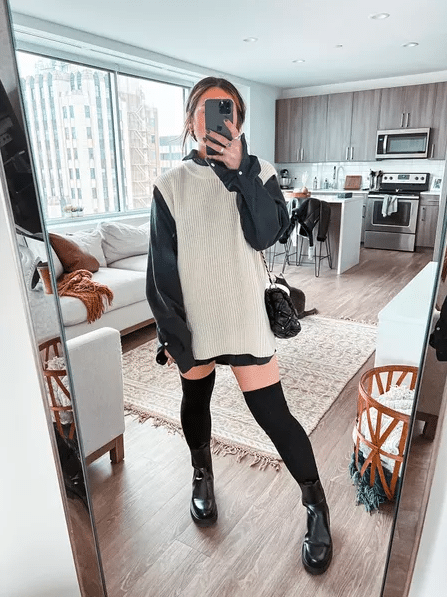 Thigh High Socks for Women Over the Knee $9.98
7 – Thigh-High Socks That You Can Wear To School
Simple white socks like these are perfect to wear with a school or college uniform. In winter, they will keep you warm and they also look really stylish with school skirts. You can wear white sneakers with these and a cute backpack to complete your look.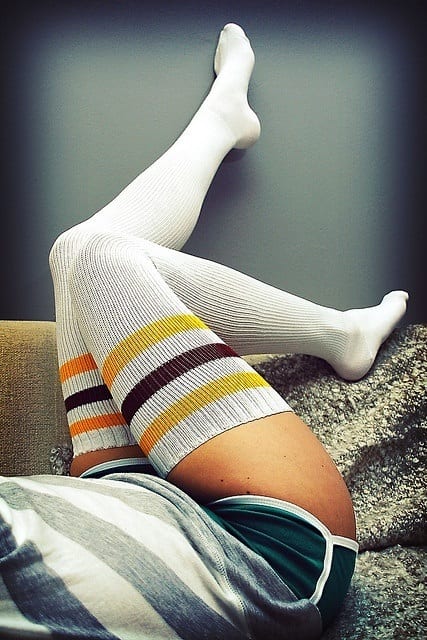 High Thigh Socks Striped Over Knee $9.99
6 – Thigh High Socks With Oversized Sweaters
Who doesn't like oversized sweaters in snowy weather? If you are the kind of person who prefers comfort over anything then this outfit is styled for you. Simply pair your favorite sweater with thigh-high socks and boots and you are good to go. You can also add a scarf or a knit to this outfit.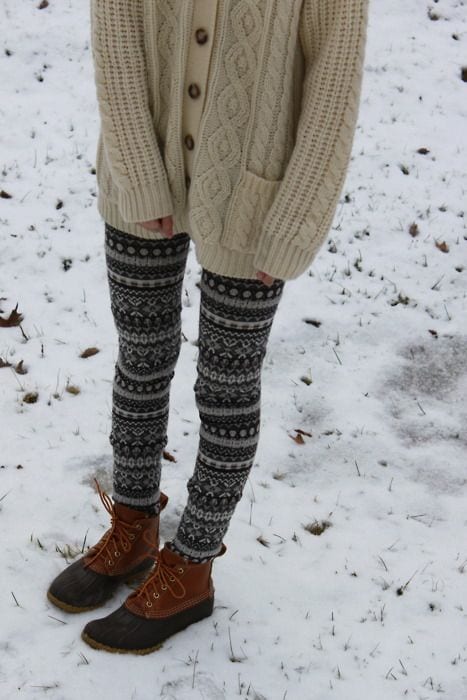 5 – Satin Bow Thigh-High Socks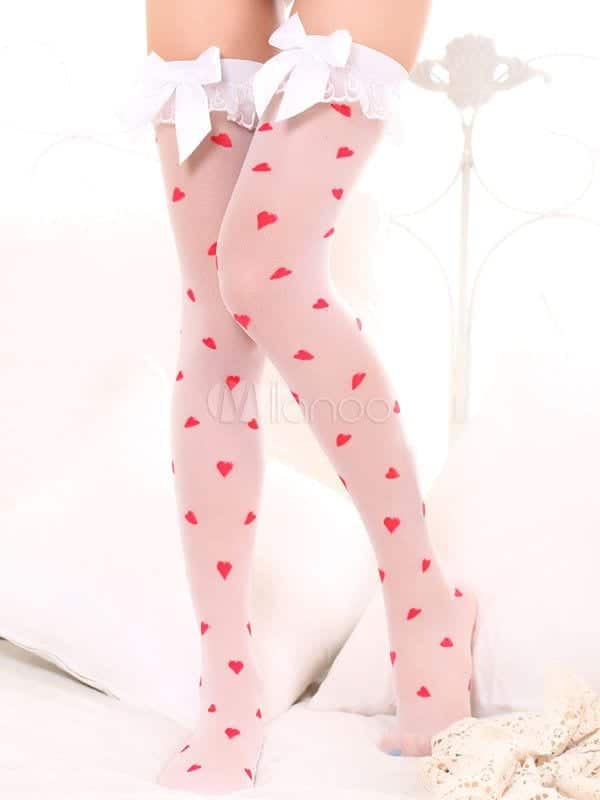 Satin Bow Stockings Women Opaque Thigh High(Similar) $9.99
4 – Stylish Black Thigh-High Socks With Floral Dress
You can also wear your thigh-high socks with your casual dresses and tops to give them a different look.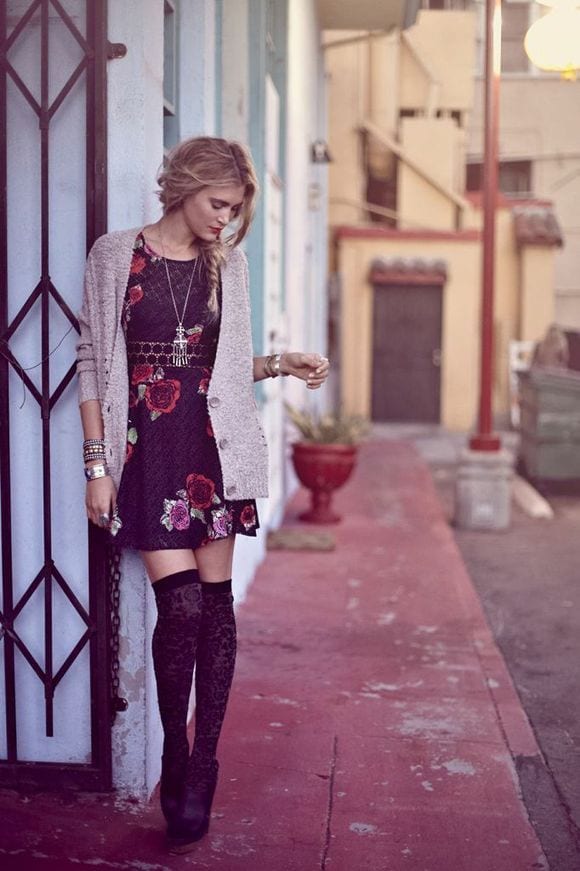 Women's High Stiletto Heels Pointed Toe $46.99
3 – Black Socks To Wear With Halloween Costume
Another idea is that you can also try printed thigh-high socks with mini skirts. Most girls prefer to wear short skirts with thigh-high socks. This idea is perfect for your spring or Halloween parties. You can also form a gorgeous Halloween costume with these socks by wearing a black net top. mini skirt, thigh-high socks, and black high heels.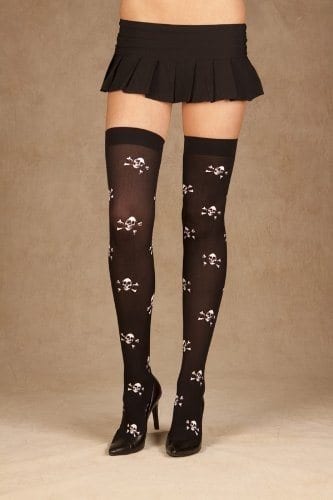 Thigh High Long Stockings Over Knee Socks $14.99
Women's Basic Versatile Stretchy Skirt $12.45
2 – Cozy Socks For Winter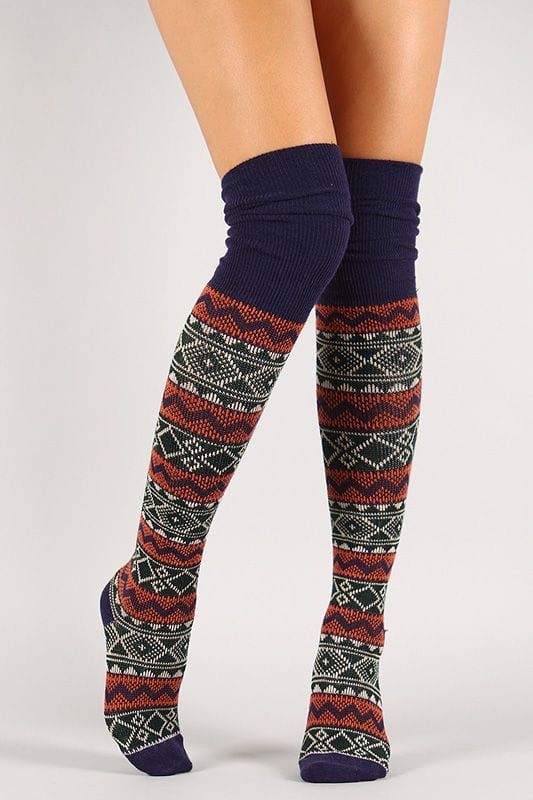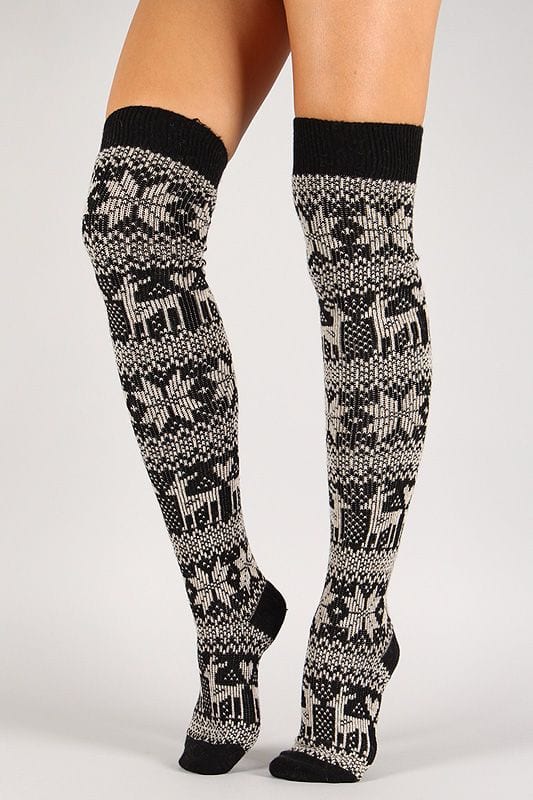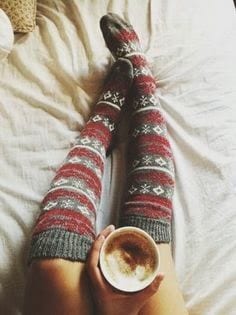 1 – Cute Cat Socks With Pink Pumps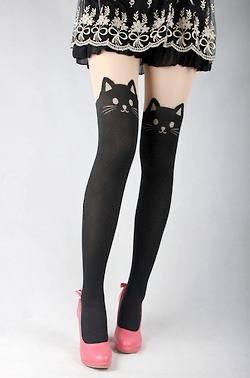 Women's Thigh High Socks $11.99
Frequently Asked Questions
Q. Are thigh-high socks appropriate?
Ans. Yes, wearing thigh-high socks is appropriate and they look really classy as well. However, you can avoid wearing these to formal events if you are not comfortable. They can be worn to parties with skirts and tops. They can also be worn to college and school. Other than that you can wear them formally with pumps and boots and with blazers. You can style them with your outfits accordingly.
Q. Why do thigh-high socks roll down?
Ans. There can be several reasons why your thigh-high socks are rolling down. Firstly, the problem could be in the size of the socks. You might have bought the wrong size that is too big for your thighs to stay. There can also be a problem with the band of the socks. Or you might not be wearing it correctly. Make sure that you are wearing it on your thigh and not the knee.
Q. How to style thigh-high socks for work?
Ans. Many people think that it is inappropriate to wear thigh-high socks to work. However, if you style them correctly, they can look really classy. For an elegant work outfit, you can wear them with black pumps and an oversized blazer. You can pair them with your normal tops and skirts to work. You can also wear them over tights.