Zoom Meeting Outfits. The events of this year have been no less than dizzying, with many – if not most – of us navigating a whole new way of doing life. One of the most universal changes has been an uptake on video-conferencing.
Now more than ever, we are staying connected via laptop screens and mobile devices and it has been an adjustment, to say the least. And with many of us working from home, Zoom meetings and other forms of conferencing have become our go-to form of staying connected with coworkers, bosses, and clients. Not to mention events like family celebrations, happy hour with friends, or check-ins with the grandparents.
What to Wear for a Zoom Meeting
In today's article, we are going to be talking about Zoom meeting outfits: what to wear, the best pieces to wear, what to avoid, and more. We will be leaving the discussion of how to set up Zoom, how to download it, or install it, to other sites. There are various tips they will share, like best camera angles and ways to change your Zoom meeting background. But here at Outfit Trends, we are all about outfits and style. So that's what we'll be sharing today. Let's get started.
There are quite a few things to consider when planning your Zoom meeting attire. Here are some things to keep in mind, as well as some tips for cute, stylish, maintainable attire.
Wear a bright-colored blouse. This may go against typical reasoning as you might be tempted to dress for a Zoom meeting the way you would a TV interview. But in reality, you will be using your laptop or an attachable webcam for your Zoom meetings, and neither are known for their quality. A bright colored top can really help brighten things up, as well as enable you to stand out amidst a gray or blurry scape. This is even more applicable if the wall behind you is plain.
Avoid a low-cut neckline or a too-high neckline. Why? A low-cut neckline will draw attention away from your face and should be avoided if you are doing a work-related meeting. Plus, they become a distraction as they need to be constantly adjusted or fixed. However, a too-high neckline can be problematic for other reasons: you could wind up looking like a floating head! For that reason, you'll want to avoid turtlenecks, button-ups, mock-necks, etc. So look for blouses that hit right in the middle and that don't require fidgeting or any type of maintenance.
Avoid fitted or super-structured tops. Because you'll probably be sitting behind a desk, you'll want to avoid wearing anything that pulls or tugs across your middle or shoulders, anything that gaps (so avoid button-ups, if you can), or anything too tight. To get the perfect Zoom outfit, you'll want a comfortable top that fits you well and doesn't stretch uncomfortably across your chest.
Go for some type of sleeve. By wearing sleeves, you'll avoid any renegade bra straps making an appearance.
As tempting as it may be not to do so, do wear proper pants! If you have to jump up to grab something or need to take a bathroom break, you will want to be wearing a full outfit e.g., not your favorite pajama pants or boxer shorts. That would be quite embarrassing!
Now that we have the basics down pat, let's move on!
We have compiled 16 fantastic Zoom meeting outfits for you to check out and be inspired by. Have a look!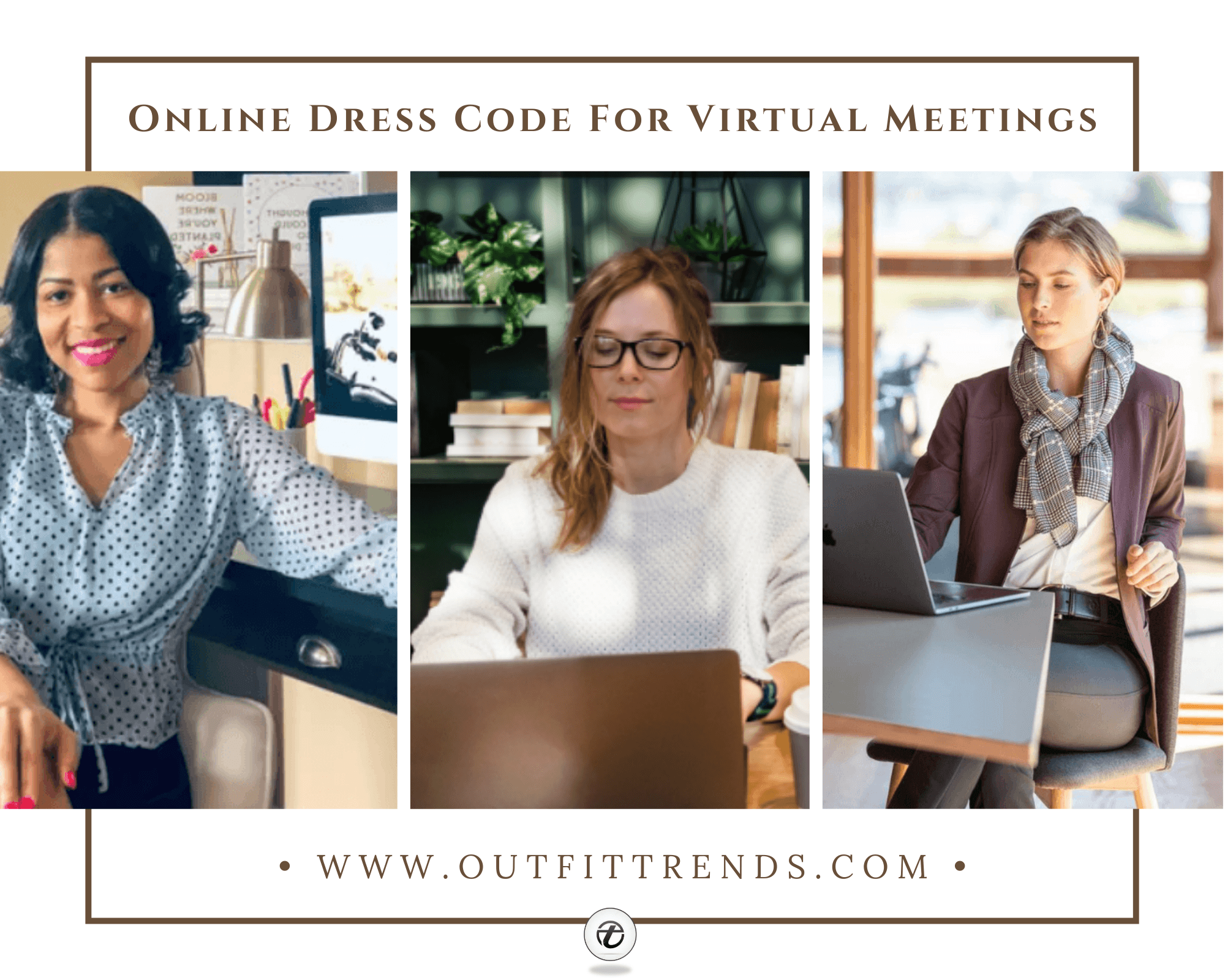 ↓ 16 – Polka Dot Chiffon Blouse
When it comes to zoom meetings, it doesn't get much better than this. This top is everything we recommend: it's light blue, which is a refreshing color. It features a cute pattern. It has a partial v-neck which is feminine without being revealing. It features three-quarter length sleeves. Lastly, it's not overly structured and fits loosely but well! We also love the addition of a bright pink lip which helps your features stand out.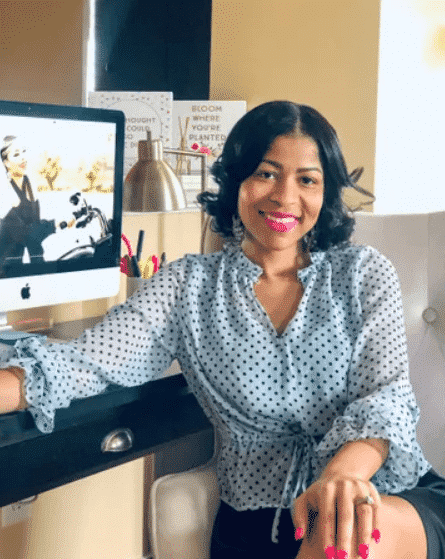 ↓ 15 – Floral Top and Jeans
Here we see a great option for a zoom meeting: this aquamarine floral top is bright and refreshing and ridiculously pretty. The open collar won't conceal your neck and it looks great with a pair of jeans. Style your hair casually and go for a neutral makeup look. Here are some more Work From Home Outfits That Are Comfy & Chic.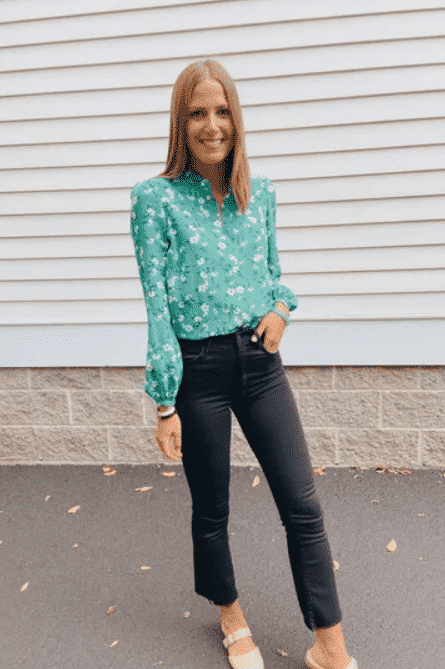 ↓ 14 – Puff Sleeve Eyelet Top
For those last-minute meetings where you need to look professional but not overly dressed, this eyelet top is everything you need! Simply pop it on and tuck into a pair of high-waisted trousers. (Nothing too tight though.) A simple pulled back hairdo will complete the look.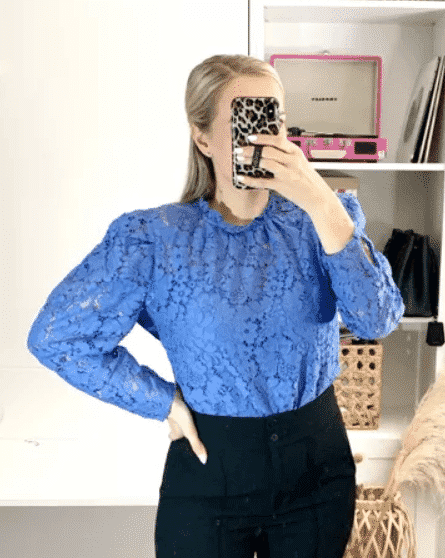 ↓ 13 – Mustard Yellow Top with Tie-Neck
A super-easy way to make any top look more chic is by tying a loose scarf around the neck or by getting yourself a tie-neck top. This color will also keep from blurring you out and looks great with a dark red lip. Pull your hair back in pieces and secure it with bobby pins for a sweet hairstyle.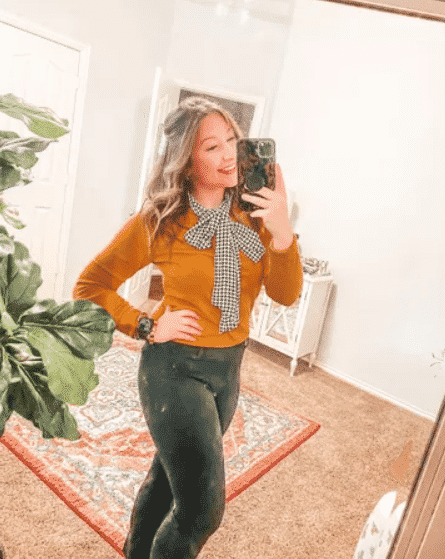 ↓ 12 – Knotted Scarf & Purple Jacket
If you want to make a good impression on a prospective client, this chic ensemble will do the trick. A dark purple jacket matched with a coordinating plaid scarf looks fantastic over a neutral top. Pull back your hair in a casual bun and add teardrop earrings to tie the look together.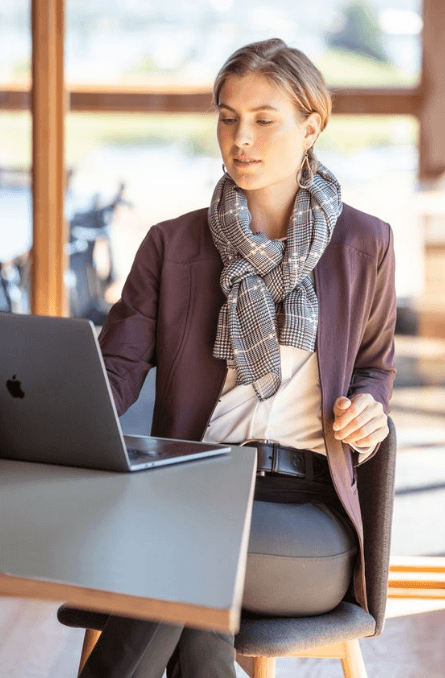 ↓ 11 – Baby Blue Blouse
This right here is one of our top favorite looks for a Zoom meeting. It's feminine, chic, and professional. Plus, this shade of blue will stand out nicely on a gritty Zoom call. Pair with casual pants or with a high-waist skirt – especially if you think you'll have to stand up at some point in the meeting. While you don't have to go all out with your hair and makeup, it really does pull the look together. We love!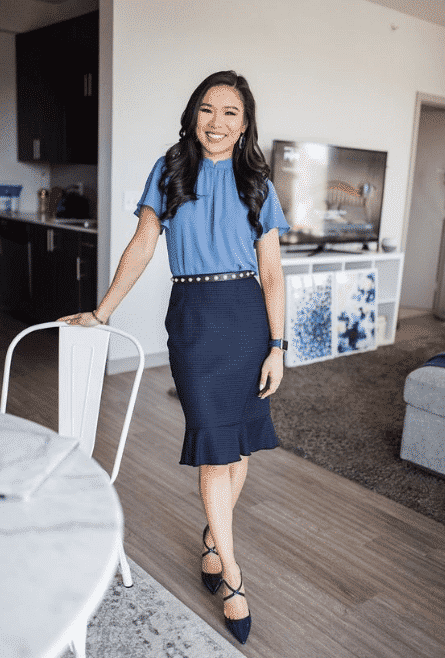 ↓ 10 – Patterned Top & Trousers
Here is another fabulous look you can try. A short-sleeve blouse featuring a cute print goes a long way in creating a stylish and beautiful video conference ensemble. We also love these loose pants that are comfy but endlessly chic.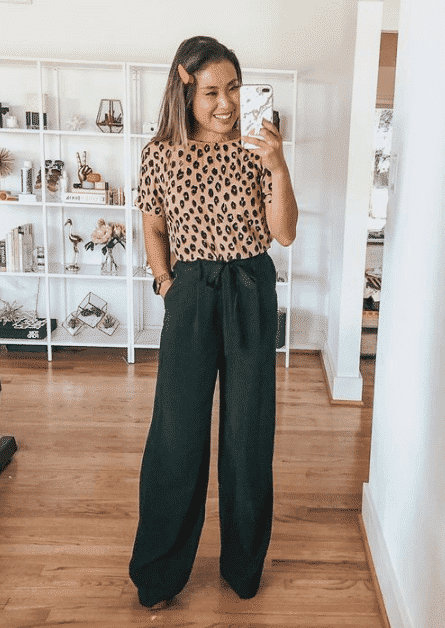 ↓ 9 – Salmon Pink Blazer
A super-easy way to bring some color into any look is by adding a bright-colored blazer.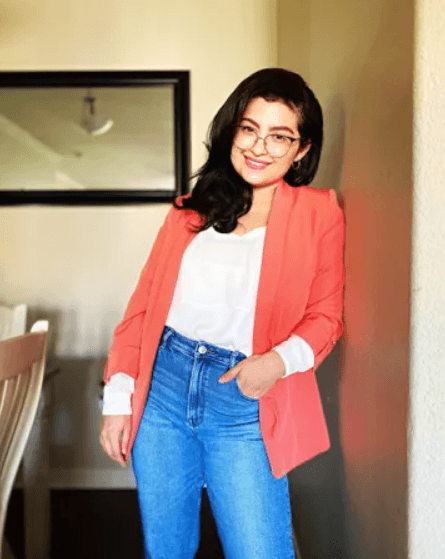 ↓ 8 – Vertical Stripe Top
Vertical stripes are slimming and a v-neck is flattering. (But if you think it might be too low-cut, simply layer it with a camisole underneath.) Pair with joggers for a comfy and cozy finish to the look.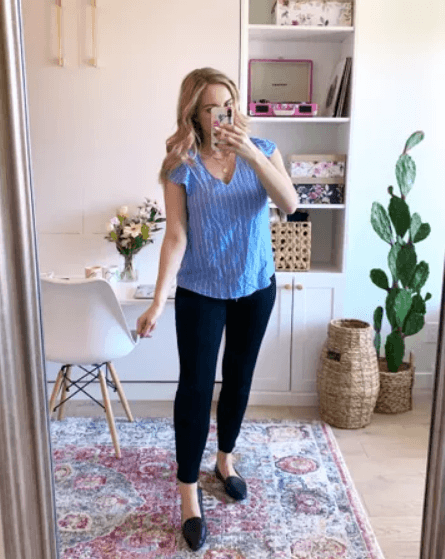 ↓ 7 – Print Peplum Top
When in doubt, a pretty print peplum top (try saying that three times fast!) looks great with trousers. Wear with slides or slippers and your feet will thank you! If you like wearing peplums, here are some awesome ideas on how you can style them for Summers and Winters.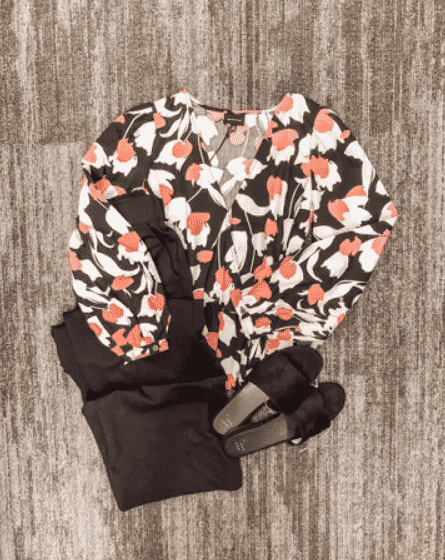 ↓ 6 – Best Color to Wear For Zoom Meeting
Dressing for zoom calls can get a little boring. Liven it up with a bright pink blazer! This is a great color to wear for a zoom meeting. It's bright and draws the eye and will look cute even when pixelated. This plus-size ensemble is great for executive meetings and client chats. While we don't like to see too much white in a zoom meeting outfit, the pink blazer breaks it up and will be the focal point.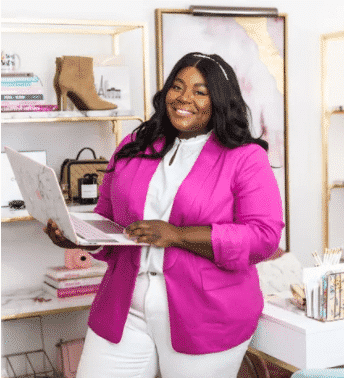 ↓ 5 – Puff Sleeve Blouse & Pretty Headband
You will know if a headband like this is too casual for your work atmosphere. We don't recommend wearing it in a very corporate one. However, in some cases and with some meetings, a pretty headband can breathe new life into a basic Zoom outfit. A puff sleeve blouse is great if you work in the creative or fashion industry. Accessorize with some beaded jewelry and slip on your favorite jeans. Finito!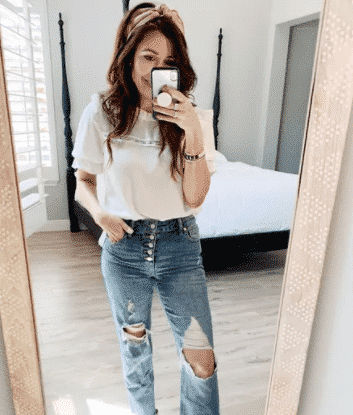 ↓ 4 – Casual Styling
At this point of the game, chances are your regular Zoom meeting attire is quite relaxed and casual. If so, why complicate things? A simple short-sleeve top in a rich color will do the trick nicely. All the necessary bits are well-covered and you can feel comfortable as well as put-together with a simple outfit like this. Pair it up with your favorite stretch fit jeans and style your hair in a simple 'do with basic makeup.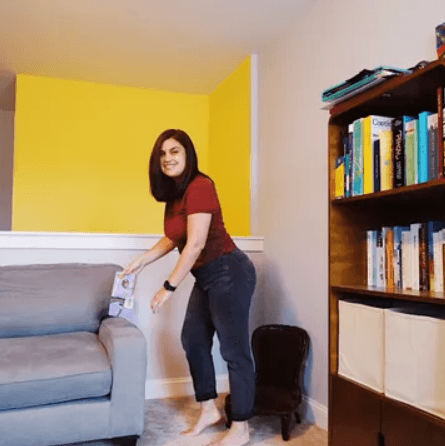 ↓ 3 – Sweater & Slacks
You can't go wrong with a sweater. Not only is it soft and comfy but it offers sleeves and a proper neckline, too. Try and go for a crewneck over a mock neck or a turtleneck; you can also opt for a brighter color sweater as well, especially if the wall behind you is a similar shade or tone. If not, rock your soft neutrals and pair up your top with a comfortable pair of slacks. Go barefoot or slide on some comfy flats. Here are the Best Styles of Sweaters for this Season.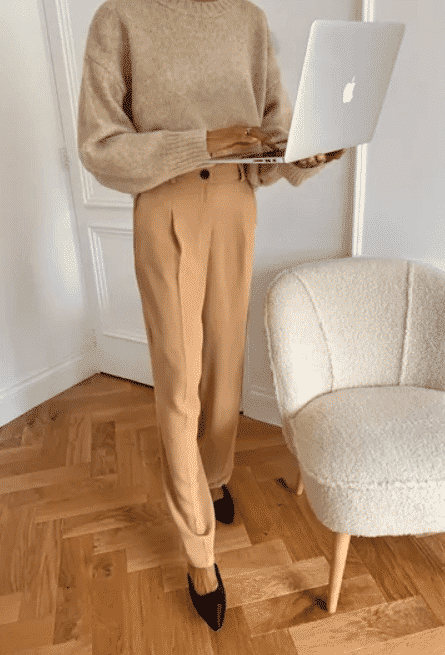 ↓ 2 – White Blazer & Blouse
If you happen to have a well-decorated background (and aren't worried about blending into it) then a white top and blazer are a great option. This is a chic, comfy, but stylish look that doesn't require constant fidgeting or adjusting in order to look good.
The v-neck is a great pick as well: it shows just enough of the neck to show people you have one, but it's not so low-cut that it is unsuitable. A blazer is instantly business-casual. You can go for leather or vinyl leggings for a comfy fit and skip the shoes because there are in fact some benefits to video-conferencing and we don't intend to forget them.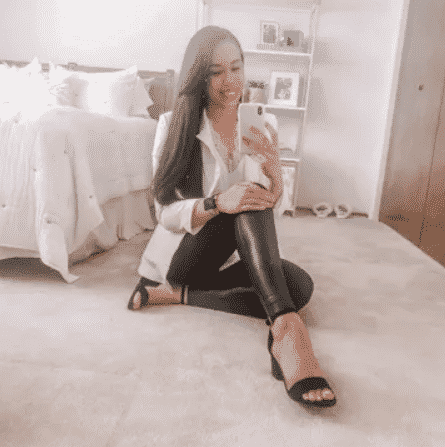 ↓ 1 – Totally Fun & Chic Outfit
Alright, alright, we know. This isn't exactly work meeting attire. But! There are plenty of fun occasions that crop up via the magical airwaves of Zoom, and when it boils down to it, it's 2020 and we are pretty sure there are no rules anymore.
After all, where else are you going to wear your most slaying looks these days? Instead of letting them go to waste, why not whip them out and have some fun with them? On the one hand, your clients or coworkers might appreciate a healthy dose of fashion goodness. On the other, so will literally anyone you have a Zoom meeting with.
So, go ahead and liven up the party (or meeting) with a bright pink vinyl jacket or trenchcoat… just skip the booties, as they will likely go unappreciated tucked under your desk. You're welcome!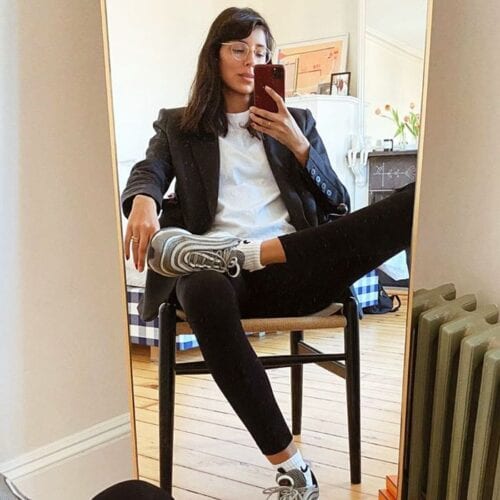 Frequently Asked Questions
Here are some frequently asked questions about what to wear for a Zoom meeting. Here they are!
Q.

How should I dress for a Zoom meeting?
A. It depends on the nature of the meeting (a prospective client versus a weekly chat with your boss and coworkers) but in most cases, you should dress in business-casual attire. (Unless your job has specific dress requirements.)
Q.

What is the best color to wear for a Zoom meeting?
A. We recommend bright colors, when possible. A bright color will liven up a gray or blurry webcam image and helps provide contrast if you are sitting in front of a plain wall. Try blue, red, green, or yellow, to start with. Other options include a nice print on your blouse or a neutral shade, particularly if you have a busy background.
Q.

Should I dress up for a Zoom meeting?
A. Not necessarily. Unless you are required to or you are meeting with top executives or prospective clients, a simple blouse and blazer combo is fitting.
Q.

How to look good on Zoom?
A. It can be a teensy bit challenging to really feel like your best self on a Zoom call due to poor lighting and camera quality. So, here are a few tips:
Get yourself a ring light. This can be a little bit of an investment but if you know you are going to be doing Zoom calls regularly, it might be worth it.
If a ring light isn't possible, try and set up your laptop near a good source of natural lighting (i.e. a window).
Style your hair and use a bold shade of lipstick. Because of its typically blurry nature, our best features can sometimes get lost while doing a Zoom meeting. Flyaways (particularly if you sit near a window) will detract from a polished appearance.
Check your camera angle and don't sit too close to the camera.
Check out this video for an easy Zoom setting trick that will make you look instantly better.
And that's a wrap! Did you find this article helpful? Are you excited about your next Zoom meeting now that you have some ideas of what to wear? Let us know in the comments below!