Simple tips to make mehndi darker. Henna tattooing or most commonly known as Mehndi application is strongly associated with weddings and festivities in the subcontinent. Mehndi application is the traditional art of making intricate floral and geometric patterns on the hands, arms and feet.
This is done using a thick henna paste (natural plant-based dye) to decorate the body in Middle East and the subcontinent for over 5000 years. This tradition is another variation of body tattooing which dates back to civilizations as old as the Egyptian empire whereby the Pharaohs and Queens used kohl and red powder derived from ants and bugs to decorate their eyes and bodies. To the Egyptian emperors decorating their bodies was a symbol of pride and prestige just as a dark stained henna pattern is to an Indian/Pakistani bride.
How to Make Mehndi Dark in Color?
Henna comes from a plant Lawsonia Inermis or the mignotte tree that most botanists believe originated in Egypt. The leaves of the flowering plant contain a natural dye that stains the skin hence the leaves are dried in the sunlight and then grinded to form a powder. This powder is often mixed with Mehndi oil, rose water or Eucalyptus oil to form a paste and intensify its staining property. This paste is then transferred into plastic cones which has a pointed tip for drawing precise and thin patterns on the hands.
This paste is allowed to sit on the skin for around 2-3 hours and even overnight in the hopes of the strongest and the darkest stain and different household hacks are used to intensify the color even more. We have prepared a list of all-natural and chemical-free tips and tricks to get dark henna stains for all you mehndi enthusiasts out there. Having said that, let's dive right in!
1 – Get a Henna Expert
The best way to ensure that your mehndi gives you the best colour is by hiring a henna expert for the job. Not every henna artist is an expert, do some research and spread the word. Ensure and communicate that you want her to use only chemical-free henna on your hands and feet. The expert will not only save you from the trouble of finding the best henna cone but she is also experienced and has a dexterous hand with various geometric and Arabic designs.
She might just give you some discreet tips and tricks for getting the best stain from your mehndi. Henna Experts normally charge $1- $2 per hand and can do the job quicker than expected. If you're unsure about which design to go for, I would highly recommend one of these Floral Mehndi Designs.
2 – Use High-Quality Henna
Rani and Nadira Henna cones are the trusted brands that promise the "darkest stain" in the entire market. And if you want to go for natural mehndi, try these top natural mehndi brands from Pakistan.
3 – Lemon Juice and Sugar
Here is a quick household tidbit, take a few spoonfuls of sugar and boil it in a small quantity of water to create a strong sugar syrup. Once cooled, add lemon juice and use a cotton ball to apply this mixture generously on all the areas where the henna has dried.
The sugar in the mixture will keep the henna in close contact with the skin while the lemon juice will ensure a darker color. The lemon juice is acidic in nature; hence it has a lower PH which helps the release of dye from the henna paste.
Repeat the process a couple of times before going to bed and avoid washing your hands and arms with soap as that can lighten the stain of henna.
3 – Apply Vicks Vapor Rub!
Who said that your favorite tub of vapor rubs can ONLY help your blocked nose? Those blue tubs are more useful than you think.
Once your henna has dried, flake it off and apply vapor rub generously on the tattooed area and leave it on for some time. The menthol present in it does the actual job of darkening the color of the design overtime.
After an hour or two you can now wash your hands with water.
4 – Clove Fumes!
Once you have applied the lemon and sugar syrup on your mehndi, take a few cloves on a pan over direct heat. When the fumes start rising, run your hands over the fumes and ensure that your lemon syrup dry in the fumes.
Drying your hands in the fumes will restore some warmth back in your hands as henna has cooling properties and application can make your hands icy cold. The fumes will help darken the stain of the applied henna.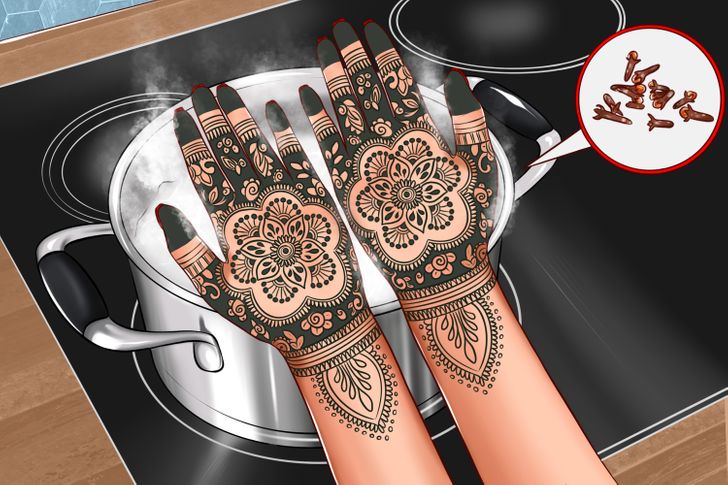 5 – Step by Step Video Tutorial to Make Homemade Dark Henna
6 – Cover your hands
Once your mehndi has dried it is best to cover all the areas with a medical paper tape so that the mehndi design doesn't get spoiled and secondly the heat of your hands will get trapped inside and it will help trigger the release of more dye from the henna paste.
Covering your hands also lessens your worry and you can sleep in a comparatively better position knowing that your mehndi will be secure and the body movements will not ruin the pattern.
7 – Keep your Henna Overnight
Haven't we all heard from henna experts and the elderly ladies in the house to keep our henna overnight for maximum stain at one point or another? We have seen so many brides-to-be sleeping in uncomfortable postures all night just in the hopes of getting a reddish brown pattern on their hands and feet. Such enthusiasm!
The longer the henna stays put the darker the stain it leaves. Just make sure that you cover your hand once the henna has dried before sleeping so that you don't end up ruining the pattern on your hands while sleeping.
8 – Steam Your Hands
Steam your hands to make the stain stay longer and be as dark as possible. This must be done before wrapping your hands. You can simply warm some water on a stove and warm the hands above it. Alternatively, you could also use a vaporizer.
9 . Wash with Water Only (If Necessary) Avoid Exfoliating
Natural mehndi will often come off when you remove the tape or just with a bit of scraping – you will not have to wash it off. And even after washing off or removing the mehndi, if you want the color to stay for as long as possible, you should avoid unnecessary contact with water, soap or detergents.