Mehndi designs for small hands: Most of the people think they can't get henna on point since they have small hands. Well, small hands are not an issue as long as you use the right pattern.
We have compiled for you the best designs that you can make if you have small hands or if you're looking for henna designs for kids.
How to Apply Mehndi if You Have Small Hands?
Here are some tips on applying mehndi on smaller hands:
Add some bold symbols and patterns in your mehndi such as stars, moon or a doodle.
Avoid designs that are of bigger patterns, for example, huge flowers will not do well.
It would be best to keep it intricate with delicate patterns – especially if you're going for something floral.
Round mehndi designs like the traditional Mandala design can also be tricky as they won't appear very symmetrical on small hands.
27 – The Cool Girl
If you're a teen or adult who loves coffee – this is the perfect design for you. I personally love it because of how unique the doodle makes it.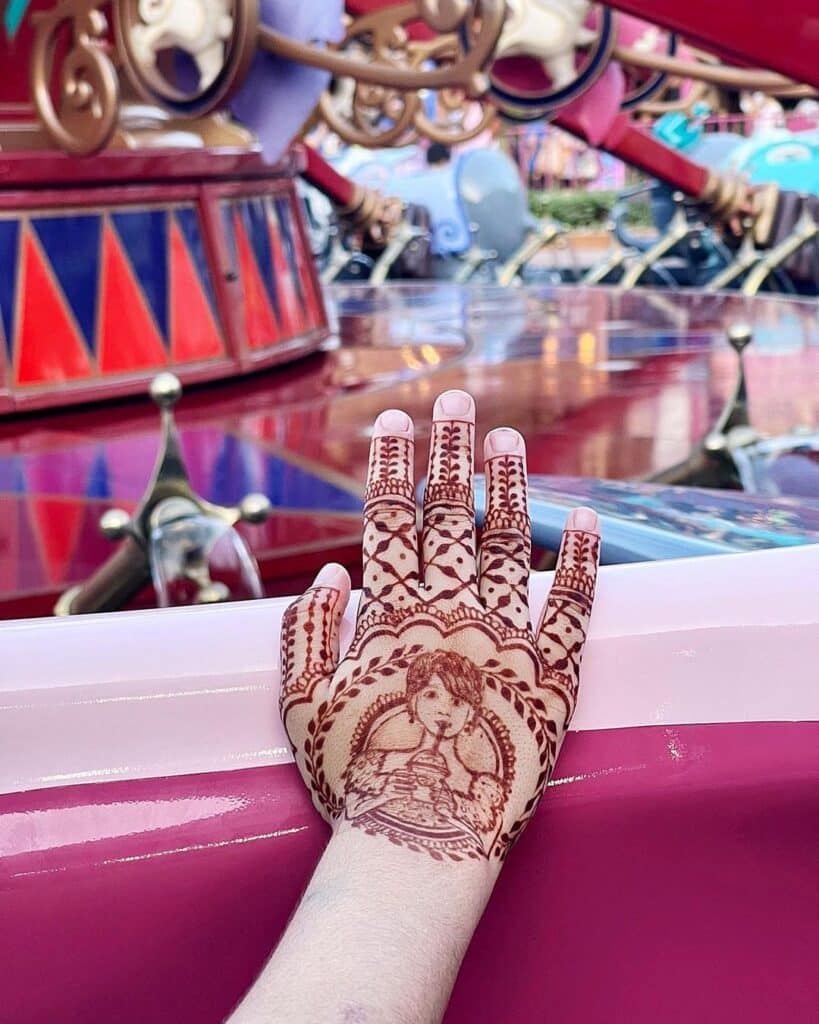 26 – Bracelet
Small hands? no problem. You can make a bracelet and rock it with your attire. Bracelets make your hands look longer so you don't have to actually worry about having small hands. Its a win win situation.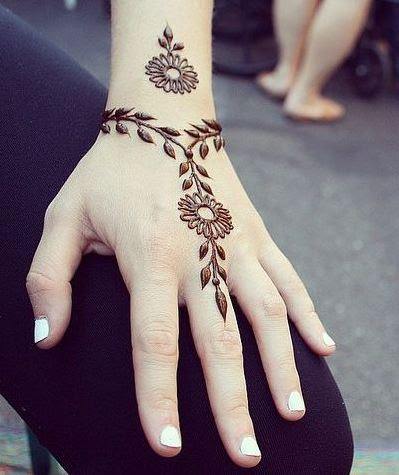 25 – Butterfly Fly Away
It is very difficult to make just anything you little baby's hand so use her arm. The arms give you enough space to draw around and what is better on her hand than a butterfly flying away? It gives a very sweet and girly look so go cover her arm in a small butterfly.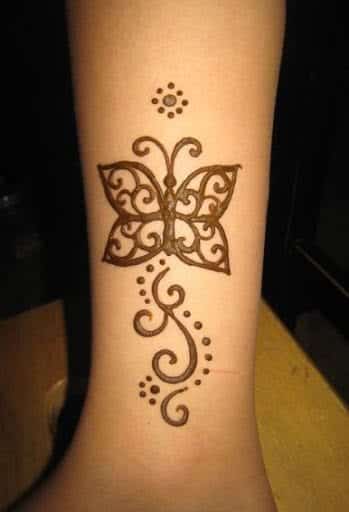 24 – Finger and Side
Keep your hand light and give it a twist. If you have small hands cover your fingers and drop down lightly. Don't cover it too much just keep it light and make it look pretty. Add elements like circles and net to make it stylish.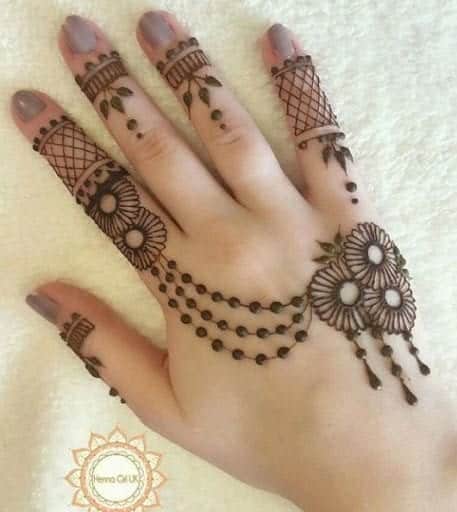 If you really want to cover all of your hand and still not make it look blotchy try out this style. This way your hand will look covered and not so small. Flowers also give an elegant touch to your hand. So cover your hand in flowers and make it blossom.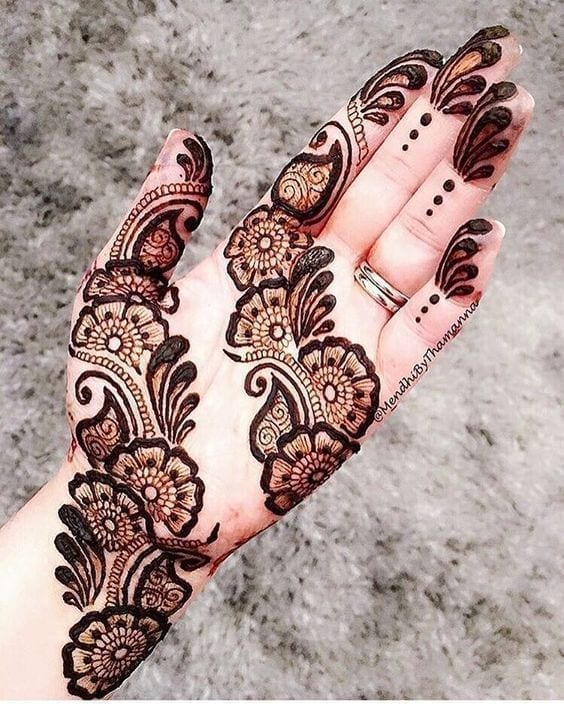 22 – Flower and Finger
Light is your way to go!!! Keep your hand as simple as possible. Imply make a flower and pull it up to your finger. It looks so good, no? Always know that you can play around eve when yo have small hands. Keep it simple, keep it light and there you go!!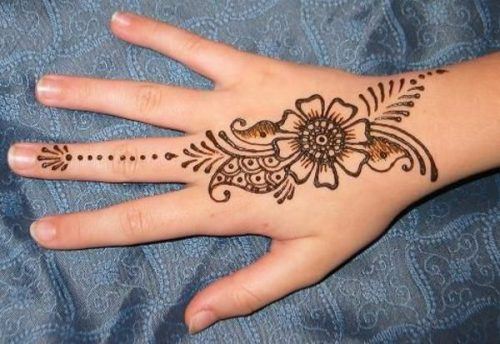 21 – Keri
Who says keri is outdated? Somethings never get out of style. You can make a cute keri, couple it with flowers and there you go! looks so beautiful isn't it.?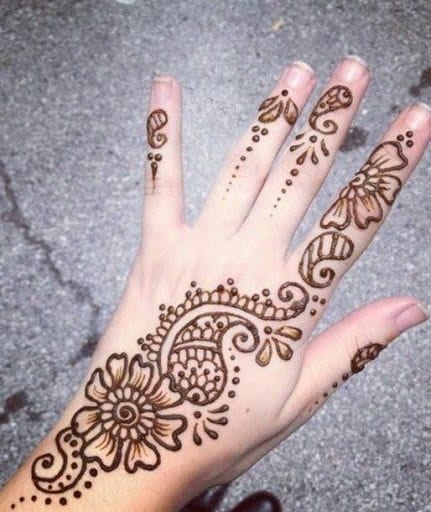 20 – Flower and Leaf
Small hands should not stop you from making beautiful patterns. Keep it simple with flowers and leaf. Say hello to perfect looking mehndi.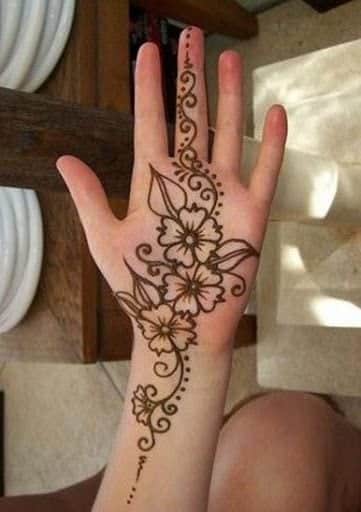 19 – Peacock
Make a floral peacock. no matter what is the size of your hand you can simply make a peacock rock it. It makes your hand look elegant and not so blotchy. Pretty hands look even prettier with this elegant design.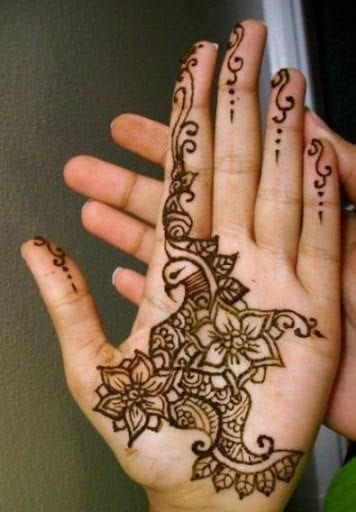 18 – Floral Side
Make spirals and flowers on the back of your hand. It makes you look cool and than again it is so light you can carry it in small hands so well. Besides, who doesn't like flowers?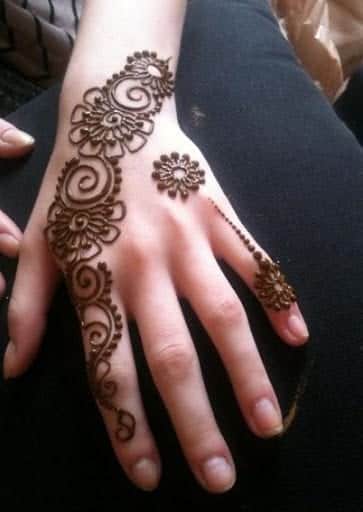 17 – Flower S'more
Light Mehndi is the answer to everything. Think mehndi can make your hands look heavy and small. When you already have small hands the safest bet is to go for light mehndi.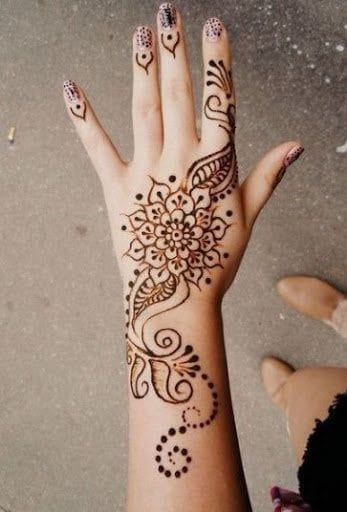 16 – Keeping it Simple
Simple is always better. you can cover your hand lightly with a patterned Heena. Always remember that light henna goes well with everything.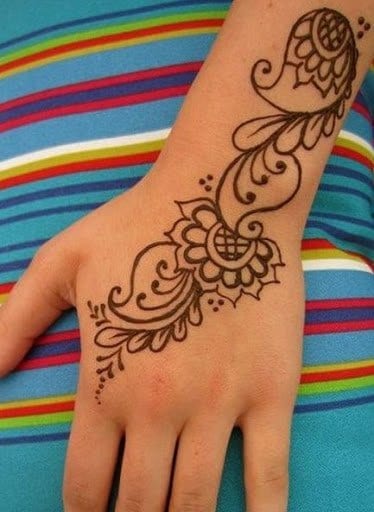 15 – For the Love of Mehndi
Make a heart and show your never dying love for Mehndi. Hearts are sweet. Especially for little girls. small hands look so pretty in such things.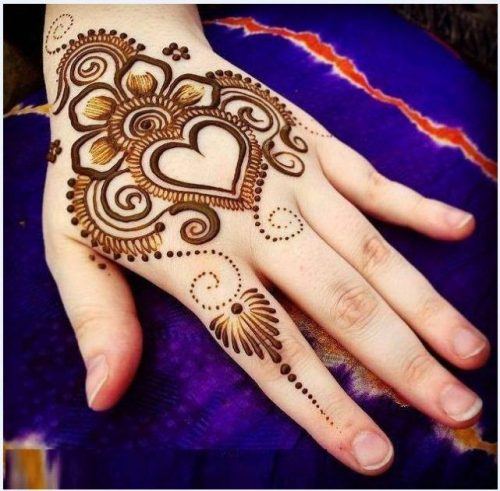 14 – Hearts
When your love cannot be defined in a single heart, make loads of them. Covering a small hand in hearts and dots gives it a cute and elegant look.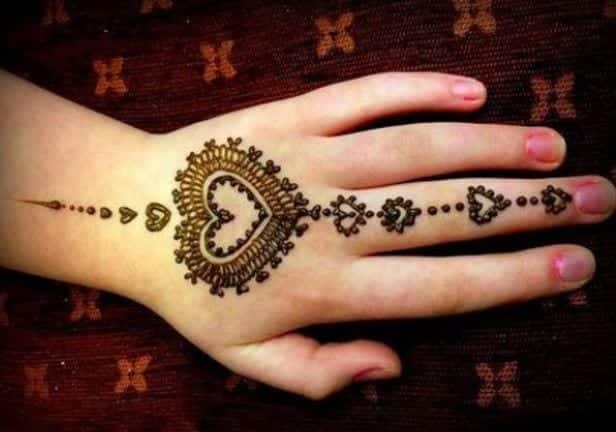 13 – Feather
Let the light weight of feathers give and elegant look to you small hands. This style is perfect for little girls. so on point, No?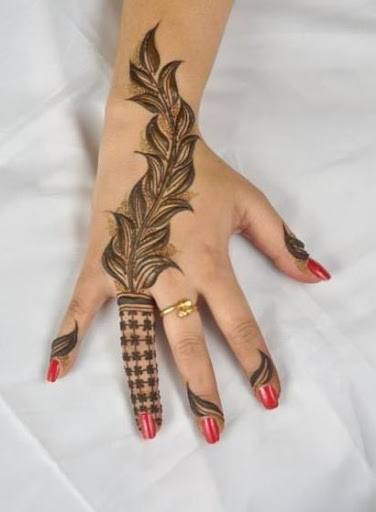 12 – Miniature
Small hands and miniature art will always go hand in hand. Make small floral pattern on the fingers and there you have it!!!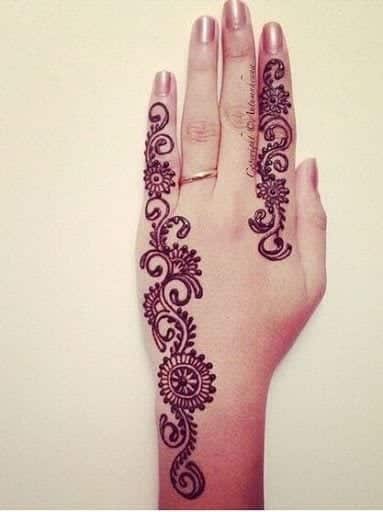 11 – Right Round
Cute girls look even cuter wit henna on their hands. Don't stop yourself while making the perfect round on her hands. To make it even better add some color to it.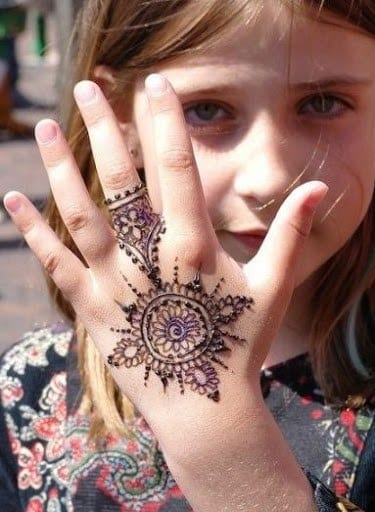 10 – Small is Better
Like I said and like you can see small hands and miniature art!! Wow yourself with this perfect piece of art on your hand.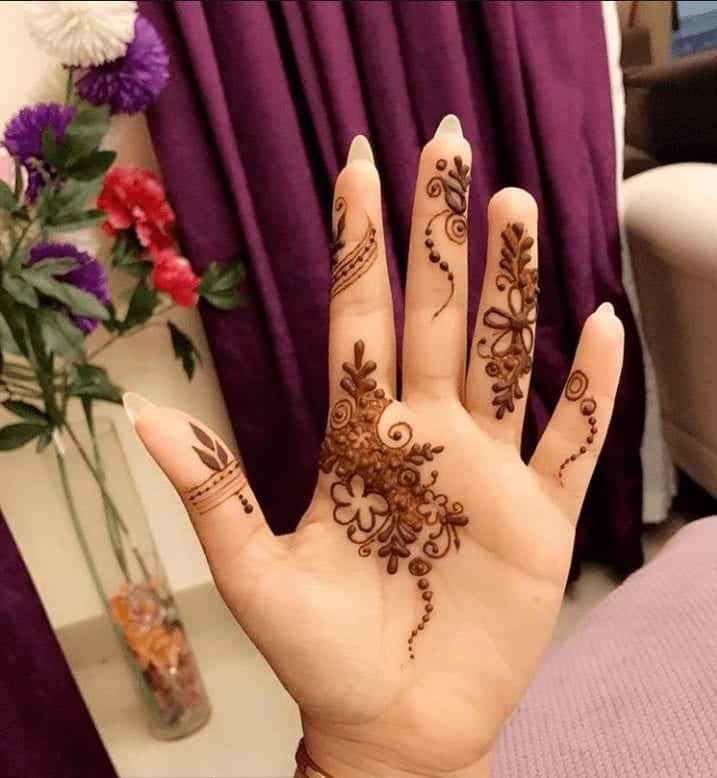 9 – Roses Roses
Don't want to over do? Simply make roses on your hand and there you go!!! Perfect for your hand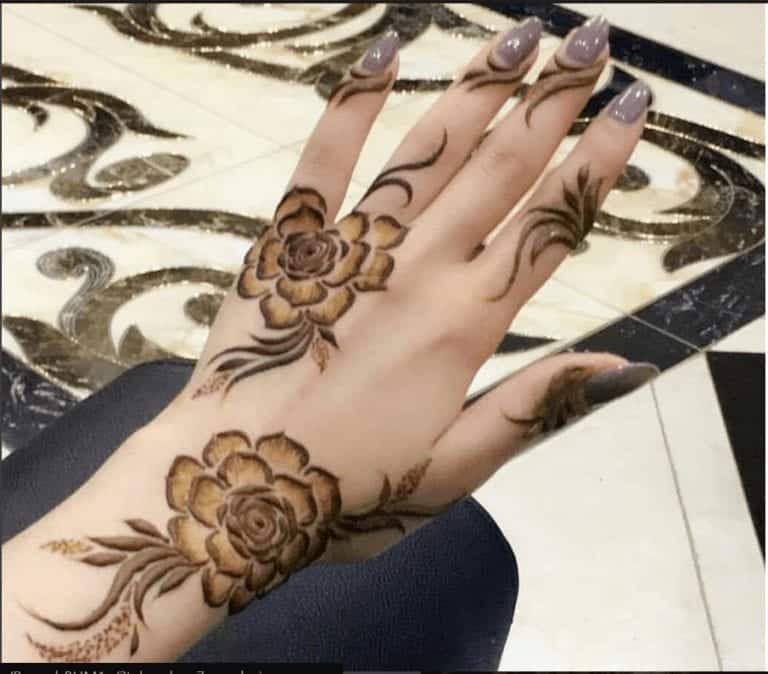 8 – Keeping it Traditional
Traditions are always the safest bet. Cover your little ones hand with a simple flower in the middle and full tips. Your cutie is bound to look even cuter.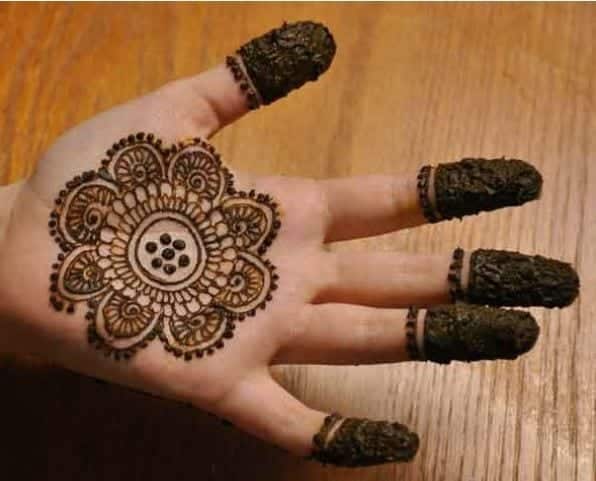 7 – Fill them sides
Well, light henna in the side will make you look so elegant. What more can you ask for.?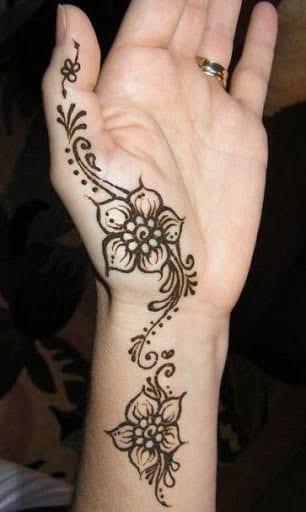 6 – Little Flower
Little hand, little flower. Perfect combo for out little angels.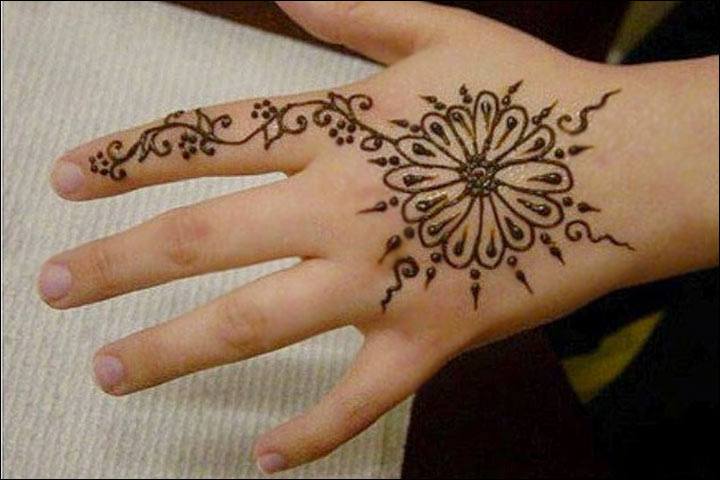 5 – Stars
Use colorful henna to draw stars on your little ones hand. Trust me she will love it as much as we do.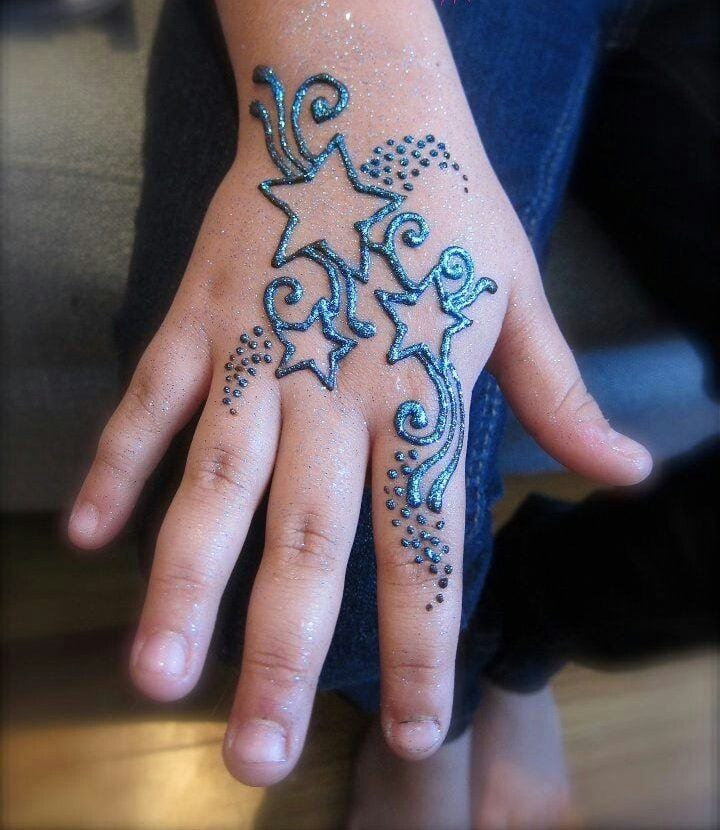 4 – Simple Lines
Draw simple lines and make your hand look so perfect in much less time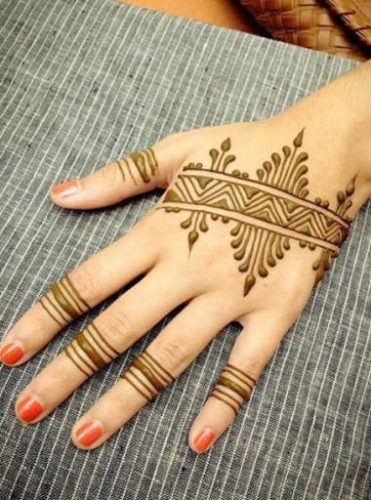 3 – Honey Bee
If your baby loves art, give her the cutest honey bee on flower look. Let her enjoy looking at it for days.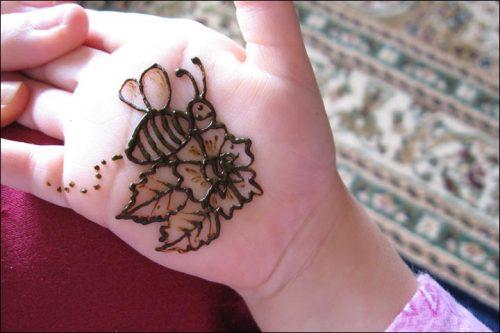 2 – Small Flower
Small flowers go perfectly well with small hands. We know you love this, we do too.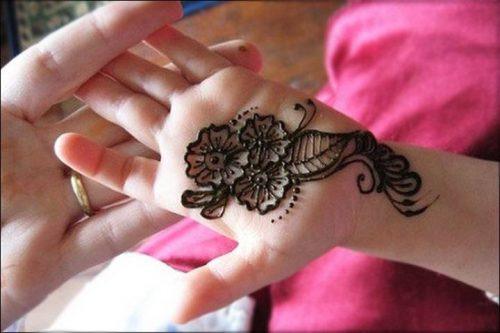 1 – Half Flower
Cover your half hand with flower and what more can we say? Look as perfect as this hand does.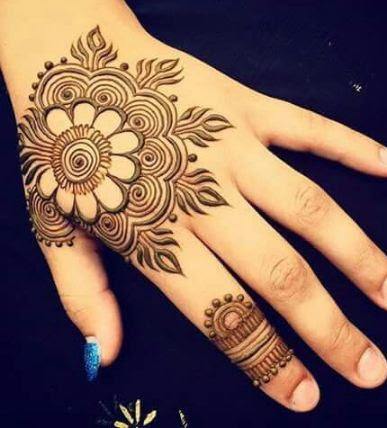 There are thousands of ways with which you can make your henna hand stand out. Don't let the size of your hand stop you from getting it covered in henna.