Mehndi Designs For Karva Chauth – Karva Chauth is a one-day festival celebrated by Hindu women in Northern India, in which married women fast from sunrise to moonrise for the safety and longevity of their husbands.
Another story about the origin of this festival relates to the bond of feminine friendship. The fast is traditionally celebrated in the states of Rajasthan, parts of Uttar Pradesh, Himachal Pradesh, Haryana, and Punjab. Karva is another word for 'pot' (a small earthen pot of water) and chauth means 'fourth' in Hindi (a reference to the fact that the festival falls on the fourth day of the dark-fortnight, or krishna paksh, of the month of Kartik).
Henna Art for Karva Chauth
Women begin preparing for Karva Chauth a few days in advance, by buying cosmetics (shringar), traditional adornments or jewelry, and puja items, such as the Karva lamps, matthi, the decorated puja thali (plate) and of course, henna.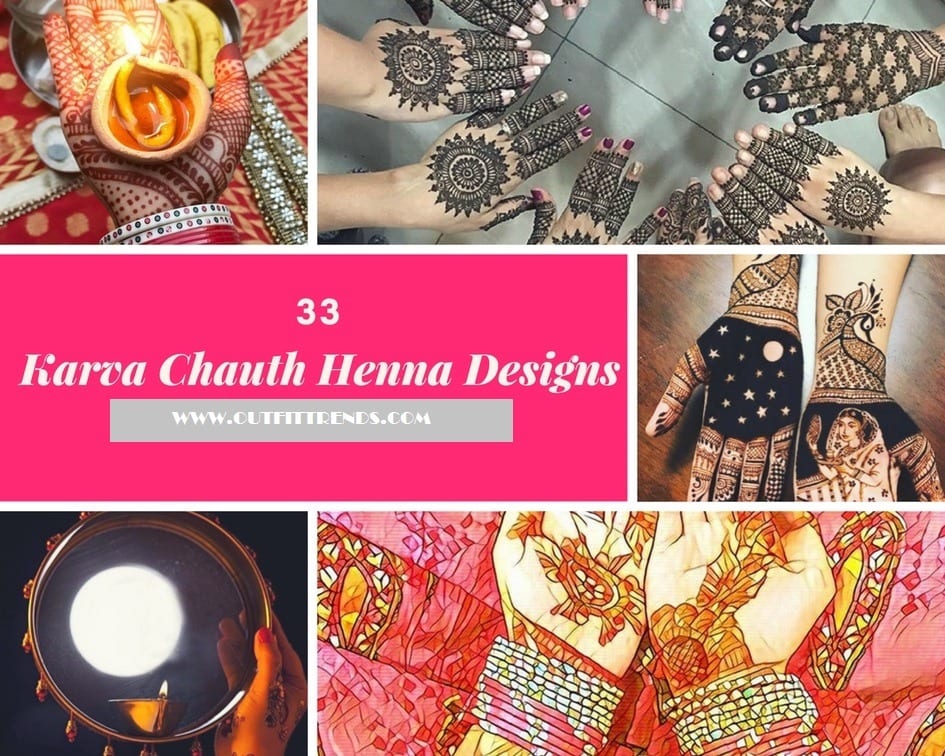 Let's start with a simple video tutorial:
↓ 33 – Dashing Design
A basic design, hybrid of simple elements with a traditional look to get you started. Paisleys and flowers, it doesn't get more desi than that.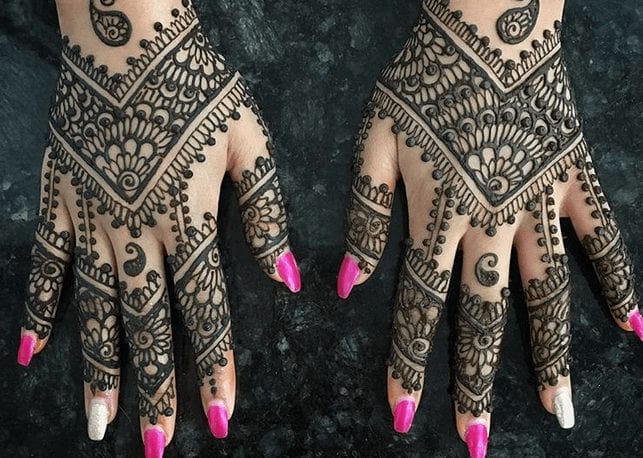 ↓ 32 – Symmetrical Flowery Palms
It's super lovely and eye-catching and polished and flawless besides. This is highly recommended!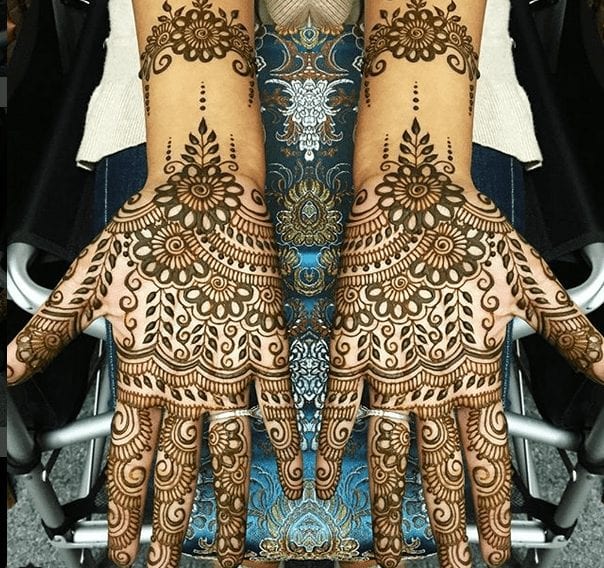 Step by Step Tutorial Karwa Chauth Mehndi Desgin Tutorial
↓ 31 – Mandala Bloom
This design is LOVE at first sight. Look at how straight-forward and simple yet elegant it is! Flower petals stacked on top of each other and growing outwards, it's beautiful.
↓ 30 – Elaborate Design
You can go for a full bridal look with something like this. It's got a bit of everything and is a long and time-consuming one but worth it for sure.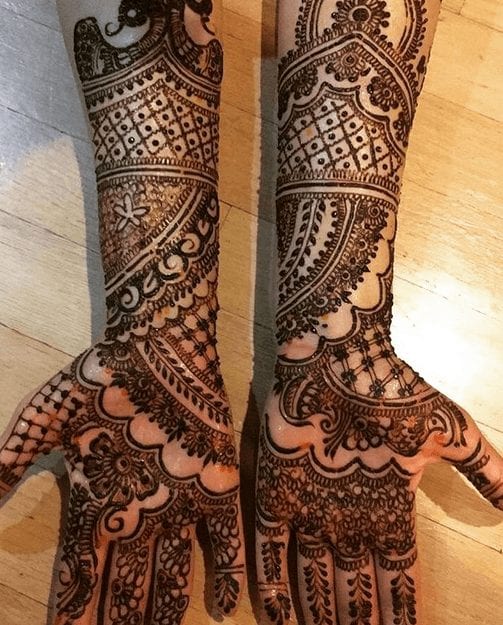 ↓ 29 – Monogrammed Design
It's another bridal design but with a very special touch: the celebrating woman can get her and her husband's intials incorporated into the design as well which is absolutely heart-warming!
↓ 28 – Lotus Tattoo
How delightful does this look! It's so funky, the flower in the middle is especially inspiring.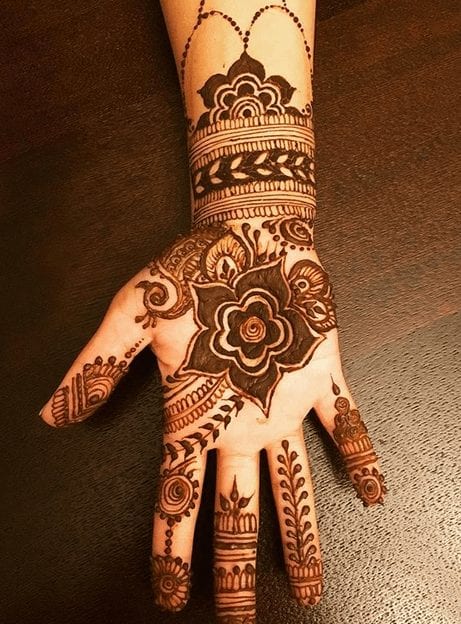 ↓ 27 – Full of Heart
Nothing says love better than a good 'ol heart! The spacing gives it such a sweet touch.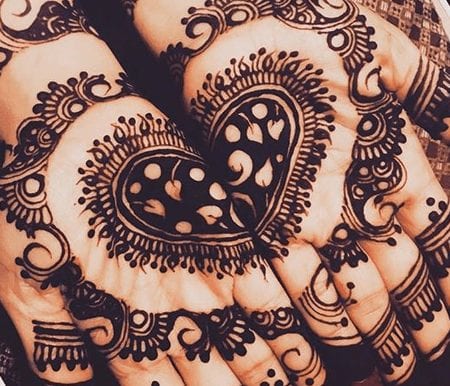 ↓ 26 – Extraordinary Design
Mandalas and netting and flowers. Nothing can go wrong with this recipe! Everything is perfectly balanced and the result is masterful.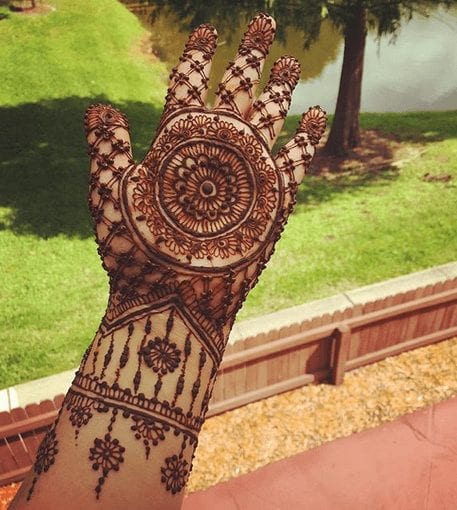 ↓ 25 – Mughal Design
We're ooh-ing and aah-ing over this. Trust us, this is to-die-for! The mesh has been laid out with such incredible care and finesse.
↓ 24 – Designs with Netting
Mesh, criss-cross pattern or netting is something that may look easy but it's the complete opposite. Each line has to be straight and extreme care has to be taken while laying one on top of another. Which is why the results are almost always impressive. You can include this either as a part of the larger design or as the predominant element in a design like in this picture.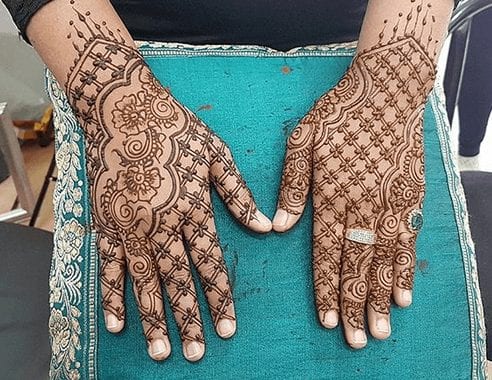 ↓ 23 – Small Palm Design
While complicated designs are all well and good, there is absolutely nothing wrong with a minimalist approach. Less can be more, after all.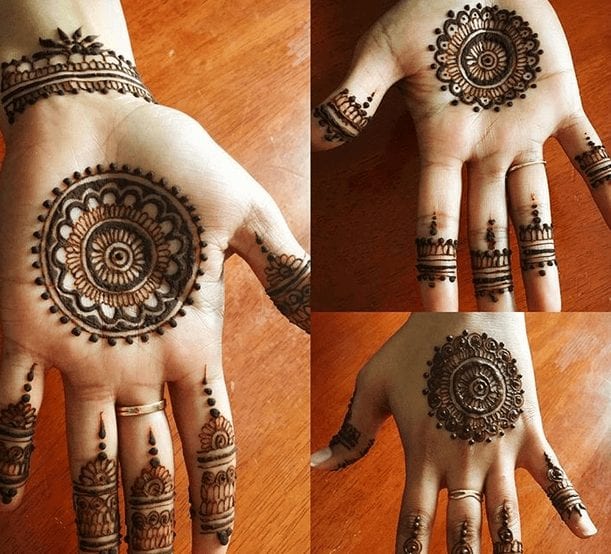 ↓ 22 – The Art of Roses
The aesthetics of this are on point! It's also a more modern approach to henna art so this is definitely something to be had this Karva Chauth.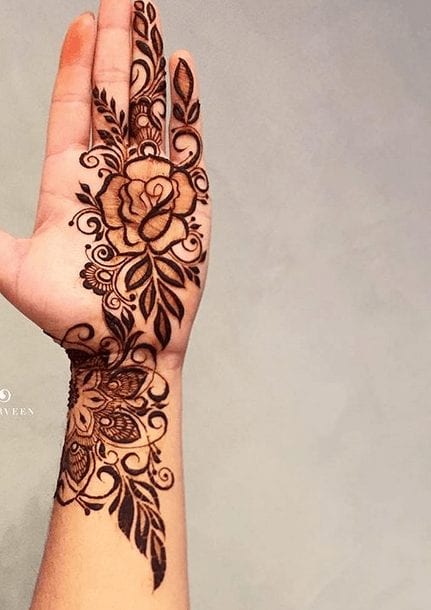 ↓ 21 – Checker Blocks
A little bit of symmetry never hurts and checker blocks look uniquely awesome. Here are two different ways they have been incorporated into a design.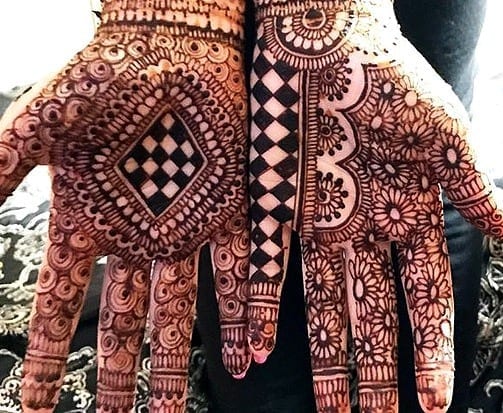 ↓ 20 – Divided Sections
Another cool thing that can be attempted in lieu of geometrical designs if those elaborate ones seem too difficult to achieve. You just divide the space up into equal parts and then fill them up with flowers and leaves and curves.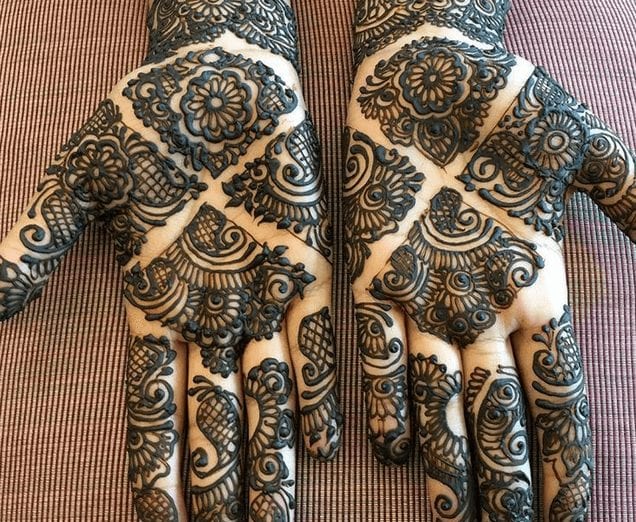 ↓ 19 – Strutting Peacocks
Peacocks for the win, always and forever! These look marvelous.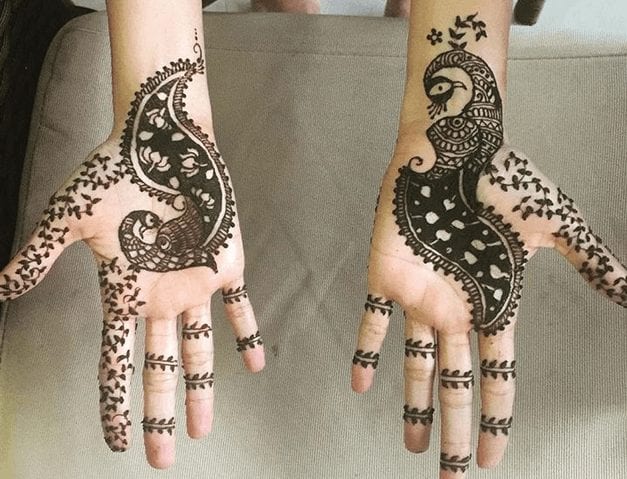 ↓ 18 – Interesting Design
Experimentation is a wondrous thing, it leads to fascinating discoveries. Like these two designs.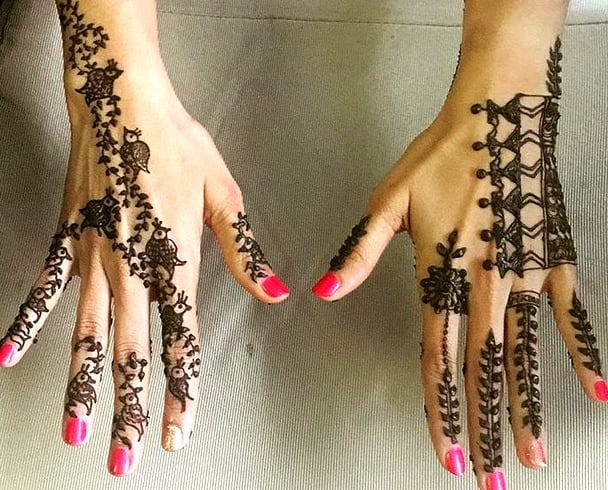 ↓ 17 – Karwa Chauth Mehndi Desing for Feet
The focus is primarily on the hands and arms so don't forget your feet! They complement the overall look and are especially desirable with lehengas or choori dar pajamas.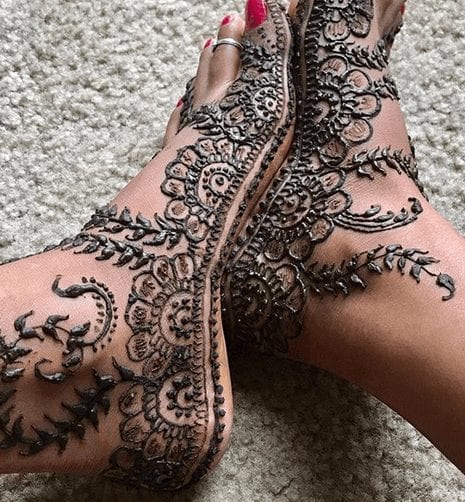 ↓ 16 – Elegant Feet Mandala
Simple and elegant, this design can be matched up with the mandalas on palms as well.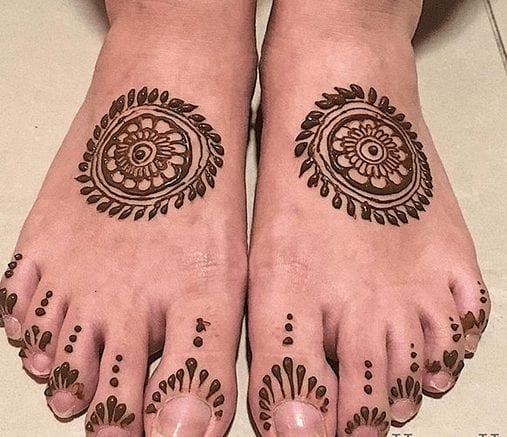 ↓ 15 – Dulha Dulhan Design
One of the most popular ones and currently in fashion, this is also a very apt design for weddings. While normal ones have the bride and groom side by side, this drawing is very intimate and very sweet.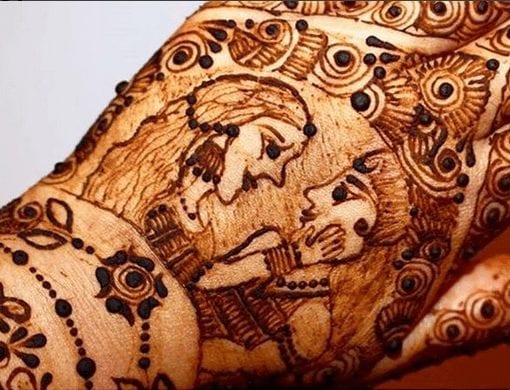 ↓ 14 – Bells of Celebration
To properly get into the festive spirit, go with this cheerful design.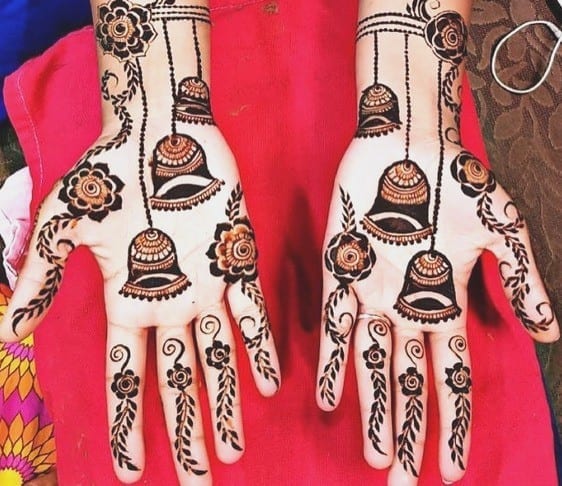 ↓ 13 – Trailblazing Design
Ooh, the details! Filled to every inch with delicacy and finesse, it's hard to go wrong with designs like these.
↓ 12 – Stunning Mandalas
By far, the best ones we've seen. The thick strokes are magnificent.
↓ 11 – Starshine
One of the adorable ones. Apart from being uber-cute, it is also uber-simple.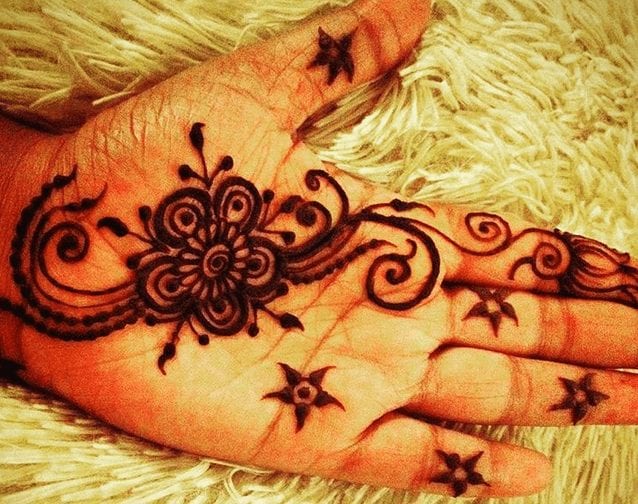 ↓ 10 – Tasteful Swirls
It's safe to say that this one is convenient in a lot of ways. It's a relatively small design, simple and looks pretty much doable by even a novice. Can be done in no time at all plus it looks neat.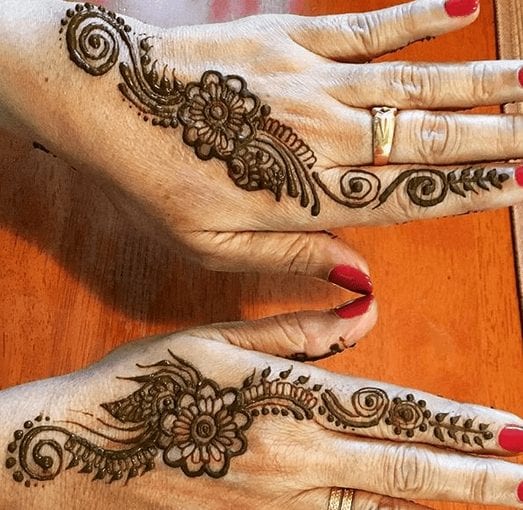 ↓ 9 – Dreamy Design
It's a memorable one with so many different things bunched up together, almost looks like a delightfully weird jungle of sorts.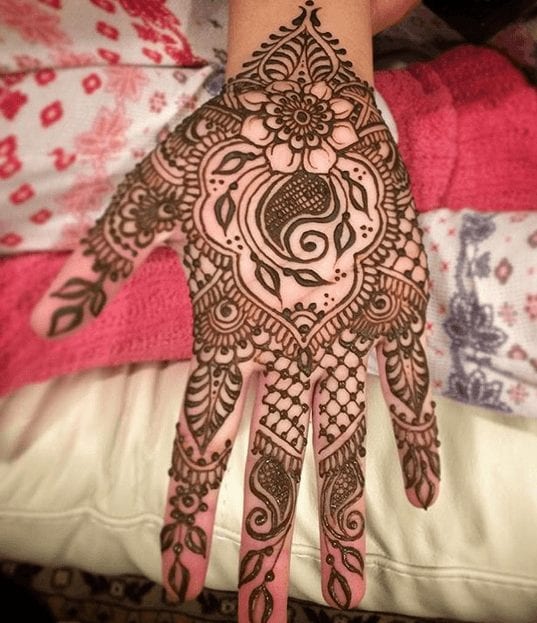 ↓ 8 – Phenomenal Design
Do we really have to say anything? Let's just all take a moment to admire how profoundly amazing this design is.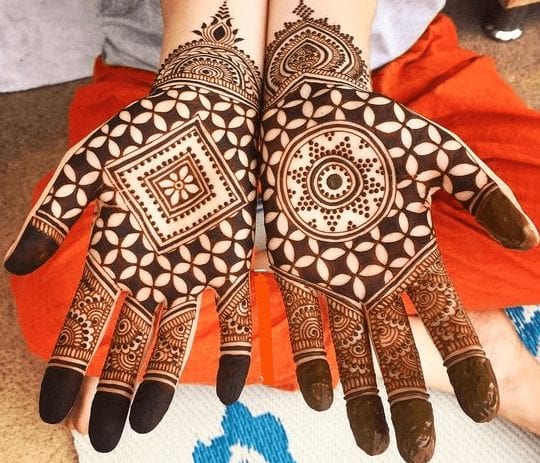 ↓ 7 – Bold Design
Such a deliciously dark and bold design. It's distinctly gothic looking.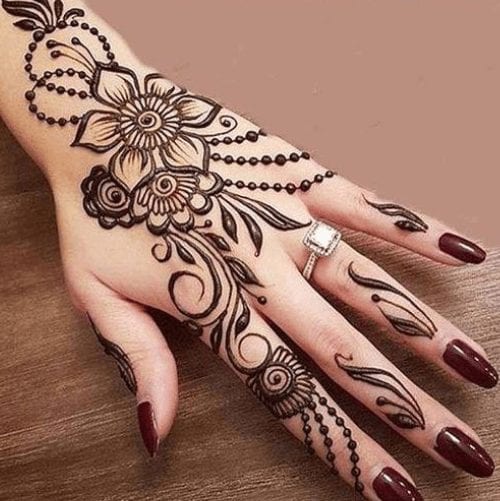 ↓ 6 – Darling Design
The dots do the trick here. It's got everything, thick strokes, thin strokes, shading, mesh, flowers, and much more.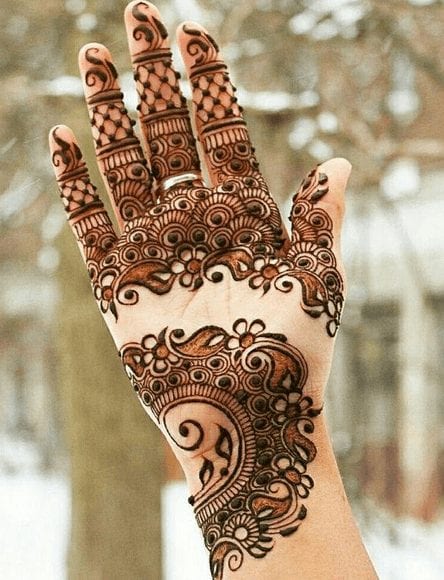 ↓ 5 – Enchanting Design
It's got this magical look to it, a charm that seems to be lifting off of the hand. Oozes eloquence and simplicity.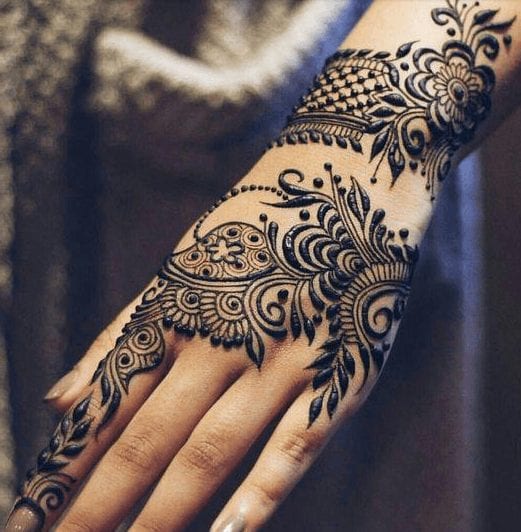 ↓ 4 – Heart on Feet
Don't wear your heart on your sleeves, rather wear it on your feet! After seeing this design this is our new motto. Fitting, considering the occasion, isn't it?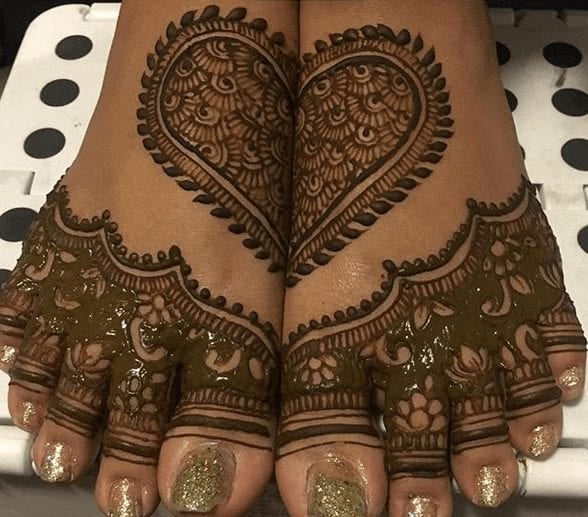 ↓ 3 – Flower Beauty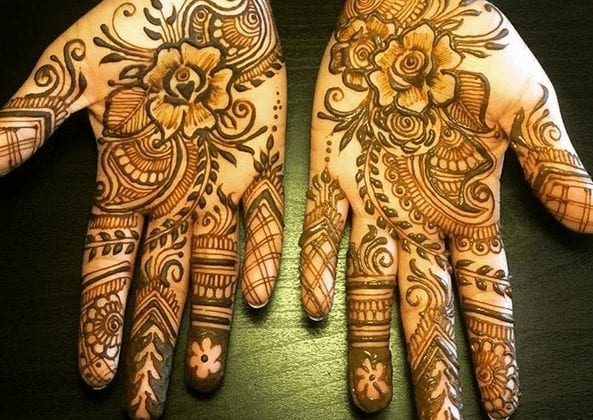 ↓ 2 -Intricate Paisleys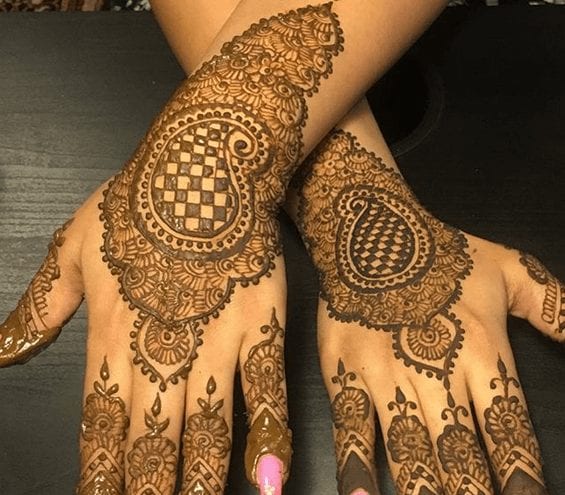 ↓ 1 – Karva Chauth Illustration
And finally, the one design that would be unchallenged and undeniably perfect for this joyous occasion is a rendering of the ritual itself!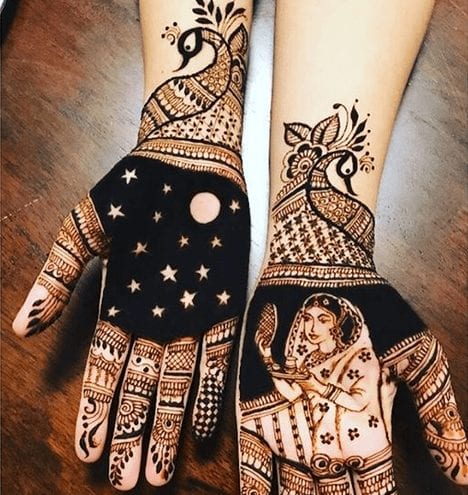 We hope you enjoyed this article and gained some much-needed henna inspiration!