Stylish Hijab Wrap Ideas: Islam is a religion of modesty and simplicity. Keeping that in mind, women dress up modestly too, as commanded by their religion. For all the Muslim women out there adopting a modest lifestyle, we have something special in store for you today.
In recent times, with growth in the influence of fashion around the globe, Muslim women decided not to be left behind in the modern fashion, while keeping their modesty intact. Muslim hijabi influencers and celebrities have had a huge role to play in introducing modest yet trendy fashion amongst Muslim women. They are coming up with and showcasing new hijab wrap ideas to their audience which has increased the influence of stylish and fashionable hijab styles among Muslim ladies. God has made all of us different, with different body shapes, style, structure and face cuts. None of the body shapes, sizes and structures are inferior to the other or more likable than the other, God has made everybody perfect in His own way. One of the most common face cuts is oval and today in this article, we will be talking about stylish hijab wrap ideas that women with oval face shapes can try and it will perfectly suit them.
How To Wear Hijab For Oval Face Shape?
Starting off with some tips:
Ask around friends and family to know what hijab style suits you better because your loved ones can always give the best recommendations and even criticism.
An oval face is considered as the universal face shape in the fashion and beauty world.
Oval faces have a wider forehead than the chin
You can pull off most hijab styles over an oval face effortlessly
You can wear the hijab tightly around your face as it works best for an oval face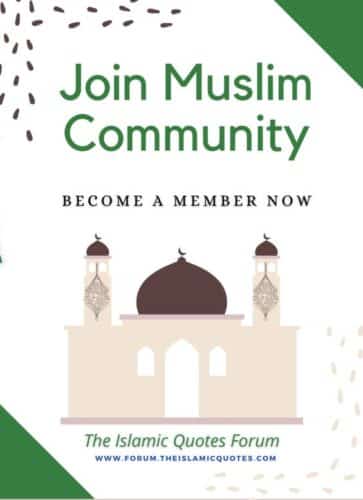 Down below are 13 hijab wrap styles for women with oval faces with pictures for you all to understand and choose perfect hijab fashion for yourself. Without further ado, let's get into it.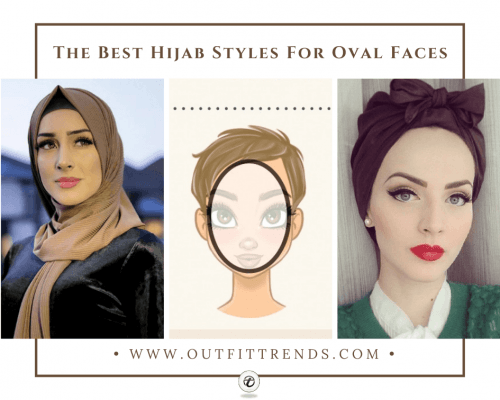 ↓ 13 – Turkish Style Hijab
One of the best ways to explore new hijab ideas and trends is to follow celebrities and bloggers with the same face shape as yours. For example, the famous Youtuber Queen Froggy has an oval shape and she's often seen trying different hijab styles and you can also find some tutorials on her channel. But one of her favorite hijab styles is the Turkish hijab which is basically characterized by a pointed edge at the top of the head. And while people are often not very encouraging about this hijab style as they feel that it can elongate the oval face shape, you can see here that it actually works pretty well! You should have a look at these Latest Turkish Hijab Styles for more ideas and tutorials.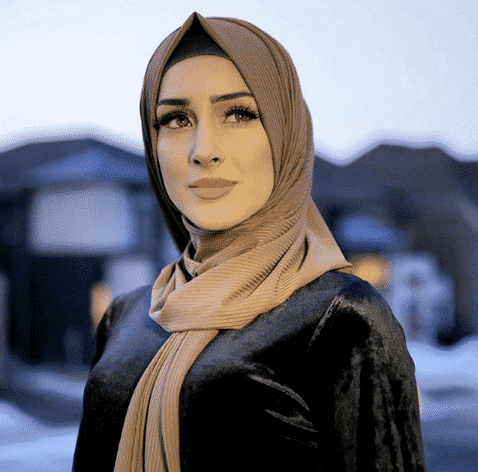 ↓ 12 – Roughly Done Hijab With Both Ends Thrown Back
Oval face cut is considered as one of the most perfect and well-suited face cuts in the fashion industry and the beauty world. Usually, all hijab wrap styles go very well on oval faces. With its prominent cheekbones and a wider forehead than the chin, any hijab style can sit perfectly on oval faces. Nonetheless, I would suggest you all try out new hijab styles and decide for yourself which suits you better. To give you an idea of all the hijab styles that you can pick from, I will list down all the potential ones. One of them is a roughly done hijab with both of its ends crossed and thrown back. It is a decent yet fashionable style and most of all, easy and quick to manage for everyday use.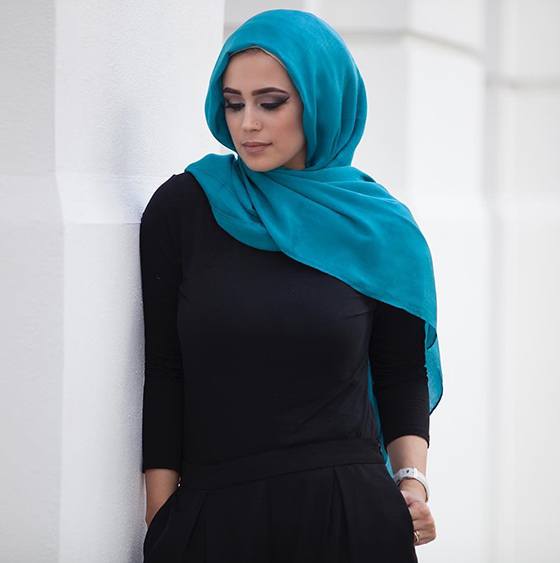 ↓ 11 – Tightly Done Hijab With One End Thrown Back And One At Front
People with rather chubbier faces look for hijab styles that are tightly done around their face and makes their face look thinner and longer. One such hijab style is a tightly done hijab around the face, wrapped around the neck a little and with one end thrown at the back and one at the front. With one end thrown back and one kept at front, the hijab style looks rather sophisticated and done up, compared to other hijab styles these days that are roughly done and look undone from some sides. A cap under the hijab keeps the hijab in its place and even if the hijab moves up your forehead a little, you do not have to worry about your hair showing, as the cap has got it covered.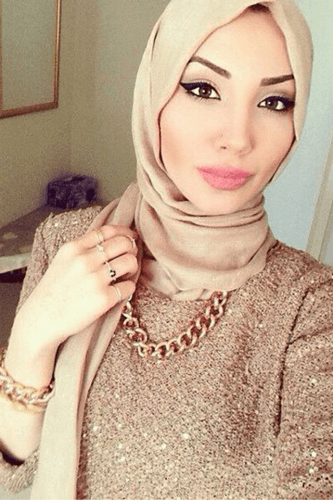 ↓ 10 – Tightly Done And Wrapped Around The Neck
Messy hijab styles are the most liked and worn ones these days. They are quick, look chic while keeping the modesty in check, and yet fashionable. There are different types of messy hijab styles, that are easy and quick to wear and tie up. One of such easy and quick to do messy hijab style is a tightly done hijab over the head and around the face and wrapped multiple times around the neck. It gives the look of a muffler or a scarf around the neck and it works well for people who do not like hijab ends to be left hanging in front of them or on their back. Most girls have been seen wearing this hijab style over western wear. This hijab style makes the face look thin and long as well.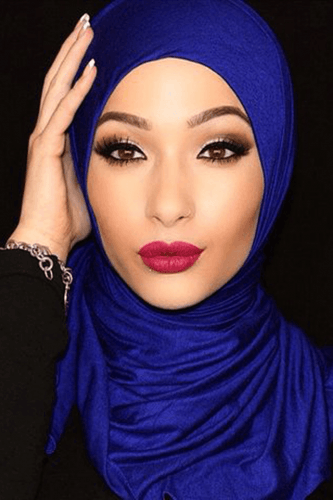 Via
↓ 09 – Turban Style Hijab
Turban style hijab is my favourite most hijab wrap style. It covers the head perfectly while keeping the trendy look intact. Fashion can be achieved with modesty girls, you do not need to show your skin and wear short clothes to gel in modern fashion. Hijabis and Muslim women with modest clothing look equally modern and trendy. One of the examples of modest up top fashion is turban style hijab. It gives off a decent yet modest look. Turban style hijab can also be worn in ways to show your earings, which is how most of the influencers and young hijabis are wearing it in recent times.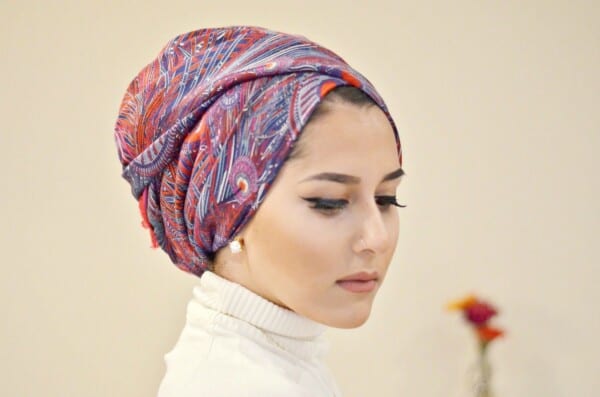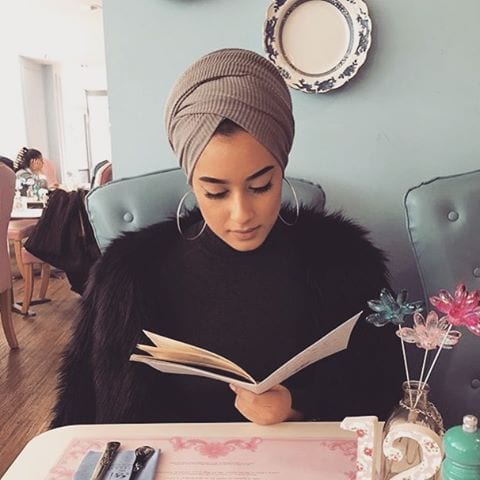 ↓ 08 – Turban Style With A Lose End On One Side
Another style of hijab that has room for showing earings is this turban style but with one end lose at the front. This hijab style looks super chic and has been taken up by a lot of street style hijabi influencers who wear western wear. This is another style that can be worn to show earrings, which are immensely loved by women since the beginning of the time.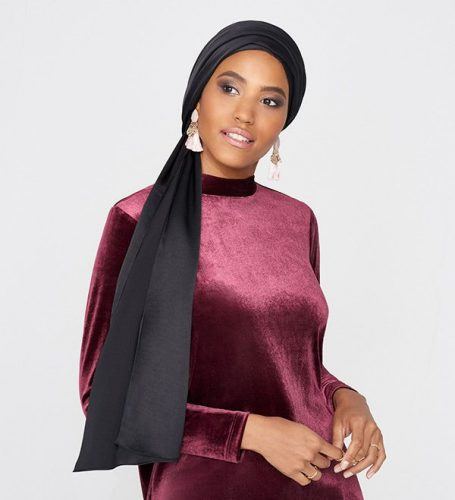 You can head over to INAYAH right now and buy this hijab for a chic look.
↓ 07 – Messy Hijab Style
By messy hijab, it does not at all means a dirty or untidy hijab wrapped over your head, it actually means hijab styles that are rather wrapped around the head and then all ends of the hijab are folded, wrapped and pinned here and there in a circular motion to cover the head and give out a messy look. It looks fashionable, chic and yet covers the head perfectly and stays on for a long day without needing too much care. In heavy windy days, these hijab styles are easier to carry as no hijab end is let loose and does need to be redone again and again. A headscarf beneath the hijab keeps the hijab intact despite the hijab fabric being silky or smooth that may slip off your head.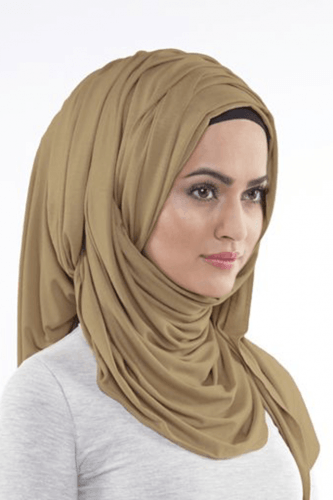 ↓ 06 – Simple Dupatta Style Hijab
Nothing better than a normal, not too fancy, easy and quick to wear dupatta style Hijab. A simple scarf or dupatta is worn with a headscarf beneath and a dupatta over it like the traditional eastern way, one end at the front and the other end crossed around the neck and thrown at the back. A pin below the chin will keep the scarf intact so it does not move with wind from over your head. This is the most easily done hijab and can go over western or eastern wear both.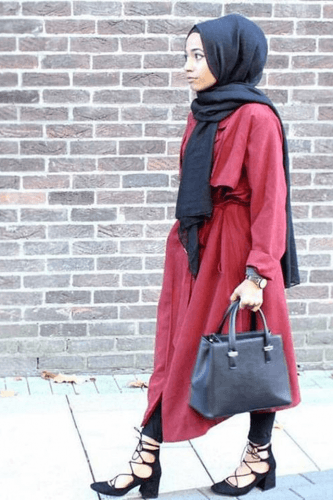 ↓ 05 – Bow Turban Hijab Style 2019
One of the cutest hijab styles has to be the bow turban style hijab. Turban style hijab, wrapped around the head with no ends of the scarf letting loose over the shoulders from any side, looks exactly like a turban but done with a hijab. A bow tied at the front of it makes up for a completely different look, which in my opinion looks the cutest. This hijab style is easy to carry on windy days as it stays off of the face completely. This hijab style can be carried with 2 piece or 3 piece women suits and will look utterly chic and fashionable. A lot of street style hijab influencers have been seen wearing the bow turban-style hijab in recent times. For parties and fancy events and gatherings too, the bow turban-style hijab will be a perfect fit for Muslim women. A bow at the front or folded a little left or right over the forehead, it works both ways. Do check out these 50 Best Hijab Styles on Instagram 2019 For all Hijabis.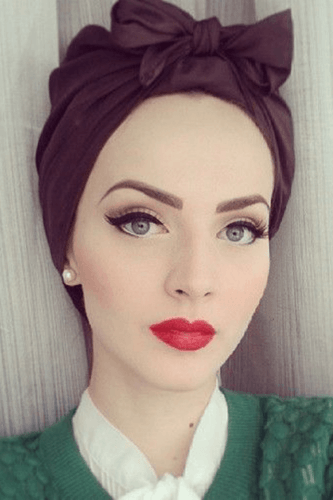 ↓ 04 – Hijab Style With Bridal Dupatta
Normally Muslim women who take on hijab keep their heads covered all the time, be it to any party, family gathering, wedding, or their own wedding. When it comes to their own wedding, it is a big deal for brides to look their best that day. For hijabis as well, they want to cover their heads and keep the modesty intact but look good and fashionable at the same time. For all the hijabi brides with oval face cuts, don't worry, we have the perfect hijab idea for you. The bridal dupatta can be pinned at the back of the head, below the hair bun to cover all the hair over your head and still look fashionable and trendy. For brides who do not want to wear headscarves beneath their heavy bridal dupattas, this hijab style can come in handy. Same goes for women who are attending someone else's wedding, you can wear your heavy dupatta over your head pinned at the back so it stays in place. This hijab style will reveal the earrings and neckpiece properly as well.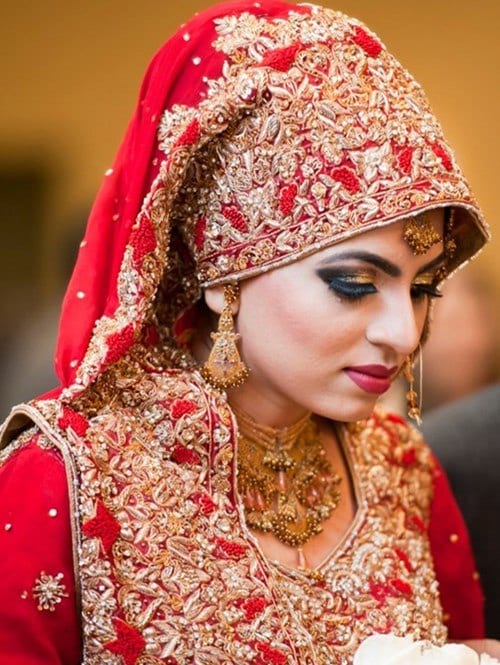 ↓ 03 – Hijabi Brides With Oval Face Shape
Hee is another style for ival faced hijabi brides, that is with a headscarf beneath the dupatta. Brides are often seen covering their heads with the dupatta and a headscarf beneath on their wedding days. It is far much easier and it lets your dupatta be the highlight of the outfit because what else is more pretty than a dupatta in a bridal dress, right ladies? A headscarf will also keep all the hair perfectly covered and the pinned dupatta gets the support that it needs to stay in place. Wear the same colour headscarf or a headscarf of a colour similar to that of the bridal dupatta and it will go perfectly fine on your wedding day. You can wear the headscarf in a turban style to show the earrings or the neckpiece if you want to, or wear a bindi over your headscarf to add a fancy touch to it.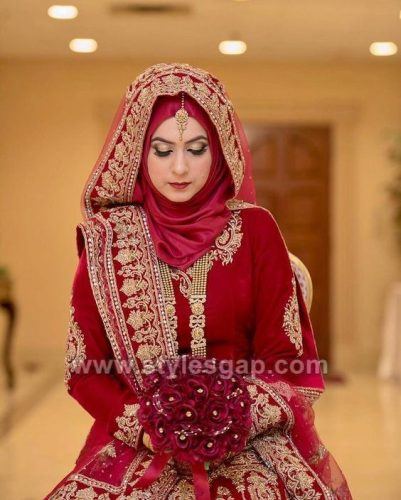 Via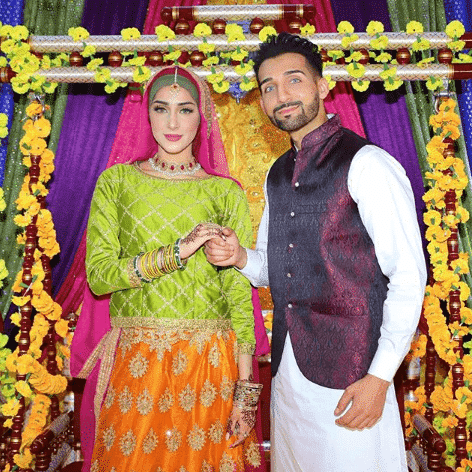 ↓ 02 – Chest Covering Hijab Style
The most modest and covering hijab style out of them all has to be the chest covering hijab style, hands down. It covers the head and the chest area properly, which is actually the real purpose of hijab in Islam. In western wear, women don't wear a scarf or a dupatta other than a hijab on the head, normally. So the chest covering hijab is two in one, as it covers the head properly and the chest area as well. The chest covering hijab style is usually a hijab wrapped around the head with a big chunk of the cloth left in the middle to cover the chest area. It works for women with oval face shapes as it makes the face appear rounder and highlights the cheekbones too.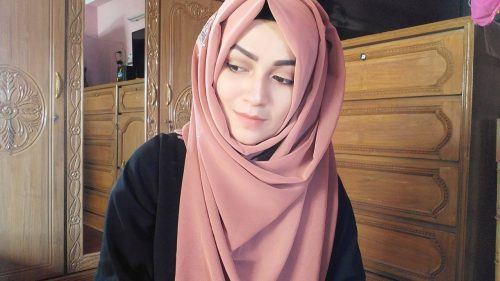 ↓ 01 – Hijab Style To Show Earrings
Earrings are mostly loved by all women. Shiny, fancy, cute earrings add a lot to the whole outfit and the look of it. Never forget how much accessories can change the whole outfit style, an important tip, girls. Covering your head does not mean you can not wear earrings, you can anything you want while keeping your modesty intact. Hijab style pinned at the back of the head, beneath the hair bun, and then wrapped over the head loosely will give you room to flaunt your earrings. But do you know what earrings go best with oval face shape? Here are some of the best recommendations by the world's top stylists:
Chandelier earrings
Hoops
Studs in round shape
Drop earrings
Earrings in an inverted triangle shape