4th of July makeup: Independence day, famously known as the 4th of July, has been celebrated as a public holiday in the United States since the nineteenth century. But, these celebrations for independence day initiated with the British revolution and deep-rooted in the eighteenth century. From there, the great festivities of American Independence day started.
People observe this special day with great enthusiasm by engaging in parades, concerts, arranging intimate family gatherings, and barbeque parties. In fact, it has now become the most awaited affair of the year as people look forward to enjoying themselves with their loved ones and take time out from this fast-paced life.
A special celebration demands a special dress up and people are not always certain what is a suitable attire and makeup style to attend an independence day special event. So, if you are one of those people, this is the right blog for you. Go on, continue reading, and find out the perfect 4th of July makeup look for you to slay at your special celebration.
What Are The Best 4th Of July Make up Ideas?
You can wear whatever suit your style and you feel comfortable in it. Your attire also depends on the type of event you are going to attend. Therefore if you plan to engage in an independence day parade, try to focus more on comfort. Wear good quality and comfortable footwear to avoid any inconvenience. Dress casually, a nice pair of jeans or denim shorts paired with a theme-colored top can be your good-to-go outfit. For intimate gatherings, you can surely carry a formal glam look and become the center of attention with your unique sense of style.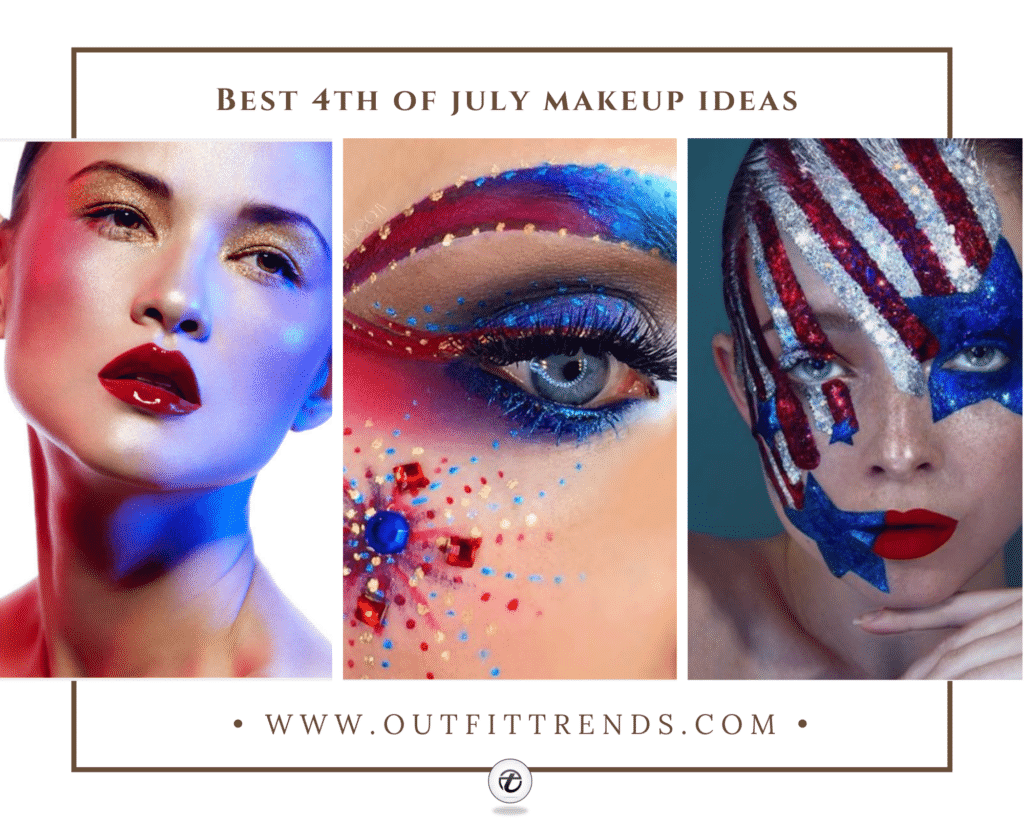 Tips On How To Dress Up For 4th Of July
Do not go over boared while choosing the right dress for your event.
Dressup rather in casual and simple outfit with the sense of comfort.
Be creative in creating your 4th of july make up look.A nice artsy make up look can be an ultimate head turner for you.
Try to stick to the theme, use the three flag colors to create your unique look.
20 – The Simple Blue Eyeliner Look
This is the simplest look for you If you are not a big fan of experimenting with new makeup ideas. You can easily redo this look by just blending a brown shade over your crease line and then applying a blue wink eyeliner on your lash line. Now contour and blush your cheeks and do not forget to add that glam with a cheek highlight. Lastly, finalize the look with some bold red lip color and you are good to go.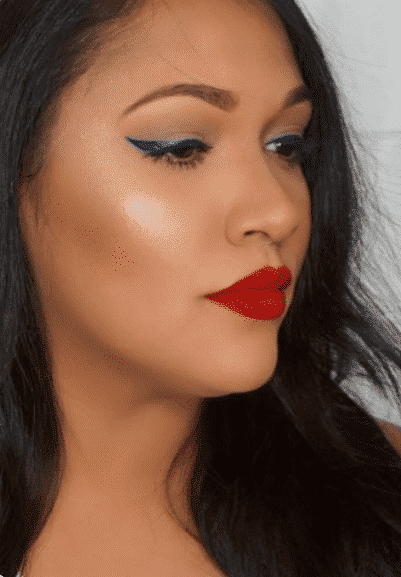 19 – How To Wear Black Kohl Eye Make Up Look
This minimalist black kohl eye makeup look is a kind of no-makeup look for people who are not a fan of wearing heavy makeup. To redo this look you just need black kohl, apply it on your lower eyelid and under the eye and blend it well. Enhance this look by applying mascara on your lashes, you can also wear fake lashes to make your eye more attractive. Lastly draw some blue, red, and white stars around your eyes with eyeshades and glitters to match the theme.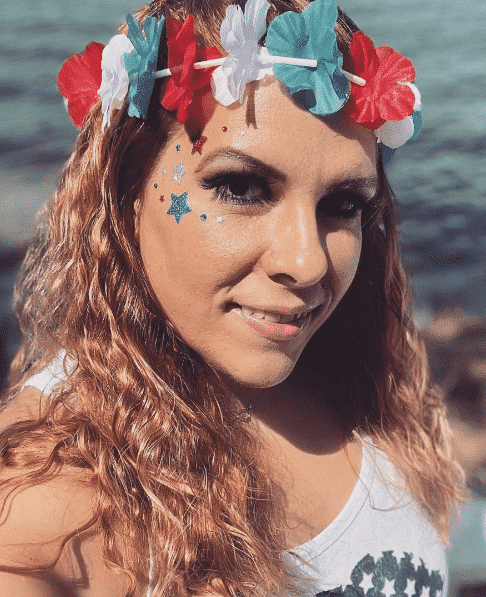 18 – The Flawless Tri Color Eye Make up 4th Of July Look
This is the easiest way to experiment with your 4th of July makeup look. You just have to apply the three colors red, blue, and white to your lower eyelid in three portions with the base color being blue. Add three blue-colored stars sideways to your eyes to enhance the look more. You can also wear false lashes to make it look more beautiful. Give a little more pop of color to this look by adding a cheery red lip color to your lips. carry this look to your firework festival or independence day parade and sweep everyone off their feet.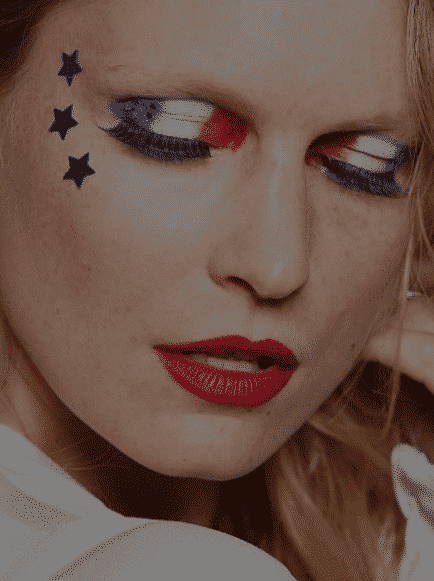 17 – The Patriotic Flag Look
If you are an art lover and want to do something unique this independence day then this is the right look for you. First, you need to make red and blue smoky eyes. Next, you will need to use some sort of eyelashes to add an added effect of glamour. Lastly, draw an artsy flag all over your face with makeup and make it torn over your lip area. This look will surely make you stand out among the crowd, this independence day.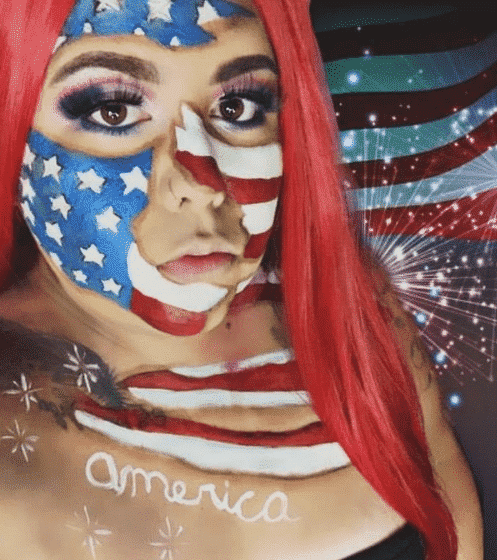 16 – The Red Headshot 4th of July Look
This is a very meaningful and thoughtful look for you to carry on this independence day parade. The intense emotion delivered by the eye makeup art and the red teary eyes delivers a very deep social message. Moreover, the headshot made on the forehead is adding more to the intensity of the look. If you are a social activist or support a certain cause, this is the right look for you to carry on this 4th of July parade.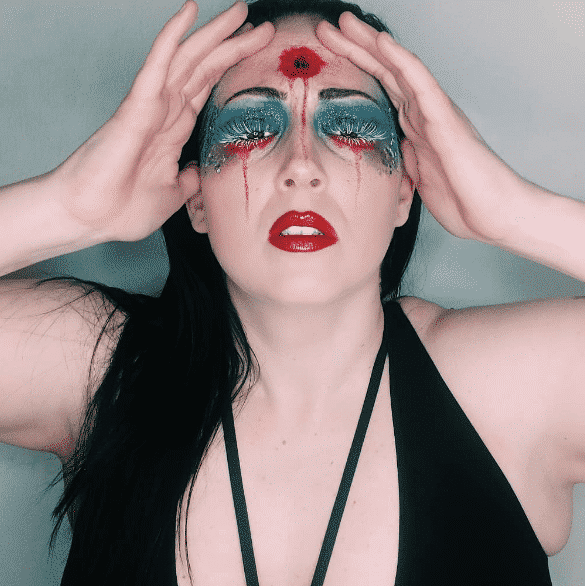 15 – How to Create A Glamorous Firework Look
This cute fun look is to die for. The three-shade eye makes with a wink of black eyeliner and false lashes are making the eyes look very attractive and beautiful. The three little stars stickers under the eyes are adding more to the beauty of this look. Moreover, the nude lip color and the firework illusion on the forehead and side cheek are completing this look.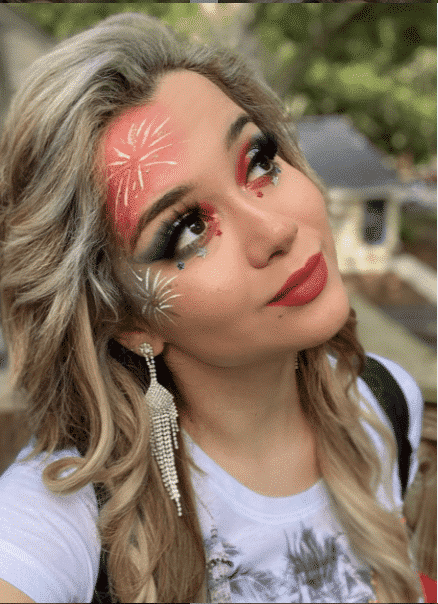 14 – The Glow In The Dark Look
This creative dark firework look will surely be a head-turner for you when you wear it to the annual parade. In this look, one eye is created with an illusion of colorful firework over the black night sky, and more detailing is done with a white marble lense and fake white lashes. All of the other face areas are made to look normal with a blue shade on the other eye and brown nude lip color on lips.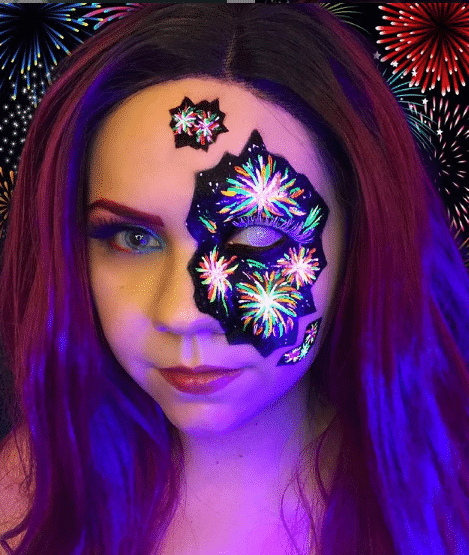 13 – How To Do A Creative Zoombie Look
If you are a fan of horror movies and tales, this is a makeup look for you. This creative makeup look is inspired by a zombie. The eye and cheek area is made to appear black and the whole face is made up to create a flag look with a heart-shaped outline and sharp edges.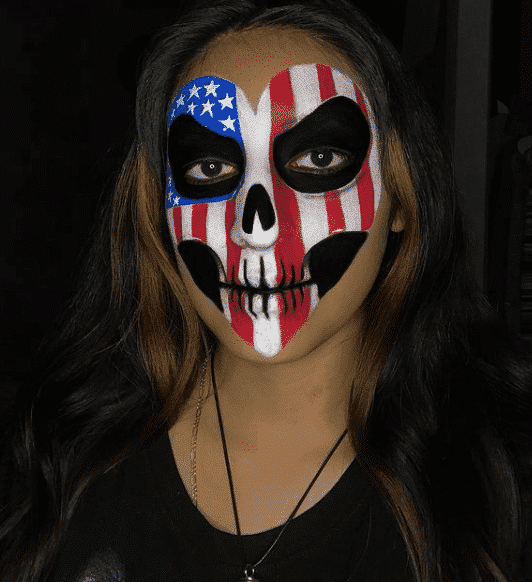 12 – The Facemask Illusion Look
This is a look that will surely make you noticeable in your circle. As the facemask is the new normal, this artistic look will set a trend and you will be among the trendsetters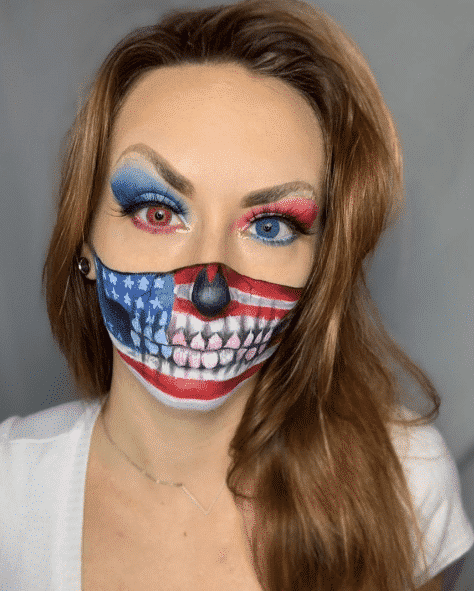 11 -How To Pull Off The Sexy Flag Eye Look
The most stylish and yet artistic makeup look you can carry to your independence day celebration. Do not hesitate to experiment and wear little accessories with it to make the look pop out more. This look might seem hard but there's nothing you cant do with a little bit of practice.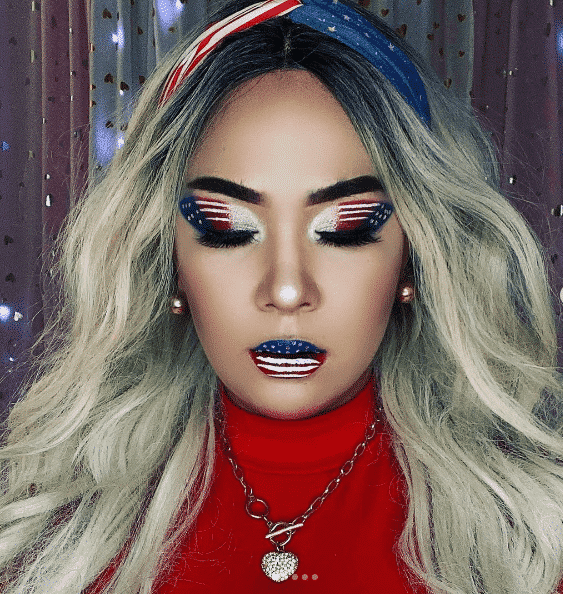 10 – The Pretty Flowers Eye Makeup Look
I bet, this pretty flower eye makeup look will be everyone's favorite look. You can also create this look by just applying blue glittery eyeshade on your lower eyelid but first, you have to make the base crease with a silver shade, outline the under-eye with a red shade. Finally, add the beautiful flower all over the eyelids and under the eyes to make them look more fun. Wear a cherry red shade on your lips to complete this look.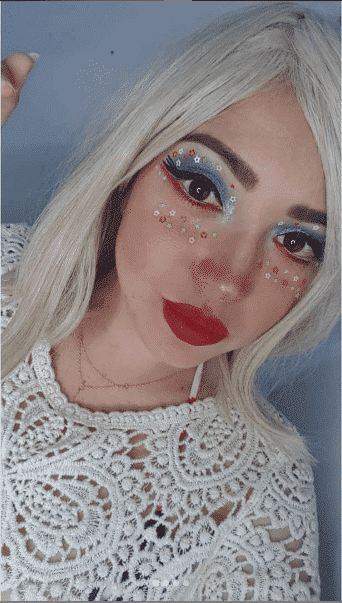 9 – Eperimenting With An Artsy Color Bleeding Look
This artsy look is one of the easiest to create but will take you a long way in terms of being creative. To redo this look you have to do a cat wing eyeliner over and under your eyes. Now you have to create a bleeding color look with the eyeshades starting the bleed from the edges of the eyes and spreading the illusion all over cheeks. This look will surely be a lot of fun to create. If you don't know How to Wear Eyeliner you can also use youtube!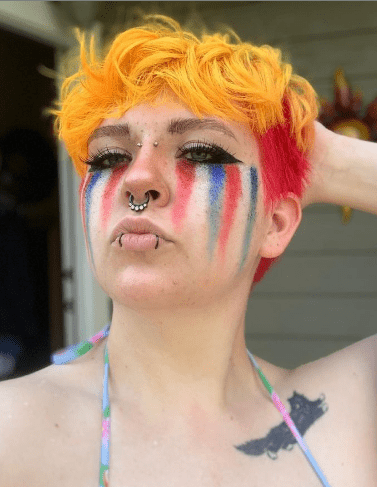 8 – The Gem Eye Make up
If you are a fan of playing with diamond beads then you will surely love to carry this full glam and glittery look to the annual independence day parade. First, make up the eyes with a blue shade and crease with grey shadows. Also, cover the eyebrow area with the same red and blue shades and now add doted outlines all over it with the multi-color eyeliners. Lastly, complete this look by adding the star of the look which is diamond beads and you are good to go.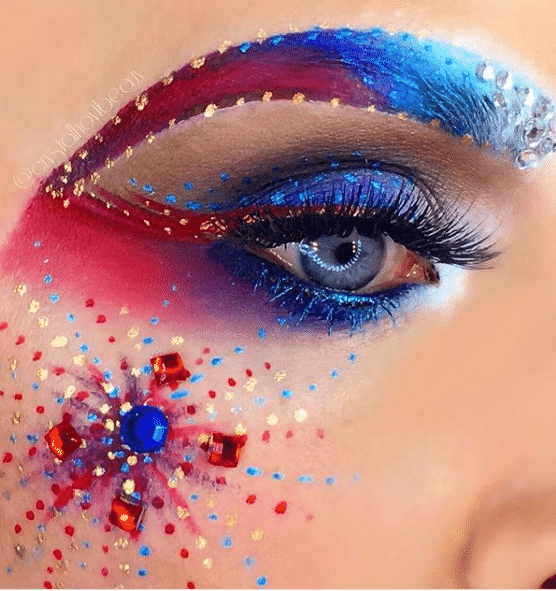 7 – All Glittery 4th Of July Look
this all glitter and glam look is to die for. If you want to be noticed in the crowd, you need to create a look that is unique and different. This can be your own crazily unique look. Experiment with something new and try this unconventional look by creating a glittery flag illusion all over your face.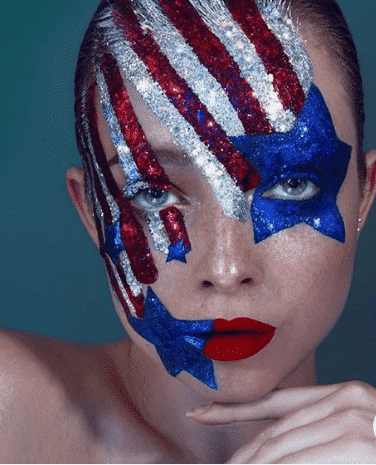 6 – How To Create Unique Color Dripping Look
Test your limit and experiment with your independence day makeup look with this amazingly artistic color-dripping look. This look seems a little difficult but it is not that difficult to create. You need to first divide your face into three portions and fill them with the respective theme colors including the eyes and eyebrows also. Now create a dripping illusion on the end of your nose and add extra details to make it more realistic. Lastly, wear a cherry red lip color over your lips to complete this look.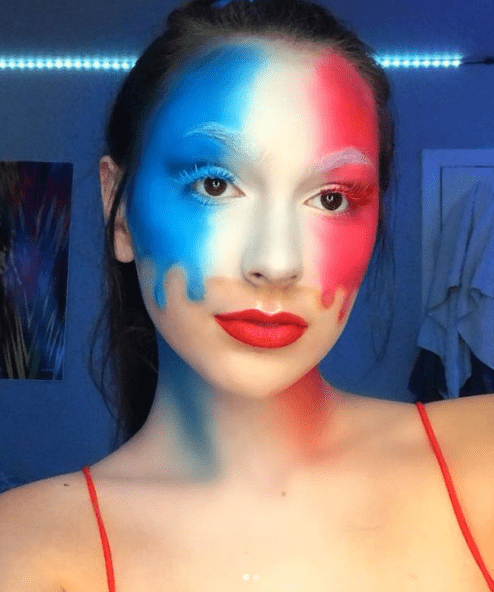 5 – The Two Sides Look
This is a cute yet creative look you can easily carry to your 4th of July celebration event. The Three colored stripes on one eye and the other eye appearing as the firework on the dark blue sky provide a very fun vibe. Moreover, the bold red lipstick over the lips is the cherry on top for this look.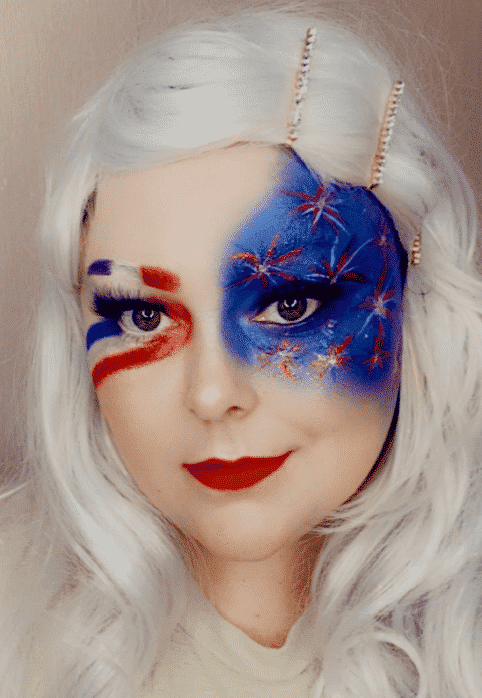 4 -The Color Splash Make up Look
The side color splash illusion look is surely a unique and yet simple look. The eyes are created simply with brown shade and with darker color crease shade. The brow bone is highlighted with a silver shade and the final touch to the eyes is the blue wing liner, making it more beautiful and pretty. Moreover, the red bold lips add more to the beauty of this makeup look.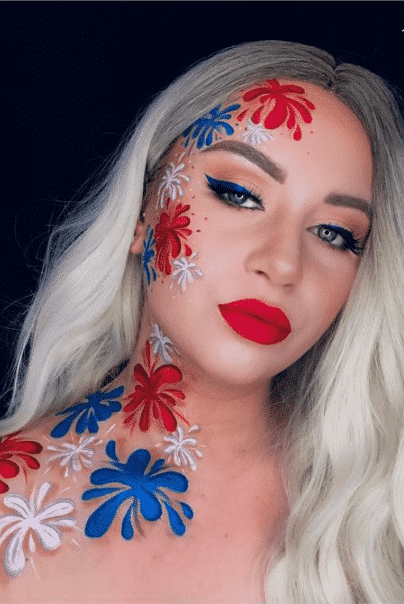 3 – Blue Twinkle Eye Make up Look
The blue twinkling stars look is very easy to create and carry. Just make your eyes all blue and add some stars beads under them. Complete this look with pink glossy lipstick.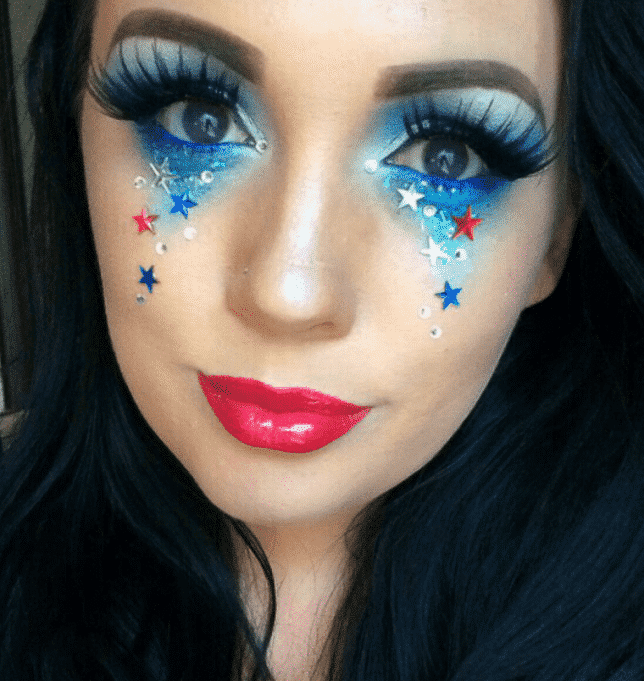 2 – The Classic Butterfly Eye Make up Look
This is everyone's favorite butterfly eye makeup look. You can always wear it to your independence day celebration and never get disappointed.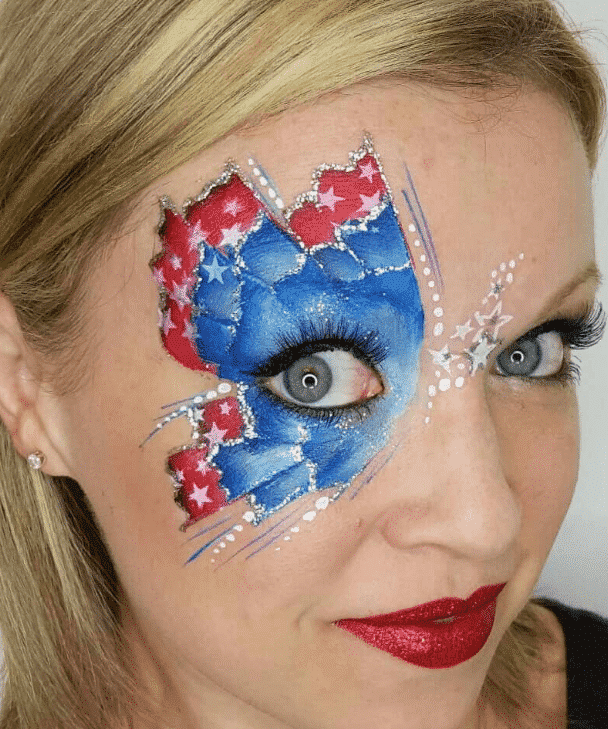 1 – The Gradiant Look
This is the ultimate look for your 4th of July look. Just create golden glittery eyes with bold red glossy lipstick. Complete this look by creating a blue and red shade illusion on each side of your face. Now you are ready to slay the day.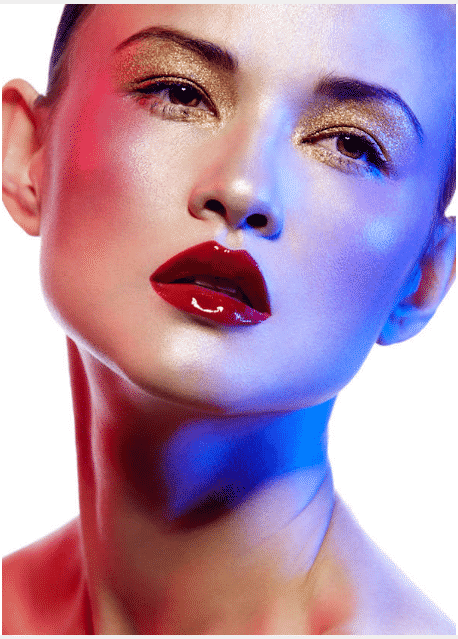 Frequently Asked Questions
Q: Does white eyeliner brighten up your eyes?
A. Yes, Absolutely a white eyeliner can enhance your makeup look more than you can imagine. Just apply the white eyeliner on your upper and lower waterline and a little bit on the corners of your eye and see the magic for yourself.try it, this trick will never disappoint you.
Q: What to wear to a 4th of July barbeque?
A. This is your day, slay it however you want. Be bold and wild, wear some flattering dress in white or blue, accessorize it with flag theme colored earrings and jewelry, and off-course some great heals to stand out of crowd
Q: How do you do the 4th of July Makeup?
A. You can go with your instinct while doing makeup for the 4th of July. Try experimenting with the three theme colors or you also take inspiration from our above-mentioned options and try to create a look you desire.