St. Patricks Day Makeup: Are you worried about your St. Patricks day makeup look? Have you run out of makeup ideas? If yes, no need to fret over it. There are a lot of ideas out there. You just need to know where to look.
The internet is full of tutorials and other stuff to guide you. Most of the tutorials have, however, looks that are too bold, too shiny, or impossible to recreate.
If you don't want to get too bold with your looks, then there is no need to do so.  It's easy to get the look. For instance, you can go for green eye makeup or just green matte lipstick.
How to Do Your Makeup for St. Patricks Day?
To be precise, there is no absolute answer to this. There are a variety of options. All you need to know is a way to incorporate the green color in your looks and outfits for St. Patrick's day.
You might be aware that before green, the color was blue for this day. Some even use orange color too. So, you can blend these colors for the day.
However, green has become the symbolic color and so, you can simply use this color if you're in a hurry and don't feel like doing a lot of blending. Besides, a combination of these three colors might get tricky.
Some Tips For St. Patricks Day Makeup Looks
Don't overdo your makeup and go through makeup hacks for your own ease.
If you don't like green much, simply add green mascara or eyeliner.
You can contrast green with a suitable color like white or silver.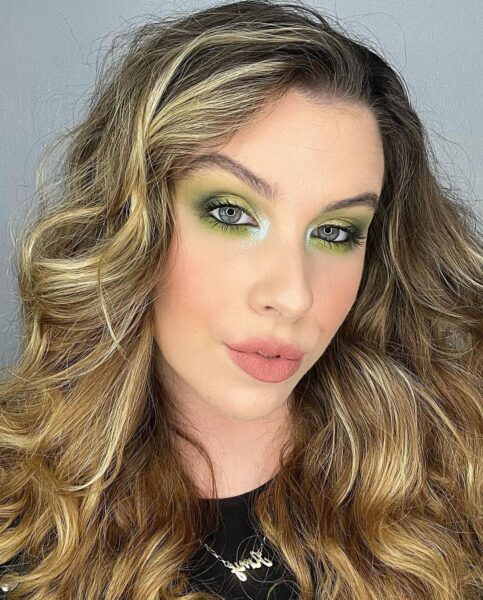 Add orange or blue in your looks if you can make them work.
Trying out the look a day before is, indeed, a better way to avoid messing up when you're getting late.
If you don't like glittery makeup, it's okay to go for a matte look.
16 – Mix Up Green and White
Green and white go really well together and you can use these two colors to create a pretty decent and wearable look for yourself.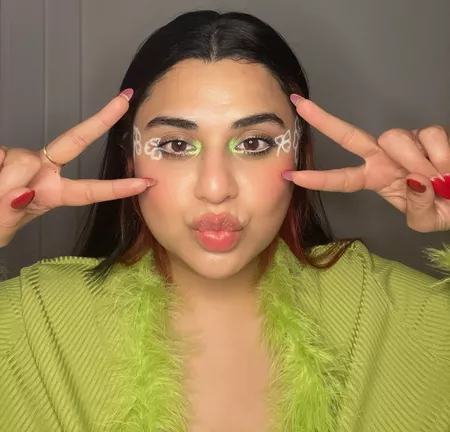 15 – Green Eye Makeup
The easiest way to get a look is to wear green eye makeup for St. Patrick's day. It is one of the coolest ideas. Besides, this look is very trendy these days.
Start with a primer and concealer (if needed). Then use vibrant green eyeshadows as a base. Afterward, use different shades of green and blend them well. Add glitter as well.
14 – Go for a Bold Look
If you are a fan of bold looks, get a rainbow look for this day. Adding shamrock art and maybe a hat representing a Leprechaun would do the trick.
13 – Simple Look
Thinking about getting the simplest look? Well, here is an idea. Wear matte lipstick of suitable color. Do the basic makeup on your face. Add a blush-on on your cheeks. In addition, wear dark green eyeshadow on your lids with any light color of eyeshadow at the top.
12 – Shamrock Makeup
In case, you are wondering how to use a shamrock in your St. Patrick's day makeup looks, we've got you. It looks both cute and cool. Do green eye makeup along with the shamrock art below the tip of your eyes.
It is one of the stylish and trending ideas. In addition, use golden eyeliner to make it more stylish. If you are a beginner at makeup then go through How to Wear Eyeliner for Beginners for some help.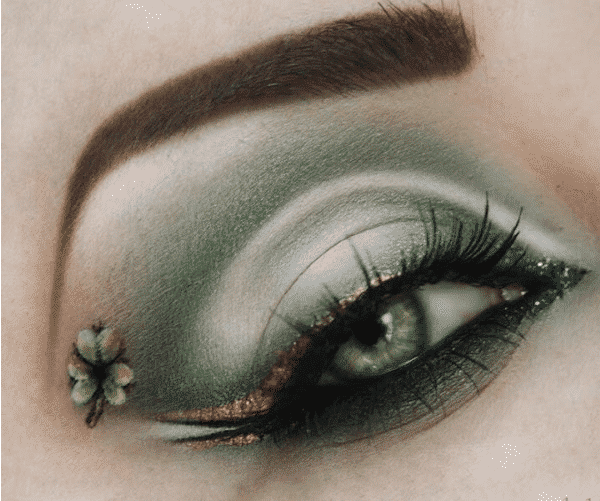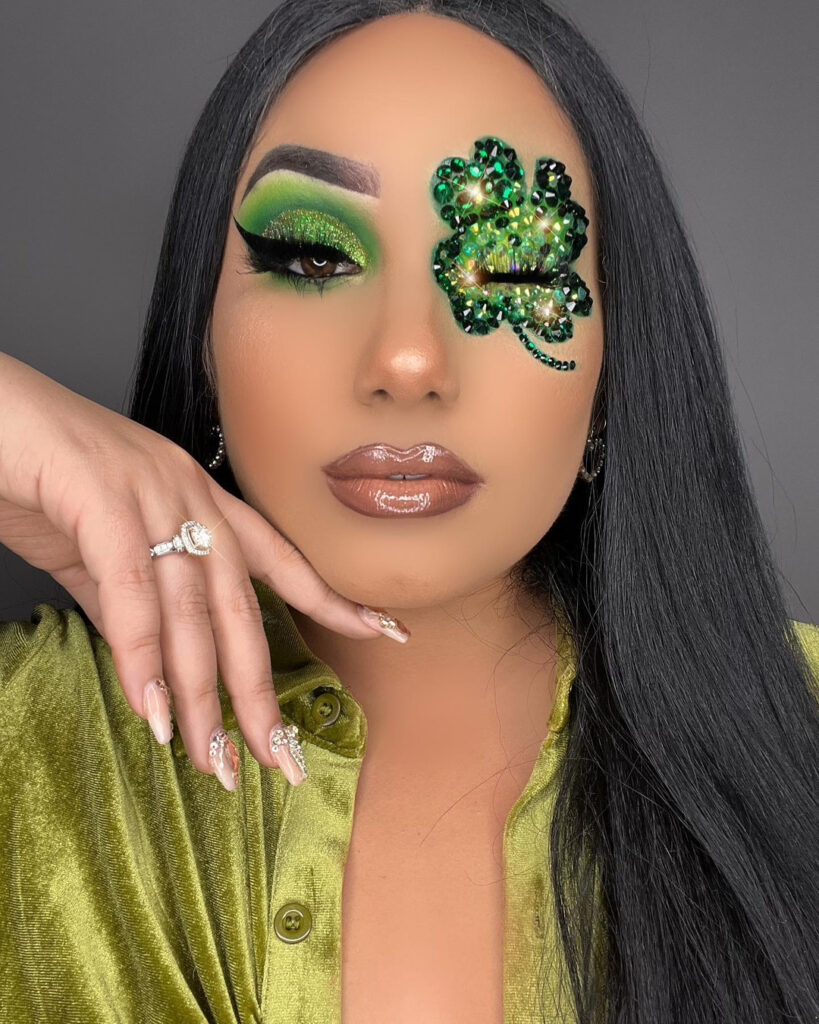 11 – Easiest Look Ever
Are you in a hurry, and can't use complicated St. Patrick's day makeup ideas? You can use only one product that's green in color. For instance, you can use rainbow eyelashes with blue eyeliner. In fact, just rainbow eyelashes would do the job for you. Also, look at How to Wear Fake Eyelashes for Beginners if you don't know how to wear eyelashes.
10 – Cool Neon
Green eye makeup is suitable for the St. Patrick's day celebration. But if you are there for more colorful eye makeup, go for eye makeup that has a bit of a neon touch. A pink lip gloss will go well with this. Wear blue contact lens if you are comfortable with them.
9 – For Mature Women
Any smokey eye makeup done gracefully would work well for you. For example, green eye makeup with brown/peach lipstick would do the trick.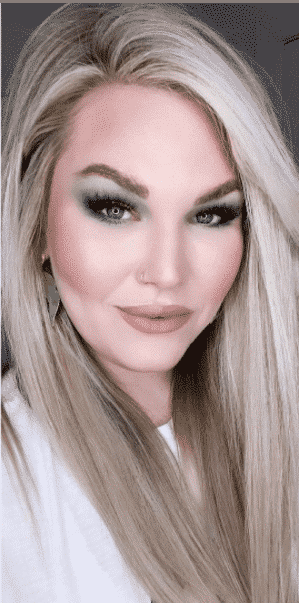 8 – Stylish Lime Green Eyeliner
Go lime green by simply applying thin-lipped eyeliner with an extremely light makeover. In fact, leave your face as it is except for the lime green eyeliner.
7 – Green Eye Makeup For Women In Their 30s
Women in their 30s can follow Selena's green eye makeup for St. Patrick's day. The main idea is, doing glittery green eye makeup over the full eyelid. Make sure you wear lipstick that goes well with your skin tone.
6 – For Brown Skin Tones
If you are the one with brown skin, you are a lucky one. There are a number of makeup ideas you could get inspiration from.
For instance, you can definitely go glam with this cat-eye makeup look. This look is elegant as well as simple. All you have to do is wear your basic face makeup, your favorite lip gloss and finally do the dark green cat-eye makeup.
Meanwhile, keep smiling as it will do the magic no matter what look you decide to create.
5 – For Dark Skin Tone
The wrong impression that green wouldn't work for you, is long gone. You could definitely get a decent look by applying this particular makeup. Use a darker shade of lipstick that goes well with your makeup base. Afterward, do your eye makeup using light-colored eyeshadows.
Add some silver to the look and finally, trace lime green floating eyeliner over your crease.
4 – For Hijabis
Here is one of the coolest idea for hijabis. If you are one, go for green smokey eye makeup. This Jewel tone makeup could be your coolest and the most decent look.
3- Green Eye Makeup With Green Lips
A bit over the top and not something I would highly recommend, but can be tried if you're in the mood for fun.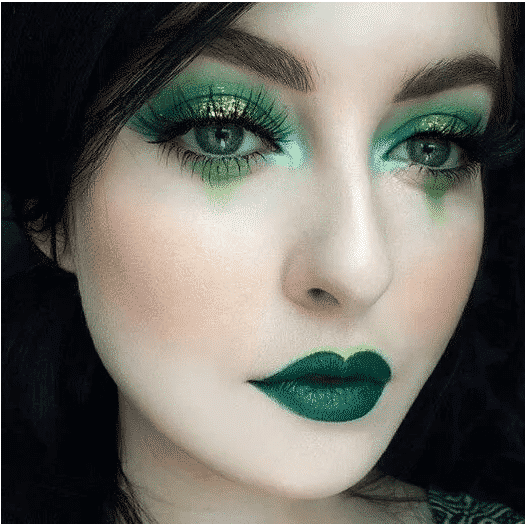 2- Simple Makeup With Fake Lashes
Fake eyelashes would make your eyes more beautiful and prominent, especially when the rest of your makeup is quite light. Be careful about wearing eyelashes though. Make sure you glue them properly.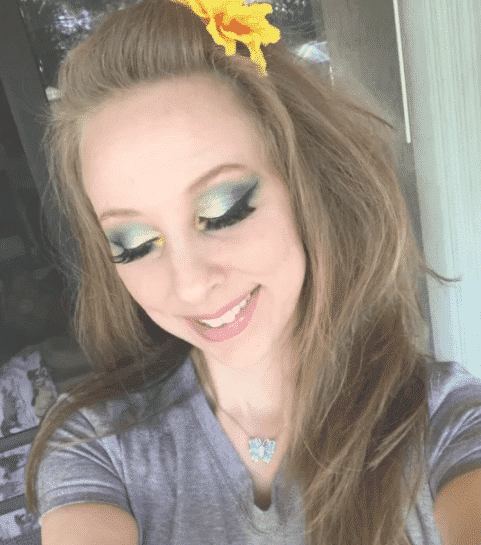 1 – Elegant St. Patricks Day Makeup Ideas
Go for smokey eyes along with classic eyeliner style. For your lips, go for a nude lipstick. Add some blush-on to your cheeks. Moreover, do your face contouring properly to complete your look.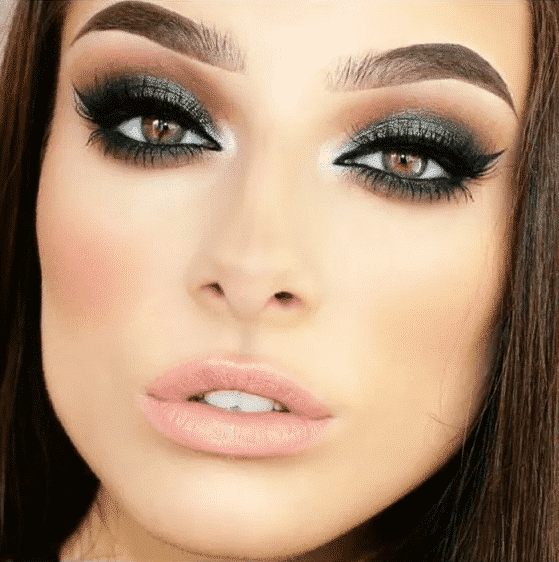 Frequently Asked Questions
Q. What color do you wear on St. Patricks day?
Ans. Before long, blue was considered to be the color for this day. After some protests and rebellions, the green color became the symbolic color for this occasion. So, the green color is worn by millions of people on this day. You can also add blue and orange to it. Make sure you add some green touch to your St. Patricks day makeup looks.
Q. Why do you get pinched for not wearing green on St. Patricks day?
Ans. Leprechauns are the reason you get pinched if you don't wear green. According to Irish belief, wearing green makes you invisible to Leprechauns. Leprechauns are small supernatural creatures that are known for conducting mischief. So, they pinch anyone they see. That's why You should wear green when doing St. Patrick's day makeup.
Q. How do you decorate for St. Patricks day?
Ans. The decoration for St. Patrick's day depends on your resources and taste. Adding small green decoration pieces will do, but you can add larger things too. Adding Shamrocks is good as well. You can also decorate your home with green handmade shamrocks, or a green banner. Dont forget to decorate yourself in green, Outfits With Green Jeans would do the job. For a better look, add blue and orange as well to your decor.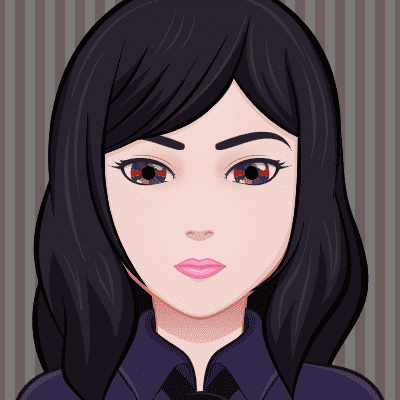 Hairat is an inveterate reader and content writer. She has done her MPhil in chemistry, and her field of specialization is physical chemistry. She is an introvert and loves spending quality time with herself. Her hobbies include journaling, blogging, reviewing books, and surfing the internet for useful information.