Here is to bring you the top 10 special gift ideas for mothers day.This special gift collection gives to you perfect gift idea for up coming mother day and solves your problem .Choosing the right Mothers Day gifts can be tricky and some time difficult, but by carefully considering Mom's individual tastes and unique personality, the choices can be great.
Mothers day is traditionally celebrated in the United States and in rest of the world on the second Sunday in May, Mother's Day is an opportunity to honor those special women who brought us into the world. so lets have a look on this awesome gift collection and honor your mother with them!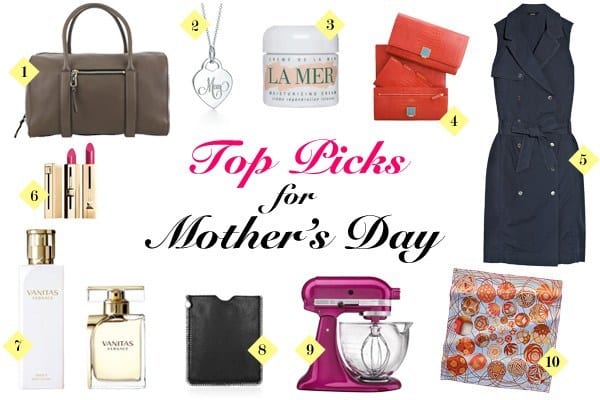 1. Chloe Madeleine Leather Bowling Bag, USD$2,130.
2. Tiffany & Co. Mum Heart Tag Charm and Chain, £105.
3. La Mer Moisturizing Cream, USD$250.
4. Smythson Travel Clutch, £445.00.
5. J.Crew Josephine Cotton Trench Dress, £70.83.
6. Guerlain Rouge Automatique, USD$35.
7. Versace Vanitas Mother's Day Set, USD$125.
8. Stella Mccartney Falabella Faux-Leather iPad Sleeve, £204.26.
9. KitchenAid Raspberry Ice Stand Mixer, USD$369.99.
10. Hermes Silk Twill Scarf, USD$385.
Via