What To Wear To A Baptism: Baptism or Christening is of great importance, and one should always dress on this spiritual event appropriately. 'Appropriately' does not mean there is a dress code for baptism or anything like that.
You are free to choose a dress according to your style and comfort. However, keep in mind that your outfit should be suitable for church.
Next comes the colour that you should wear to the baptism. There are no specifications related to that as well. You can choose a bright or even a darker shade. If you want to wear a dress, it's up to you, or if you are comfortable wearing an acceptable suit. There are a few dos and don'ts here, which we will discuss next.
Outfit Ideas For A Baptism
If you are hosting a baptism yourself, it is suggested to choose a theme. It will be easy for you to decide on clothes accordingly. Suppose you stick to a yellow theme, then you can wear a long yellow maxi dress. The dress code can be mustard, yellow and white. If you choose a pink cake, then everyone will wear pink. In this way, you can have memorable pictures as well.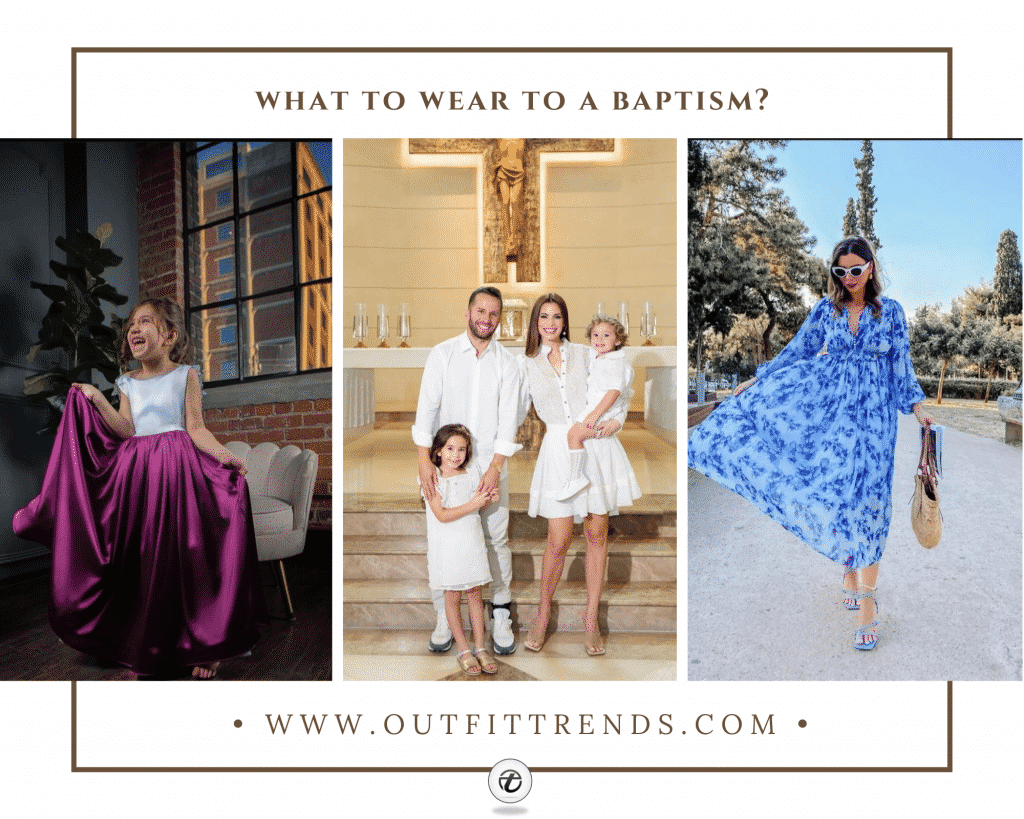 Do's & Dont's
Do not choose to wear revealing clothes or dresses with deep necks. Make sure your attire matches the church clothing. However, after church, you can change your clothes if you have a party. For those who don't want to keep changing clothes, you can choose a chic dress for the church, perfect for the afterparty. Try wearing a turtleneck outfit for the church as it is appropriate as well as chic.
Do not wear shorts or anything which isn't appropriate for church. Keep your style formal. The best choice is to wear a suit. Moreover, the tie is optional. Keep in mind that casual clothes are not unacceptable, but if you want to look classy in family pictures, it is better to wear formal attire.
It is the perfect event to dress up your kid extravagantly. You can make your baby girl look like a princess by choosing a Disney princess Outfit. From maxi to gowns, you have so many options to choose from the one dress which is most suitable for you. If we talk about baby boys, you can find many opportunities.
20 – One Shoulder Chiffon Dress
If you want to dress a little extra, go for a side-slit maxi dress. You can add a fancy belt for a splash of elegance. Also, you can carry a coat with you if the weather is chilly. Go for a neutral colour, such as beige or tan. Keep your hairstyle and makeup minimal. Go for strap heels and statement jewellery.
19 – How To Dress Your Kids
If you want to keep it minimal for the children, try silk maxi dresses. You can pair two different colours, such as purple with white. It would give a minimal and vibrant touch to the outfit, perfect for baptism.
18 – Leopard Print Summer Dress
A printed maxi dress could never go wrong. You will look chic and modest at the same time! Also, it will keep you warm as chapels are cold. Also, you can go for a v-neck, as the length of the dress will balance it out. Lastly, complete your look with heels and wear shades.
17 – When To Wear A Slit Dress
Whether you are the child's mother or a distant aunt, blue can never go wrong. Also, when it comes to styling dresses for baptism, the trend for maxi dresses is quite established. So, if you want to stand out, go for this chic and modest maxi. A side cut and a slightly bare waist are all you need for a touch of elegance.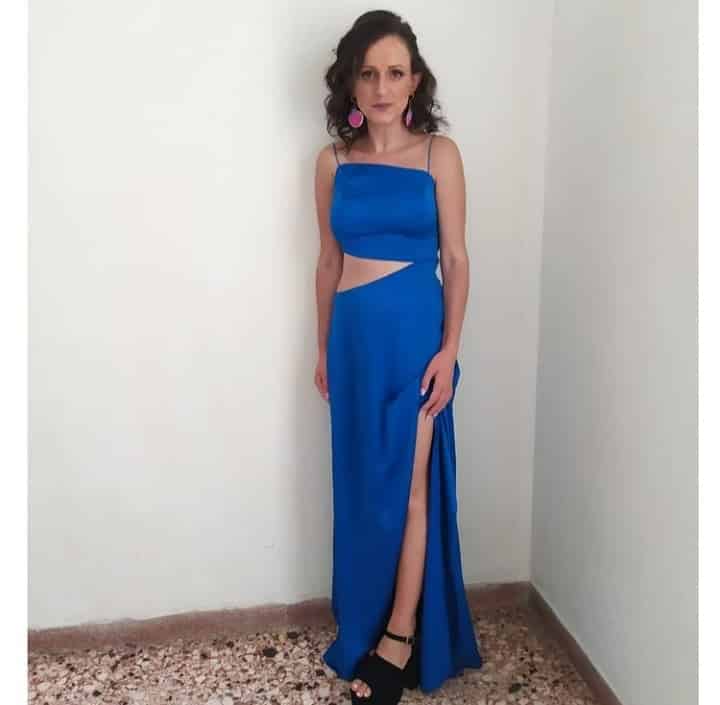 16 – Matching Baptism Outfits For Family
Parents of the child should look the most presentable at the baptism. It is high time to make memories. And the best way is to go for a dress code. You can match your outfit with your family. Select a neutral shade and go for a modest midi. Males of the family can match their ties with the dress code. And Tada! The family group photos will be fabulous.
15 – Pastel Blue Suit
Though there is no specific dress code for baptism, people love to see neutral colours and plain stitchings. And what can be more basic and neutral than a suit? A pastel coloured suit can always add elegance to your baptism outfit. Also, you can pair it with a dark-coloured top and wear matching court shoes to level up your look.
14 – Style A V-Neck Short Dress
Though neutral colours are preferred on baptism, you can also go for printed dresses. However, make sure the print isn't too bold for the church. Go for a decent and chic print and style it as a midi. Also, you can add some frills to your dress for detailing. Pair it with a leather belt and ankle strap heels.
13 – Turtle Neck Formal Attire
Chapels are usually cold. And when it's winter, they can be freezing. So, it is necessary to dress according to the season. Otherwise, you won't be able to enjoy one of the most important events of your child's life. You can wear a knitted midi and go for minimal accessories and makeup. Neutral colours, such as white and beige, are always an elegant option.
12 – Styling A Casual Dress
Who says you cannot wear a midi at a baptism? You only need to style it properly. If the length of your dress is above the knees, you can compensate with baggy sleeves. Also, your midi will look chicer if you opt for a neutral colour, such as blue or grey. Lastly, go for court shoes and pair your outfit with an elegant bag.
11 – What's Better Than A Red Fit?
This one is for those who haven't decided on any dress code. You can dress modestly without any dress code, as there are no set rules. Go for a red jumpsuit with detailed sleeves. As a mom, such a comfy outfit will also allow you to participate in the event without any inconvenience.
10 – Silk Outfit With Nude Heels
Maxi dresses are standard apparel to wear on a baptism. Yet, it is an elegant, innovative, and modest option. So, if you are opting for an ankle-length maxi dress, you should style it differently. Beige is a decent colour to wear on a baptism. Therefore, go for it and style your maxi with some chic detailing, such as bows and buttons. Pair it with pump heels and finish your look with minimal makeup.
9 – Keep It Elegant!
Other than neutrals, dark colours also look breath-taking if appropriately styled. People usually don't wear black on baptism as they relate it with funerals and death. However, if you pair a black midi with a chic makeup look and elegant strap heels, you will look amazing. You can also opt for dark green or grey colour. Also, If your dress has a round neck, you can complement it with a bun.
8 – Nude Pink Dress
There are no specific instructions on what to wear and what not to wear on baptism. However, it is a common belief that one should not wear body-hugging clothes on baptism, as it is a sacred event held in the church. If, somehow, you are left with no other option than a clinging dress, try adding layers. You can pair it up with a blazer and cardigan for a modest look.
7 – Girl's Christening Gown
Children love to dress up. And if the child, being baptized, has elder siblings, they deserve to dress up a little extra, as it is an important event. For your elder daughter, pick a white gown. And pair it with a crown and opera gloves for a perfect princess look.
6 – White Floral Outfit
Though white colour is an elegant option., not everyone can pull off white dresses. So, if you are insecure about a monochrome white dress, how about a printed white dress? Go for a minimal print to add a splash of colour to your white outfit. You can always choose a neutral-coloured print. Also, you can pair it with matching heels and a blazer.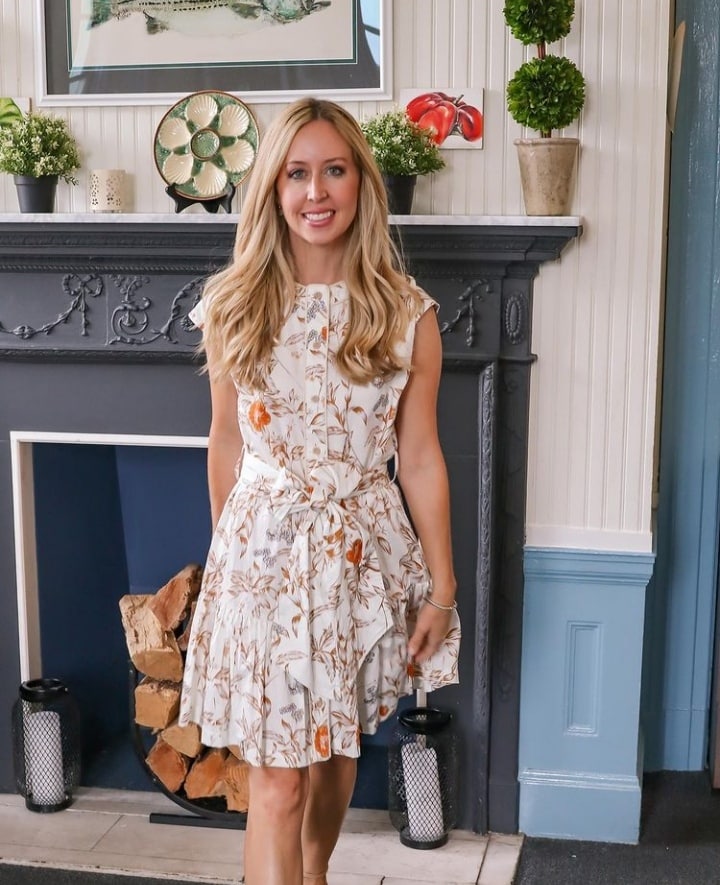 5 – Bright Outfit For A Sunny Day
Baptism involves going to church followed by a reception, which involves dancing, games, etc. Therefore, opt for a dress, which is comfortable. You can go for an ankle-length maxi. It will make you look modest and stylish. Also, you can enjoy the event without any inconvenience. Moreover, you can wear vibrant floral prints. However, make sure the pattern isn't too vivid.
4 – Fancy Baptism Outfit
Another option is to go for a two-piece, not a formal two-piece but a fancy one. You can find such chic outfits at any of your favourite brands. Moreover, you can get it stitched. Go for a v-neck, sleeveless top, and flared trousers. Pair your chic outfit with pointed shoes and finish your look with minimal makeup.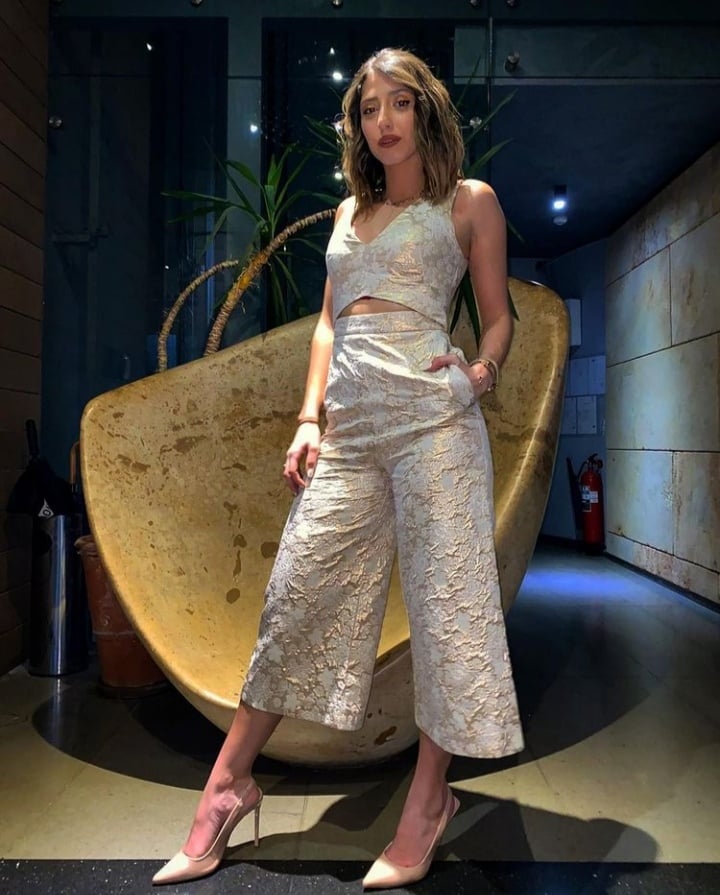 3 – Styling A Wrap Dress
Plunging v-necks are usually avoided at religious events, such as baptisms. However, if styled correctly, they can also look elegant. Moreover, you can balance the deep neck design by increasing the length of your dress. Another way to style it is to pair it with a blazer. However, you don't need to worry if your dress is not clinging. Keep your accessories minimal for a simple look.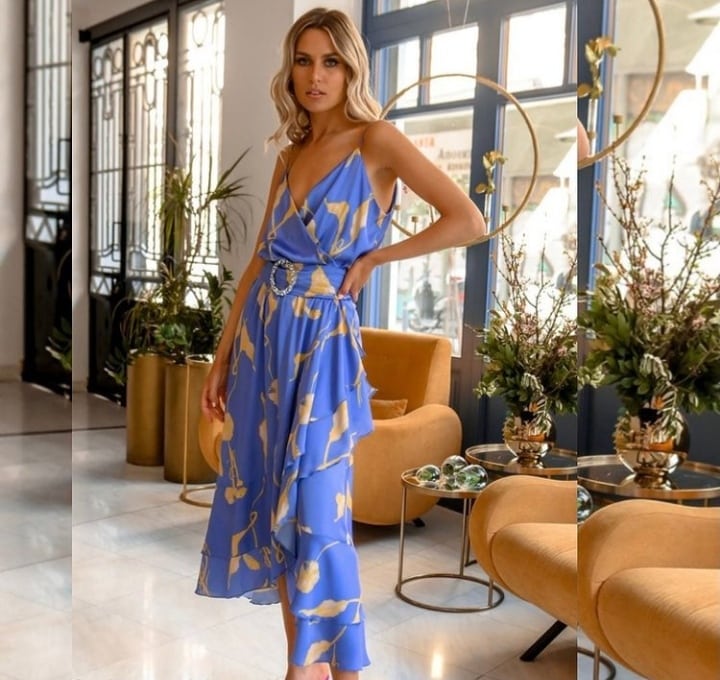 2 – Stunning Orange Jumpsuit
Jumpsuits are another ideal option for baptism. You can pair them with wide belts, a clutch bag, and if you don't know what shoes to wear with them then go for ankle strap heels. Also, you can skip the neutrals and go for a different colour. However, don't wear a bright shade. Try wearing this elegant combination of orange and peach colours. And adorn your outfit with seamless detailing.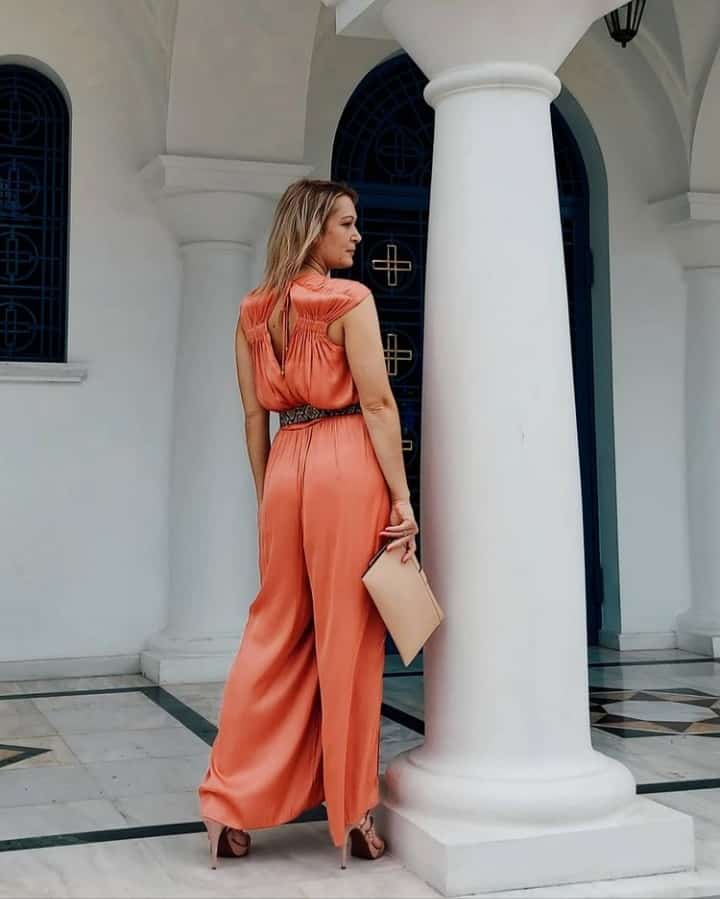 1 – Go All-White
White is such a gorgeous colour. If you decide on a dress code for your family, what could be better than white? Not only can you grab a variety of dresses in white colour but also, the male members of the family can easily follow the dress code. Moreover, you can create a new one by combing your primary white button-up shirt with a white skirt, and voila, your outfit is ready. The children, especially the child, who is being baptized, will also look regal in white dress.
Frequently Asked Questions
Q: What not wear to a baptism?
Ans. Baptism is a holy ceremony. Even if there is no specific dress code for it, we are still supposed to show respect by dressing modestly. It is for both men and women who are what outfit is not appropriate for baptism.
Women should avoid tight, revealing, short dresses and excellent hairpieces. It is best to go for high necklines and knee-length or maxi-length dresses. If you wear a sleeveless top, you should style it with a scarf or thin jacket to cover your shoulders during baptism.
As far as men dressing is concerned, you better avoid shorts, tank tops, jeans, and t-shirts with inappropriate messages and pictures. You better opt for formal suits. The suit is just a perfect outfit for men to opt for this prestigious occasion.
Q. Can you wear black to a baptism?
Ans. Black is often related to superstitions for cherishing events and ceremonies. But there is no such restriction at baptism. You can wear black colour if you want to.
Q. Is red too bright color for baptism?
Ans. Red is referred to as a happy and cherishing colour. Its bright shades can catch anyone's attention, which is odd. Otherwiaanyaanyone'anyone's wrong with the red colour. You can also consult with the family if they have any preferences regarding their guest's wear. Most people prefer light and pastel shades.
Q. What is the dress code for a baptism?
Ans. There is no specific dress code for baptism, but white dresses are ideal. You can also go with whatever colour you like, don't feel shy to add colour to a neutral-hued dress. I do prefer heels instead of sneakers as far as shoes are concerned.