Best Mughlai Mehndi Designs – Indian henna art is simply too magnificent for words. It's wide-ranging and expanding all the time and easily incorporates different kinds of interpretations of a design depending on where the artist is from.
But all of those designs have one thing in common: and that is the fact that they all look magnificently beautiful. Mughlai henna art gives a royal and superior touch to the traditional designs, befitting queens and princesses.

In this article, we'll present you with our top 40 picks for Mughal looking mehndi art that's sure to make you feel like royalty.
Top Mughal Henna Art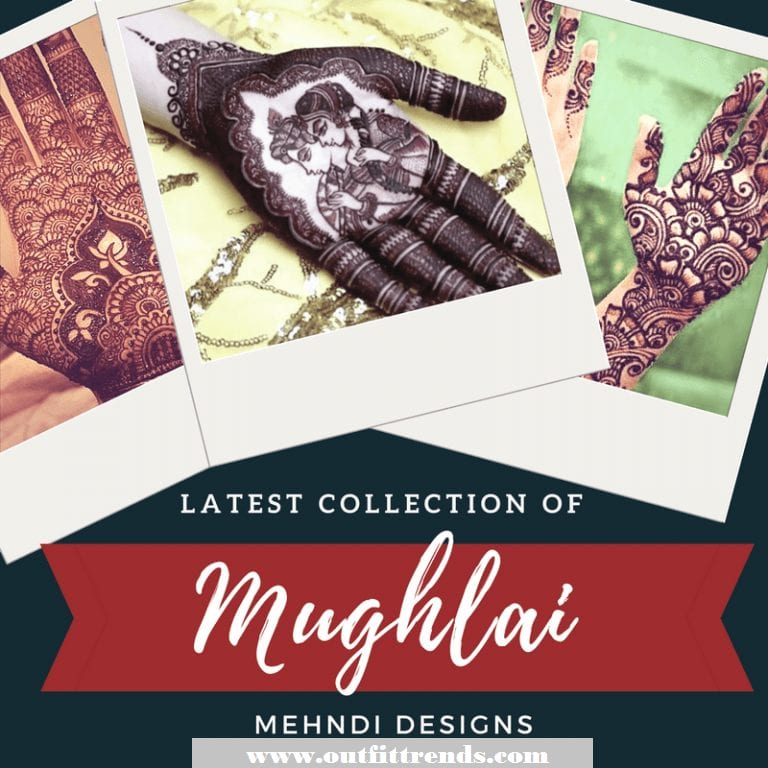 ↓ 40 – Gorgeous Full Design
Just to get you started, here's an amazing one. It gives you an idea of what a mughal design is supposed to look like/ Loving the full look.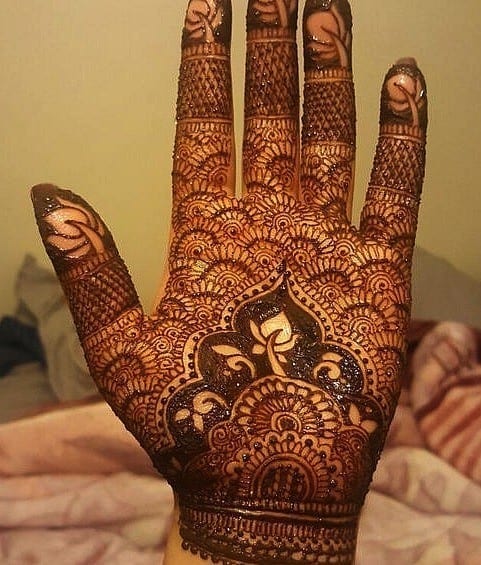 ↓ 39 – Breath-taking Bracelet
This gauntlet-like design is perfect for formal occasions. They can imitate real jewellery and convey simplicity at the same time.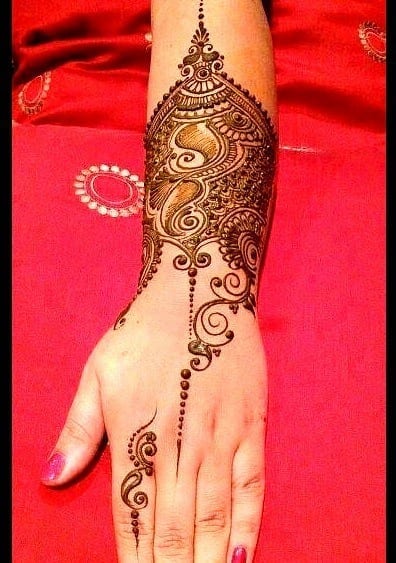 ↓ 38 – Magnificent Back Piece
Talk about dramatic! It's absolutely heavenly.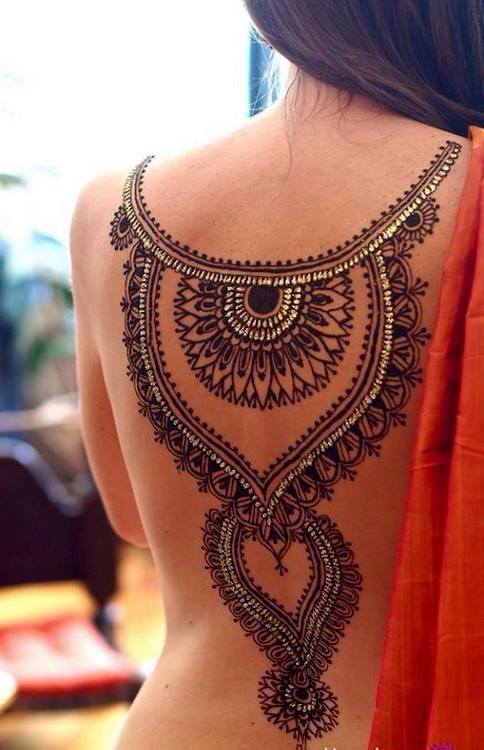 ↓ 37 – Fantastic Feet
Get your shaadi groove on with this stunning piece. It's truly a traditional design with a full mughal look.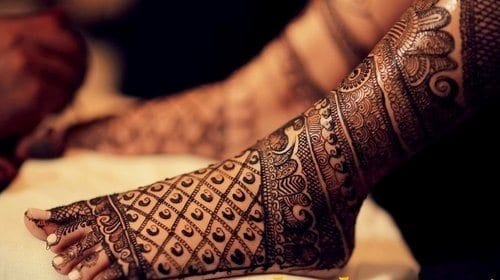 ↓ 36 – Twin Tango
This look is love and we suggest you go and try this right now for a mesmerizing wedding look.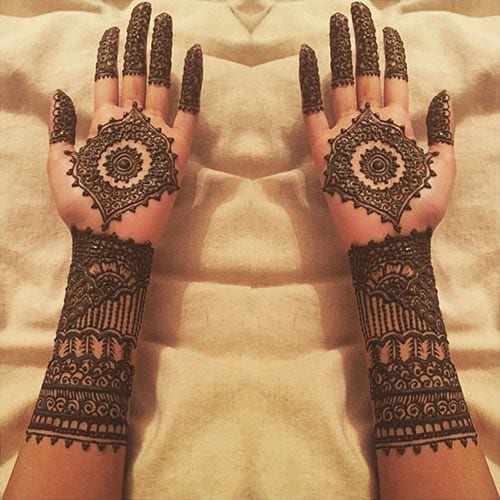 ↓ 35 – Vibrant Henna
Eye-catching and inspiring. And surrounded by colorful henna candles that makes it stand out more, that's even better!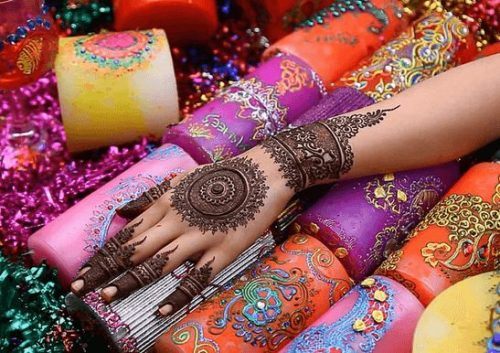 ↓ 34 – Elegant design
This one is chic and sophisticated, yet conveys the feel of a mughal design without being too heavy or complicated.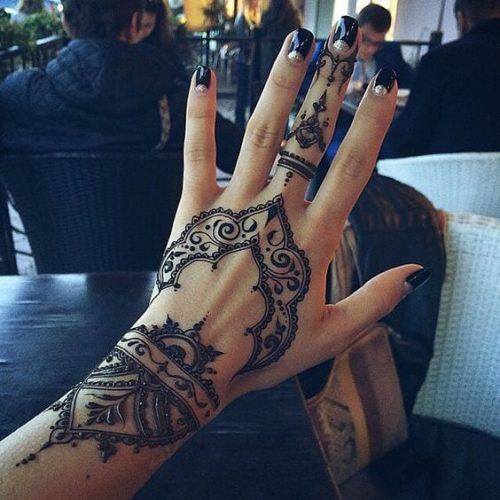 ↓ 33 – Figure Art
Nothing like a literal interpretation to get the message across. Here's a mughal prince and princess to give actual royal vibes.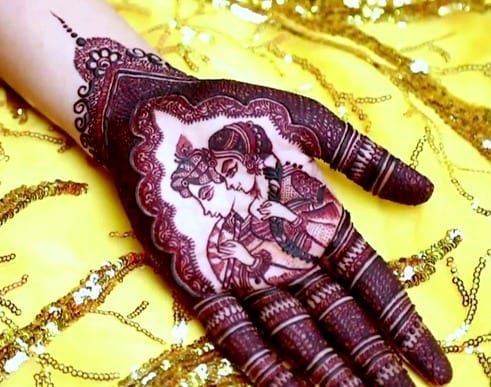 ↓ 32 – Glorious Finger Art
Sometimes just painting the fingers is enough. The negative space shifts all the focus on the adorned area making it seem more beautiful.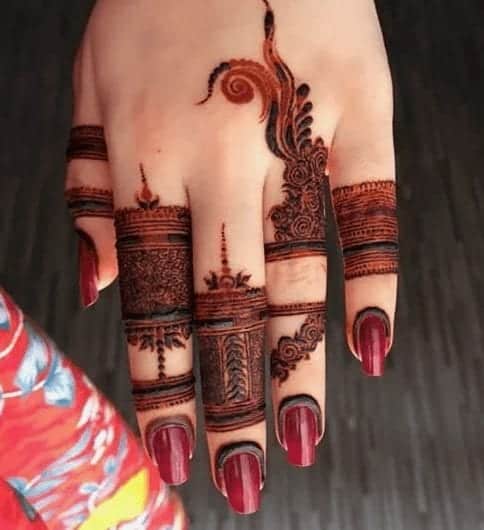 ↓ 31 – Stunning Curve
In this intricate piece, we see flowers of a different kind packed closely together and moving gently in a curving line. The effect is mesmerizing.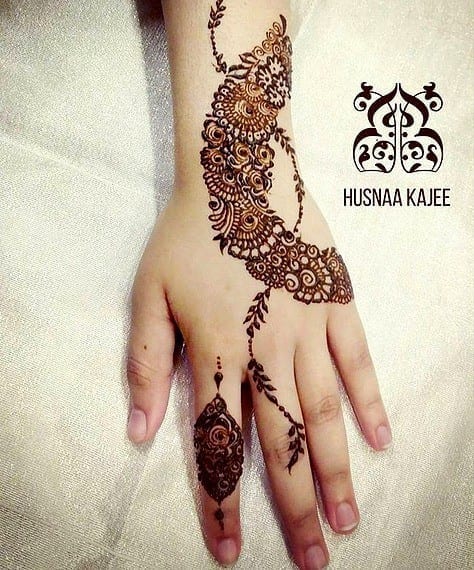 ↓ 30 – Dazzling Design
Strut around like the princess you are by getting this other worldly art painted on your feet.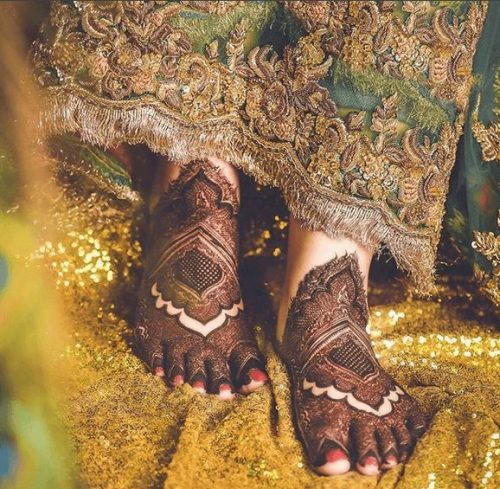 ↓ 29 – Outstanding Henna
Such fine artistry! Such intricate strokes! We have been utterly blown away. Don't you guys agree?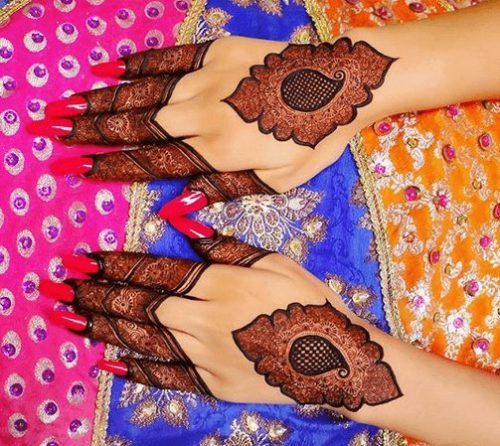 ↓ 28 – Exquisite Foot Piece
Another one to die for! The artist is from a beauty parlor in Pakistan and his/her page is filled with such marvelous creations.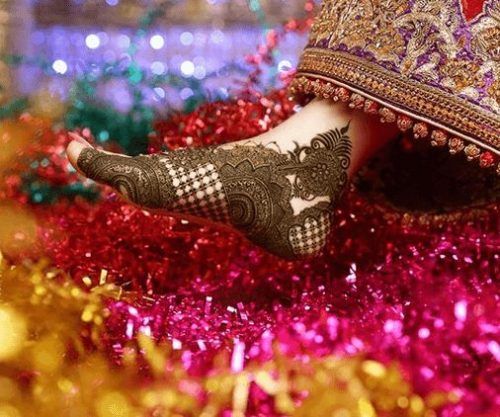 ↓ 27 – A Mughal Fairytale
Pieces that tell a story are popular, and rightfully so. It takes an incredible amount of steadiness, hard work and concentration, not to mention expertise and practice so don't go and try this for yourself. Things like these are best left to the masters of the craft.
↓ 26 – Marvelous Design
A fine cone henna is best for such a job as you won't be able to replicate pieces like this if the henna is coming out thick. Having the right tools is just as important.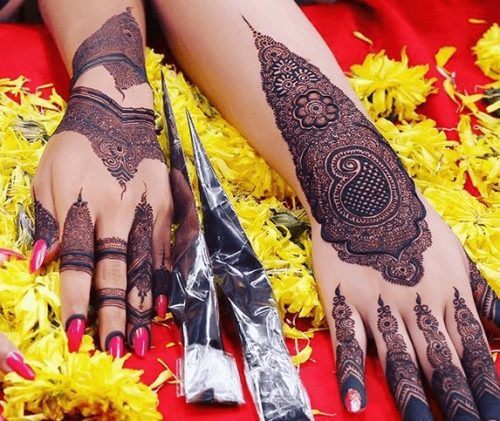 Step by Step Video Tutorial for Mughali Mehndi
↓ 25 – Bejeweled Bohemian Design
This is the artist (@thehusnakajee)'s own description of the piece and you can definitely see how funky and cool it is.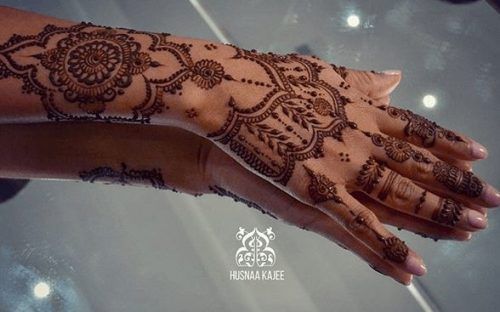 ↓ 24 – Let's Match!
Paisleys, symmetry, mesh, feather-light strokes and filled in spaces later, we have these two masterpieces making us drool. Insane wedding henna inspiration.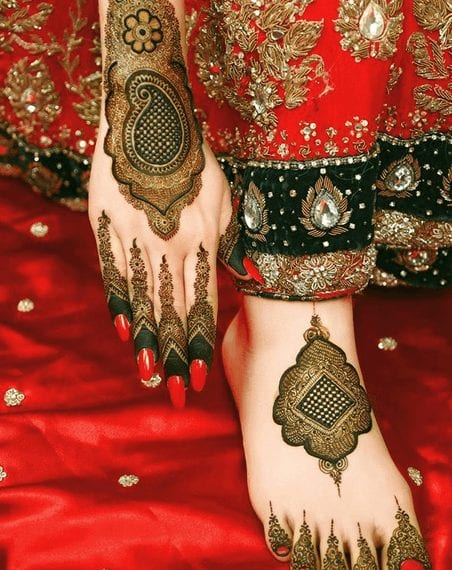 ↓ 23 – Flowers Galore
Nothing like a smattering of flowers and paisleys to make a cheery design. The shading effect applied here is amazing.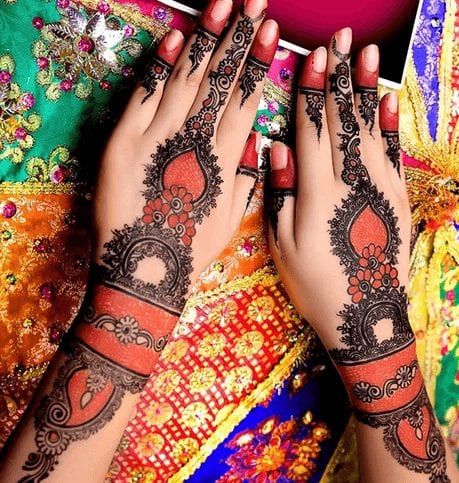 ↓ 22 – Goth Look
Again, the artistry of thickening swirls and thin strokes, the negative space as well as packed together flowers, all of these things lend a darker and edgier feel to the design but most of all the credit goes to the leaves.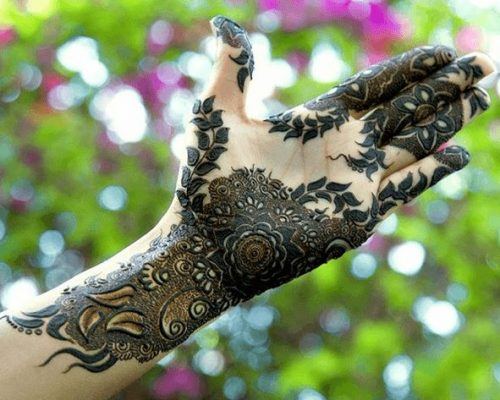 ↓ 21 – Mughal Block
The main part is very simple but look how superbly it has been designed. It covers almost the entire back of the hand and is wonderful in its apparent simplicity.
↓ 20 – Meshwork
Mesh patterns are almost always guaranteed to work. The process is straightforward but a wobbling hand might ruin the symmetry.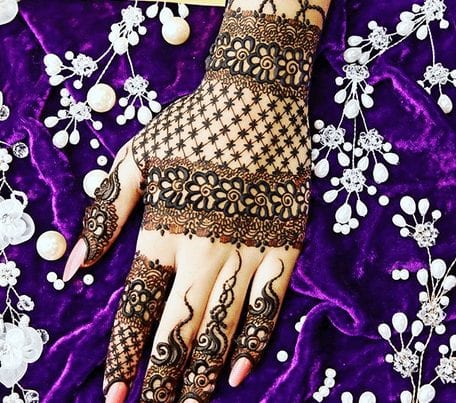 ↓ 19 – Fine n' Full
It's neat, it's all over the place and it has roses. What more can you possibly ask for?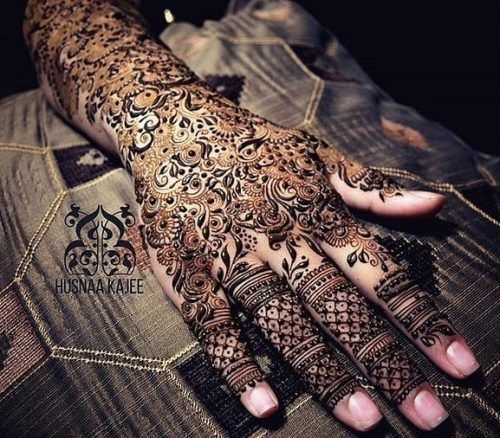 ↓ 18 – Demi-Mandala Cuff
Again, not taking credit for naming this, it's the artist's own invention. It's really quite incredible. Who knew demi-mandalas could be so hip?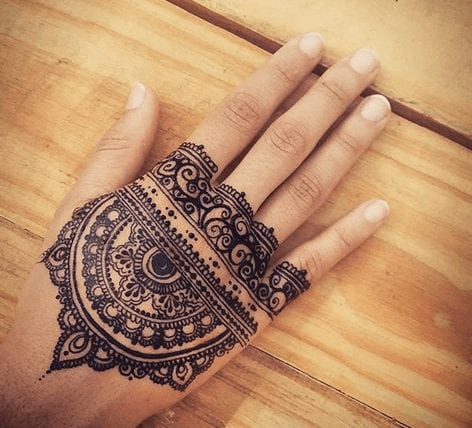 ↓ 17 – Wrap Around Design
An elegant choice for a bride who wants to fell special on her big day.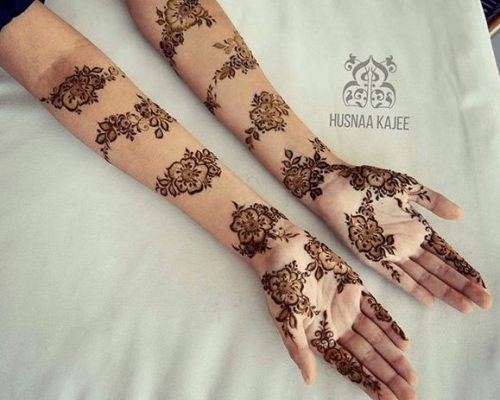 ↓ 16 – Blissful Blossoms
It's edgy and well-defined. The darker, filled-in parts are alluring and draw the eye immediately. It's a bold look and totally recommended.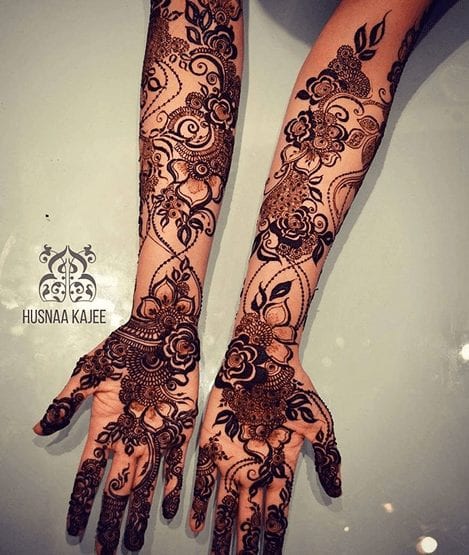 ↓ 15 – Satisfying Neck Piece
Can't find a beautiful necklace to complement your look? Well, here's a solution to your problem! Get your throat decorated with henna resulting in a queenly look.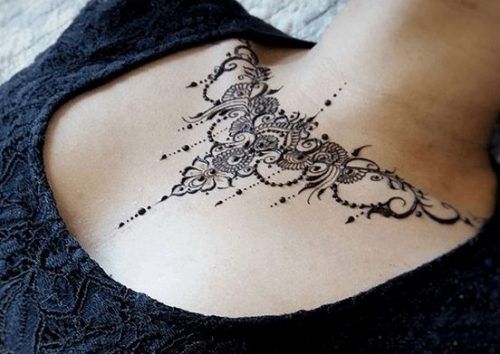 ↓ 14 – Bare Back Delight
Charming is the word that comes to mind. Unimaginably bewitching even. This has us going oh-la-la!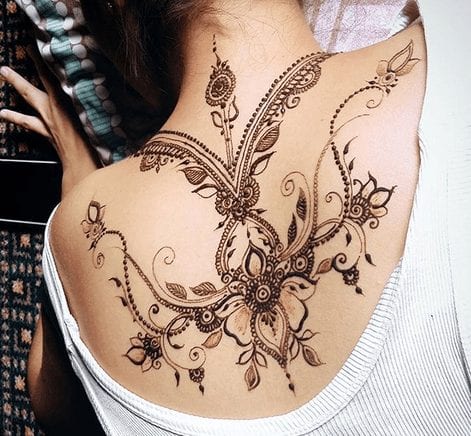 ↓ 13 – Remarkable Design
Paisleys belong at the front and centre, like in this beautiful design. Don't know what it is about them but they seem to carry the whole design they're in.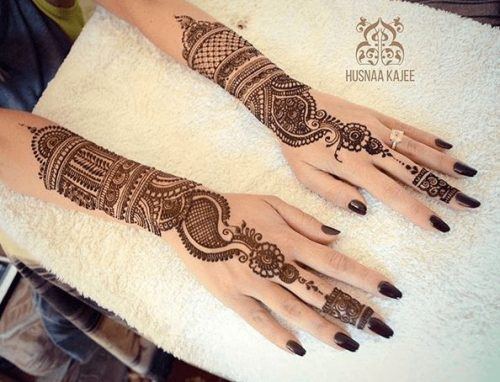 ↓ 12 – Mughal Glove
The title pretty much says it all, doesn't it?! Loving the exquisite fine detail on this one.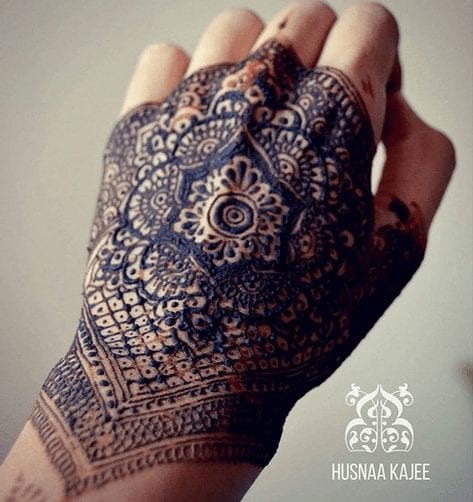 ↓ 11 – Stylish Henna
For a polished and refined, yet simple and quick look, this is highly recommended.
↓ 10 – Stupendous Feet Mehndi
The dotted lines give the impression of chains linking in an elaborate jewellery piece which is why such mehndi designs have a great mughal look about them.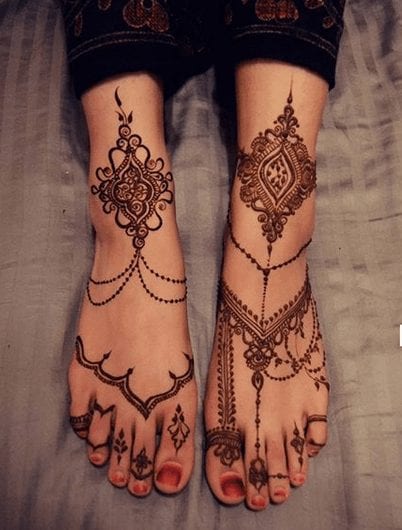 ↓ 9 – A Lonely Princess
That's sort of what princesses in those days did, probably. Playing and talking with birds in gilded cages while passing the time in cages of their own.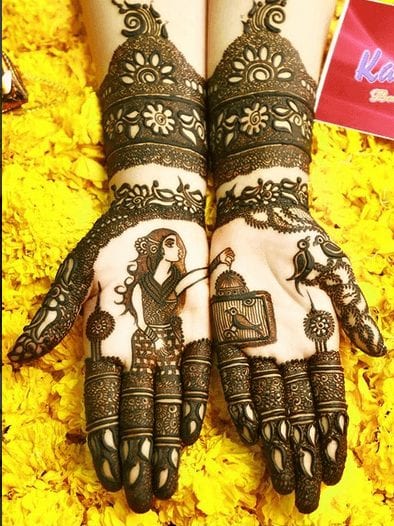 ↓ 8 – Extraordinary Feet Henna
Makes you lost for words, doesn't it? We don't blame you. We're also picking our jaw off the floor.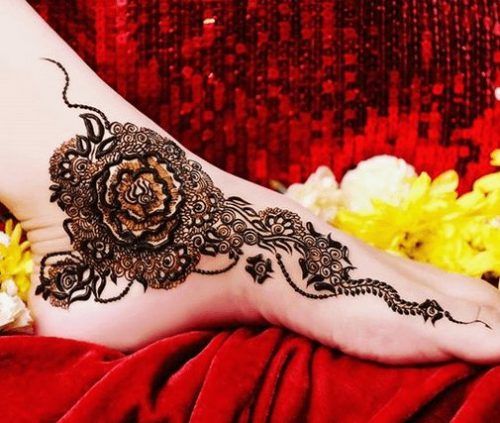 ↓ 7 – Impressive Design
When it comes to Mughlai designs, the focus is as much on the feet as on the hands. It's so that when your feet poke out of your lehngas, they complete the royal look.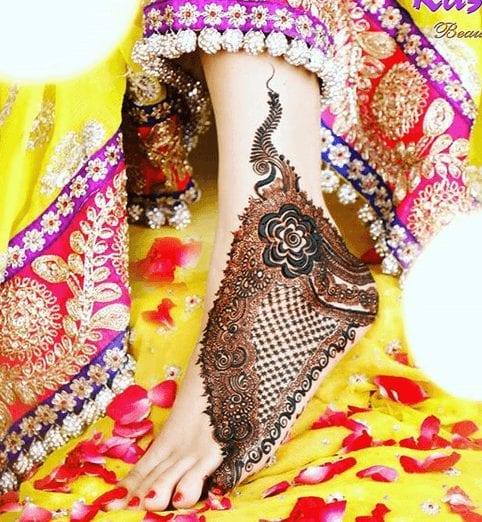 ↓ 6 – Phenomenal Mughlai Henna
Let the picture do the talking.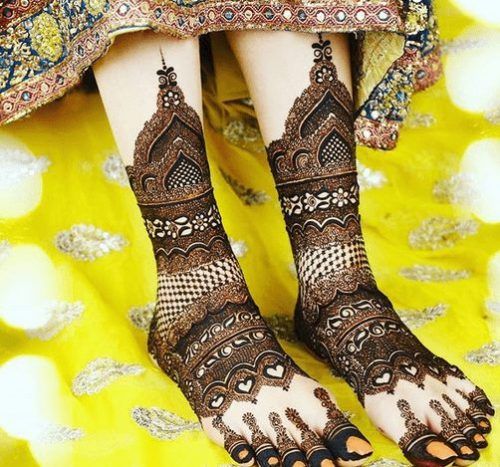 ↓ 5 – Pristine Peacocks
Peacocks are famous for being beautiful, arrogant and regal, all qualities associated with royalty. Helps that they were also kept as pets by kings and queens.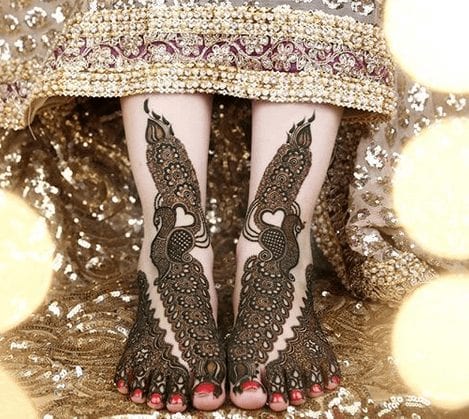 ↓ 4 – Knockout Demi-Mandalas
Three words: Drop. Dead. Gorgeous!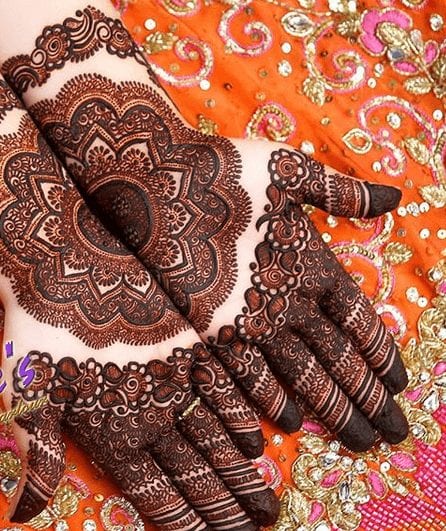 ↓ 3 – Quirky Design
It's possible to mix it up and still end up with an impressively majestic outcome.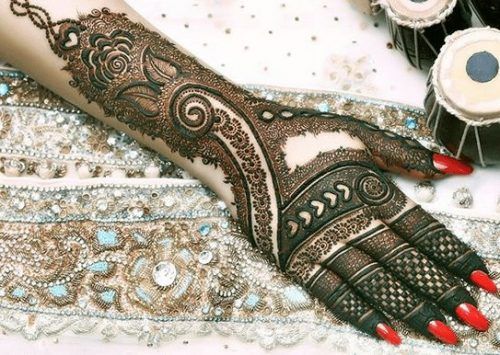 ↓ 2 – Spectacular Mesh Henna
Meshes can be tricky but it's so worth the effort.
↓ 1 – Resplendent Henna
Ending it off with this comparatively less heavy but no less luxurious design by husna kajee.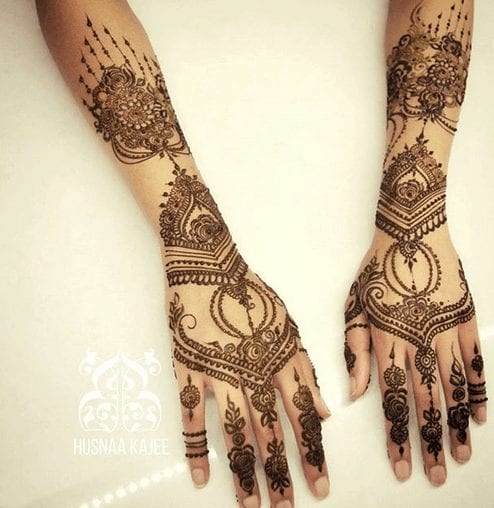 So that's it! We do hope you enjoyed our top picks and found the henna inspiration you needed. So get a cone, get set and go! Oh, and don't forget to check out our other articles if you liked this one.