Mehndi Designs for Eid – Most festive occasions, especially the two Eids, and mehndi go hand in hand. As Muslims all over the world celebrate Eid-ul-Fitr (after fasting for a whole month) and Eid-ul-Azha (the Sacrifice Feast), applying henna as part of the preparations for these two events has become an important tradition.
As such it's always a bit of a struggle to find incredible designs to match the Eid outfits on the spot and a lot of browsing through the internet and confusion ensues. Look no further, for we have compiled a list of the most desirable Eid Henna Designs to be had this season!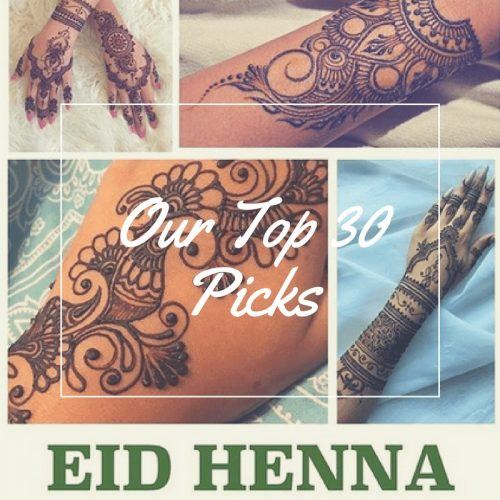 Eid Henna Designs
↓ 30 – Lavish Design
It's got the opulence, the magnificence and the elegance! We can clearly picture this looking gorgeous with whatever outfit you choose to wear on Eid. The curves make it look appealing.
↓ 29 – Minimalist Design
It's perfect if "less is more" is your mantra. Plus, it's adorable, the henna strokes are thick and it is unique as well. Recommended for a light look.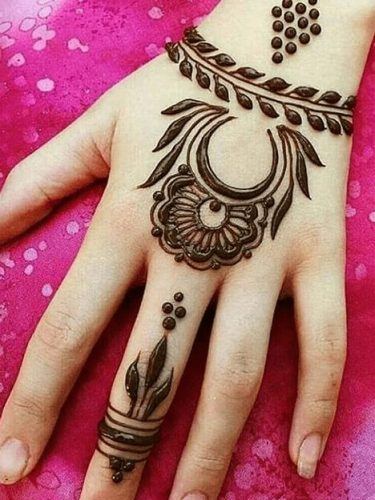 ↓ 28 – Shades of Roses
This mind-numbingly exquisite design is by Kiran Sahib on Instagram. Flowers, especially roses, are a henna must-have and this design proves why. The leaves, thin, fine lines along with thick ones and shading make this a marvelous piece.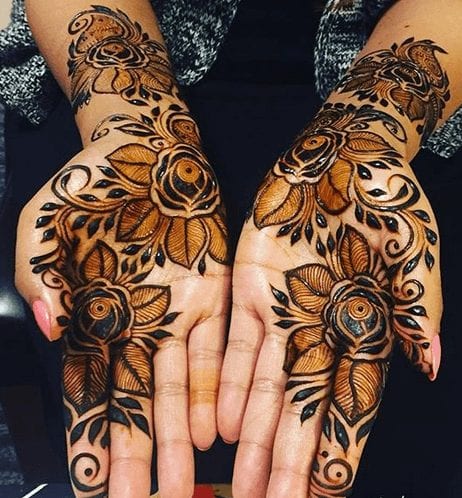 ↓ Step by Step Video Tutorial for Eid Mehndi
↓ 27 – Delightful Design
Any design with birds in it is bound to be aesthetic and ethereal looking and this one is no exception. It perfectly captures the sweetness and joy of an occasion such as Eid.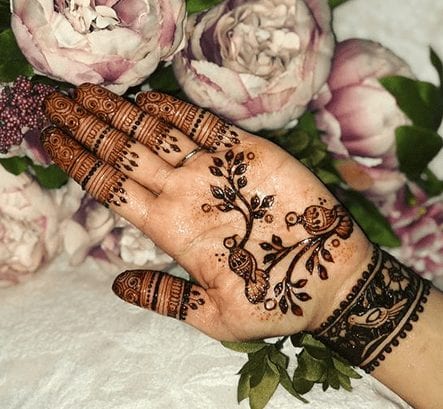 ↓ 26 – Leafy Mandala
Mandalas, anyone? No one can resist a good Mandala and this, without a shadow of a doubt, is a very good-lookin' Mandala. Notice the simplicity of the overall design despite the fact that it takes a lot of space.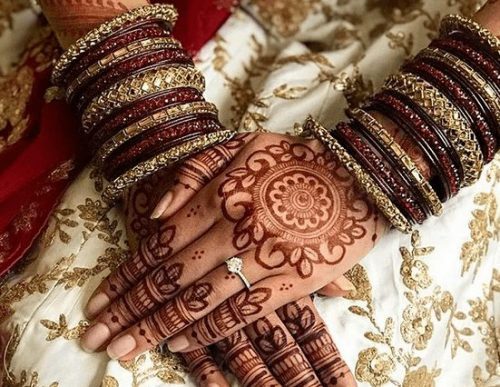 ↓ 25 – Tattoo Fingers
This is absolutely delightful. Not only does the simple strokes look eloquent, the fact that it's restricted to the fingers only makes it all the more enticing. Paired with awesome nail art, your hands will look beautiful indeed.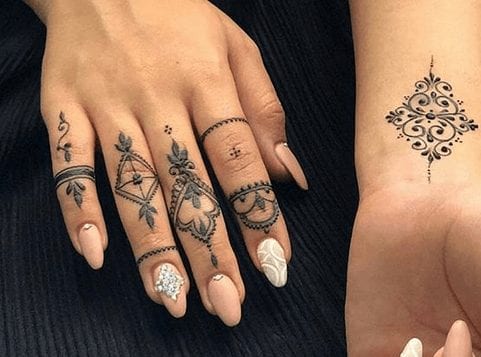 ↓ 24 – Lovely Palm Design
It's breath-taking. Don't be fooled by the fact that it looks easy, though. If you look closely you'll find that the flower in the middle has been shaded, which is a feat in itself. Also, there's thick strokes mixed with thin ones. People sometimes overlook this but it's harder than it seems.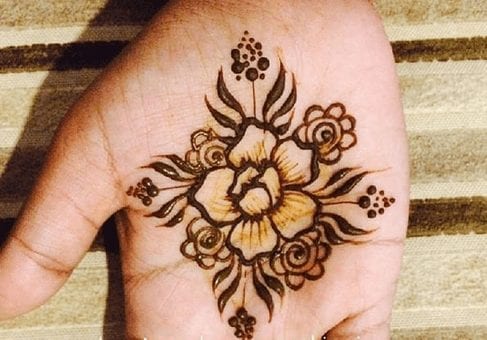 ↓ 23 – Moroccan Design
This particular piece has Jewish symbols which beg the question, why is it included in this list? The reason being, the design on the palm, the curve is reminiscent of the domes of mosques which is related to Eid. So all you have to do is not include the eye symbol, the rest is perfect!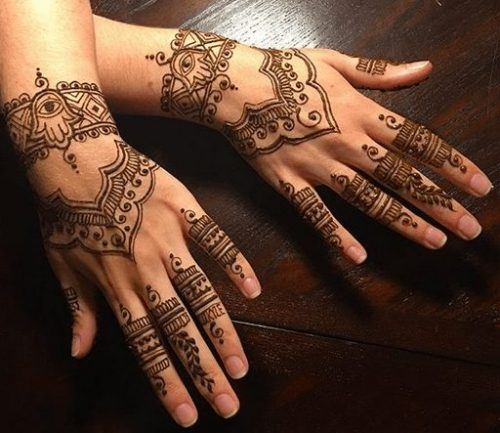 ↓ 22 – Intricate Loops
The key to making a design seem detailed? Draw closely-packed, tight and thin-stroked lines and curves. The center piece tricks you into thinking it's difficult, while actually it's pretty simple.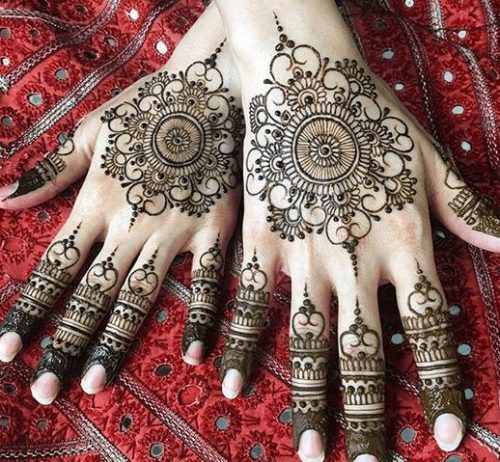 ↓ 21 – Fit For A Princess
And it is, isn't it? It has a Mughal look about it that's undeniably regal.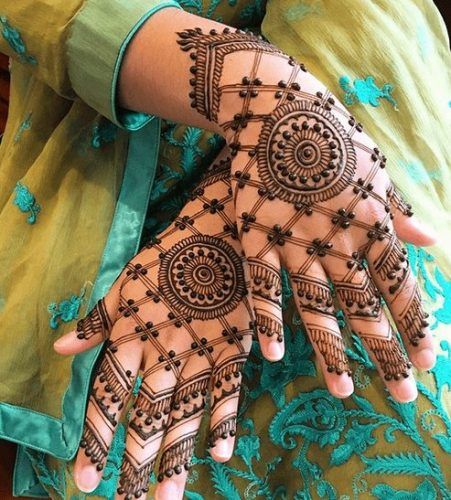 ↓ 20 – Eid Mehndi Design for Feet
This will look epic with a choori dar pajama and with anklets. Symmetry never does wrong.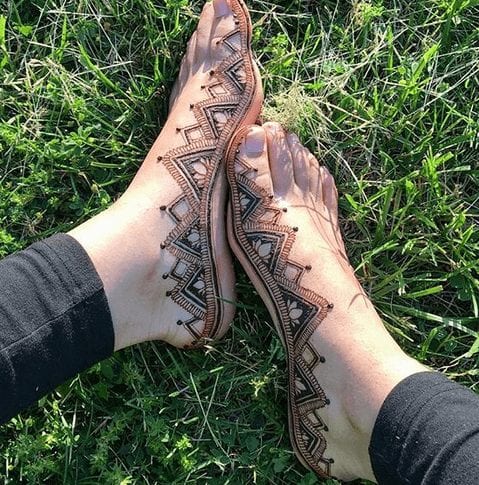 ↓ 19 – Cheerful Design
This is a beautiful design and it's wonderfully mixed.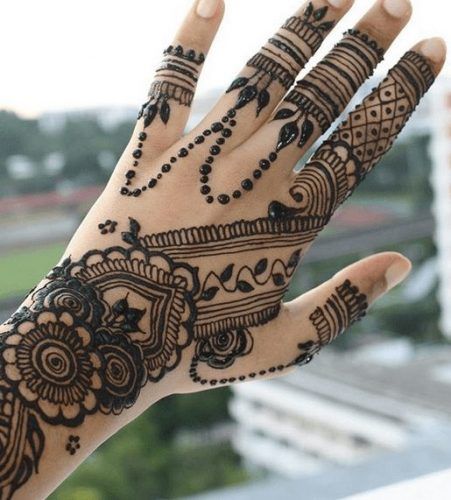 ↓ 18 – Chic Pattern
Negative space at its absolute fullest. It's bewitching to look at and you can achieve much more with much less.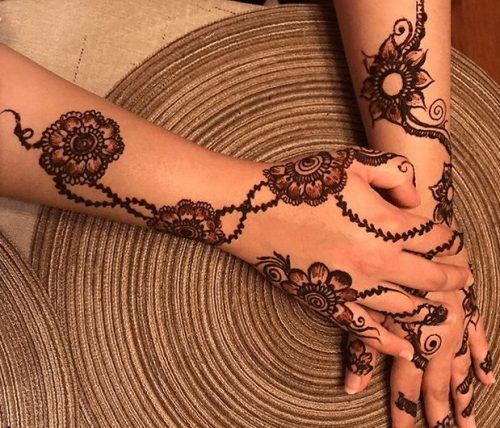 ↓ 17 – Goth Look
It's edgy and spiky and has this goth look to it that goes perfectly with black dresses.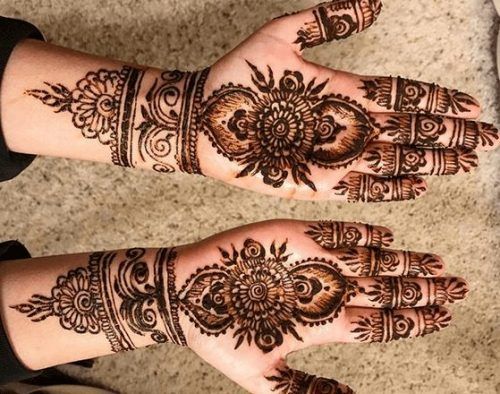 ↓ 16 – Artistic Design
The vibes are aesthetic and it is incredibly well done. It's probably an understatement. Judge for yourself.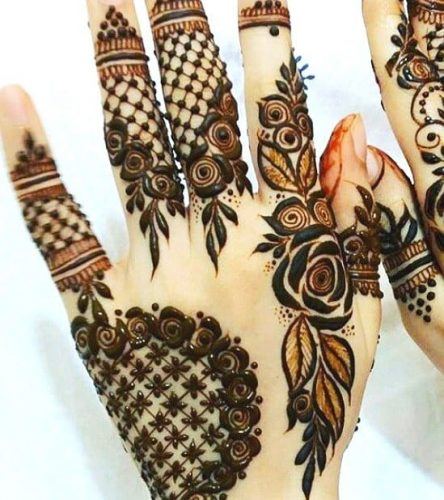 ↓ 15 – Quintessentially Eid
Traditionally gorgeous and drool-worthy, this kind of design is typical on such occasions.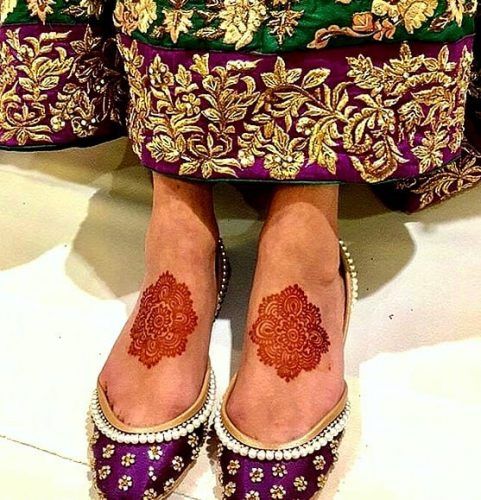 ↓ 14 – Charming Design
This is worth falling in love with. It oozes charm and magic. It's undeniably sweet-looking.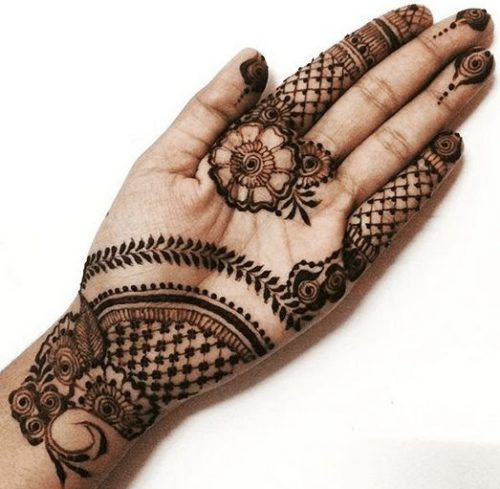 ↓ 13 – Scales and Half-circles
It's super easy to do and the result, no matter how shoddy ends up looking sophisticated. It's just a bunch of half circles that look like scales after all.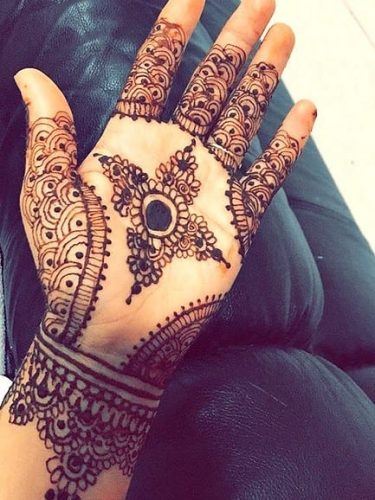 ↓ 12 – Triangulum
This symmetrical design is literally goals! Again, if you've got a steady hand, it's quite plain to do. Lines stacked atop each other and the layers in between colored in. It depicts a picture of intricacy and detail that might not even be there.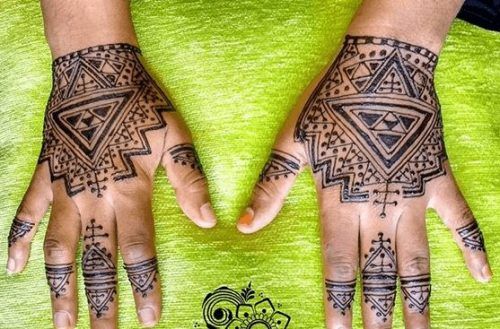 ↓ 11 – Cross-Pattern
These simple flowers criss-crossing delicately and balancing perfectly are ideal for Eid and any other festive occasion.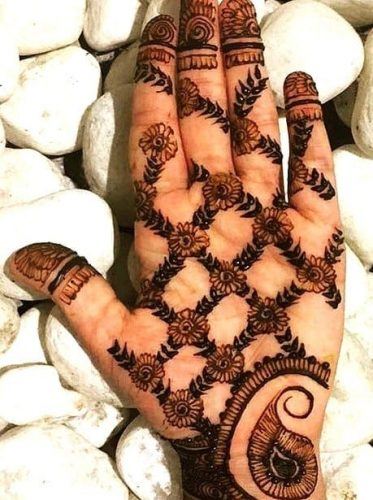 ↓ 10 – Simple and Easy Eid Mehndi Design
One of the best perks of henna is that you can use to imitate jewellery. Be it a lack of something to wear or any other reason, henna designs stand up brilliantly in place of ornaments. So if you find yourself unfortunate enough to not have the appropriate jewellery this Eid, you won't have to worry.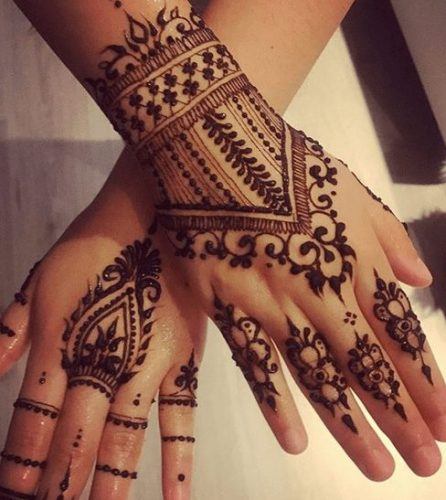 ↓ 9 – Simple Tattoo Design
Thorns, vines and roses colored in make the best tattoo. The bigger, the better.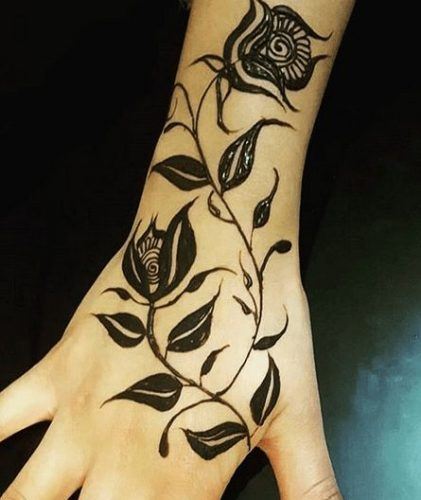 ↓ 8 – Bold Design
We absolutely love how wide and spaced every thing is! Who says only tightly packed and full designs should be the go-to ones?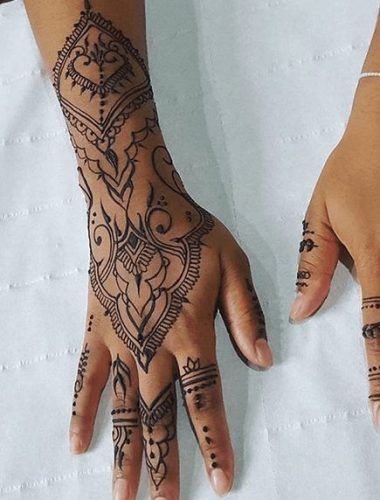 ↓ 7 – Dazzling Design
A marvelous one, minimalist, doesn't go over-board and is incredibly sophisticated. We applaud the artist for this is extremely fine!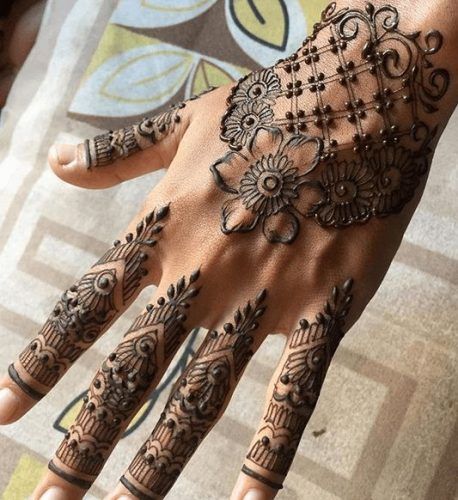 ↓ 6 – Attractive Design
It's eye-catching and simple in way you can't perceive at first glance. The main body of the design is filled with doodles and they don't necessarily have to be perfect. It'll look good regardless.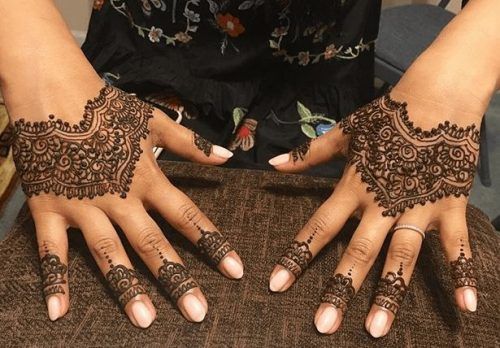 ↓ 5 – Flower Stalk
It's cute and fetching. Can be done in a very short amount of time. Handy if you're running late and want to get henna done on both hands.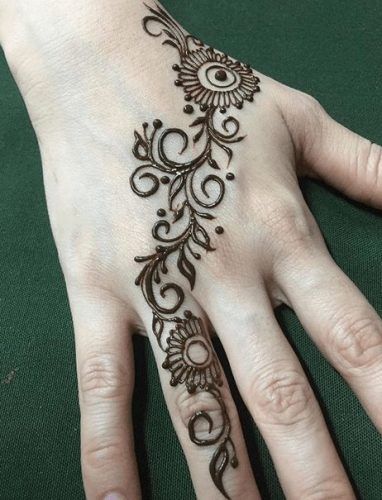 ↓ 4 – Ravishing Design
Henna artistry at its most creative, for sure. The best designs are the ones that make use of simple elements and clever techniques and still manage to look stunning.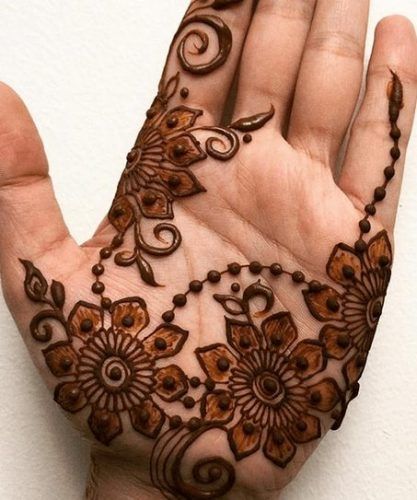 ↓ 3 – Twin Beauties
A little different but essentially the same, this pair is a must-have this Eid.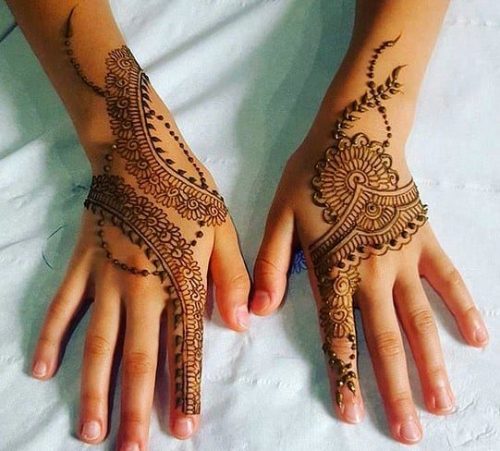 ↓ 2 – Flower Magic
Something to go with short sleeve dresses and summer vibes!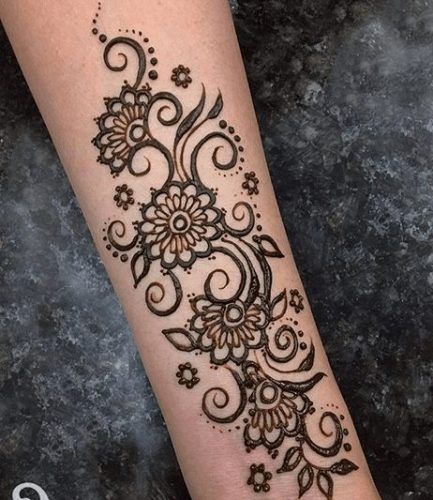 ↓ 1 – Pretty Design
Eid's all about prettiness.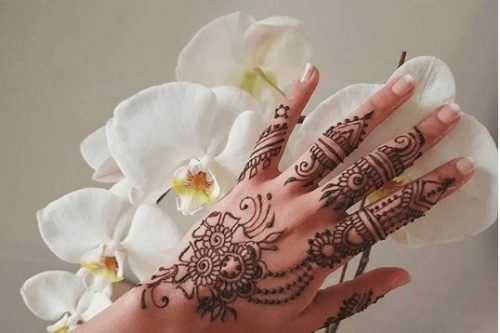 These incredible designs will complete your stylish look this Eid. We hope you enjoyed this article and found the inspiration you needed. So what are you waiting for? Get those cones and get to practice!