Foot Henna Art – The primary focus of body art has been on hands and feet for a long time. Over the course of many years, this focus has shifted to scalp, torso, legs, and neck but hands and feet are still the most popular areas women want to be decorated with henna.
Beautiful feet are just as important as beautiful hands, you don't have to have a fetish to realize that. A glimpse of henna-fied feet from beneath exquisite clothes has its own charm
In this article, we present to you 50 of the most trending henna designs being applied on feet. These are sure to be an eye-candy as well as some much-needed inspiration!
Beautiful Mehndi Designs for Feet
Check out the designs below and let us know which one's your favorite.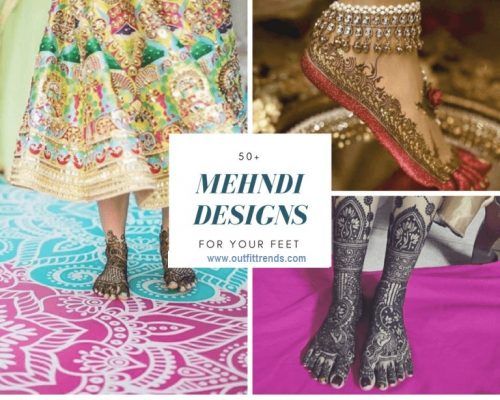 ↓ 50 – Bold Design
Kicking the list off with this gorgeously bold design. It's big and uses negative space to the fullest.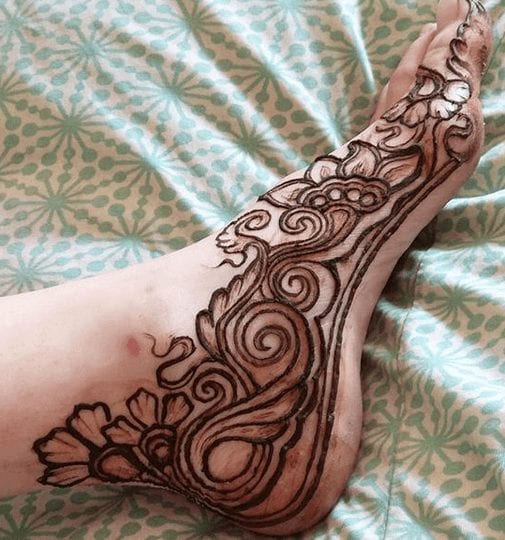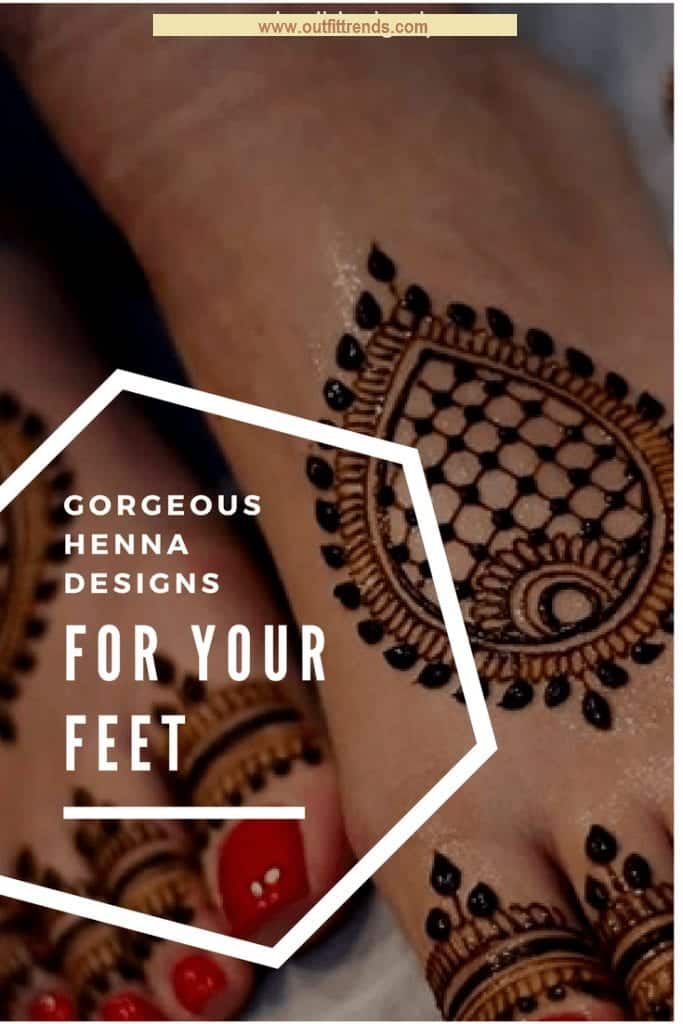 ↓ 49 – Sandal Henna
Talk about creativity! The artist molded her design so it took the shape of a sandal. It's stunning.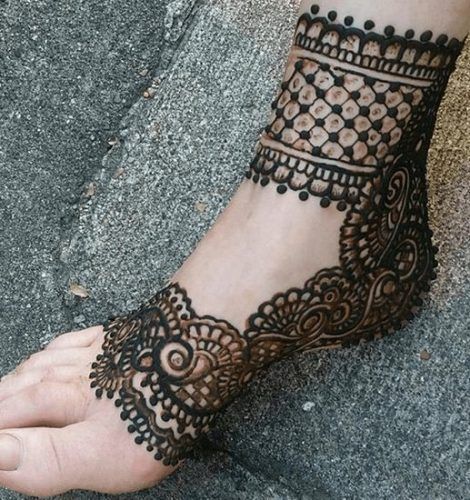 ↓ 48 – Wild Henna Jungle
The foliage seems to be erupting from the design and it is absolutely glorious.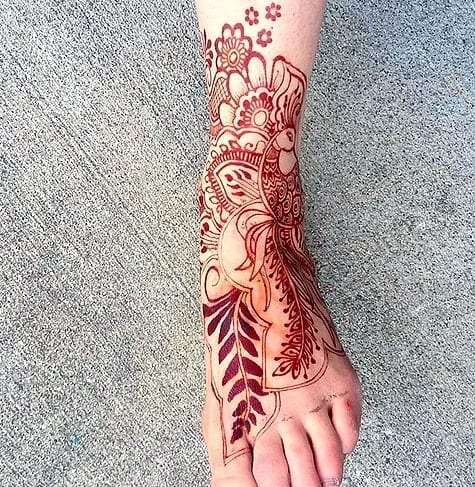 ↓ 47 – Leafy Motifs
Leaves, leaves everywhere!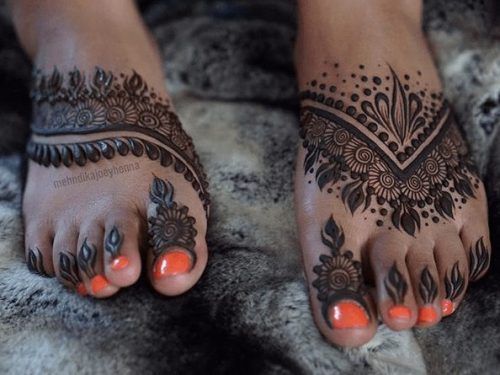 ↓ 46 – Abstract Design
This delightfully 'go with the flow' design gives hippy vibes and is unisex, so it looks great on this man's feet.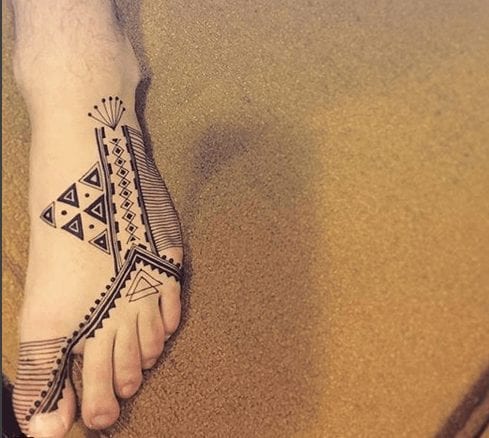 ↓ 45 – Teardrop Mehndi
Give your feet the chic treatment they deserve with this teardrop/flower blend.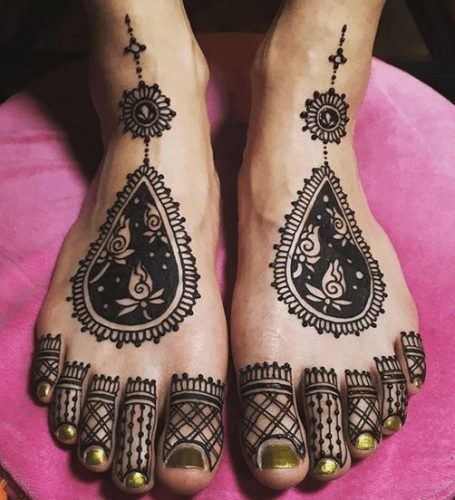 ↓ 44 – Lotus Love
Every design with a flower as the center piece has that irresistibly aesthetic look.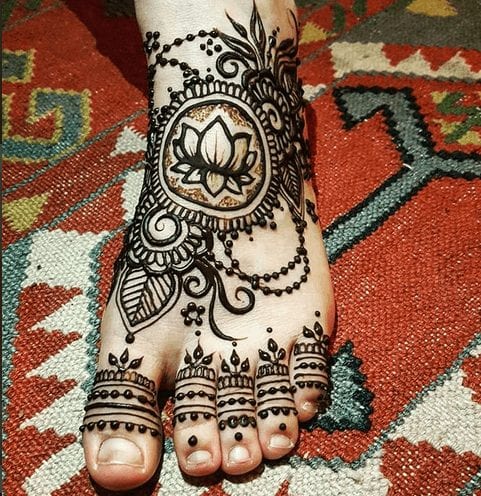 ↓ 43 – Loose Mandala
Even looking at it is therapeutic! The great thing about it is it's pretty simple so you can go at it easily.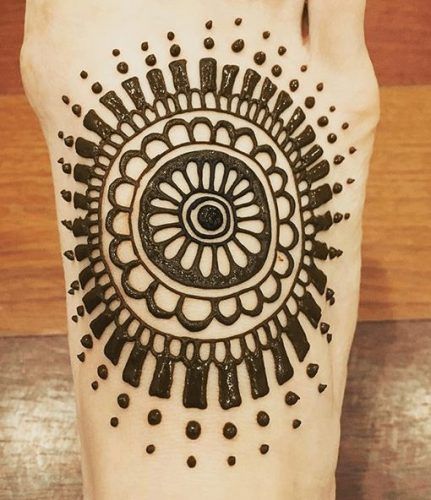 ↓ 42 – Quintessentially Indian
It's been revved up but if at a glance it looks just like Indian henna designs are supposed to look.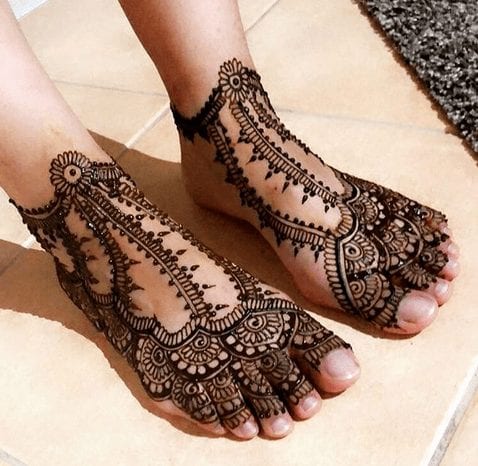 ↓ 41 – Mughal Foot Bridal Design
All feet deserve to be treated like royalty.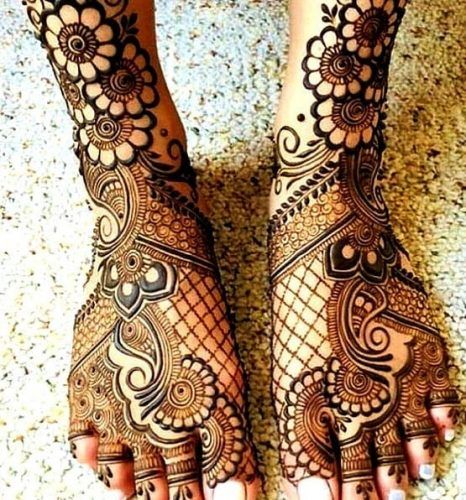 ↓ 40 – Cool and Hip
Without being ostentatious, this design succeeds in being really fancy.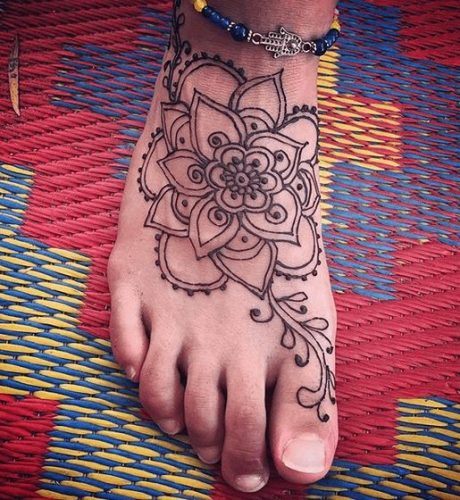 ↓ 39 – Peacock Prettiness
Nothin' like a chill looking peacock to make a design grand.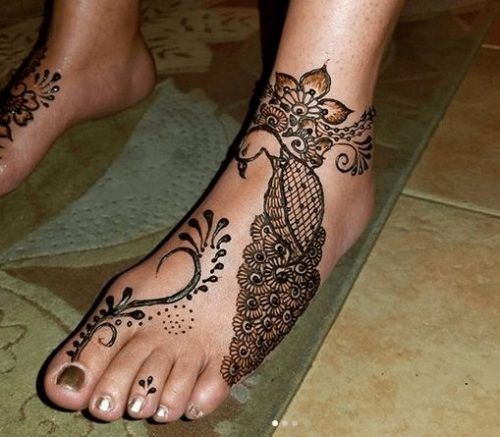 ↓ 38 – Adornment
Henna can also double as jewellery, just by the way. No big deal or anything.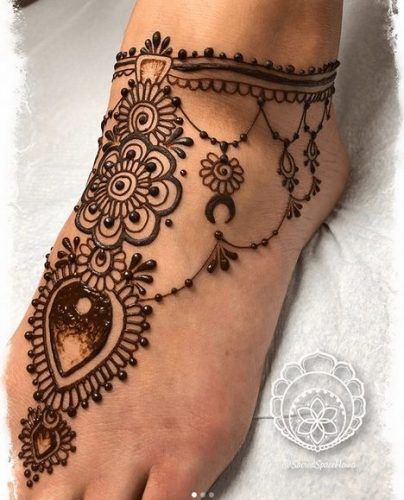 ↓ 37 – Peony Design
It's quite edgy because the rendering is realistic.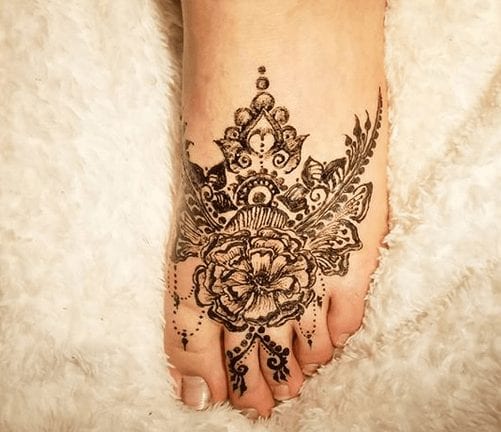 ↓ 36 – Foot Side Henna
Side designs look specially elegant and beautiful. Their position makes them more appealing.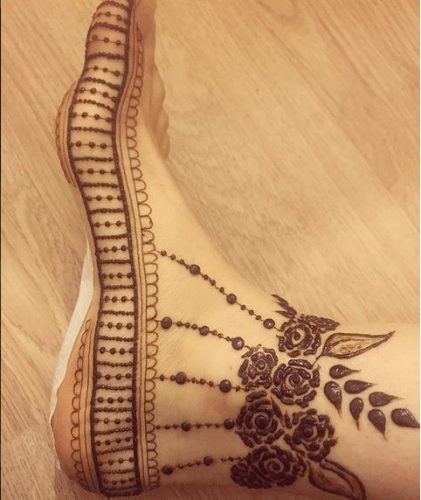 ↓ 35 – Flower Power
It's such an exotic looking design. The thick foliage is simply stunning.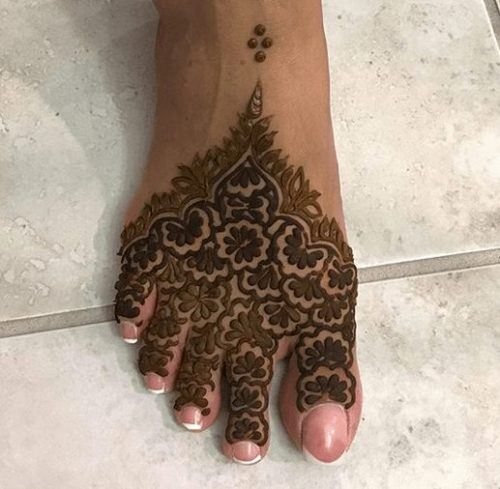 ↓ 34 – Sole Henna
This particular part of the foot deserves an entire article for itself, there are literally so many things artists have attempted with henna here.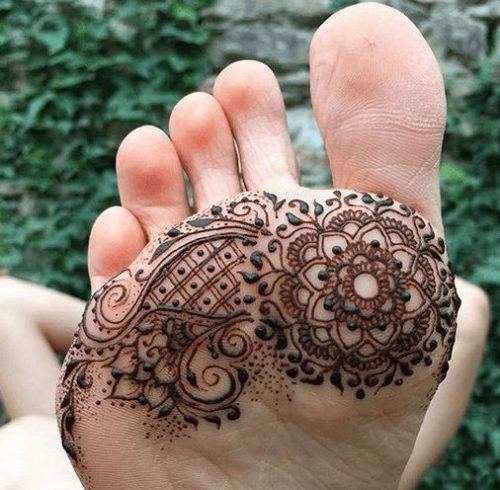 ↓ 33 – Henna Grid
Fun with shapes and symmetry leads to the best kind of designs.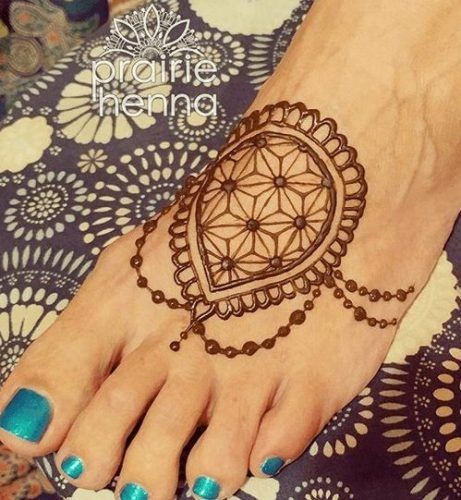 ↓ 32 – Cityscape
An entire city at your feet. Can you imagine? This is cool.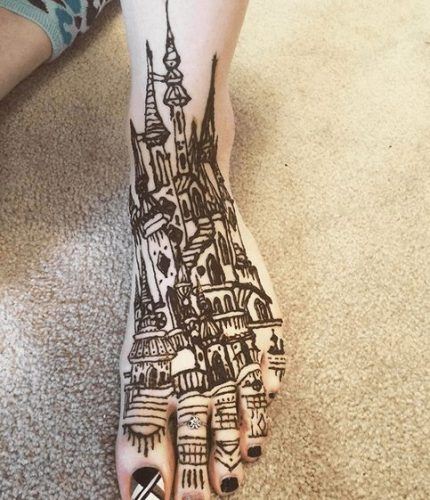 ↓ 31 – Anklet Mehndi
It's simple but it's perfectly elegant and chic.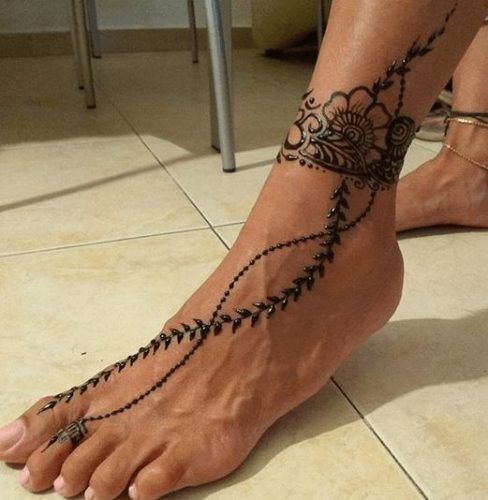 Step by Step Video Tutorial for Applying Mehndi on Feet
↓ 30 – Square Blocks
It's wonderful and a great choice if you want matching feet designs.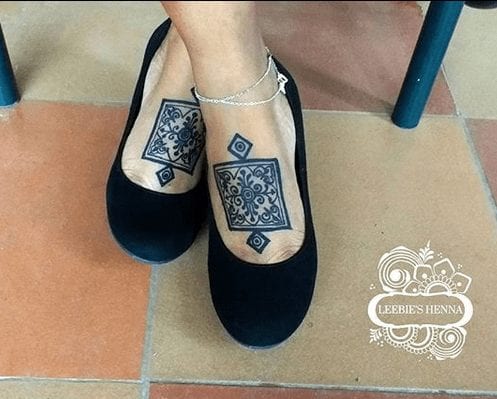 ↓ 29 – Cute and Easy Mehndi Design for Feet
If you want something effortless but cute at the same time, this is what you are looking for.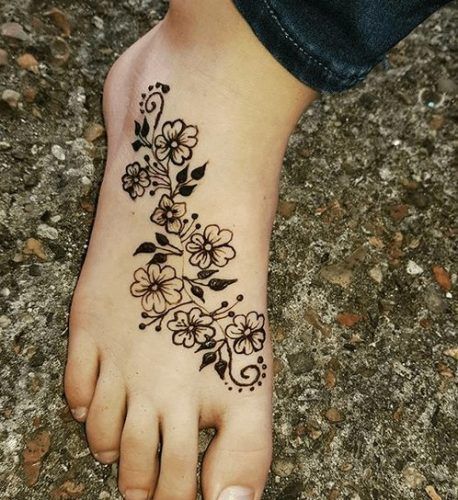 ↓ 28 – Quirky Bloom
It's unusual and attractive. Flowers and half-moons are a popular combination among henna lovers now a days.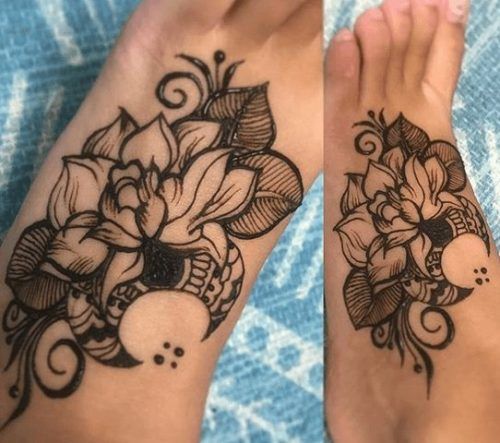 ↓ 27 – Lovely Centered Motif
Quick, big, pretty and neat, all things you could ask for.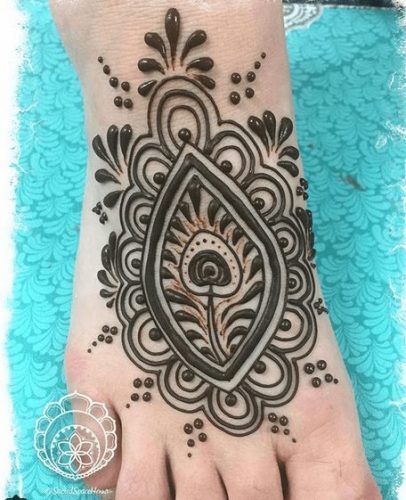 ↓ 26 – Half of Hearts
How incredibly delightful is this clever piece? The two-parted designs are ideal when you want the same thing on both hands or feet, why not get something that connects?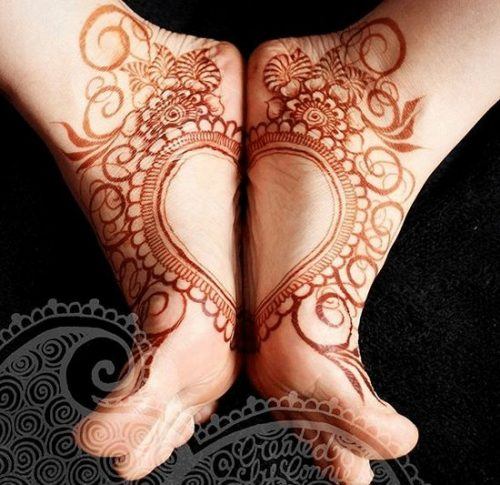 ↓ 25 – Creative and Inspiring
This is a design built around an actual tattoo! It's superb and imaginative.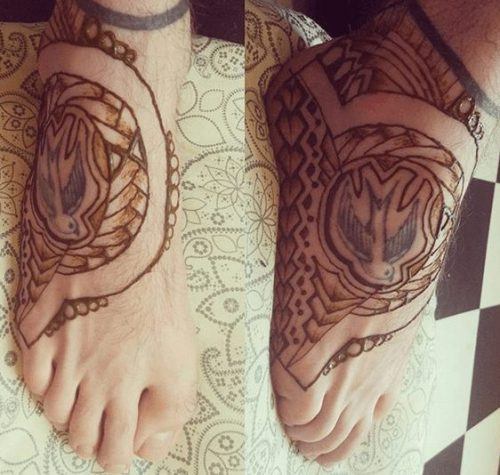 ↓ 24 – Magicked!
This petite and pretty looking design is one great recipe for happy feet!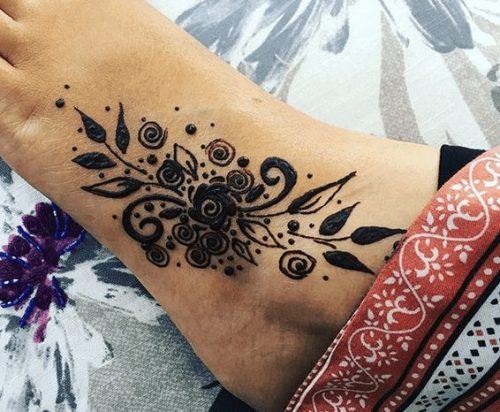 ↓ 23 – Sensual Feet
Red nail polish, oiled feet and a super simple and quick henna design is what it takes.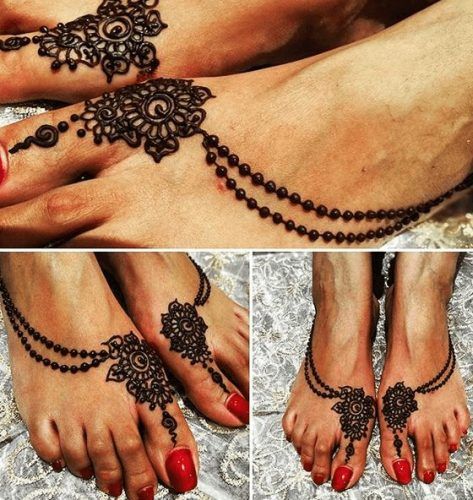 ↓ 22 – White Henna
As is our tradition, we always include one white henna design.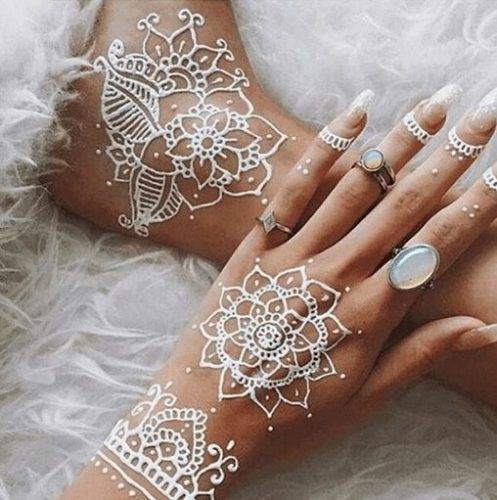 ↓ 21 – Festive Design
You can choose a design that complements your choice of footwear.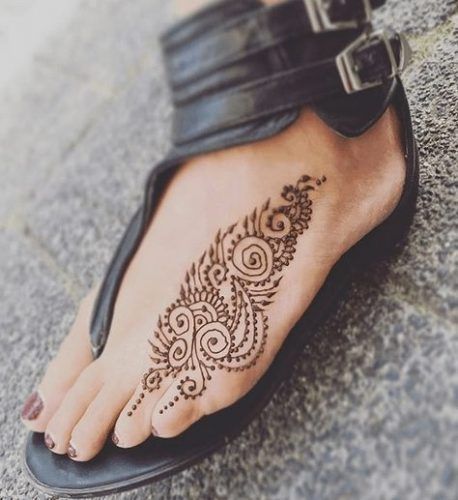 ↓ 20 – Dreamcatcher
It's catching design that has certainly caught on with henna artists. Wink wink.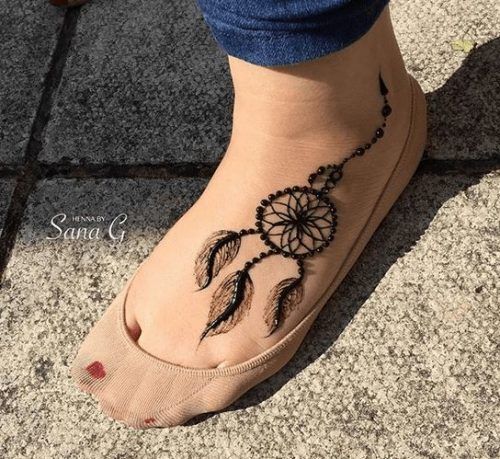 ↓ 19 – Hamsa Henna
It's a very specific piece that has symbols of different kinds like 'hamsa' and 'adinkra'.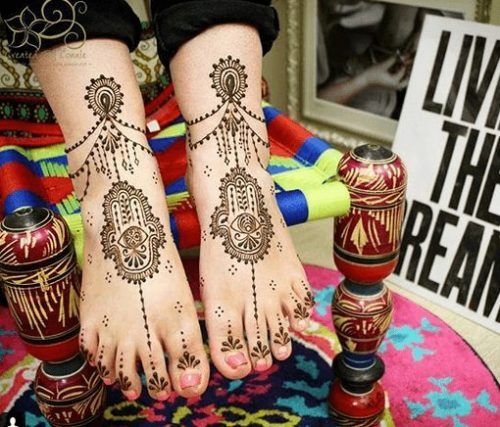 ↓ 18 – Beach Feet
This feathery frond design is the perfect look for a day out at the beach. It has just the right amount of lightness and festive vibes coming off of it.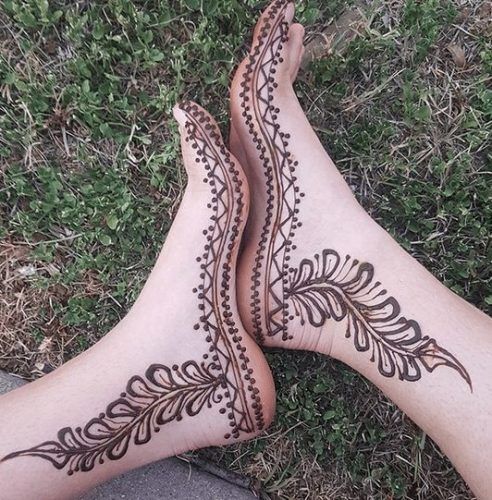 ↓ 17 – Mehndi Slippers
After sandals, here come the slippers!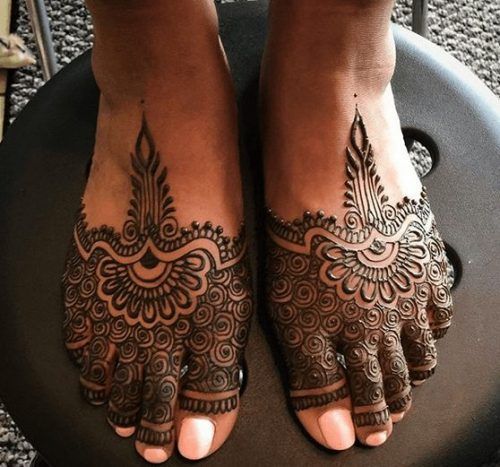 ↓ 16 – Symmetrical Henna
This is one of the unisex designs, it looks good on both men and women. And actually, some of the tags on this Instagram post are #malehenna and #manlyhenna.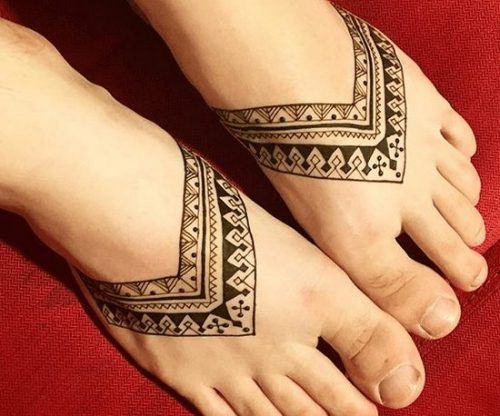 ↓ 15 – Bony Feet
You can't get any cooler or hippier than this. You just can't.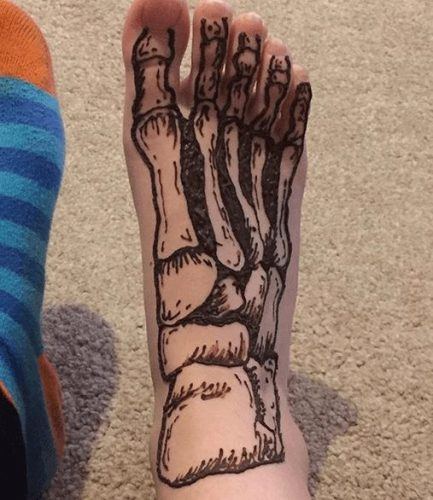 ↓ 14 – Fun Flower
It's a sun encased in a flower and filled with doodles. So technically, it's a sun flower, only it is more fun than the usual one.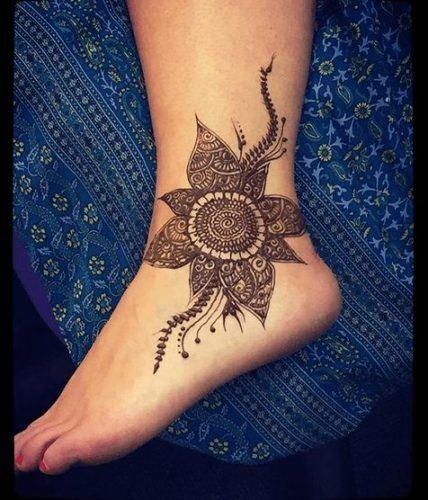 ↓ 13 – Style is the Key
The key to every successful look is being as classy and stylish as possible. Well, it doesn't get any stylish than this.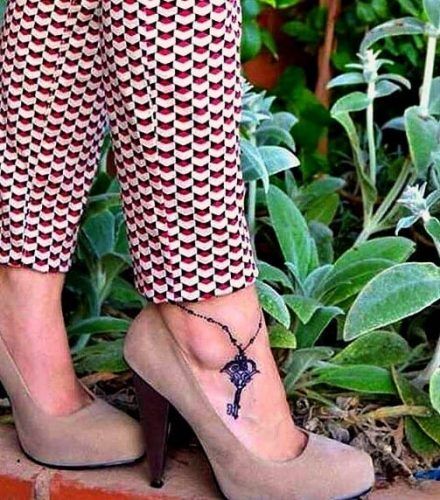 ↓ 12 – Hodgepodge
We love how tangled up and jumbled this is. It isn't very imaginative but the compactness makes up for it.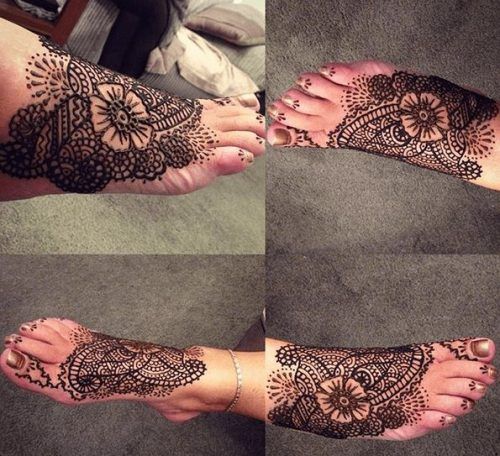 ↓ 11 – Classy Design
The layout is incredible, the use of negative space is inspiring and the border is borderline sexy. We love it!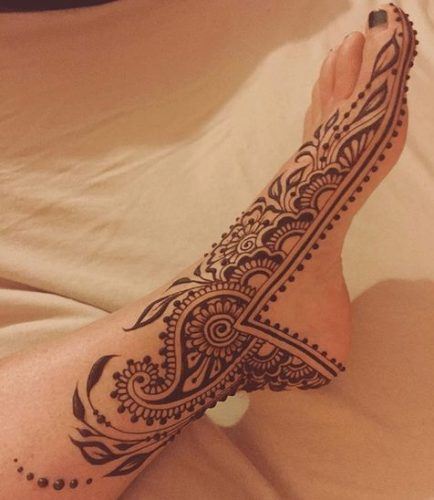 ↓ 10 – Sparkles and Stars
What an absolutely adorable design!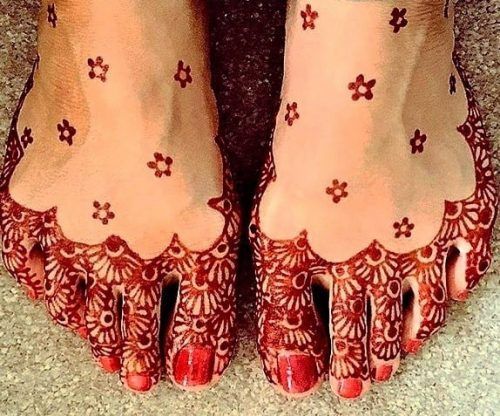 ↓ 9 – Rosy Beauty
As pretty as they come, this design featuring roses and leaves and pearly lines is ethereal.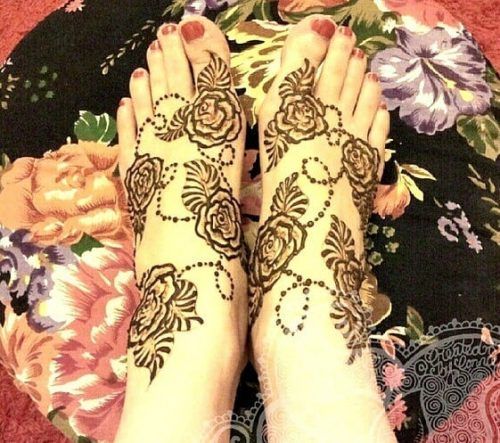 ↓ 8 – Amazing Floral Design
This band of flowers on just the side of the foot is particularly striking, wouldn't you say?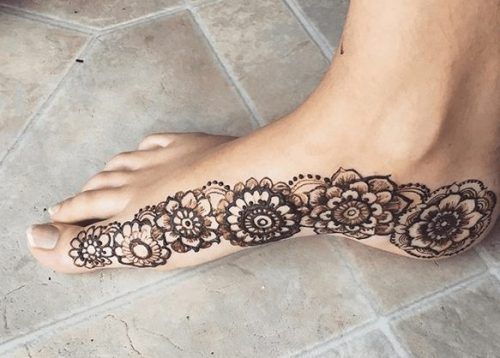 ↓ 7 – Spectacular Henna
It's incredible and delectable and totally wowzah!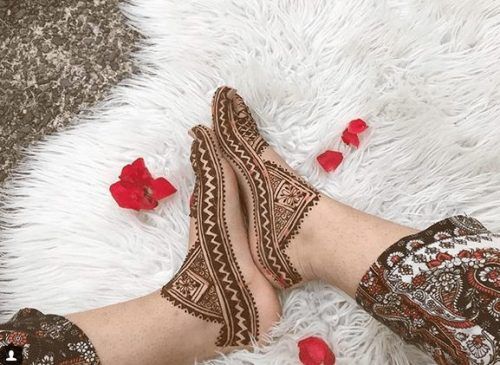 ↓ 6 – Leafy Henna Anklet
We can't begin to describe how classy and chic this looks! A must-have for sure.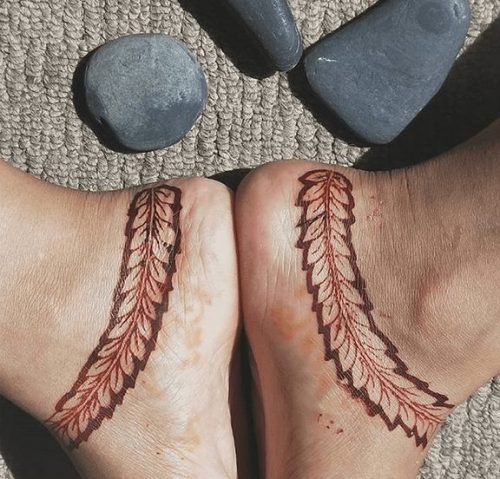 ↓ 5 – Silly Feet
The beauty of henna art is that even when the strokes aren't neat or the design itself isn't ingenious, the end product ends up looking beautiful anyway.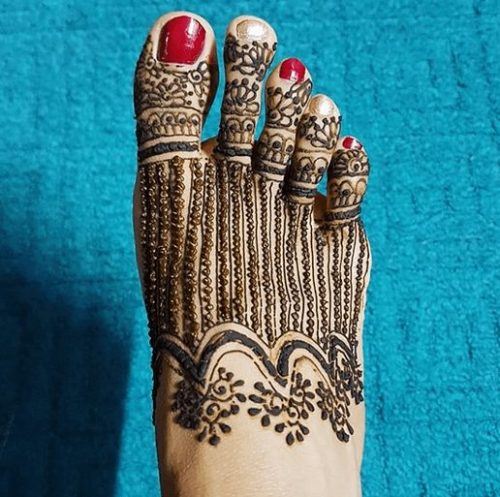 ↓ 4 – Twin Mandalas
Mandalas are love, mandalas are life.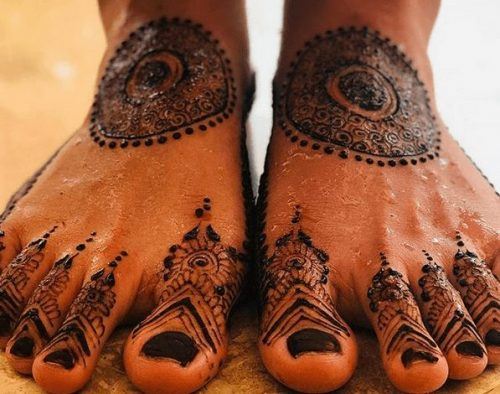 ↓ 3 – Charming Motif
This small flower and feather design is a great choice for formal occasions.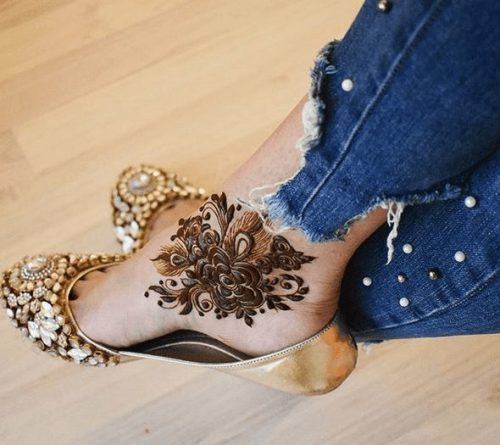 ↓ 2 – Fantastic Tattoo
This design has such crazy elements all mixed up together. It's refreshing!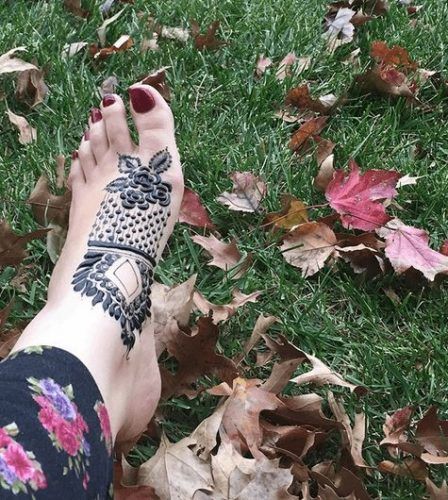 ↓ 1 – Reverse-fill Goodness
Jaw. Drop.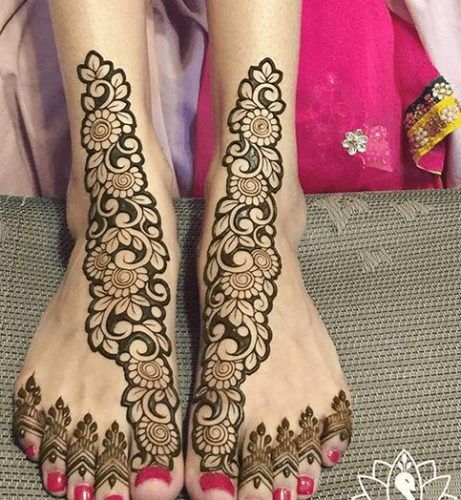 So here we are, as promised. Plenty of henna inspiration to get you started. If you liked this article make sure to check out our other henna articles, those are bound to get you in the mood and give you some much-needed mehndi boost.