Bangle Mehndi Designs – Bangles are sometimes turned to be heavy and difficult to handle therefore there is a new trend of mehndi design in the market that's The Bangle Design mehndi which is getting a lot of fame this year. It is a  type of design that usually covers the wrist in a way that resembles the real bangle which is in a circular shape with simple to intricate designs.
These design can be studded with diamonds, gems, pearls and all other glittery stuff that will add more beauty to one's wrist. Women's who don't like wearing bangles or not interested in wearing them on special occasions they can opt this type of mehndi design. This article brings forward 30 most inspiring  Mehndi Designs.
Latest Bangle Style Mehndi Designs
↓ 30 – Geometric Ethics
↓ 29 – Sudnases Spirals
Step by Step Video Tutorial for Bangle Mehndi Design
↓ 28 – Geometrical Vines
↓ 27 – Floral with Geometric
These Bangle design with mehndi are the latest trend that is very elegant and fashionable. These type of mehndi design look quite simple to design but as they are the best alternative to the bracelets so one should be cautious while design them. Brides and bridesmaids are preferring these bangle mehndi designs to look stylish and up to date.
The Bangle design in the photo below covers half of the hand and this design is a mixture of geometrical lines, spirals, and florals that makes the overall design quite good.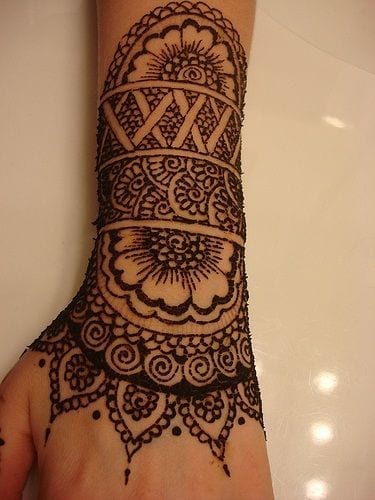 ↓ 26 –  Blooming Flowers
↓ 25 – Lined Semi-Circles
↓ 24 – Leafy Dotted Vine
Young girls are mostly in search of designs that are unique as they want themselves to look unique and modern. This bangle design in the photo below I bet girls wouldn't resist. Doesn't this bangle design look like gold chain attached to the bracelet? This leafy pattern makes this design an intricate design,  the bangle design around the wrist, the smaller motifs and leaflets around the nails just add scores to this bangle mehndi design.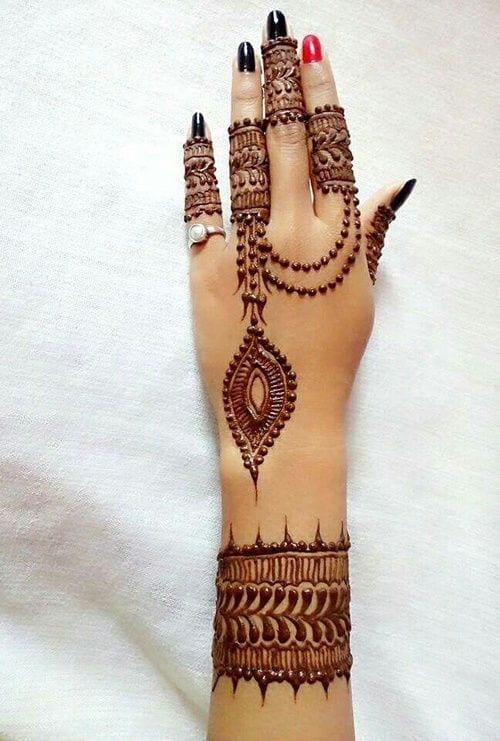 ↓ 23 –  Embroidery Intention
To have a traditional look as if one is wearing an artificial bangle so this design in the photo is patterned very well in a way that it holds up small versatile patterns together so well that gives a complete embroidery texture while maintaining the traditional look. It's never a compulsion to cover a full backside of hand in order to keep the focus on the bangle design as in the photo below. Keep in mind that the fingers have also played an important role in beautifying the appearance of the hands.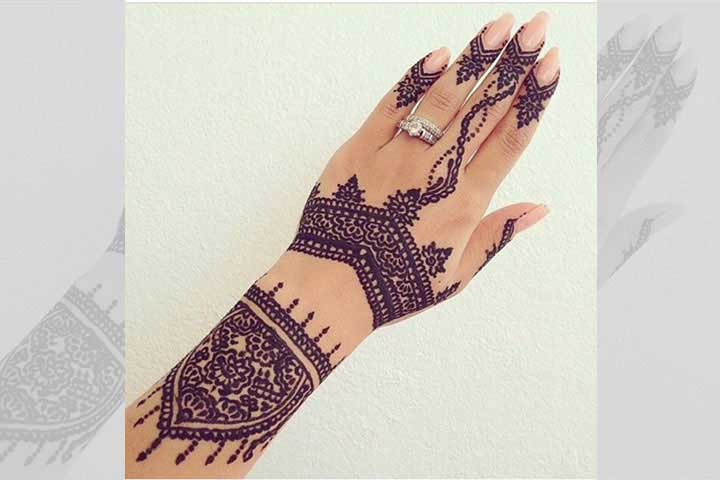 ↓ 22 – Elegant Leafy Vine
↓ 21 – Abstract Style
The beautiful Bangle Designs in the photo below is giving all the focus on the bangle and only on middle finger ring design is patterned with mehndi similar to the bangle design. One can leave the entire hand empty with the abstract style which gives the tattoo look as in the designs in the photo below. These designs are unique and beautiful. One can add jewels, gems, and glitter in these designs in order to enhance the beauty of one's hand.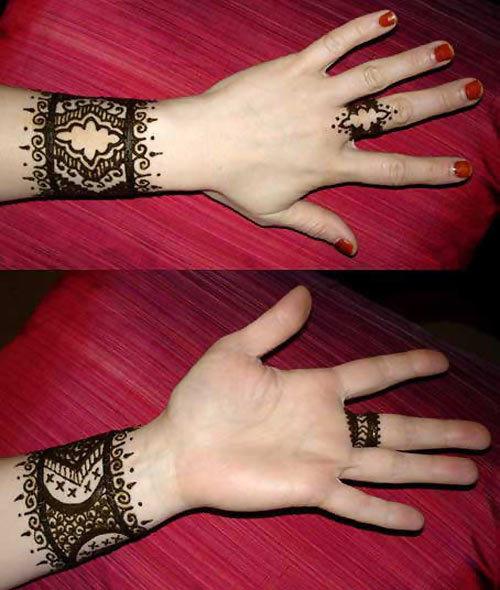 ↓ 20 – Men Full Coverage
Mehndi designs are not only for women, men can also get hold of them. The bangle design in the photo below is men's wrist which is covered with small versatile patterns that are giving men a modern look. If men start to follow this new latest trend then in this way, the tattoo will get the replacement of these type is mehndi designs which are more beneficial scientifically.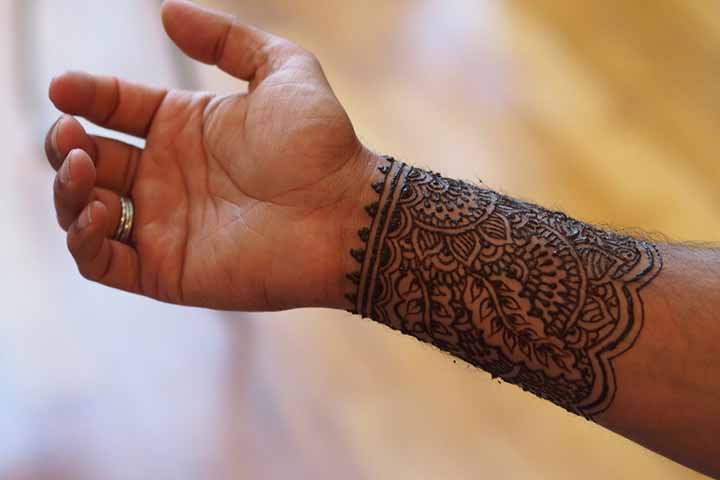 ↓ 19 – Rose with Dotted Net Style
↓ 18 – Unique Dotted Design
Most youngsters don't like heavy and trendy bangle mehndi designs they want mehndi designs that take less time, not traditional, with all this also unique. Therefore the bangle design in the photo below is perfect for the youngsters with these preferences. This bangle design can be carried on in informal to formal gatherings as it's not a heavy bangle design. Whoever opts this bangle mehndi design will look graceful and elegant and for girls who want to have a simple plus trendy, but also want a touch of traditional look then they can also opt this unique bangle mehndi design. One can also give it a try themselves as its less time consuming and simple. For beginners, I would recommend this bangle design.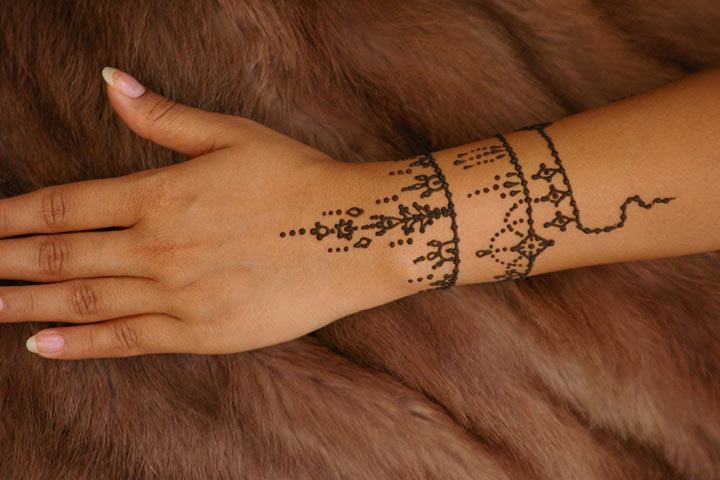 ↓ 17 – Paisleys
The bangle design in the photo below can be opted by girls who are really not a fan of wearing bangles or have allergies with real bangles, so they can be patterned this bangle design for their ritual weddings and parties. This fabulous design covers the entire arm in parallel lines paisleys that give the look as if one is wearing bangles.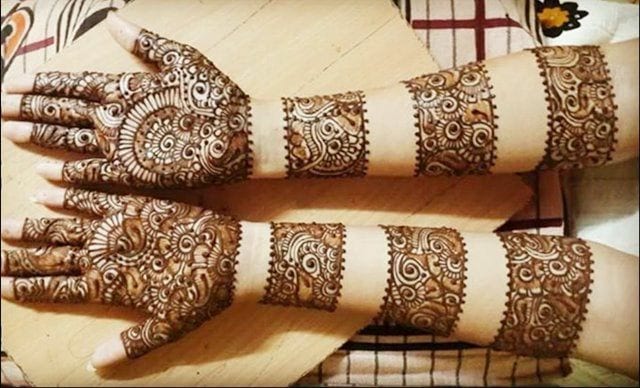 ↓ 16 – Triangular Tikka Style
This Triangular Tikka Style bangle mehndi design in the photo is adding a lot of beauty in one's wrist to hand. The design is a mixture geometric shapes. With sophistication, this design is patterned around the wrist which becomes the point of attraction of the viewers and gives the arm to hand elegant look.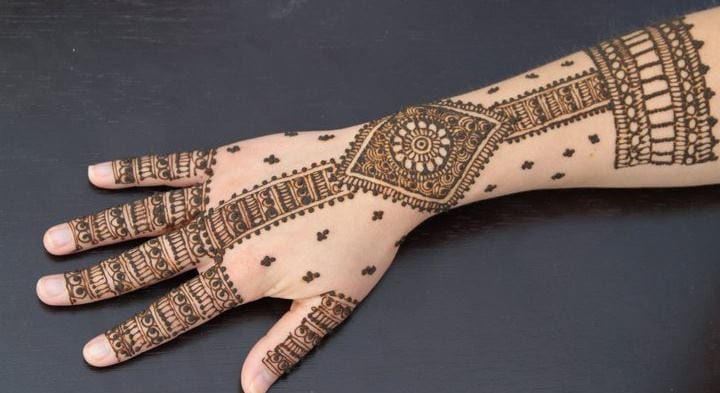 ↓ 15 – Intrinsic Bangle Design
↓ 14 – Be Edgy with Leafy Vine
↓ 13 – Chain with Floral
The bangle design in the photo below holds florals, paisley with a dotted chain going to the index finger so well that it gives a look as if one is wearing real jewelry. This type of amazing bangle mehndi designs is continued till index fingertips that make a complete magnificent look.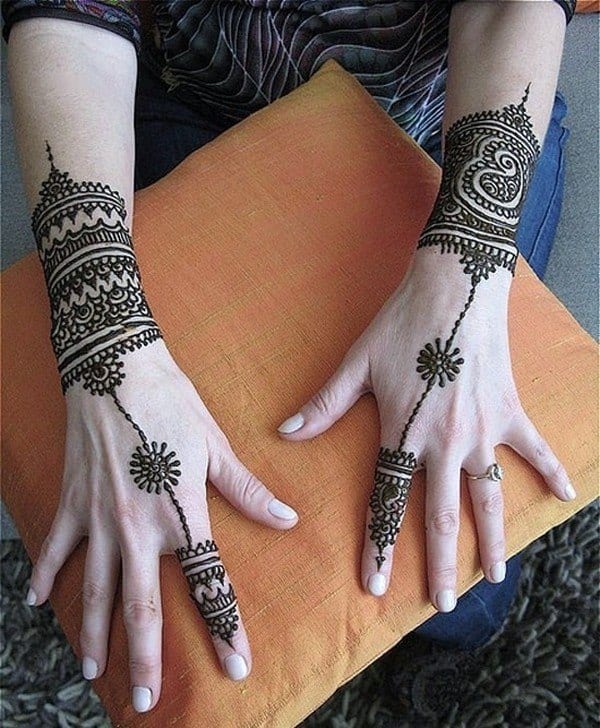 ↓ 12 – Dotted Hexagonals
↓ 11 – Symmetric Semi-Circles
↓ 10 – Dotted Check
↓ 9 – Spirals with Petals
↓ 8 – Shaded Lines
The Bangle design in the photo below is mostly opted by girls for wedding festivities or for some traditional events. This design is similar to Gujarati Bangle mehndi design. It gives ones hand a quick heavy traditional look.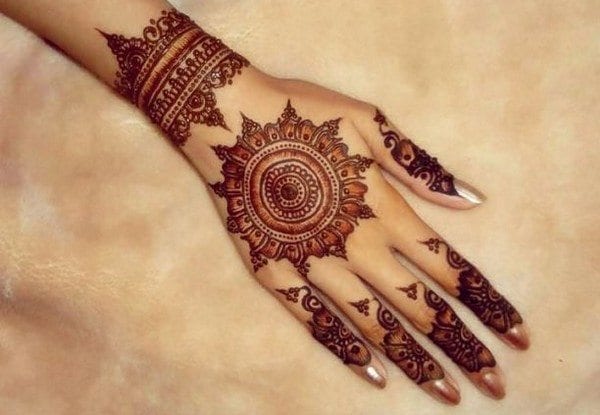 ↓ 7 – Diamonds with Lines
↓ 6 – Dotted Lines
↓ 5 – Red Rose
↓ 4 – Arrow with Diamond
↓ 3 – Lacy Style
The bangle design in the photo below can be opted by young girls who like to wear lacy bracelets all the time. This design will give one simple and elegant look. One can flaunt with this style as its also giving an edgy look.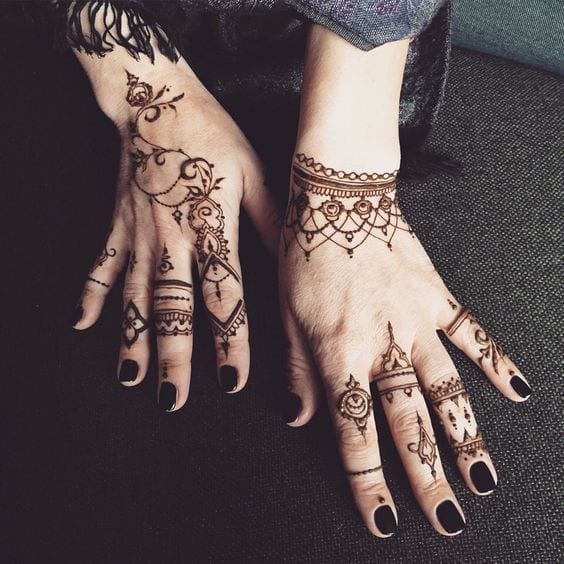 ↓ 2 – Right Angles
Ethnic style with right angle bangle mehndi design, this design is simple and awesome. With this bangle design, one can have a trendy plus fashionable look.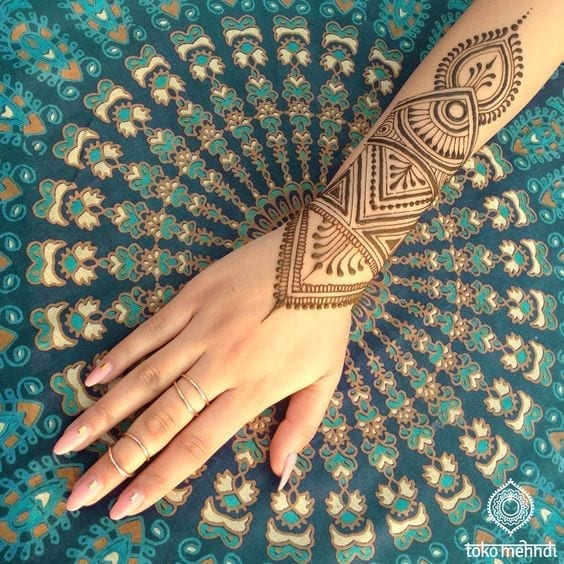 ↓ 1 – Crescent with Arrow
The fabulous bandle design in the photo below is one unique design with an arrow and crescent. The striking lines and curls in the design are beautifully done which together all give this bangle design a very stately look. Girls can opt this design for enhancing the beauty of their wrists.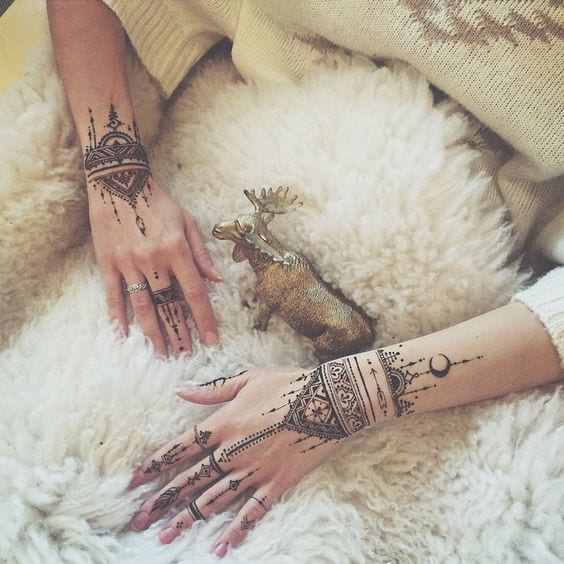 Do let us know what do you think of our collection and what else you would like to see.