How to wear a choker necklace. As a choker wearing girl myself I know what it is like to be stood in front of the mirror trying on multiple chokers before settling for one which works with your chosen outfit. I can be going through at least 3 numerous times before saying to myself 'Yep, that's the one'. Although it should be known to all women that choosing an ideal choker is not hard at all and 9 times out of 10 it just comes down to personal preference, or just settle for either a little black number or go for the neutral gold.
Chokers can sometimes be mistaken for being just an alternative or gothic accessory however this is completely false. There is a huge array of styles which chokers can be worn in from goth to boho. Chokers are available in so many different shapes, fabrics, metals, styles, patterns and colours that any fashion style can be accompanied by them. Why not have a go at making your own chokers to suit your own personal look? I have made several of my own chokers. It makes them more 'you'.
Best Outfit Ideas to Wear with Chokers Necklaces
Also see : [highlight]15 Ideal Outfits To Wear With Statement Necklaces All Season[/highlight]
So where do you start with selecting your choker necklace? What chokers are for which styles? And can any woman pull of a choker? This post contains 20 great ideas on how you can use a choker necklace as a perfect addition to your outfit. So here are 20 Great Ways To Rock A Choker Necklace
#20- Coachella Style
Black and white style with black crop top, white denim shorts and black ankle boots. Simple loop choker goes perfectly with this outfit.
via
 #19- Rock Chick Style
I love this look. Black crop top with red velvet skirt. Pair these garments with black velvet choker with sun pendant and studded bracelet for a rock look.
via
Isn't the crop top with velvet skirt an amazing outfit? For some more such ideas, check out [highlight]Crop Top Outfits- 25 cute ways to wear crop tops this season[/highlight].
 #18- Sophisticated Spring Style
Black and white polka dot blouse with simple pink pencil skirt. A black buckle choker adds a touch of attitude. Perfect business woman style.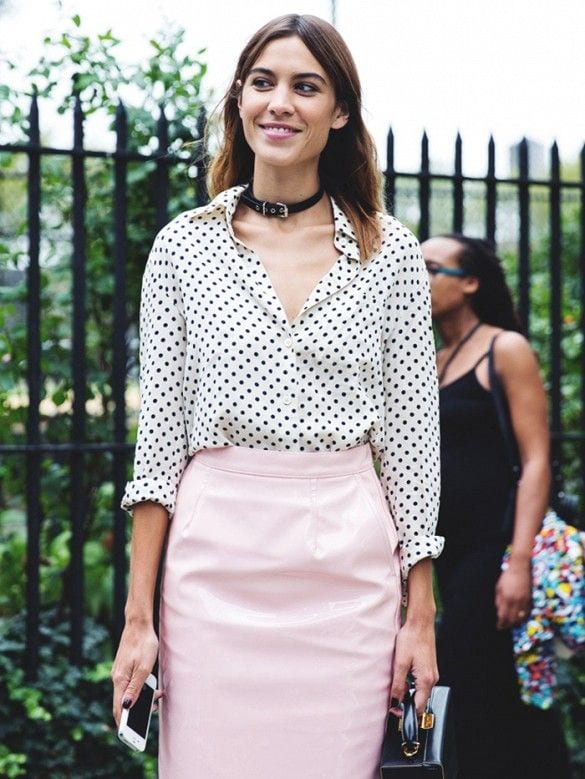 via
 #17- Casual Summer Look
Simple grey tank top with plain white denim shorts is given a sophisticated edge by adding a wide metallic choker.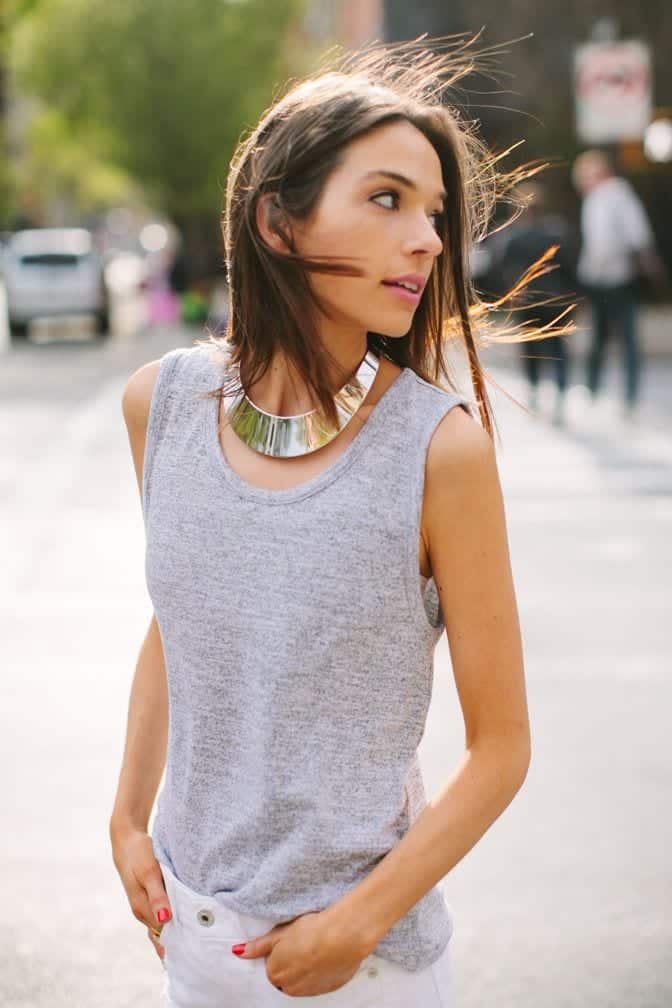 via
 #16- Hot Casual Outfit
They say less is more. A white deep V top with black skinny fit jeans and oversized bag. A gold knot choker adds extra shine and style to this outfit.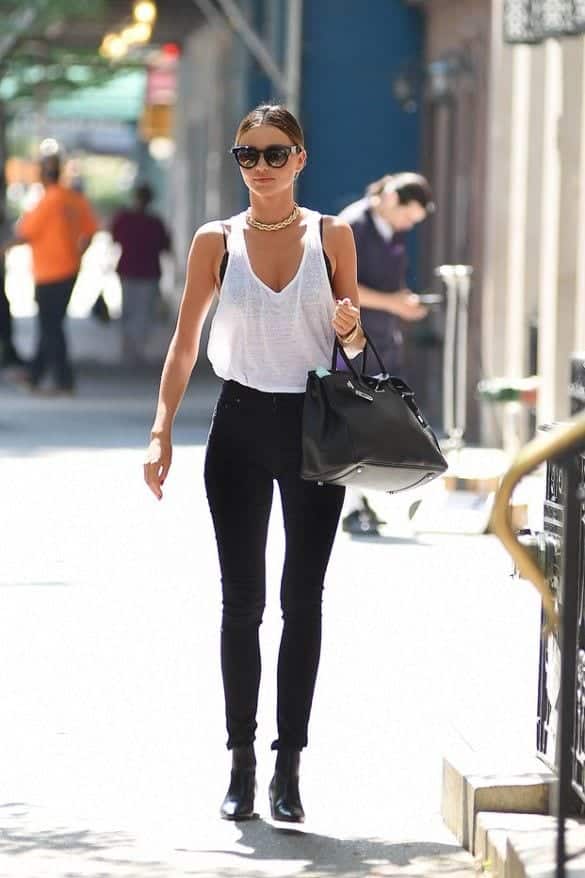 via
Also have a look at these amazing [highlight]Season's 12 most hot casual outfit combinations for girls[/highlight].
 #15- Grunge Style
White 3/4 sleeve crop top with a plaid overall dress. Black beanie, doc martins are great for a grunge look and this style is completed with a spiked collar/choker.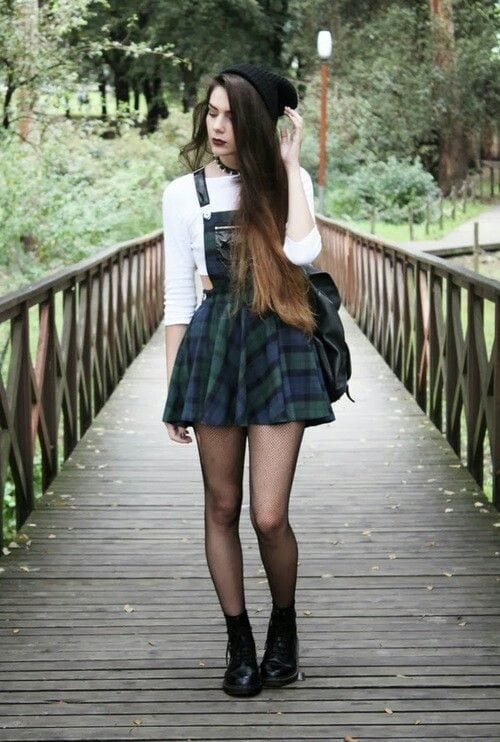 via
 #14- Coachella Boho Look
Love this style. Black off the shoulder top paired with amazing patterned shorts. Wide rim hat and doc martins look great and the whole style is finished with a simple tattoo choker.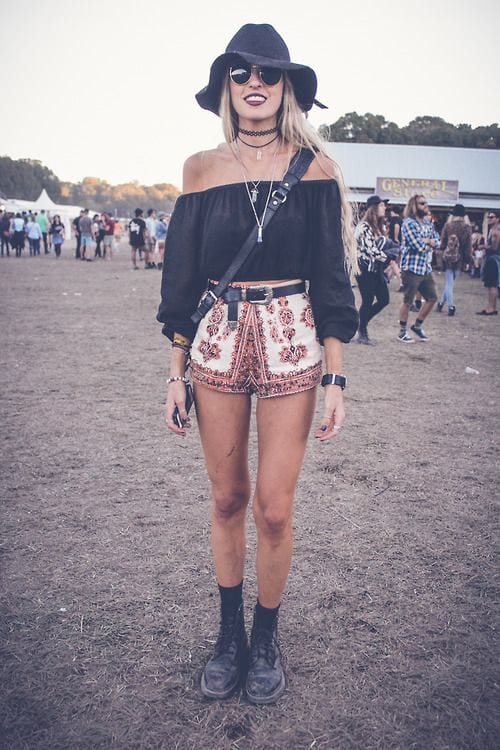 via
#13- Giovanna Battaglia
Burnt orange dress with brown sarong. Match this outfit with gold bracelets, clutch bag and a beautiful three reef knot choker.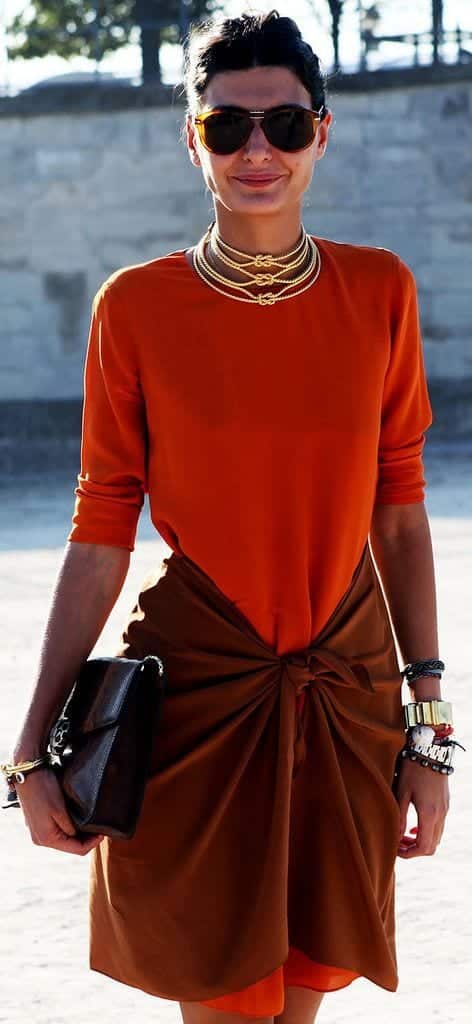 via