Gorgeous celebrity eye makeup ideas – Celebrities always get praised for their beauty but makeup plays the most important role in it. They go through a lot of procedures which makes them look gorgeous. Whether it is an army of makeup artists, hairstylists, plastic surgeons, and personal trainers behind their beauty. People who get inspired by the celebrity's makeup and want to look good tend to follow the makeup tips as they don't have enough resources that can make them look like a celebrity all the time. Today we can help you to look and feel your best, with a minimum effort.
Celebrities keep changing their look and do a lot of experiments with their beauty products. The most simple and quick way to change your look is by changing your eye makeup, lets's have a look, at how these gorgeous celebrities have been rocking on with their latest eye makeups trends. With a close look at their eyes, you can get a fair idea of their eye makeup secretes and you can try these to look as beautiful as them. Celebrities love experimenting with beauty products and makeup. Therefore they know what looks good on them. Check out the eye makeup trends they have been following lately.
How To Do Eye Makeup Like Celebrities?
Those who are inspired by the heavy smoky eyes can follow the tips of Megan Fox's softer version. She looks gorgeous with a little effort. The eyes present a very sultry effect. You can line the inner rims with black or brown liner. That would be the best choice to make an eye look presentable. You can also smudge along with the top outer corners with a black shadow. Use the black, silver, and light blue eye shadow and line the lower lashes area with it. Use a flat brush for this.
For the enhancement of the overall makeup, you can apply red lipstick. It will give a more classic look. You can use a pink blush over the cheeks to give a natural look. Nars would be the best option for the cheek. With all these tips you can achieve the most classic celebrity look. Time to transform yourself from a boring look to a gorgeous celebrity look. For the eyes do not forget to use an eyeliner, mascara, and a kohl pencil. I hope you will experiment with celebrities' eye makeup looks on yourself. We have arranged the images of the famous celebrities from whom you can take a lot of inspiration for the eye makeup ideas.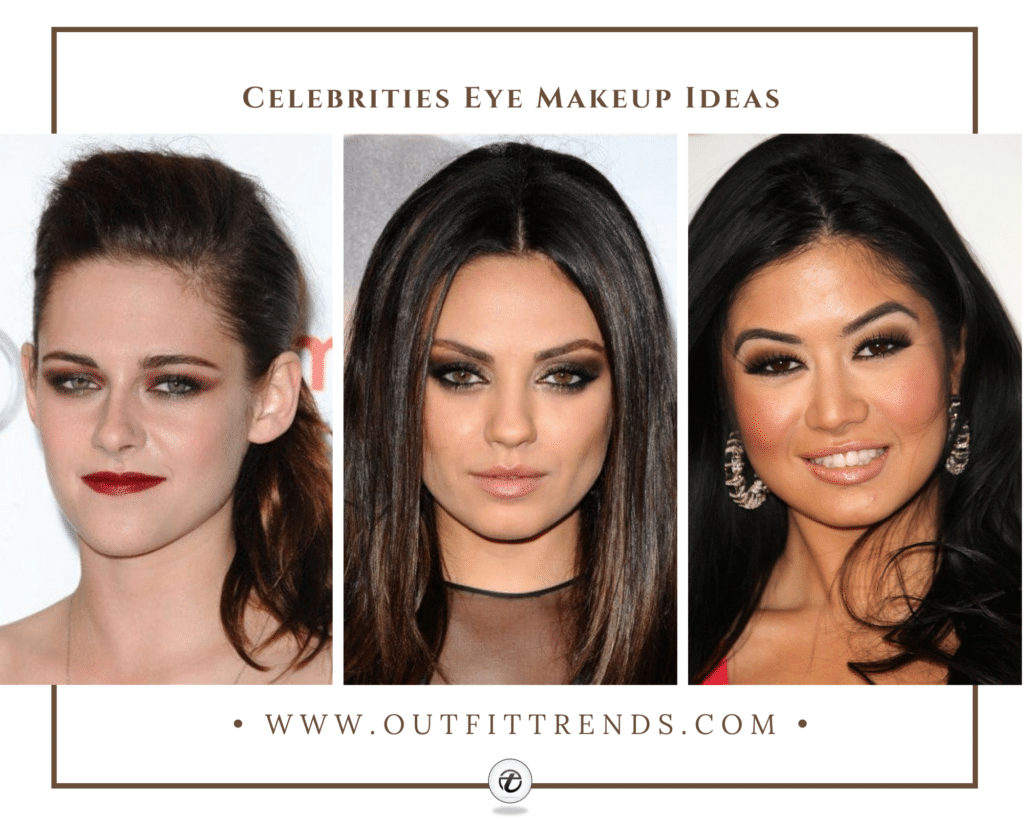 Tips For Doing Flawless Eye Makeup
Prime your lids before starting the makeup.
Start your makeup with light shades, if you are a beginner.
Curl your lashes or apply fake lashes to make your eyes look bigger.
10 – Kim Lee's Smokey Eye Makeup With Nude Lips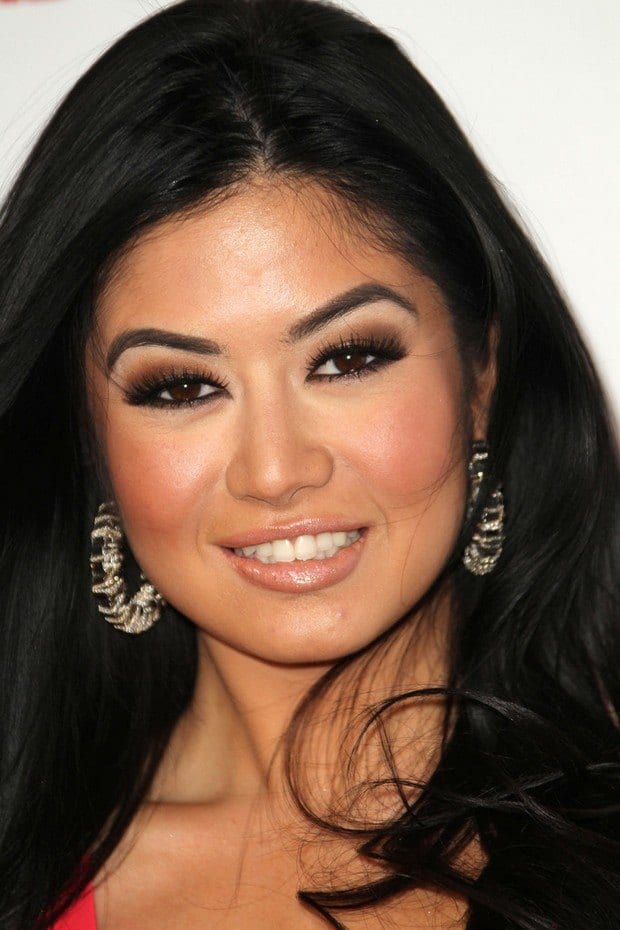 9 – Kim Kardashian's Eye Makeup With Blue Eyeshadow
Kim is famous for her different and unique looks. Here she went with a beautiful shade of blue for smokey makeup. She also applied long fake lashes that made her eyes look more attractive.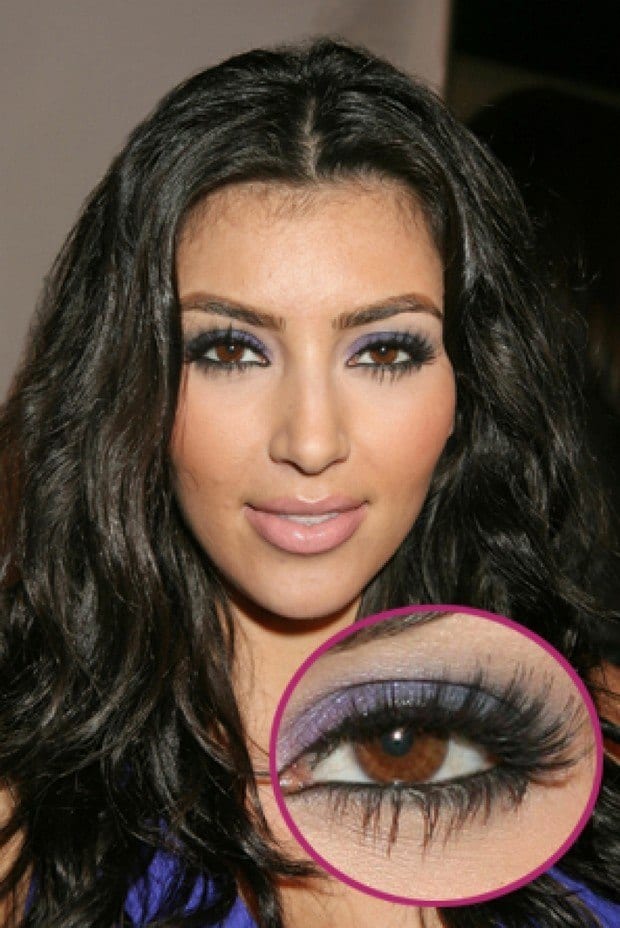 COVERGIRL Trunaked Quad Eyeshadow Palette $7.15
8 – Jessica Alba's Cat Eye-Liner Look
These beautiful eyes of Jessica look more stunning in a smudged cat eye-liner look.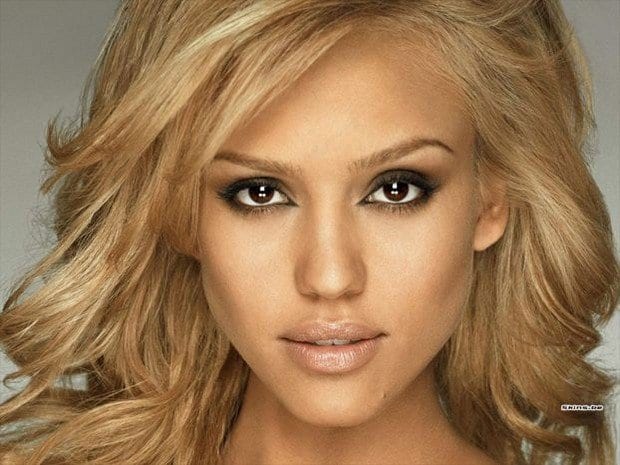 COVERGIRL Eye Shadow Quads Stunning Smokeys $6.85
7 – Jennifer Lopez's Eye Makeup Look For Hooded Eyes
Doing makeup on hooded eyes is not everyone's cup of tea. Everyone wants their eyes to look bigger and more beautiful. Follow this look of Jennifer Lopez if you also want to do smokey eye makeup on your hooded eyes.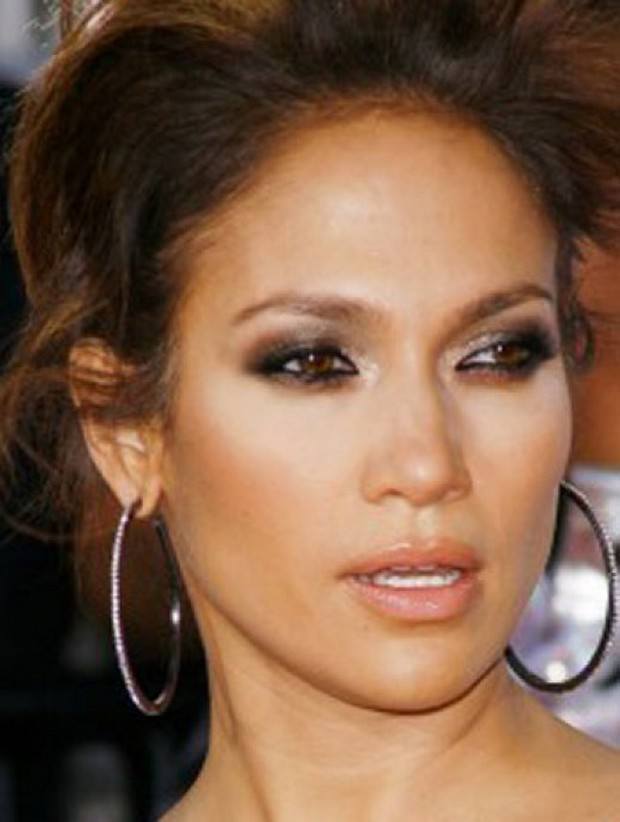 6 – Mila Kunis' Stunning Black And Gold Eye Makeup
This black and gold glittery eyes makeup is perfect for parties and weddings. Match it with nude lips, silky straight hair and you are good to go.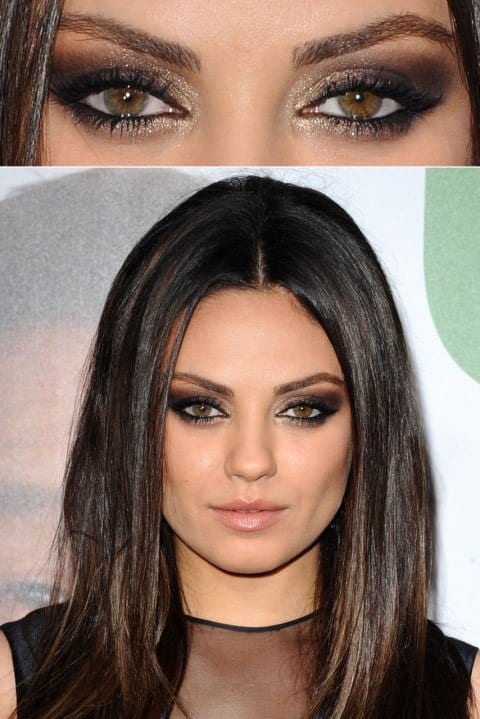 Coastal Scents Revealed Smoky Eyeshadow Palette $15.95
5 – Green Glittery Eye Makeup Technique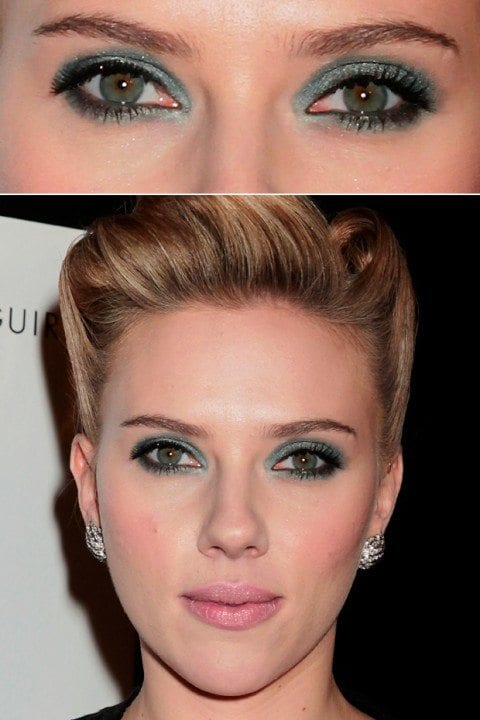 Kilshye Glitter Liquid Eyeshadow Shimmer $8.99
4 – Katty Perry's Colorful Eye Makeup
For those girls who want to experiment with their makeup, this look of Katty Perry can be an inspiration for you. She applied blue eyeshadow to the outer corner of her eyes while green to the inner corners, these shades matched her dress with long lashes. Pairing this eye makeup with hot pink lips that matches her hair and she looks stunning.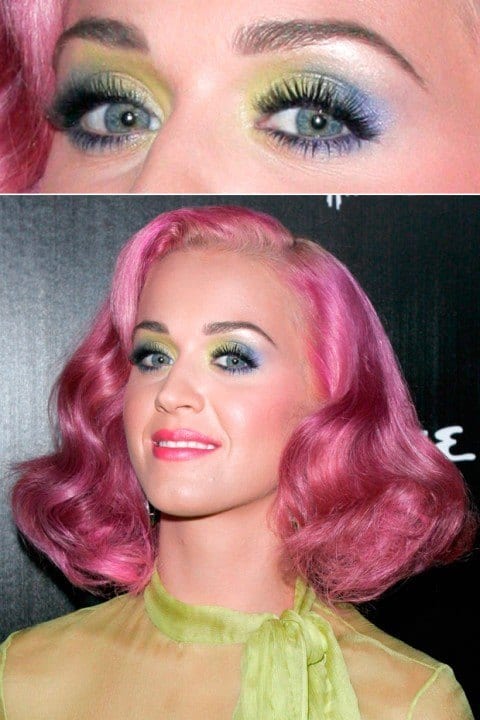 Colorful Pigmented Eyeshadow Palette $11.99
3 – Kristen Stewart Eye Makeup With Red Bold Lips
We have usually seen smokey eyes with nude lips, but red lips also look stunning with this look.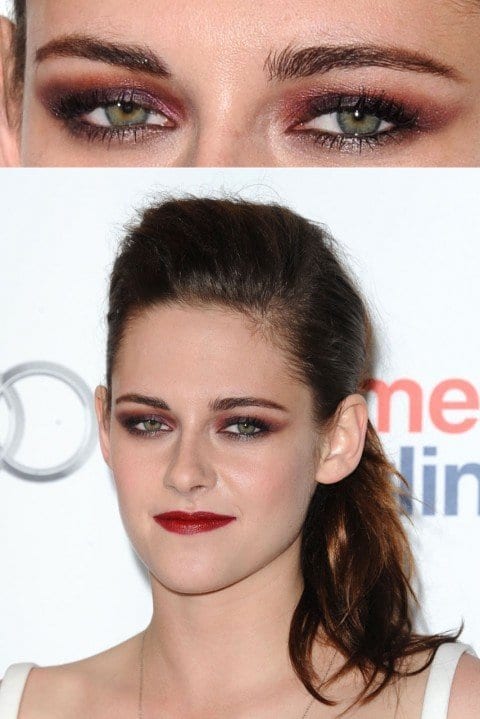 2 – Anna Sophia's Smudged Voilet Liner
Anna Sophia has a unique eye color and she knows how to make them more beautiful. Here we can see that she kept her eye makeup minimal, however, to make her eyes pop, she applied a smudged violet liner to her lower lash line which suits her a lot.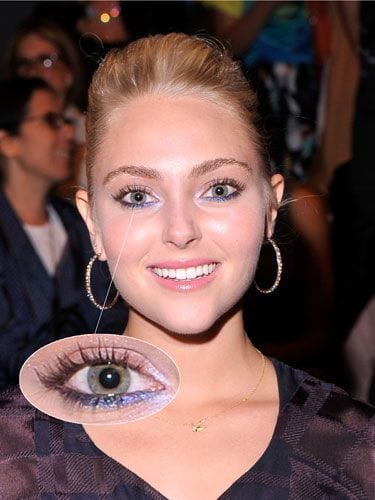 Babor Age Perfect Lip Gloss $24.00
1 – Rita Ora's Purple Double Winged Liner Look
If you are bored with your casual black liner look then experiment by doing a double-winged liner in purple color. It is not easy to do this eye makeup however practicing it can help you in achieving this look. Apply red bold lipstick and you are ready with a whole new look.
Waterproof Smudge-Proof Gel Eye Liner Pencil $19.46
Frequently Asked Questions
Q. How do you do your eye makeup like a celebrity?
Ans. Eye makeup can easily make or break your entire look. A simple mistake can ruin your entire makeup. To get that perfect-looking celebrity eye makeup, start by priming and concealing your eyes properly. Choose the lightest shade as your base color and blend properly. Blending is the key perfect eye makeup look. Make sure that your brows are also nicely done.
Q. What makeup makes eyes pop?
Ans. There are some tips that you can follow to make your eyes pop. Adding a highlighter to the inner corner of your eyes and brow bone is the real game-changer. You will quickly notice the change. Apart from that, you can also add glitter to your eye makeup to get the glam look. Applying a white eyeliner is also a useful tip to make your eyes pop.
Q. What are some makeup tips for hooded eyes?
Ans. Celebrities like Selena Gomez, Blake Lively, and Emma Stone have hooded eyes and they have pulled off many different eye makeup looks. If you find it difficult to do eye makeup on your hooded eyes, then follow these tips. Start by doing your brows and priming your eyes. Apply eyeshadow over your crease line and apply a light shade first. Winged liner looks more appropriate on hooded eyes. You can also apply fake lashes to make your eyes look bigger.