If you have been invited to your high school reunion, you may be excited about seeing all your old friends but just as apprehensive as well. You've lost touch with many of them, so you don't know how they are doing and if they've gained that middle-aged spare tire around their middle. Are they doing well professionally and are they happily married with several children in the home? However, this isn't what you are thinking about at the moment. After replying with the RSVP, you are now concerned with what kind of impression you will make, and even more worrisome is what to pack for that 3-day weekend back home.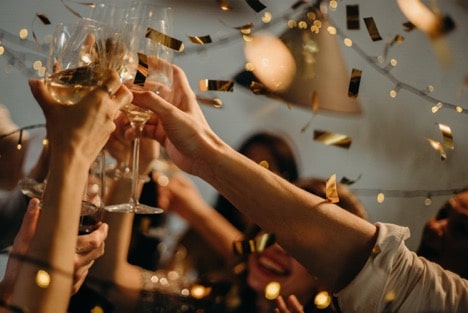 An Outfit for the Main Event
Quite often it is the senior class president who will be the organizer of your high school reunion. In his or her absence, it will almost always be someone who was at least on the student council or someone active in extracurricular activities. The point here is that it is important to communicate with the organizer as to where the main event will be held and if there will be a dance after the ceremonies. What you wear to this event will be determined by the venue in which it is held.
Where Will You Be Staying?
It is traditional to invite spouses to come along with you but if you have a husband who just can't get away from work or needs to stay behind with the kids and dogs, you might be bunking in with friends. If this is the case, pay careful attention to the pajamas you will be wearing. Obviously, your age and body weight will make a difference as will the season of the year. However, having said that, a nice nightgown or comfortable pajamas would work well. From bamboo to soft knits, you should also look for cozy loungewear if you intend to spend time resting and chatting around a fireplace. In fact, click here for more women's pajamas options.
Family Photo Album
There are probably several high school friends you've lost touch with over the years. You would probably want to bring along a digital family photo album to show your friends your precious children and adorable husband. Also, your friends will want to have a look at your home, so at least bring along a few shots of the outside as well as a few pictures of your living room, or kitchen, for example.
Speaking of photo albums, don't forget to bring along that digital camera you got for Christmas this year. If you don't have that, your mobile phone probably works just as well. In fact, the advantage of using your phone is that you can immediately share the pictures you've snapped on your Facebook account or message a few to people who might be interested.
The bottom line is that you don't need to pack as if you'll be there for a month, but you will want to pack the outfits you need for any event that has been planned.