Men's Outfits with Jogger Pants. Men can compromise on their style but never on their comfort. Joggers are men's best friends because they don't require anything too fancy, they are cheap, and men love wearing them all day long. Jogger pants look great no matter what your age or size is. The jogger is just another must-have wardrobe member for men. It's been making a scene in the street-style setting.
Joggers made their place in fashion as they are comfortable and trendy. And some designers have put them on the runway, making them more popular, especially in street style. They are basically made to be worn for workouts, as they are called traditional sports pants. But that doesn't make them exclusive for a sports-related situation because you can also rock them in casual gigs and even from the comfort of your couch.
They are lightweight and comfortable. And most styles feature an athletic look and a taper in at the legs. Also, they have an elastic or waist and ankles. Men can still avail themselves of the basic sweatpants style joggers, but there are also some sophisticated and slimline styles in the market.
Keeping this in mind, we decided to why not put a smile on our men's faces by giving them suggestions to wear joggers every day, all day long, everywhere. Yes, you read right, dudes. You can carry these styles without giving up on your joggers.
Tips On Wearing Joggers
Keep your overall ensemble low-key and laidback.

If you don't want to wear dress or denim pants, try jogger pants.

While they don't exactly belong in the formal wear category, you can dress up your joggers to suit different dress codes or occasions.
How to Wear Jogger Pants for Men
Yay or nay? Read on our 42 suggestions which will help you stay in style without spending bucks.
↓45 – Joggers For Plus-Size Men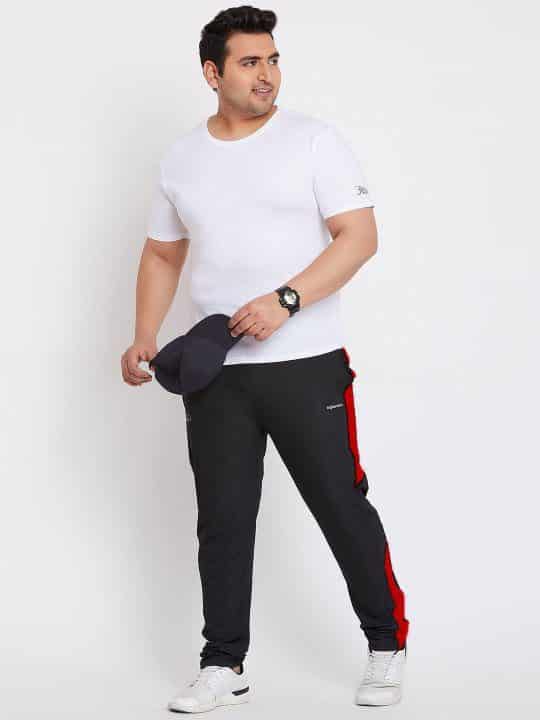 ↓44 – Joggers For Older Men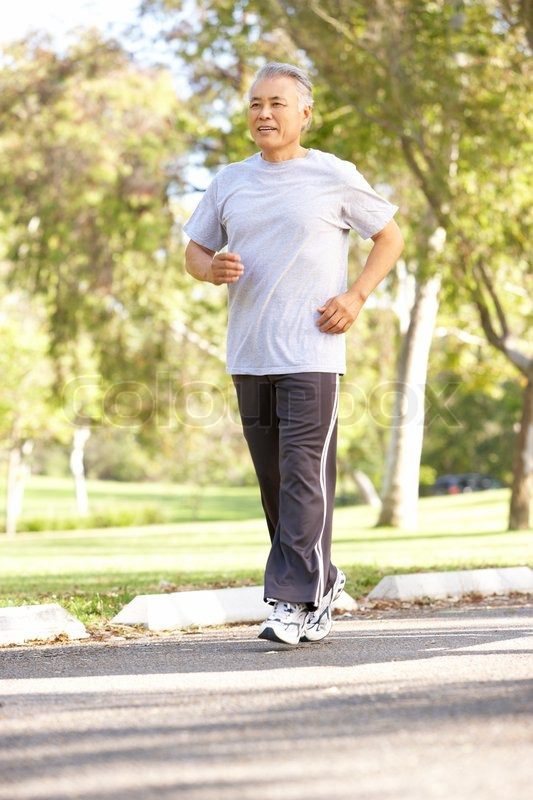 ↓43 – Where To Buy Flannel Shirts
When shopping for your new joggers, it's going to be like fishing in a vast ocean as it's hard to pick the best ones from a myriad of options:
Technical Fleece Athletic Joggers – $110 on

Nike

Slim Motion Tech Jogger – $109 on

Banana Republic

Slim Canvas Joggers – $50 on

Gap
↓42 – All-Black
via
↓41 – Winter Wardrobe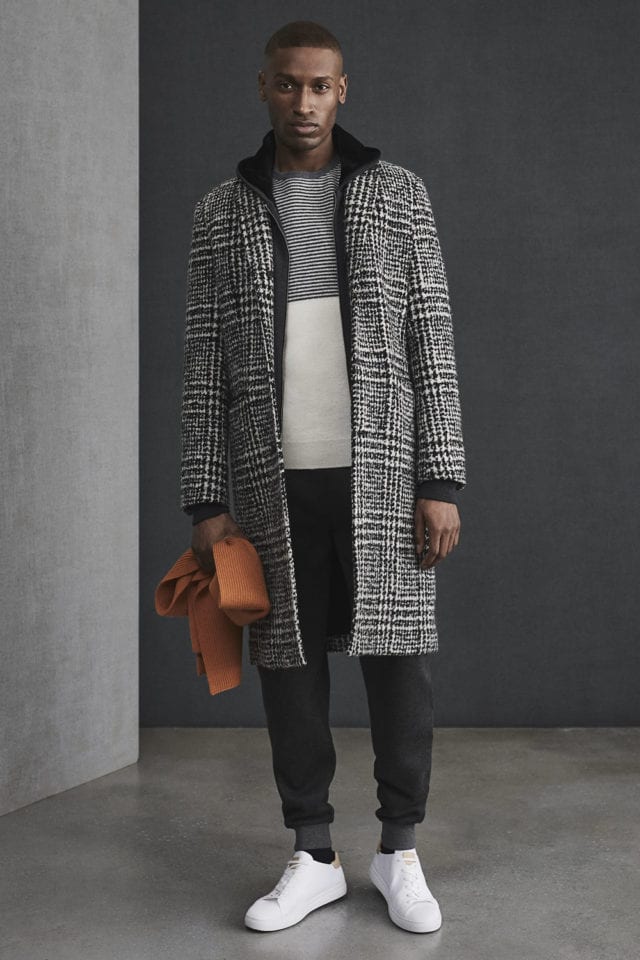 via
↓40 – With Denim Jacket
Incorporate a different kind of structure by wearing a denim jacket with joggers.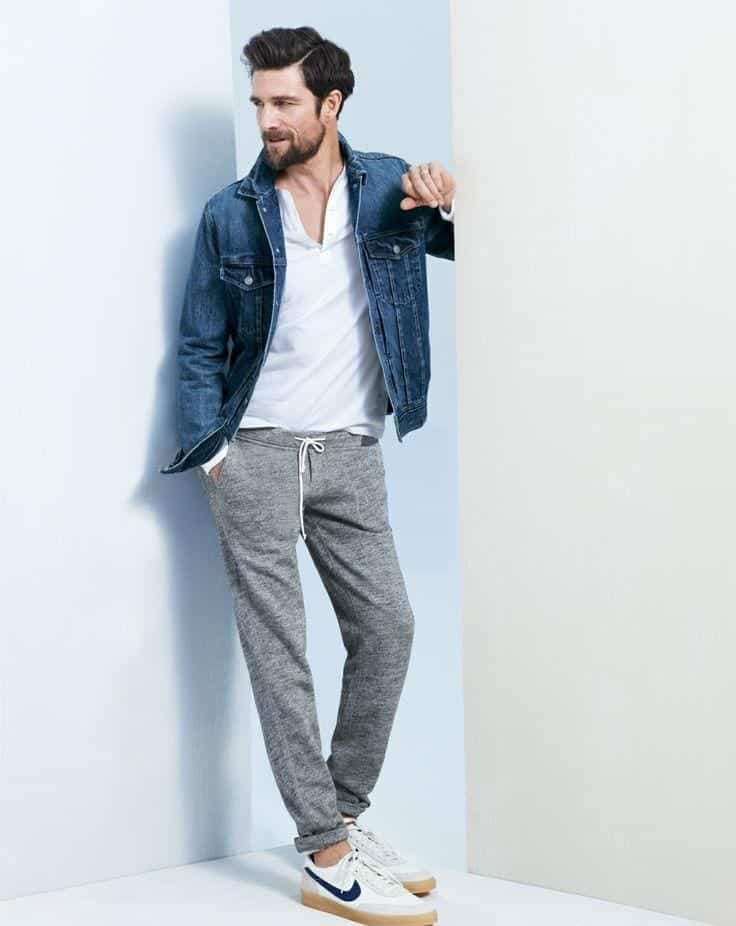 ↓39 – Striped Jogger Pants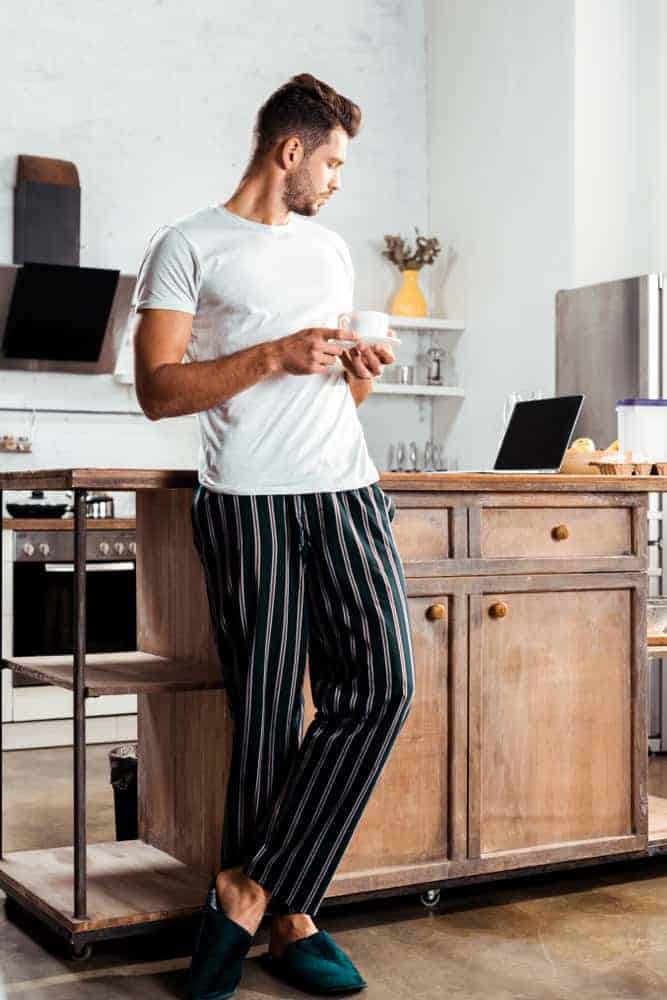 ↓38 – What To Wear Jogger Pants
When pairing joggers with a jacket, opt for a bomber or a biker (leather) jacket. Combining the soft jogger fabric with a shiny leather fabric gives a modern athleisure style.
↓37 – What To Wear With Joggers
Joggers can look smart casual with the right technique. Dress up or down with items like a blazer. Choose a dark or neutral color palette, and opt for a less structured coat. Instead of a dress shirt, get a crewneck jumper and wear it over a button-down or flannel – that would serve as the undershirt.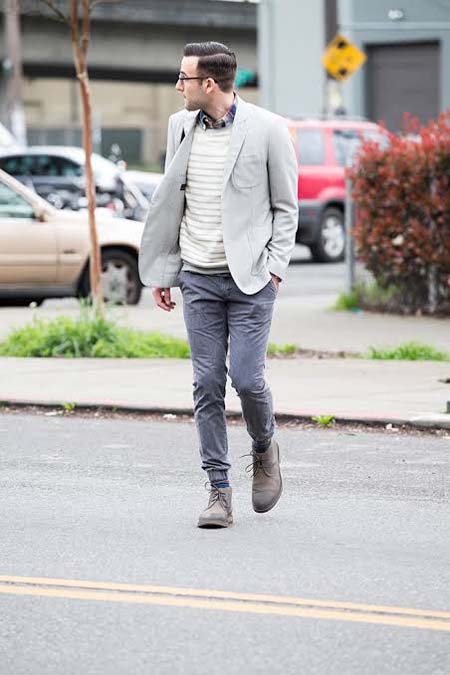 Via
↓36 – Athleisure Outfit
Let the joggers' sportswear appeal play out. Create an athletic vibe with just some additional outerwear pieces.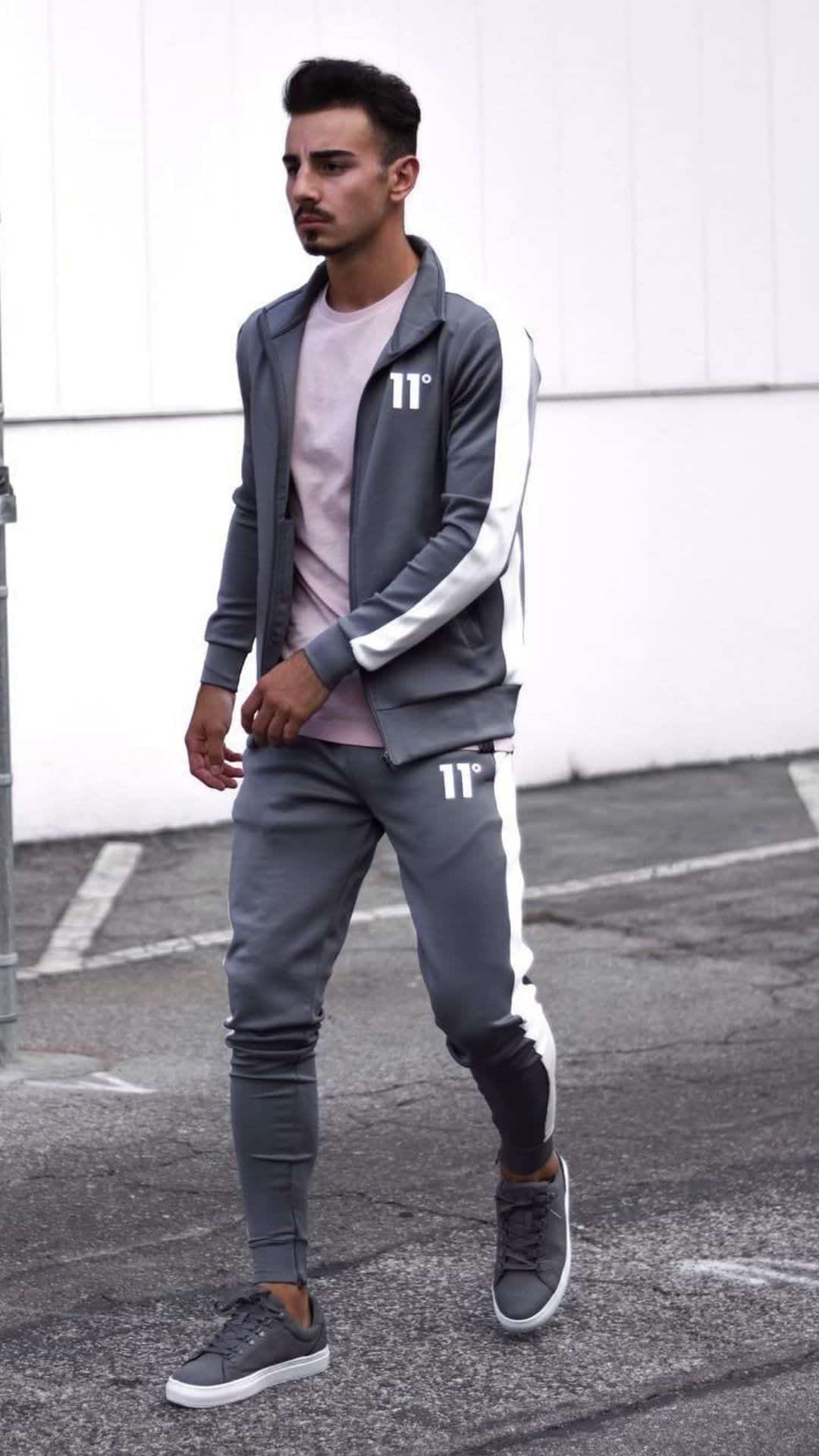 ↓35 – When To Wear Joggers
Make your joggers and hoodie combo stylish by trying out some layering work to achieve a sharp streetwear look.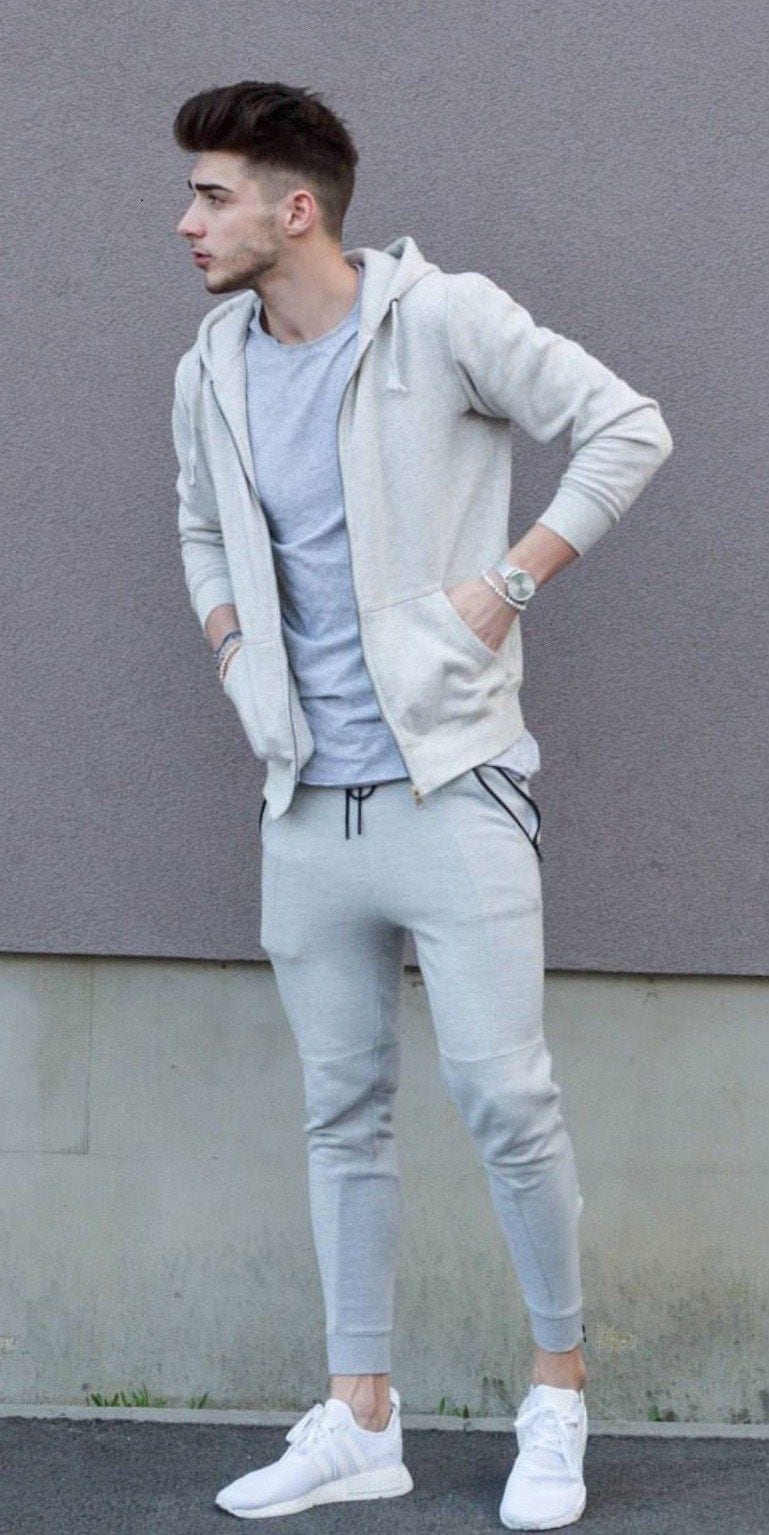 Via
↓34 – How To Wear Joggers
Casual style is the most practical way to wear your joggers. Just pair them with fellow casual pieces, like a T-shirt, for example.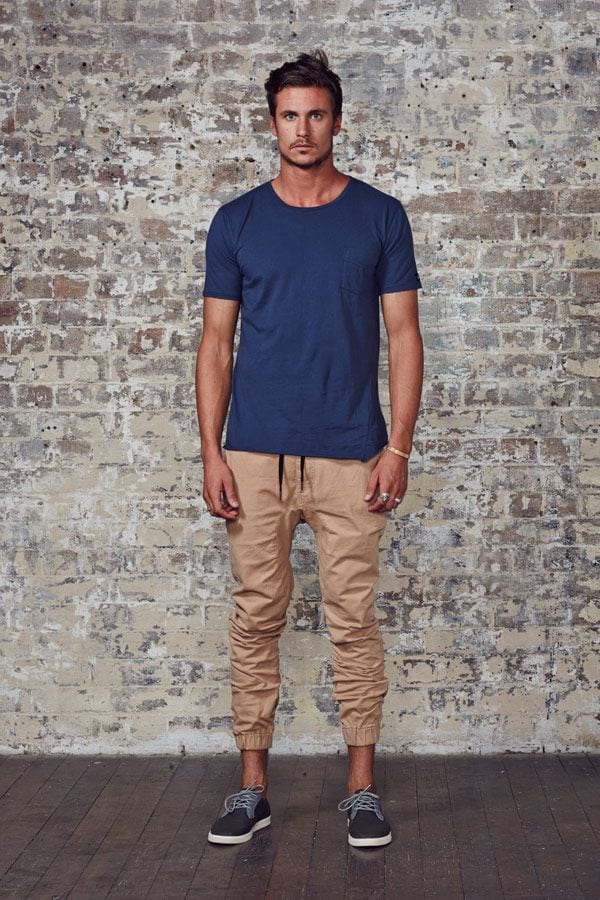 ↓33 – For Workouts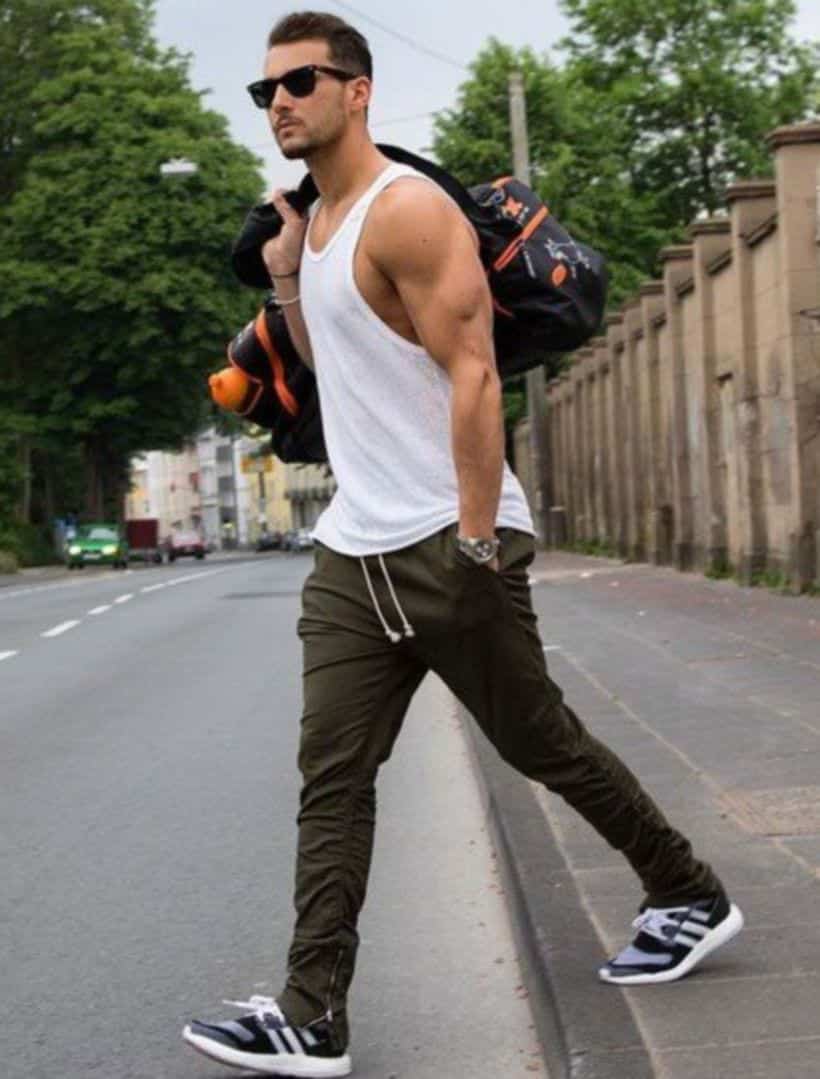 Via
↓32 – Monochrome Outfit
With the rise of athleisure trends over the years, this combo has become ideal and appropriate for casual and daily wear.
↓31 – Street Style
Create an easy weekend look by pairing them with a T-shirt. Just get the right fit of T-shirt, and ensure that the bottom of your joggers should sit tight above your ankles.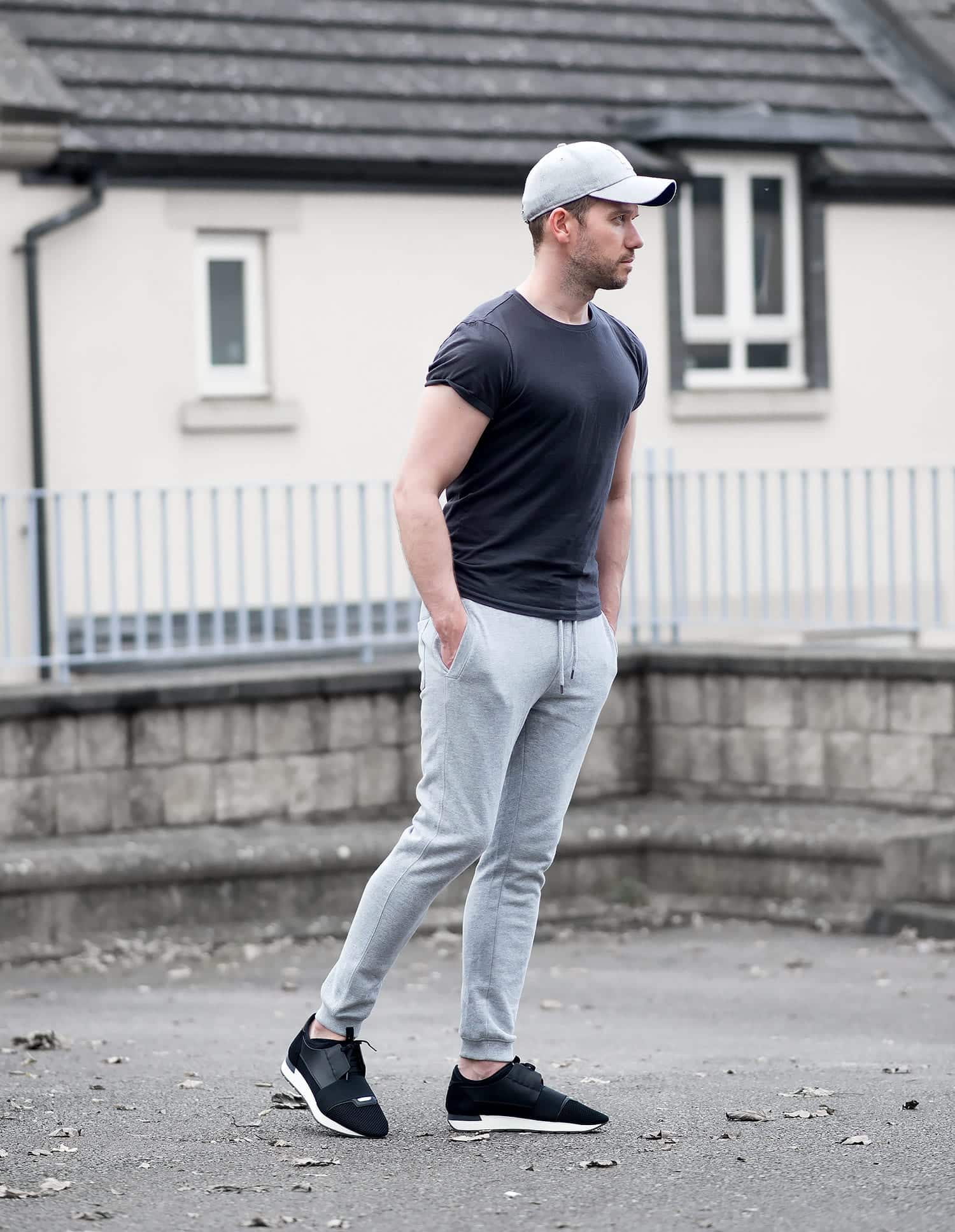 ↓30 – The Best Street Style
Keep the chills at bay with a soft, sweet, woolen sweater and warm jogger pants. Haphazard hairstyle and canvas shoes are all you need to complete the look. Also, have a look at the 17 Most Popular Street Style Fashion Ideas for Men.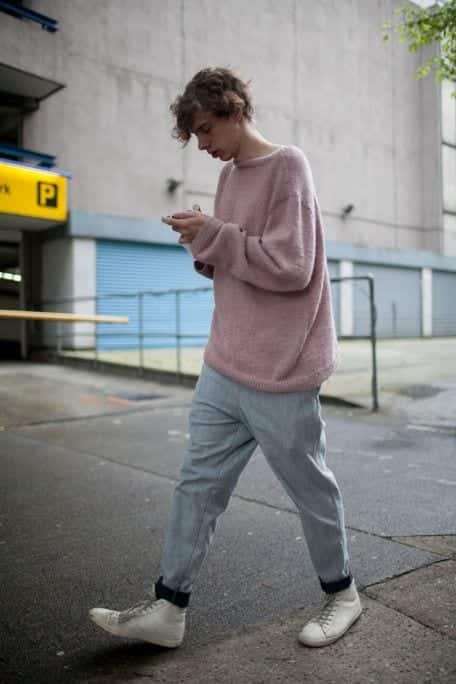 ↓29 – Cool Style for the University
If you think jogger pants are only to be worn at home or in the streets, you are totally wrong. Jogger pants can be worn every day, and only you should know how to carry the style. This emo style is perfect if you own a cute face and a thin physique. Beanie cap, loose t-shirt, and your joggers. Perfect. It is your wish if you want to wear slippers with it or shoes-both would go with the look.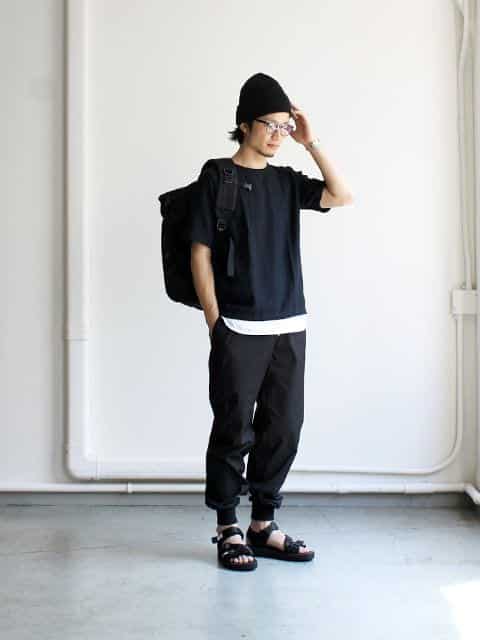 ↓28 – Joggers for Beach
Beach is a synonym for fun! So who can have fun when the clothes are too uncomfortable. Your tank top and joggers are perfect when the fun is on your mind. Here's a cool collection of What Men Should Wear at Beach?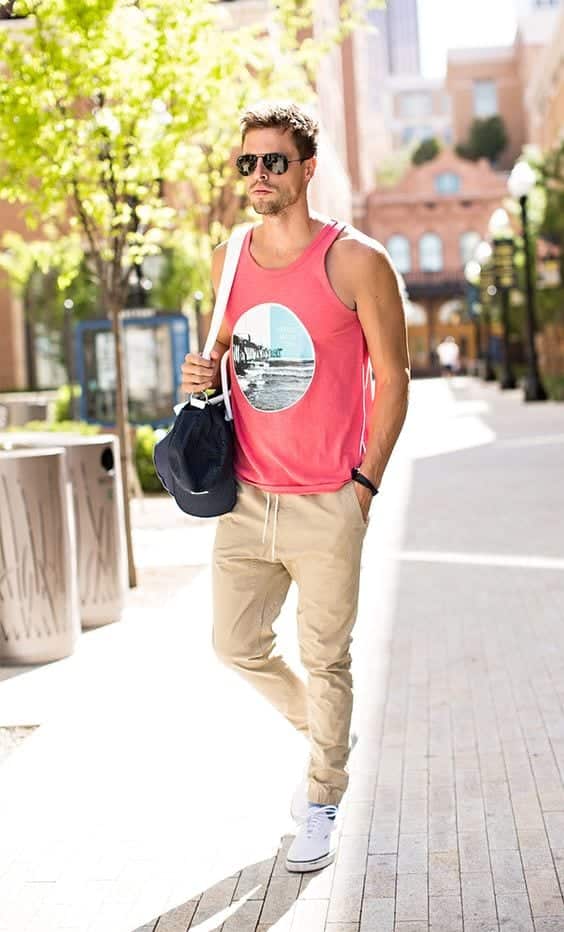 via
↓27 – What Hair Style to Make when you are wearing Jogger Pants.
If you have thick hair that you don't like to gel all the time, you can just comb them back and let them set themselves. With this hairstyle, you can wear your joggers with your button-down shirt and enjoy a formal look in your informal clothing.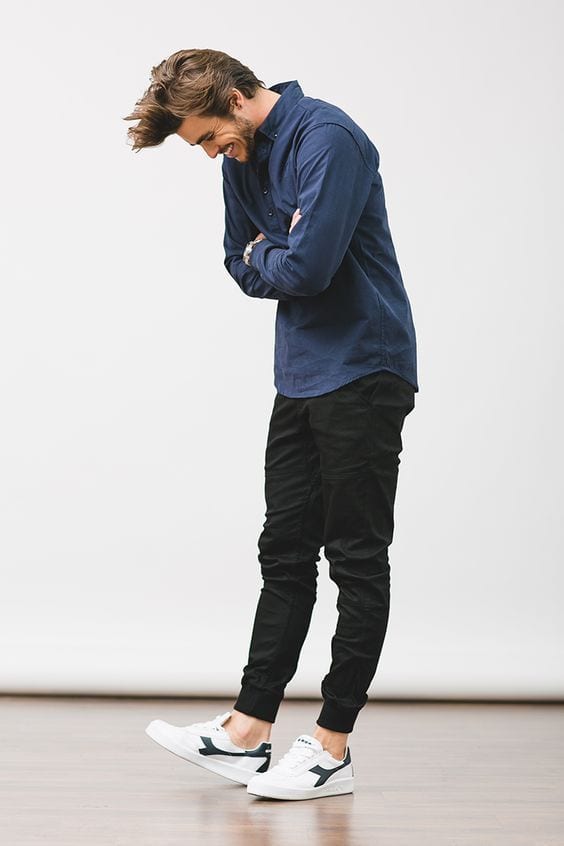 ↓26 – Street Style Yet Again
Not everyone is into T-shirts. Some people want to look like a model on cover photos of the magazines. If you're one such person, then instead of your t-shirt, you can wear your dress shirt and let people admire your six-packs while you enjoy your comfortable outfit. Keep your feet happy in flip-flops with this look.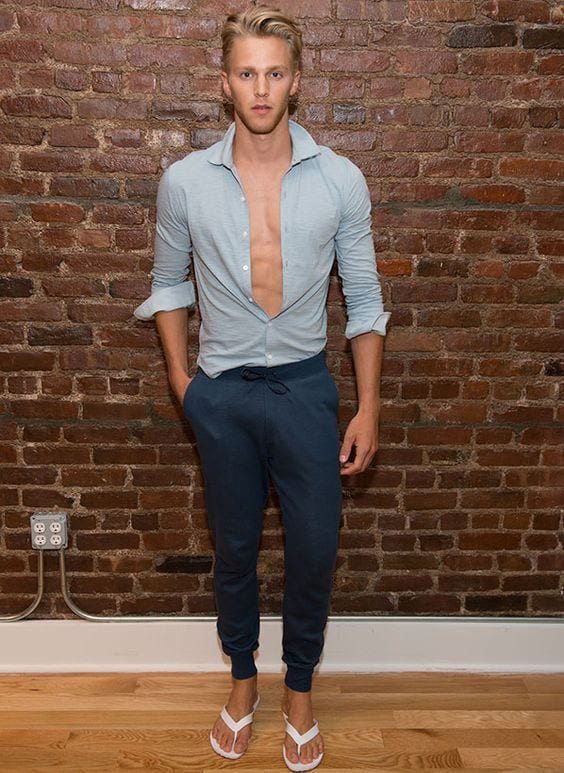 via
↓25 – How to Wear Red Joggers
You don't have to follow the masses. If subtle shades are not your thing, go for bright colors like burgundy or red joggers with a black jacket. To complete the look, we suggest that you wear the slip-on instead of canvas shoes or sneakers. Don't miss out on these Red Shoes Outfits For Men.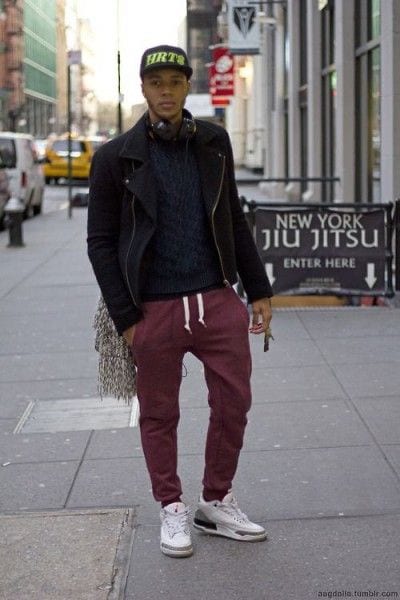 ↓24 – Joggers for Sports
Those who live in the colder region can't compromise their sports routine. For them, joggers are the best alternative to shorts and pants. Stay in style while doing your best in your game with this sexy pair of joggers and a black hoodie.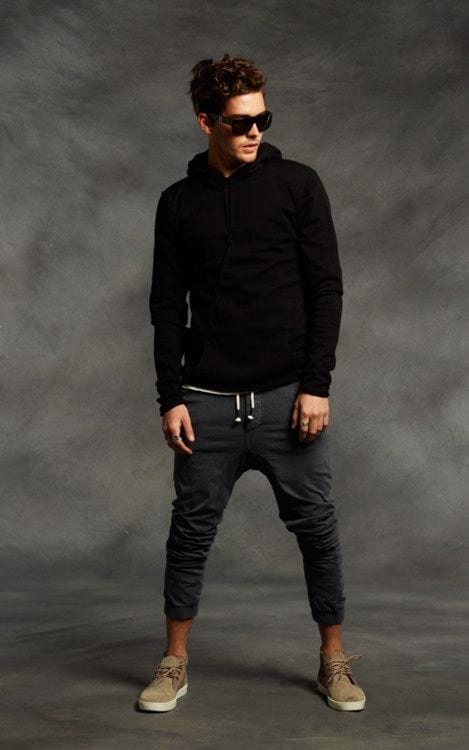 via
↓23 – What Shoes to Wear with Jogger Pants
Because joggers are normally worn as casual clothing, don't wear too formal shoes with them. Your vans would go perfectly with a hooded sweatshirt, joggers, and a long coat.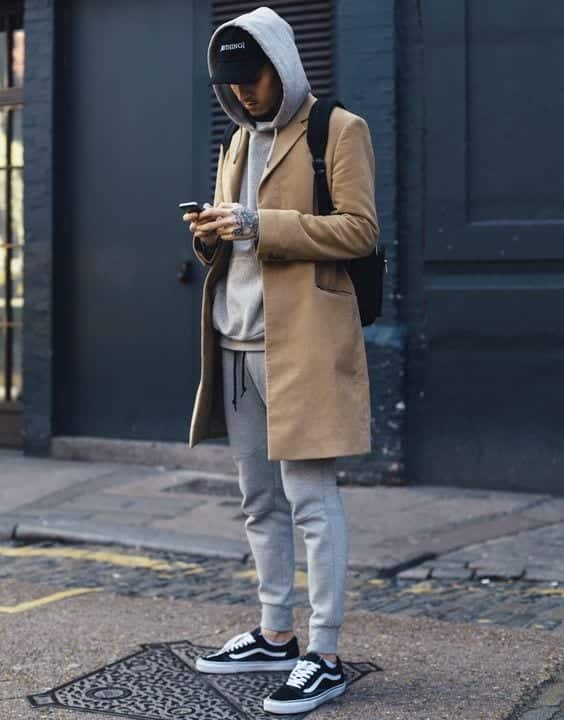 via
↓22 – Joggers as Sleepwear
We all love snuggling when it comes to windy nights, so why not wear something warm and cozy when sleeping. This woolen sweater with woolen jogger pants is all you need to sleep in comfort and still look the hottest in your style. You can also have a look at these amazing Men's Workout Outfits.

via
↓21 – How to Wear Jogger Pants to Work
Yes, we heard your pleas. You hate going to the office wearing those boring dress pants. Well, don't be mad anymore. You can go into your jogger pants with this super classy woolen blazer. Make sure you gel your hair well because your ruffled hair won't go with the look. Your dress boots will look great with this kind of dressing.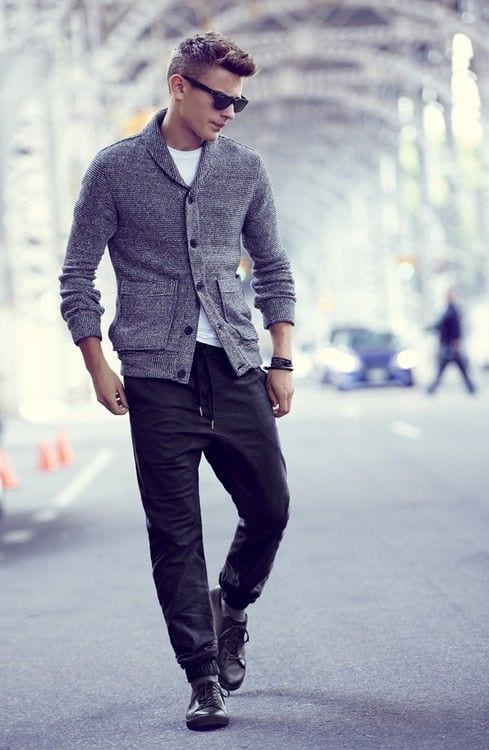 via
↓20 – How to Wear Ombre Joggers
Ombre Joggers are all the rage these days, but wearing them with plain t-shirts or tank tops, preferably with white tops, is the trick of wearing them. Wear your canvas shoes for this style. Check out these 30 Best Men's Outfit Ideas to Wear with Monk Strap Shoes.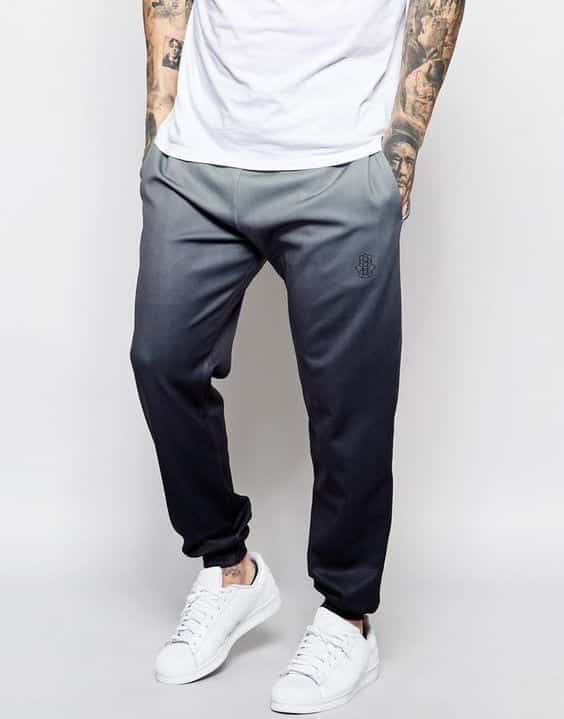 via
↓19 – What to Wear with Black Jogger Pants
If you're a fan of black color, then wear your black joggers with a black slim-fit t-shirt to have that mysterious look. If you own a biker jacket, wear it on and turn some heads with your killer look.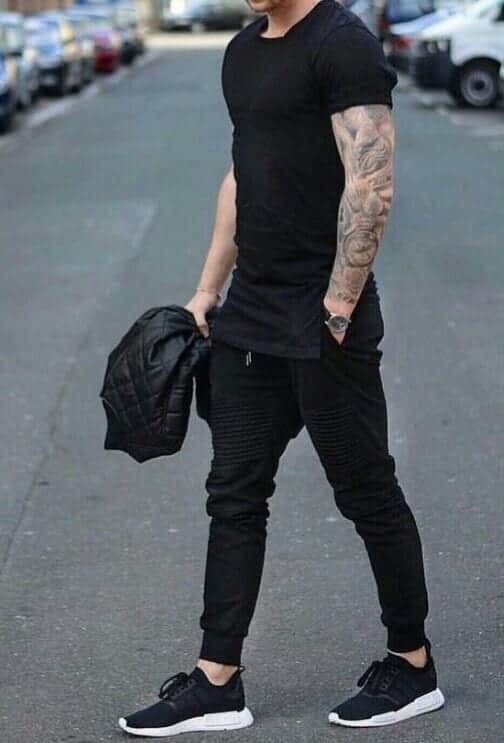 ↓18 – Denim Joggers
Yes, you read right. These joggers are actually made of your favourite denims. So you are a fan of jeans but want to wear joggers, you will love these jogger pants. Get into your t-shirt and front open hoody with these jogger pants and wear those comfortable chukka boots with this style, and you're set to rock the party. Here are some more cool Denim Jackets Outfits For Men.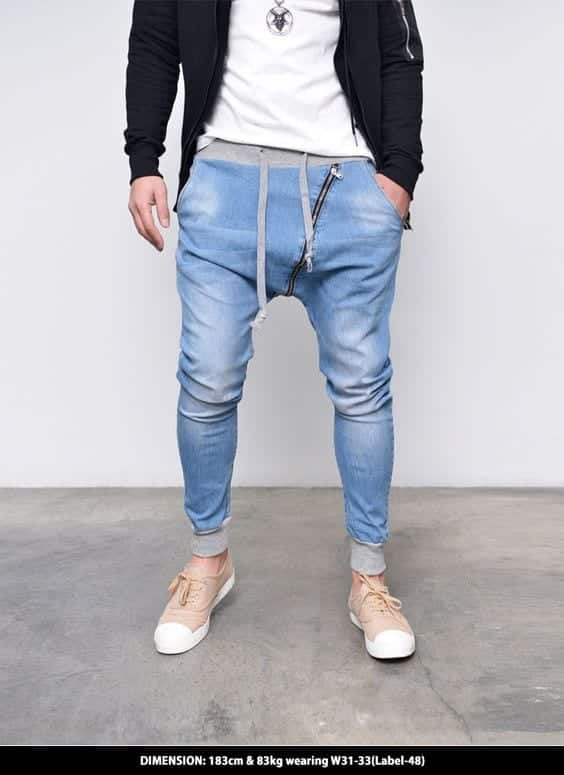 via
↓17 – How to Wear Printed Jogger Pants
For those party people who love everything bright and vibrant, printed jogger pants are for you. Wear it with a white, simple t-shirt, and you're your converse. If you are planning a trip to the beach, this would be the perfect dress. Just wear flip-flops instead of converse.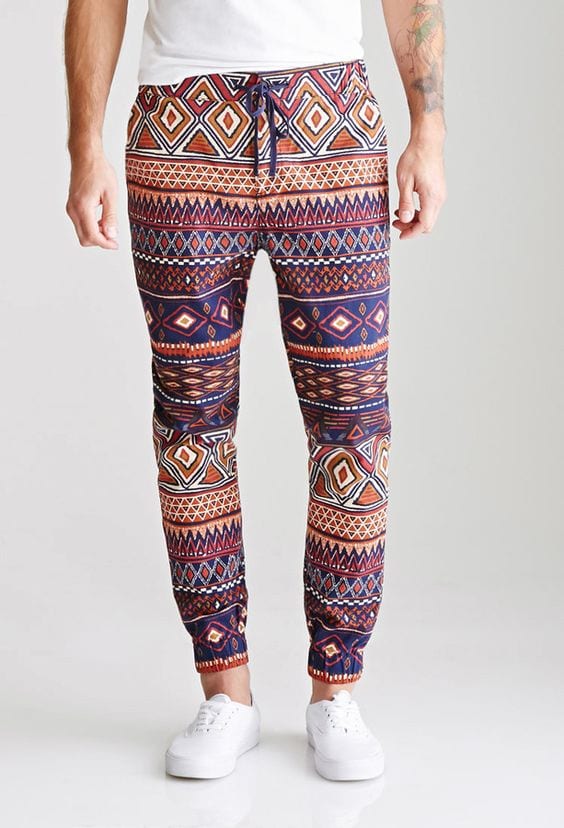 ↓16 – Styling Cargo Joggers
Cargo pants can never go out of fashion. If you own cargo jogger pants, wear them with a black t-shirt and your rockstar jacket, preferably in deep blue or olive green color. RECOMMENDED: Cargo Pants Outfits for Men.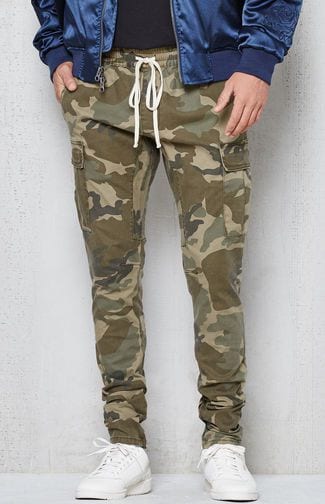 via
↓15 – Wearing Joggers to Work Place-2
Here is another style you can try for your workplace. Your comfortable jogger pants with shirt and suede coat. A printed muffler or scarf would give you an artistic yet sophisticated look.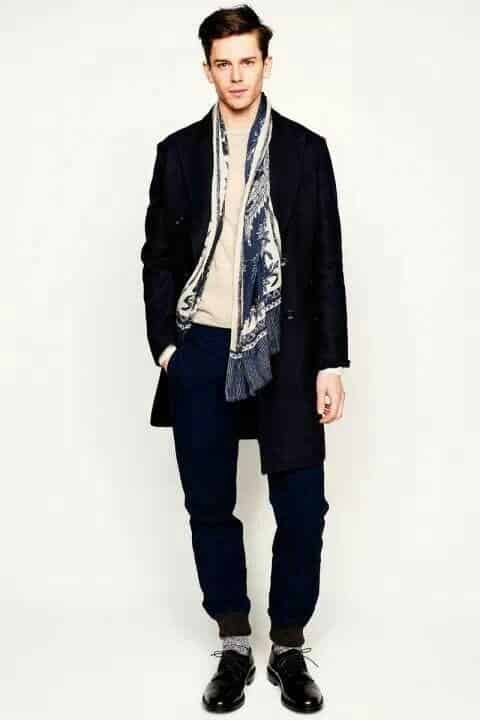 via
↓14 – Zanerobe Dynamo Combo Jogger Pants
Zanerobe Dynamo Combo Jogger Pants are all the rage these days. Not only are these comfortable because they are made of cotton, but they look very stylish with denim jackets and checkered shirts. These pants are to stay in fashion like khaki pants, so it will be a great idea to buy them if you haven't already. Here are 17 Ways to Wear Sweat Pants and Joggers.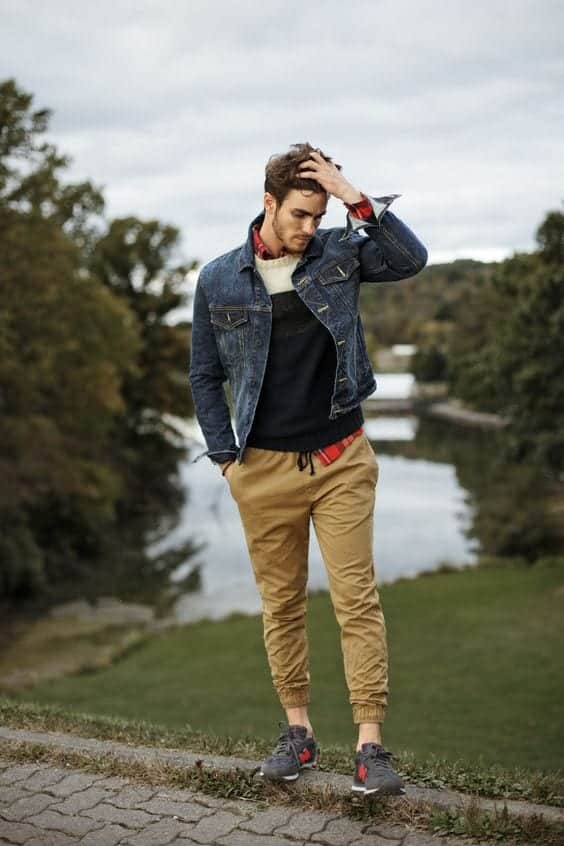 via
↓13 – How to Wear Khaki Jogger Pants
Khakis are love, and they can be worn formally or informally, depending on how you style them up. What better way to wear khaki pants than joggers? Yes, if you have khaki joggers, you can wear them with a denim shirt and bomber jacket. This style can work for both informal and formal occasions. Check out these Ideal Ways to Style Khaki Pants.
via
↓12 – Street Style 2
For all the travelers out there, this style is for you. Slim fit t-shirt with jogger pants. Few beaded bracelets and your brogue boots would look hot with this look.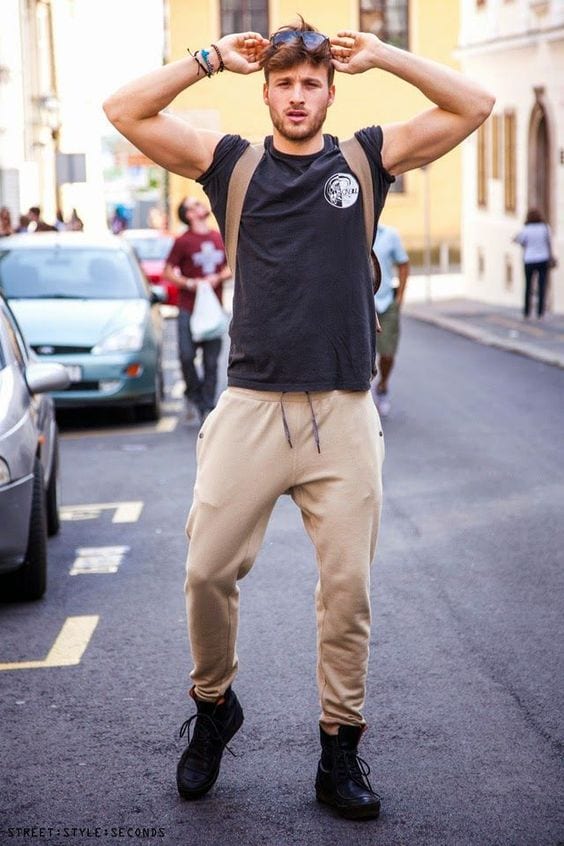 ↓11 – Beach Style 2
Go surfing in these Capri joggers and a t-shirt. Wow, dude, that you are!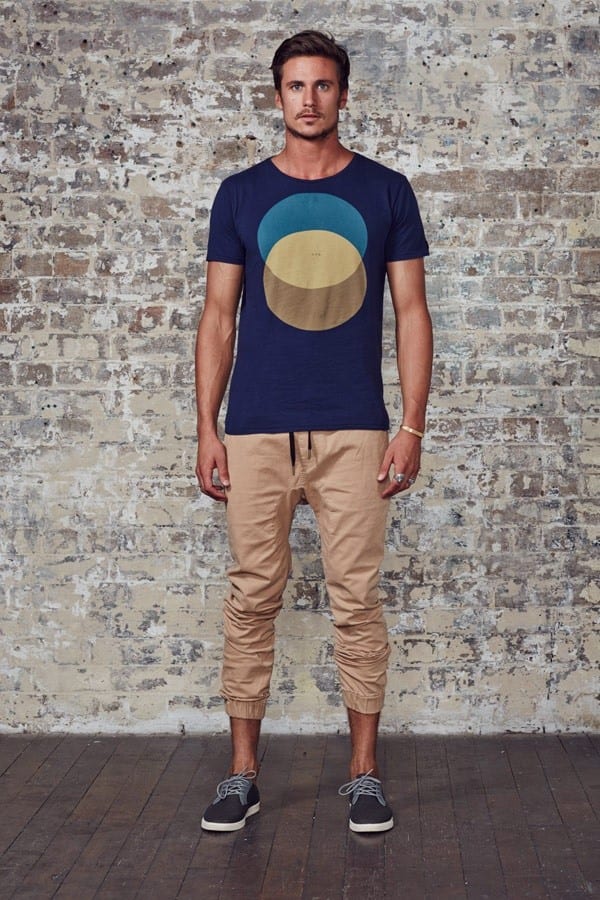 ↓10 – Zanerobe Dynamo Jogger Pants 2
Another look for you to try with Zanerobe Dynamo Jogger Pants.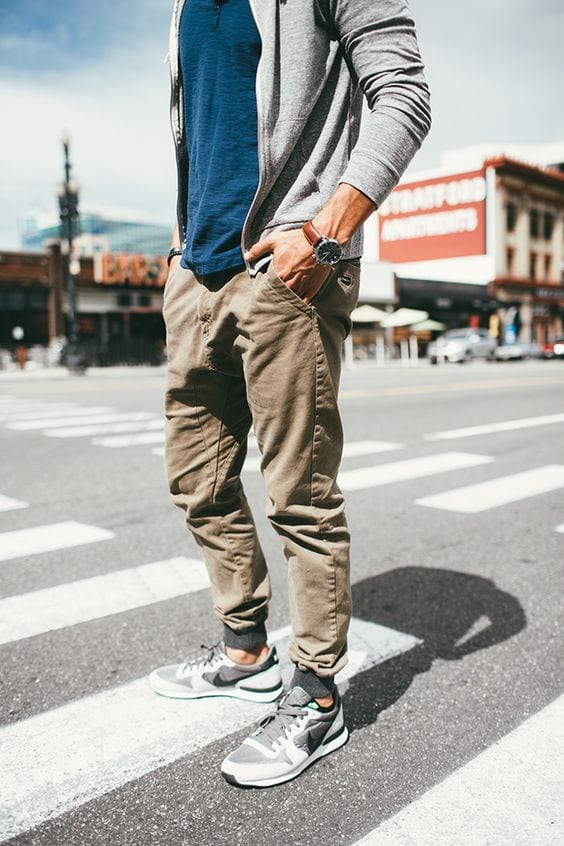 via
↓9 – Wearing Joggers to University/College
Buy jeans joggers and pair them up with a dress shirt, sweatshirt, and sneakers. The coolest style it is!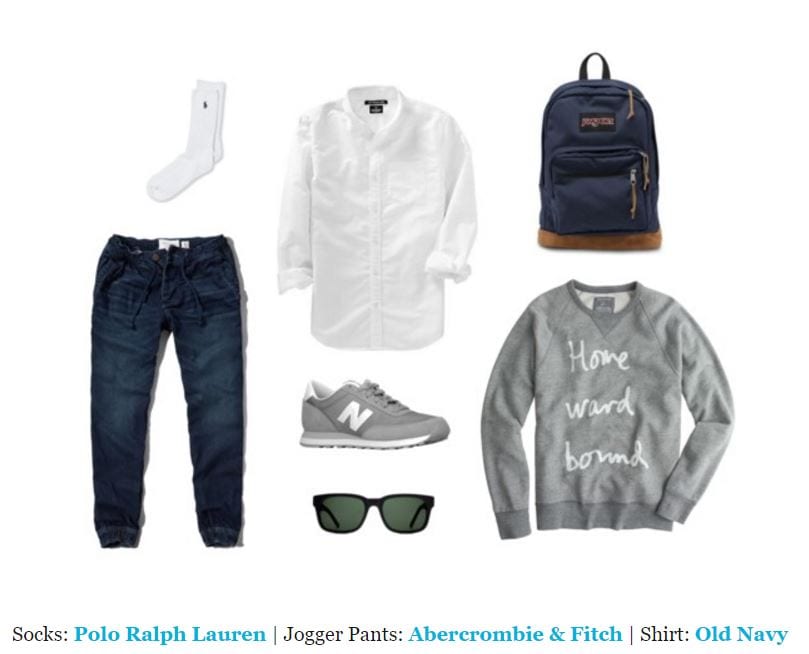 ↓8 – Rapper Style
Show off your rapper style with jogger pants and a polka dot sleeveless tank top. Multiple layered chains would complete this hip look.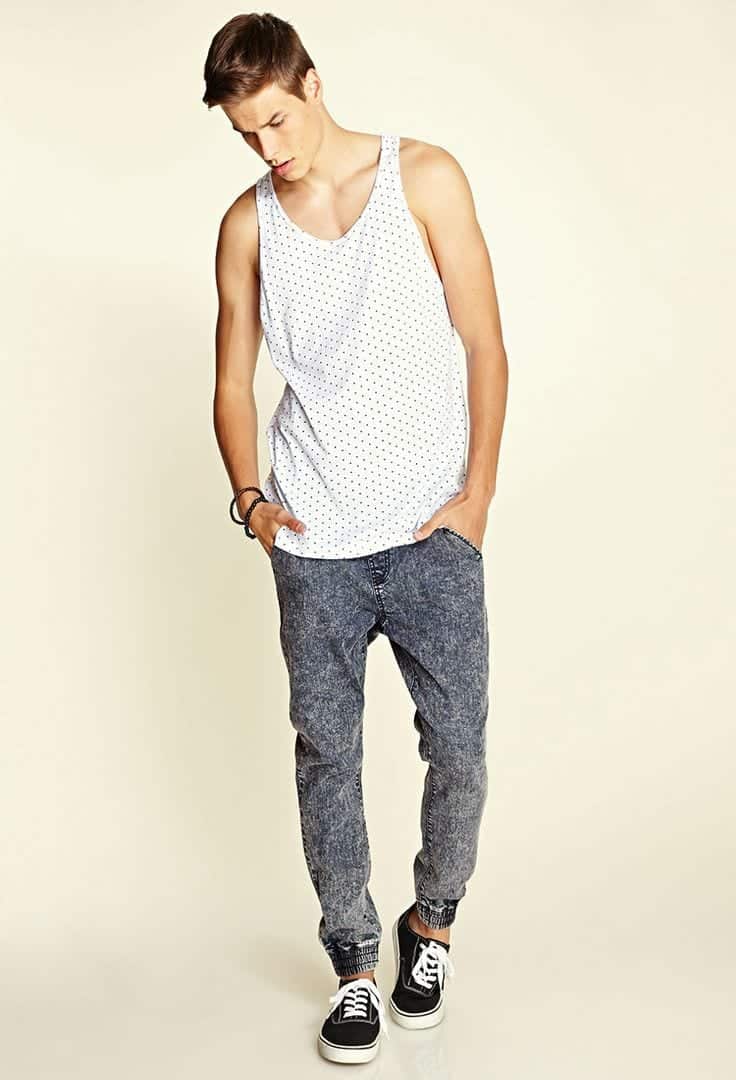 ↓7 – Dress Up for Informal Meetings
When you have a meet-up with friends or colleagues were this sophisticated striped shirt and your jogger pants. The perfect gentleman style.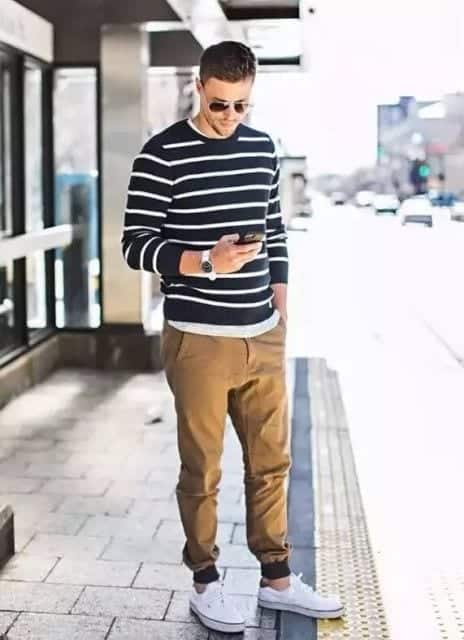 ↓6 – Jogger Pants on a Date
They say you are at your best when you are comfortable. So this time, if you have a date planned, wear your jogger pants with a printed button-down shirt. Comfortable enough to let you concentrate solely on your date. Here are the Best Outfits for Men to Wear on a Date.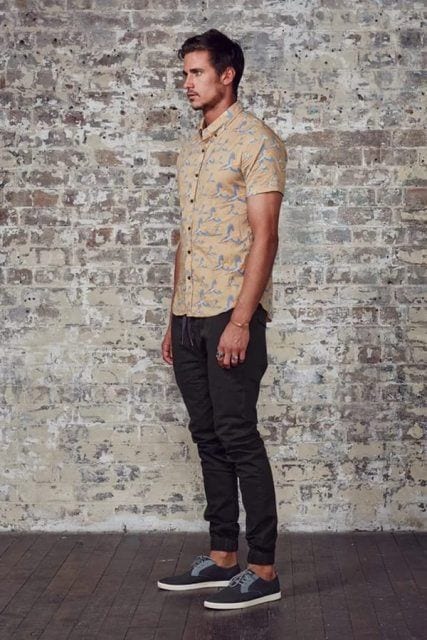 ↓5 – Jogger Pants for Jogging
We all know jogger pants are very comfortable, the perfect pant to be worn if you are into jogging or running daily to stay fit. Wear it with a warm hand-knitted sweater and let some heart beats faster because of your perfect style.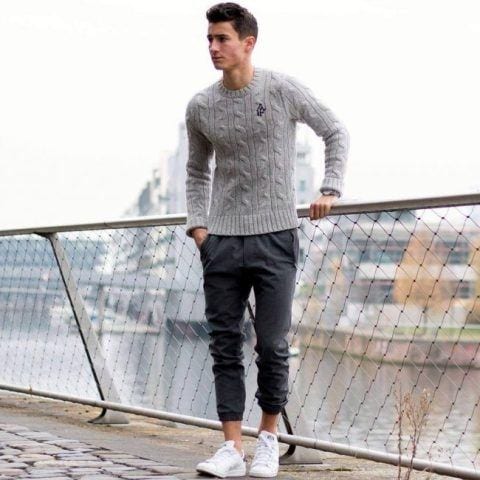 ↓4 – Jogger Pants for the Artists
Because artists are free people, they don't bother with their style; jogger pants are perfect. A simple sweatshirt and your jogger pants-the actual artist look! Carefree yet classy. Don't forget your loafers with this look. RECOMMENDED: Men Outfits With Loafers- 30 Ideas How To Wear Loafers Shoes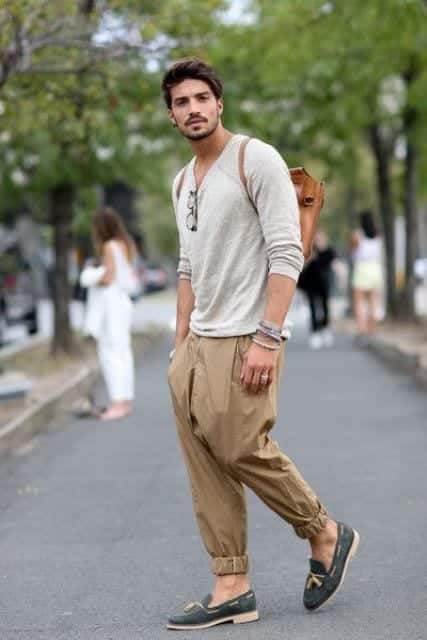 ↓3 – Lazy Afternoon Look
Whether you have a university in the afternoon, or you are out for some shopping, this look is perfect. Baggy Jogger Pants and your cotton dress shirt with it. Don't forget your shades or aviators, and you don't want the sun rays to itch your eyes.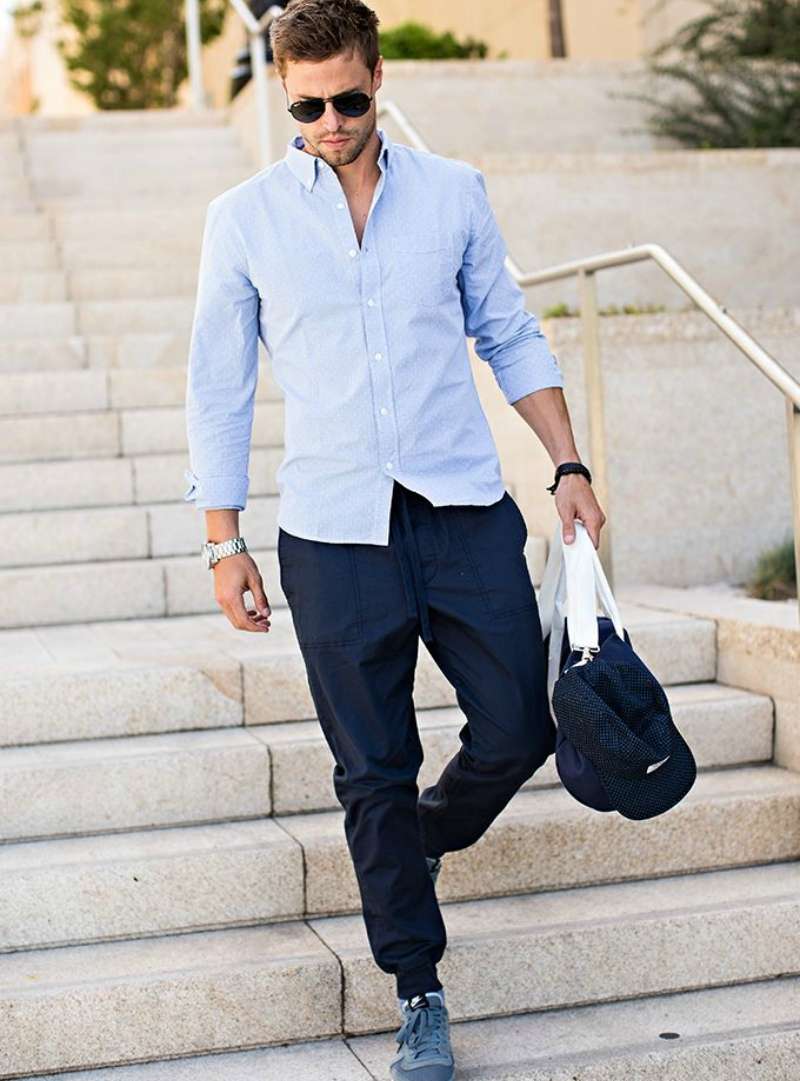 ↓2 – Going All Black
What better way to wear jogger pants than wearing them with a slim-fit black shirt to show off your muscles. Be a hunk and wear a leather jacket with it.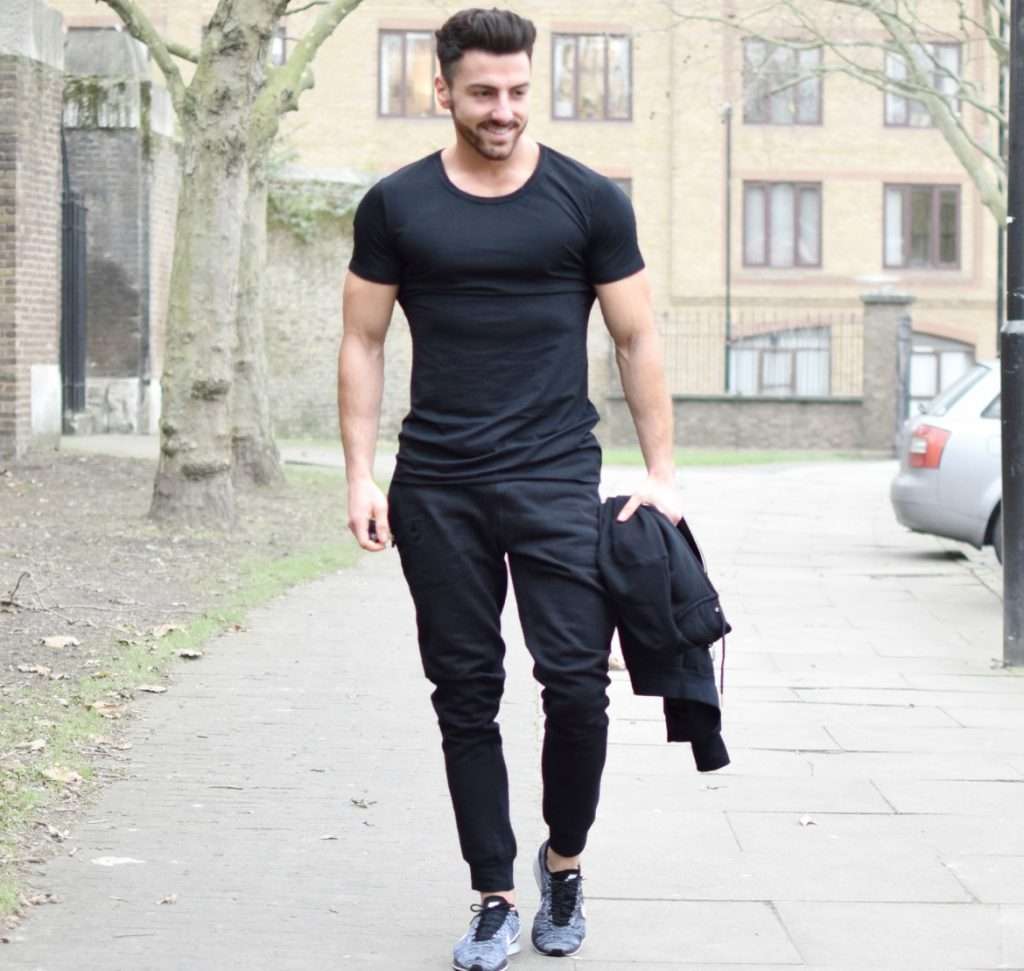 ↓1 – Boy Next-Door Style
If you're a guy who likes things simple, wear olive green Capri joggers with a simple white shirt. Wear your converse with this look.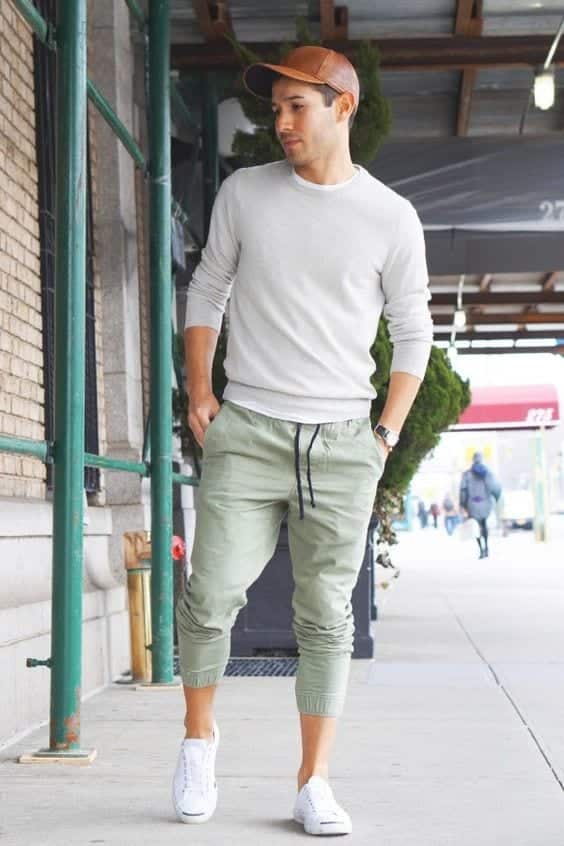 via
Frequently Asked Questions
Q. How should joggers fit?
A. Joggers should fit just right – they don't have to be so tight. And they will be ideal for smart-casual occasions if they come in a slim or structured cut. For better results, look for a tapered or elasticized ankle.
Q. What shoes work best with joggers?
A. Laceless shoes like Vans slip-ons are your best go-to option, and so as sneakers. But brogue shoes or loafers can also be an ideal choice. If you can, select jogger color-contrasting shoes. Ensure your footwear are neat, and Boxfresh to keep them sleek at all times.
Q. Are joggers different than sweatpants?
A. There is really not much difference between the two. Joggers are usually made of a lighter fabric, and they have a more structured shape. They also have a cuffed and elasticized ankle. While sweatpants have a more casual appearance, and they are made of a warmer fabric.