Indian bridal eye makeup ideas – Your face's most prominent and alluring feature is your eyes. Eyes are the window to the soul and a reflection of individual taste. Indian brides have been exploring and attempting different wedding trends for years. Many alternatives are available, whether you want a classic brown smoky eye or something bare and simple. The list is endless!
However, understanding your eye shape is crucial to make the most of your eye appearance. In the same way that an outspread outer V can give round eyes a broader, longer appearance, a sky-bound wing liner can balance out downturned eyes.
Lighter eye makeup and emphasized inner corners assist elongate smaller eyes, while smeared styles can dramatize narrow ones. This makeup mixture is also completely customizable to match your face characteristics, clothing color, skin tone, and even eye color.
Best Bridal Eye Makeups to Take Inspiration from!
Weddings are undoubtedly a very happy time of your life, but on the other hand, the pressure to do everything perfectly is on another level. We understand that you want to look your best on your special day, and we are here to help you achieve this look. Here are some tips you should keep in mind when doing eye makeup.
Do's And Don'ts Of Bridal Eye Makeup
How you shape your brows, from plucking to cosmetics and finishing, can significantly alter how you look. Strongly sculpted brows that make an impression frequently pair well with heavier, more prominent night makeup. They will draw attention to your eye makeup and provide you with the desired look.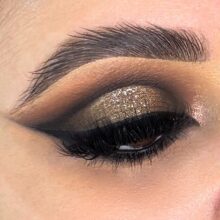 The eye makeup palette should have excellent pigmentation to start. If the product's pigmentation is poor, it will appear murky and dull on the skin. Take this into consideration whether you are applying your makeup yourself or having someone else do it for you. You don't want your look to be spoiled by this issue.
Mascara is a requirement in almost all eye makeup looks, and bridal makeup is no exception. Ensure you use a mascara primer for beautiful lashes. It depends on your preference whether your mascara should be applied lightly and naturally or boldly. Before the look, it is preferable to check out many possibilities to decide which suits you.
For once and for all, your makeup artist cannot hear your thoughts, so express yourself. Without communicating your needs to the other person, you cannot anticipate them to comply. Speak about the cosmetics you require and wish for the ideal wedding look.
Even if you've never thought about wearing false lashes in everyday life, you might want to consider including them in your bridal makeup routine. You may achieve anything from a very clear and basic look to something heavier based on the sort of artificial lashes you select and how you apply them.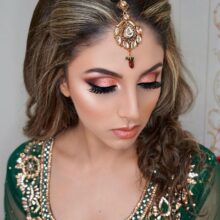 Lastly, having fewer purple flowers is far preferable to letting a rookie makeup artist decide how you want to look for your wedding. Makeup is not where you should take corners because it may literally make or wreck your appearance. For your wedding makeup, do your research and pick a skilled professional.
20 – Smokey Eyes with Emphasized Inner Corners
This timeless black smoky eye offers immediate beauty to any look. The subtly highlighted inner corner makes your eyes stand out and appear further apart. Additionally, the waterline's strong shape draws extra emphasis to your eyes.
You can pair it with a darker-colored wedding gown or a soft nighttime party gown!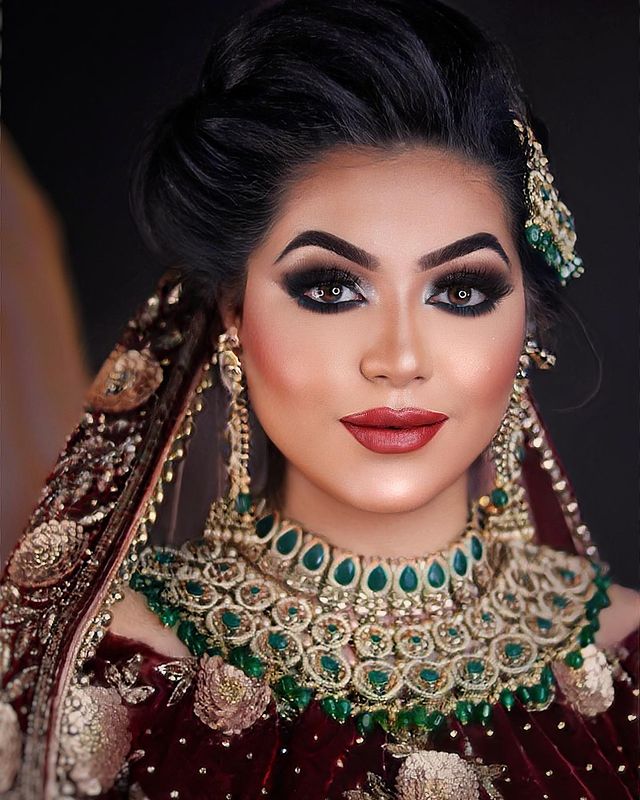 19 – Shiny Smokey Eye in Cobalt Blue
Even though a smoky blue eye is gorgeous for after-party aesthetics, guess what? It is a fantastic choice for a contrasted bridal eye makeup look as well. If you're aiming for such eye makeup, keeping the lipstick to a minimum is important. Similar to how the subtle lip color makes the bride's eyes, which are the dominant feature, the center of focus!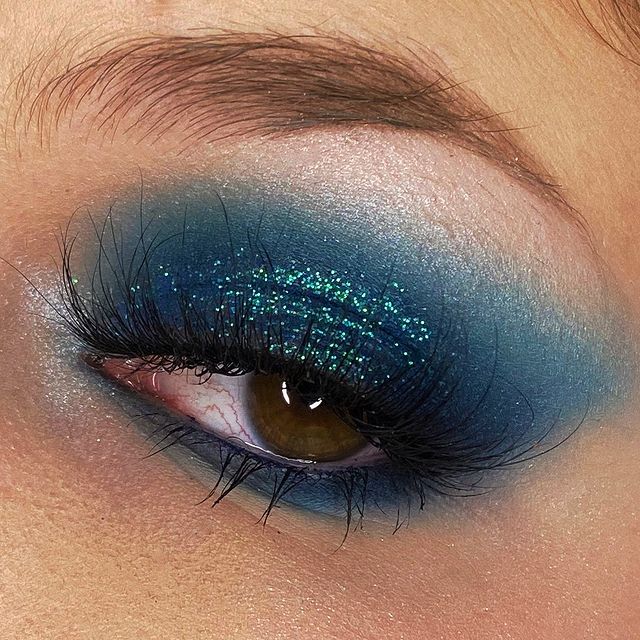 18 – Traditional Black and Brown Matte Smokey Eyes
This dark smokey eye makeup can be worn with almost any outfit. The brown shades paired with a black smudge look at the outer corners will make your eyes bigger. You can also pair blue or green lenses with it.
It will look stunning if paired with a light beige or grey lehenga! All of the brides with lighter skin tones are welcome to try this option. Choose a light lipstick shade to highlight your eyes, and you can dazzle your audience with grace.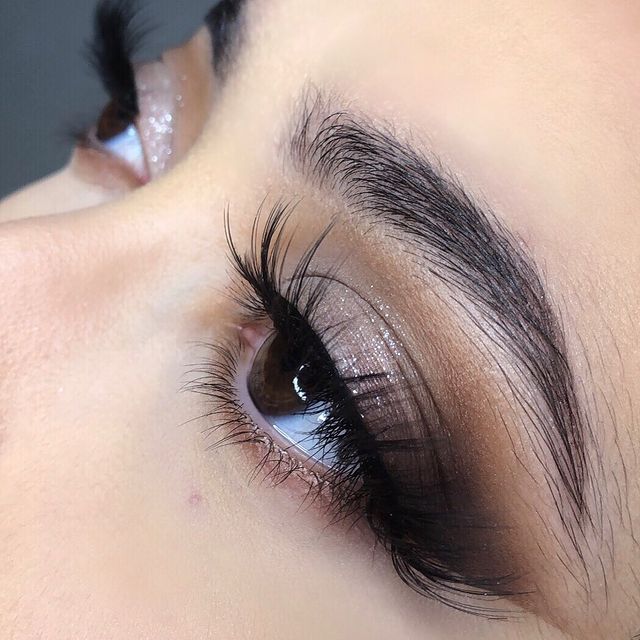 Choose nude-based colors for your eye makeup if you like to keep things uncomplicated. A straightforward appearance will do a fantastic job when paired with strong brows, an embroidered lehenga, and jewelry. Boho brides who are having an outdoor wedding can pull off this style.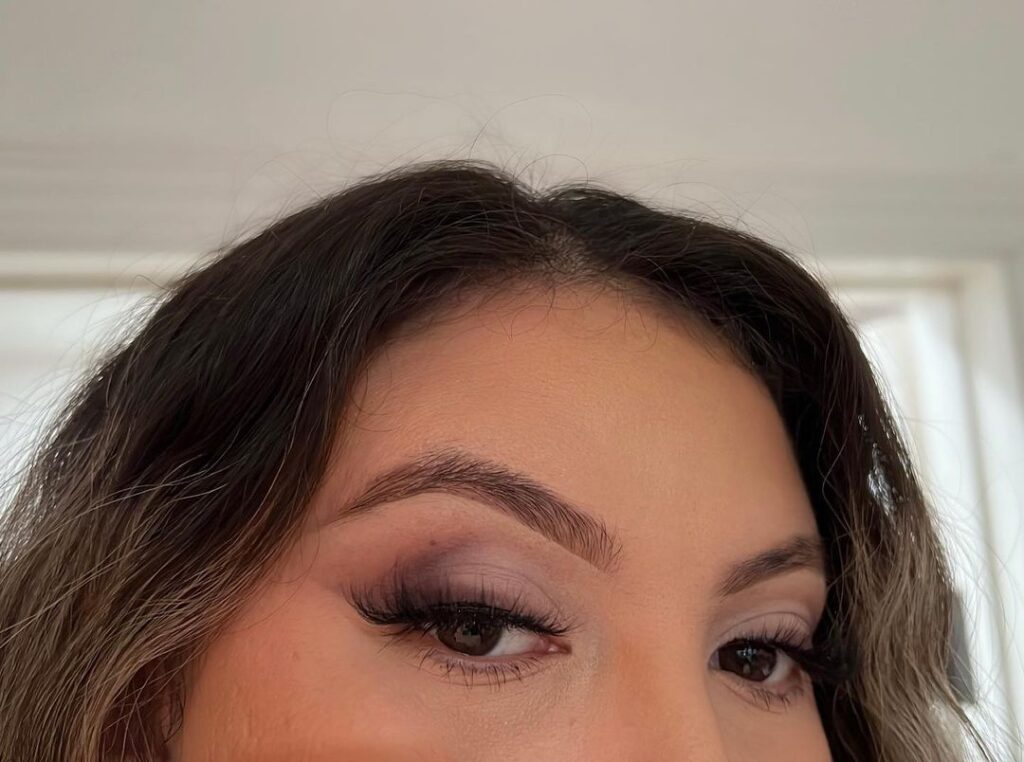 16 – Minimalist Pale Brown Eyes
This classic shade of pale brown nude eye makeup is a straightforward and pretty option, especially if you want to go for heavier attire that day. This monotone bridal eye makeup is something that grabs your attention right away. Extra points for its simplicity of implementation—even you can do it by yourself.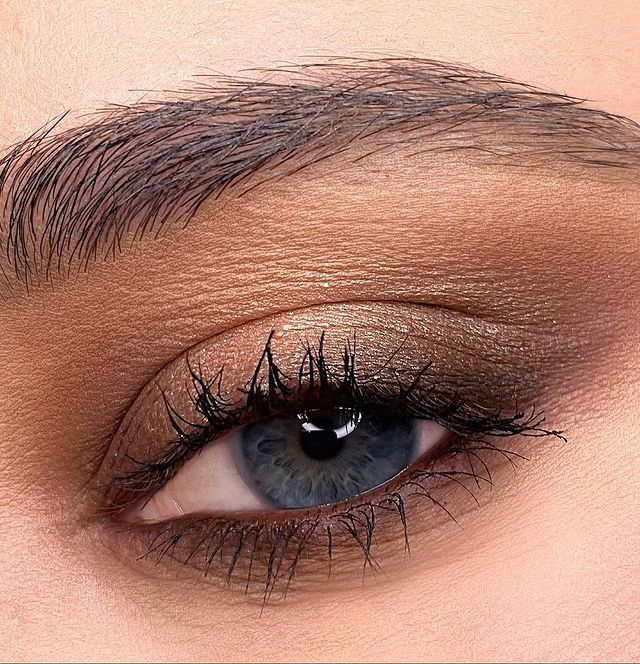 15 – Copper Brown Eyes For Your Big Day
This is among the most elegant bridal eye makeup options available. This Indian bridal eye makeup for small eyes and big eyes, will definitely be your charm on your big day. Your eyes will look noticeably longer if you use a deeper hue on the outside of your lid and winged eyeliner. You can always include flowers in your bun that are the same color.
Additionally, the general appearance created by the shimmer is appropriate for an Indian wedding. Color lenses and natural lips can be used to complete the look.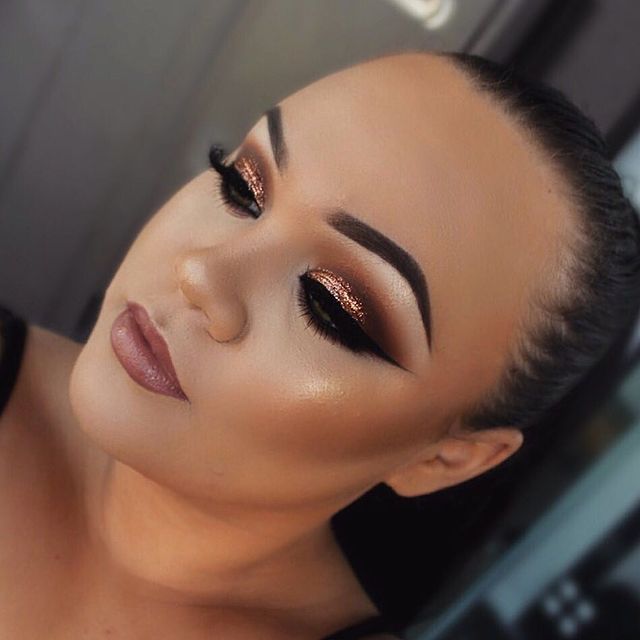 14 – Layered Graphite Eye Makeup
To give your eyes depth, put multiple colors of eyeshadow on top of one another. Combine graphite, light maroon, and blue hues to accomplish this striking look. It's a great option for evening parties and the main wedding. It is best to go for this look if you are wearing a light dress.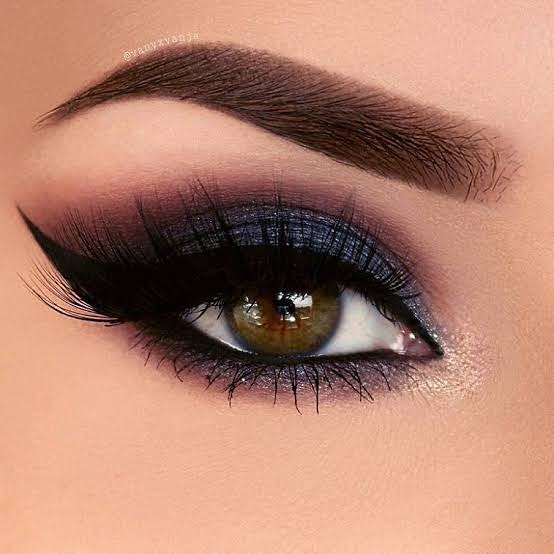 13 – Try Lime Green Glitter Eyes Look
It is not required to match your eye color to your clothes in order to look decent. The many tones of green work well together. Adding a contrasting color with shimmer is always an option. You may easily pair this lime green eye makeup with a bright yellow or mustard lehenga.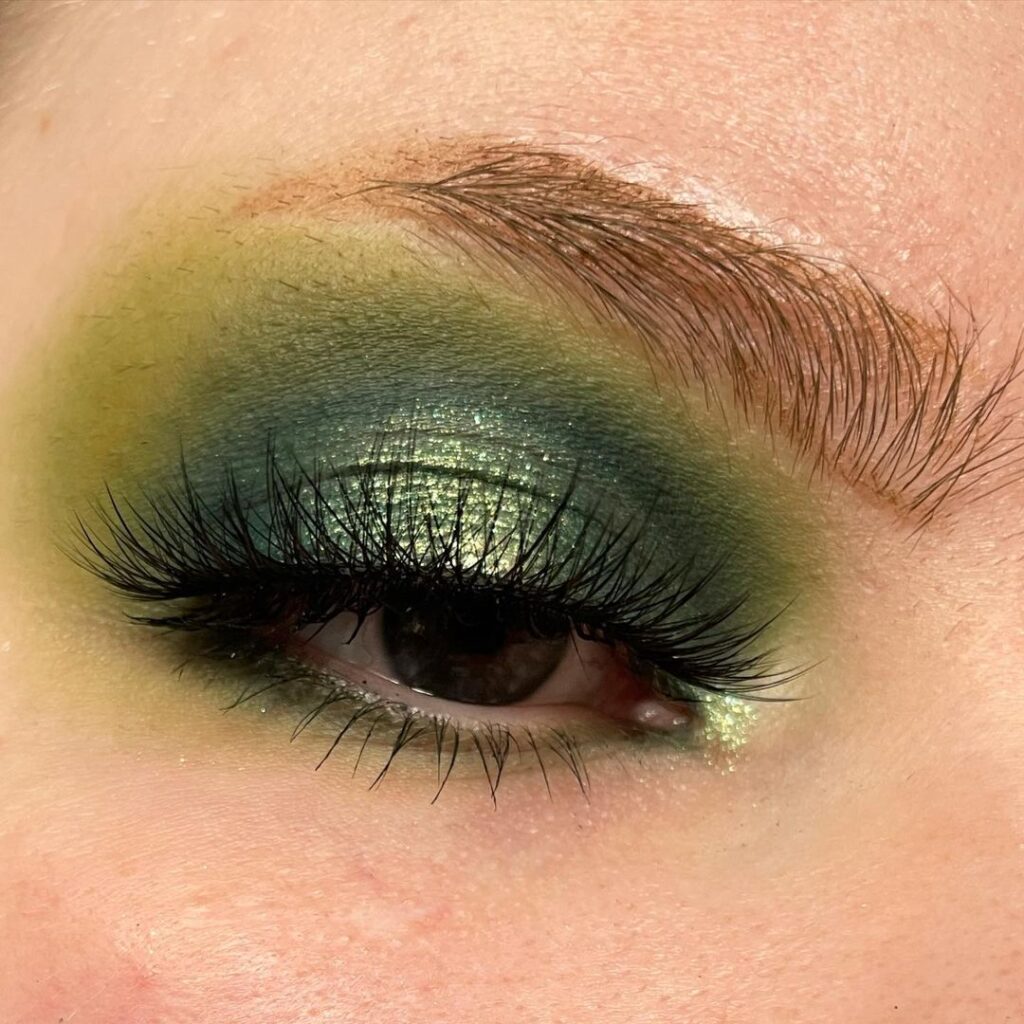 12 – Pink Eye Makeup Is Everywhere
If you're wearing pink wedding lehengas, try enhancing your bridal look with this stunning dusky pink shimmery eye makeup. It will go well with your sparkling attire. While mascara merely saturates and elongates natural lashes, false lashes enhance them.
Additionally, they are tear-proof, which is wonderful if you don't want your mascara to run down your cheeks while the vidai ceremony is taking place.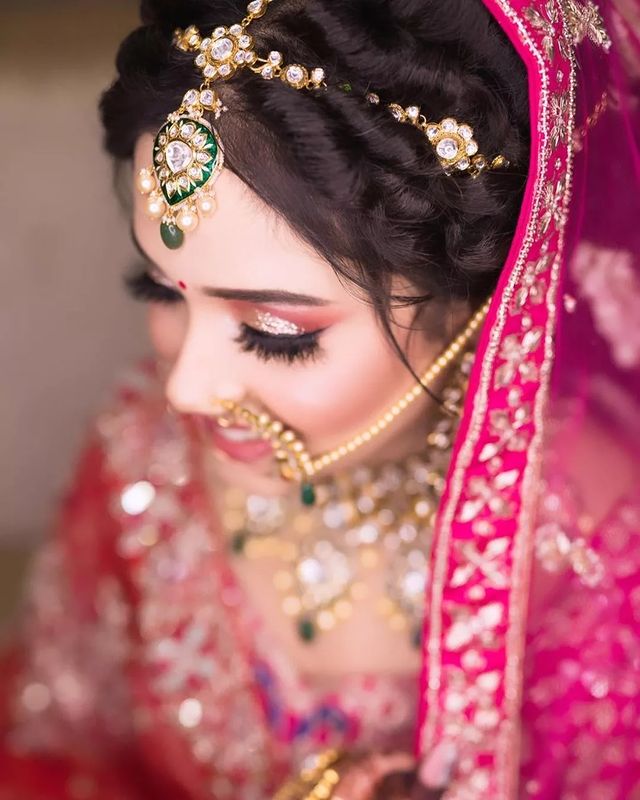 11 – Copper Gold Glitter Wedding Eye Makeup
For women who adore everything a little bit glittery, this style is ideal for the wedding! Applying this glittery copper eye look at home is simple as well. Add a base color, then cover it all in complementary shimmer shadow.
Moreover, this choice will harmonize your look if you decide to put on a dark-toned dress.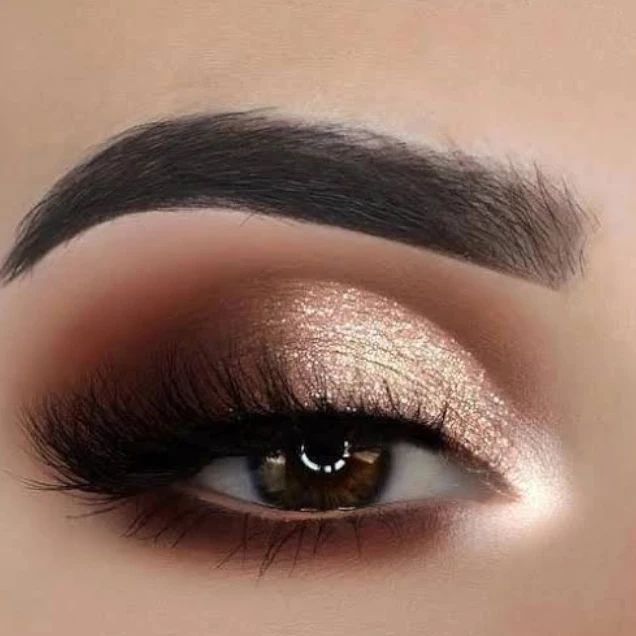 10 – Simple Pink Glittery Look For Your Rescue
This would be an ideal choice for a daytime function. This color will look good with any outfit that includes purple or pink hues. You can also add some light colored lenses to bring attention to your eye makeup. It is adaptable and doesn't either make your eyes appear bigger or smaller. This is ideal for an engagement, wedding, or roka ceremony.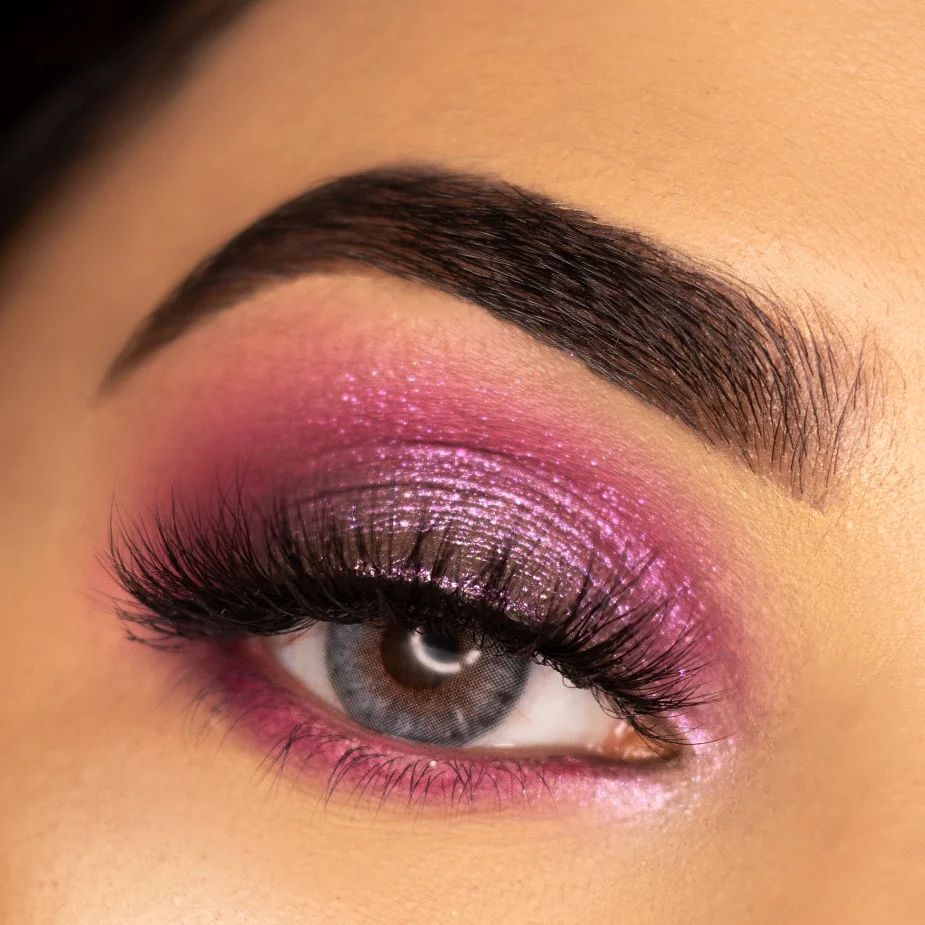 9 – Golden Simple Is Your Go-to Option
This golden eye makeup with dark lipstick will look heavenly on you regardless of your skin tone. To balance off the minimalism, apply beautiful winged eyeliner and subtle glitter. You may also simply replicate this style on your own! For a pleasant afternoon occasion, chose this particular eye makeup. You will surely feel confident and classy in this look.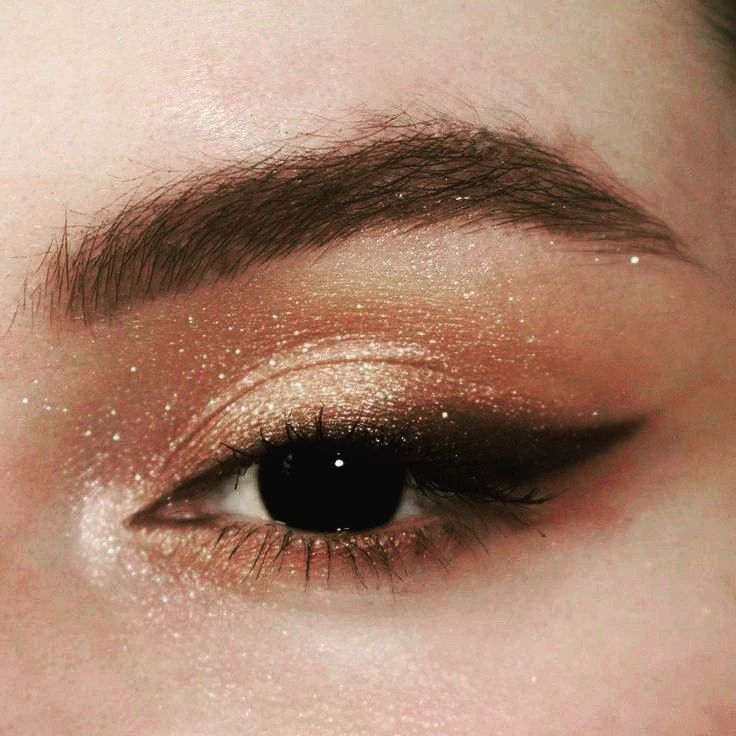 8 – Pair Silver Shade And Black Kajal With Bold Eyebrows
The charm of silver is that it never goes out of fashion, making it another timeless friend of Indian skin tones. This silver look is best complemented by black eyeliner or kajal. Add some mascara and artificial lashes to liven things up. Shine brilliantly on your big day like a diamond.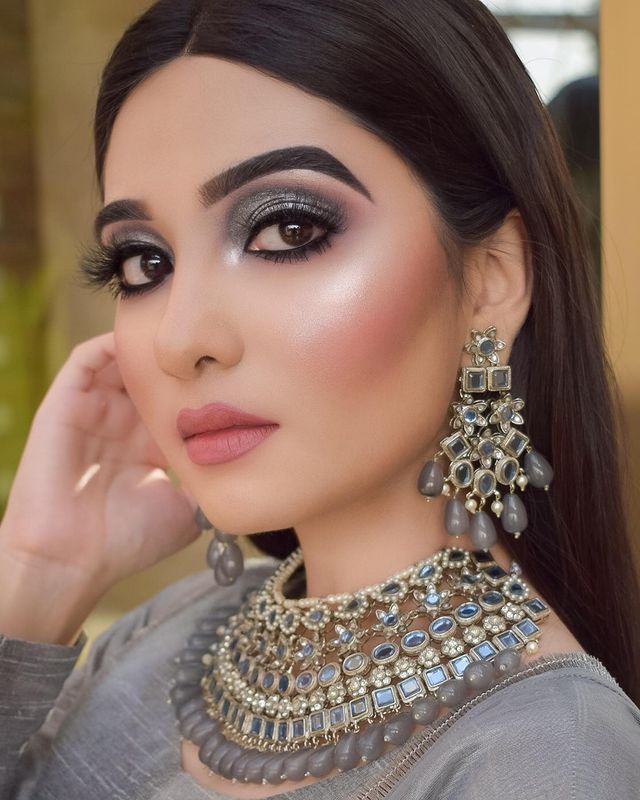 7 – Maroon And Black Smokey Eyes
What is the first thing do we notice right away in a person? Without a doubt, it's the eyes! A striking maroon eyeshadow with a black outline is featured in this look.
These dramatic statement styles can be stunningly pulled off by eyes that have an almond or feline shape. Dark eyes are extremely suitable for evening occasions and go well with clothing of a similar color.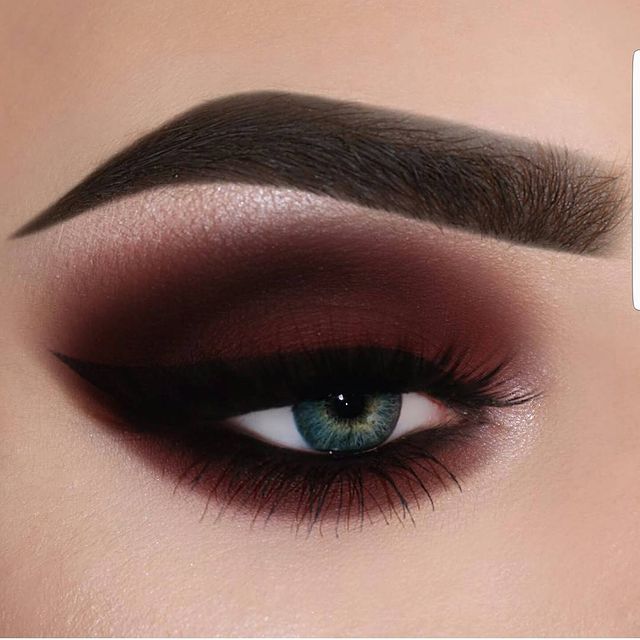 6 – Aesthetic Combination Of Copper Blue And Brown
For achromatic clothing, avoid standard colors and choose an eccentric shade of brown and copper blue instead. These two shades are used occasionally for the wedding look but create the perfect look different from ordinary brides. This smokey eye looks stunning with sparse eyeliner and sheer glossy lipstick.
Add some highlighter, and no one will be able to keep you from stealing the limelight. Even in the convenience of your home, you can get this appearance.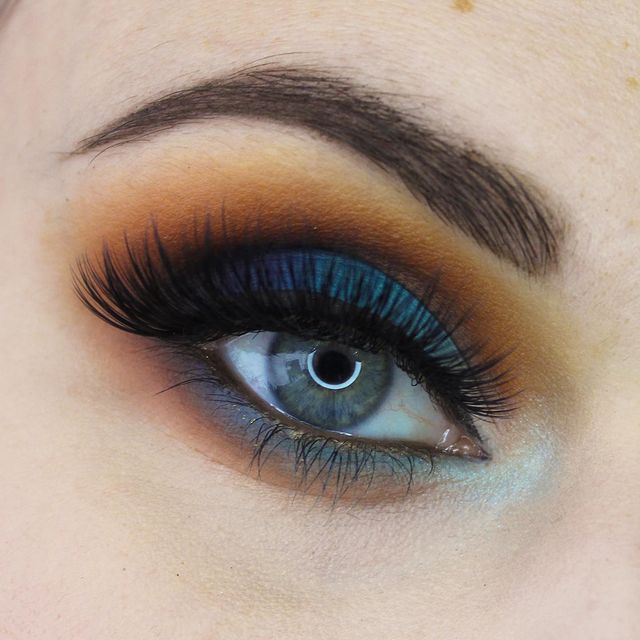 5 – Light Brown With Golden Eyeliner
Don't you think using golden glitter eyeliner with classic brown eye makeup looks much better? A bold and exotic lip color goes well with simple eye makeup. The hollow effect created with the golden shimmer is definitely the highlight of this look. Furthermore, this option will complement your look if you opt for dark-toned attire.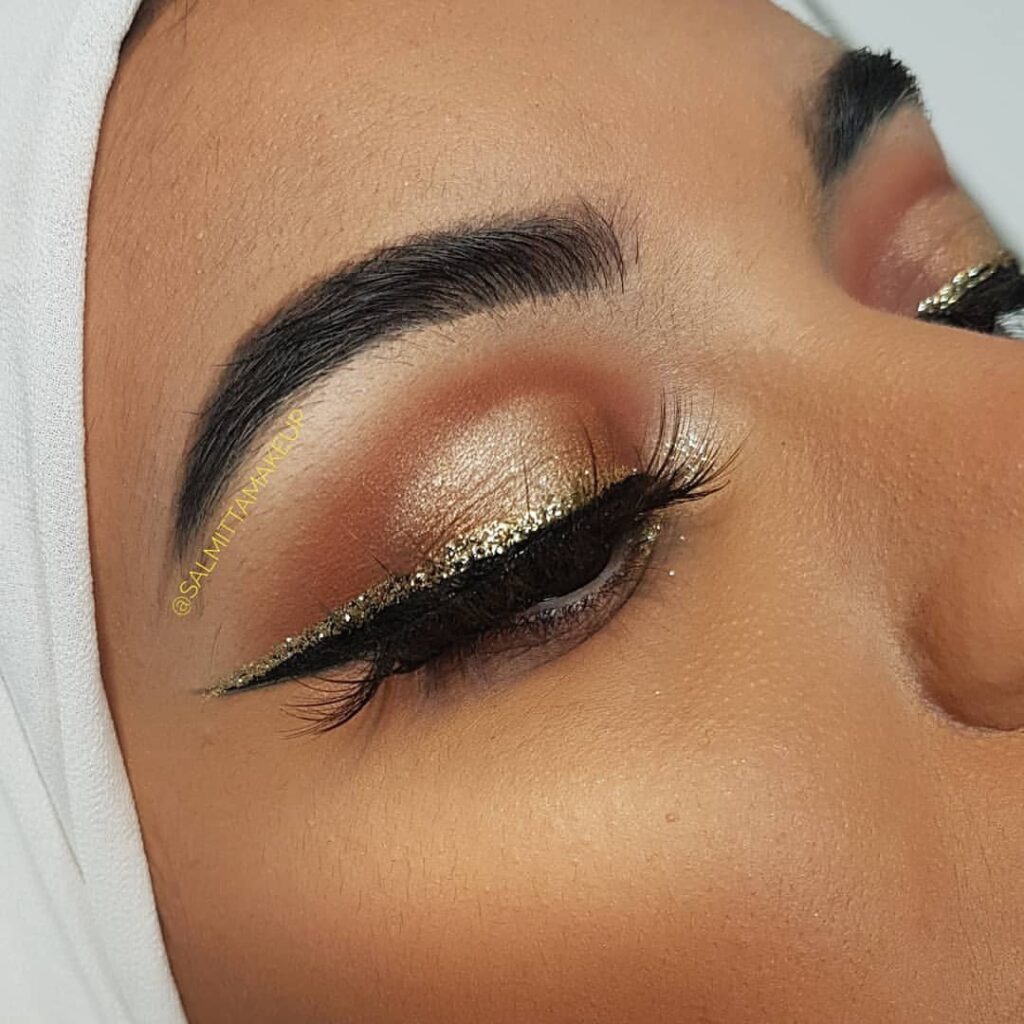 4 – Pair Two Shades To Complement Your Dress Better
Another entry with modest eye makeup would be ideal for a daytime wedding. We know that playing with two eye shadow colors never fails. The smudged outer corners of the eye provide attention and make your eyes appear bigger. Opting for this look will be the best for outdoor wedding occasions.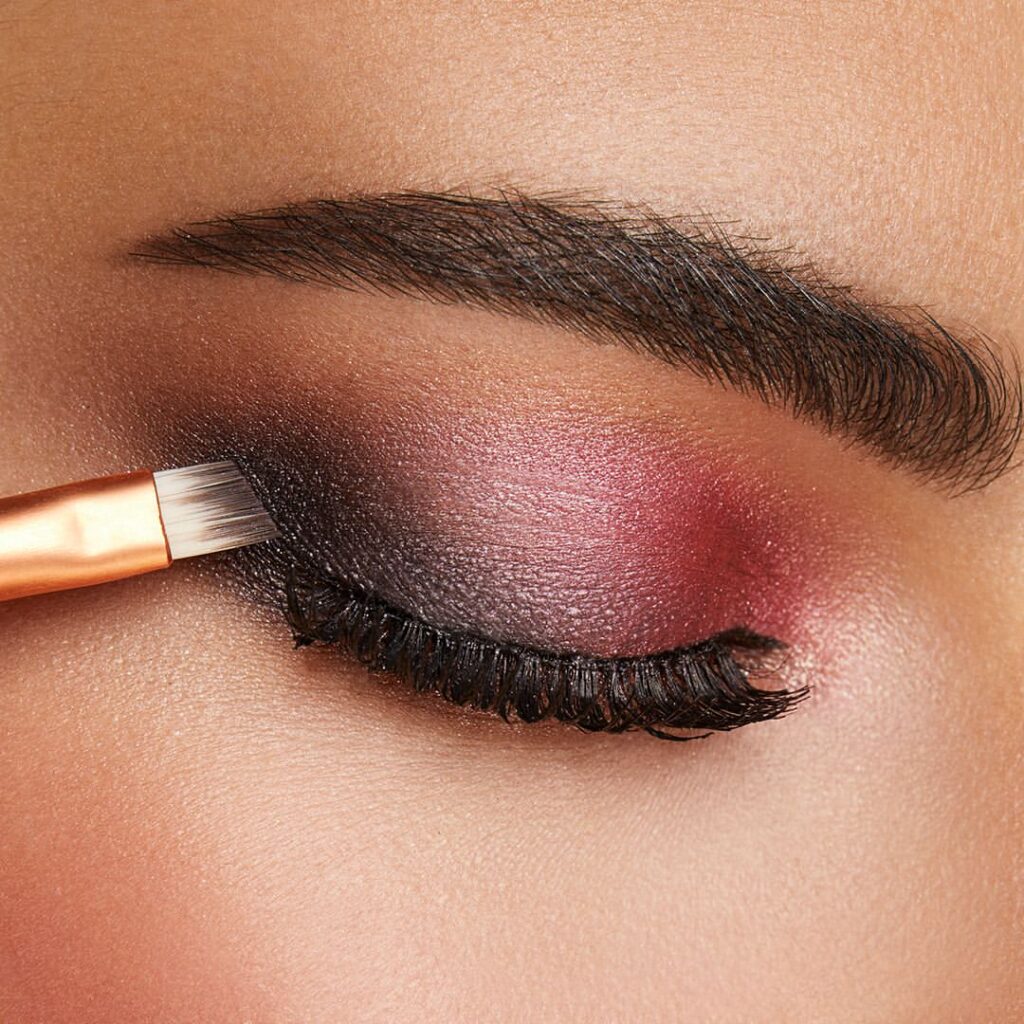 3 – Green Cut Crease Eye Makeup
The distinctive cut crease style from the 1960s has been reintroduced in the cosmetic world, and we love how it appears in bridal eye makeup looks. This use of green tones is surely something fresh you should attempt for your wedding. The crease gives it a neat aesthetic that will go well with green lehengas.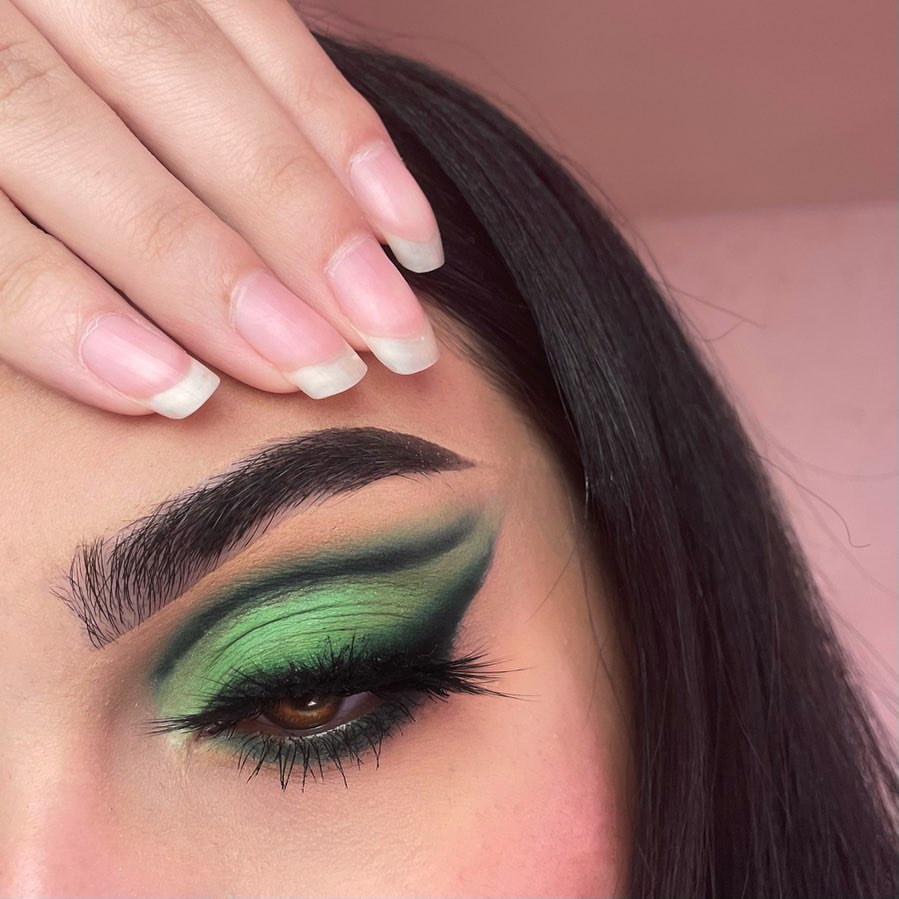 2 – Golden Shimmer With Black Eyeshadow
This classic style is the ideal fusion of understatement and glitz! With this option, you can maintain simplicity without being demure. Indian brides' complexion tones will complement the golden sheen on the inside corners. The smudged outside corners, black eyeliner, and artificial lashes will suit your heavy costume.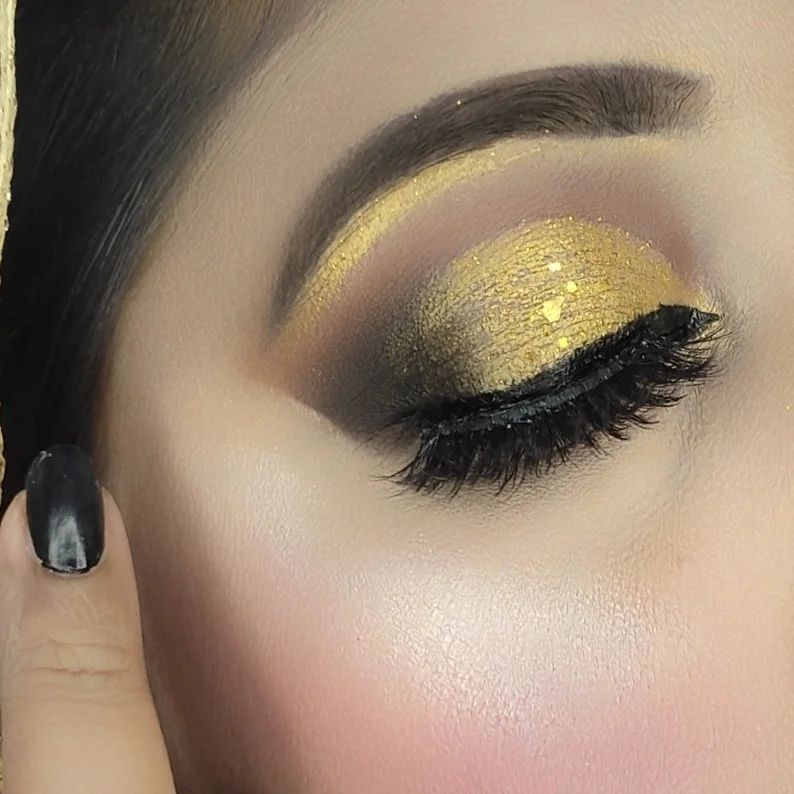 1 – Light Pink Shades For A Glamorous Look
Looking for a simple and understated aesthetic for an outdoor wedding? All your demands can be met with a classic pink look with mascara and subtle eyeliner. And it won't hurt to add some additional glitter.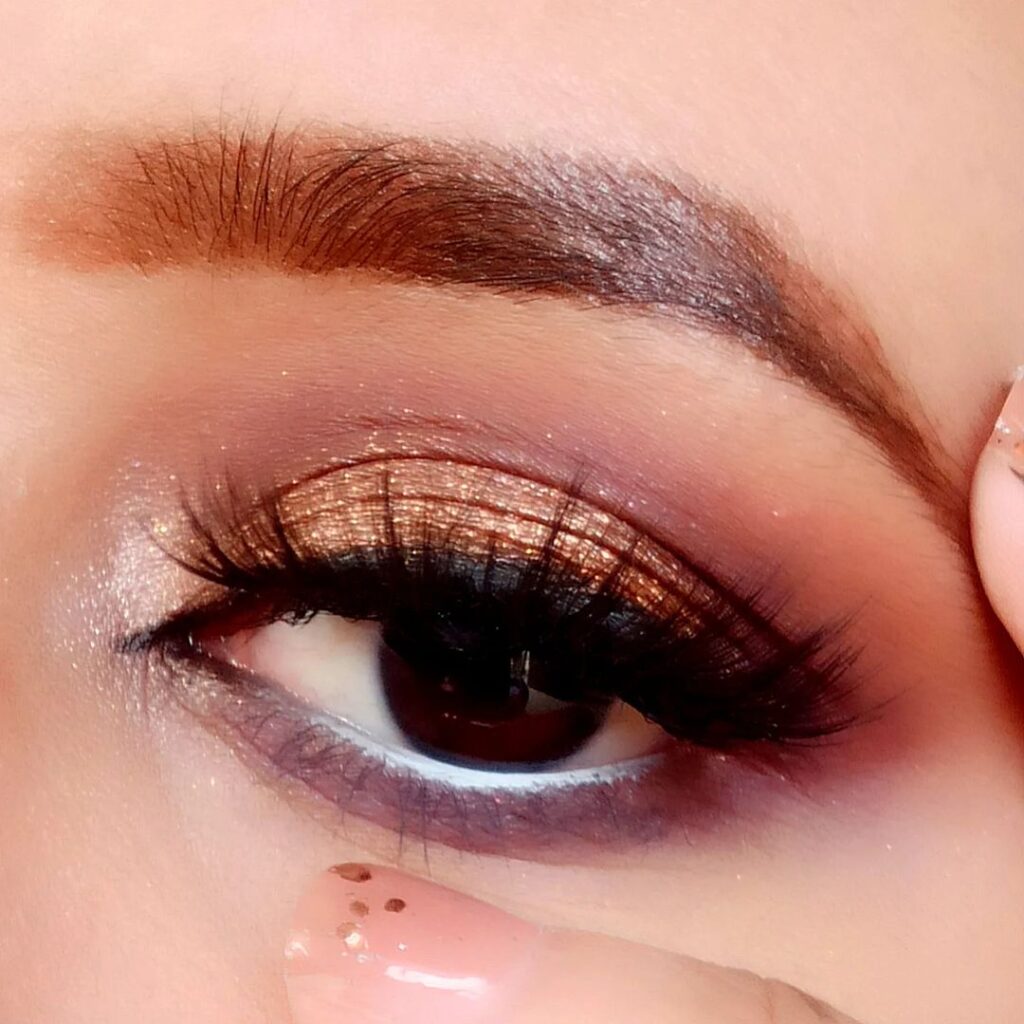 Q: Which is the best bridal makeup?
Ans: HD Makeup and Airbrush Makeup are the most cutting-edge bridal makeup ideas for achieving a beautiful finish on your wedding day. Everyone wants to go for the perfect makeup on this big occasion. On your wedding day, you'll need a revitalizing and energetic attitude to show off your attractiveness, and these bridal makeup options will be your safest choice.
Q: What are the most important factors to take into account when hiring a bridal makeup artist?
Ans: These are the steps you should do when hiring a makeup artist. firstly, it is better that you get to know them well and have a look at their previous work. Discuss what look you want to achieve on your big day. In most cases, they also provide a trail that will help you in making your decision. One important thing is to tell them beforehand if you are suffering from any skin problem or not. By now, you will have a fair judgement whether you want to work with them or not.
Q: What kind of lenses is best for a wedding?
A: You should choose the color of your lenses based on various characteristics, including the shade of your skin and hair. Even the type of appearance you wish to create—natural and understated or bold and dramatic—can influence the color of your lenses.
If you want a bold new look that everyone catches right away, a warm-toned contact lens like light brown may be suitable. However, choose contact lenses with striking hues like blue, green, or violet if you want to stand out.
Q: What eyeshadow color is best for bridal look?
A: Makeup artists mostly prefer brown and traditional colors like red, pink, etc. But they are not the final colors one must go for. You can discuss your overall look with your makeup artist, keeping in mind your dress color and eye shape. They will guide you properly.