Most Beautiful FIFA 2018 Girls : The much-awaited event of the sports' world FIFA 2018 has started with an absolutely smashing ceremony in Russia. After the impressive initial celebrations, the teams have kicked off the play with a great vigour and some of the most happening matches of the football history can be seen this year in Russia. The most amazing thing about FIFA World Cup is that not only men but women are also found to be an equally strong supporter of this event.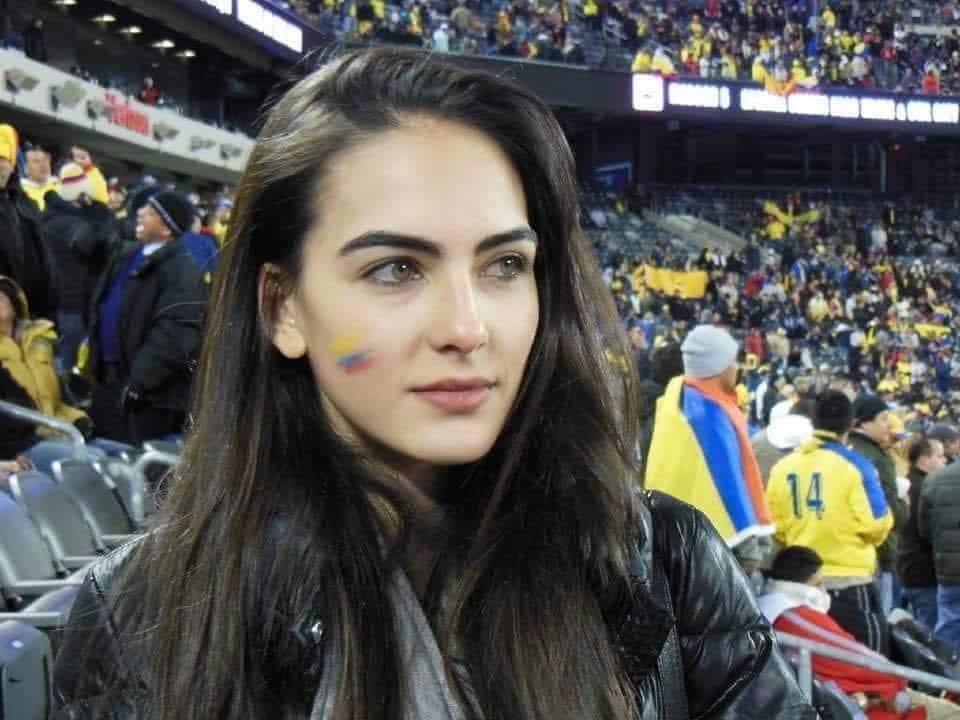 In the matches that have taken place, the camera has successfully taken pictures of thousands of enthusiastic female fans from around the world. The women in Iran have actually waged a war to get to see the game in the stadium and this struggle has marked a new history being written under the heading of women's rights!
Here we have captured some of the most beautiful women that have been seen celebrating and cheering on their teams.

↓ 20. The Girl with the Beautiful Hat
In the match held between Saudia Arabia and Russia, this beauty caught the eye of the camera. She was wearing a traditional hat which celebrates the rich culture of Russia. With beautiful blonde hair and her rich smile, she was found enthusiastically cheering for her team: Russia.
Do check out these Top 20 Countries With Most Attractive Female Soldiers In World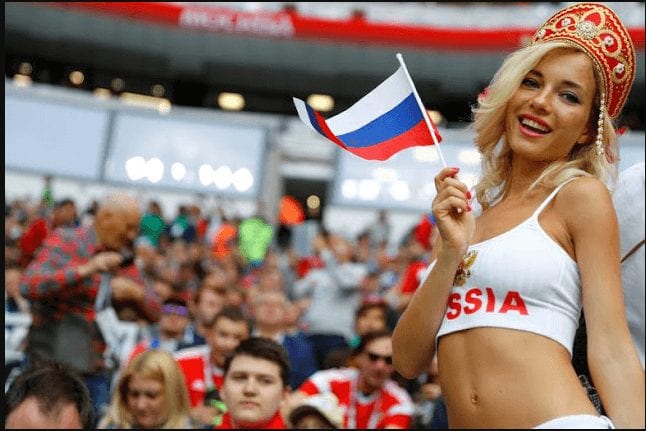 Via
↓ 19. Croatian Female Fan
Croatian fans are having the time of their lives as their team is performing wonderfully in the FIFA World Cup 2018. As the excitement is mounting, we saw this beautiful female fan flicking her hair away to catch the exciting moments of the match between Nigeria and Croatia.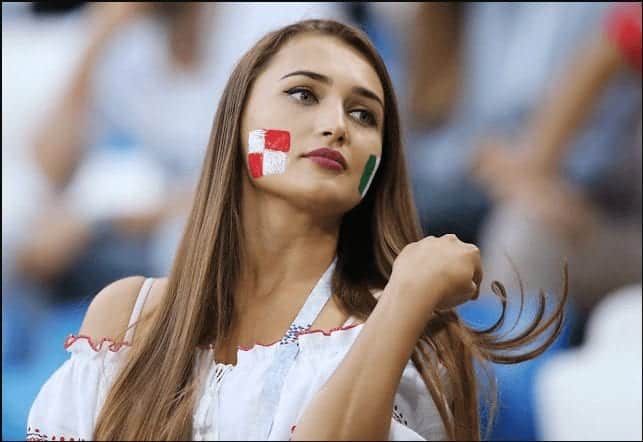 Via
↓ 18. Cute Tunisian Fan
This time around in FIFA we saw the reappearance of some great talent and Tunisian team is one such team. Even though they haven't been able to grab a win but have performed quite well. We see a beautiful Tunisian fan here cheering her team on while being dressed in this bright cheery red color garb. She is wearing a beautiful traditional red hat with black tassels to display the heritage of Tunisia.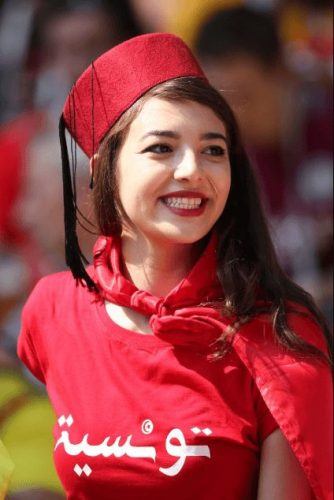 Via
↓ 17. The Iceland Fan
Famous for their "Viking Clap" that they introduced in Euro Cup 2016, the Iceland team is being celebrated and cheered greatly by their fans. In this match against Iceland and Nigeria, we see this beautiful female fan with an amazing Hat.  The Hat has intricate work of pearls and catches the eye immediately.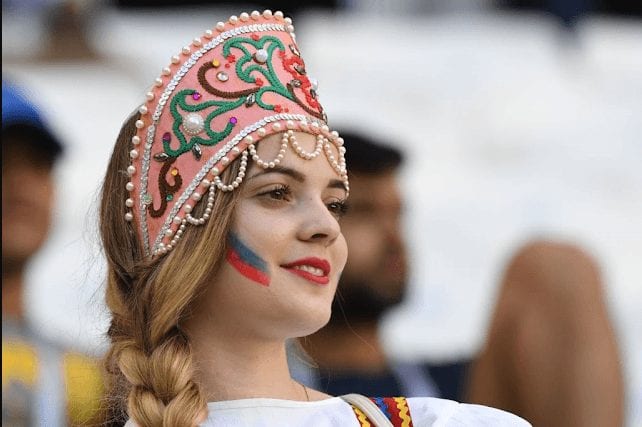 Via
↓ 16. The Jubilant Mexican Fan
Mexico Fans are over the moon and they have all the reasons to be so! Their team is now at the top of its group and we see the fans celebrating with huge smiles and flying kisses!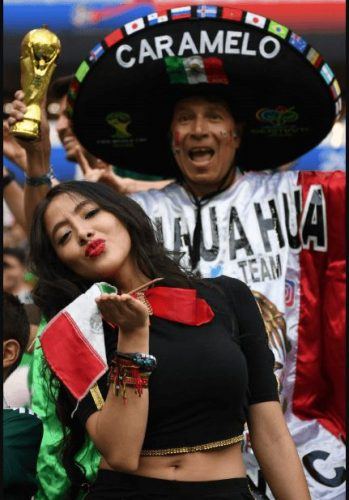 ↓ 15. Argentine Fan
Having huge legends in the team like Messi, the Argentina team had high hopes but they have been brutally crushed. They have unfortunately been the worst in their group and are out of the competition now. However, before the defeats, the loyal Argentina fans have been found celebrating and encouraging the team to win!
Also See :20 Most Hottest Athletes from 2016 Olympics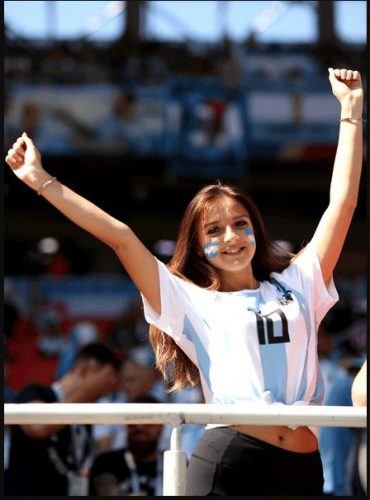 Via
↓ 14. Predictive Attire
Fans have been predicting great wins for their teams and here a beautiful Polish Female fan is seen wearing a predictive bralette for their team's win! Even though sadly Poland lost the match, but this beauty caught everyone's eyes!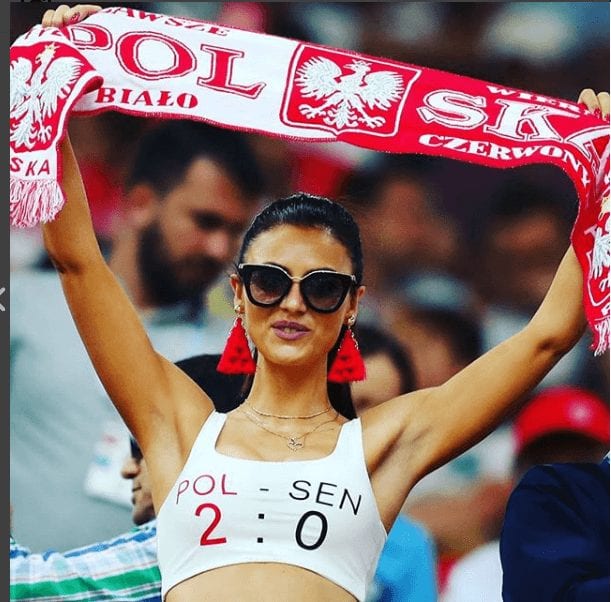 ↓ 13. The Beautiful Model in White
The model Natalia Vodianova cheered the fans prior to the match between Russia and Saudia Arabia in Moscow. Dressing impeccably in a white outfit, she encouraged the teams to play their best. Wearing a bold lipstick and with her hair on point, it was difficult to take eyes away from her.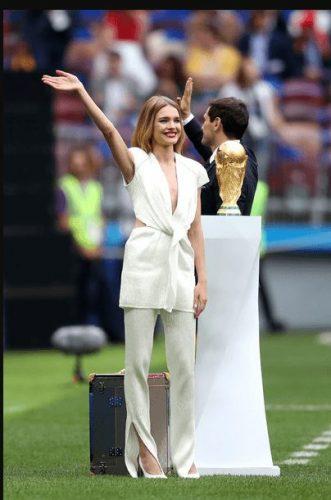 Via
↓ 12. Bowler Hats
Bowler hats have been very popular and are a great way to show your loyalty towards your team. This beauty was seen supporting her team Croatia against the match with Argentina.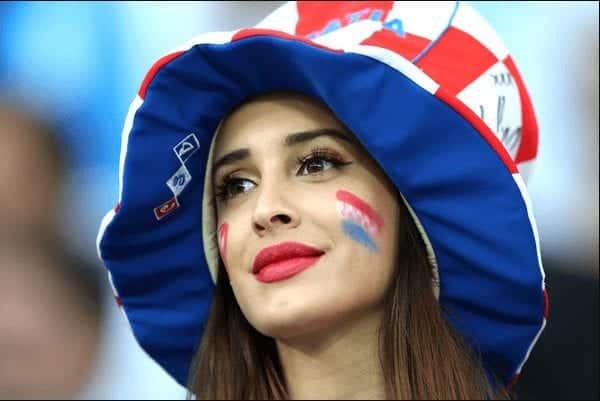 Via
↓ 11. Extraordinary Outfit Choice
This Mexican fan has won the hearts with her beautiful and very unique outfit choice. The cameras clicked her photos and she couldn't be more radiant. This photo was taken while she posed in the Rostov Arena in Russia.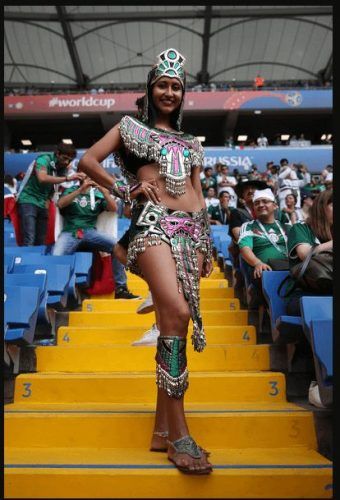 Via
↓ 10. Beautiful Supporters for Japan
Japan has been the luckiest team as far as support is concerned. A diverse range of both old and young Japanese supporters have gathered to cheer on their team and have high hopes. Here a bright and eager beautiful Japanese female fan is seen posing before the game between Japan and Senegal. Don't miss out these 30 Most Beautiful Honeymoon Destinations of Famous Celebrities.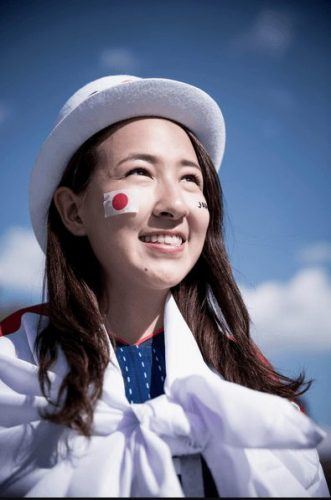 Via
↓ 9. Russian Beauty
Who wouldn't want to win a match when this beautiful woman is cheering you on? Being a fitness trainer in Moscow she has been attending the matches and cheering on her team. Here she is seen posing with the Russian flag!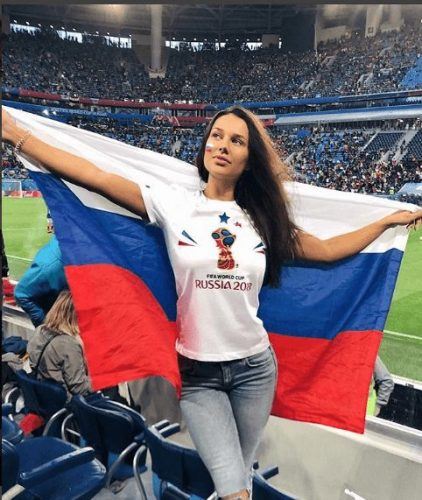 ↓ 8. The Makeup Queen
Mariana Saad, an exceptionally talented and brilliant makeup artist with quite a few tricks up her sleeves was seen in the world cup match. She was supporting Brazil in the match.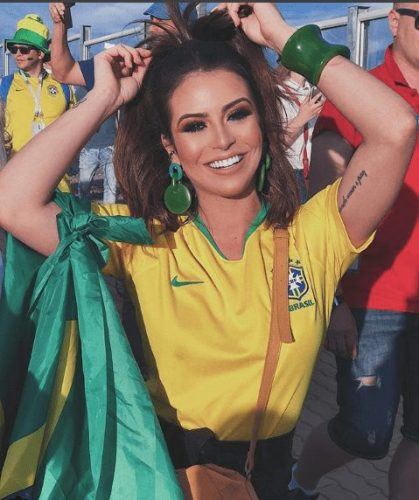 ↓ 7. The Columbian Fan
Being a Columbian fan, Whitney Adda Natalie️️ who is a designer and model was seen on the pitch cheering her team.  Whitney is a sports and gym enthusiast and loves to watch the action on the pitch.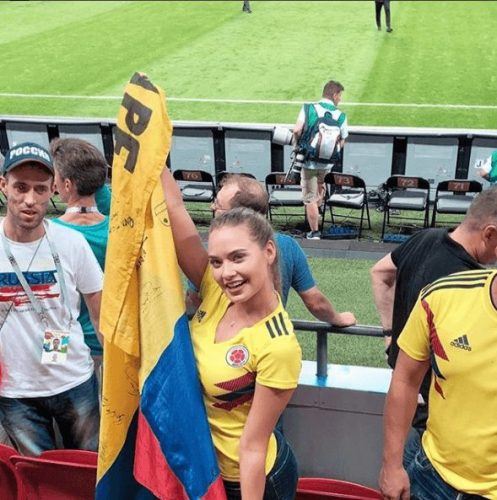 Via
↓ 6. The Seductive Fan
This stunning beauty was seen supporting Brazil and is very enthusiastic in her support towards her team. She is a renowned model and has a great interest in watching football. How on point is her black liner though?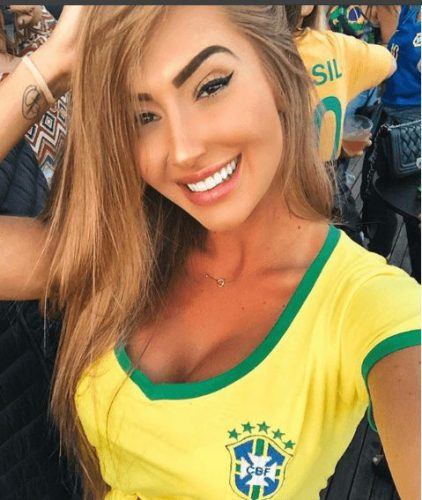 ↓ 5. A Russian Supporter
Wearing a Tee with Russia written on it, this beauty has been avidly supporting Russia in FIFA 2018. RECOMMENDED: These are the 20 Famous Girls Who Can Do Both.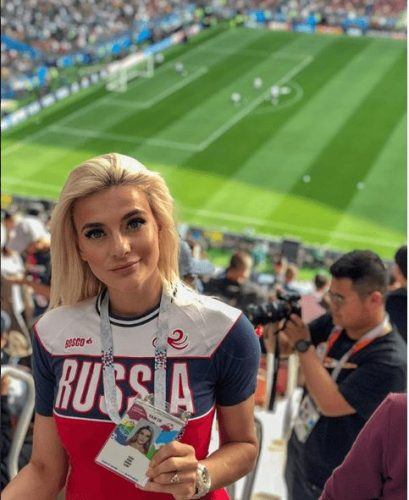 ↓ 4. The Mystery Woman
In the match between Germany and Sweden, this pretty girl was spotted.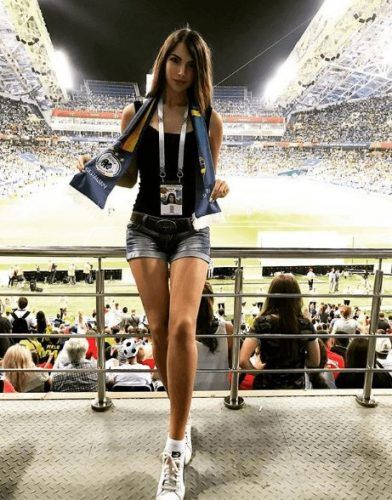 Via
↓ 3. The Girl in Black
Dressed all in black attire, this beauty was wholeheartedly celebrating and rejoicing in the victory of the Russian team.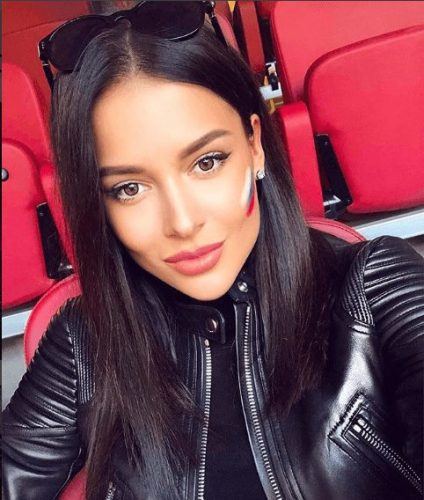 ↓ 2. The Fan with the Beautiful Garland
Wearing a beautiful garland of red and white flowers and a shirt supporting Poland, this polish fan was encouraging her team for a win.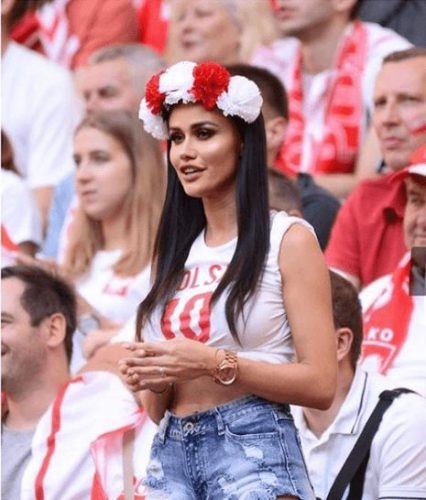 ↓ 1. Appreciating the Game
Spotted in the game of Belgium vs Tunisia, this beauty was supporting the game of football.