Hairstyles with dresses: Bored of your daily, mundane hairstyle? It's time to change it up, and elevate your look with a cute, yet simple hairstyle. Hairstyles can truly make you look different and make you stand out from the rest of the crowd.
You look well put together with a neat hairstyle, and it's a very important factor in your entire look. A beautiful hairstyle completes the look, if your hair is a mess your stunning dress may go to waste. It's time to scroll down and take some inspiration from these beautiful hairstyles so you can try them out the next time you wear a gorgeous dress.
How to Style Your Hair with a Dress?
If you are someone who is really bad at curling your hair, but still want an effortlessly cute hairstyle with your dress try adding studded pins to your hair and you are good to go. For a more casual look, add a headband that matches the color of your dress. During the summers you want your hair out of your face so you can style your hair in a messy bun or a simple braid. Putting your hair back with a beautiful clip is also a great style, today so many Instagram pages and stores sell unique clips. A date night or a formal event calls for voluminous curls.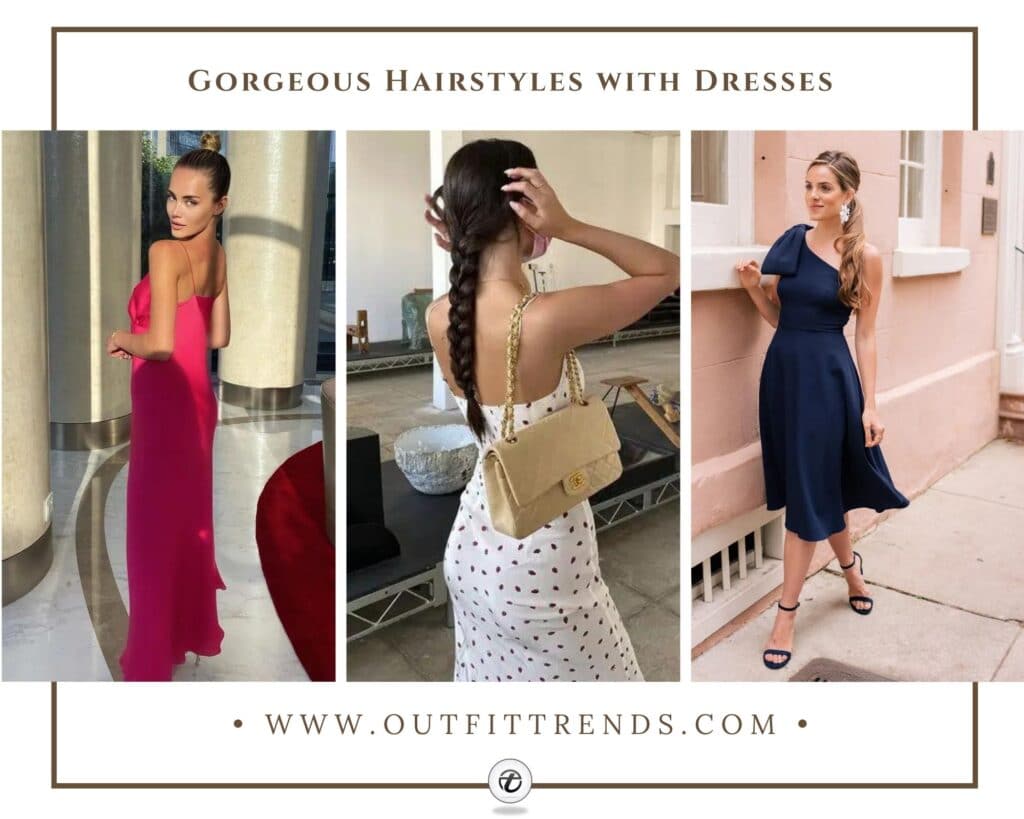 Tips on choosing a hairdo to go with your dress
Don't forget to add a heat protectant before using heat on your hair. Heat can permanently cause a lot of damage to your hair.
For high ponytails, or simply tying your hair use scrunchies as they are soft, preventing your hair from tangling and unnecessary breakage.
Use a hairspray to set your curls or hair for the entire day after you style them. Flyaways can also be set down with hair spray and a toothbrush.
21 – Easy Hairstyle for Short Dress
Short dresses are super sexy and feminine. This navy blue silk dress has lace detailing at the bottom of the dress and is paired with white strappy heels. There is no hard and fast rule for a hairstyle depending on the length of the dress but here we have a simple hairstyle you can try with your short dresses. Take two front pieces of your hair, braid them and instead of leaving them open tie them up with a hair tie at the back. This hairstyle reminds me of a Disney princess. I would highly recommend that you go for one of these Earrings for Long Hair.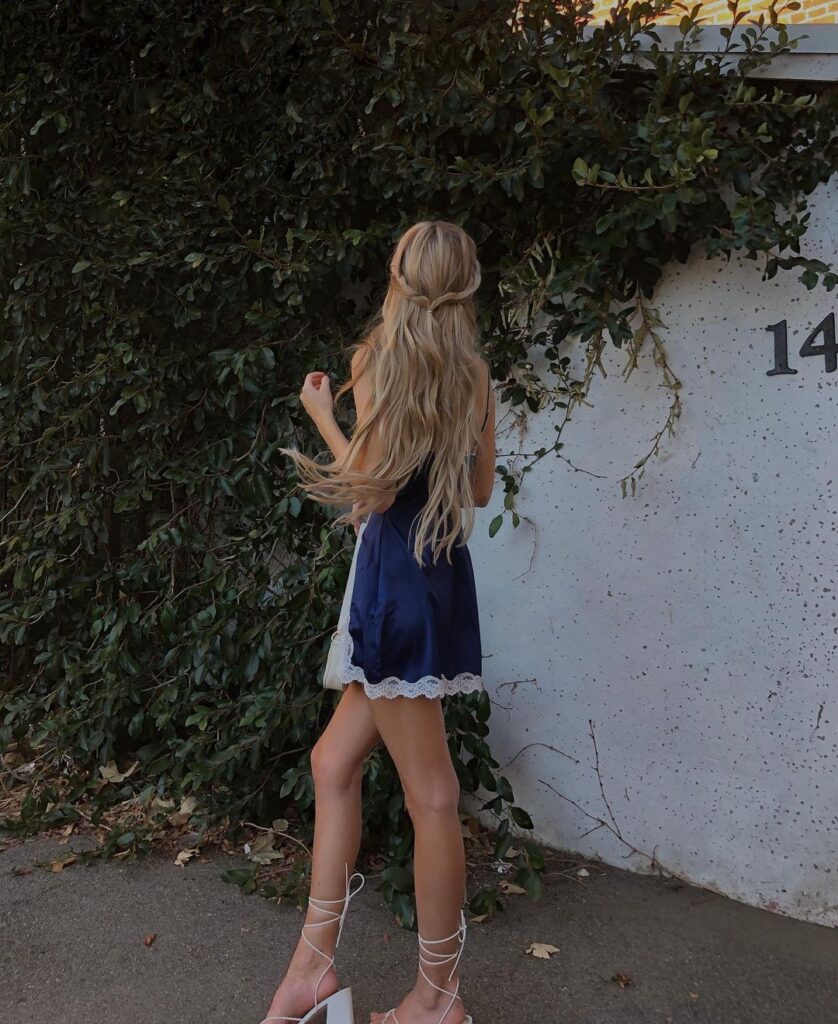 20 – Side Braid Hairstyle
Braids look so beautiful, and intricate with an even prettier dress. It's a great way to style your hair without using heat or damaging your hair. Braids are a great way to keep your hair out of your face and prevent breakage. To achieve this look, part your hair in the middle and braid your hair towards the side. The longer the hair the better the braid looks.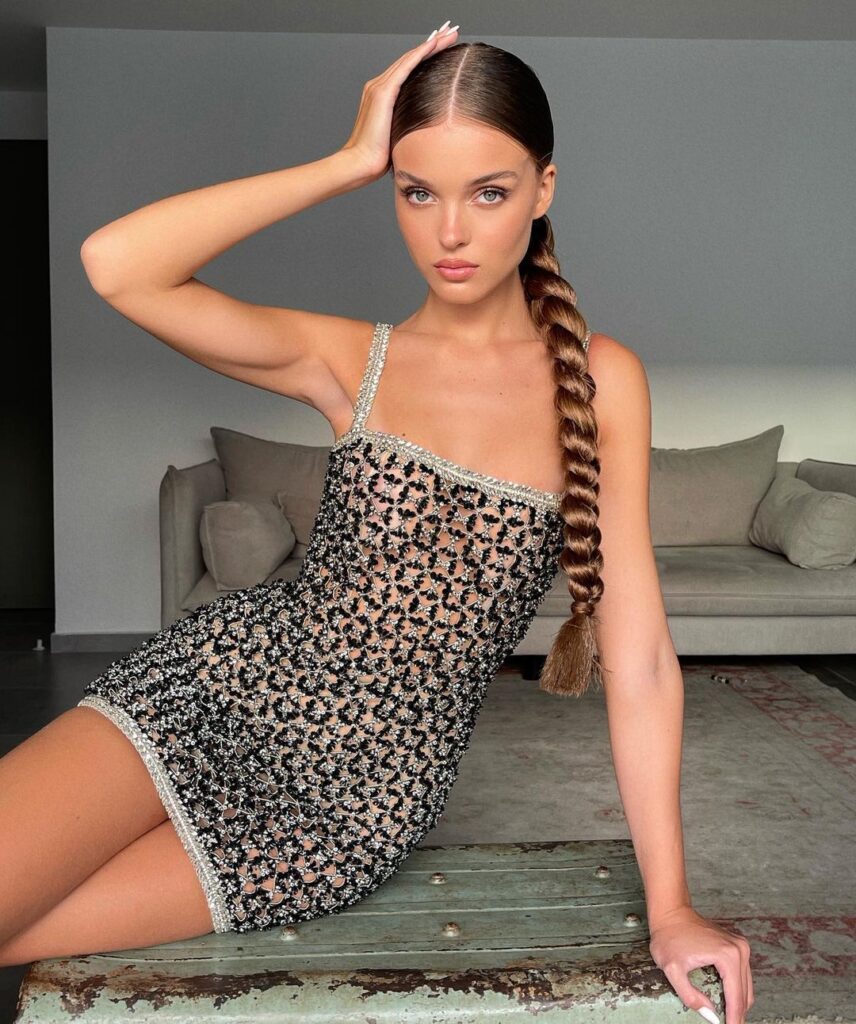 19 – How to Style Your Hair with a Party Dress
How beautiful is this mirrored dress, and the hairstyle is glam yet so simple. Style your hair as you normally would, you could straighten it or add curls at the end. Next, make a middle part of your hair and pin your hair back from both the sides using bobby pins. This hairstyle is great for a wedding, or a formal party or event.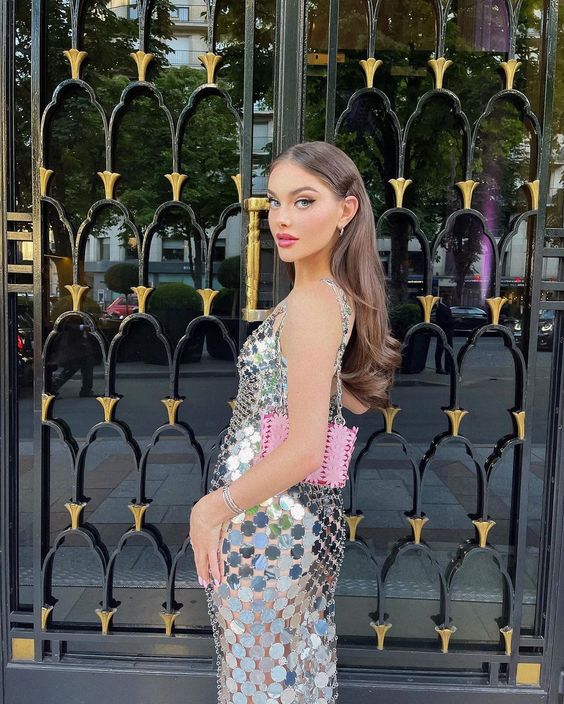 18 – Cute Headband Hairstyle
Wondering how to style your hair with a strapless dress? Headbands are a cute accessory to style your hair. Here we have a gorgeous purple dress, with off the shoulders and a slit in the middle of the dress. It's paired with big studded earrings, a purple bag, and some bracelets. But what really makes this look stand out is the headband. It's actually a silk scarf that's wrapped around the head as a bow. Add curls to your hair and tie the scarf as a knot on your head to achieve this look. If you like this look then do check out the Puffy Headband Trend.
17 – Beautiful Side Parted Hairstyle
Instead of styling your hair in a mid part, go for a side part instead and curl your hair. For a glam touch don't forget to add a pearl-embellished pin on the side, it pins back your front piece and adds a nice touch to your look. This simple hairstyle looks great with a black velvet dress.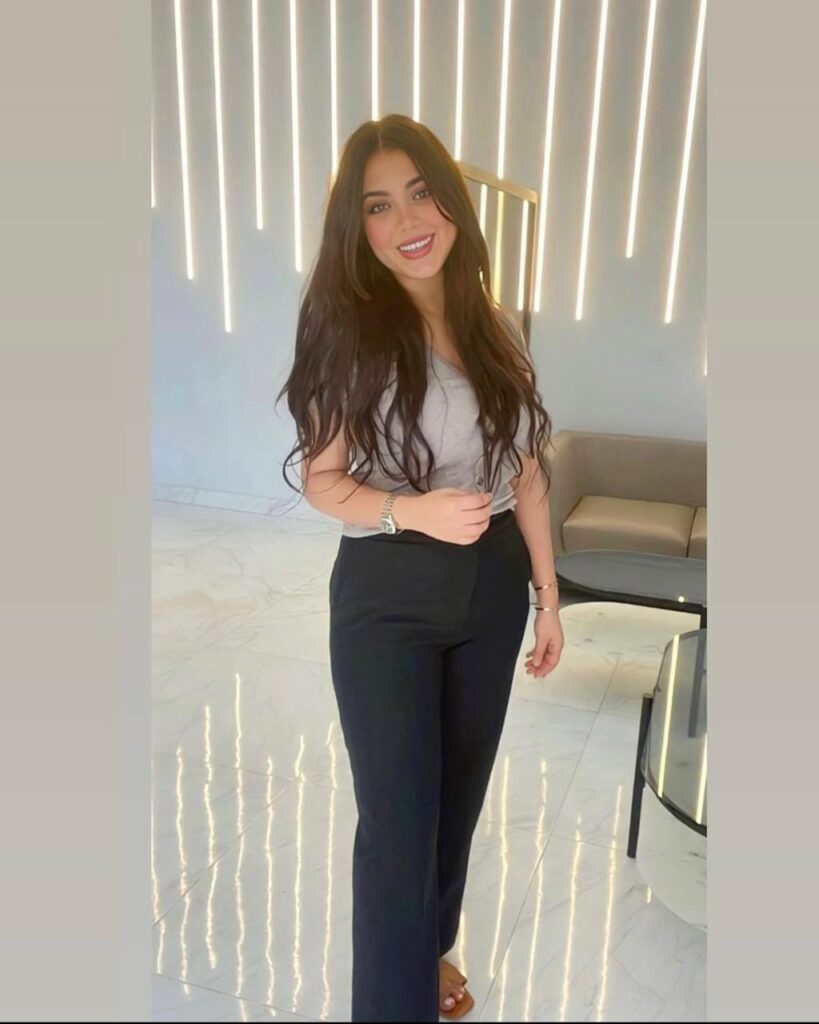 16 – Hairstyle with a Glam Dress
Who knew a ponytail could look this nice with a dress. Here we have a red frilly dress, perfect for a formal party. Tie your hair up in a ponytail after curling your hair at the ends. You can leave two front pieces of your hair open to frame your face and for a gorgeous hairstyle. If you're planning to wear a red dress then do go through these Red Dress Makeup Ideas & Hairstyling Tips for a Perfect Look.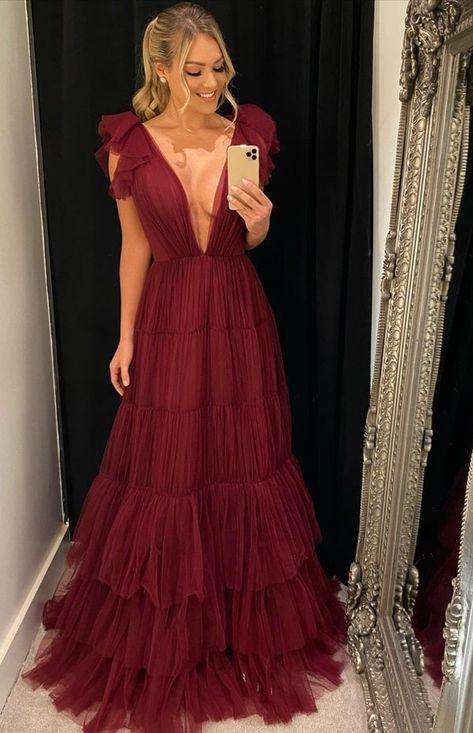 15 – Voluminous Waves
You can never go wrong with thick, voluminous curls for a night out. This lavender bodycon dress is styled with curls that look so sexy and gorgeous. All you need is a curling iron to add curls and run your hair through them to increase volume. Big hair looks absolutely stunning.
14 – Hair Clipped Back
If you have absolutely no time to style your hair because you're in a rush, but still want to style them in a cute manner. This style is one of the simplest hairstyles. Brush your hair properly, and add a pretty clip at the back of your hair. This hairstyle is simple yet never fails to look great with your summer dresses.
13 – Hairstyle with a Wedding Dress
If you're a simple bride and don't want an intricate bun on your wedding this is the look for you. This beautiful dress does all the talking with its lace detailing and the neckline. You can ask your hairstylist to give you big waves, and clip your hair back with beautiful pins to complete the look. Whether you're a bride or a guest or even if you're just getting ready for a party, this open hairstyle with gown is always a good idea.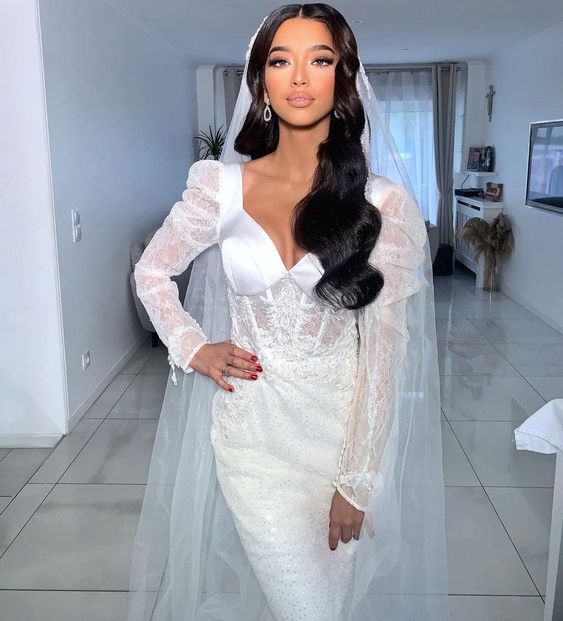 12 – Simple Braid with a Dress
Summer dresses call for a simple hairstyle. Braids are a great way to style your hair if you want them to look amazing the whole day and not have to worry about them. We already took a look at the side braid, now we take a look at the normal braid that stays at the back and looks lovely with your summer dresses.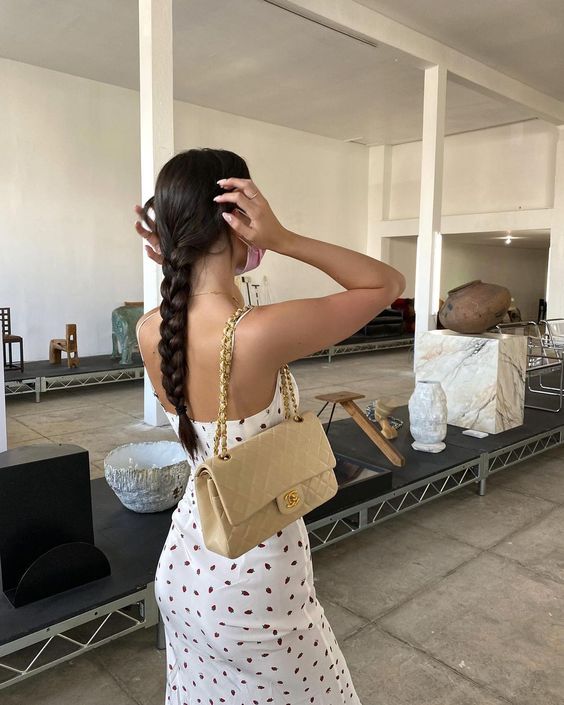 11 – Straight Hair
If you are a curly head, it's time to straighten your hair to look completely different. Here we have a black mini dress, with a belt at the waist to accentuate the curves paired with knee high boots. Straight hair makes your hair look silky, long and luscious and goes perfectly with this look.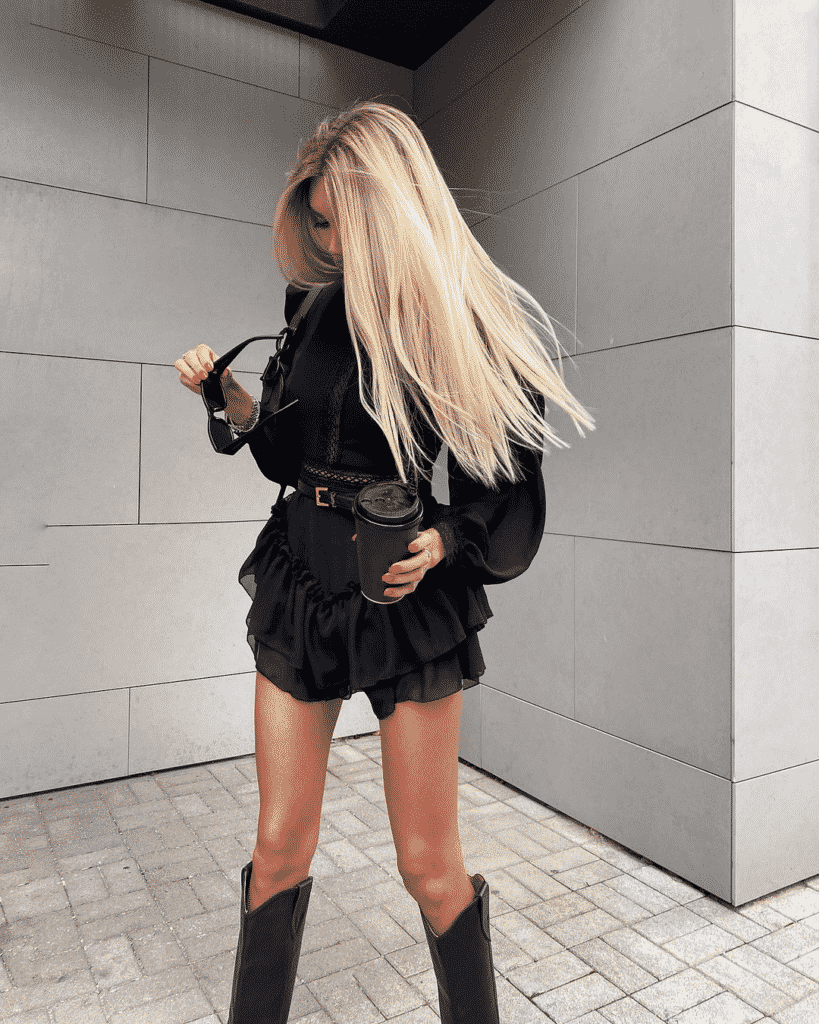 10 – Top Bun Hairstyle with a Long Dress
What hairstyle suits a long dress? The second best way to style your hair with your dresses is a bun, and not just any bun but a top bun in my opinion. This hot pink silk dress is styled with a tight bun at the top. This is a great hairstyle, to show off the details of the dress, or your earrings and necklace. You can see the beautiful back of this dress, adding to the sexiness of this outfit with this hairstyle as well.
8 – Hairstyle For a Formal Dress
This hairstyle is perfect for a wedding, or a formal event. The beautiful navy blue dress is paired with navy blue heels and some stunning silver earrings. The hair is lightly curled, with a side part and has been tied in a low ponytail towards the side.
7 – Romantic Hairstyles
The half up half down look is a true classic, and a very romantic hairstyle. This hairstyle is perfect for a date night dinner, or valentine's day. The stunning red dress is paired with a glittery clutch. Half of the hair can be tied up with a pin or a pony, and the rest of the hair can be left open to show off the beautiful waves and highlights. This look won't take you very long to achieve but looks quite the hairstyle.
6 – Side Part with Beautiful Pins Hairstyle
Simple adding pins to your hair will always add all the glamour you need. This hairstyle would look very generic if the pin wasn't added, but adding the silver pin which perfectly matches the earrings as well as the dress makes the entire look so much more classy and exquisite. This dress screams glamour and perfection, look at the handwork on this dress with the silver details and the cape that starts at the neckline and goes all the way down to the floor in ivory white. You will surely bedazzle everyone in this look.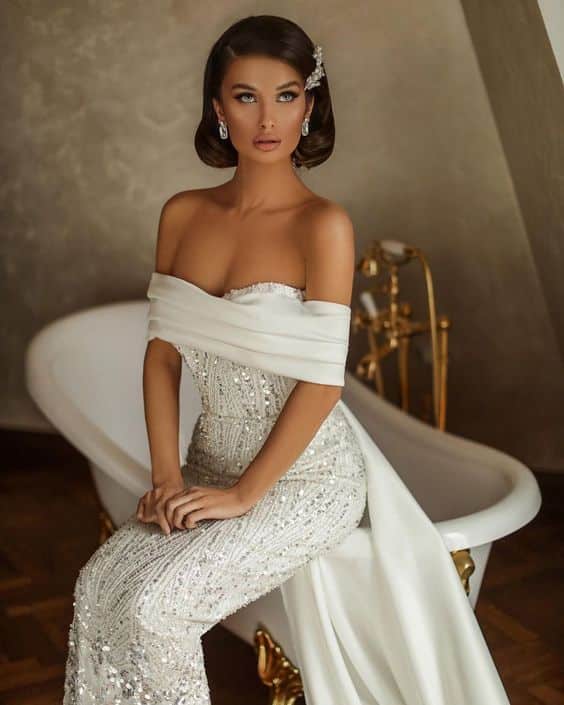 5 – Sleek High Pony
Straight hair always looks so sleek and fashionable. This hairstyle can be worn to work or for a night out. Here we have a green bodycon dress paired with a mini Lady Dior bag, some silver heels and earrings and a stunning hairstyle. This high pony hairstyle looks very feminine and bold. It's super easy to recreate and goes perfectly well with a dress like this.
4 – Bun with Front Flick
Front flicks or bangs look super feminine and add a nice extra touch to your hairstyle. A simple bun won't be as impressive as taking some front pieces out of the hair bun and curling them to frame your face. This dark green dress with bow details at the straps is super elegant and fashionable and is paired with gold studs. You can easily achieve this look by putting your hair in a low bun and curling the front bangs lightly.
3 – Slicked Back Hairstyle with a Gown
Slicked back hair may be the hardest hairstyle to achieve in this article, but then again what is difficult in today's day and age with a few YouTube tutorials. Slicked back hair is a very trendy hairstyle, and celebrities such as Kim Kardashian, Kendall Jenner and Demi Lovato and here we have Zendaya. This look is super sexy, and looks perfect with a gown and some smokey eye makeup.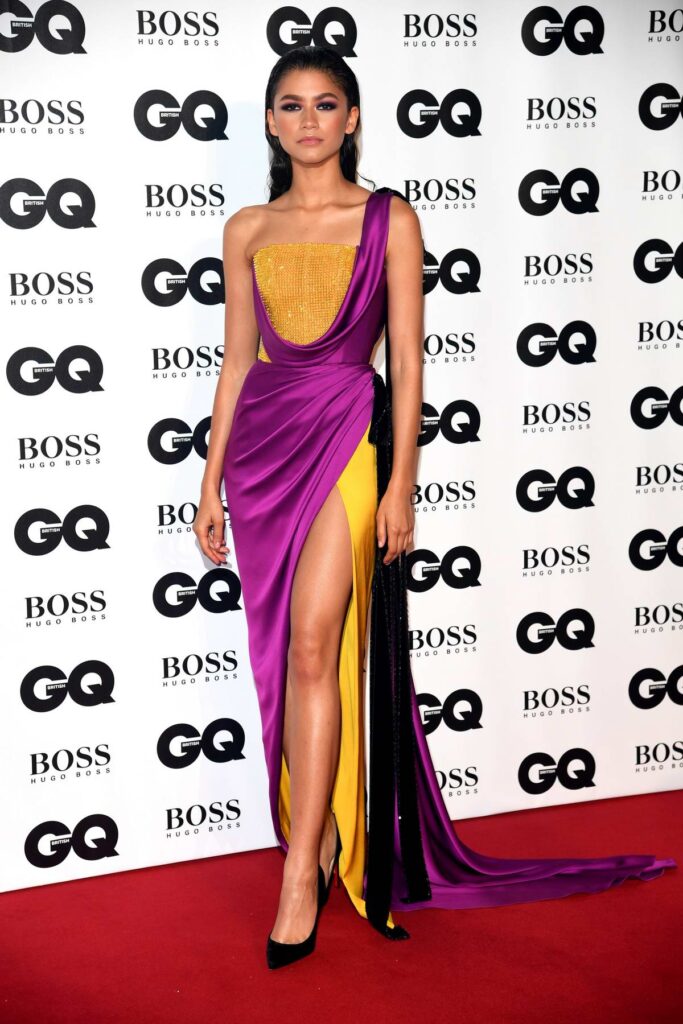 2 – Mini Braids at the Front
This hairstyle is perfect for teenagers, it's so instagrammable. This look is super easy to achieve and adds something to your daily hairstyle. You can leave the rest of your hair open and take a few strands of your hair and braid them. Make sure the braids aren't too loose or thick, they are meant to be super thin. The dress is a gorgeous lime green color paired with minimal jewelry. This is definitely a very simple look that you can achieve in under 5 minutes.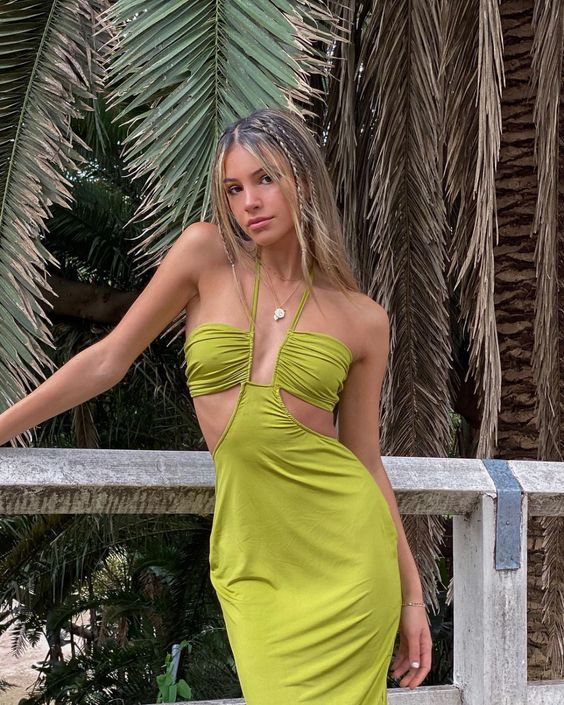 1 – Messy Bun
Messy Buns are effortless, and a great way to style your hair when you are in a rush. This hairstyle requires no heating tools or skill. Just throw your hair in a bun with a clip or a hair tie and call it a day. I absolutely love the long silk pink polka dot dress. This is definitely one of my favorite Shoulder Length Hairstyles.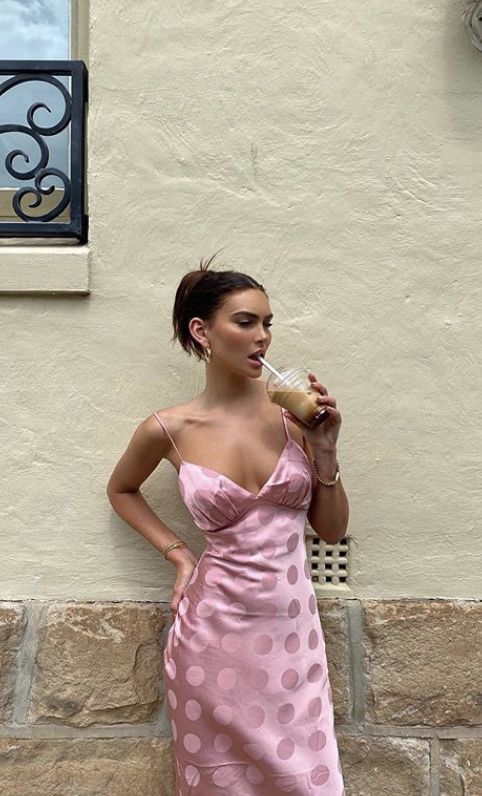 Frequently Asked Questions
Q. How do I choose a hairstyle for my dress?
A. It simply depends on the event you are going to, and the type of dress. A pulled-back hairstyle is great for work or a formal event. You can add curls, or straighten them for a party. If the dress is backless or has a neckline or a design at the front you want to show off you can wear your hair in a bun, or a ponytail to show off the cuts. It's also important to prioritize your comfort. If you aren't used to a high pony, in a few hours your head may start to hurt, therefore you can opt for a low bun or a low ponytail instead.
Q. What hairstyles suit short hair?
A. Having short hair does not mean you can't experiment with your hair and style them in a nice manner. If you have straight hair, you can add light waves to your hair. If you've got curly hair you can straighten them. You may also add pins, to add elegance to your look. The girl in look number 6 has very short hair, however, it looks stunning with a gown like that. For a more casual look, you can do a top bun with half of your hair down. Short hair also gives you an opportunity to make your jewelry the statement piece of your look, you can really show off your collarbones, earrings, and a necklace with short hair. And do check out these Stunning Ideas To Wear Earrings With Short Hair.