Funniest FIFA Outfits- As we know that the world's greatest football championship is already in its second week, the fever is more and more overwhelming with every passing match. FIFA World Cup 2018, which is currently happening in Russi, a is being viewed by fans from all over the world and the football lovers are trying their best to stand out in the crowd through their clothing and other accessories.
Fans from all over the world, like Spain, Austrailia and USA are showing their support for their respective teams in an astonishing and unique way. The spectators are expressing their joy through their super crazy and funky outfits giving away their excitement towards the world cup in the best way.
Funniest Outfits Seen at FIFA 2018
FIFA outfits, this year, are more like 'the funnier, the better' and here we have made sure to inculcate the funniest looks from the stadium. Believe me, this article is going to refresh your mood and will give you some of the craziest ideas to dress up for a sports tournament. The game is no more limited to the players only, but the fans are playing their part in making it even more interesting.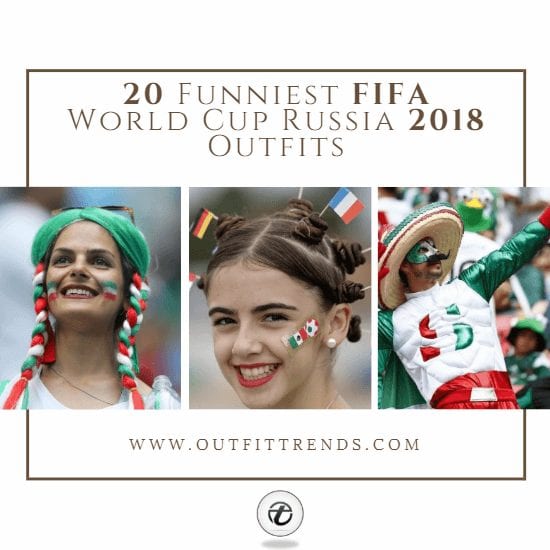 ↓20- A Lovely Gesture by Japanese Fans
During their tournament with Colombia, the Japanese fans made sure to flaunt their support for their respective team in the craziest style. The Japanese soccer lovers wore football outfits with faces painted as white and their noses as red. The sight was quite amusing and cute at the same time. Here are 20 Most Hottest Spectator Girls at FIFA 2018.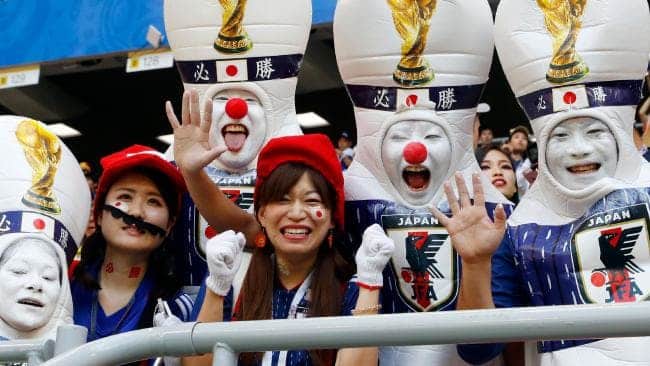 Via
↓19- Russian Fan's Unique Attire
During Russia's match against Saudi Arabia, held on the 14th of June, a gorgeous Russian lady was seen wearing a super funky bright red crown, just like the shades of the Russian flag in order to show her support towards her team. The crown was embellished with pearls and stones along with intricate gold embroidery making her stand out in the crowd.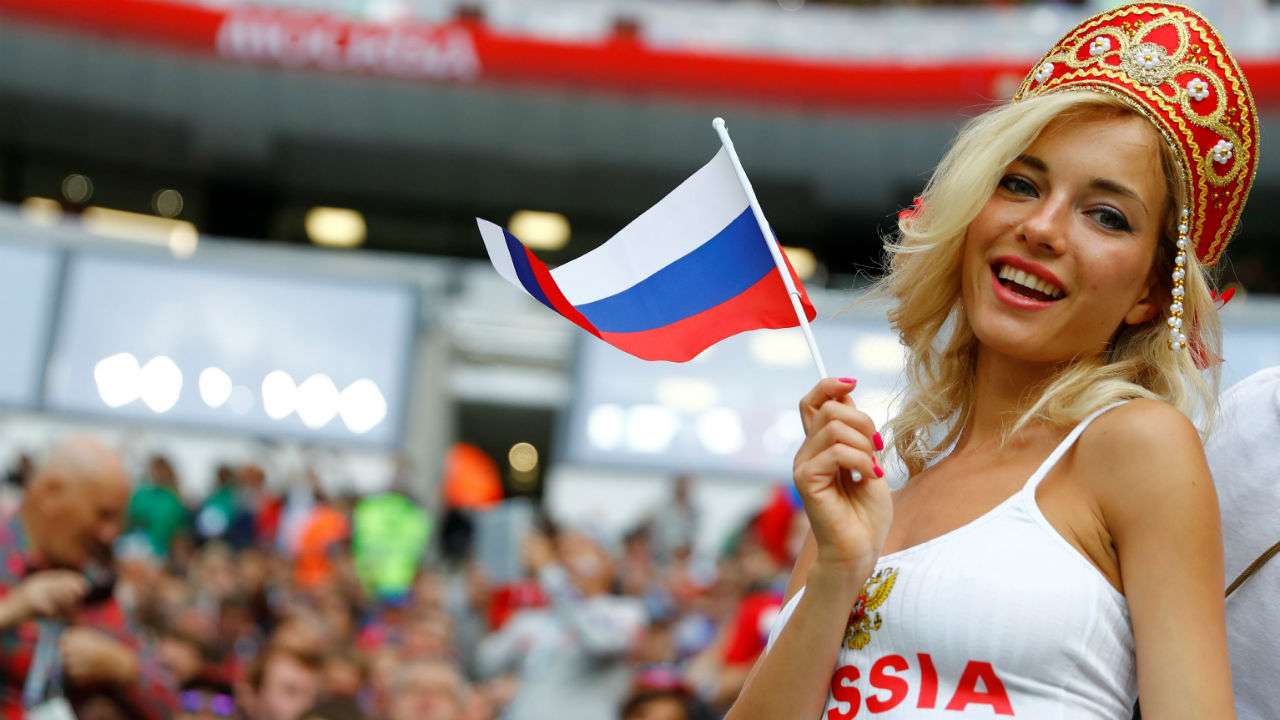 ↓18- Saudi Arabian Fans
Saudi fans opted for painting their faces in the colors of the flag i.e. green and white. The green and white faces were captured by the official cameramen. The fully-painted faces were directly reflecting their support towards Suadi Arabia's team.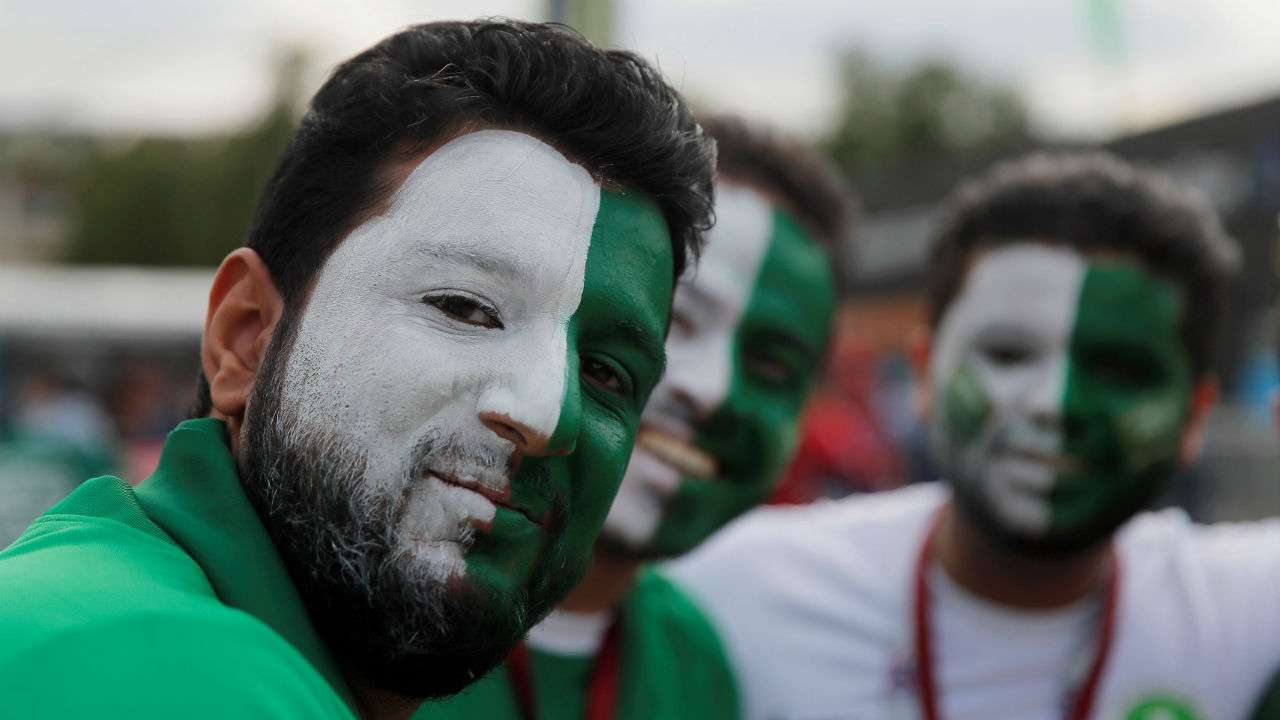 ↓17- Brazilian Fan in Pirate Attire
Fans of Brazilian team were seen cheering their team up in Saint Petersburg stadium at Russia on 2nd of July. One of the fans was wearing a pirate hat along with funky shades and the Brazilian flag tied along his back. Also, he was holding a cardboard trophy to raise the team's spirits.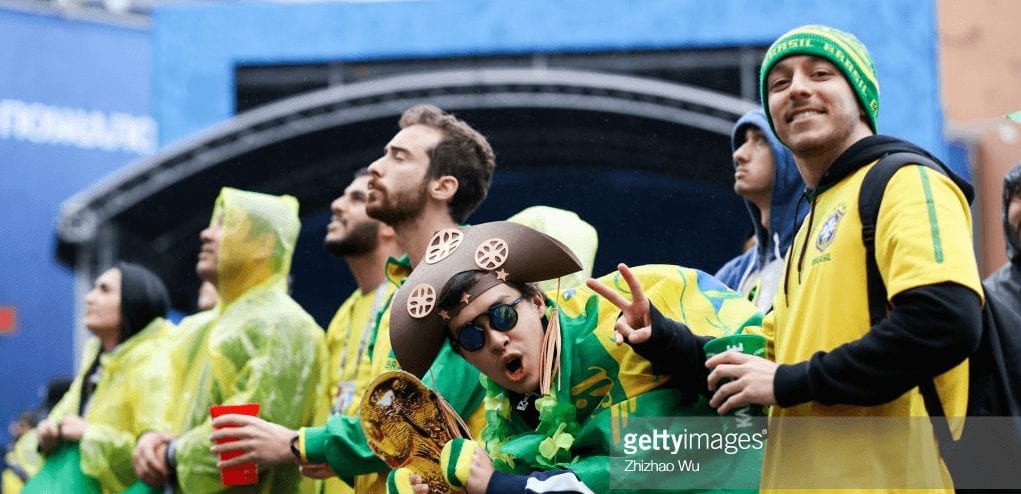 ↓16- Cute yet Funny South Korean Fans
Two of the South Korean fan girls were seen encouraging the South Korean team in red tees and devil horns. The horns were standing out in the public highlighting their support for the team. Also, the girls got Korea painted on their cheeks and looking super cute.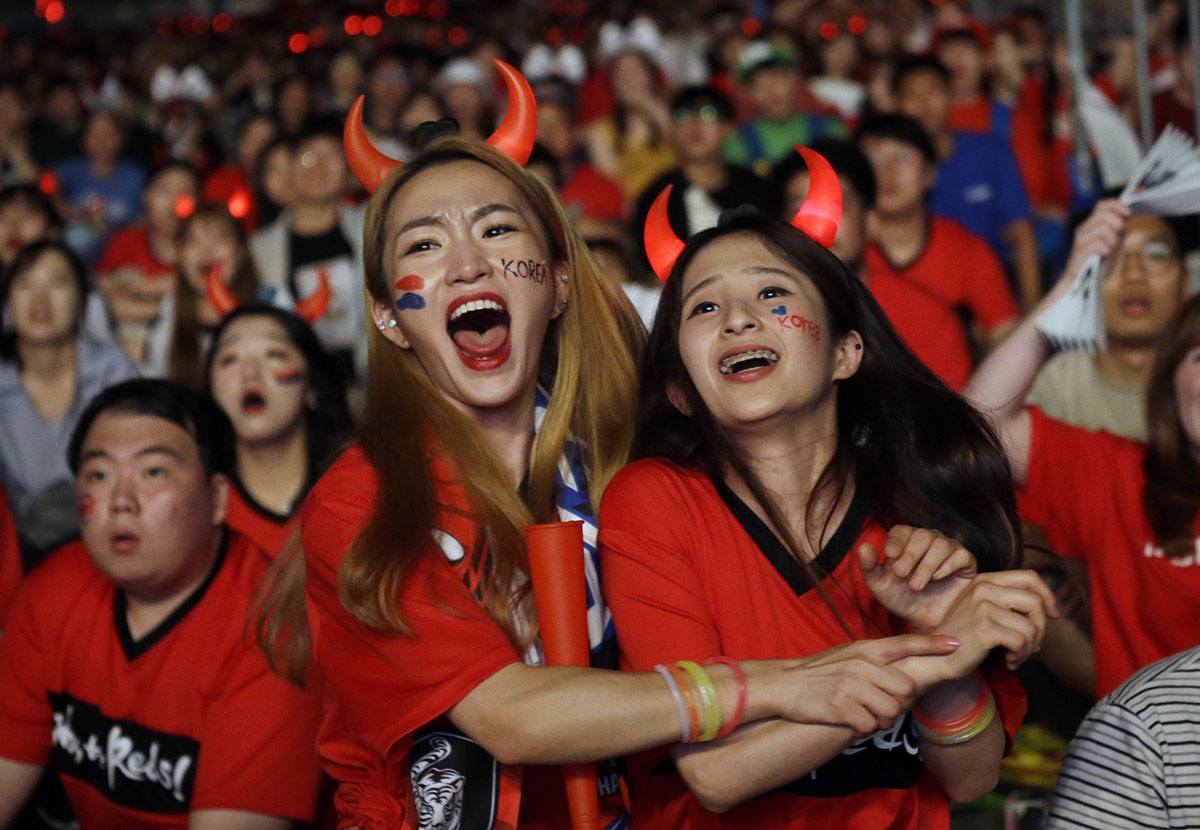 ↓15- Iceland Fan with a Painted Stomach
Among all these soccer fans dressed up in the t-shirts of Iceland team, there was this super funny fan who missed on his tee and got the national flag painted on his stomach. He was the only fan among many others which made him look kind of funny and weird simultaneously. Check out these 20 Most Hottest Players from 2018 FIFA World Cup.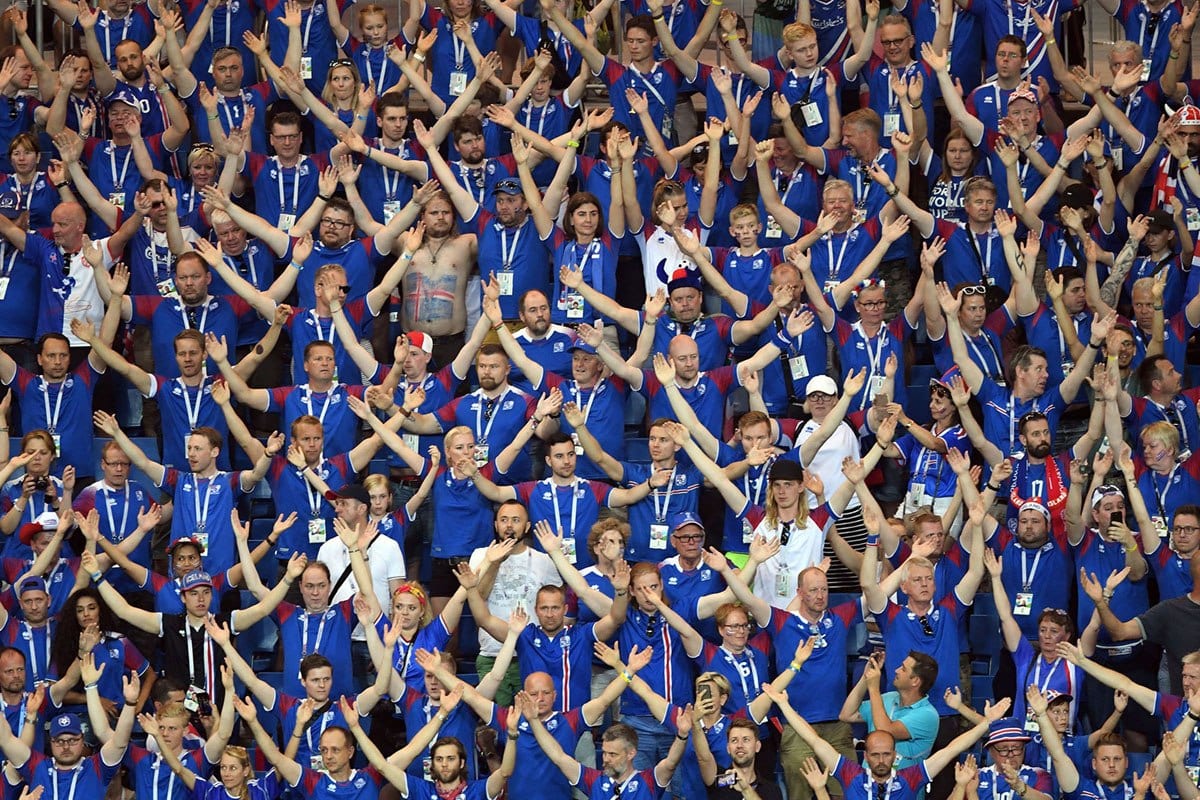 ↓14- Glittery German Fan
A German girl fan painted half of her face with the colors of the German flag to show support towards her team during a match between Sweden and Germany. However, it was the glitter on top of it which caught the sight of the cameraman. The sparkle was definitely funky and catchy among the public.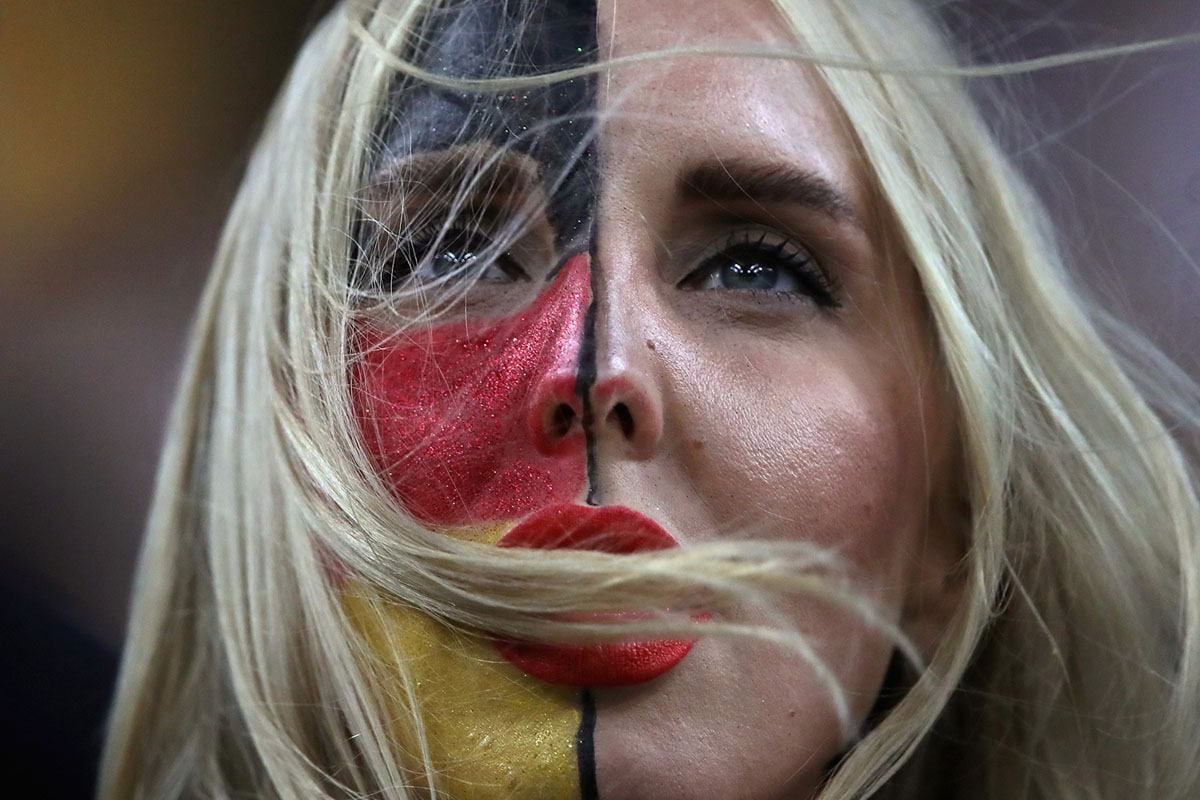 ↓13- Brazilian Fan with an Overdone Look
A Brazilain fan opted for some catchy glasses with Brazilian flags painted on them along with a yellowish-green goatee which was definitely quite unique among the crowd. Also, the yellowish-green curly hair wig made him look a little over-enthusiastic.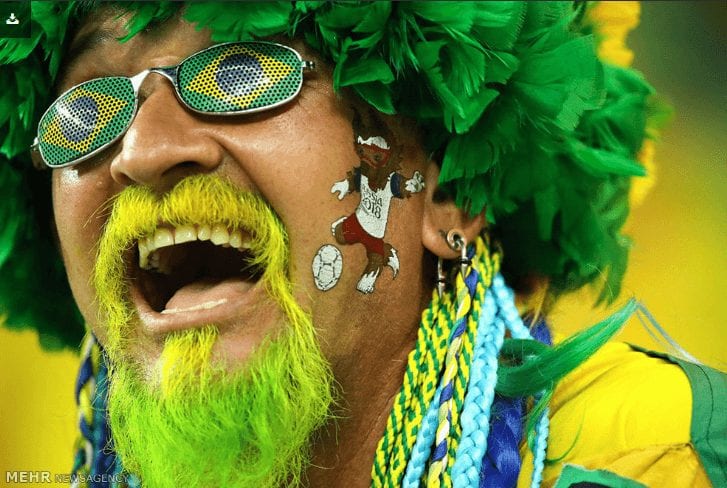 ↓12- Irani Fans Funny Braids
An Irani fan girl picked a kind of comical braided wig to show her support for the match between Uruguay and Iran. The wig was green on the top while the braids were in three colors i.e. green, red and white as of the colors of Irani flag. The wig was making her look like a little funky doll.
Via
↓11- Glamorous Russian Fan Girl
During the match between Russia and Saudi Arabia, a Russian beauty dressed up in a glamorous outfit i.e. a sparkly bra top in the colors of the national flag with a studded leather jacket on top of it. Her red embellished tiara was literally the funkiest of all and glamming it up.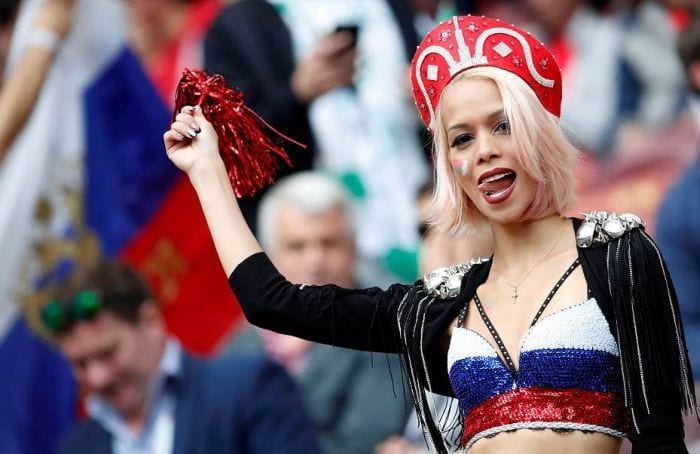 ↓10- Senegal Fan's Funky Wig
A Senegal fan went out of her way to cheer her team up by wearing a funny wig in three colors i.e. yellow, green and red. The yellow tessel earrings added to the funk and made her look overly dressed for the match. Have a look at these 21 Most Beautiful Biker Girls You Should Follow.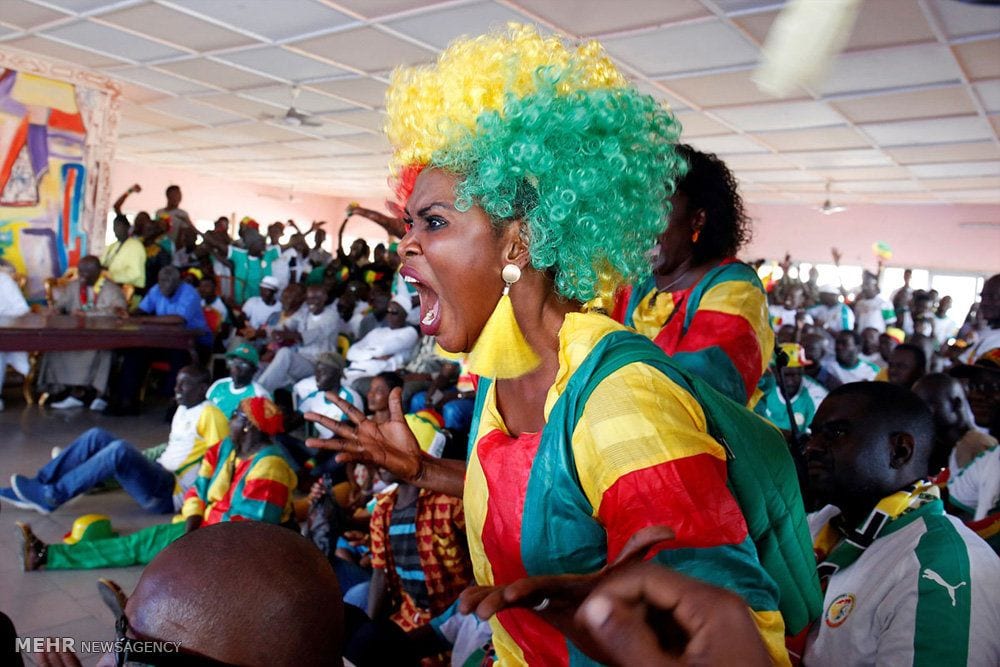 ↓9- Russian Man's Wild Look
A Russian man painted himself entirely in the colors of the Russian flag including his face and hair. But what caught the camera's eye was his wild and crazy necklaces which made him look a bit too funny.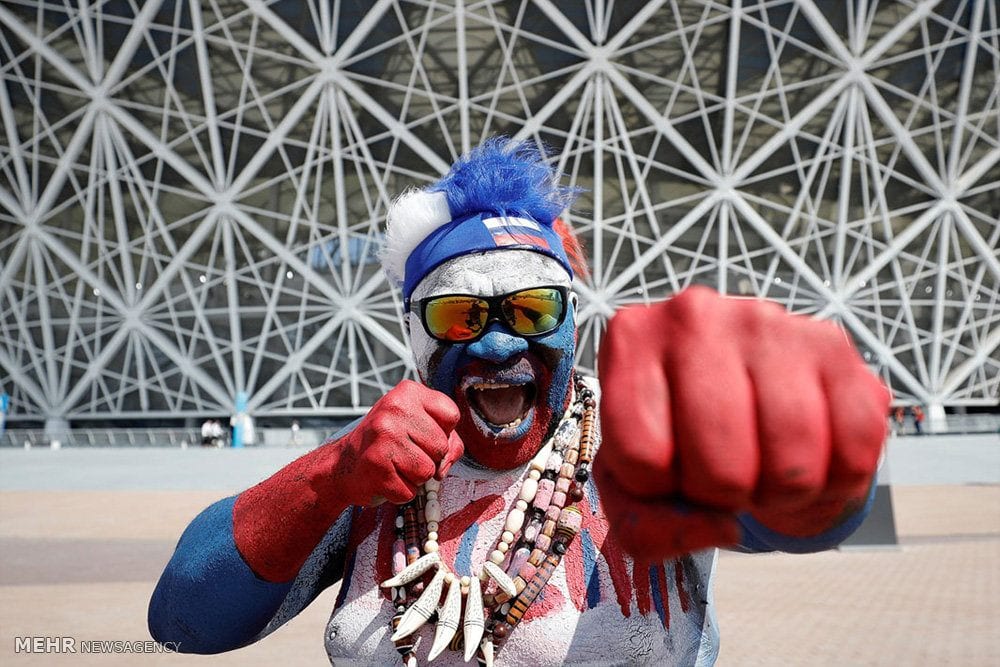 ↓8- Fan Group from Senegal
A fan group from Senegal painted themselves in the letters of the country's name during its match against Colombia and also wore some hilarious caps of the colors same as the country's national flag. They stood in a row to flaunt their super fun look while showing some support for Senegal.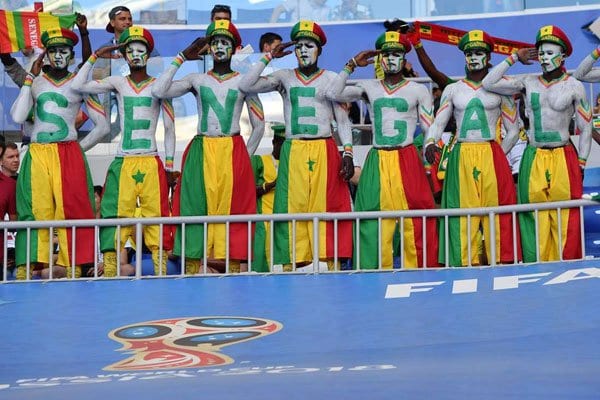 Via
↓7- French Girl's Funky Make Over
A French girl came up with a funky makeup look during the Russian World Cup 2018. The fangirl painted her eyes in the colors of the French flag to show support towards the French soccer players.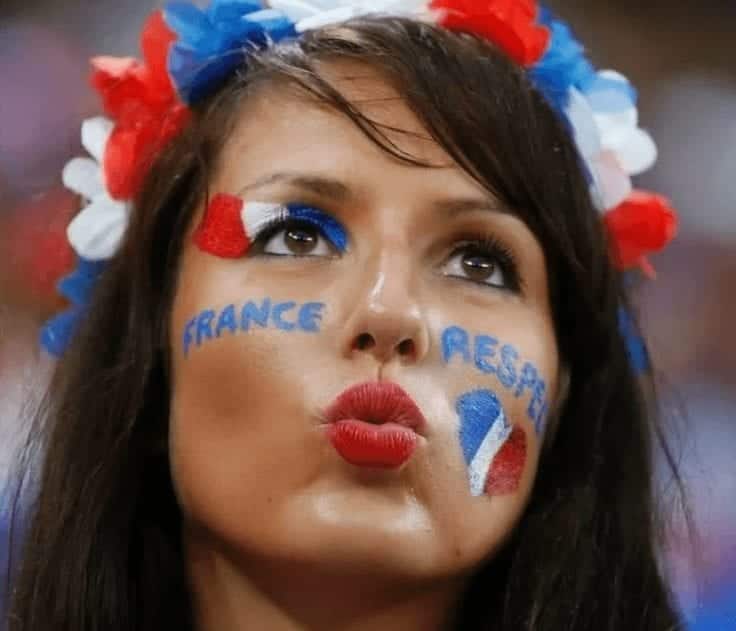 Via
↓6- Mexican Man's Funny Fifa Look
A Mexican guy chose an overly fancy look for the match. He dressed up as a hilarious superman in a sparkly costume in the colors of the country's national flag and a fancy enough mustache to compliment the look. His straw hat definitely added to his funny attire.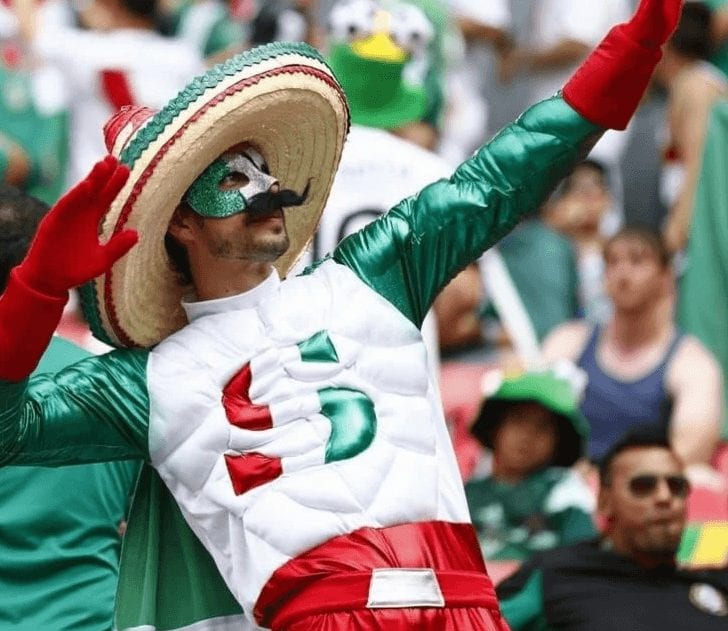 Via
↓5- Soccer Fan with a Hilarious Hair-do
A cute soccer fan opted for a weird hairstyle which looked kind of funny. It had multiple mini-buns with flags of different countries attached to every bun. Here are 100 Cutest Matching Mother Daughter Outfits on Internet So Far.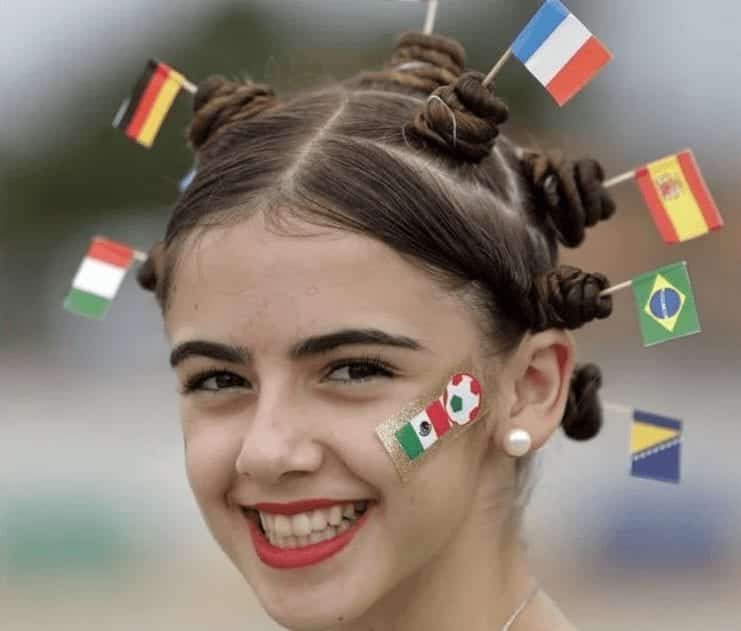 Via
↓4- Funky US Fangirls
USA's fangirl opted for funky hairstyles to show their support towards the US soccer team and the hair-dos definitely caught the camera's eye.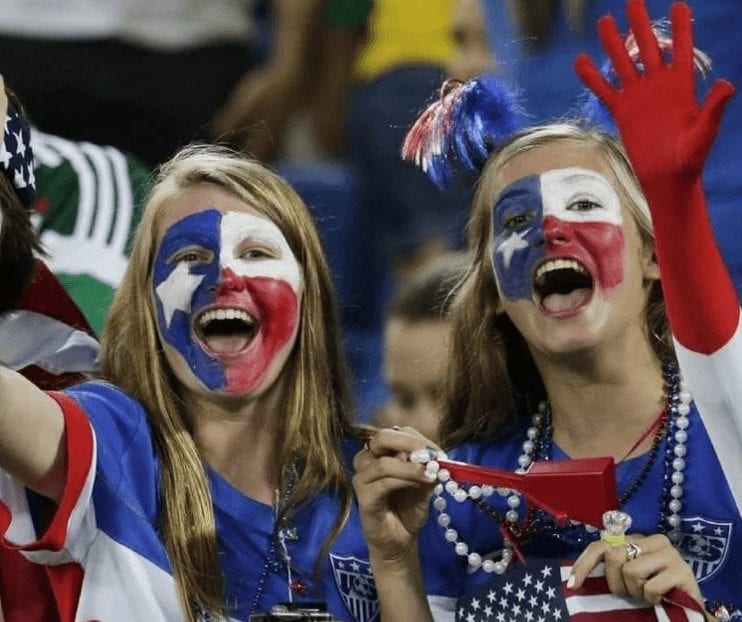 Via
↓3- Fan with Beer and Horns
A soccer fan was spotted wearing horns and a glass filled with beer. The horns were looking like that of a bull and were extremely hilarious.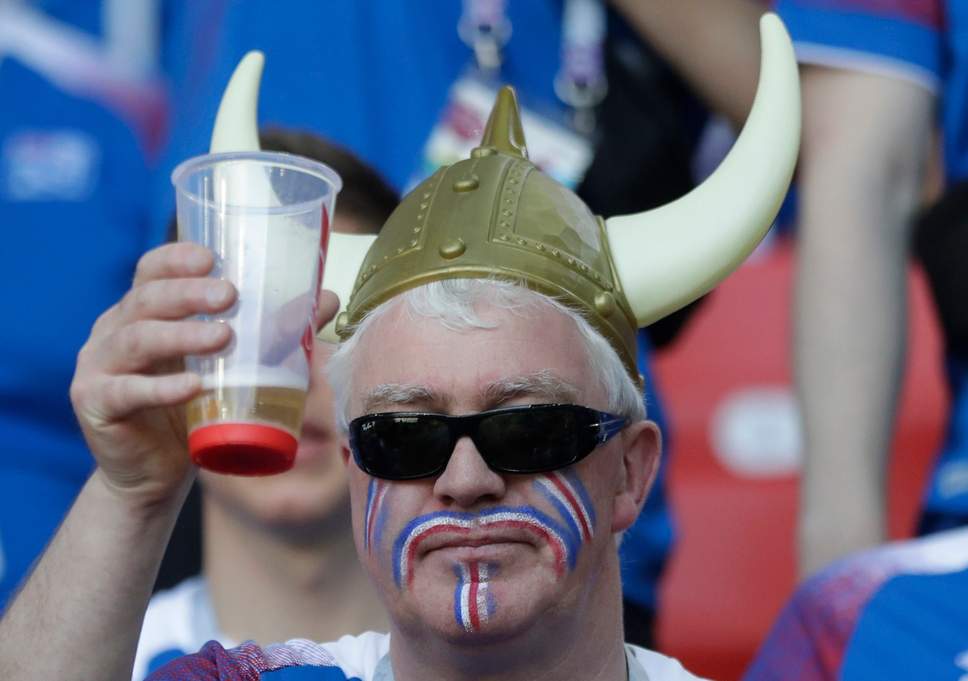 ↓2- Hilarious Croatian Fans
During a match between Croatia and Iceland, Croatian soccer fans were spotted wearing funny caps which were quite amusing; lifting the spirits of the national team.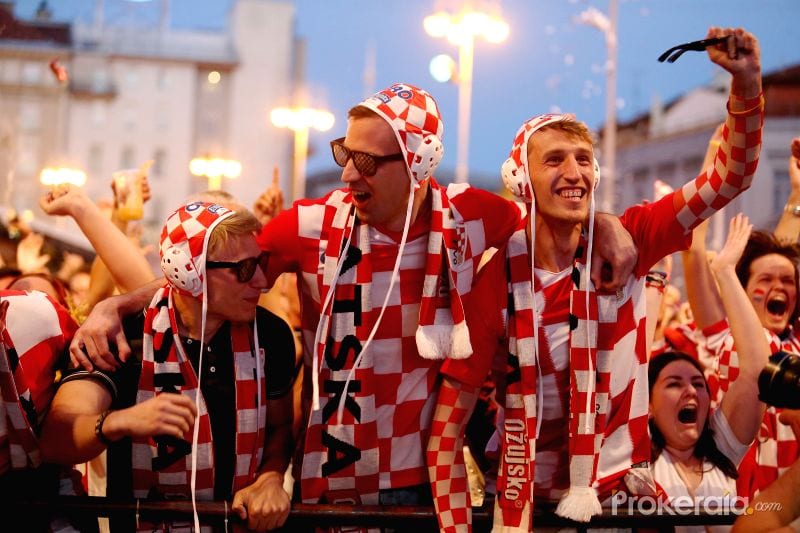 ↓1- Super Funny Mask
A soccer fan went out of his way to hide his face by wearing a dog-faced mask and it was definitely hilarious.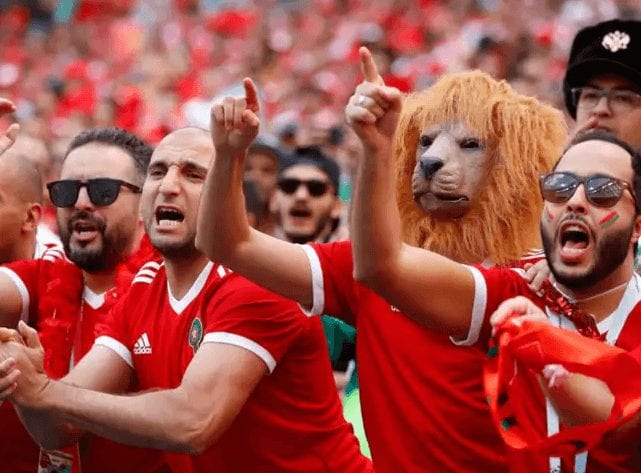 Via
These are all the funniest looks from FIFA 2018. Let's see what the next tournament brings for the fans.