Floral bun hairstyles for brides – Is your wedding just around the corner and you are looking for some floral hair bun ideas? Well, Congratulations, you are at the right place, we have got some fantastic ideas for you all to try on.
A wedding is the biggest event of a girl's life and everyone wants to look perfect on that day. From hairstyle to heels and from make-up to bridal dress, one is conscious about everything. After the bridal dress and makeup, one thing that adds more beauty and elegance to your attire is your hairstyle.
Hair accessories instantly make your hairstyle look stunning. Scientists say that your memories are associated with smell, so why not go for some fragrant and pretty flowers in your bun? That invigorating smell will always remind you of your special day.
So for the love of floral buns, we have compiled a list of bun hairstyles for brides, that are easy to style and would go with every dress.
Top Floral Bun Hairstyles for Brides
Floral buns look adorable on every face type and face shape. But since on a special day, if you feel conscious about your face, ask the makeup artist to focus more on contouring and highlighting the cheekbone.
If your face is chubby, avoid buns that are too tight and rather go for options that are more flattering. Generally, the stylists recommend going with curled strands around your face to give a slenderized and lean look. An updo with loose tendrils and bangs would look more amazing on a chubby face rather than a sleek hair bun.
Tips and Tricks On How to Rock A Floral Bun
For Ladies who have thin hair, messy buns are a great way to add volume to your hair. You can also use extensions to add more volume. Lastly, add flowers of your choice, either scattered or a side bunch.
Ask your bridesmaid to keep all the necessary stuff in their clutches. They should have extra bobby pins, a hair spray, safety pins, and catchers. This will help you if in case your hairdo is messed up. They would be there to fix it right away.
Start giving special attention to your hair a month before the wedding. You can go for protein and keratin treatment. If you dont have time for these treatments due to the wedding preps, start oiling your hair twice a week.
Use a good quality shampoo and conditioner and avoid styling gadgets that may ruin your hair.
A donut bun maker is a great way to get that perfect round hair bun. Make sure it matches your hair color, otherwise it would be visible and will leave a bad impression.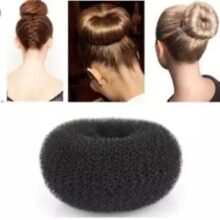 24 – Messy High Bun Adorned With Carnation Flowers
The very first hairstyle is this stunning hairdo that is messy yet beautiful. Carnations have lately been every bride's choice as they look amazing. Secondly, they can last the whole day without water so you dont have to get worried about your flowers getting dull or stale.
These are less costly than roses and hence a good option if you don't want to go expensive. This combination of white and pink is breathtaking and will go with your white or silver wedding outfit.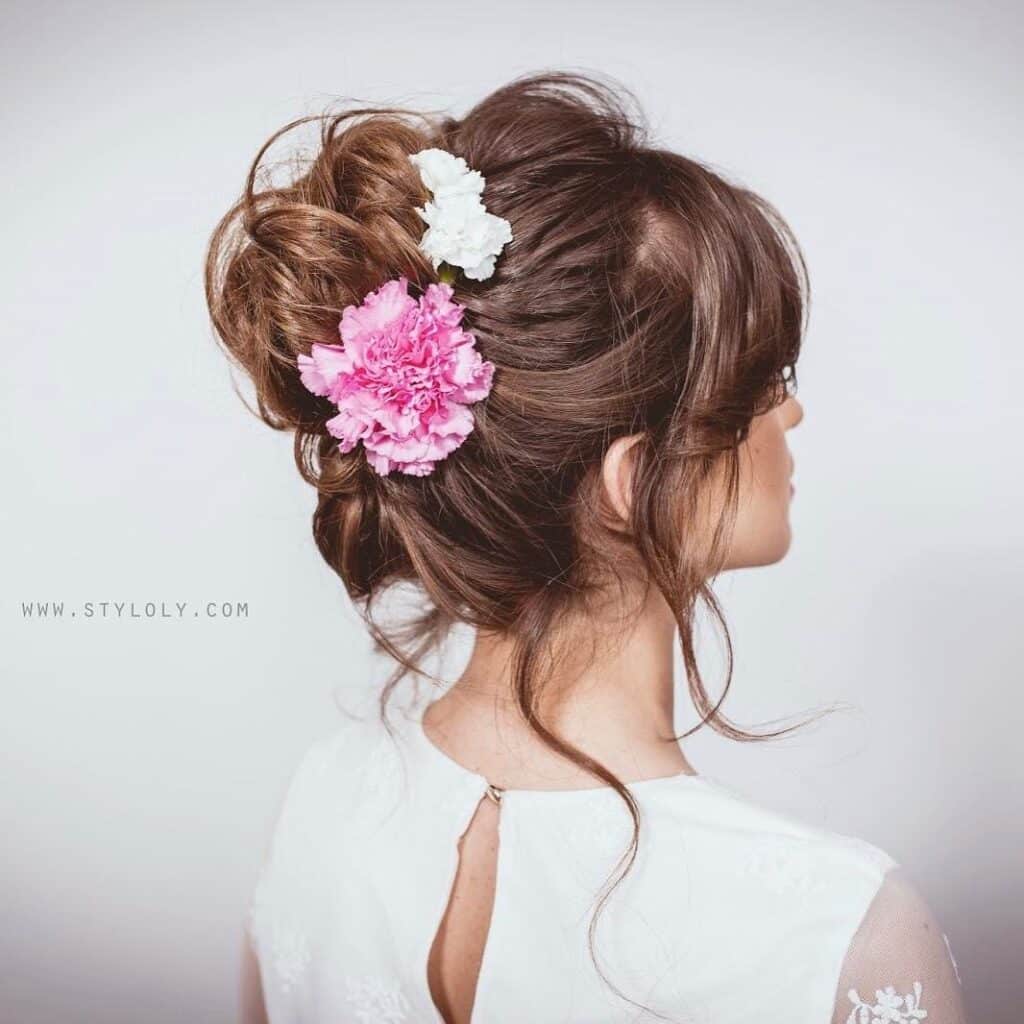 23 – High Buns With Baby Breaths
Not a fan of big flowers on a bun? Well, go for baby breath flowers and you will be surprised with the results. These alluring and delicate flowers look flawless on a wedding bun.
Either you choose to wear it minimally by scattering it over the bun or want to load the bun with these tiny flowers, you will slay.
Here we have this stunning high bun adorned with baby flowers and tousled curls across the face. Needless to say, we are mesmerized by this beauty and want you all to try this one if you are a minimalist bride.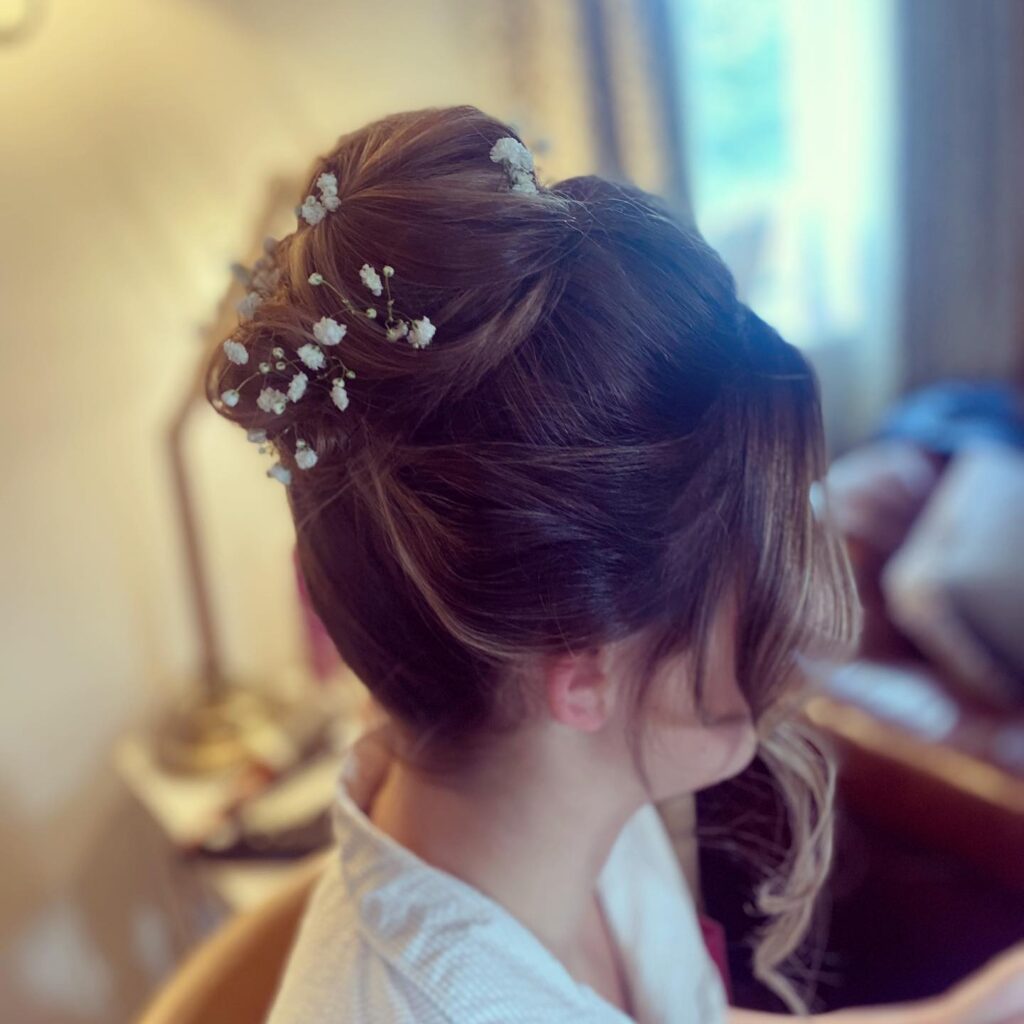 22 – Half Open Roses With Baby Breaths
We don't think brides are getting over baby breaths any time soon. These are hands down the most versatile flowers that go with every kind of bun and with all the flowers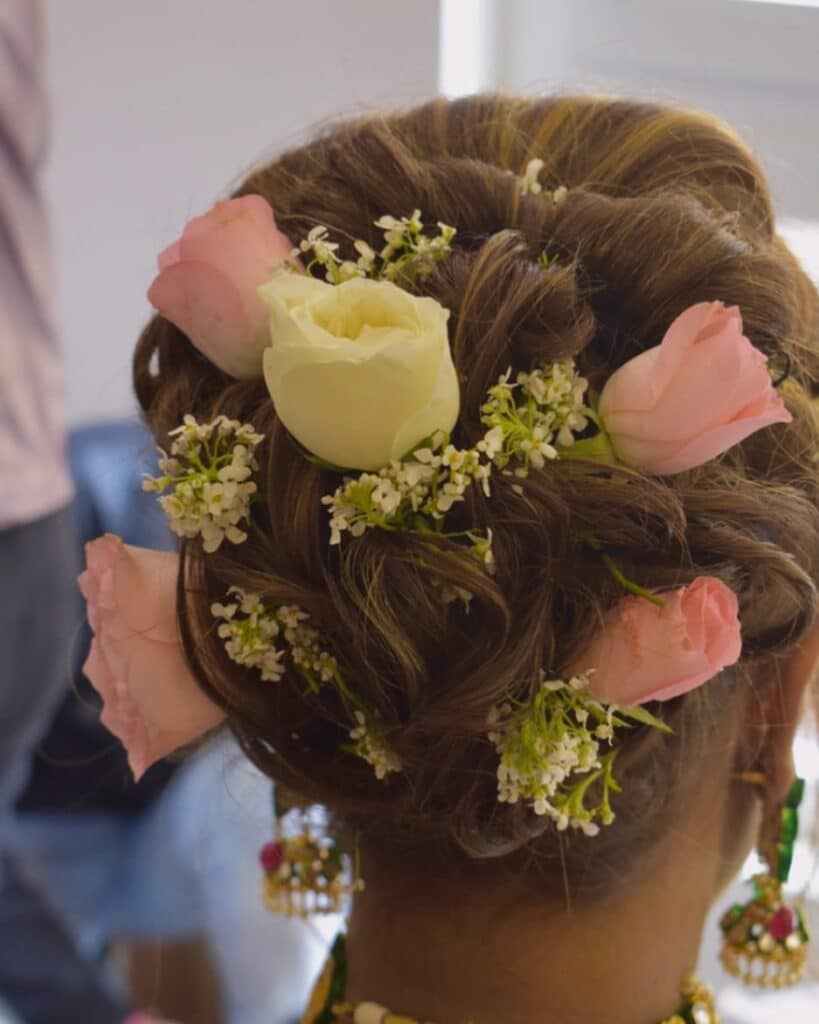 21 – A Rose Crown For All The Queens Out There
Here comes the show stopper, the red rose. No matter which year is it, which time it is, you can never go wrong with red roses in your bridal bun.
Don this crown of red roses on your big day and turn heads with your beauty.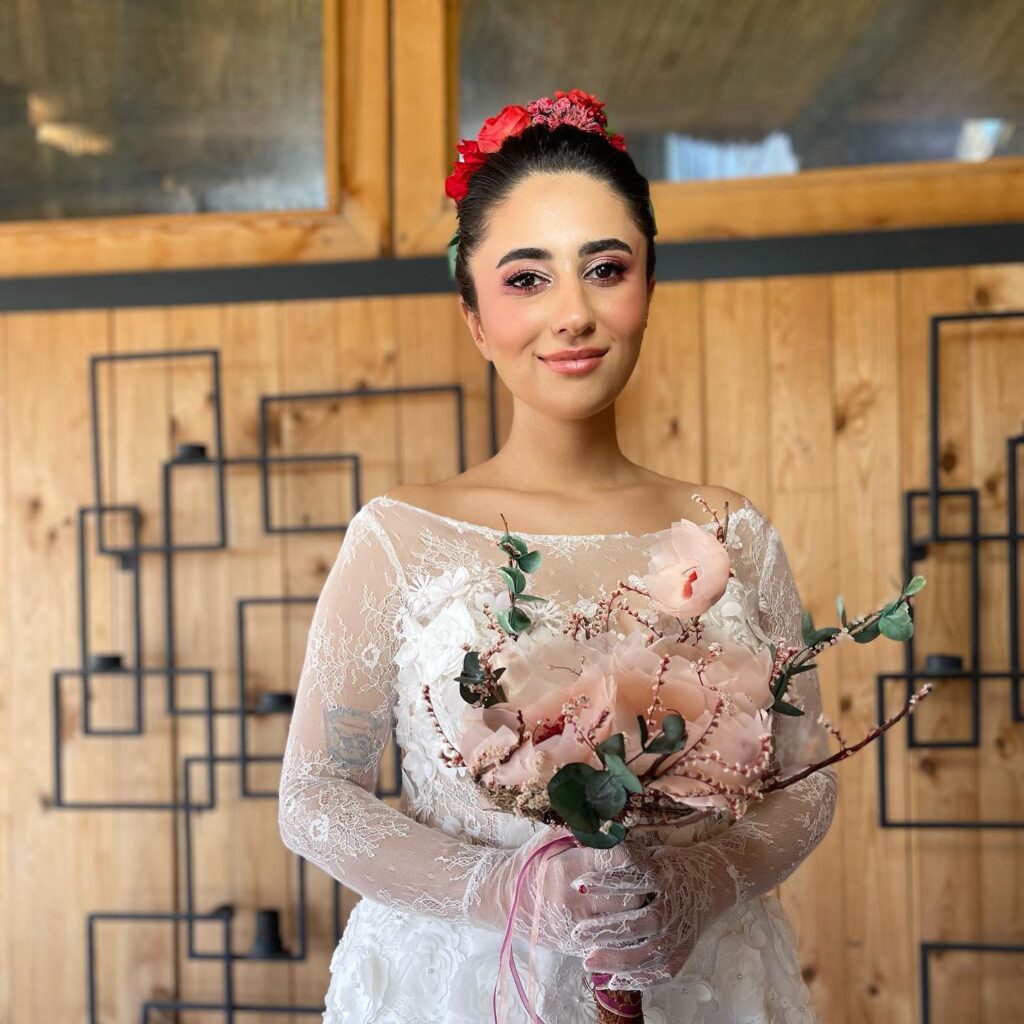 20 – Bouquet Themed Floral Bun
Are you drooling over all the flowers and badly want to include multiple flowers in your Bun? Well, in that case, you need to try this bouquet bun hairstyle that has three to four kinds of flowers and looks radiant and jaw-dropping.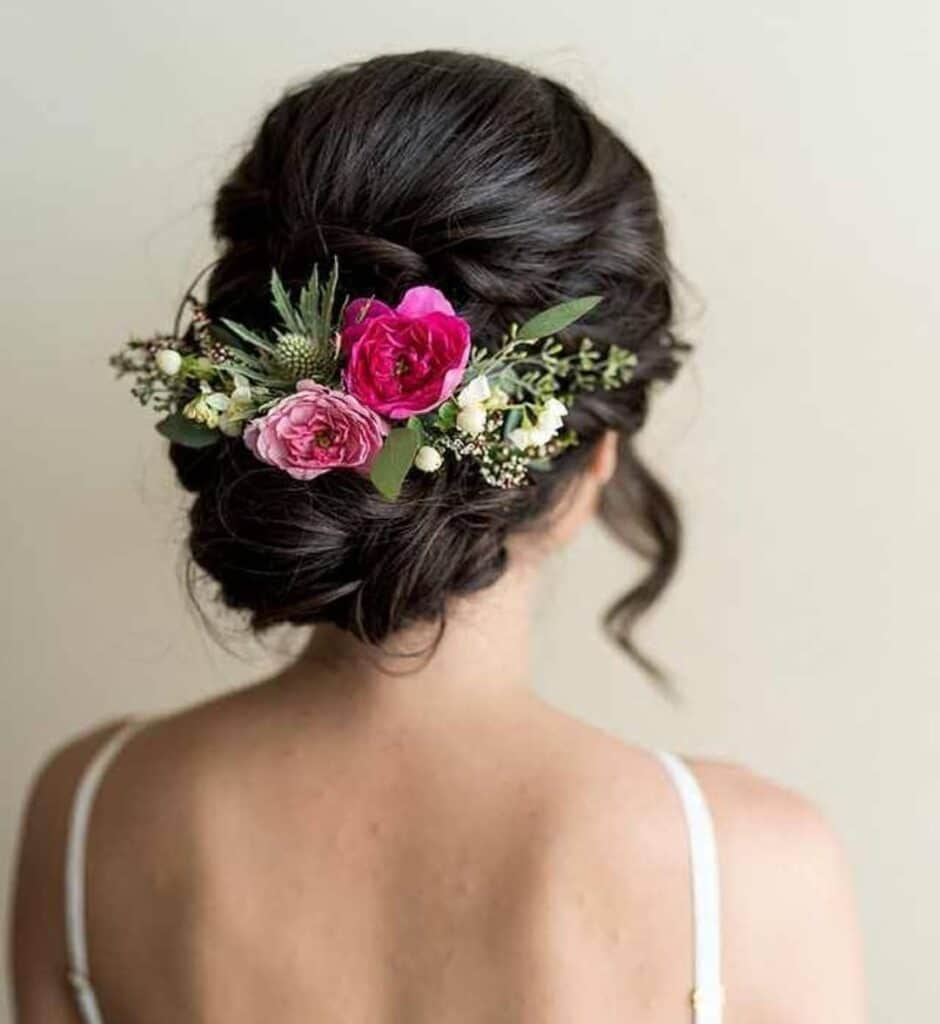 19 – Rock A Loose Bun Adorned With White Tulips
White Tulip floral Bun is a popular flower for wedding ceremonies. It is a type of flower that can be used for the bride's hair or pinned to the groom's lapel.
Tulips commonly symbolize love and what's better than these for a day that is dedicated to two humans tying the knot in love? It also symbolizes respect and so it is often given to newlyweds as a gift.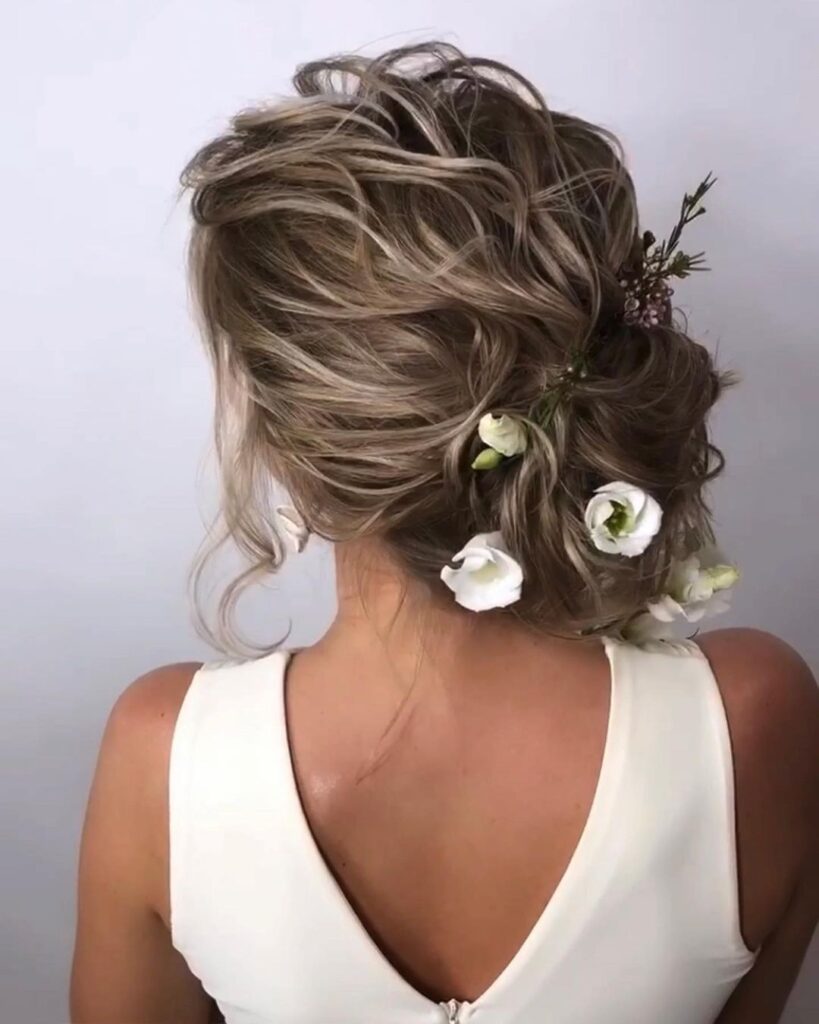 18 – Colorful Floral Bun for Wedding
Don this colorful bridal bun and look ravishing like never before. You can add red flowers as well to get a more vibrant floral bun.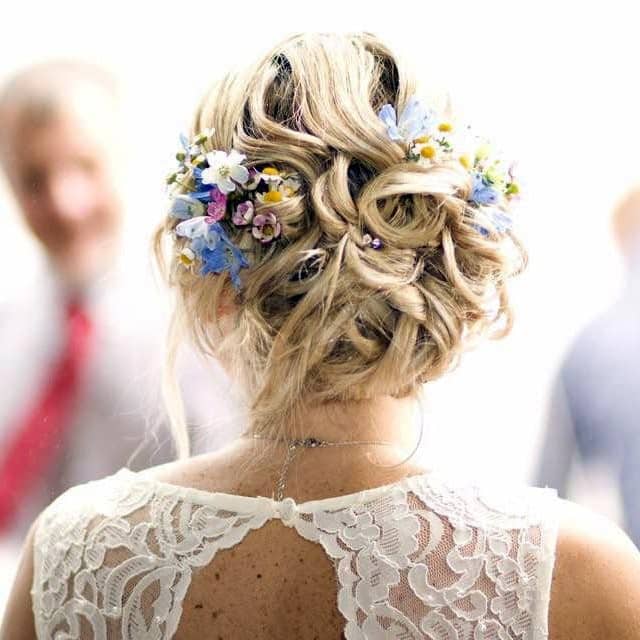 17 – Floral Bun for Vintage Brides
How about going a bit unconventional? Pair up your baby breaths with these bright green leaves for a unique and stylish hairstyle. Greens have known to bring calmness and peace to your mind, so let the leaves do the magic of spreading some calm vibes.
Moreover, these go really well with a vintage wedding gown.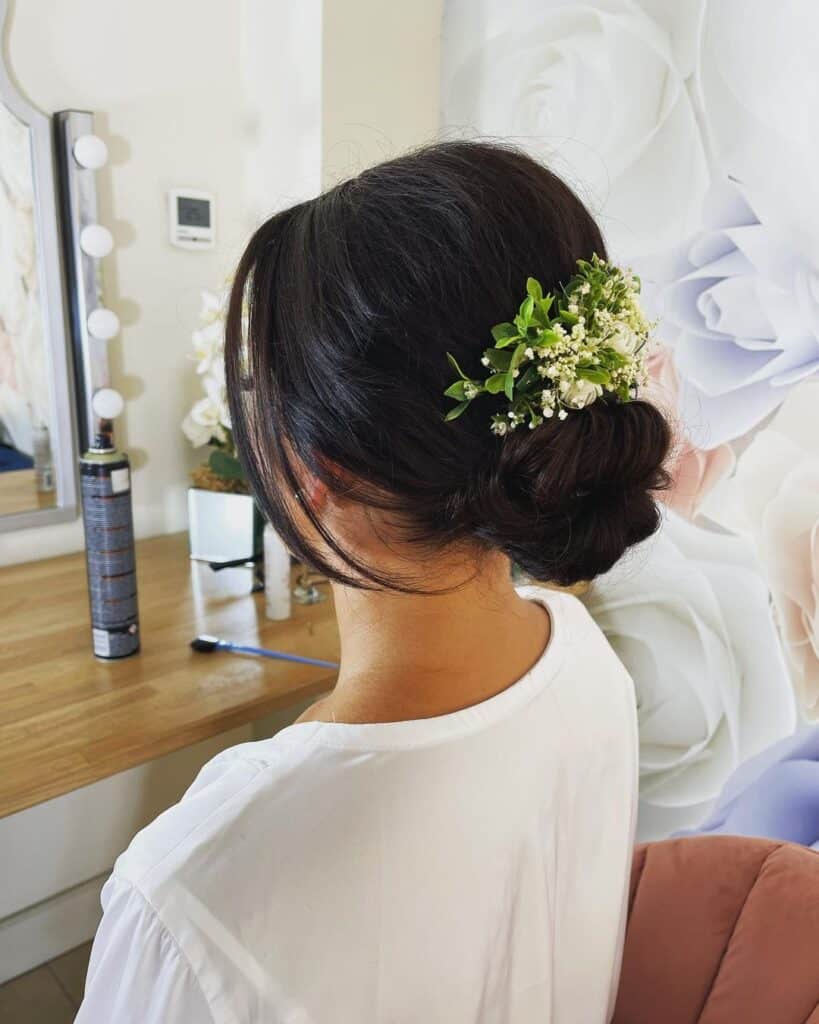 16 – Mix up Blues And Whites For A Trendy Bridal Bun Hairstyle
Walk down the aisle in this gorgeous bun paired with blue and white flowers. The combination of these two flowers is jaw-dropping and you surely need to try this.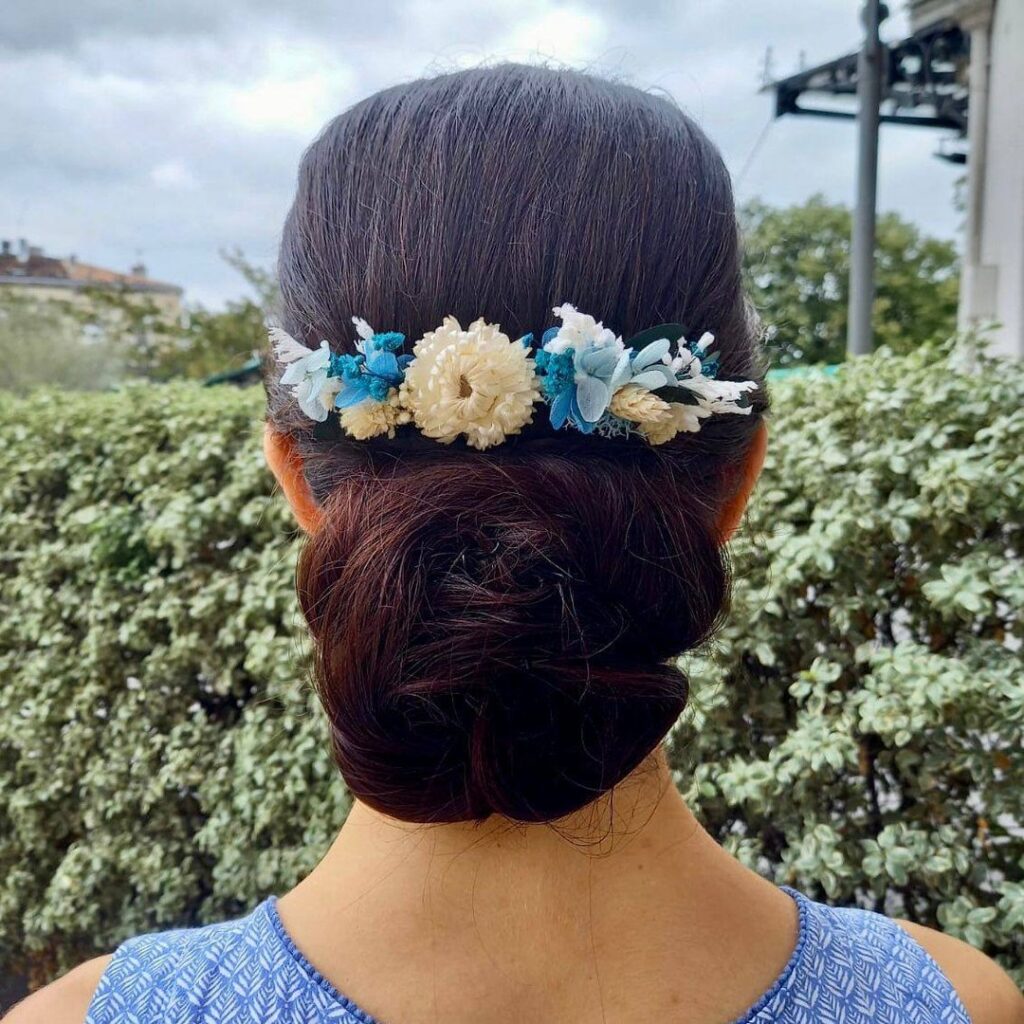 15 – Simple Hairstyle With Pastel Flowers
Reds are too mainstream. This is an era to adorn your buns with pastel roses. Go for this pastel pink and yellow rose combination in your bun for an alluring look and glamorous look.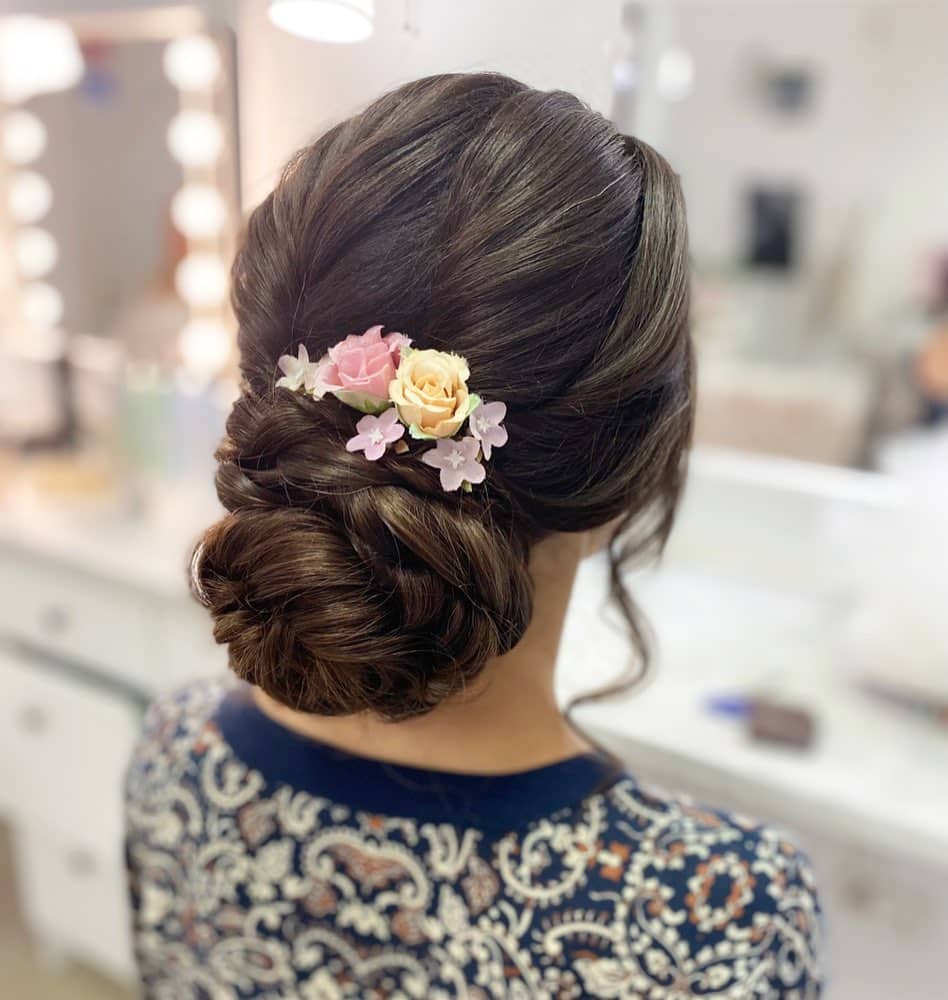 14 – Go For Artificial Floral Head Pieces
Do you always shop while thinking about sustainability and recyclability? If yes, then you can skip the traditional buns loaded with fresh flowers and go for floral hair accessories that will look as stunning as you are.
The biggest perk of getting these is, that you can use them later at any stage of your life. Be it your friend's engagement or a formal wedding dinner, it would be there to save your day.
13 – Braided Updo With Flower Pins
Another classic hairdo is this braided bun adorned with flower pins in the center.
12 – Braided Bun With Lavender Flowers
Lavender flowers are known to bring a graceful and calming effect to your personality. For your special day, when you are excited and nervous simultaneously, go for this lavender-adorned bun.
This look is romantic and classy exhibiting all those serene vibes. If you are not a fan of fresh lavenders, you can even go for artificial lavender hair pieces and you will look equally pretty.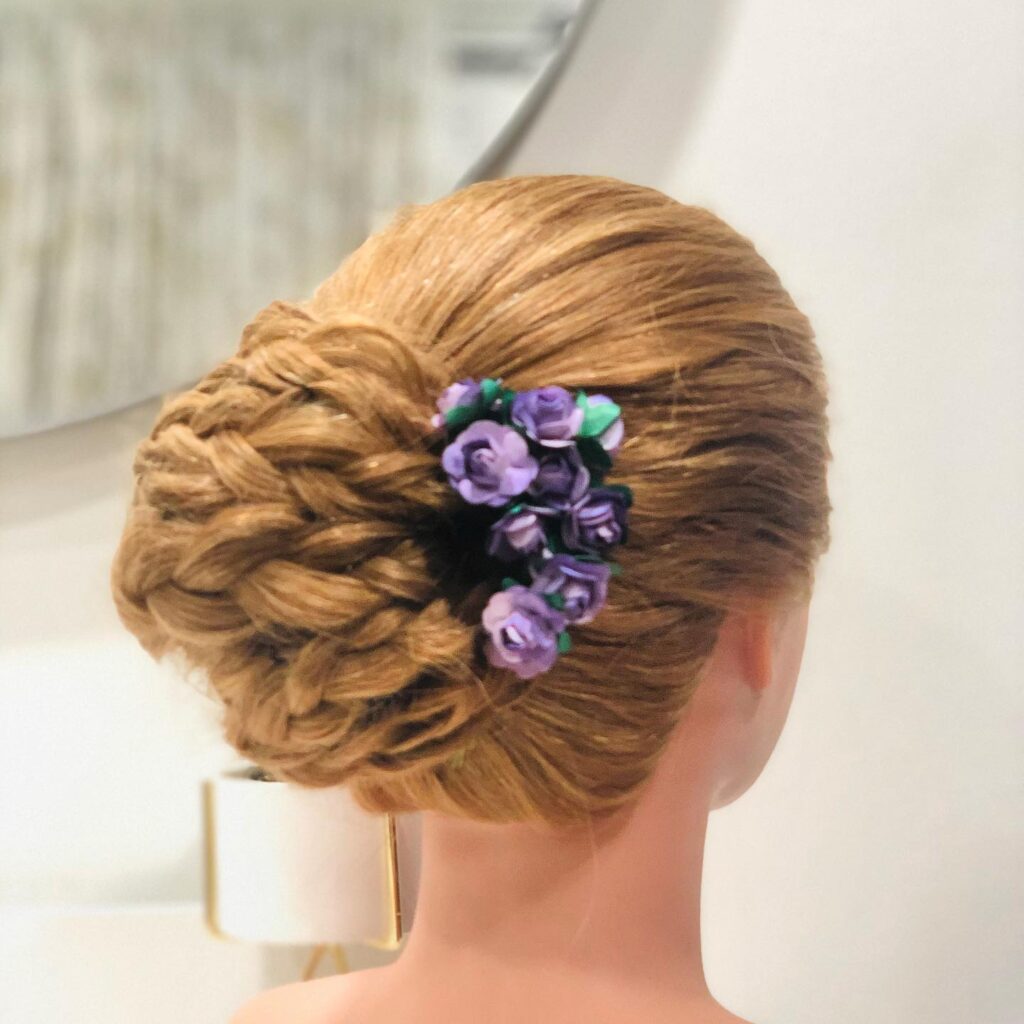 11 – A Simple Hairdo For All the Minimalist Brides
Well, among all the lovers of bouquet-adorned buns, there are some girls who want to stay low-key and elegant on their wedding. They are not fond of a number of flowers and stylish hairdos, and that's perfectly fine.
Choose a simple and elegant wedding gown and hairstyle to make your big day special.
For all those girls, this low bun with a single white flower is a great choice. You can add some pearl beads as well to put some more spark into the hairstyle.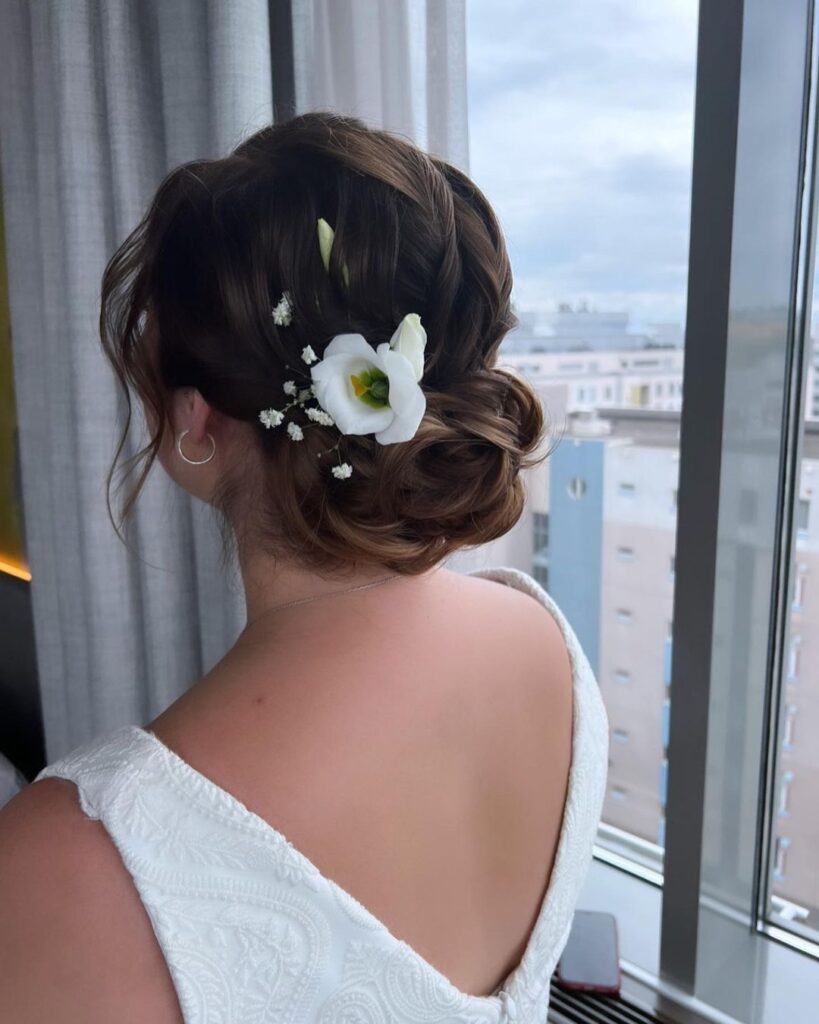 10 – Sleek Chignon Bun With a Long Hair Piece
Chignon is a word originated from the French phrase chignon du cou. It means the nape of the neck. These are simple buns that mostly fall at the nape of the neck and look super elegant.
Add some more spice to this hairdo by wearing this long hairpiece that covers half of your hair. This a great hack to turn your simple bun into a bridal bun.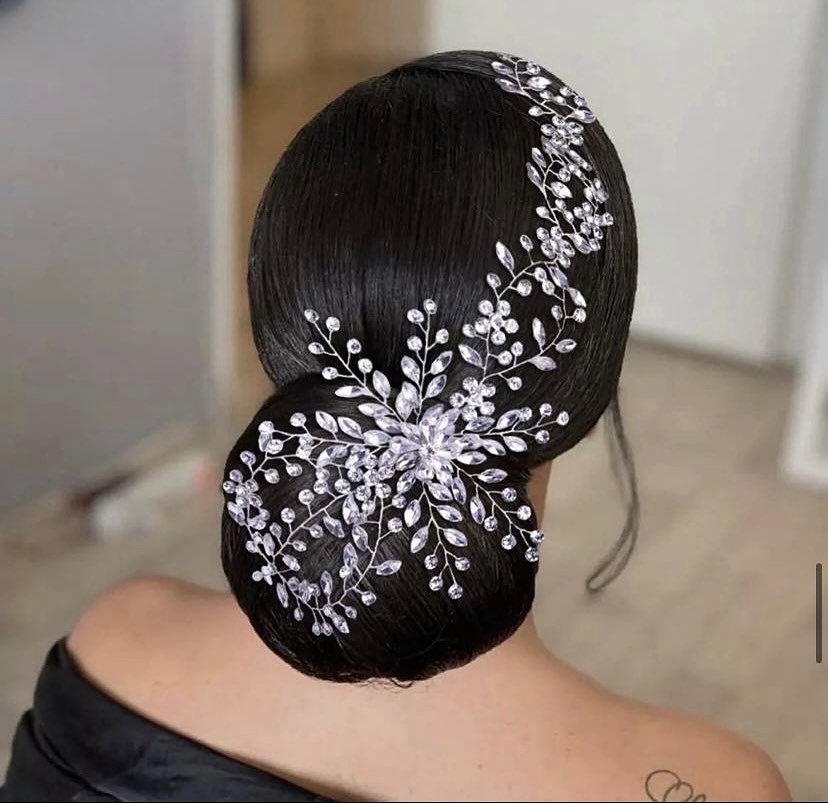 9 – Low Bun With Tiny Pink Flowers
If you are a girl who doesn't like buns that are messy or they take hundreds of pins to stay in place, go for this simple low bun on your wedding.
You can even do it by yourself without any hassle. Just make a normal ponytail and wrap your hair around it into a simple bun. Decorate it with small pink flowers in a single row.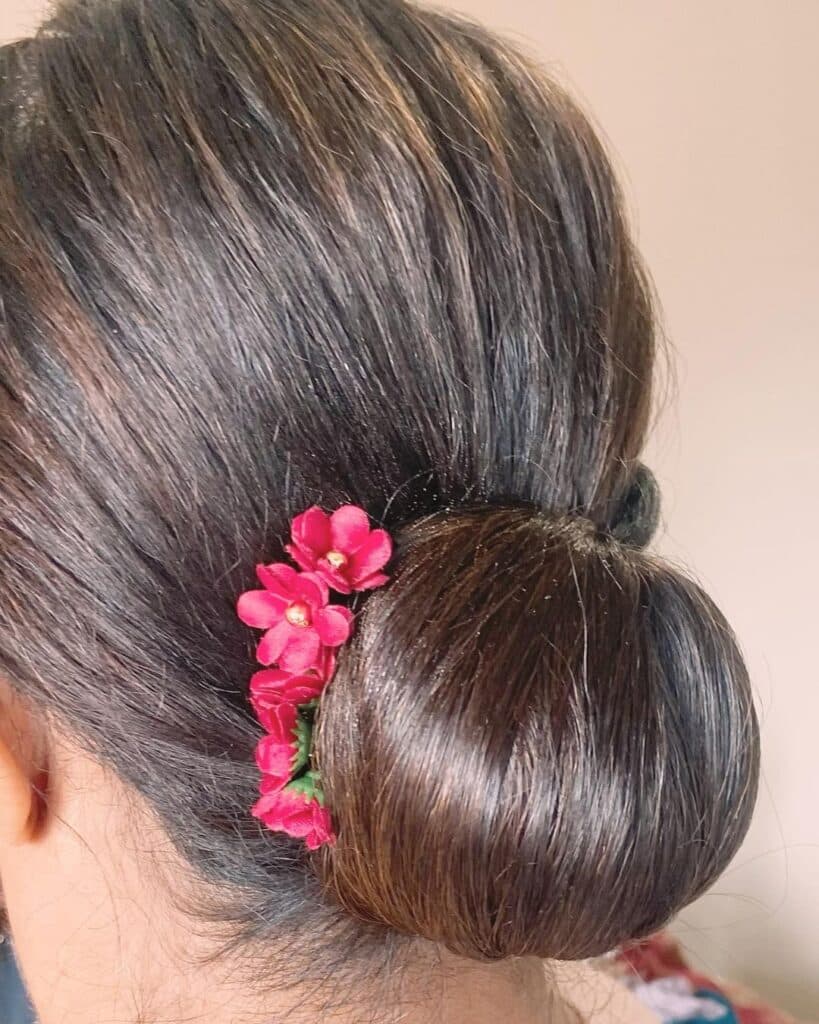 8 – Floral Hair Bun Accessories For All The Curly Beauties
Women with curly hair often find it hard to pull off a hair bun adorned with flowers and buds. They are afraid it might get stuck in their hair or wouldn't stay in its place. Well, in that case, we suggest you go for artificial wedding accessories. They are easy to put on the bun and easy to take off.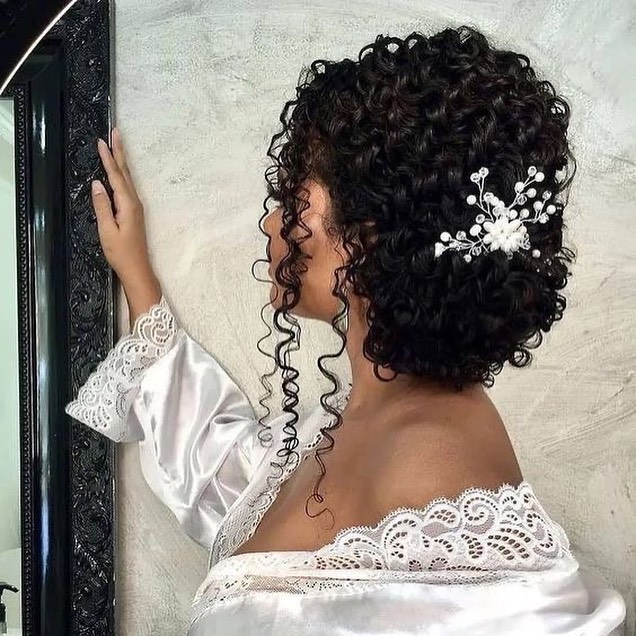 7 – Twisted Hair Bun With French Braid
French braid is a hairstyle that has been around for centuries. It is a beautiful and classic hairstyle that can be worn by women of all ages. This hairstyle combined with twisted buns and some flowers is all that you need for your big day.
It will keep your hair strands in place. Plus it will give volume to your hair. Add a small bunch of Jasmine flowers in the corner or in the middle. That's it. Your oh-so-sophisticated wedding floral bun is ready.
Pro Tip: If you have a beach-themed wedding, go for a fishtail or infused waved braids. These go well with outdoor and beach weddings.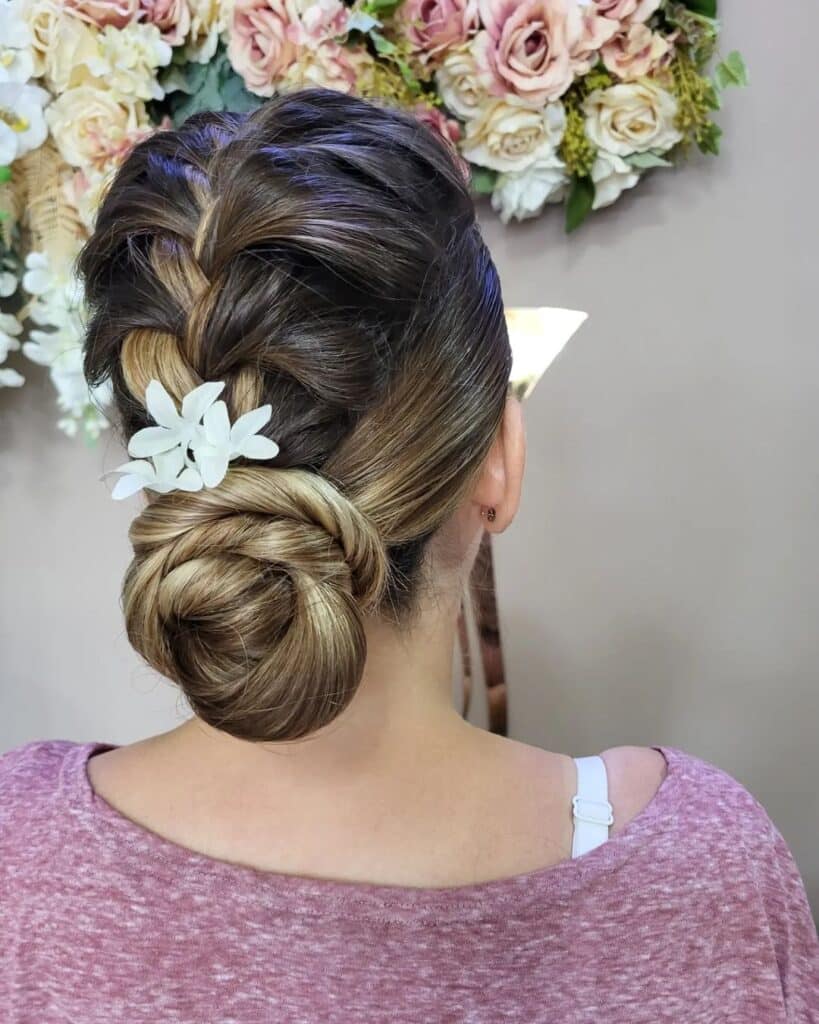 6 – Twisted Hair Bun With Flowers for Sarees
Twisted hair buns are the easiest to make. It takes even less than 5 minutes. Just brush your hair and make sure no tangles are left. Make a ponytail and tie it in a loose braid. Now roll the braid over your ponytail and you are done.
It is not always necessary that you decorate your bun with a big bunch of flowers. You can take it minimal by placing a few jasmine flowers all over your hair.
Here this gorgeous lady has opted for a side twister that she later joined with her twisted loose bun.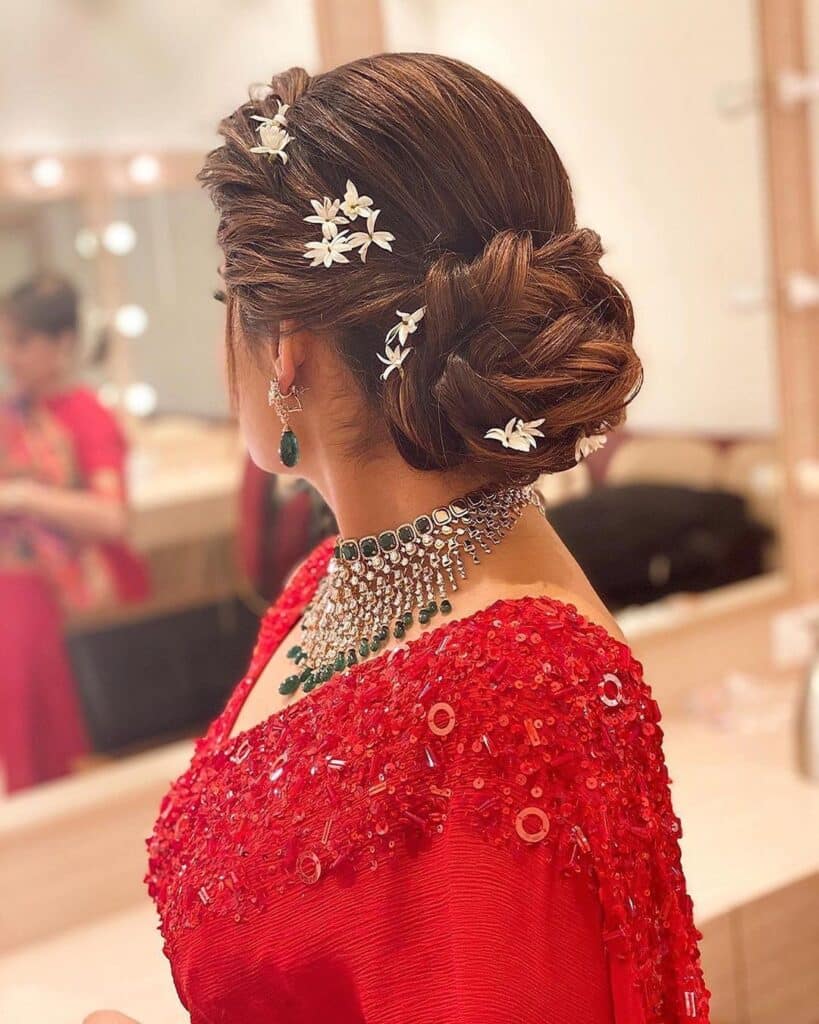 5 – A Silver Bun Crown For a Quick Hairstyle
If you are a girl who is a perfectionist and wants to monitor every activity of the wedding by yourself, this hairstyle is for you. You don't need to sit for long hours in front of the mirror.
Rather just get this one for yourself and wear it over your high bun. That's it! You are done, wear your gorgeous wedding dress, add your diamond jewelry and enjoy your big while being all dolled up and glammed up.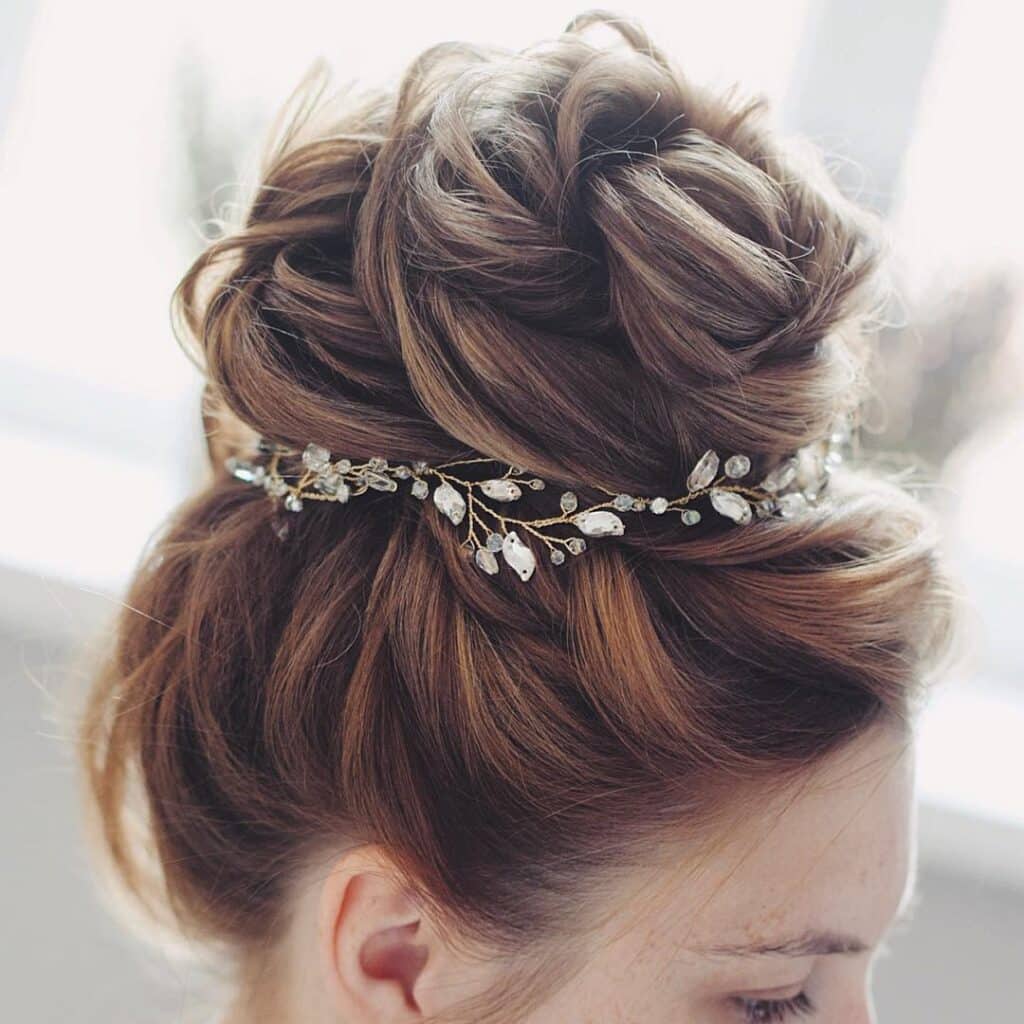 4 – The Combination Of Red And White for South Asian Brides
Women in the south Asian region have been loving this combination of red and white since day one.
South Asian women love hairstyles with Gajras, you can take inspiration and create a similar hairstyle on your big day.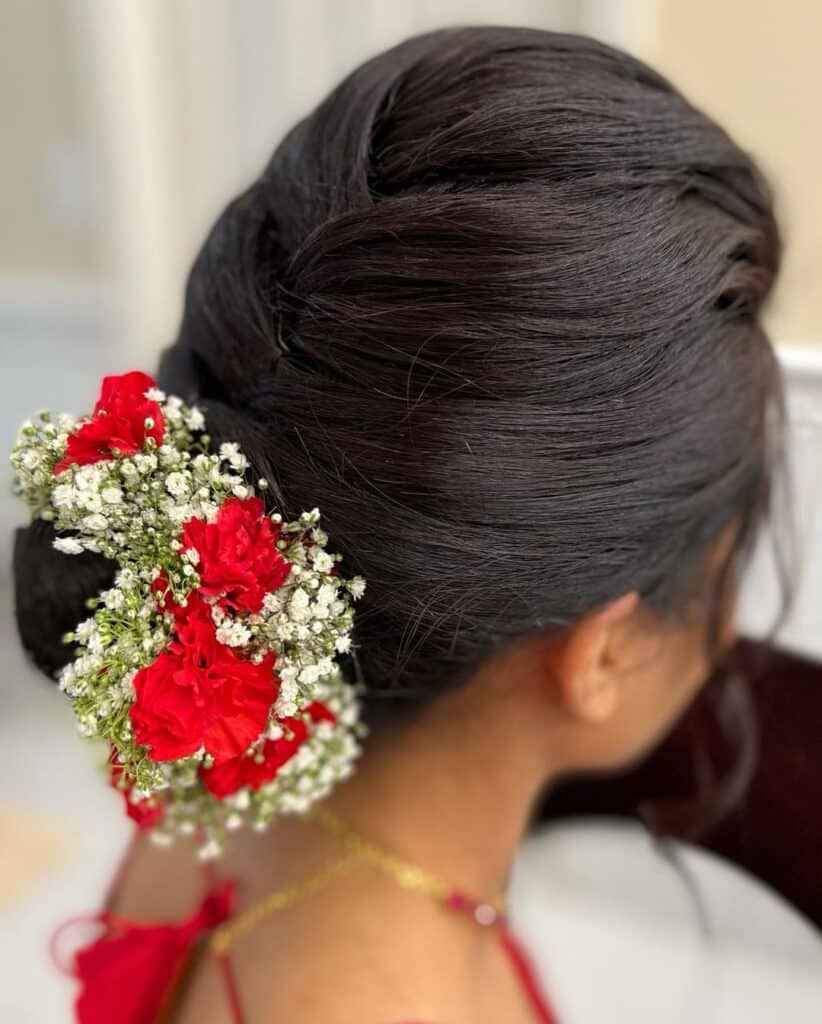 3 – Voluminous Hair Bun Adorned With Beads and Pink Flowers
Gone are the days when bridal dresses were mostly white or off-white. These days girls are experimenting with their bridal looks by going with unconventional colors like pink, blue, and all the pastel shades.
If your bridal dress is in pastel pink, we suggest going with these tiny pink flowers with a loose low bun. Add some pearl beads to add more aura to the hairstyle. You can even add white flowers to these pink ones. The combination of white and pink is always stunning.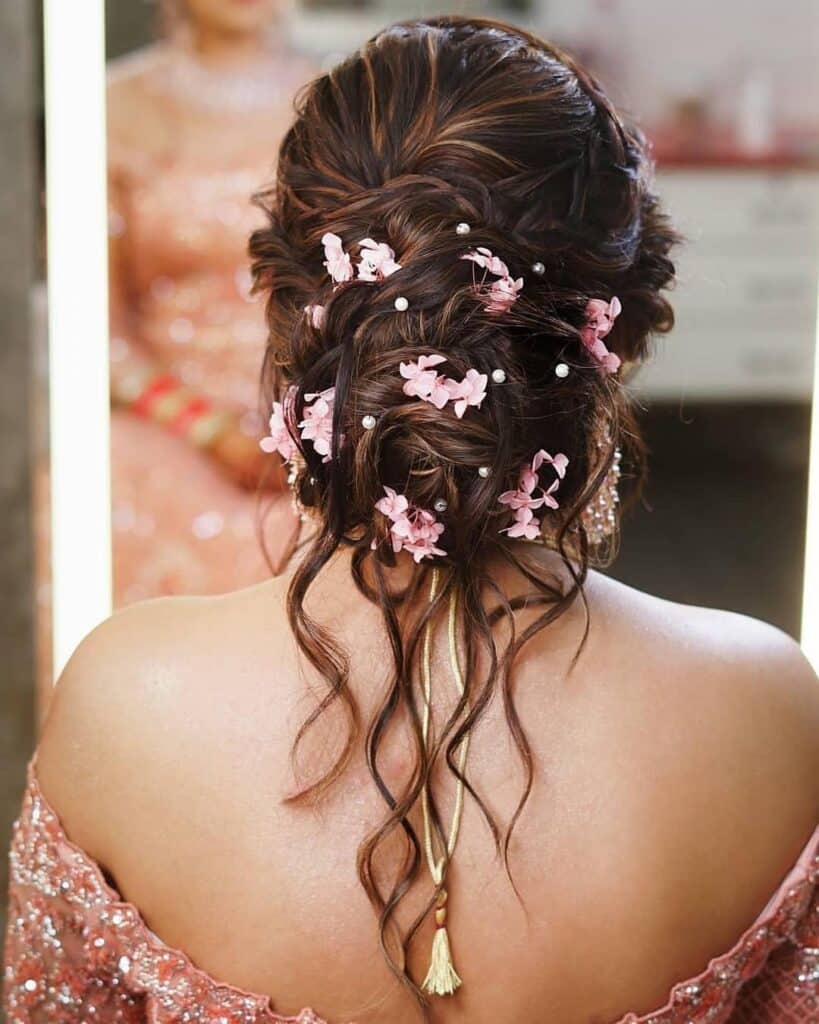 2 – Side Swept Braids With a Low Bun
Braids are timeless fashion. No matter if it's 2023 or 1990, you can always go with side-swept braids along with a bun.
This hairstyle is an excellent choice for boho brides. It looks chic and magical. Make sure to get a beautiful gown that matches your style and bridal boho makeup.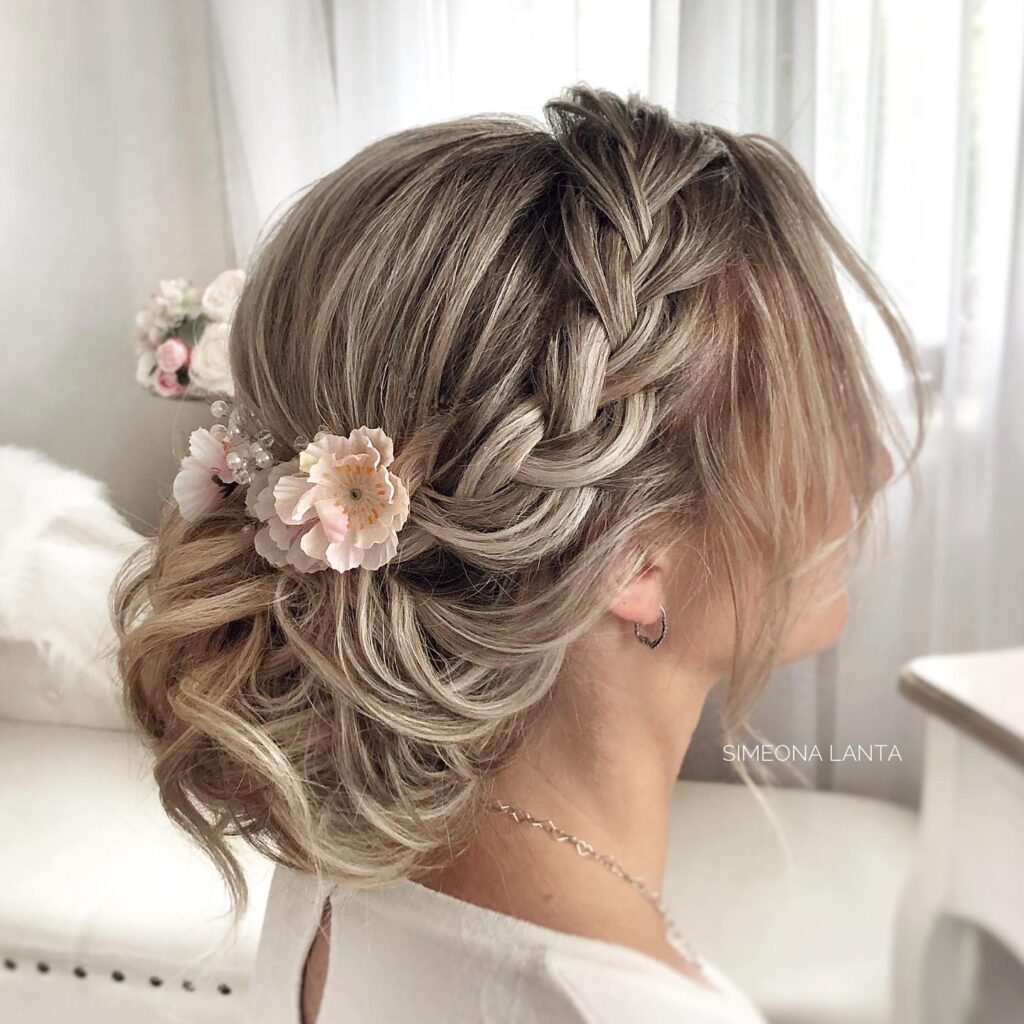 1 – Purple Flowers With Baby Breaths
Lastly, we have these gorgeous purple flowers with baby breaths scattered all over the Bun. This hairstyle would look equally good on a white wedding dress as the colors will pop out.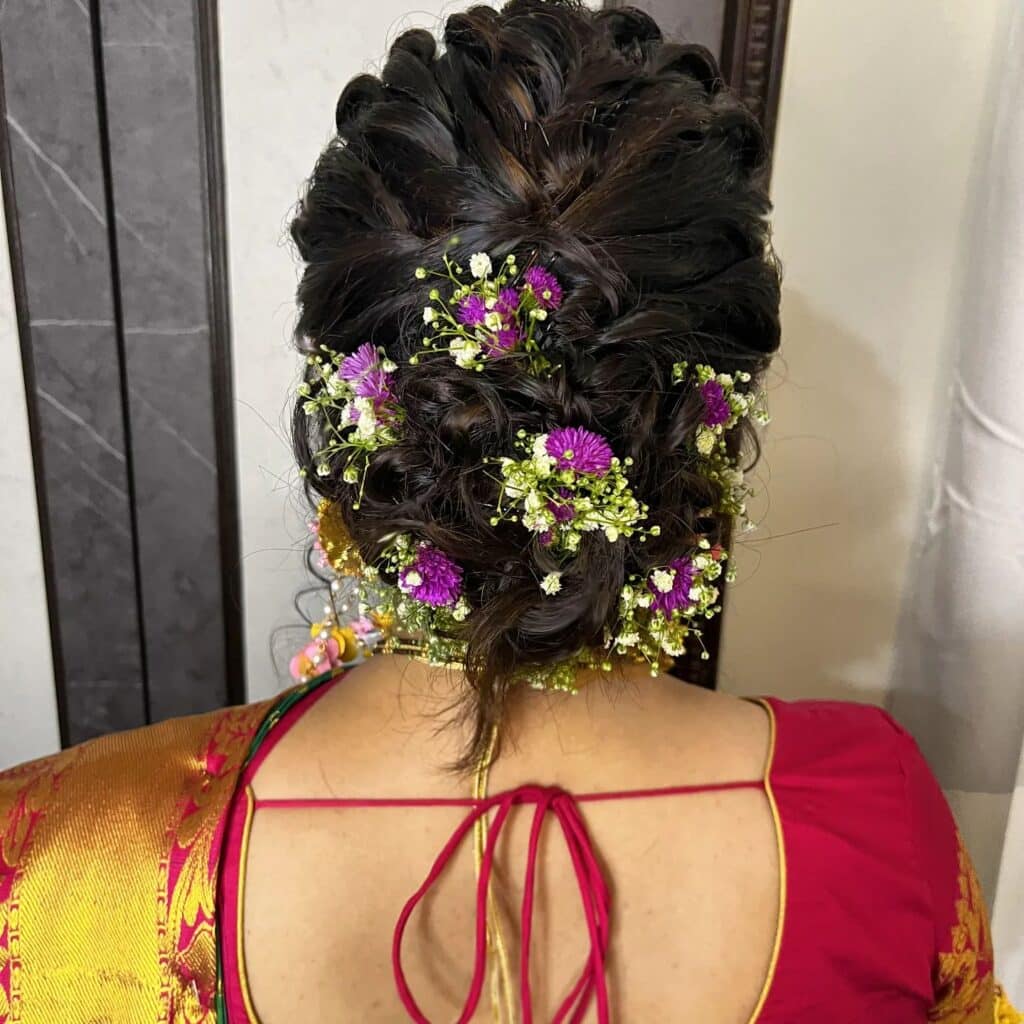 Frequently Asked Questions
Q. Which Hairstyle is best for wedding?
Ans. When it comes to a hairstyle at a wedding, women have multiple options to choose from. From open hair to messy braids and from twisted buns to high buns, all options are available for you and each one of them is trendy and stylish. But most women prefer to have a bun at a wedding. First of all, buns give a bridal look. As most of the guests would be coming with open hair, a bride should get dressed in a way that she should stand out. This hairstyle looks neat and elegant and among all the wedding hustle it is less likely to get undone.
Q. What are the best flowers to use in a floral Bun?
Ans. It's up to you. We believe almost all of the flowers have that charisma and magic that when they will be tied in a bun, they will stand out. However, if you want you to want your flowers to last longer, you can always go for orchids, carnations, or chrysanthemums. Roses and other flowers are also good options, but they are not long-lasting.