How to dress like David Beckham? We know how much both girls and guys are obsessed by Soccer super star David Beckham. He surely is a style icon for people of all age. So today we'll be helping you wear it like Beckham. Yes, here are some of his best looks that you can get inspired for and shop for in a budget. 
David Beckham Outfits on a Budget
There is absolutely no doubt that David Beckham is the most stylish and fashionable football star ever but what most people don't know is that his outfits are pretty easy to shop for. So get inspired from these David Beckham outfit collection and shop for them at great prices and you will surely look as charming and appealing as him.
#15- Street Style Fashion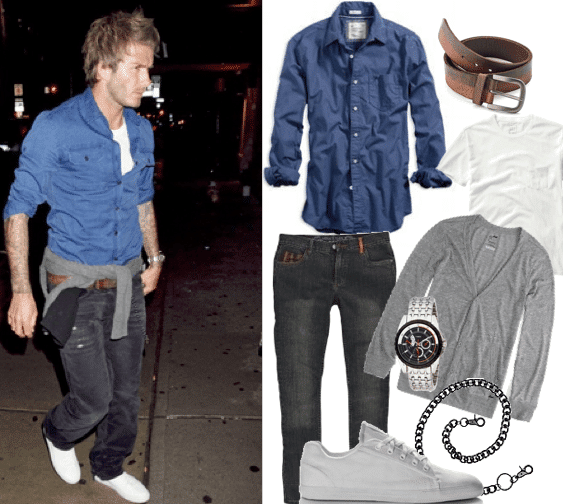 AE Solid Shirt – $29.50 at AE.com
Belt – $7.80 at Kohls.com
White tee – $7.99 at Gap.com
Cardigan – $24.50 at Pacsun.com
Chain – $25 at ALDO.com
Timex Retrograde – $79.96 at Endless.com
Legacy Jeans – $27.50 at CCS.com
Supra Sneakers – $48 at 80spurple.com
For some more amazing street style fashion ideas, check out [highlight]17 most popular street style fashion ideas for men[/highlight]
 #14- Morning Walk Outfit
A great outfit for a random day out. It's cool, comfortable and effortless which is what Beckham's dressing is usually all about.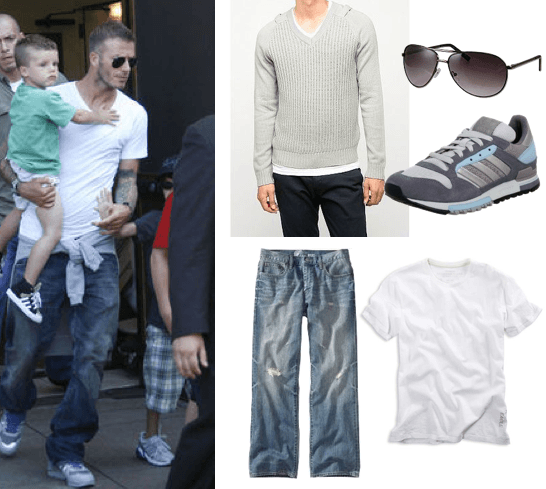 Lodge V-Neck Sweater – $48 at Urbanoutfitters.com
AE Crew T – $15.50 at AE.com
Distressed Boot-Cut Jeans – $34.50 at OldNavy.com
Icon Aviator Sunglasses – $14.50
Adidas Original Men's 600 Sneaker – $79.95 at Endless.com
 #13- Fall/Winter Outfit
A leather jacket and ripped jeans are the perfect combination for Fall or Winter season.
 Trees Packaway Windbreaker – $39 at Urbanoutfitters.com
Roundtree and Yorke Aviator Sunglasses – $29.40 at Dillards.com
Rockin Tee – $14.99 at Urbanoutfitters.com
Urban Pipeline Loose Boot Cut Jeans – $42 at Kohls.com
Puma New Haven Perf – $70 at Piperlime.com
Via
#12- Cute Daddy Outfit
He surely is the sexiest dad in the world.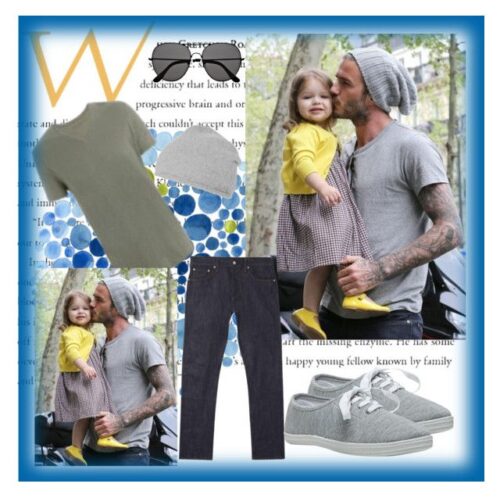 Mid-rise Jeans – $95
Sneakers – Under $50
Beanie Hats – Under $50
T-Shirt – $73
The Row Aviator Metal Sunglasses – $196
Shop for this look here
#11- Weekend Style
Heading out for the weekend plans or just going to hang out with the guys, this look is sure to be a head turner.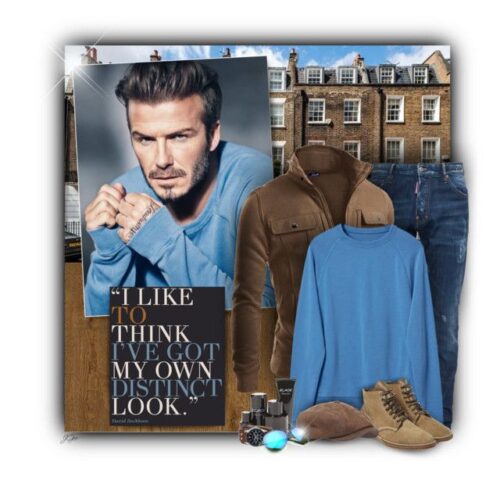 Jacket from Amazon.com – $40
Jeans – $350
Suade Lace Up Boots – $690
Shop for this look here
#10- Casual Romantic Lunch Outfit
Going out for a lunch or dinner date? This look is surely going to impress your better half.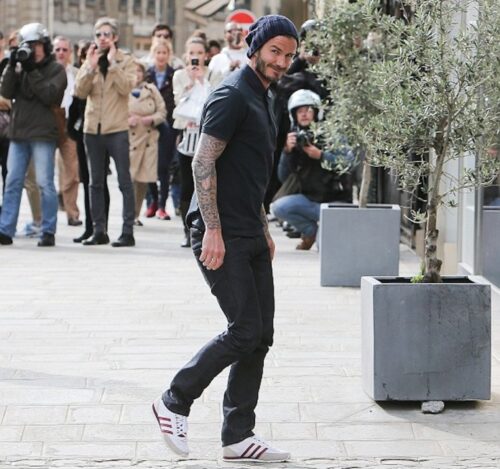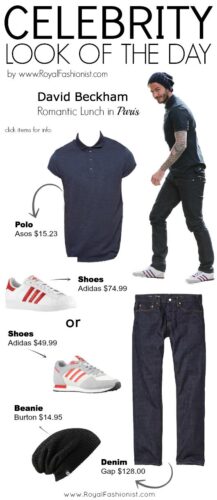 Shop for this look here
#9- Casual Outfit for Travelling in Style
Here is another stylish look that you can shop for in a few hundred dollars only.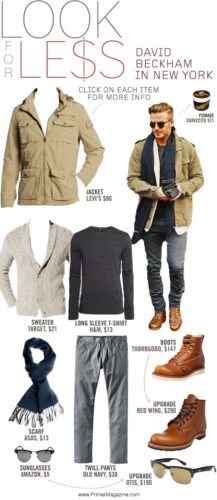 More about this outfit here
#8- Fashionable Sporty Look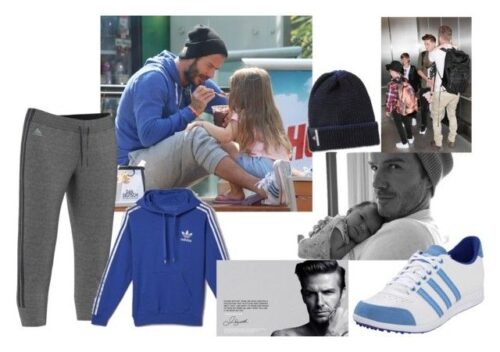 Shop for this look here
#7- David Beckham Inspired Outfits for Work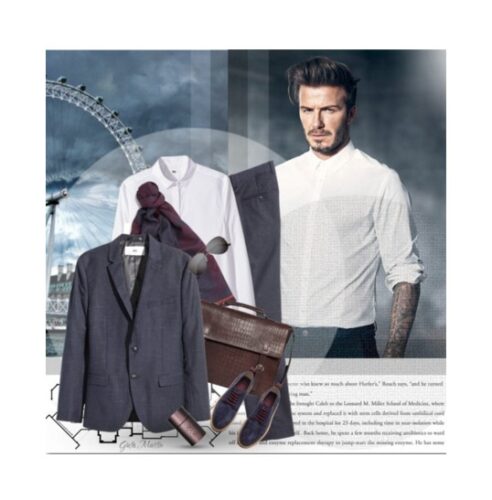 Shop for this look here
#6- Hot Casual Outfit Combination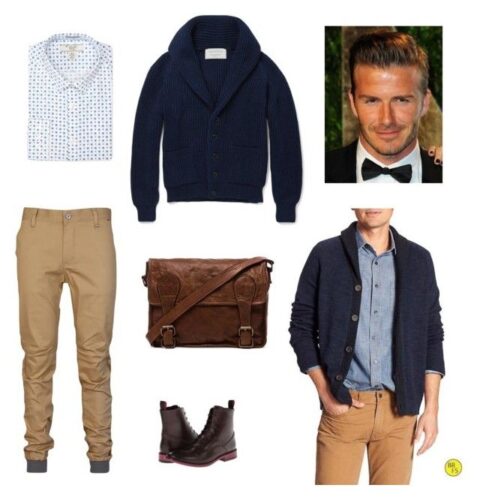 Shop for this look here
#5- Casual Dad Style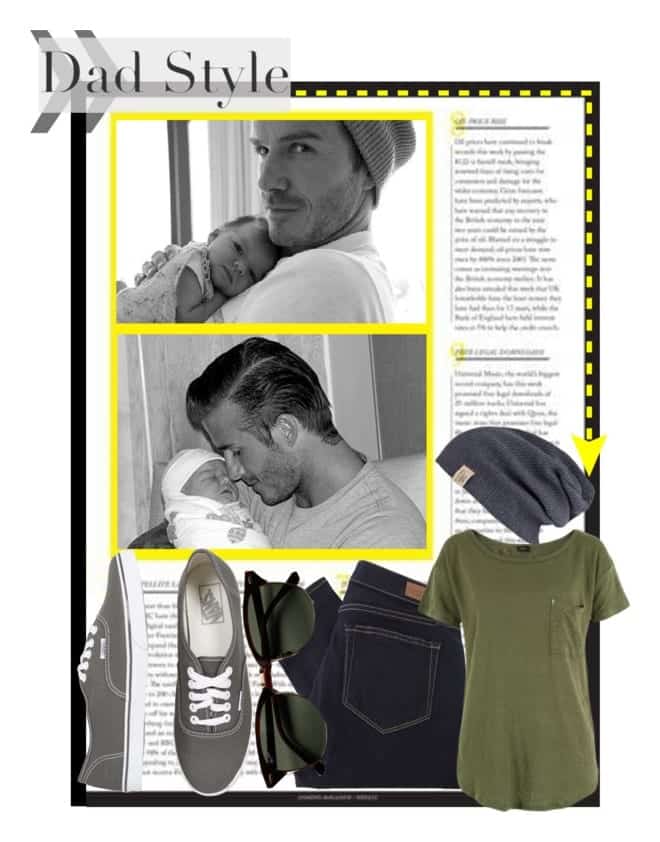 Shop for this look here
#4- All Black Outfits
All fans of Beckham know that he loves wearing all black outfits and yet every outfit of his brings out a different look. So do give all these looks a try and see which one works best for you.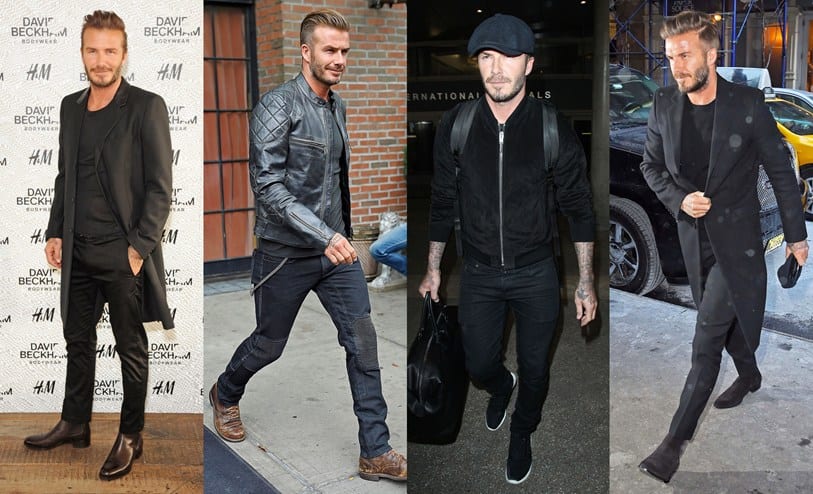 #3- Preppy Guy Look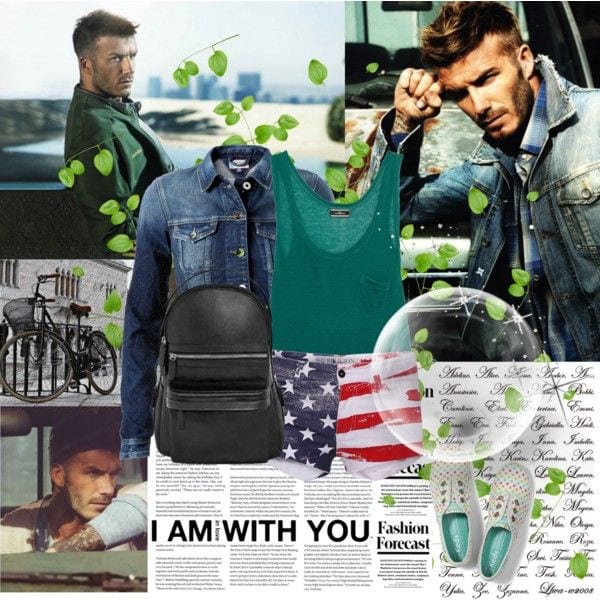 Shop for this look in under $450 here 
Also have a look at [highlight]How to dress preppy for men-15 best preppy outfits for guys[/highlight].
#2- Dressy Casual and Business Casual Attire
Suits and statement ties if rightly carries can make great casual business outfits for any guy.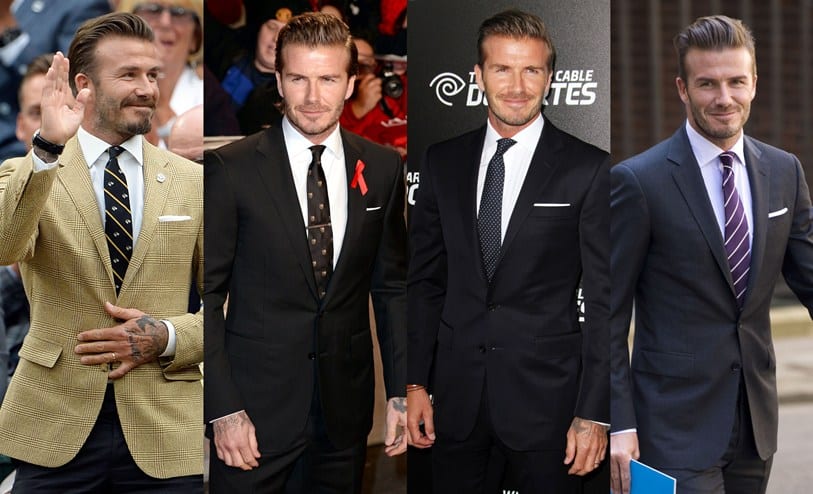 #1- David Beckham Hairstyles and Beards
One of the best things about David Beckham is that he keeps experimenting which gives us all the more reasons to love him. Here are some of his best hairstyles and beard styles that you must try.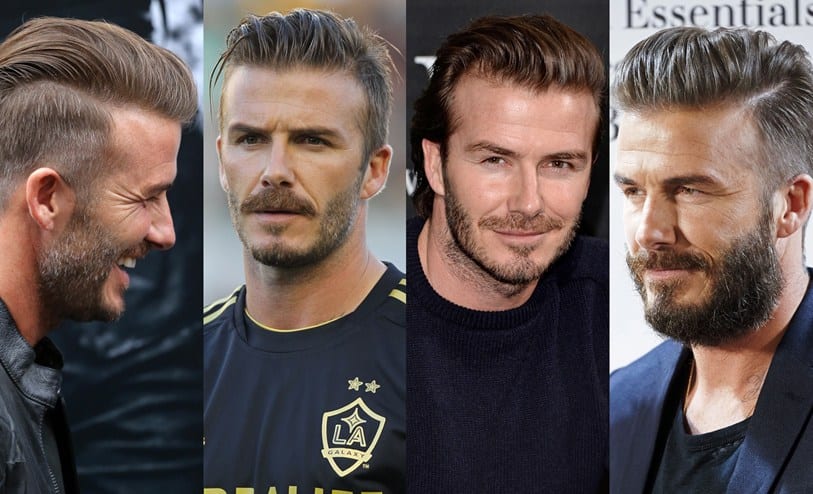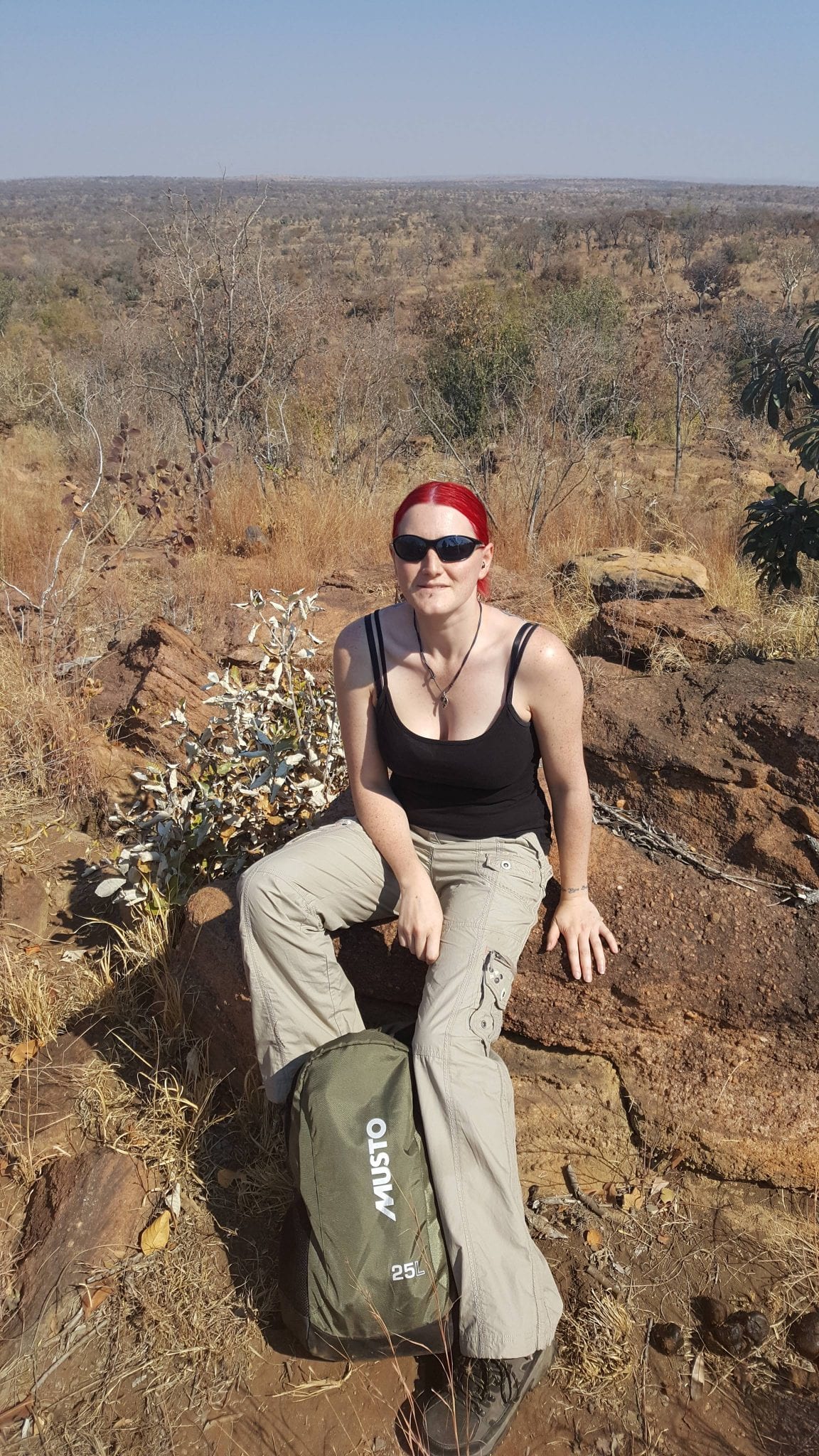 Caz, aka Vixen, has been freelance creative writing for several years. She has a lot of experience in different fields including high street fashion, tattooing art, and even the gothic and historical costumes. Caz has a Diploma in Fashion and Textiles and also a Bachelors Degree in Historical Costume and Corsetry. Her passion lies with gothic design, corsetry and any other styles considered to be taboo or unusual. Style-wise Caz has a love for Vivienne Westwood and her take on the punk era. Although Caz loves the weird and wonderful, she has a deep love for all fashion and allows this to show through her work.