Fashion tips for men – Are you looking for Men's Style Guide? Then look no further. Here is a complete guide to Men's fashion statements in just one picture. As men keep on searching for men's fashion ideas and outfits on different blogs and in the end they hardly get their answer.
We have at Outfit Trends have an idea to answer all those questions simply in one complete infographic. This is simply an ultimate guide for men who are looking for ideas on how to look sharp and stylish. 
Best Style Guide for Men
This one infographic was made in partnership with the subreddit community – Male Fashion Advice. It is the guide for all men, whether you are tall, short, athletic this one infographic answers your all question that you need to know about men's fashion. But before you look at the image, let's go through some basic fashion tips that you should know.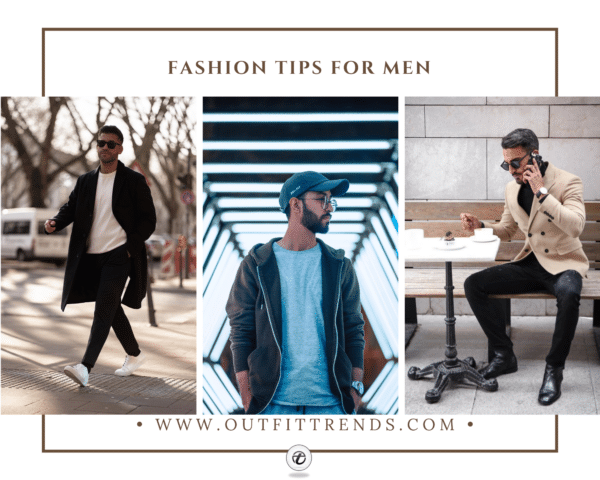 Styling Tips for Men
Buy clothes in a perfect fit. I can not emphasize enough how bad and sloppy can ill-fitted clothes look. Check out the infographic below to know more about finding the perfect fit for you.

Take inspiration from your favourite celebrity, blogger, model. However, I would suggest adding something of yourself instead of copying their complete look. This way you will feel comfortable with the outfit while also having a fashion-forward look. 

Buy a few statement clothing articles like a jacket, blazer, or coat to quickly create a outfit whenver you are in rush. 
Get yourself some basic T-shirts in basic colours so you can create an easy to go look without much effort.
Invest in a classy dinner suit. Most men borrow it but that suit might look ill-fitted since they are not tailored to you specifically.
Infographic 
Here is your style guide. The first half of the infographic is the fit guide; it covers a size guide for a dress shirt, blazer or suit jacket, coats, pants, ties, and shoes. The other half is more specific and contains some pieces of advice for men based on their body type.

Be Clear About Your Choice
Before deciding what will you wear, ask yourself what do you want your clothing to look like? How do you want your impression to be here? Or how would you want another person to perceive you? The other person can be a client and you might want them to see you as intelligent and classy. It might be your date and you would want to give a charming impression. An easier way to do this is to express it in form of an adjective. For instance, powerful, classic, casual, charming, and so on. This way you can get an idea about what you want then dress accordingly.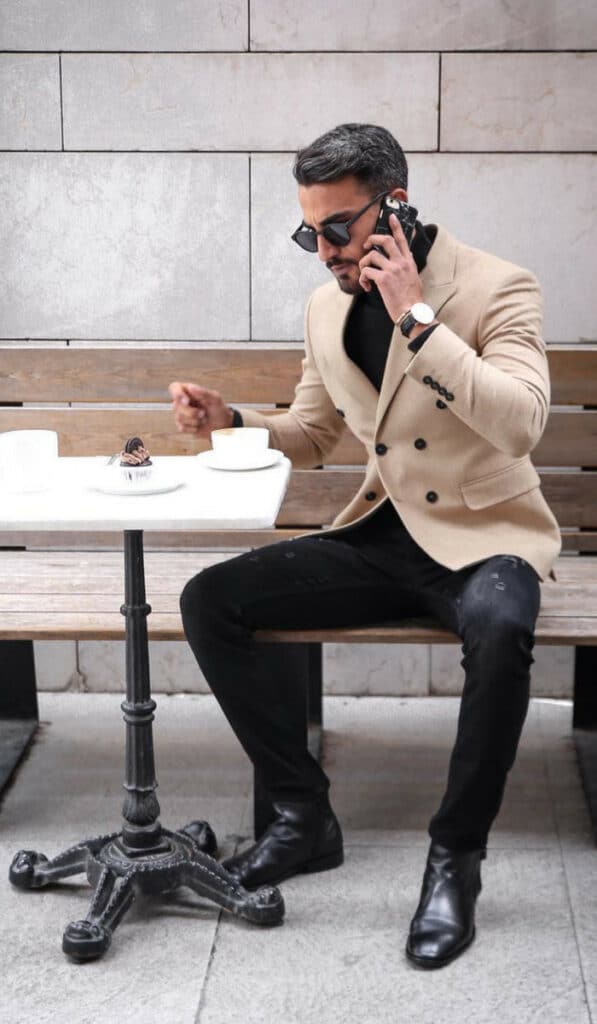 Casual Dress Guidelines for Men
There are no predefined rules for dressing casually. You can wear anything you want as long as you feel and look good in it. However, we have seen the casual dress game getting stronger over the years. A T-shirt and jeans are casual for most but they can get boring and look worn out easily, therefore, focus on the details. Here are a few things you can do to make them look stylish. Tuck in your T-shirt sometimes, half-tuck or untuck it other times. Roll your sleeves or just let them open. Moreover, you can also add an unbuttoned shirt over a T-shirt. Lastly, accessorize it, add a nice belt, watch, or hat.
How To Dress Professionally?
First up, always wear clean and pressed clothing. Your clothes should be fit you properly. The professional business attire includes a suit and tie. A dark color suit with a light color button-down shirt is preferred in a professional setting. Wear clean slip-on loafer or oxford dress shoes. Add a simple belt, minimal jewelry, tie clip, and cufflinks. 
The above advice is for a business professional setting. However, if your work setting is business casual then here is how you should dress. Wear slacks, khakis, trousers, polos, and button-downs. It's not mandatory to wear ties and jackets in such settings but you can still wear them whenever you want. Moreover, you can wear loafers, oxford shoes, boots, or sneakers.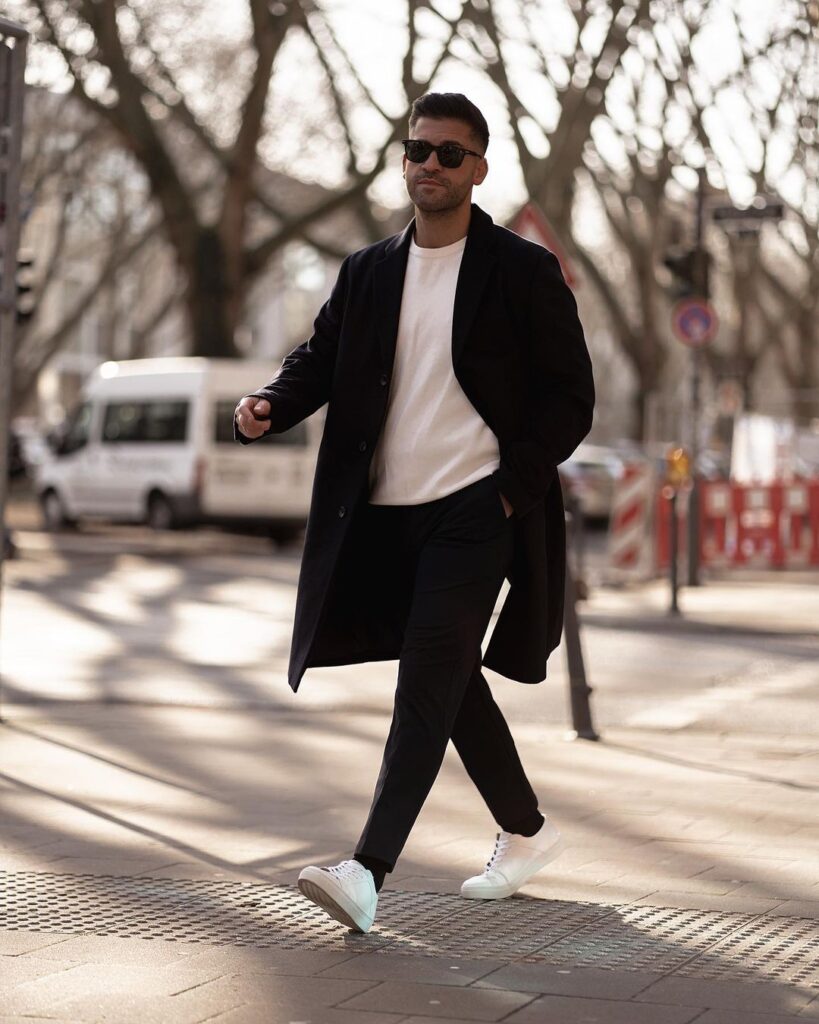 Fashion Accessories for Men
So, you have found your outfit but how are you going to style it? This is where accessories come; they help you stand out in style. Hence, here are some accessories you can incorporate in your look to make a style statement. 
Bracelets, rings, earrings, caps or hats, chains, cufflinks, watches, belts, and sunglasses.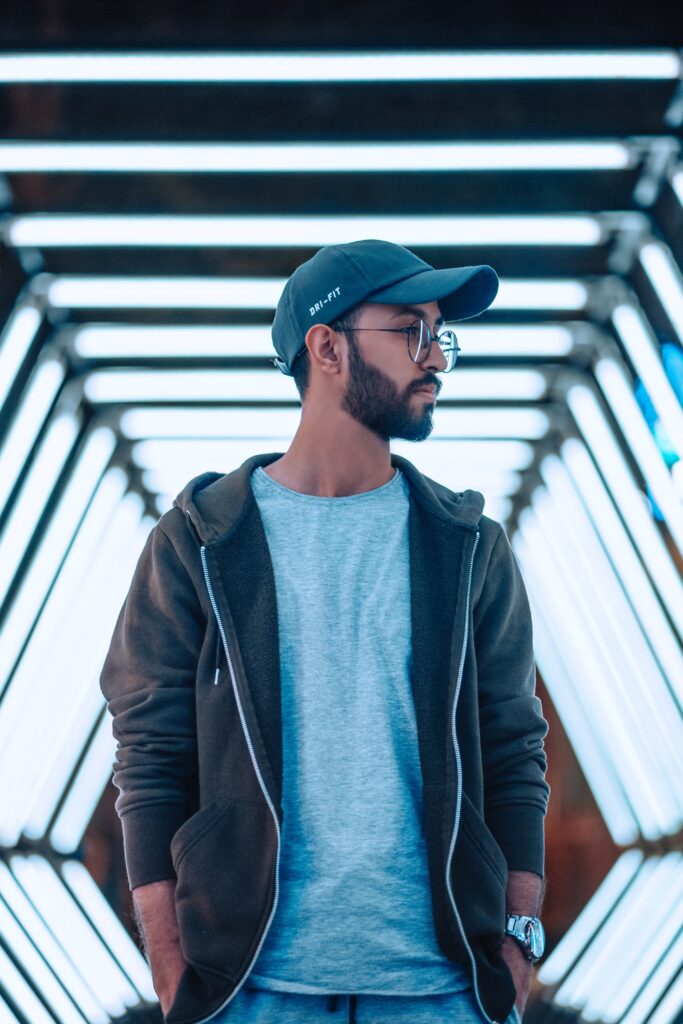 Frequently Asked Questions
Q. How can I find my style?
Ans. Look at your wardrobe and see what clothes do you feel wear often? What clothing items make you comfortable and happy? Notice what they have in common. Are they baggy clothes or do you like well-fitted clothes? You will get to know about likes and dislikes. Then find someone whose style interests you; it could be a friend, celebrity, blogger, or someone from your family. Look up to them for inspiration then combine it with something you like. 
Q. What are some outfits trends for men in 2022?
Ans. Bright colors and bold patterns are all in for T-shirts this summer. Full placket polo shirts are also in vogue. Moreover, 70's fashion is making a comeback. You will find many celebrities wearing flared trousers, bold prints, and wide leg pants. For more details on trending men's fashion, check out our 2022 outfit trends for men.
Q. How can a man improve his dressing sense?
Ans. Understand your likes and dislikes, know what you like to wear. Then look out for fashion trends. Wear something that's classy, trendy, and comfortable. Besides, wear clothes that suit your body type. Learn how to pair clothes with one another and dress according to the occasion. Other than your outfits, your shoes play an important role in your whole look. Hence, invest in some good pairs of shoes and always keep your shoes clean.
Q. How can men look sharp?
Ans. The first step to looking sharp is to buy quality clothes that fit you; your suit should not look sloppy. For having a sharp look, you need to stick more to classic dress sense which means leather jackets, neutral colors, dark colored jeans. Wear blazers with a casual outfit to elevate it. Moreover, get yourself a high-quality watch and some good pairs of shoes. While staying classy and looking sharp is all good, nowadays men's fashion is more than that. The latest trends are amazing and you should stay up to date with them. If you are hesitant about the trends then the first master the classic style then start small by experimenting with accessories and shoes first. Once you feel comfortable then move further and rock the trends.