As a consumer, where you spend your money has an impact on the domestic/global economy and communities. For this reason, deciding where to shop and what to purchase from necessities like food and clothes to conveniences like electronics and professional services should not be taken lightly. Other than looking at factors like a necessity, convenience, trends, costs, location, etc. taking a closer look at an organization's mission, charity, and philanthropic efforts is a must.
When you spend your hard earned cash with a brand whose mission is to change the world in dynamic ways and giving back to the community, it goes a long way. It not only keeps these positive brands in the business but helps to improve the economy and further the company's ability to do good deeds. Take, for instance, Two Neighbors. Below, you'll see how this brand works tirelessly to unite two countries.
The Beginning
Drawn by the union of Israeli and Palestinian women at the Center for Emerging Futures' Global Village Square, Whit Jones, Andy McCluskey, and a retired couple from Idaho decided to form a corporation that would help change the world. Two Neighbors, LLC was developed as a means to merge the countries, promote peace, and empower women. The company is a socially conscious fashion line combining the amazing talents of both Israeli and Palestinian women.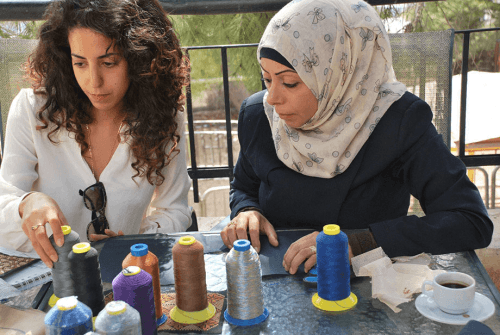 Defying the Odds
As the heart of the brand, these women have shown that they can preserve no matter the circumstances. Despite strenuous political and cultural differences, unpredictable weather, war zones, and unfamiliar territory, these women continue to meet, learn, grow, and work to make a living and create a difference in their communities.
A Passion for Fashion
With approximately 50 women from Israel and Palestine, and their amazing talents in design, embroidery, and sewing, Two Neighbors creates high-quality fashions and accessories for women. The idea is not only to empower women but to demonstrate the ability of women from these two feuding countries to come together in peace and harmony.
The grassroots brand sells items including handbags, blouses, dresses, jackets, and accessories. Using high-quality materials and draped in gorgeous fabrics and patterns, these women have worked hard to create fashionable pieces with a purpose.
Female Empowerment
It has always been the hope of the founders that through extensive education and training that they could help empower women from these countries to start their own businesses, employ others, and one day, take over the Two Neighbors brand. Since its establishment, more women have been able to find jobs and earn enough income to support their families – a trend which the brand hopes catches on in other countries and industries.
As women and everyday consumers, you have the power to choose where your money is invested. This year, you can make more informed decisions about which brands you choose to support. Spending your shopping dollars with brands that give back to the community and ultimately the world, is essentially a decision you'll be proud of yourself for making. Whether it's buying groceries, clothes, and accessories, booking a vacation, or going out to eat, try to be more conscious in supporting those that will use those resources for the betterment of mankind.
Exciting New Launches
Two Neighbors just launched an affordably-priced but high-quality denim accessories line, which you can check out on their website.