Wearing multiple rings has been a hot fashion trend in the recent past. A lot of celebrities have been spotted wearing stylish multiple-ring combos. The best thing about this popular jewelry fashion trend is its flexibility. You can make different ring combinations to get a funky look and formal elegance too. Multiple ring fashion is very popular among teenage girls. Girls love to DIY these rings and it's very easy for them to make different combinations. It has almost become a must have accessory item for girls' jewelry collections.
There are no hard and specific rules as to where and how to wear these rings. You can try to wear different rings on different fingers to see if it gives a good combo or not. From this collection of 21 chic style multiple ring combinations you can get a lot of ideas.
How To Wear Multiple Rings?
There are no such rules as to how to wear multiple rings, the key is to pair them beautifully so that they don't look overdone or exaggerated. You can start off with your wedding or engagement rings or bands and you can also wear midi and knuckle rings. You can also wear your statement jewelry pieces to create your own personal style. Hence there are a lot of options and ways you can hop on to this trend. Scroll down the article to get some stunning multiple-rings combo ideas.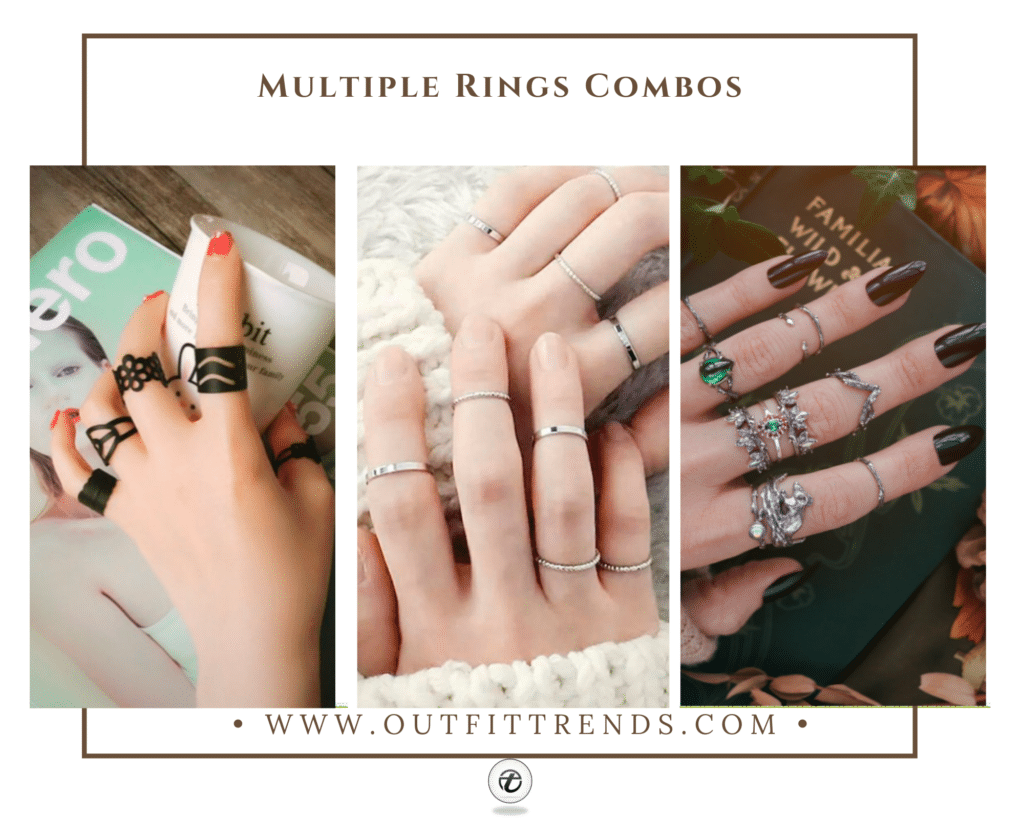 Tips To Wear Multiple Rings
There are no rules for wearing multiple rings, so wear them as you want and make some stunning combinations yourself.
Make sure that you are not over stacking rings. Keep a balanced quantity according to your look.
Before stacking rings, try to know the meanings and placements of different rings.
21 – Full Finger Adjustable Rings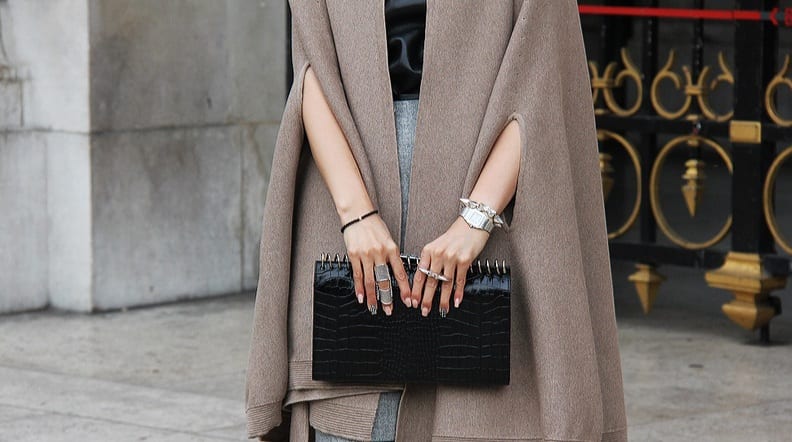 20 – Statement Pieces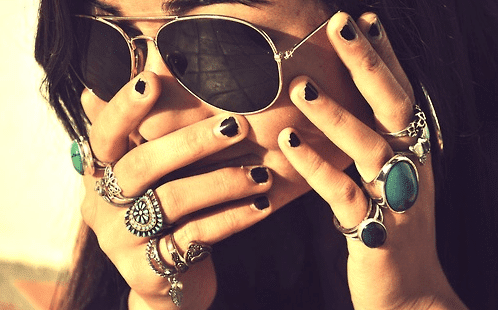 Handmade Unique Oval Stone Ring $16.99
Blue Sapphire gemstone ring $49.99
19 – Sopisticated Rings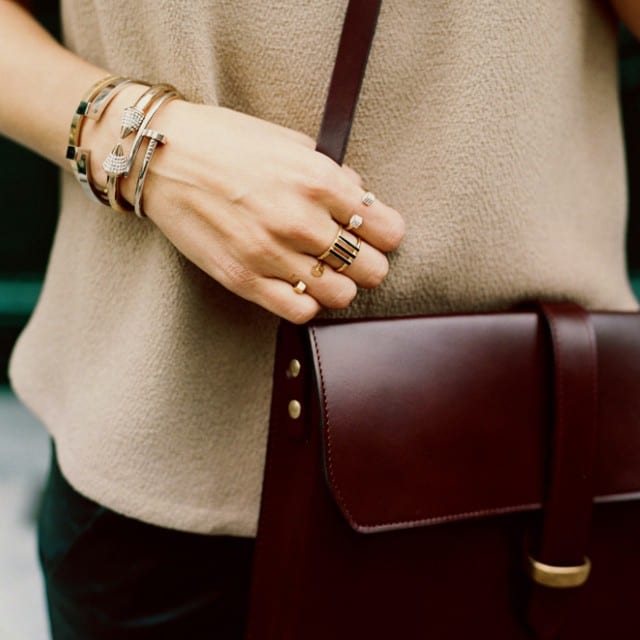 Women's Sterling Silver Rings Open Cluster Ring $19.89
18 – Boho Ring Set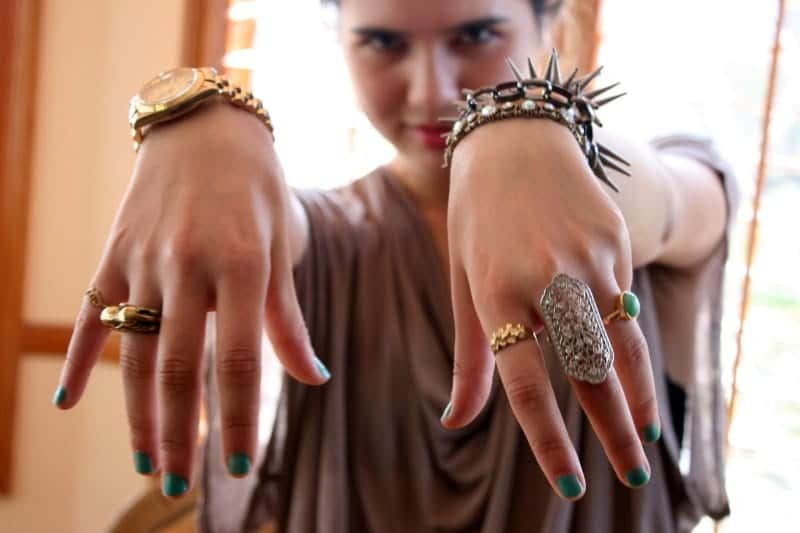 Yean Boho Ring Set Silver Statement Rings $8.99
17 – Go For The Minimalistic Way
Not all the time do we want to put on heavy jewelry so for casual wear you can go with simple and beautiful rings like these.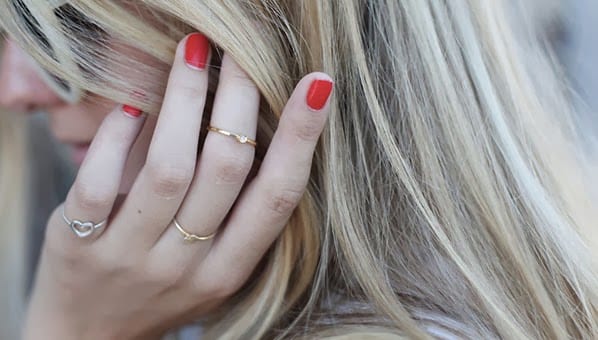 16 – Armor Articulated Ring
Articulated rings are quite unique and eye-catching. The concept of these rings is that two or more segments are connected by a joint. They may look like silver stacked rings however they can be worn on a single finger especially the middle one. So if you don't want to go with the option of wearing multiple rings, you can choose this. In the other picture, we can see a gold skeleton hand which is quite unusual and different from the concept of multiple rings, but if you are the daring one who can try this, then you should definitely go with it.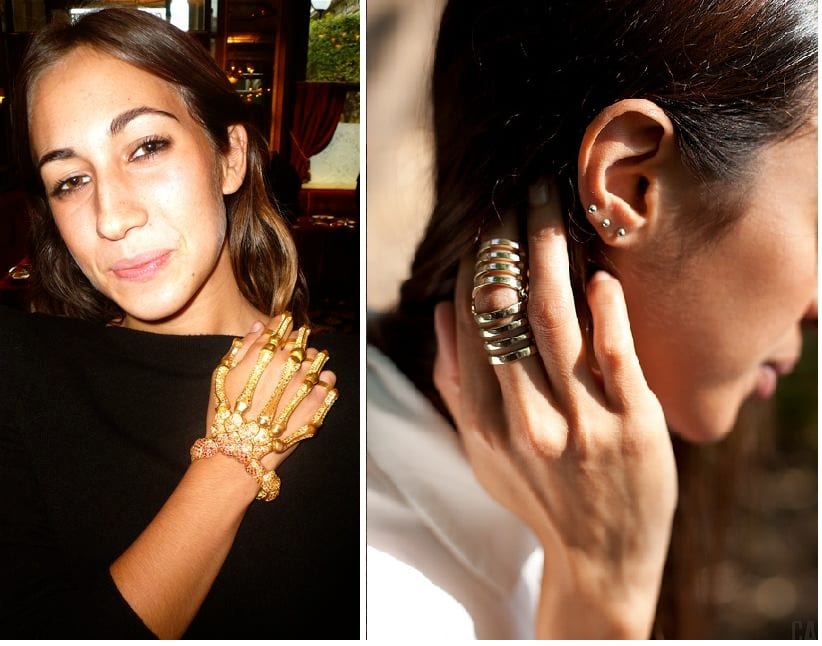 15 – Boho Ring Set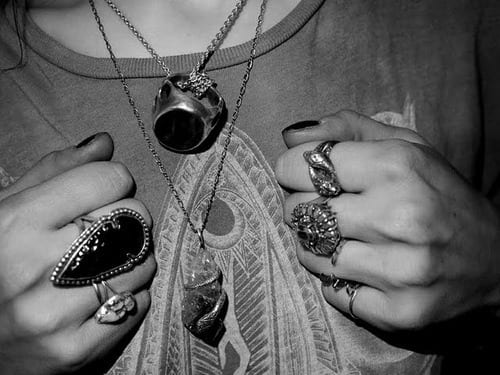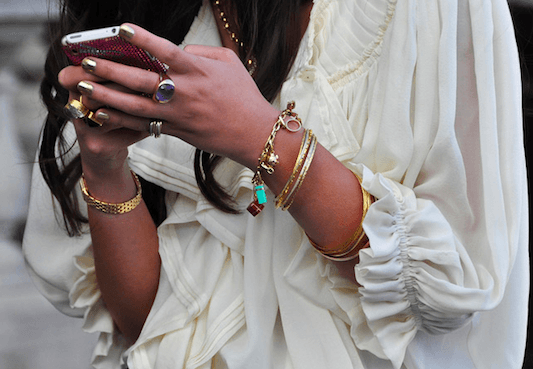 14 – Midi Rings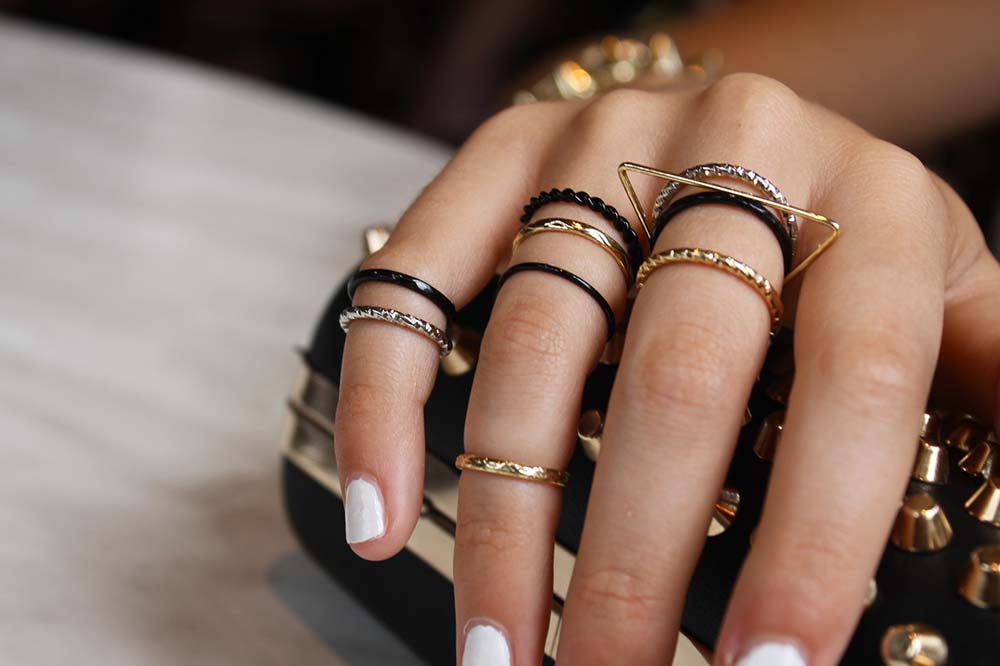 Women's Plain Band Thin Knuckle Stacking Midi Rings $11.99
13 – Gold Stackable Rings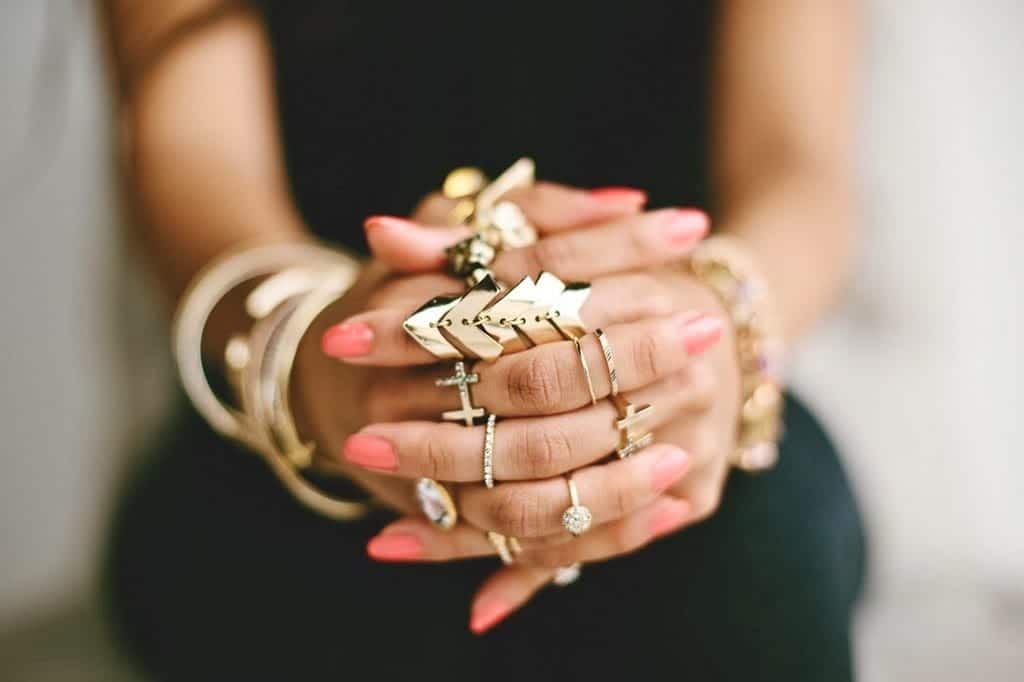 Stackable Knuckle Ring Set $8.99
12 – Delicate Multiple Rings
If you are going with a soft and sophisticated look, then you also want to keep your accessories minimal. For this purpose, you can wear rings on your index and ring finger. You can go with diamond and gold jewelry as well.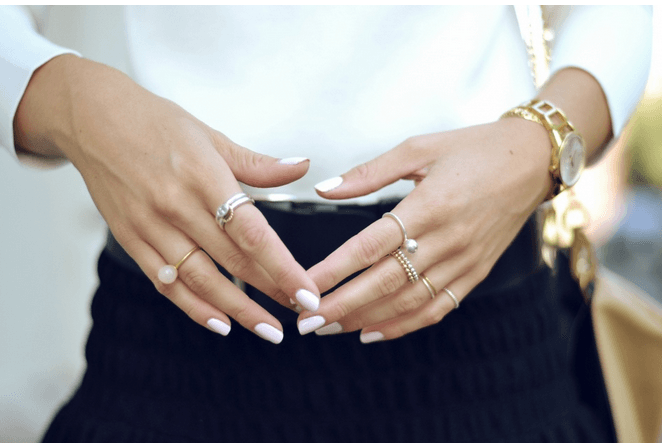 Green Jade Point Crystal Ring in silver $18.00
11- Silver Midi Rings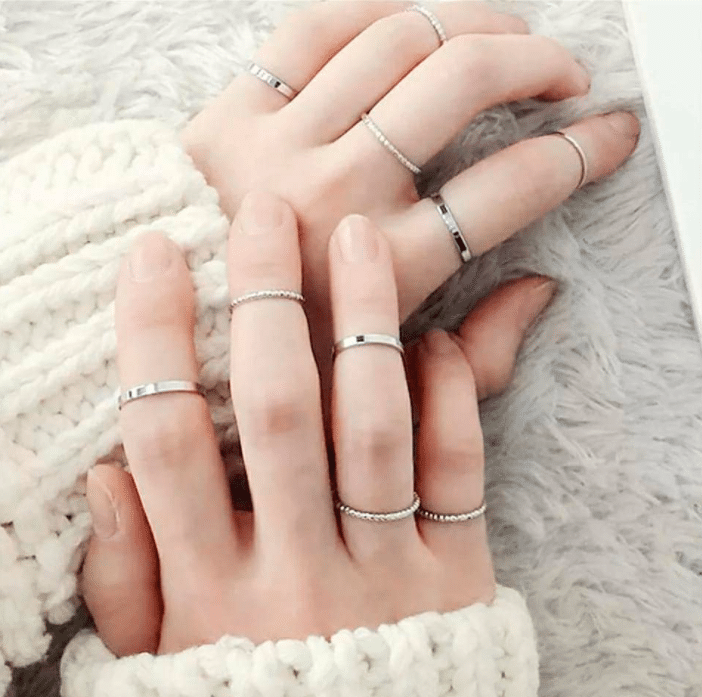 Sterling Silver Stacked Midi Thin Rings for Women$26.68
10 – Create Your Personal Style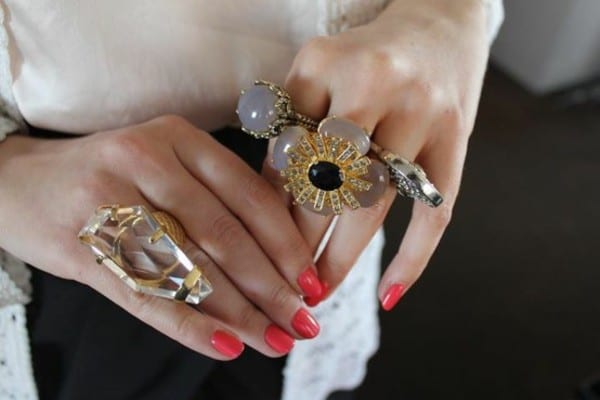 9 – Gold Bands
Gold bands are a great option for stacking rings and creating some stunning multiple-ring combos. You can go with only bands as shown in the picture or you can also pair them with other rings as well.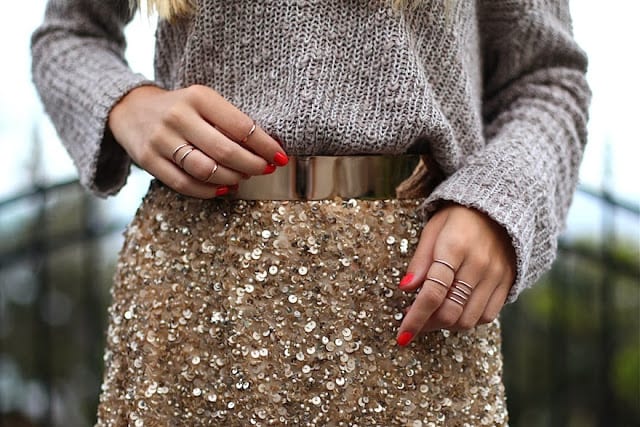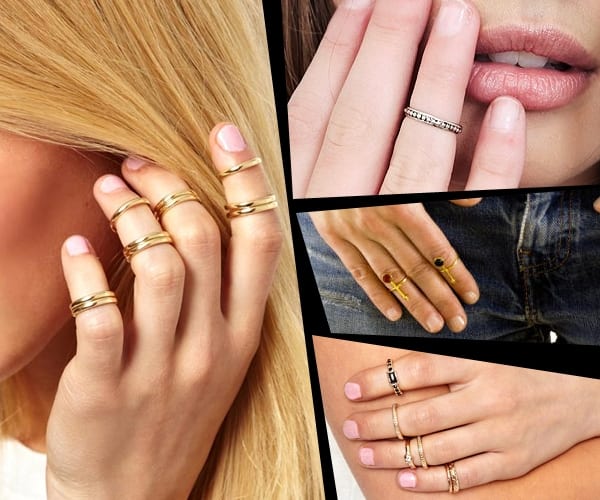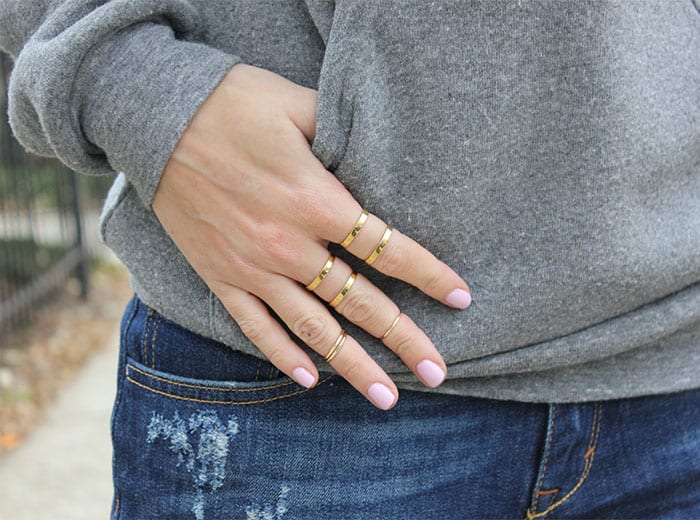 Gold Plated Rings Stacking Rings for Women $18.99
8 – Unique Silver Stacking Rings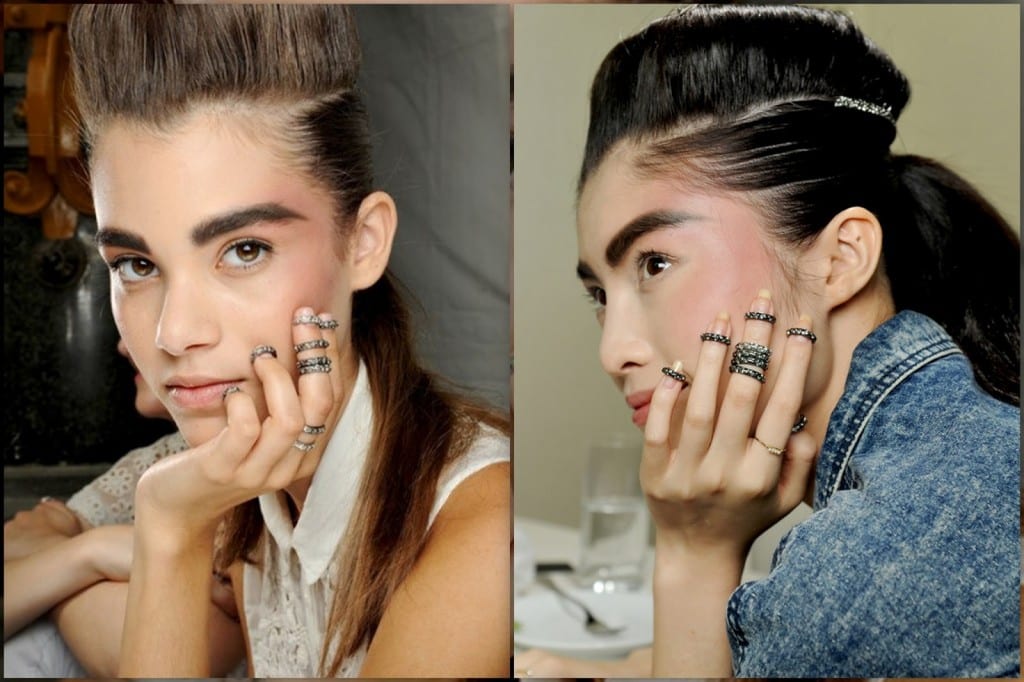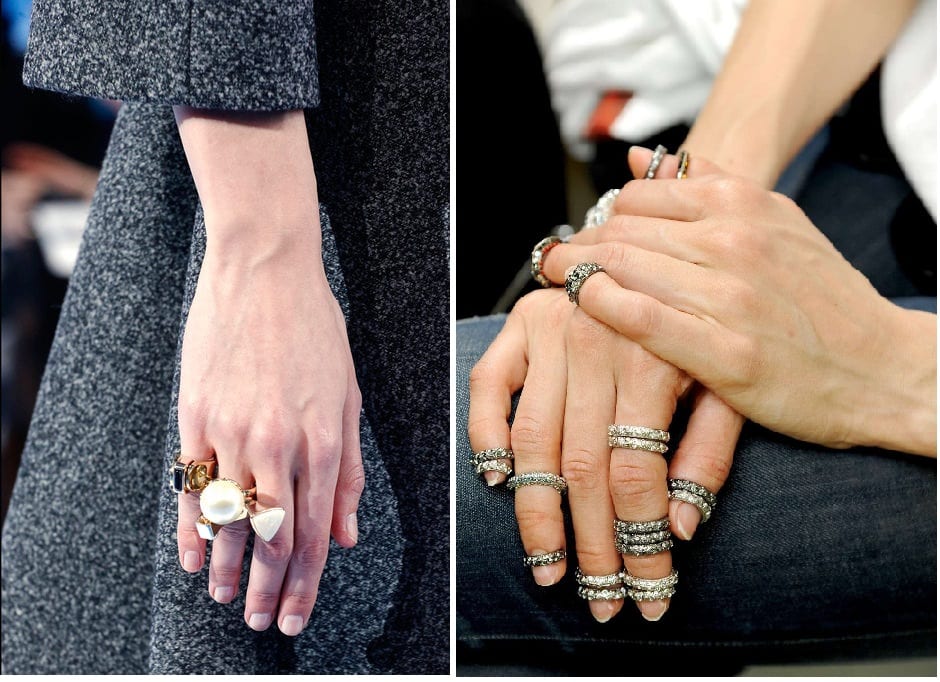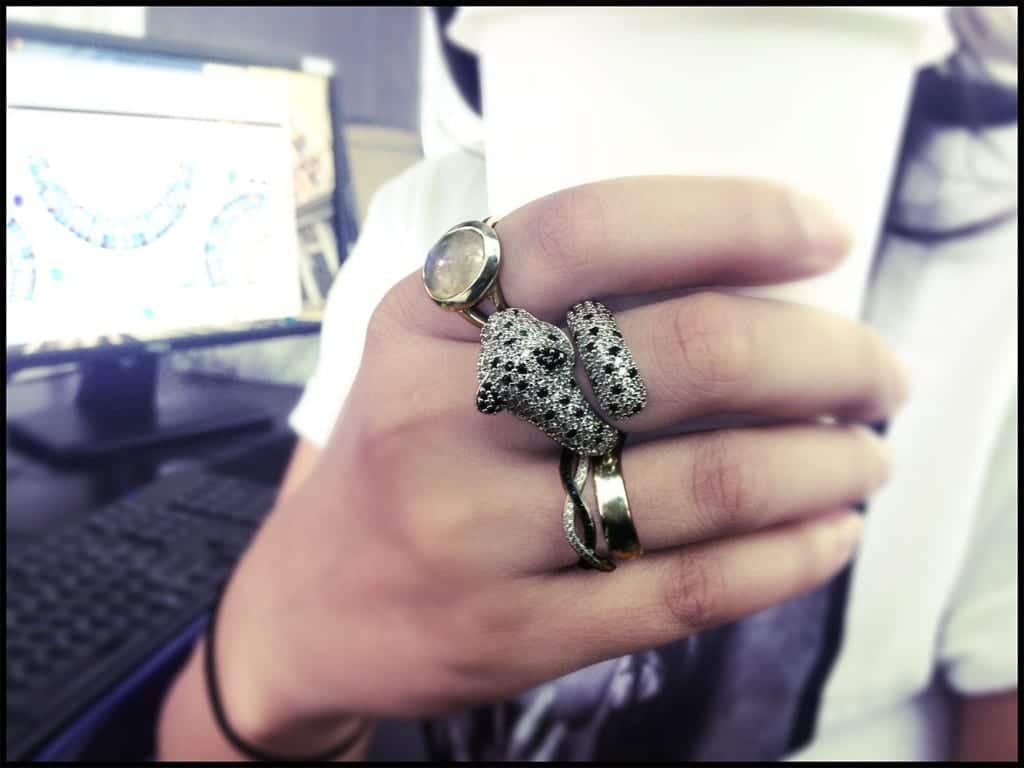 7 – Cute Flower Rings
With those cute pink nails, you will also want some cute rings and for that nothing is more beautiful than flower rings. Try out this cute combination as soon as you can.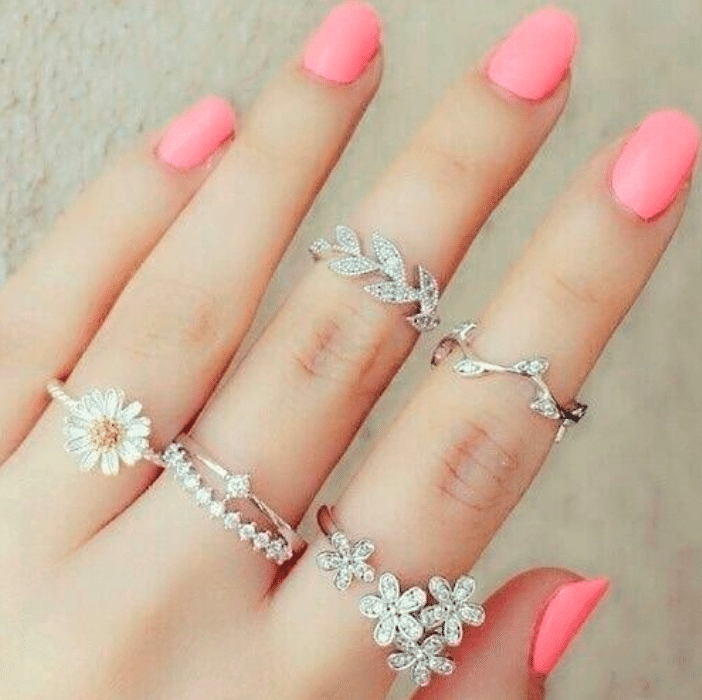 Pura Vida Silver Daisy Ring $20.00
Stainless Steel Leaves Adjustable Ring Jewelry $15.86
6 – Chain Finger Rings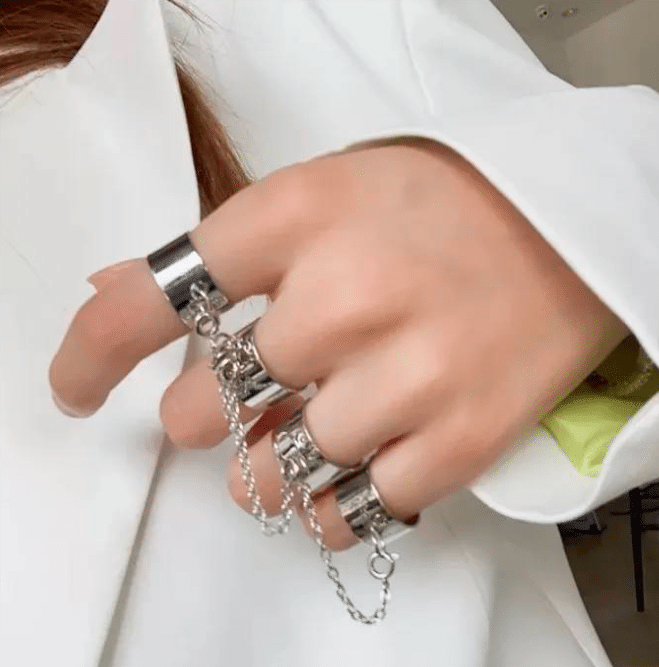 Chain Open Cuff Finger Rings Set $6.99
5 – For The Lovers Of Big Rings
Different rings of different designs and sizes will make a great ring combination. If you want to add a taste of all the designs and create one of your own personal styles, then try combining different small and big rings.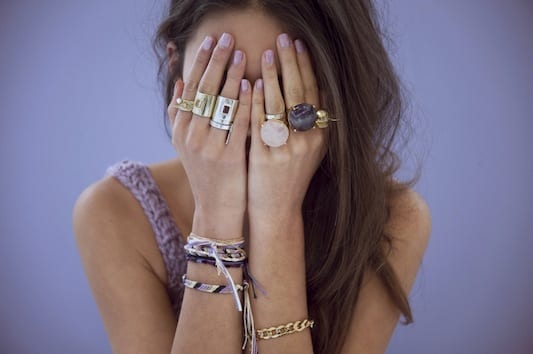 4 – All-Fingers Ring Set
These famous rings set by Balenciaga caught everyone's attention. Many celebrities were also spotted hopping on this trend of five-finger rings set. The eye-catching factor of these rings is the wide cuff design which looks simple yet classy.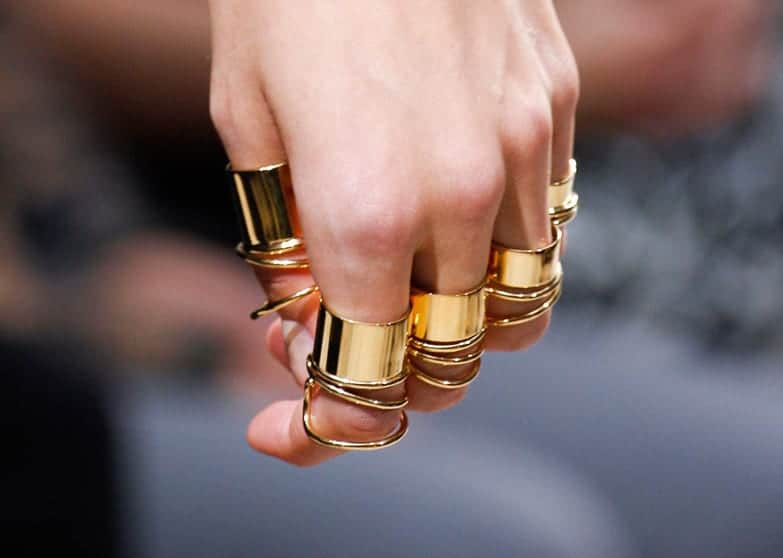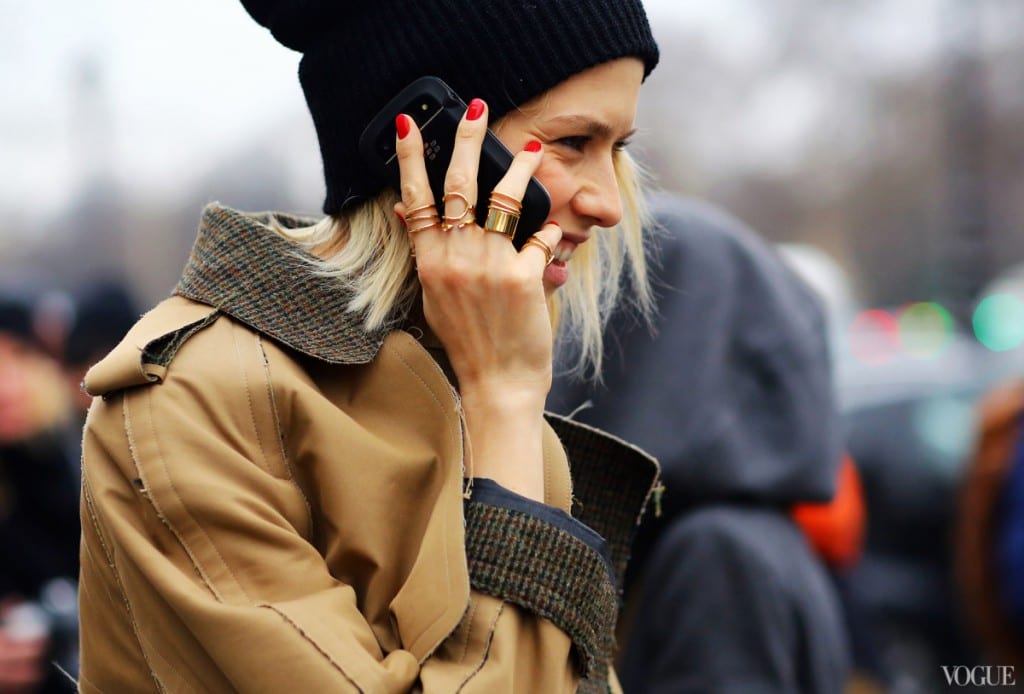 Splurge Or Steal Balenciaga Tube Ring Set – Trendy Jewelry €67.88
3 – Gothic Style Rings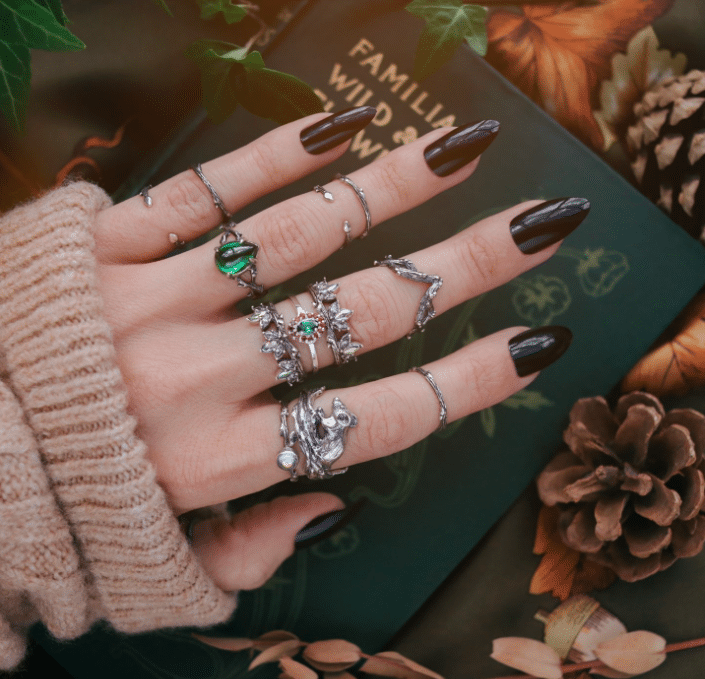 2 – Black All The Way
If you are bored with all the gold and silver jewelry, then try this. After all, everything looks good in black, and these black rings will look more attractive with red nails.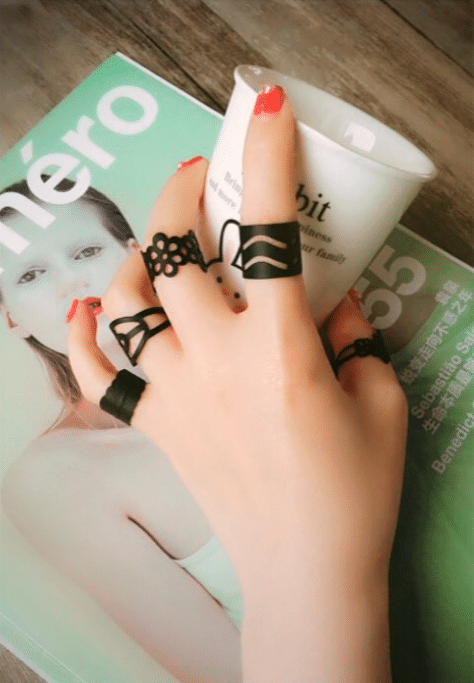 1 – Knuckle Rings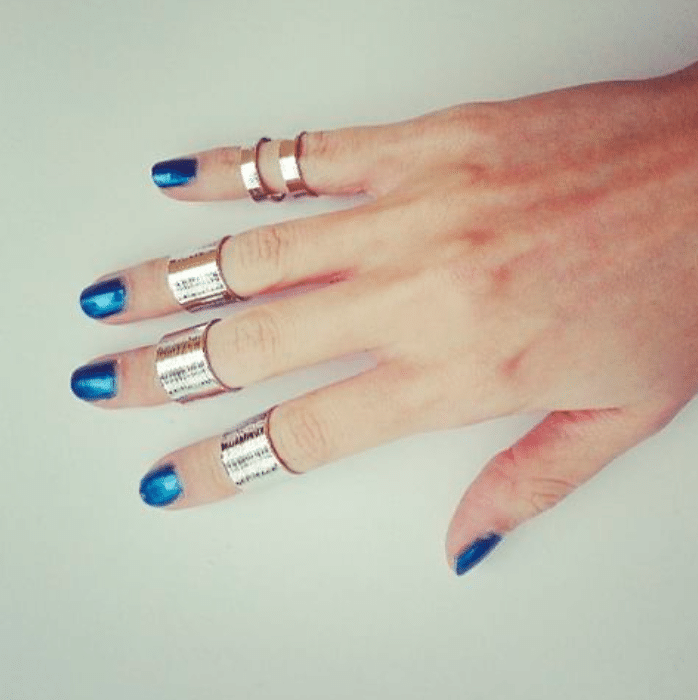 Frequently Asked Questions
Q. Is it ok to wear multiple rings?
Ans. Indeed, it is completely fine to wear multiple rings and there is nothing wrong with it. It is just another trend to make you look beautiful and a chance to express your creativity. Multiple rings can be worn for fun or they can have different meanings as well. Every ring that you wear on different fingers can represent something like a ring on your index finger means you are married and a ring on your middle finger means you are single. This is how rings are not just an accessory but also a thing to represent your personality.
Q. What are multiple rings callled?
Ans. Every ring that you wear on different fingers has different names and significance. The most popular ones to create multiple ring combos are the knuckle rings. They are different from other rings as they are worn above your finger's joint. Apart from that, you can also wear your wedding rings and other statement rings as well.
Q. How do I wear multiple rings in a fashionable way?
Ans. Well, it depends on you how you accessorize yourself, just make sure that whatever you are doing looks and feels good on you. Accessories can make or break your look and wearing too many rings can also be a deal-breaker for you sometimes. If you are going for a formal look then try to keep the quantity of rings less, as it is considered unprofessional. However, for informal and casual looks you can wear multiple rings on different fingers. You can also go with gold and silver jewelry to get a more attractive look.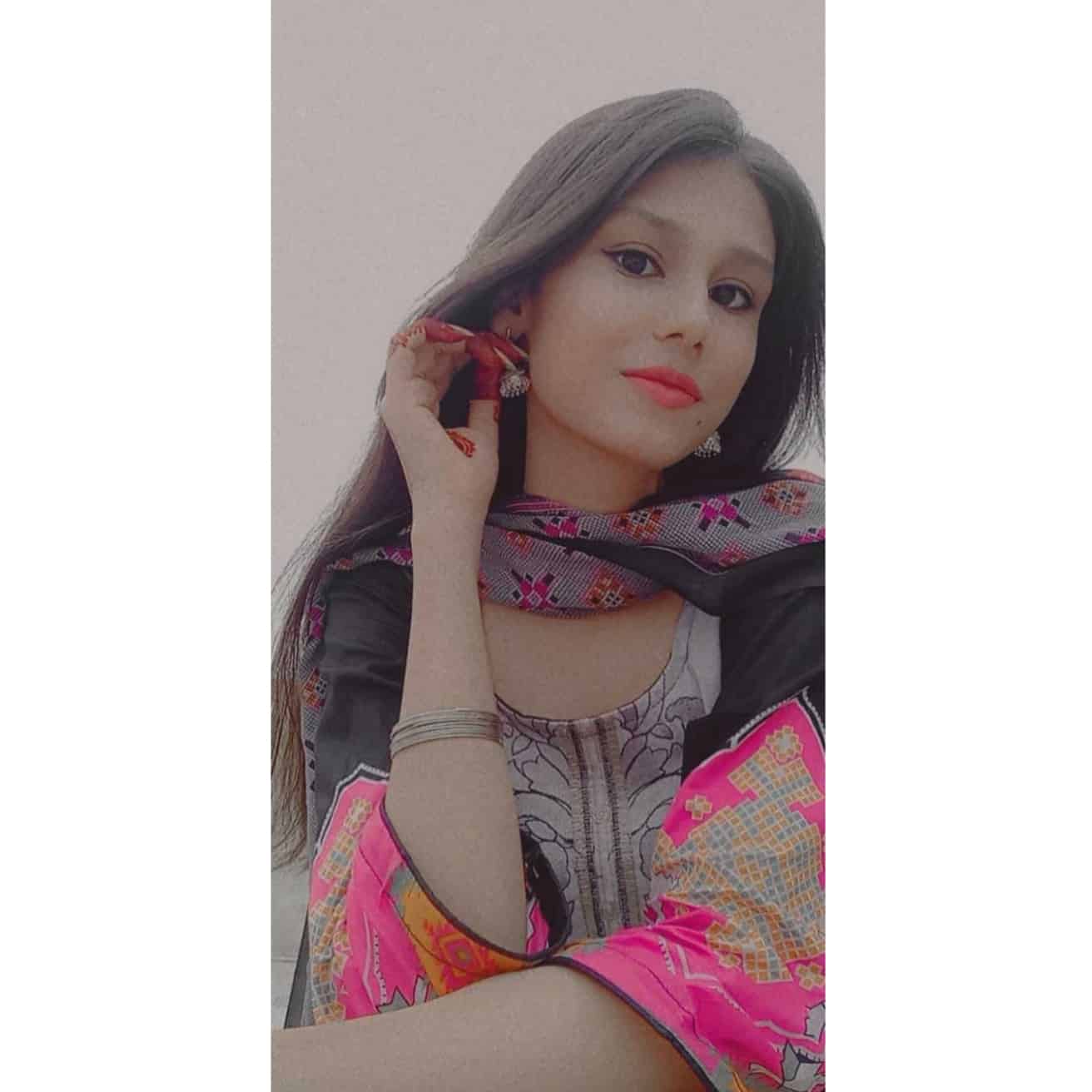 Yumna is an undergraduate business student and a freelance writer. Her life revolves around writing and reading. Being an introvert, she might not speak much but she can write for you as much as you want: )