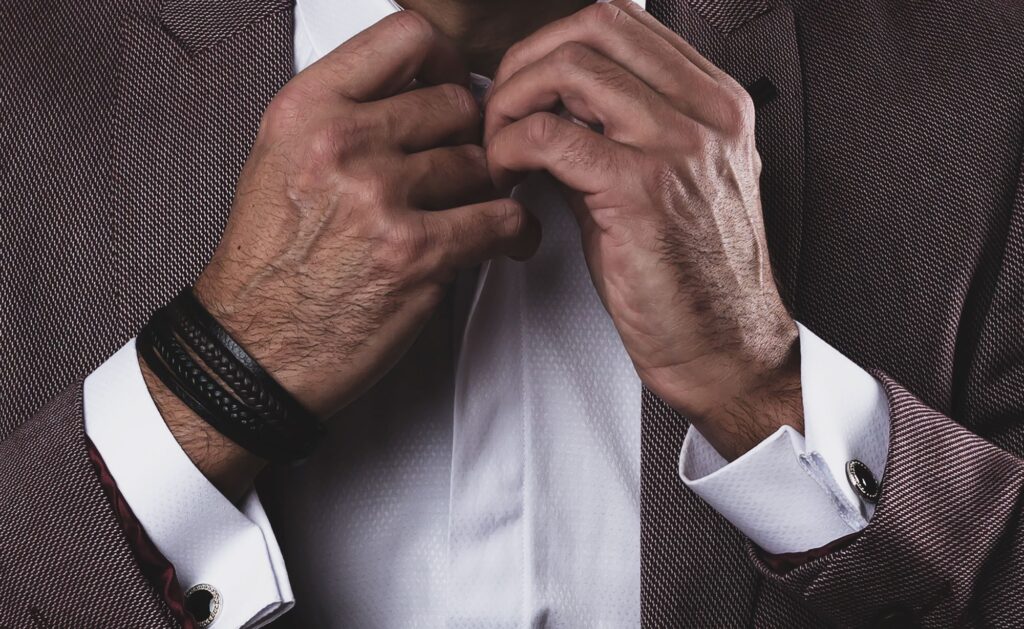 Accessories are additions to outfits. However, most men struggle with being fashionable, especially when it comes to accessorizing. Certain outfits lack something to make them stand out, so finding ways to enhance your look is vital.
You may be wondering what's the hype about accessorizing and whether it's justified. Accessorizing requires a closer look at the small details, which can raise the overall appeal. It's applicable from a fashionable point of view but can also reflect your personality.
The right accessories can make you feel stylish and look like someone with a good fashion sense. And with boosted self-esteem, you may let down your guard and let your personality shine through.
If you're a beginner in accessorizing, you can attest to how overwhelming it can be. To help you accessorize well, this article lists ten men's accessories that work with any outfit.
1. Wallet
Men's wallet is selected as an afterthought. But without a doubt, it's a useful accessory. Any man who carries currency in different forms will enjoy the efficiency a wallet offers. And although more people are starting to switch to electronic money, a wallet still offers style, security, and convenience.
The advantage of a wallet is that it doesn't restrict your lifestyle. You can get a slim and small wallet to hold all your credit cards and identification cards, a passport wallet for your travels, or even a checkbook wallet. Any wallet can work with any outfit, regardless of style.
2. Bracelets
Men's bracelets continue to be a popular option for any style, casual or formal. Whichever style you have, the right bracelet can separate you from the crowd. Your bracelet can change up your style by adding the needed slight enhancement.
With bracelets coming in a large variety, it'll be effortless for a man to use them to showcase their personality. Bracelets work with different outfits, so you don't need to switch them.
3. Rings
Married men wear wedding rings, but the majority of them do not wear their rings for fashion. Then, some single men aren't confident enough to wear any ring.
Fortunately, men are starting to realize how wearing one can complete their outfits. Rings range from classic to modern options, and a favorite among them is the signet ring. Dapper men wear their signet ring not just for style but also as a symbol of status.
4. Necklaces
In the current fashion world, necklaces have grown in popularity. Normally gifted as a birthday gift or from loved ones, men's necklaces can be found in different varieties.
You can choose dog tags, chain necklaces, and beaded or leather ones. Necklaces made from gold or silver are widely popular, as they complement all outfits.
5. Watch
Even with phones being favored when it comes to telling time, watches remain relevant. Some watches are heirlooms; others signify that you are successful.
For a formal look, a watch looks serious and mature. And for a casual outfit, a watch elevates a basic look.
6. Sunglasses
Sunglasses are an essential accessory that's helpful in many ways, from protecting your eye from dust, sun, and bacterial infections.
Depending on your style, you should get sunglasses that suit your face shape. You can find frames in shapes and sizes that suit both formal and informal wear. A pair of sunglasses in the right fit can complement any outfit without overwhelming your look.
7. Belts
A belt isn't just a utility item but can also be a fashion statement. Belts are a simple concept that captures someone's eyes.
Simply connect your belt with your footwear by using the same color and form a contrast to your pants. Adding a high-quality belt will make your formal pants or casual jeans look far from boring.
8. Hats
There are plenty of hats that go with different menswear. Wearing a hat may seem intimidating to some, but hats can work with any outfit.
For instance, you can pair a well-tailored suit with a fedora hat. When you want to add a pop of color to your outfit, a bucket hat or a beanie in a bright solid color can do the trick.
9. Bags
An essential accessory for men is their bag. Bags are essential daily for work, school, or casual outings.
Some may view a bag as something practical, but it can also be a statement maker. That's why most people in business go for a durable leather bag that's well-made and naturally tanned.
10. Scarves
Scarves are the perfect men's accessory. They're practical yet make a fashion statement.
Depending on the technique of styling them, scarves are known to take an outfit from looking drab to fab. You can match your scarf with your pocket square for a fresh look.
Bottom Line
Men's accessories are often overlooked. Ironically, the same accessories are what people tend to notice most. You don't have to wear all the items listed here if you're not comfortable with accessorizing. For starters, find an appropriate option that can elevate your style, casual or formal. You can first choose from practical items such as a wallet, bag, and belt. Later on, you can move to bracelets, rings, and necklaces.