Salman Khan's Amazing Dress Sense- Salman Khan is popularly called as the Bhai of Bollywood. He is an amazing actor, philanthropist, producer and a Television presenter. His films have been the highest grossed for consecutively nine years and the record has still not been broken.
The Best Ever Looks Of Salman Khan
His dressing style is very simple yet too elegant. He believes that the only thing that makes a person cool is simplicity. He is not much into accessories as well, except for a turquoise stone bracelet as he says it is lucky for him. He loves casual wear like black or blue fitted jeans with T shirts. His favorite brands are Giorgio Armani and Gianni Versace. In this post, we'll be discussing the 20 best looks of this amazing human being and handsome actor. He also has his own clothing brand labelled Being Human.
#20. Blue Is Definitely His Color
What else does a man need to look cool when he has a blue fitted pant and a grey under shirt to pair with a blue check hooded shirt. Salman Khan really does make a statement even with something casual.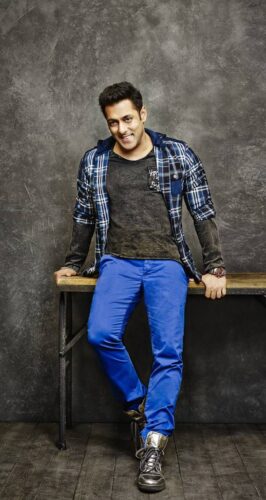 Source
#19. Folded Up Casual Look
This is how he dresses up in his home usually as he has said in a lot of interviews. Totally casual with his jeans folded up and a simple white shirt still a look worth dying for.