Warning
: mysqli_query(): (HY000/1194): Table 'ddudk_options' is marked as crashed and should be repaired in
/home/ahsanee/public_html/outfittrends.com/wp-includes/wp-db.php
on line
1868
Warning
: mysqli_query(): (HY000/1194): Table 'ddudk_options' is marked as crashed and should be repaired in
/home/ahsanee/public_html/outfittrends.com/wp-includes/wp-db.php
on line
1868
Warning
: mysqli_query(): (HY000/1194): Table 'ddudk_options' is marked as crashed and should be repaired in
/home/ahsanee/public_html/outfittrends.com/wp-includes/wp-db.php
on line
1868
Warning
: mysqli_query(): (HY000/1194): Table 'ddudk_options' is marked as crashed and should be repaired in
/home/ahsanee/public_html/outfittrends.com/wp-includes/wp-db.php
on line
1868
Warning
: mysqli_query(): (HY000/1194): Table 'ddudk_options' is marked as crashed and should be repaired in
/home/ahsanee/public_html/outfittrends.com/wp-includes/wp-db.php
on line
1868
Warning
: mysqli_query(): (HY000/1194): Table 'ddudk_options' is marked as crashed and should be repaired in
/home/ahsanee/public_html/outfittrends.com/wp-includes/wp-db.php
on line
1868
Warning
: mysqli_query(): (HY000/1194): Table 'ddudk_options' is marked as crashed and should be repaired in
/home/ahsanee/public_html/outfittrends.com/wp-includes/wp-db.php
on line
1868
Warning
: mysqli_query(): (HY000/1194): Table 'ddudk_options' is marked as crashed and should be repaired in
/home/ahsanee/public_html/outfittrends.com/wp-includes/wp-db.php
on line
1868
Warning
: mysqli_query(): (HY000/1194): Table 'ddudk_options' is marked as crashed and should be repaired in
/home/ahsanee/public_html/outfittrends.com/wp-includes/wp-db.php
on line
1868
Warning
: mysqli_query(): (HY000/1194): Table 'ddudk_options' is marked as crashed and should be repaired in
/home/ahsanee/public_html/outfittrends.com/wp-includes/wp-db.php
on line
1868
Warning
: mysqli_query(): (HY000/1194): Table 'ddudk_options' is marked as crashed and should be repaired in
/home/ahsanee/public_html/outfittrends.com/wp-includes/wp-db.php
on line
1868
Warning
: mysqli_query(): (HY000/1194): Table 'ddudk_options' is marked as crashed and should be repaired in
/home/ahsanee/public_html/outfittrends.com/wp-includes/wp-db.php
on line
1868
Warning
: mysqli_query(): (HY000/1194): Table 'ddudk_options' is marked as crashed and should be repaired in
/home/ahsanee/public_html/outfittrends.com/wp-includes/wp-db.php
on line
1868
Warning
: mysqli_query(): (HY000/1194): Table 'ddudk_options' is marked as crashed and should be repaired in
/home/ahsanee/public_html/outfittrends.com/wp-includes/wp-db.php
on line
1868
Warning
: mysqli_query(): (HY000/1194): Table 'ddudk_options' is marked as crashed and should be repaired in
/home/ahsanee/public_html/outfittrends.com/wp-includes/wp-db.php
on line
1868
Warning
: mysqli_query(): (HY000/1194): Table 'ddudk_options' is marked as crashed and should be repaired in
/home/ahsanee/public_html/outfittrends.com/wp-includes/wp-db.php
on line
1868
Warning
: mysqli_query(): (HY000/1194): Table 'ddudk_options' is marked as crashed and should be repaired in
/home/ahsanee/public_html/outfittrends.com/wp-includes/wp-db.php
on line
1868
Warning
: mysqli_query(): (HY000/1194): Table 'ddudk_options' is marked as crashed and should be repaired in
/home/ahsanee/public_html/outfittrends.com/wp-includes/wp-db.php
on line
1868
Warning
: mysqli_query(): (HY000/1194): Table 'ddudk_options' is marked as crashed and should be repaired in
/home/ahsanee/public_html/outfittrends.com/wp-includes/wp-db.php
on line
1868
Warning
: mysqli_query(): (HY000/1194): Table 'ddudk_options' is marked as crashed and should be repaired in
/home/ahsanee/public_html/outfittrends.com/wp-includes/wp-db.php
on line
1868
Warning
: mysqli_query(): (HY000/1194): Table 'ddudk_options' is marked as crashed and should be repaired in
/home/ahsanee/public_html/outfittrends.com/wp-includes/wp-db.php
on line
1868
Warning
: mysqli_query(): (HY000/1194): Table 'ddudk_options' is marked as crashed and should be repaired in
/home/ahsanee/public_html/outfittrends.com/wp-includes/wp-db.php
on line
1868
Warning
: mysqli_query(): (HY000/1194): Table 'ddudk_options' is marked as crashed and should be repaired in
/home/ahsanee/public_html/outfittrends.com/wp-includes/wp-db.php
on line
1868
Warning
: mysqli_query(): (HY000/1194): Table 'ddudk_options' is marked as crashed and should be repaired in
/home/ahsanee/public_html/outfittrends.com/wp-includes/wp-db.php
on line
1868
Warning
: mysqli_query(): (HY000/1194): Table 'ddudk_options' is marked as crashed and should be repaired in
/home/ahsanee/public_html/outfittrends.com/wp-includes/wp-db.php
on line
1868
Warning
: mysqli_query(): (HY000/1194): Table 'ddudk_options' is marked as crashed and should be repaired in
/home/ahsanee/public_html/outfittrends.com/wp-includes/wp-db.php
on line
1868
Warning
: mysqli_query(): (HY000/1194): Table 'ddudk_options' is marked as crashed and should be repaired in
/home/ahsanee/public_html/outfittrends.com/wp-includes/wp-db.php
on line
1868
Warning
: mysqli_query(): (HY000/1194): Table 'ddudk_options' is marked as crashed and should be repaired in
/home/ahsanee/public_html/outfittrends.com/wp-includes/wp-db.php
on line
1868
Warning
: mysqli_query(): (HY000/1194): Table 'ddudk_options' is marked as crashed and should be repaired in
/home/ahsanee/public_html/outfittrends.com/wp-includes/wp-db.php
on line
1868
Warning
: mysqli_query(): (HY000/1194): Table 'ddudk_options' is marked as crashed and should be repaired in
/home/ahsanee/public_html/outfittrends.com/wp-includes/wp-db.php
on line
1868
Warning
: mysqli_query(): (HY000/1194): Table 'ddudk_options' is marked as crashed and should be repaired in
/home/ahsanee/public_html/outfittrends.com/wp-includes/wp-db.php
on line
1868
Warning
: mysqli_query(): (HY000/1194): Table 'ddudk_options' is marked as crashed and should be repaired in
/home/ahsanee/public_html/outfittrends.com/wp-includes/wp-db.php
on line
1868
Warning
: mysqli_query(): (HY000/1194): Table 'ddudk_options' is marked as crashed and should be repaired in
/home/ahsanee/public_html/outfittrends.com/wp-includes/wp-db.php
on line
1868
Warning
: mysqli_query(): (HY000/1194): Table 'ddudk_options' is marked as crashed and should be repaired in
/home/ahsanee/public_html/outfittrends.com/wp-includes/wp-db.php
on line
1868
Warning
: mysqli_query(): (HY000/1194): Table 'ddudk_options' is marked as crashed and should be repaired in
/home/ahsanee/public_html/outfittrends.com/wp-includes/wp-db.php
on line
1868
Warning
: mysqli_query(): (HY000/1194): Table 'ddudk_options' is marked as crashed and should be repaired in
/home/ahsanee/public_html/outfittrends.com/wp-includes/wp-db.php
on line
1868
Warning
: mysqli_query(): (HY000/1194): Table 'ddudk_options' is marked as crashed and should be repaired in
/home/ahsanee/public_html/outfittrends.com/wp-includes/wp-db.php
on line
1868
Warning
: mysqli_query(): (HY000/1194): Table 'ddudk_options' is marked as crashed and should be repaired in
/home/ahsanee/public_html/outfittrends.com/wp-includes/wp-db.php
on line
1868
Warning
: mysqli_query(): (HY000/1194): Table 'ddudk_options' is marked as crashed and should be repaired in
/home/ahsanee/public_html/outfittrends.com/wp-includes/wp-db.php
on line
1868
Warning
: mysqli_query(): (HY000/1194): Table 'ddudk_options' is marked as crashed and should be repaired in
/home/ahsanee/public_html/outfittrends.com/wp-includes/wp-db.php
on line
1868
Warning
: mysqli_query(): (HY000/1194): Table 'ddudk_options' is marked as crashed and should be repaired in
/home/ahsanee/public_html/outfittrends.com/wp-includes/wp-db.php
on line
1868
Leather Jacket Styling and Outfit Ideas. What outfit looks best with leather jacket? How can I wear a leather jacket in Fall or Summers? Do Leather jackets go with brown boots? Here are the answers to all your questions. Leather Jackets have always been a must-haves to complete a chic look. However, pairing these jackets is a hassle especially when you do not want to over do it yet want to have a fabulous look.
How To Style Your Leather Jacket
Here are some styling ideas for you, create a look that not only compliments but augments your leather jacket look.
#19 Casual Yet Classy Look
Be casual in style. Green jacket with white plain shirt and faded jeans is all that you need. Make it all about being casual but don't forget to keep it stylish.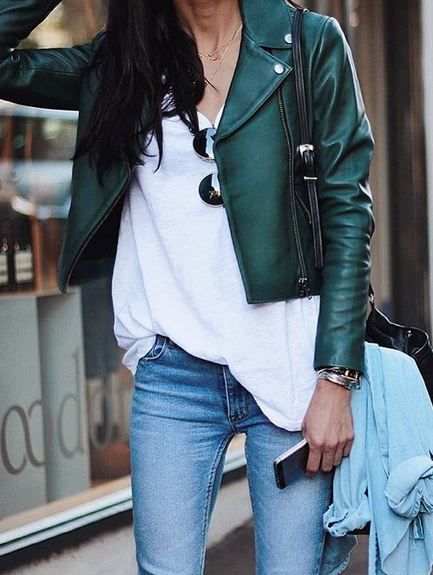 #18 Give Yourself A Graceful Look
Set the statement with white. Pair your white leather jacket with some beige boots and a white bag. Red nail colors and some trendy shades, and you have the runway look for yourself. 

#17 Be Glamorously Fabulous for Fall
Pair your simple leather jacket with a cheetah print clutch and some skin shade stilettos. This is all you need to be glamorous and fabulous in Fall.

#16 The Ultimate Girl Next Door Look
Get a girl next door look. Pair your black leather jacket with a black and white checkered dress and set the simple yet classy look for yourself.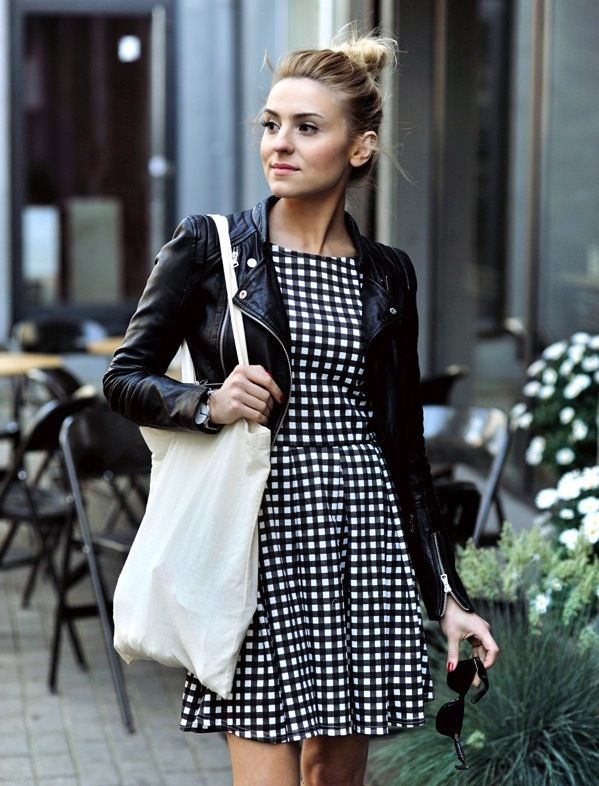 Like the check dress? Then you must have a look at [highlight]18 Best check shirt outfit combinations for Girls in all seasons[/highlight]
#15 Flaunt The Long Coat With Style
Long coats can help you glamorize your look within minutes. Wear it over any short shirt and jeans and your look is complete.

#14 Complete Your Look
Be a smarty pants! Pair your jacket with a beanie and a messenger bag and you are all set to go with the classy nerd look.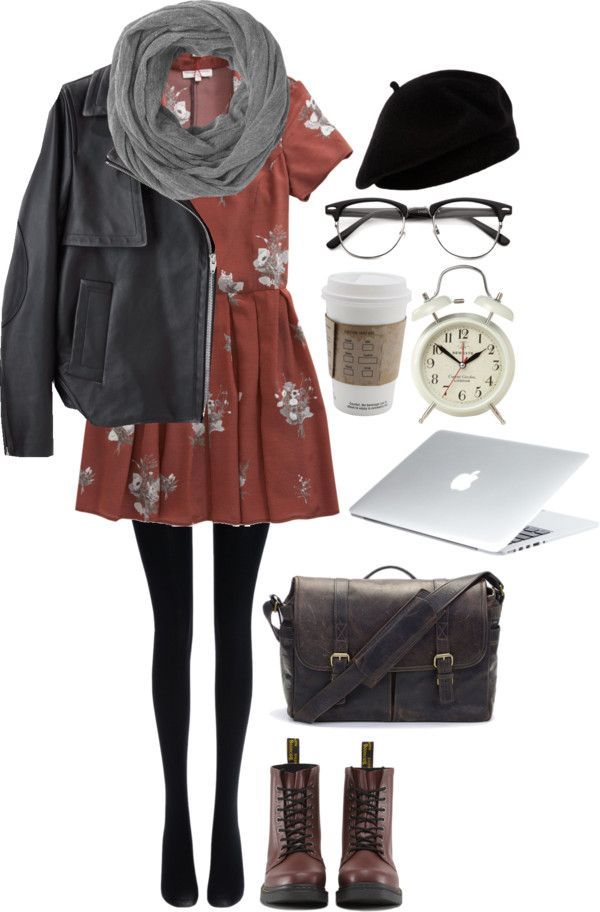 #13 Simple Yet Elegant for Work
Make it all about the jacket. Wear this jacket with a bun and some trendy shades, and your look for the day is all done.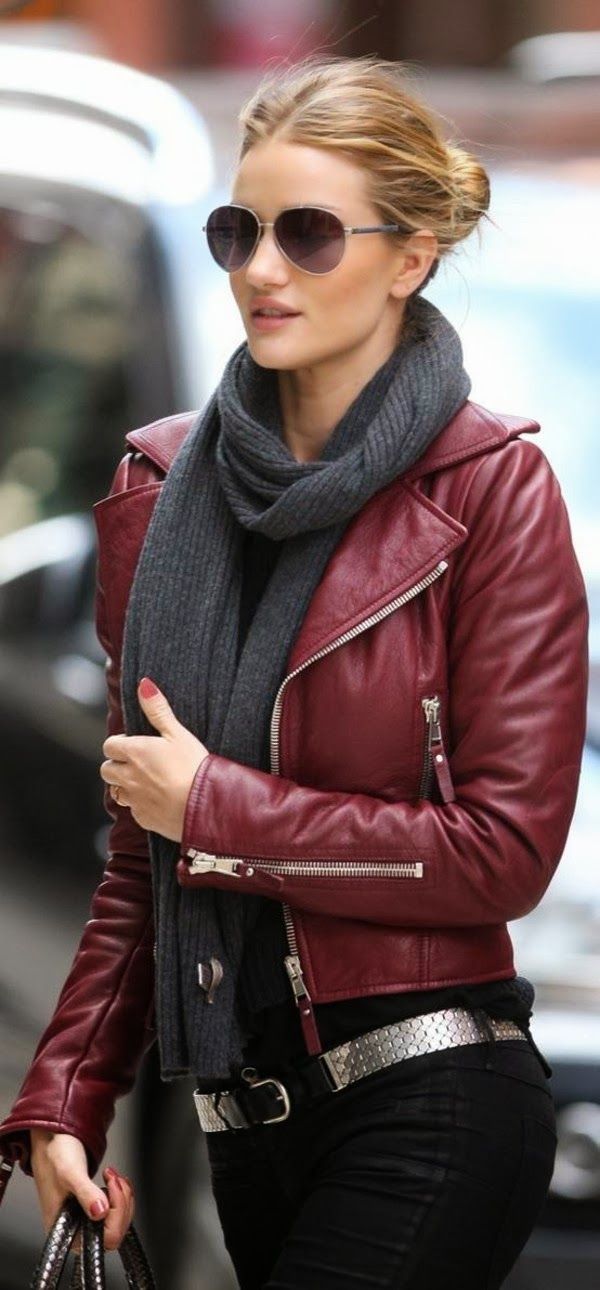 Do have a look at [highlight]17 cute winter workwear outfits for women for an elegant look[/highlight]
#12 Add The Zest In Your Style
Give a girl a chocolate brown leather jacket and some faded jeans and she is all set for a casual yet chic look.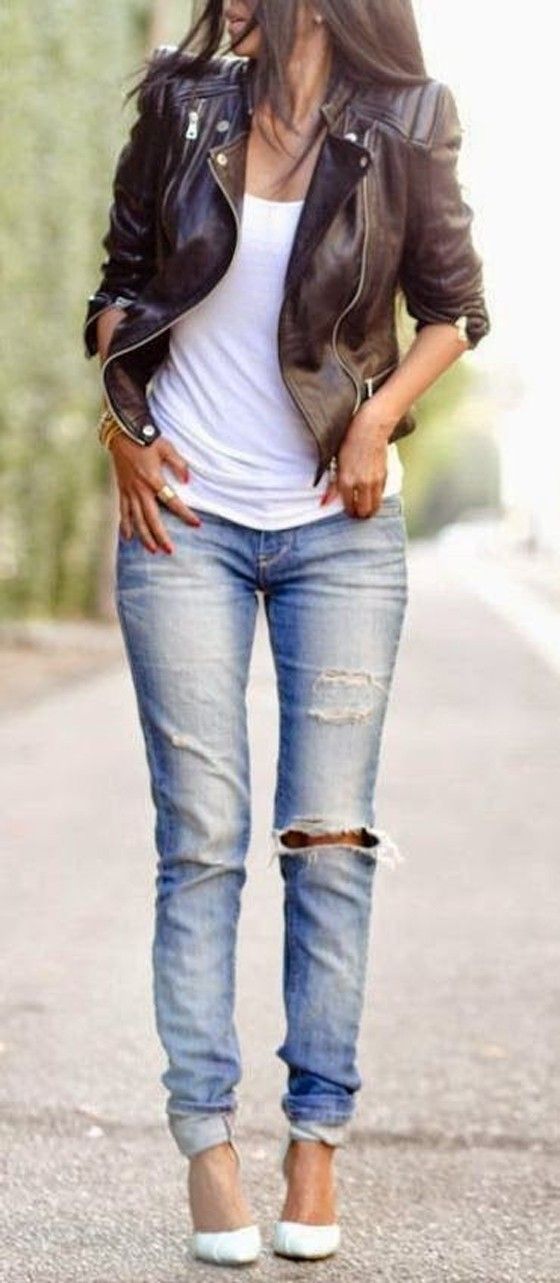 #11 Go Glamorous This Week
Accessorize your dress with this buttoned up jacket and add in the glamour to your usual style. This season make it all about the browns.

Source
#10 The Trend Setter
Create the perfect college girl look. Wear a simple shirt beneath your leather jacket. Give your hair a messy look and you are all set to go to college.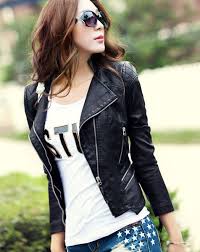 Warning
: mysqli_query(): (HY000/1194): Table 'ddudk_options' is marked as crashed and should be repaired in
/home/ahsanee/public_html/outfittrends.com/wp-includes/wp-db.php
on line
1868
Warning
: mysqli_query(): (HY000/1194): Table 'ddudk_options' is marked as crashed and should be repaired in
/home/ahsanee/public_html/outfittrends.com/wp-includes/wp-db.php
on line
1868
Warning
: mysqli_query(): (HY000/1194): Table 'ddudk_options' is marked as crashed and should be repaired in
/home/ahsanee/public_html/outfittrends.com/wp-includes/wp-db.php
on line
1868
Warning
: mysqli_query(): (HY000/1194): Table 'ddudk_options' is marked as crashed and should be repaired in
/home/ahsanee/public_html/outfittrends.com/wp-includes/wp-db.php
on line
1868
Warning
: mysqli_query(): (HY000/1194): Table 'ddudk_options' is marked as crashed and should be repaired in
/home/ahsanee/public_html/outfittrends.com/wp-includes/wp-db.php
on line
1868
Warning
: mysqli_query(): (HY000/1194): Table 'ddudk_options' is marked as crashed and should be repaired in
/home/ahsanee/public_html/outfittrends.com/wp-includes/wp-db.php
on line
1868
Warning
: mysqli_query(): (HY000/1194): Table 'ddudk_options' is marked as crashed and should be repaired in
/home/ahsanee/public_html/outfittrends.com/wp-includes/wp-db.php
on line
1868
Warning
: mysqli_query(): (HY000/1194): Table 'ddudk_options' is marked as crashed and should be repaired in
/home/ahsanee/public_html/outfittrends.com/wp-includes/wp-db.php
on line
1868
Warning
: mysqli_query(): (HY000/1194): Table 'ddudk_options' is marked as crashed and should be repaired in
/home/ahsanee/public_html/outfittrends.com/wp-includes/wp-db.php
on line
1868
Warning
: mysqli_query(): (HY000/1194): Table 'ddudk_options' is marked as crashed and should be repaired in
/home/ahsanee/public_html/outfittrends.com/wp-includes/wp-db.php
on line
1868
Warning
: mysqli_query(): (HY000/1194): Table 'ddudk_options' is marked as crashed and should be repaired in
/home/ahsanee/public_html/outfittrends.com/wp-includes/wp-db.php
on line
1868
Warning
: mysqli_query(): (HY000/1194): Table 'ddudk_options' is marked as crashed and should be repaired in
/home/ahsanee/public_html/outfittrends.com/wp-includes/wp-db.php
on line
1868
Prev Article
Warning
: mysqli_query(): (HY000/1194): Table 'ddudk_options' is marked as crashed and should be repaired in
/home/ahsanee/public_html/outfittrends.com/wp-includes/wp-db.php
on line
1868
Warning
: mysqli_query(): (HY000/1194): Table 'ddudk_options' is marked as crashed and should be repaired in
/home/ahsanee/public_html/outfittrends.com/wp-includes/wp-db.php
on line
1868
Warning
: mysqli_query(): (HY000/1194): Table 'ddudk_options' is marked as crashed and should be repaired in
/home/ahsanee/public_html/outfittrends.com/wp-includes/wp-db.php
on line
1868
Next Article
Warning
: mysqli_query(): (HY000/1194): Table 'ddudk_options' is marked as crashed and should be repaired in
/home/ahsanee/public_html/outfittrends.com/wp-includes/wp-db.php
on line
1868
Warning
: mysqli_query(): (HY000/1194): Table 'ddudk_options' is marked as crashed and should be repaired in
/home/ahsanee/public_html/outfittrends.com/wp-includes/wp-db.php
on line
1868
Warning
: mysqli_query(): (HY000/1194): Table 'ddudk_options' is marked as crashed and should be repaired in
/home/ahsanee/public_html/outfittrends.com/wp-includes/wp-db.php
on line
1868
Warning
: mysqli_query(): (HY000/1194): Table 'ddudk_options' is marked as crashed and should be repaired in
/home/ahsanee/public_html/outfittrends.com/wp-includes/wp-db.php
on line
1868
Warning
: mysqli_query(): (HY000/1194): Table 'ddudk_options' is marked as crashed and should be repaired in
/home/ahsanee/public_html/outfittrends.com/wp-includes/wp-db.php
on line
1868