Men Waistcoats Styling Ideas. As with men's white shirts, formal style is not necessarily the case for waistcoats either. Be sure to check out our post on Ways For Men to Rock a White Shirt. Waistcoats can act as another layer in your outfit, or another colour or even by adding a touch of pattern to your look. Waistcoats can be easily accessorised which give them more personality. Add a pocket watch for a touch of sophistication or a handkerchief for a splash of contrasting colour and depth. Waistcoats are such a versatile item of clothing that it is easy to incorporate them into your chosen style, whether it be casual, formal, wedding gear, swag, steampunk, goth or even victoriana. It is also important to note that waistcoats do not just appear once in the year, they are about during every season whether as a feature piece or part of a two or three piece suit. Use them to their full potential.
This post contains 18 great ideas on different ways guys can use a waistcoat to jazz up their look. Why not use them to create your own look incorporating a waistcoat?
Men's Outfits with Waistcoats
#18- Smart Casual Way. Woollen waistcoats add a touch of sophistication to any casual attire. Match this with shirt and tie for formal and jeans for a balanced look. Finish with oxford shoes and scarf accessory.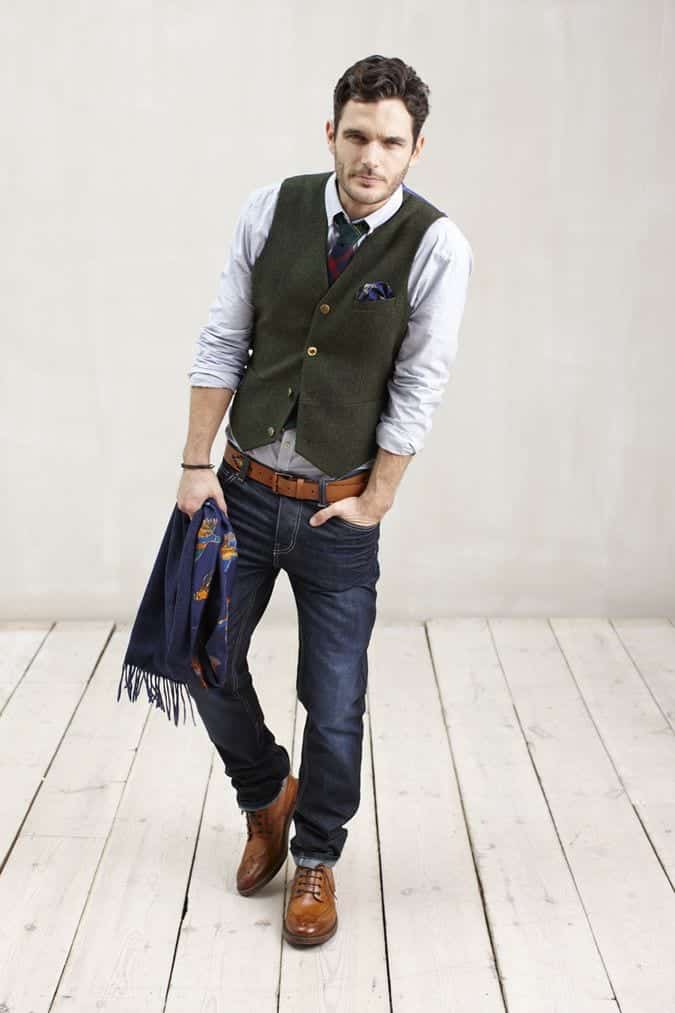 via
 #17- Casual. This look is perfect for students. Fitted waistcoat over rolled up buttoned shirt. Two tone jeans and shoes match perfectly and belt and satchel make for great accessories.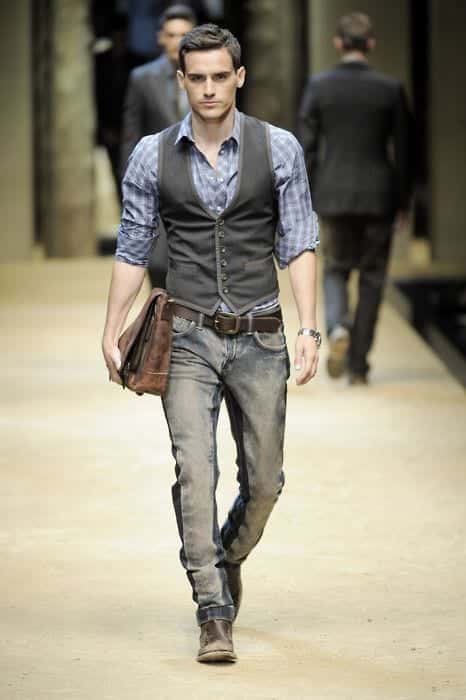 via
 #16- Waist coat with Hood – Stunning woollen hooded waistcoat. Perfect for city styles, swag looks or even just winter attire. These kind of waistcoas with hood just came out in the trend and they look extra special to eveyone who wears them. You can find them in the market noeadays in many different colors and different variety. The most used material is cotrie.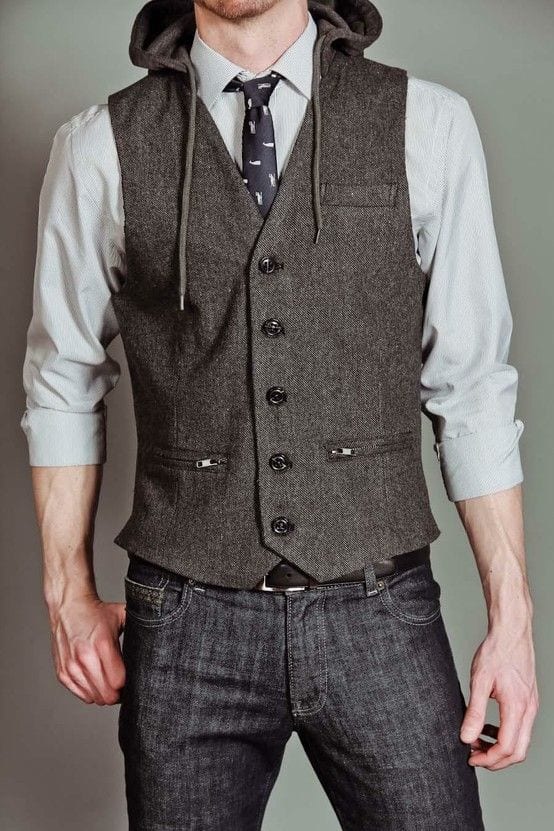 via
 #15- Street Style –Great use of blue. Different shades in jeans, shirt and waistcoat compliment each other beautifully. Finish with a large bag and contrasting footwear.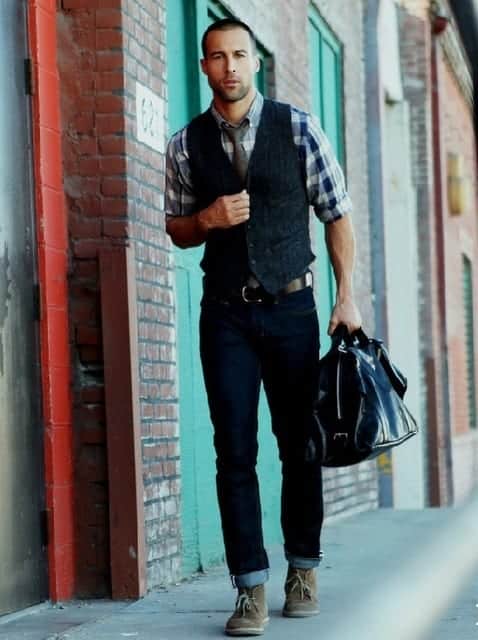 via
 #14- Festival Rugged Style. Casual style too, this look uses layers denim shirt, plaid waistcoat and denim jacket with matching patches. Brown beanie hat and beige trousers to match. Great use of contrasting browns and blues.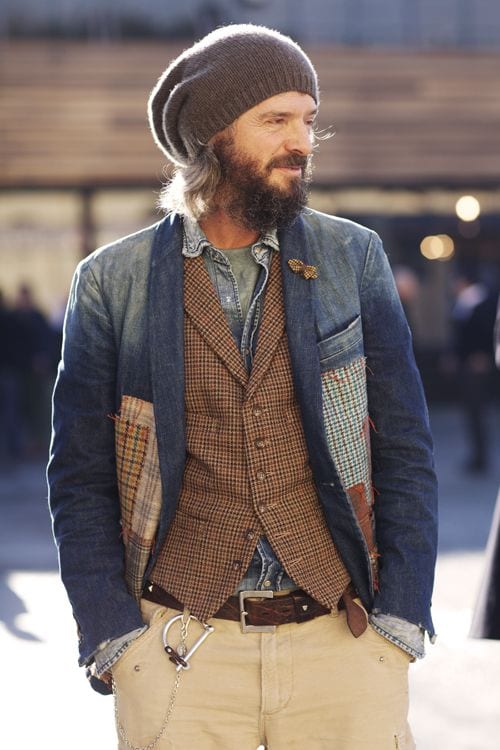 via
[highlight]Also See : 17 Latest Rugged Styles for Men[/highlight]
 #13- Smart Look. Almost emo style with pinstripe waistcoat, jeans, slate grey shirt and a cute, contrasting bowtie to finish. Messy hair look is acceptable. Wearing contrasting bow tie woks perfectly with this outfir look. Bright colors in this will look amazing. This utfit idea is perfect for guys who love to wear emo dresssing and want to wear them even to formal settings like meetings or to their work place.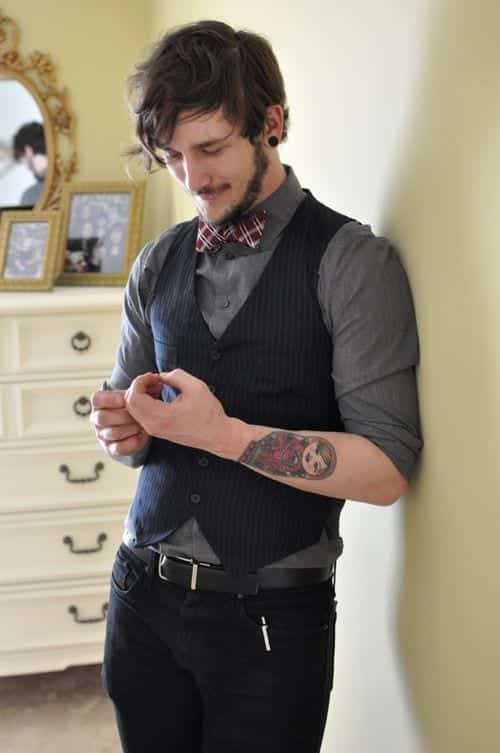 via
 #12- Eccentric Style.  Quite a posh look really. Patchwork waistcoat over a striped shirt. Matching knitted jumper and brown trousers. Brightly coloured tie.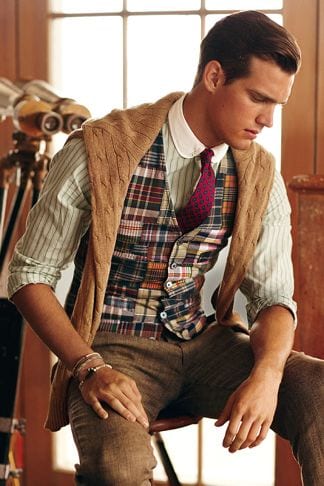 via
 #11- Nautical, Preppy Look. The preps can use waistcoats too if done right. White, beige and navy blue are ideal colours for this combination. Finish this look with a simple trilby and nice boat shoes.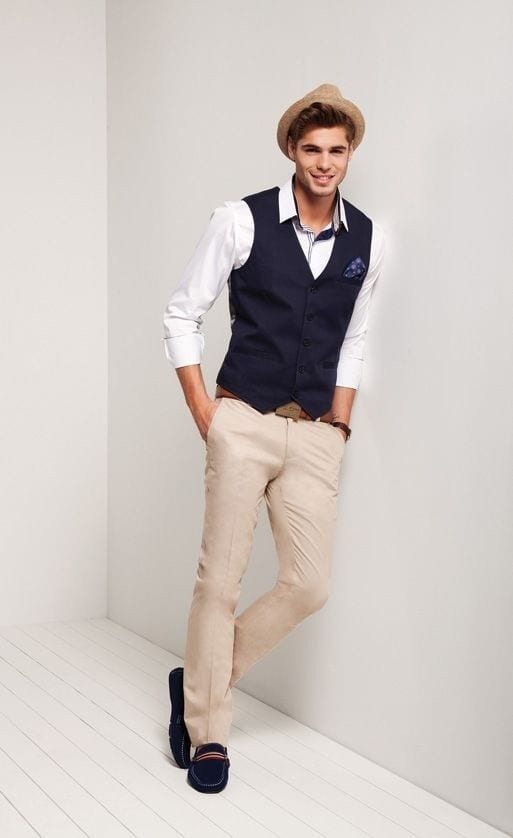 [highlight]Recommended : 15 Best Ways to Dress for Preppy Look[/highlight]
 #10- Newspaper Boy. Personally, I love this look. Victorian theme with braces and bowtie. Waistcoat is fitted and colours match beautifully.
via
#9- City Style. Skinny jeans with patterned shirt, black waistcoat and black satin jacket. Complete this look with ruby oxford shoes and contrasting sunglasses.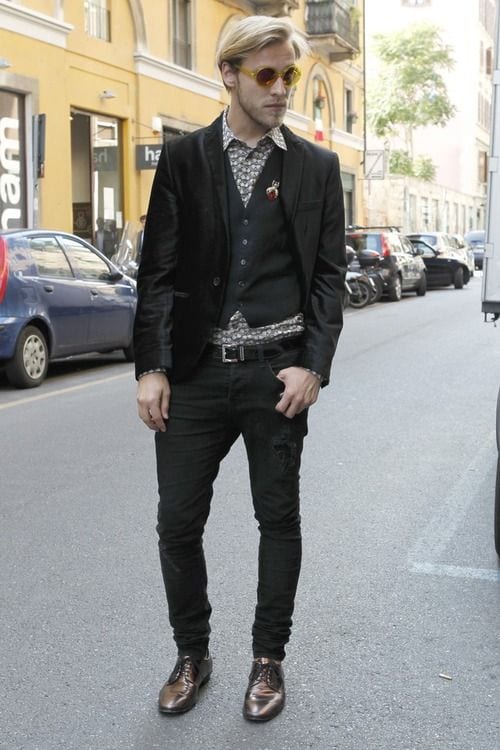 via
 #8- Royal Ascot. Ascot is a huge event which sees the mass influx of very formal attire. The waistcoat is seen throughout this event. The gold waistcoat stands out in this outfit making it look amazing.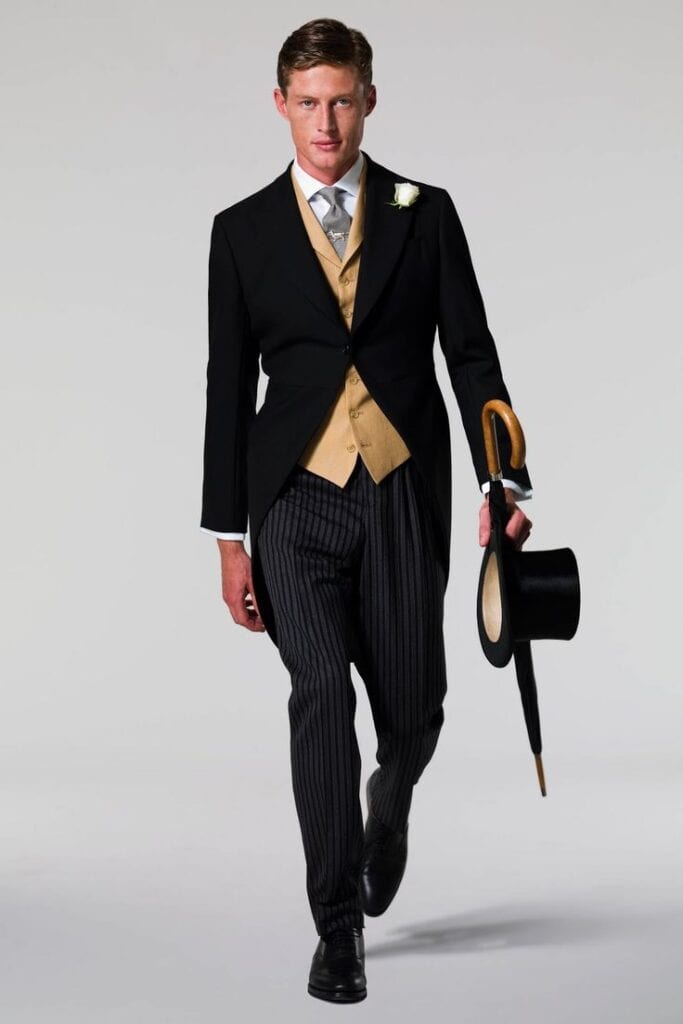 via
 #7- Wedding Two Piece. Ideal suit for a wedding. Matching waistcoat and trousers with black suit jacket and crisp white shirt. I would lose the festival bands though as this is a formal look. This outfit idea is perfect for meetings or any kind of formal gatherings. You can wear grey colored pant and waistcoat and then add any dark colored formal coat on top. FOr tie and handerchief you can wear them in dark blue color. oh and dont forget to add brown loofers or brown oxford shoes.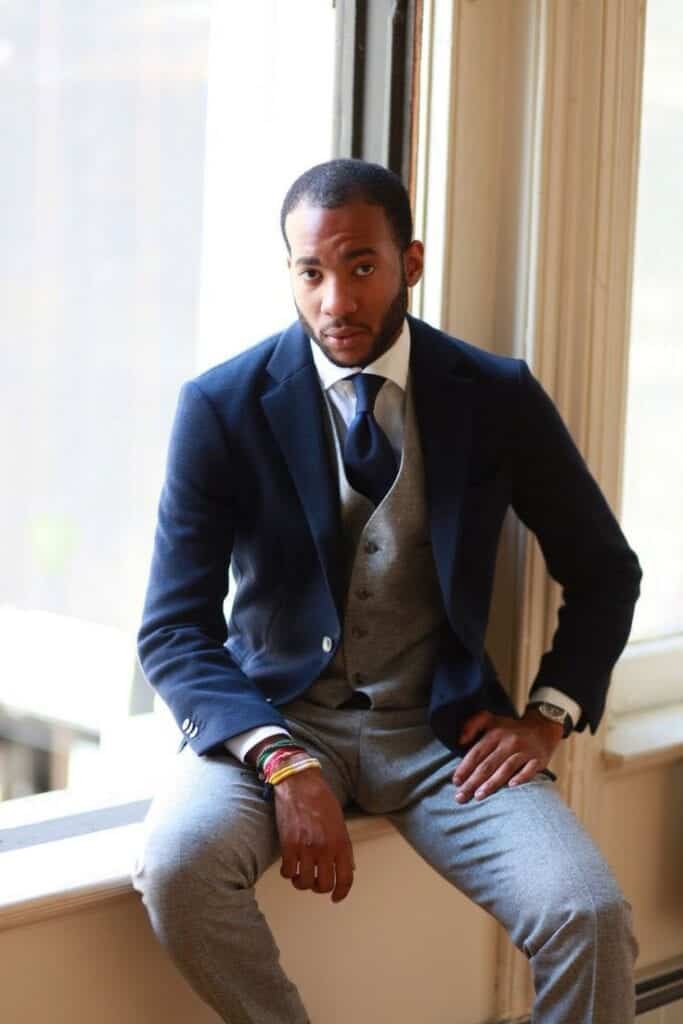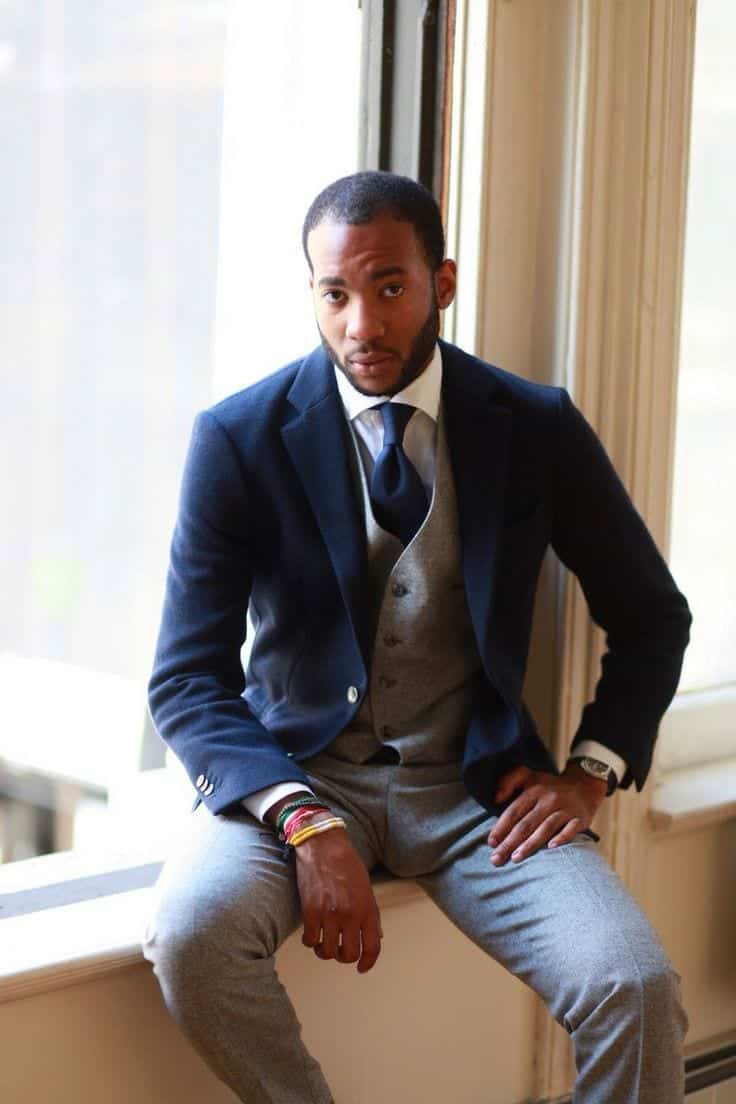 via
 #6- Wedding Style. Wedding style using blue shades. Contrasting brown oxford shoes make this outfit look stunning. No groom is complete and ready for wedding without waistcoat. You can wear dark blue colored waist coat with matching colored formal pants. For wedding dont forget to add a small bunch of flowers on one side of the shoulder.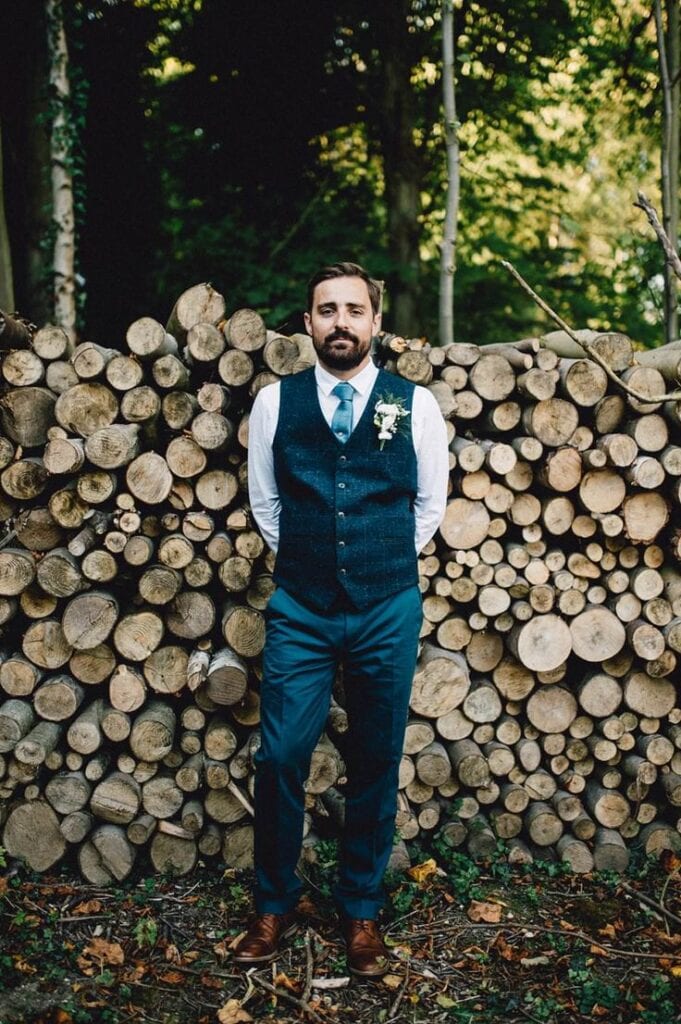 via
 #5- Summer Travel Style. Blue waistcoat over a blue shirt with pale brown jeans and casual trainers. finish this look with shades, a pocket watch, hankerchief and bag. This outfit idea is all about going for mixing colors, for example you can wear light grey colored denim pants and then wear light blue colored formal shirt, you can also go for top two buttons opened. For waistcoat you can wear dark blue colored. For sure you can also wear little bits and bobs like chains on your waistcoat and handerchief. If you want to go for semi formal look then do wear blue colored sneakers to give coplete casual or semi formal look.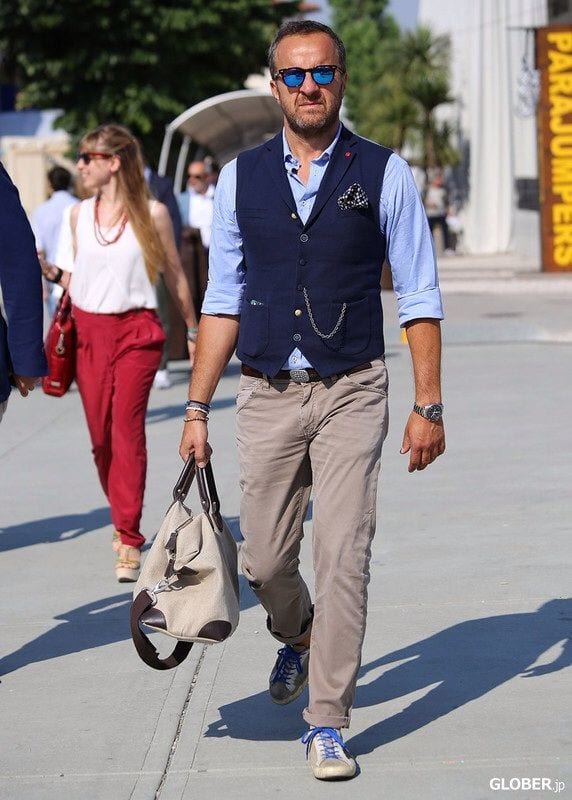 via
[highlight]Recommended : 15 Best Summer Traveling Styles for Men[/highlight]
 #4- Fashion Blogger Style. This has an almost mafia style look to it. Nice matching waistcoat, jacket and overcoat. Black trousers. Brown trilby, tie and oxfords complete this look. This look is all about going for grey colored three piece suit. If you are a kind of guy who loves to wear neutral colors like grey, white, off white etc then this outfit idea is perfect for you. For pants you can wear dark blue foral pants and for waitscoat, coat and long coat you can wear them in light grey color. For inner formal shirt go for off white color nd for accessories wear dark borwn coloored tie, hat and shoes.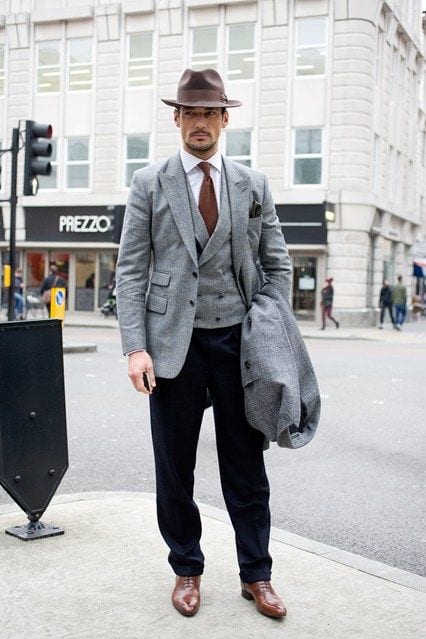 via
 #3- Smart Casual. Great look incorporating black waistcoat, blue shirt, silver tie and dark blue jeans. Finish this look with brown loafers and a hankerchief. This outfit idea is all about going for total blur theme. You can wear blue denim formal shirts, with dark blue formal waitst coat along with dark blue rolled denim pants.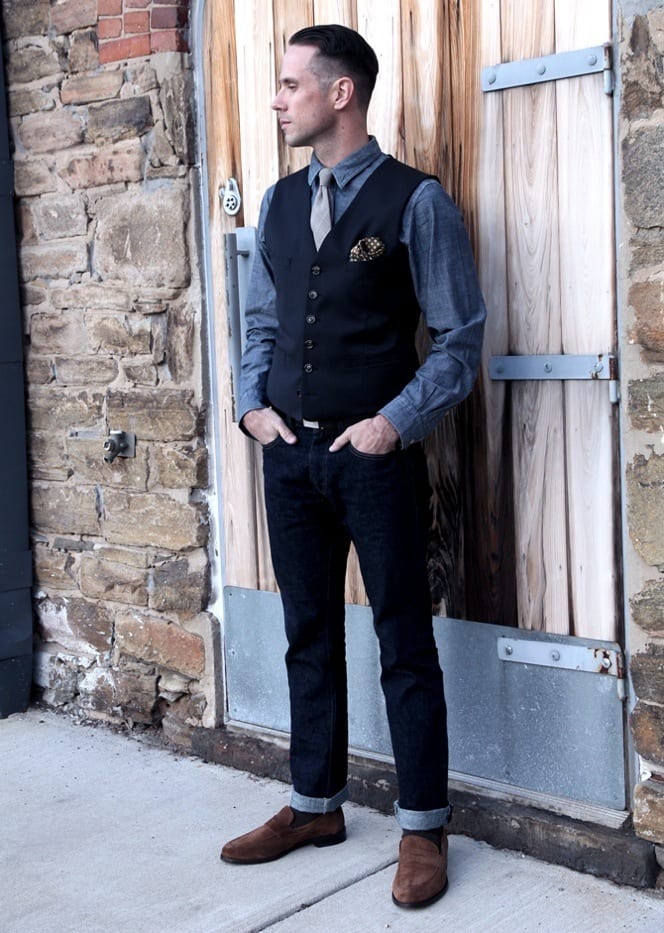 via
 #2- Waist Coat with Denim Jacket. Great look for students using waistcoat and contrasting colours. White shirt, brown waistcoat, denim jacket and red tie are all fantastic components. I would put jeans with this look instead of rolled up trousers and finish with some nice oxfords. But the rolled up denim in dark color looks extra amazing and you can also add dark brown or maroon colored tie and oxford shoes. Dont forget to add chunky bracelets to complete the whole look.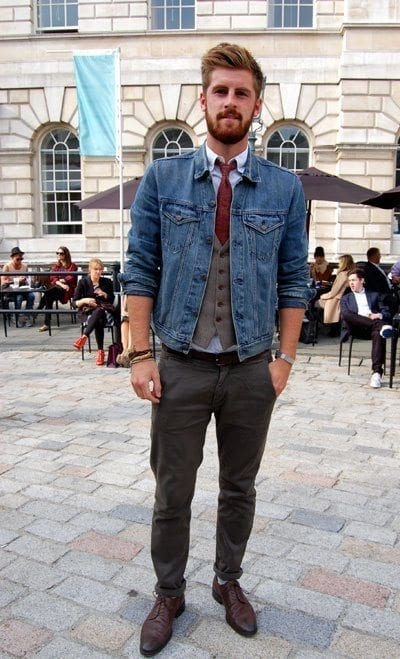 via
 #1- Suave Biker Look. Black leather biker style jacket overa white waistcoat looks amazing. The blue striped shirt adds pattern and along with the jeans adds colour to this look. Finish with rounded sunglasses. Wearing waist coats on top of formal shirts and then wearing jackets on top itis is a perfect combo for winters. The best thig about this combo is that you can wear cany kind of colors whether they are contrasting ones of matching ones, every color will look perfect with this dress idea. For shoes you can wear sneakers r even go for oxford shoes in brown color.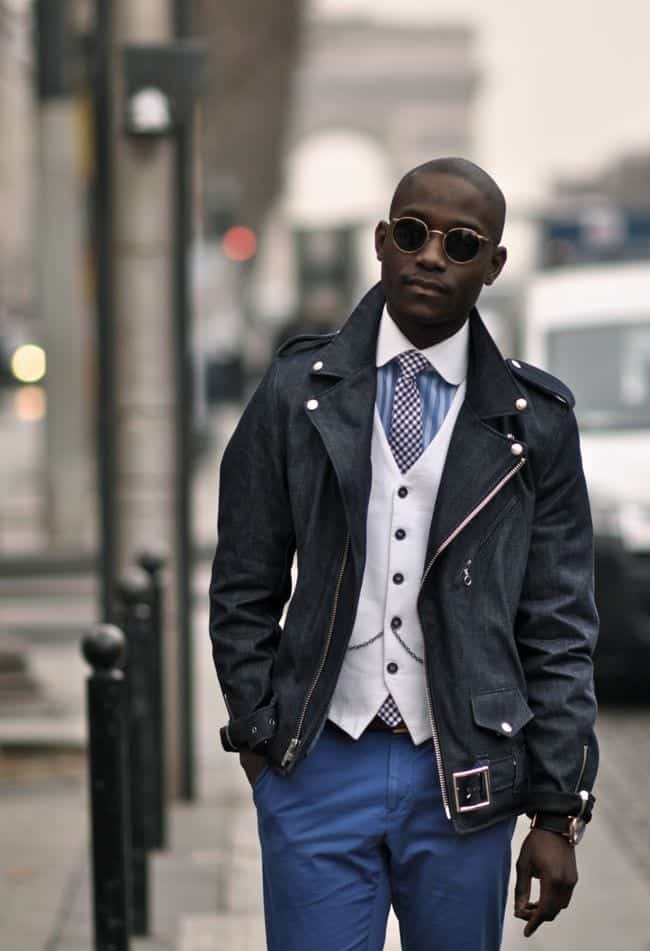 via